These juicy Peach Dumplings get their irresistible caramelized crust thanks to a can of Sprite! Using crescent roll dough and fresh peaches, this easy Pioneer Woman recipe is a family favorite.
If you love peaches, be sure to try my classic Peach Crisp and popular Peach Hand Pies!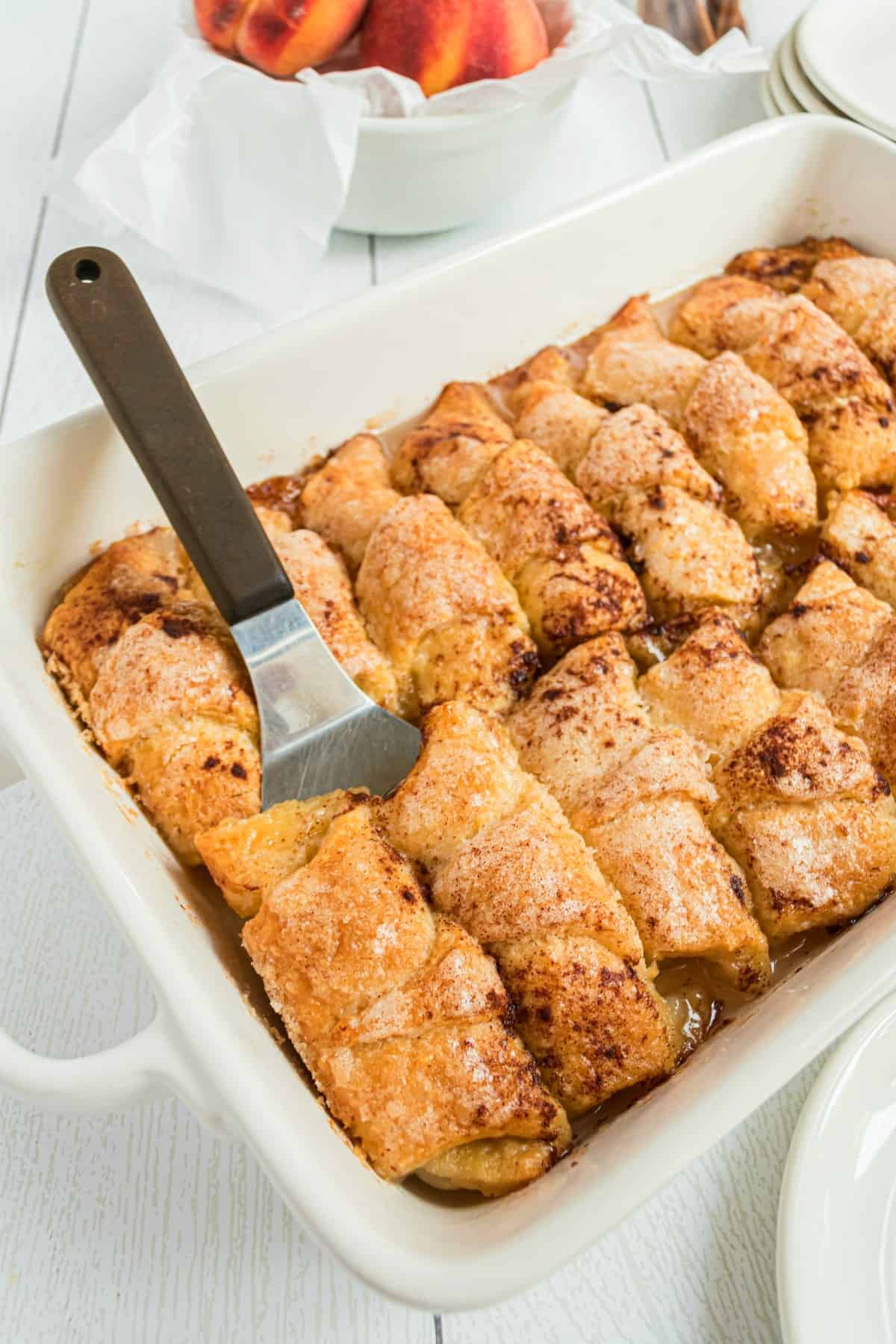 Easy Pioneer Woman Recipe
Wondering what to do with all those late summer peaches? Peach Dumplings are easier to make than you expect!
This simple peach dessert recipe is originally from The Pioneer Woman, (Ree Drummond) and I'm downright obsessed. I shared Ree's Apple Dumpling recipe earlier and this peachy twist is just as tasty.
Peach slices baked inside crescent rolls with a touch of cinnamon would be delicious all on their own. But this recipe takes it to a next level with the addition of a can of pop!
You pour it over the edges of the pan before baking the dumplings. It creates a golden brown caramel ring around the dumplings that makes them downright divine.
Add a big scoop of vanilla ice cream on top for a real treat. The dumplings melt in your mouth with a flaky pastry and a buttery finish.
Ingredient Notes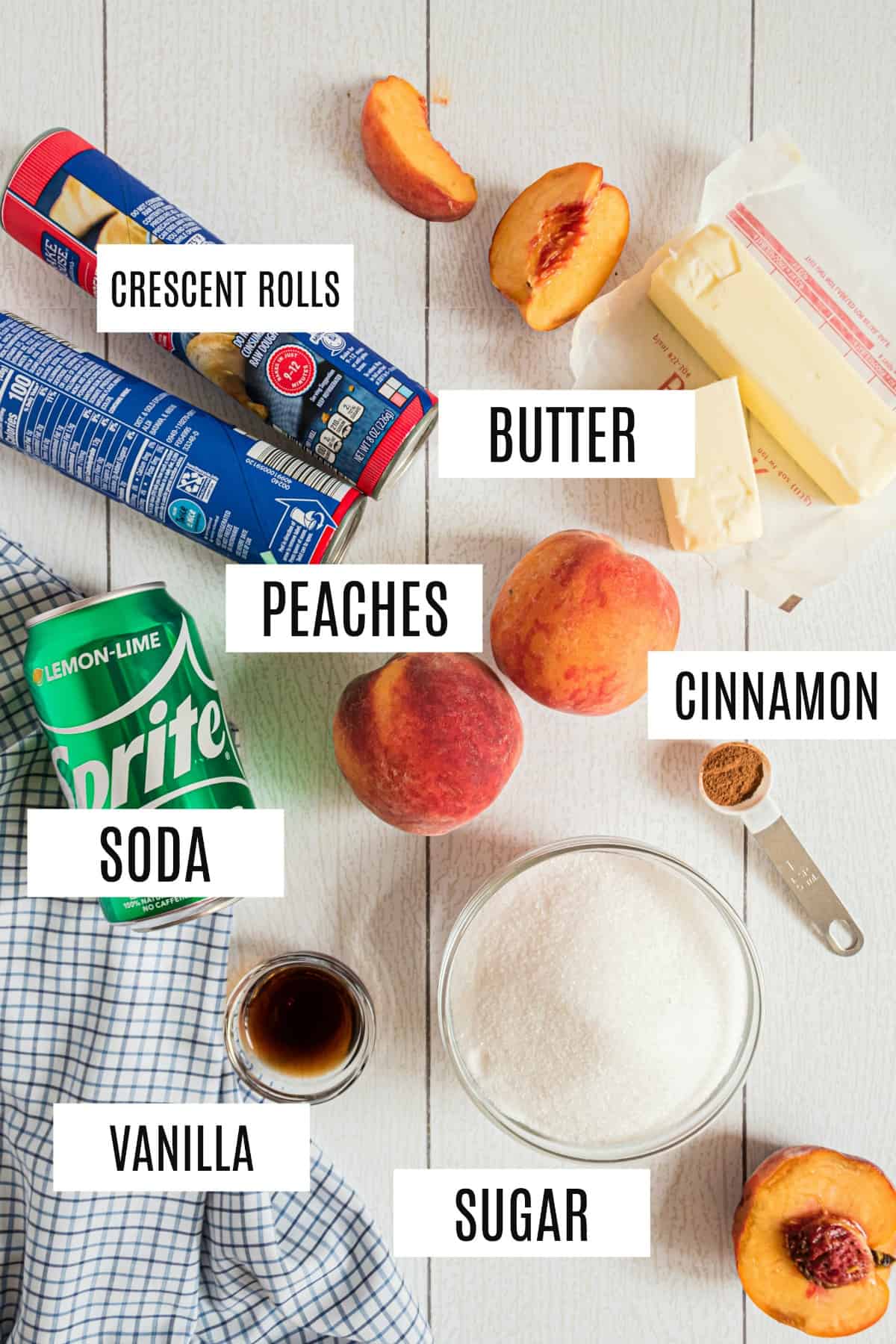 Fresh Peaches
The original recipe calls for frozen peaches. Since I made this in the summertime at the peak of peach season, I used fresh ripe peaches in my Peach Dumplings.
When using fresh peaches, you're going to want to remove the skin before adding them to the dumplings.
Frozen fruit works great, too, if fresh aren't available. In fact, why not buy extra peaches when they're in season and freeze them so you can make perfect fruit dumplings all year long?
Can you use canned peaches?
Yes, but make sure to fully drain them first. The texture will be a little different than if you use frozen or fresh.
Pop.
For the soda, both Sprite and 7-Up are equally effective. Or choose another brand of lemon-lime soda like Sierra Mist or Mountain Dew. Make sure it's regular and not diet, though! The sugar in the soda is what makes it caramelize.
Step by Step Instructions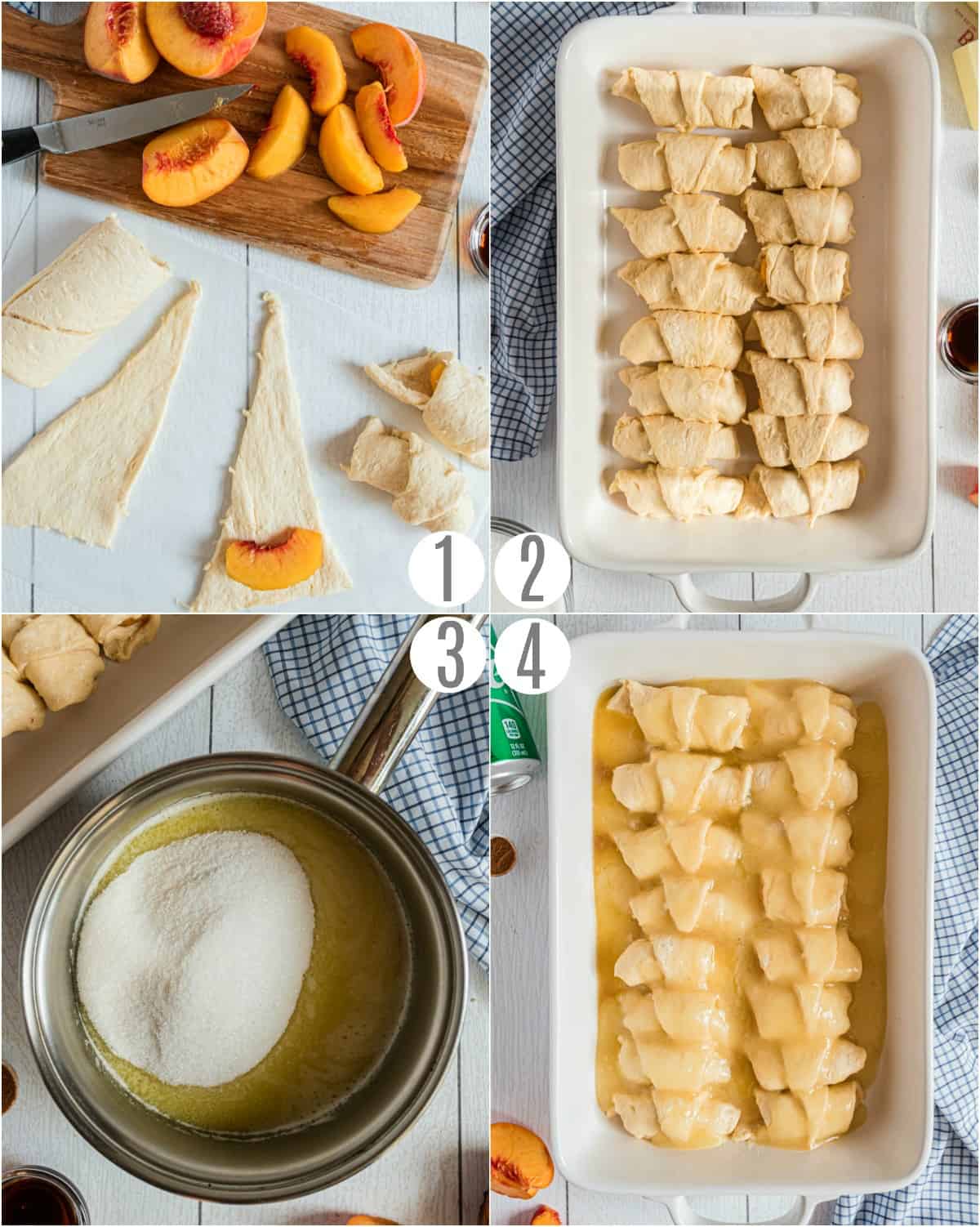 STEP 1. Cut peaches and roll
Cut each peaches into 8 slices each and remove the peels. Place each peach slice at the largest end of the crescent roll and roll it up.
Place in a prepared greased baking dish.
STEP 2. Top with butter and sugar
Melt butter in a small sauce pan, then remove from heat and stir in granulated sugar and vanilla until just combined. Pour the sugar mixture over the dumplings.
STEP 3. Add soda and bake
Pour about half a can of Sprite around the edges of the baking dish.
Bake for 40 minutes until the tops are golden brown and the rolls are completely cooked.
Let cool for about 10 minutes before serving.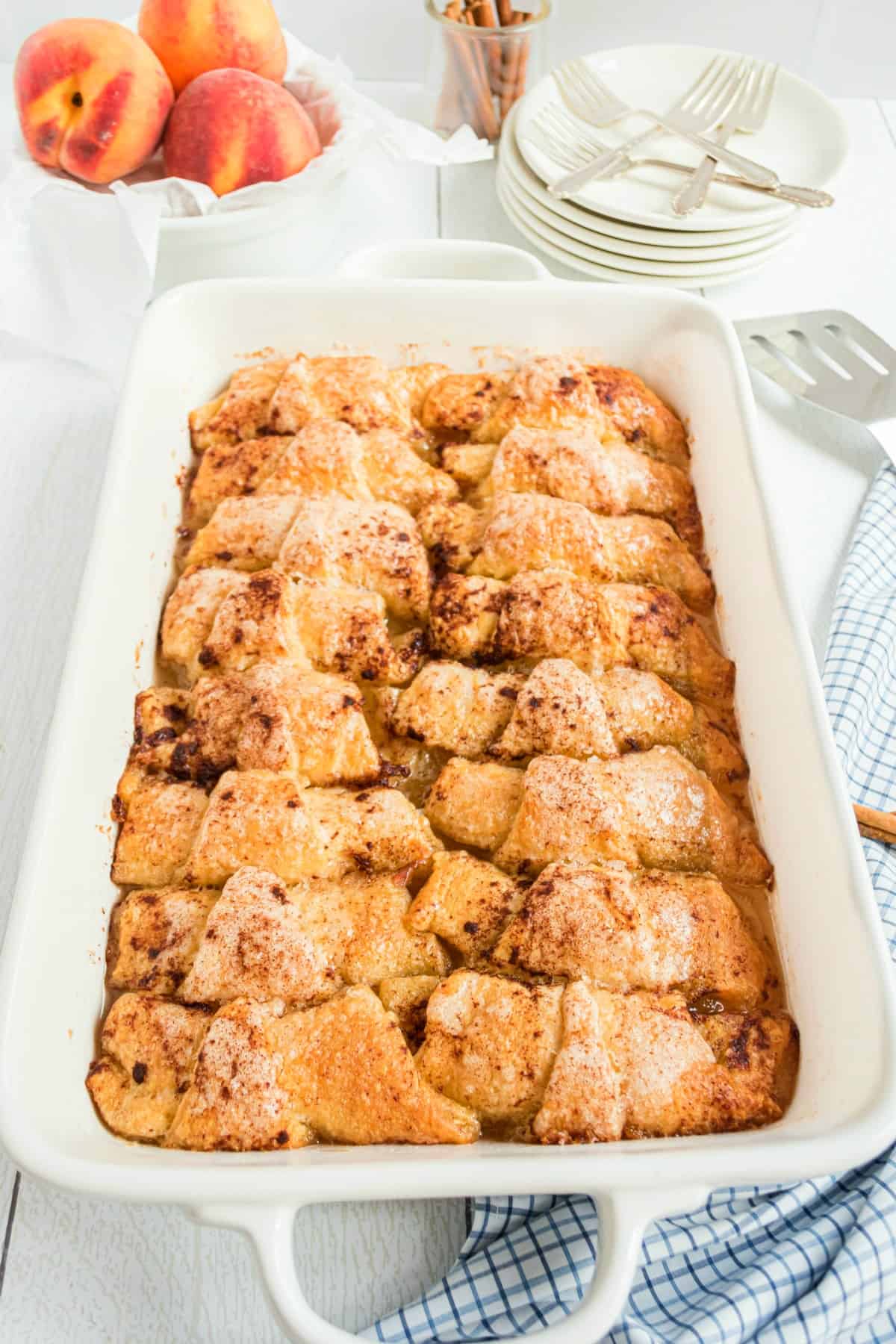 How to Serve
These dumplings are amazing served warm topped with vanilla ice cream. Serve the dumplings and ice cream in bowls to keep the ice cream from running off.
Homemade Whipped Cream is also delicious on top of homemade Peach Dumplings as an alternative to the ice cream. Or, you can serve these just as they are, no topping required.
Don't forget to spoon some of the syrup from the pan over each dumpling before serving. So good!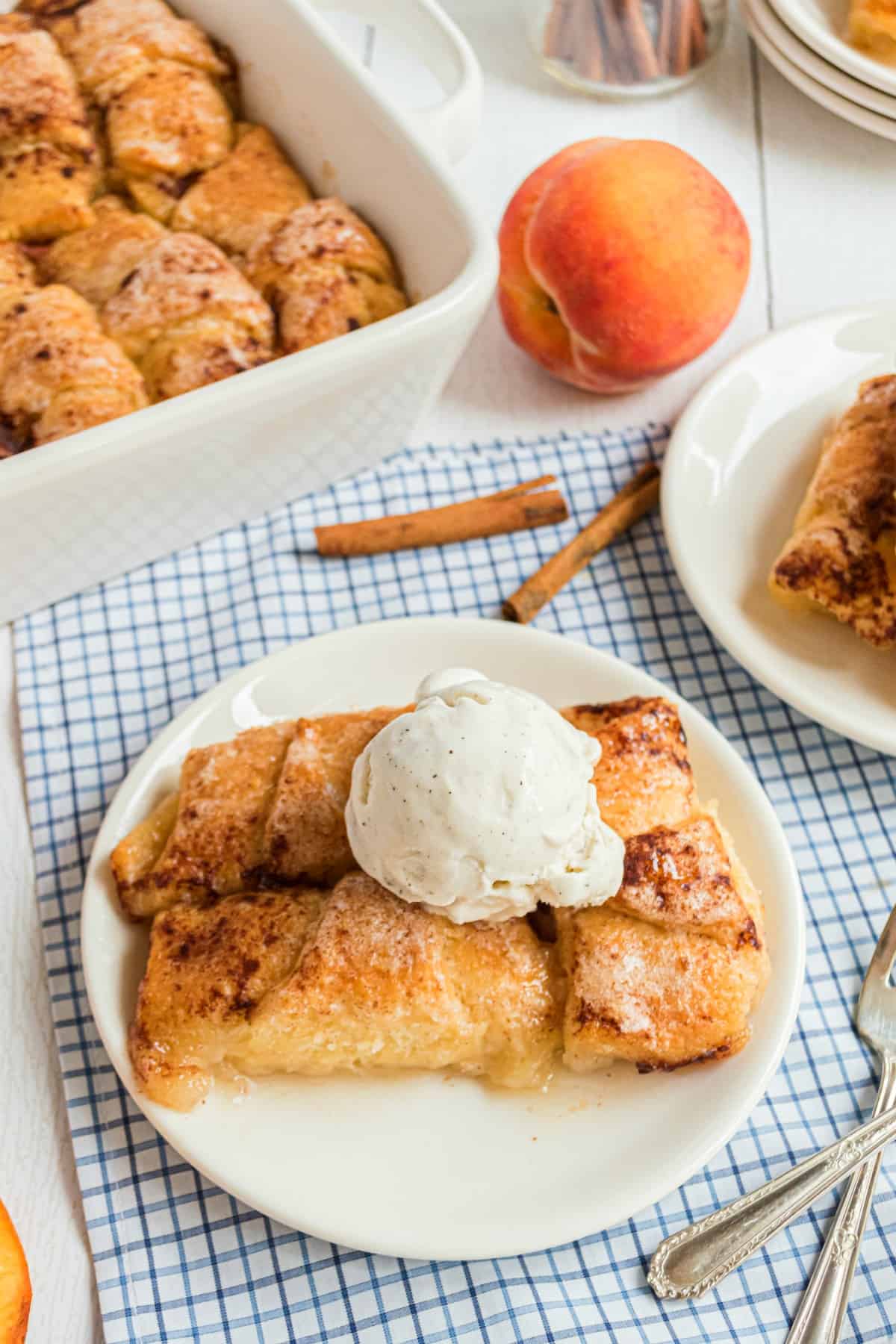 Tips and Tricks
Peeling peaches: Most peach skin is soft enough to easily remove with a peeler or even the side of a spoon. If the peach skin is stubborn and tough to pull off without removing the flesh, you can use the blanching technique. Put peaches in boiling water for a few seconds, then quickly remove and plunge into ice water. The skin should come off almost by itself!
While I love these best when they're warm, the dumplings also taste great a few hours after baking, when they've fully cooled and the juices have settled. Don't be afraid to make these a couple hours in advance. Just cover them until you're ready to serve.
Recipe FAQs
Can I used canned peaches instead of fresh for dumplings?
Yes! No peeling means they are super easy to use. Just be sure to completely drain the juices.
Do I have to use the 7up or soda?
I have tried making these without the pop, and honestly they just aren't as good. The soda adds the sugary caramelization necessary to make these moist and flavorful.
How do you store leftover Peach Dumplings?
Wrap the top of the dish (or place leftovers in airtight container) and store covered in the refrigerator for up to 3 days. Warm in microwave if desired.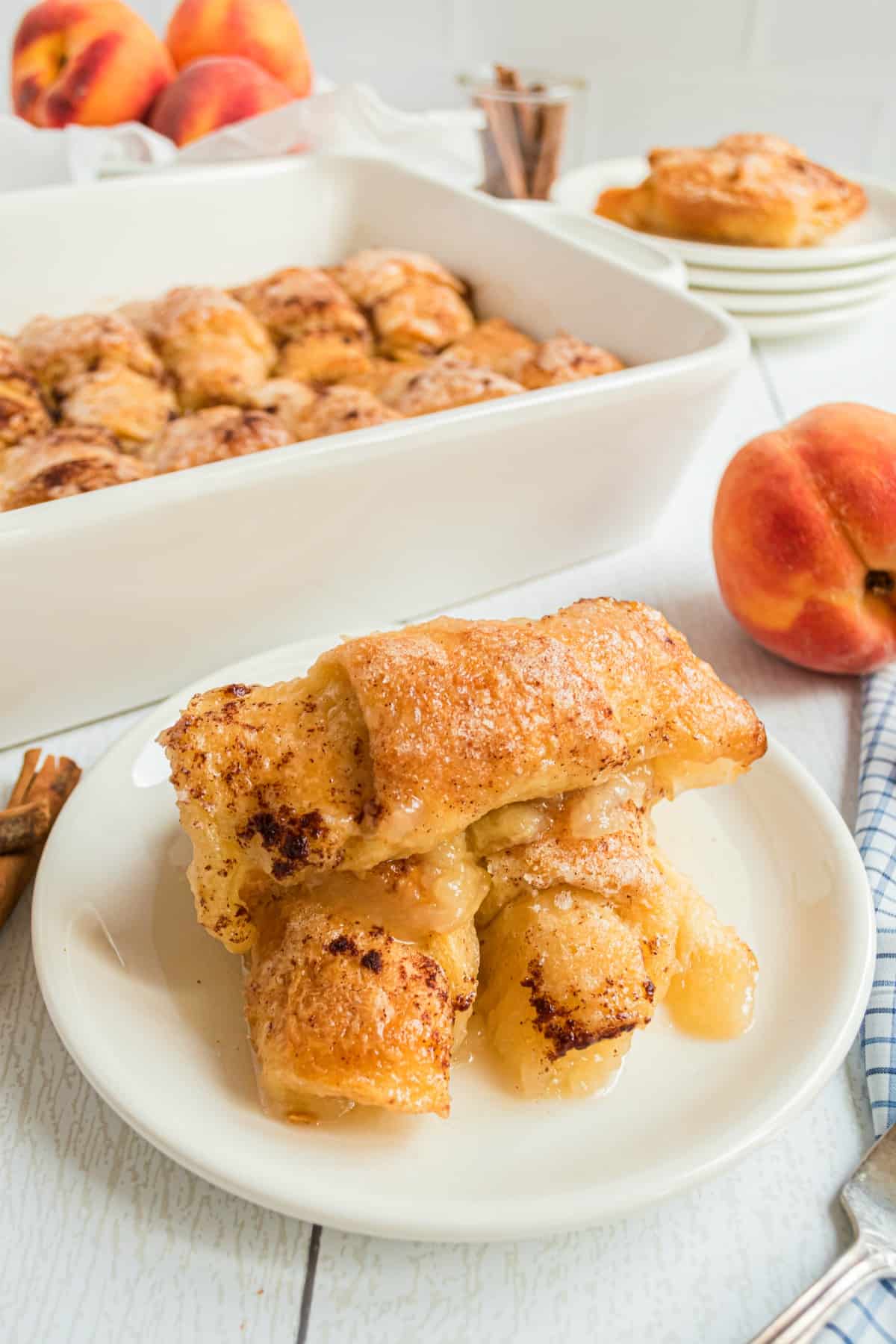 I am over the moon for this Easy Pioneer Woman Peach Dumplings Recipe! Once you try it, I know you will be too.