No oven needed with this beautiful, layered NO BAKE Banana Cream Cheesecake! You'll love the cookie crust with the creamy cheesecake, fresh bananas, banana pudding and whipped topping.
No Bake Cheesecake recipes are some of our family's favorite desserts. Make sure to try this Lemon Cheesecake version too.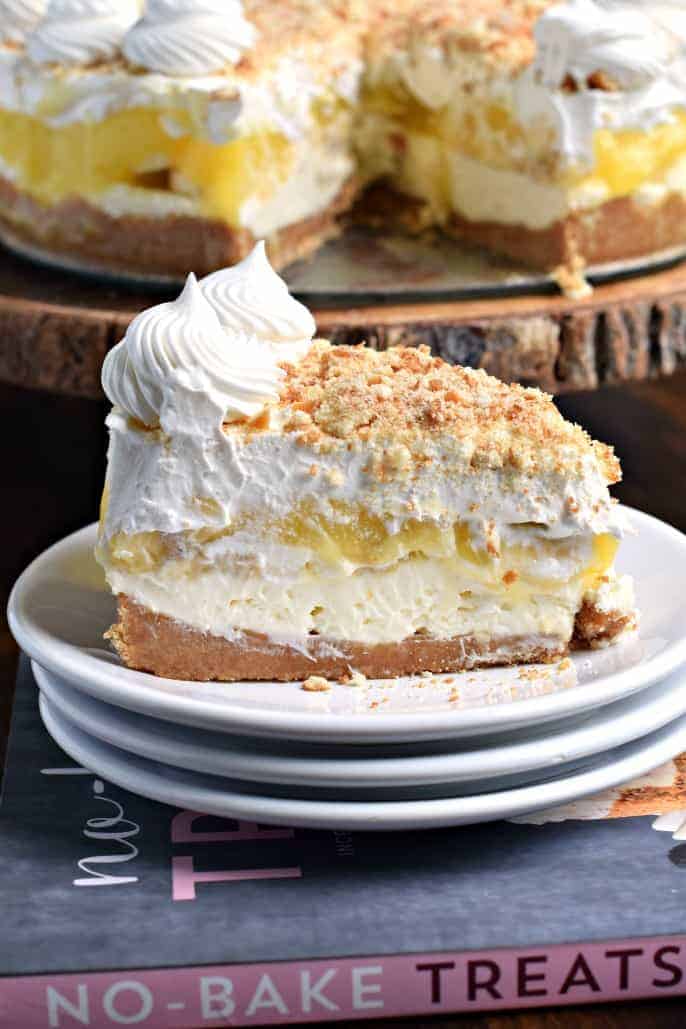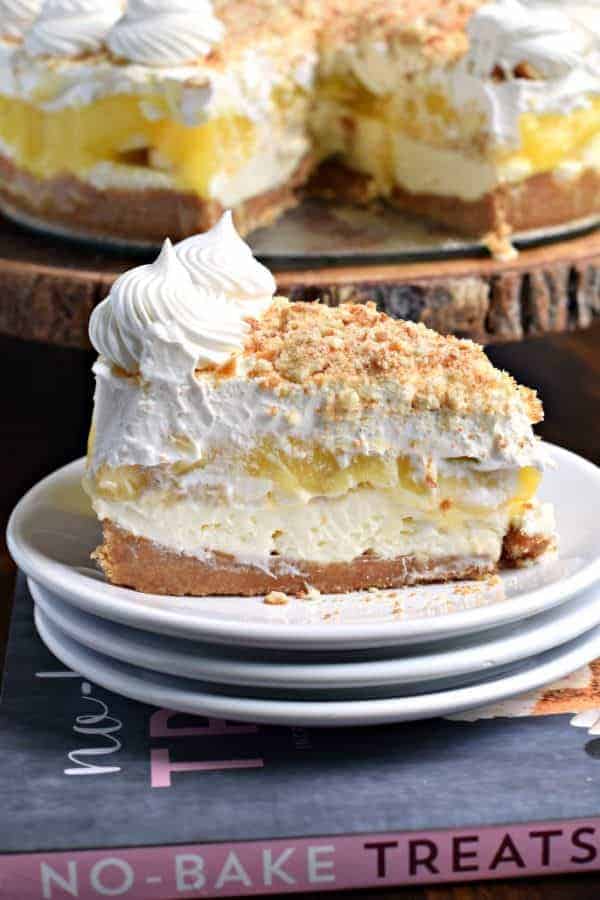 Why this Recipe is Best
It's my birthday today, whoohoo!!! Okay, it's not really, but it's SOMEONE's birthday today, and this cheesecake is the perfect way to celebrate!! The recipe inspiration comes from my friend Julianne and her cookbook "No Bake Treats."
I have a huge collection of cookbooks. Some that are definitely collecting dust, and some that have spills, splatters and bunny-eared pages because I love them so much. Today's recipe comes from a cookbook that will be used often.
Why is this one a keeper? Because….
It's packed with delicious no bake recipes. Perfect for summer.
It's created by a blogger (Hi Julianne) I love and trust! I know her recipes will knock your socks off!
The photos. Every recipe has a photo (I LOVE THAT) and they all look amazing. I'm curious which one you will try first!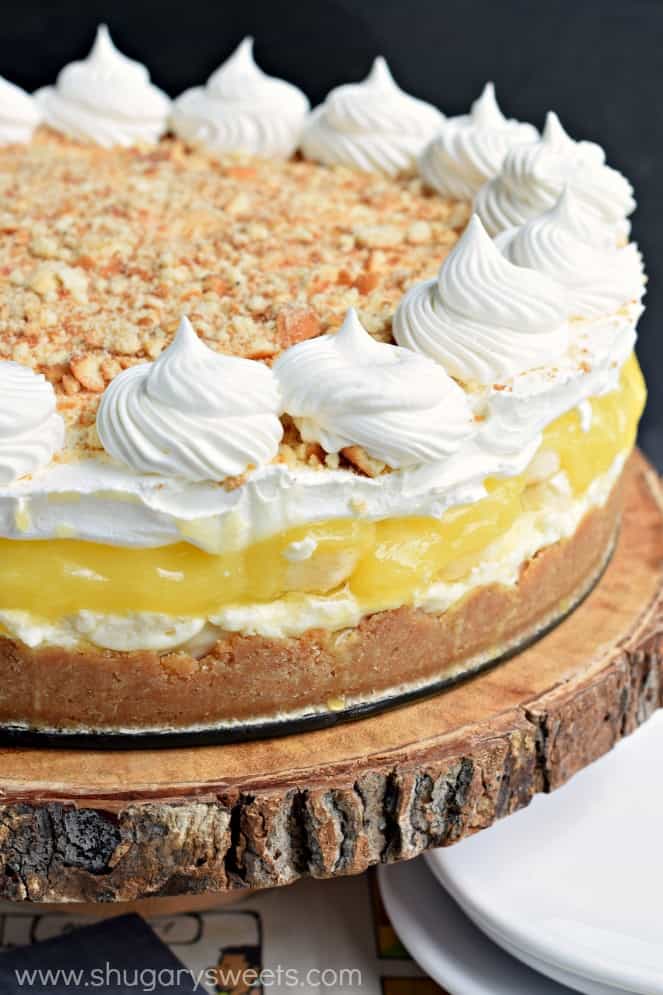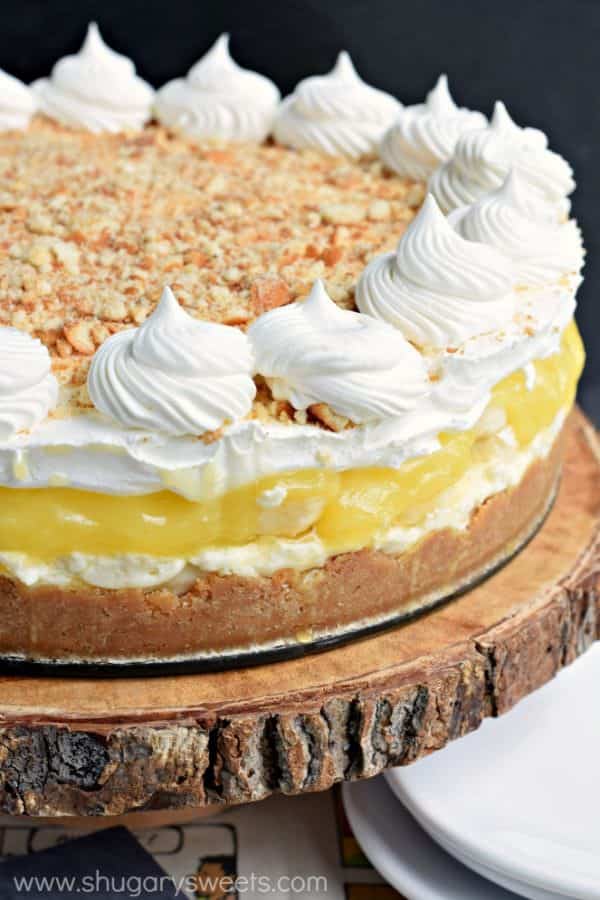 Ingredient Notes
Banana Cream Pudding Mix – This gets mixed with milk to create a perfect banana flavored pudding layer.
Nilla Wafers – Ground into fine crumbs, these get mixed with butter to form a homemade pie crust. Other vanilla wafer style cookies can be substituted. You could swap this out for our graham cracker crust instead!
Cream Cheese – You can't make cheesecake without it! Remember to use regular (full fat) cream cheese and let it soften to room temperature for easier mixing.
Heavy whipping cream – Beaten with cheesecake and sugar, it gives no bake cheesecake and extra creamy flavor and light consistency.
Cool Whip – Yes, you can use real whipped cream instead but the stabilized whipped topping tastes especially good on top of banana cheesecake.
Bananas – A few sliced bananas on top make this banana cheesecake complete! They are layered until the pudding so every bite includes plenty of real banana flavor.
Easy Instructions
Make the pudding:
Mix together the pudding mix with milk. Let it chill in the fridge while you prepare the other cheesecake ingredients.
For the crust:
Pulse nilla wafers in a food processor to form fine crumbs. Mix with melted butter. Press the crust into the bottom of a greased spring form pan.
Make the cheesecake filling:
Beat the cheesecake filling ingredients together. Pour the filling into the Nilla wafer crust.
Assemble and garnish:
Place banana slices on top of the cheesecake. Pour the thickened pudding over the bananas. Top everything with a thick layer of cool whip.
Let the whole cake chill for at least 2 hours. Before serving, sprinkle a few more crushed Nilla wafers on top of the banana cheesecake.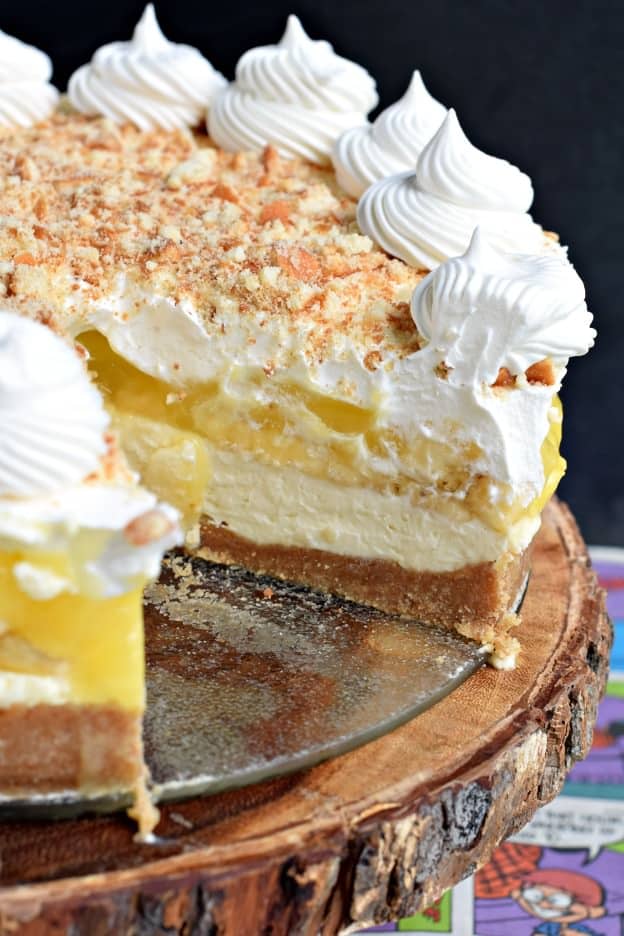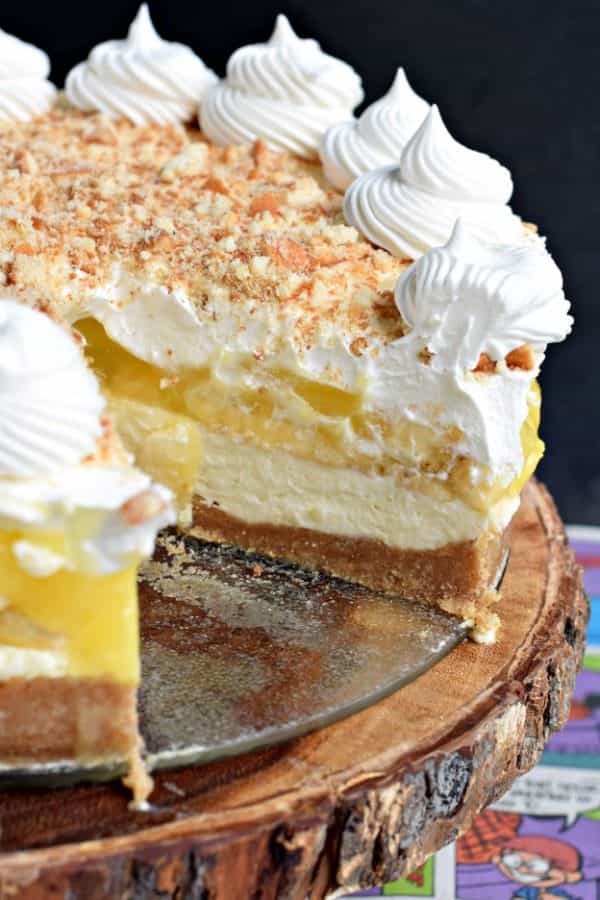 Tips and Tricks
Cool whip garnish: You will have 4 ounces of cool whip left after chilling the cake. Use a frosting bag to pipe the extra cool whip along the border of the no bake banana cheesecake!
Storing: Keep this (and all no bake cheesecakes) in the refrigerator when it's not being eaten.
Try our no bake strawberry cheesecake recipe next!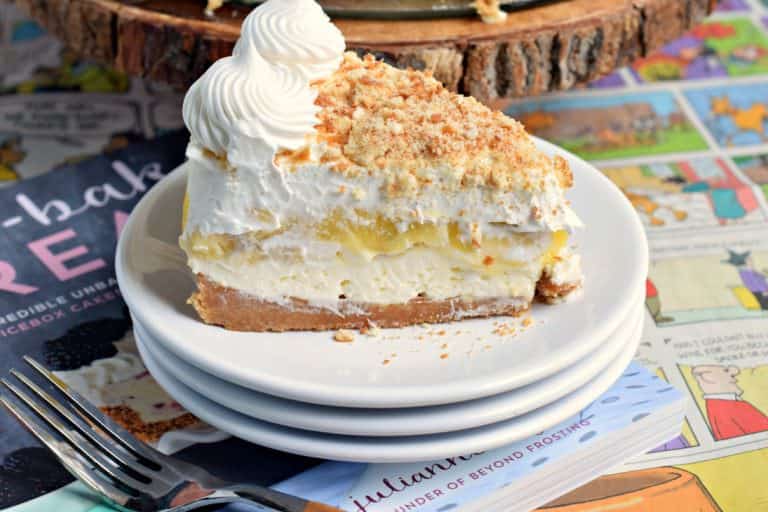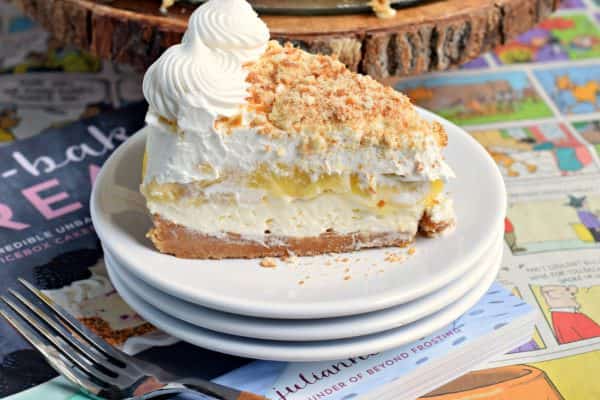 Recipe FAQs
Do I need Instant Pudding Mix or Cook and Serve?
This recipe uses instant banana cream pudding mix! If you want to use cook and serve, follow the recipe on the box for making pudding and let it chill in the fridge for several hours before using it in this cheesecake recipe.
How long does no bake cheesecake stay good?
No bake cheesecake is best enjoyed within 3 days of assembling. The longer it sits the mushier the bananas will get.
Can this be made with real whipped cream instead of cool whip?
Yes, you can substitute real whipped cream. However, I like the consistency of stabilized cool whip more as a cheesecake topping here.
You may also love this easy No Bake BLUEBERRY Cheesecake recipe!
No Bake Banana Cream Cheesecake is a dreamy combination of banana, vanilla and cream cheese flavors. With a fluffy cool whip topping and fresh bananas, it looks as good as it tastes!