No Bake Banana Cream Cheesecake
No oven needed with this beautiful, layered NO BAKE Banana Cream Cheesecake! You'll love the cookie crust with the creamy cheesecake, fresh bananas, banana pudding and whipped topping!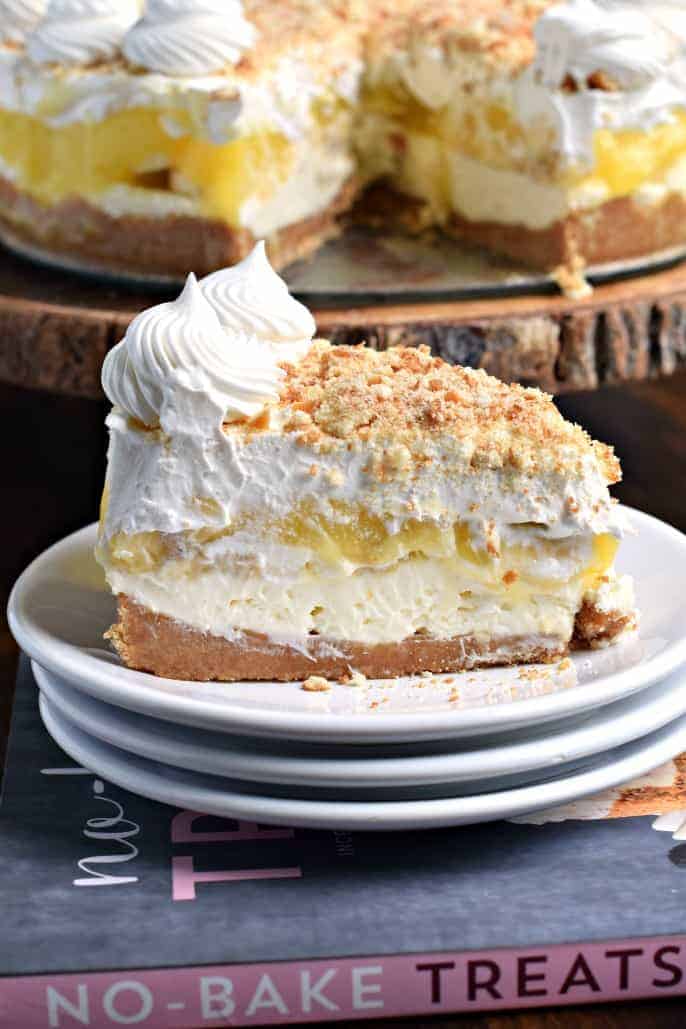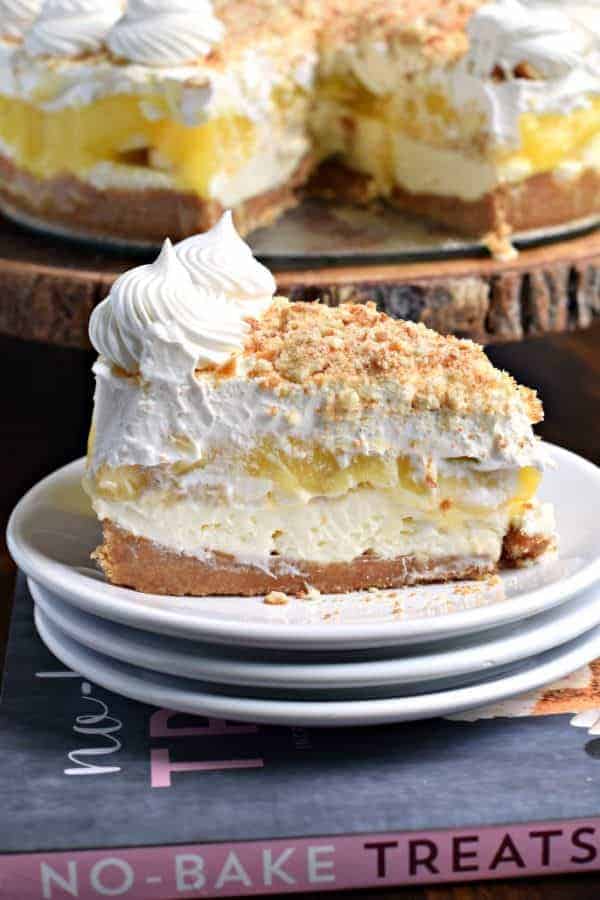 Click HERE to save recipe to Pinterest!
It's my birthday today, whoohoo!!! Okay, it's not really, but it's SOMEONE's birthday today, and this cheesecake is the perfect way to celebrate!! The recipe inspiration comes from my friend Julianne and her cookbook "No Bake Treats."
I have a huge collection of cookbooks. Some that are definitely collecting dust, and some that have spills, splatters and bunny-eared pages because I love them so much. Today's recipe comes from a cookbook that will be used often.
Why is this one a keeper? Because….
It's packed with delicious no bake recipes. Perfect for summer.
It's created by a blogger (Hi Julianne) I love and trust! I know her recipes will knock your socks off!
The photos. Every recipe has a photo (I LOVE THAT) and they all look amazing. I'm curious which one you will try first!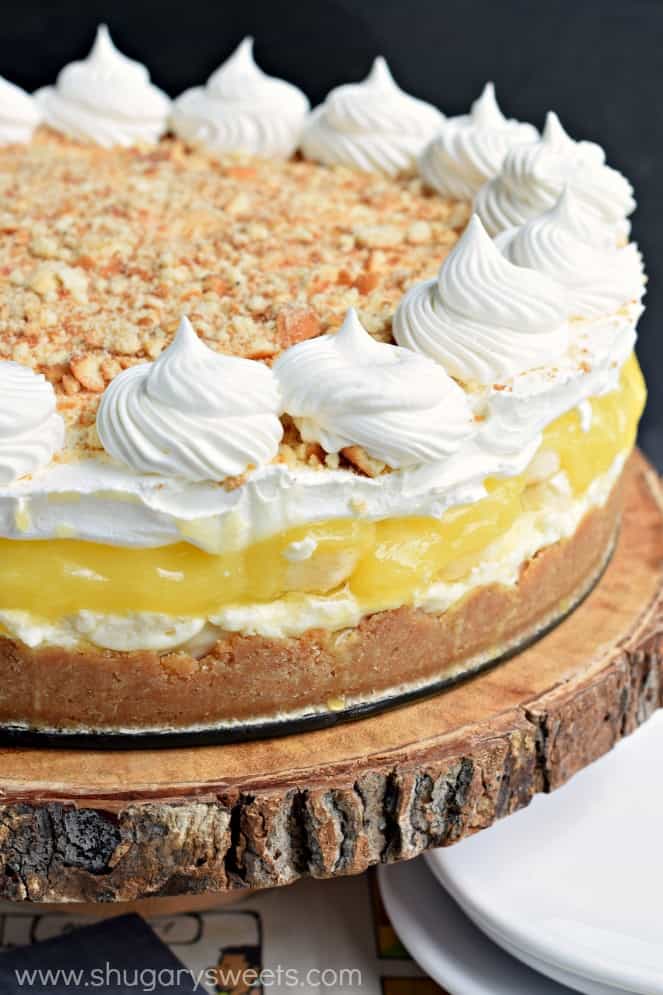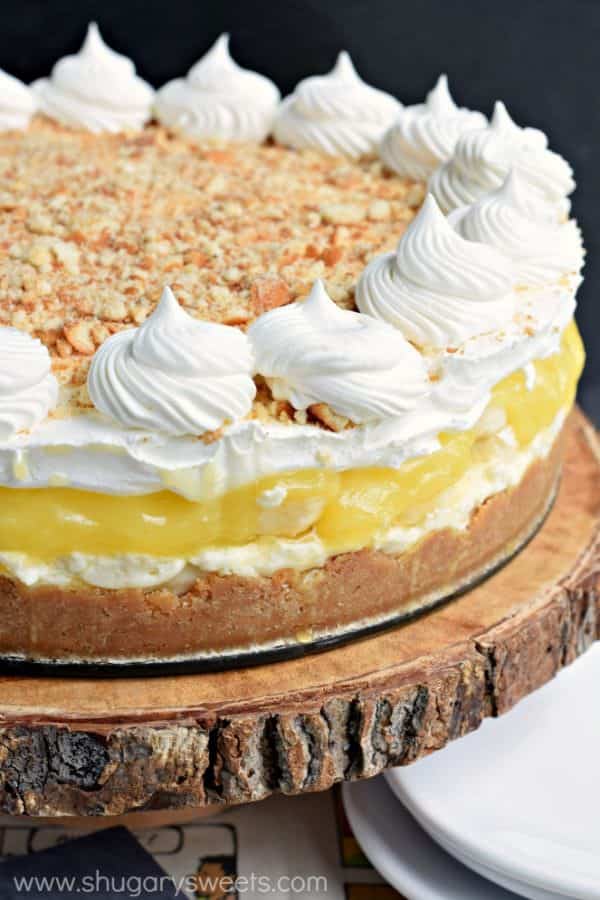 I love "no bake" desserts.
(you can see I have quite a few on the blog already!) Especially as we are in the heart of summer here in the midwest, desserts that don't use the oven are essential.
I still need a dessert for my birthday, so the timing of whipping up one of these "No Bake Treats" was perfect.
And, since I love banana pudding desserts (AND CHEESECAKE) this one got my attention! I did change up the recipe slightly, just to make it a little easier (I used boxed pudding mix instead of her homemade pudding recipe….and I used Cool Whip instead of homemade whipped cream)….but feel free to purchase her book and make it the original way!!
You may also love this easy No Bake BLUEBERRY Cheesecake recipe!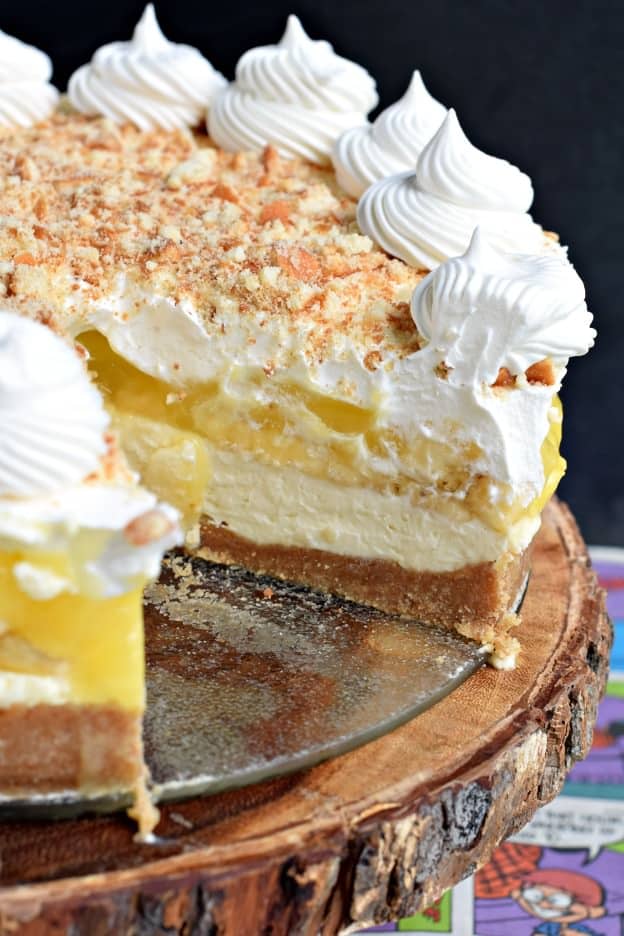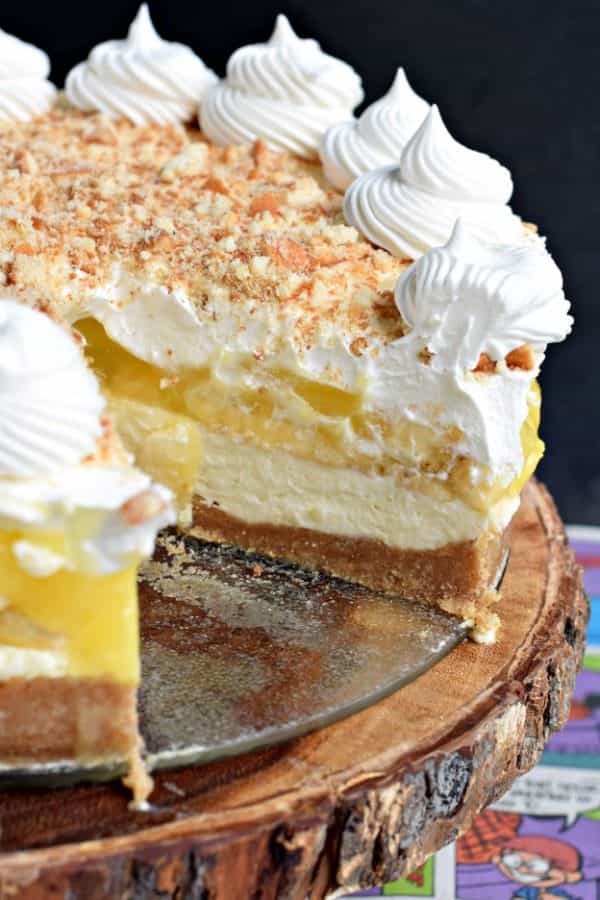 Back to this cheesecake. Who wants a slice to help me celebrate my birthday??
How to make this easy No Bake Banana Cream Cheesecake Recipe:
Start by making your pudding first. I used a box of Jello Instant Banana Cream Pudding and prepared according to the package. Refrigerate until you're ready to assemble the cheesecake (at least 5 minutes)
Next, get your 9-inch springform pan ready by greasing the bottom with baking spray! Set this aside.
For the crust, grind a box of vanilla wafers in your food processor (if you want to save about 6 of them for the garnish you can). You want this to be a fine crumb that you can mix with the melted butter. Press into bottom of prepared pan.
For the cheesecake, beat your cream cheese for several minutes until fluffy. Add in cream and vanilla, beat again and pour over crust.
Next you'll add sliced bananas then pudding mixture. Top with Cool Whip 🙂
Refrigerate at least three hours. When ready to serve, crust your remaining cookies over the top of the cake and pipe on some of your extra Cool Whip. ENJOY.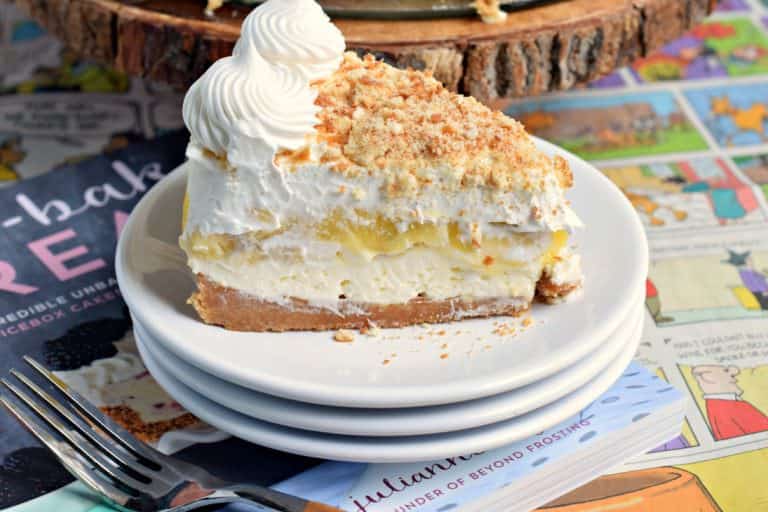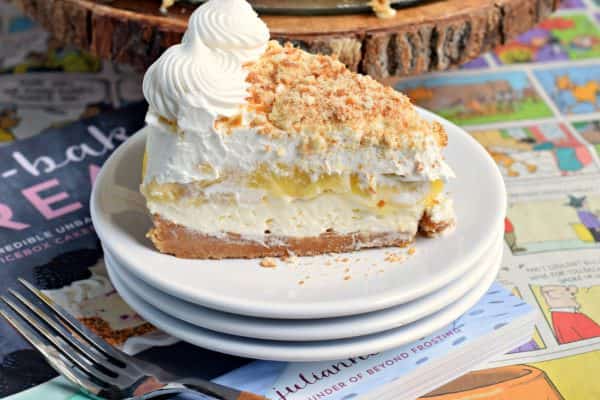 I created a fun little group on facebook and I'd love for you to join in! It's a place where you can share YOUR favorite recipes, ask questions, and see what's new with Shugary Sweets (so that you never miss a new recipe)! If you'd like to check it out, you can request to join HERE.
Connect with Shugary Sweets!
Be sure to follow me on my social media, so you never miss a post!
Facebook | Twitter | Pinterest | instagram
No Bake Banana Cream Cheesecake Recipe:
Yield: 10 servings
No Bake Banana Cream Cheesecake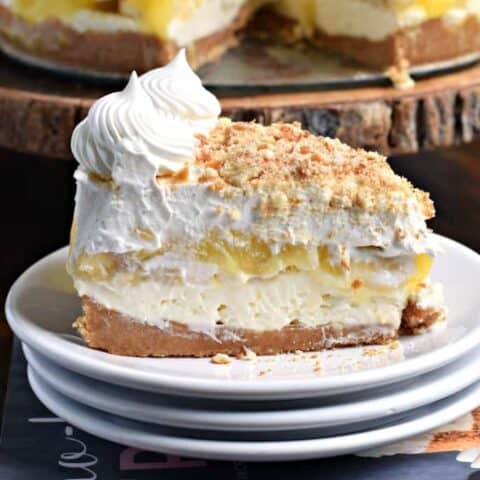 Prep Time
3 hours
20 minutes
No oven needed with this beautiful, layered NO BAKE Banana Cream Cheesecake! You'll love the cookie crust with the creamy cheesecake, fresh bananas, banana pudding and whipped topping!
Ingredients
For the Pudding:
1 box (3.4 oz) Banana Cream Pudding mix
1 3/4 cup milk (I used skim milk)
For the Crust:
1 box (11 oz) Nilla Wafers cookies
3/4 cup unsalted butter, melted
For the Cheesecake:
2 packages (8 oz each) cream cheese, softened
1/2 cup granulated sugar
2 Tbsp heavy whipping cream
1 tsp vanilla extract
For the Topping:
12 oz Cool Whip, thawed, divided
3 large bananas, sliced
6 Nilla Wafers, crushed, for garnish
Instructions
For the Pudding:
Prepare pudding mixture first so that it has a few minutes to chill and thicken before assembling the cheesecake.
In a small bowl, whisk together the pudding mix and milk until smooth. Refrigerate for 5 minutes, until ready to assemble.
For the Crust:
Lightly grease the bottom of a 9-inch springform pan with baking spray. Set aside.
In a food processor, grind the vanilla wafers (reserving about 6 of them for the garnish) until a fine crumb. Add in the melted butter and combine together with a fork.
Pour crust mixture into bottom of springform pan and press firmly to create a thick crust! Set aside.
For the Cheesecake:
Beat cream cheese with sugar for 3-4 minutes until light and fluffy. Add in whipping cream and vanilla and beat an additional 2-3 minutes, scraping down the sides of the bowl as needed.
Pour cheesecake filling into prepared crust.
To assemble:
Once you have poured your cheesecake filling onto your crust, add your sliced bananas to the top of the cheesecake.
Get your pudding mixture out of the refrigerator and pour that over the sliced bananas.
Top everything with 8 oz of the thawed Cool Whip.
Refrigerate entire cake for at least 3 hours.
When ready to serve, use your 6 reserved cookies and crush them. Sprinkle over the top of the Cool Whip.
With your remaining 4 oz of Cool Whip, add it to a piping bag and add some festive swirls to the edges of your cheesecake. Serve and enjoy!


**Recipe originally published on Shugary Sweets on July 20, 2016 and has been republished in May 2018
Excerpted from
No Bake Treats: Incredible Unbaked Cheesecakes, Icebox Cakes, Pies and More
by Julianne Bayer. Copyright © 2016. Reprinted with permission from Page Street Publishing Co. All rights
**There may be affiliate links in this post! By clicking on them, or purchasing recommended items I may receive a small compensation. However, I only recommend products I love! Thank you for supporting Shugary Sweets! See my disclosure policy for more info**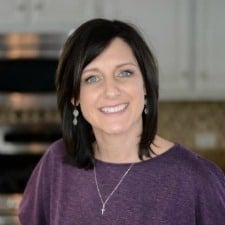 Aimee is a dessert lover (specifically rice krispie treats), workout enthusiast, self-taught foodie, and recipe creator. Her recipes have been featured in over 15 magazines, and her passion is to share her love of cooking with the everyday home cook! Learn more about Aimee.