Instant Pot Eggnog Cheesecake makes a perfect holiday dessert–without turning on the oven. This cheesecake is made with real eggnog for a cheerful and decadent finish to your meal!
Sip on some homemade Hot Chocolate while enjoying your cheesecake. Don't forget to try my classic Eggnog Recipe before the season is over too!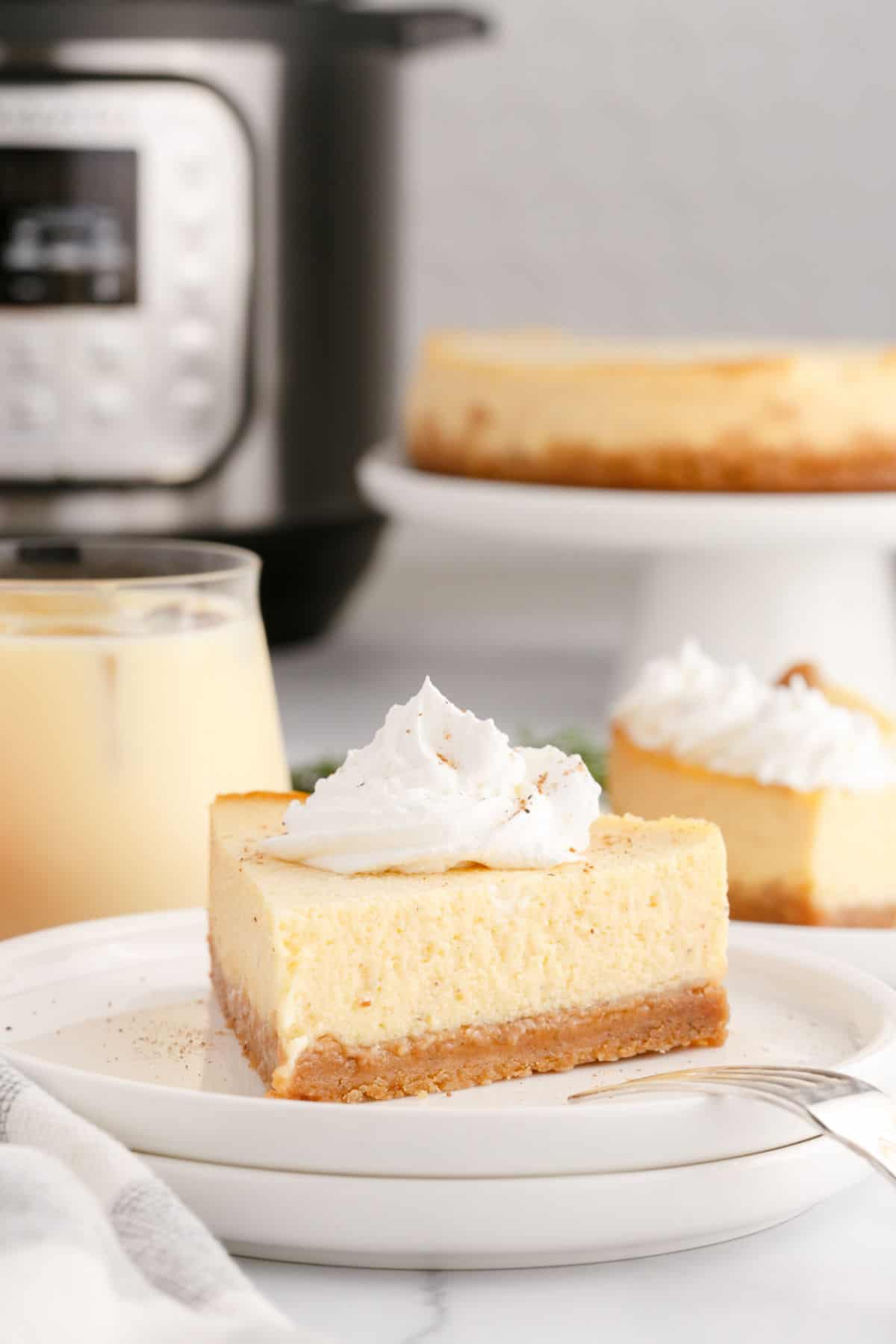 Why this Cheesecake is Best
Once I learned how easy it is to make some of my favorite desserts in the Instant Pot, I became a little obsessed.
I can't get enough eggnog desserts this time of year so I adapted my favorite Eggnog Cheesecake recipe for the Instant Pot.
Save oven space. The oven is in high demand when you're preparing for a holiday feast. Instant Pot Cheesecake leaves it free for all the other dishes on your menu.
Smooth and creamy. This Egg Nog Cheesecake made in the Instant Pot comes out rich, creamy and velvety smooth.
Make ahead dessert. You can pressure cook the cheesecake the night before, then let it chill overnight. It's easier to relax and enjoy your holiday dinner when you know you have a perfect homemade cheesecake ready to go in the fridge!
It came out even better than I expected! If you love eggnog and cheesecake, this is a must-try dessert for the Christmas season. Save some eggnog for this soft and chewy eggnog cookies.
Ingredient Notes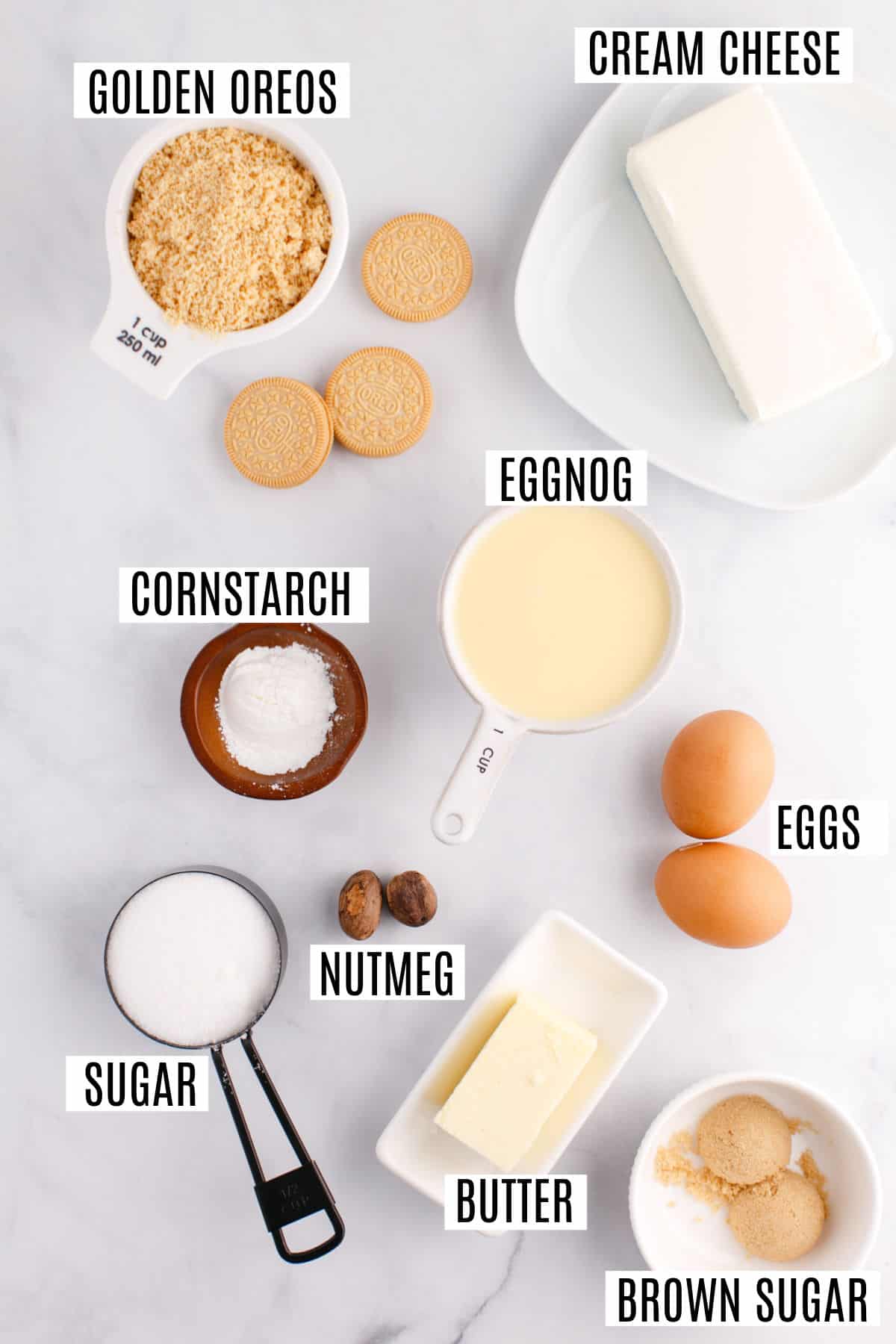 Eggnog – You can use any store bought or homemade eggnog you like. Let it come to room temperature before using.
Cream Cheese – For creamiest taste and best results, use full fat unflavored cream cheese. Soften at room temperature first.
Eggs – These bind the cheesecake giving it structure. Like the other ingredients, the eggs need to be room temperature to work best.
Nutmeg – Adds that finishing touch that makes the cheesecake reminiscent of a cold glass of nog. You'll need some for the filling and a bit more for sprinkling over the finished cake before serving.
Easy Instructions
Making Instant Pot Eggnog Cheesecake starts with a cookie crust pressed into the bottom of a springform pan. (or use our graham cracker crust recipe)
I use a 7-inch springform pan that will go on a trivet in my 6qt Instant Pot.
Mix together the cheesecake filling ingredients, then pour over the crust. Use a trivet or sling to lower the cheesecake into an Instant Pot over water.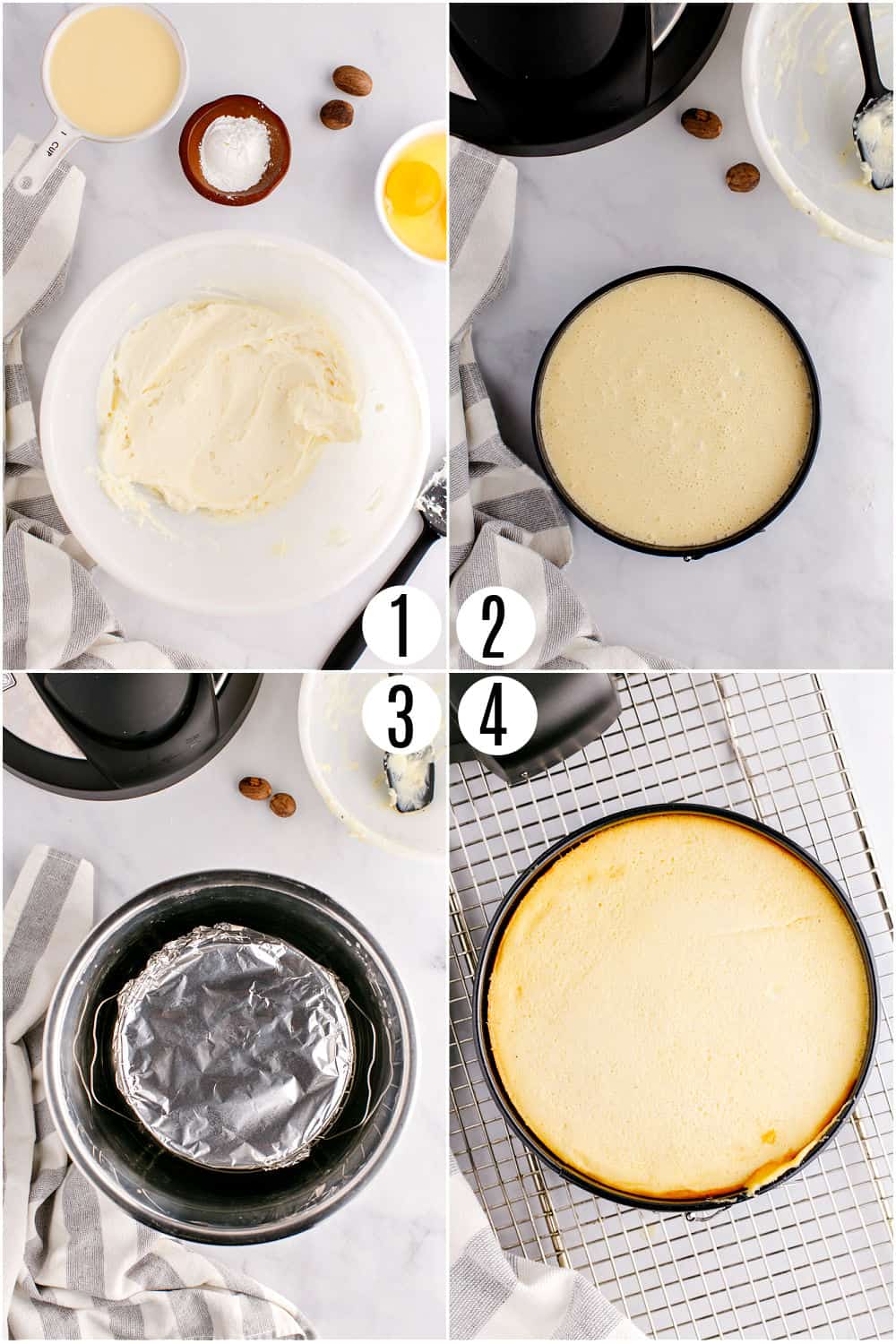 Let it pressure cook for 50 minutes, then let the pressure release naturally. Once the cheesecake is fully cooled, let it chill covered in the refrigerator for at least 6 hours.
Tips and Tricks
Serving suggestion: Garnish slices of cheesecake with fresh whipped cream and nutmeg. Delicious!
Substitute: swap out the golden Oreo cookies for graham crackers instead!
Make a foil tent: Wrap the pan in foil (without letting the foil touch the cheesecake itself) before putting it in the Instant Pot. This keeps extra water from condensing on the top of the cheesecake which can cause cracking.
Blot off condensation: Any condensation that collects on the cheesecake as it chills can be blotted off with a paper towel before serving.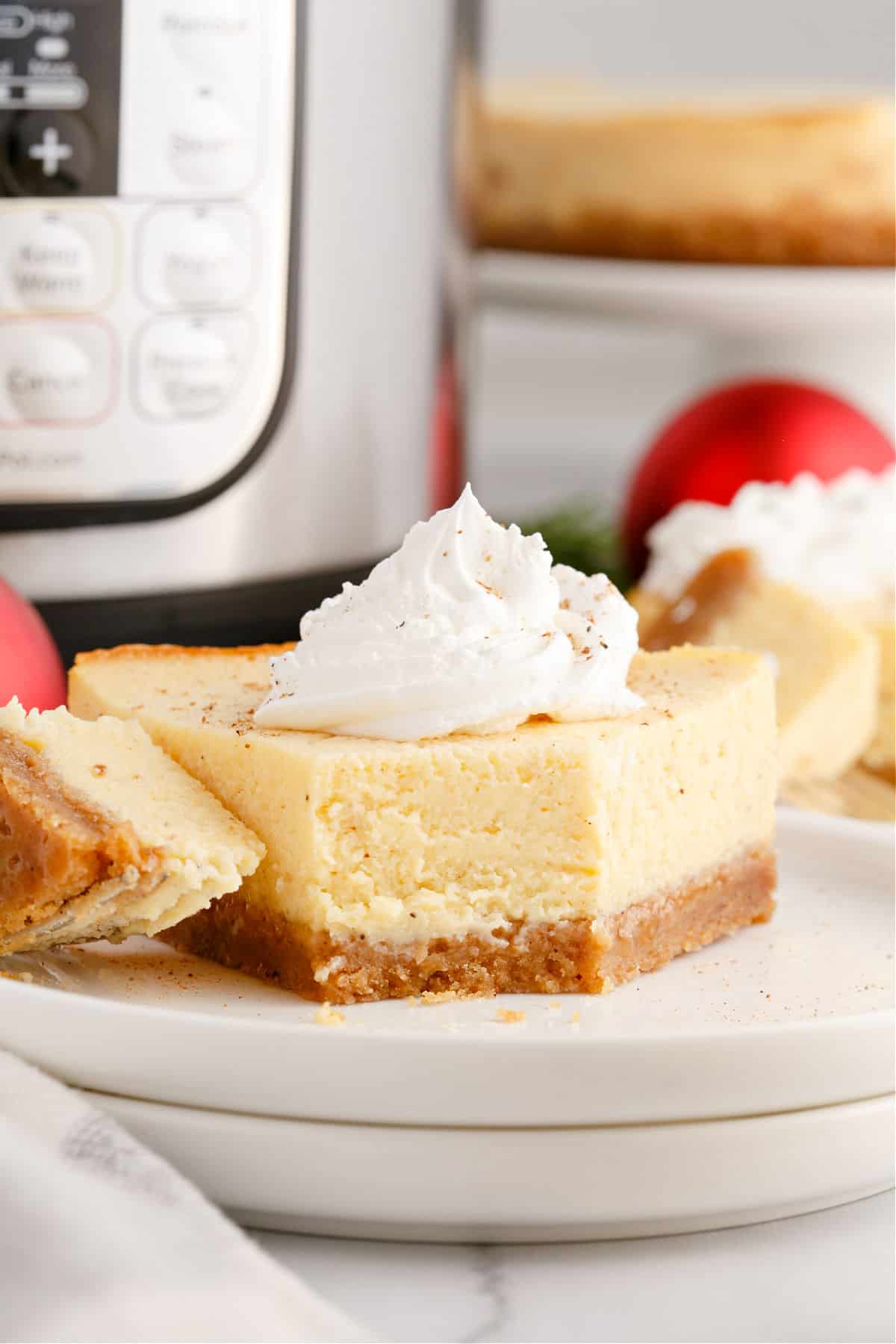 Recipe FAQs
How do you release the cheesecake from the pan?
After chilling the cheesecake, run a knife along the inside edges of the pan. Then unhinge the spring form pan and gently slide the cake onto a serving platter.
Why is my Instant Pot Cheesecake jiggly?
It's completely normal for the center of this eggnog cheesecake to look soft and wiggly when it comes out of the Instant Pot. It will firm up as it cools and chills!
Do I have to prebake the crust for Instant Pot Cheesecake?
No need to prebake the crust here! It will bake right along with the cheesecake in the pressure cooker.
More Cheesecake Recipes
Put your pressure cooker to good use this holiday with this Instant Pot Eggnog Cheesecake recipe! Eggnog flavor and creamy cheesecake come together in this cheery seasonal dessert.