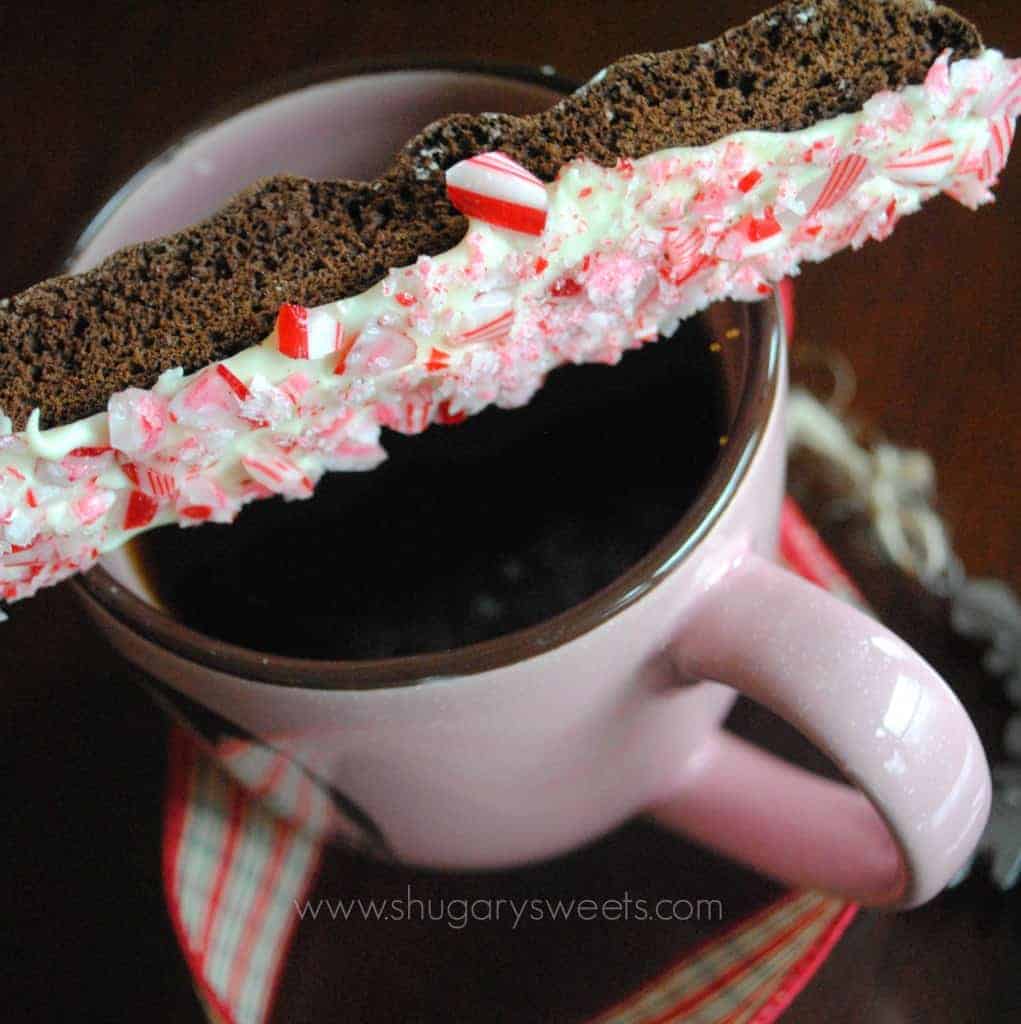 After making the pumpkin spiced biscotti this fall, it was time to tackle this holiday version.
And I'm so glad I did. It tasted wonderful. Yes, past tense. It's gone now. Must make more soon.
What are you baking up this holiday season?
Chocolate Peppermint Biscotti
Ingredients
1 cup granulated sugar
1 Tbsp hot water
3 large eggs
1/2 tsp peppermint extract
1 Tbsp instant coffee
2 cups all-purpose flourr + 2 Tbsp, divided
3/4 cup unsweetened cocoa powder + 2 Tbsp, divided
1 tsp baking soda
1/4 tsp kosher salt
11 oz white chocolate morsels
6 peppermint candy canes, crushed
Instructions
In mixer, beat sugar, hot water, eggs, instant coffee and peppermint extract together until smooth and creamy. Slowly add in 2 cups flour, 3/4 cup cocoa, baking soda and salt.
Batter will be very sticky. Line two cookie sheets with silpat or parchment paper. In small bowl mix 2 Tbsp of cocoa powder with 2 Tbsp flour.
Divide dough in half and sprinkle parchment with flour/cocoa mixture. With hands, press dough into two rectangles, about 4 in by 10 in (and 1/4 inch high).
Bake in a 350 degree oven for about 15-20 minutes. Remove and let cool 10-15 minutes. Slice rectangles into 1/2inch to 3/4 inch wide slices. Lay each slice on it's side and put back in the oven (on the parchment lined baking sheet) for an additional 15 minutes.
Remove from oven and allow to cool completely on wire rack.
Melt white chocolate morsels according to package directions, Spread bottoms of each biscotti with white chocolate then dip into the crushed candy canes. Allow to set, about one hour. Makes about 18 large biscotti. Enjoy!