Chocolate Biscotti flavored with peppermint is just the thing to make your Christmas breakfasts shine! Pour a cup of coffee and open presents while you enjoy a tasty Chocolate Peppermint Biscotti.
While this biscotti is a great holiday breakfast, add a pan of Overnight Egg Casserole to the mix for a hearty savory meal. Or keep it sweet with our rich chocolate donuts!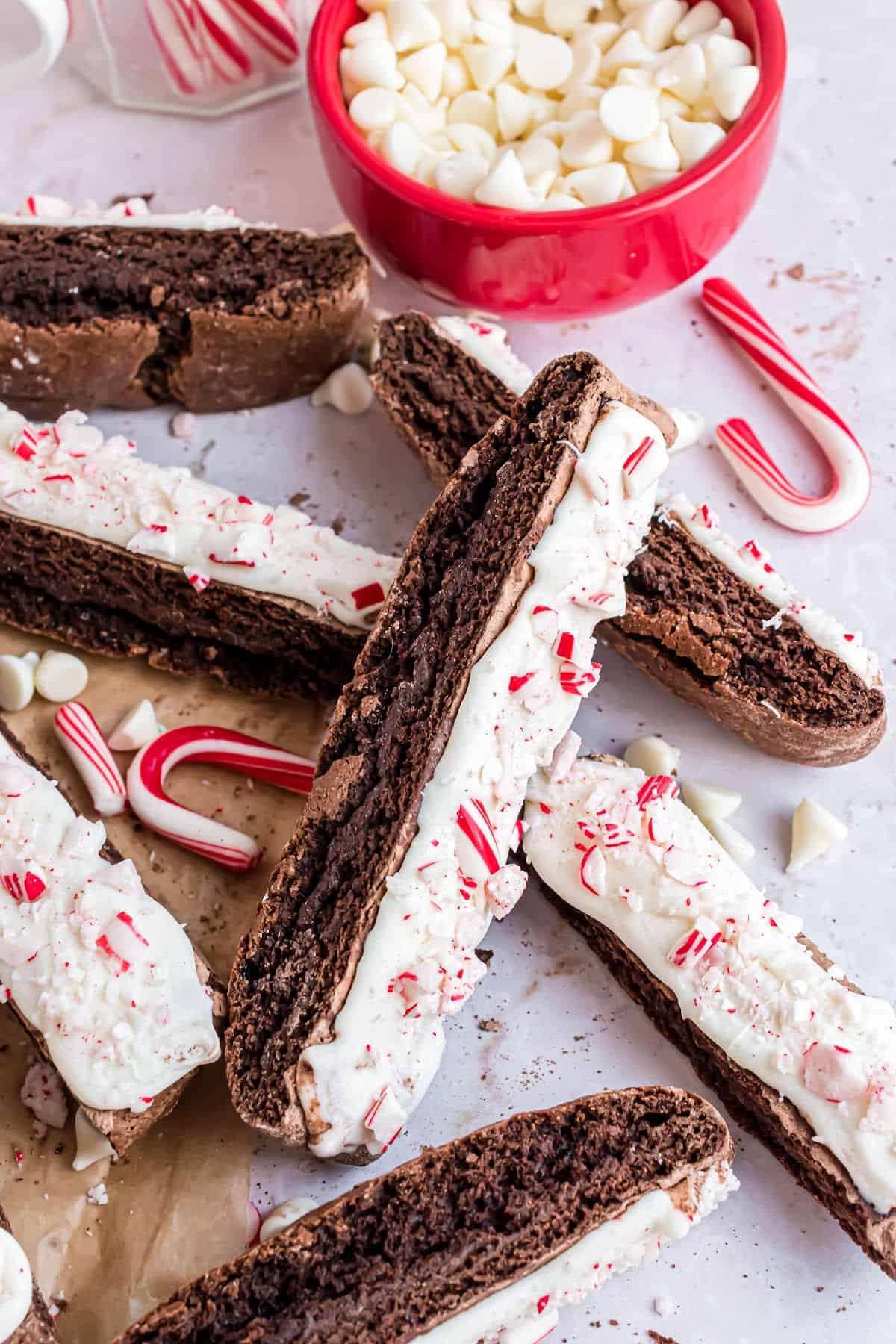 Why this Recipe is Best
The only thing I love more than a cup of coffee is what I can eat alongside it! Nothing pairs better with coffee than biscotti: Toasty cookies with plenty of crunch that soften a bit when you dip them in coffee!
After making the pumpkin spiced biscotti this fall, it was time to tackle this holiday version.
For the holidays, I opted to make a chocolate biscotti and add peppermint!
If you love today's breakfast treat, try our chocolate peppermint cookies next!
Ingredient Notes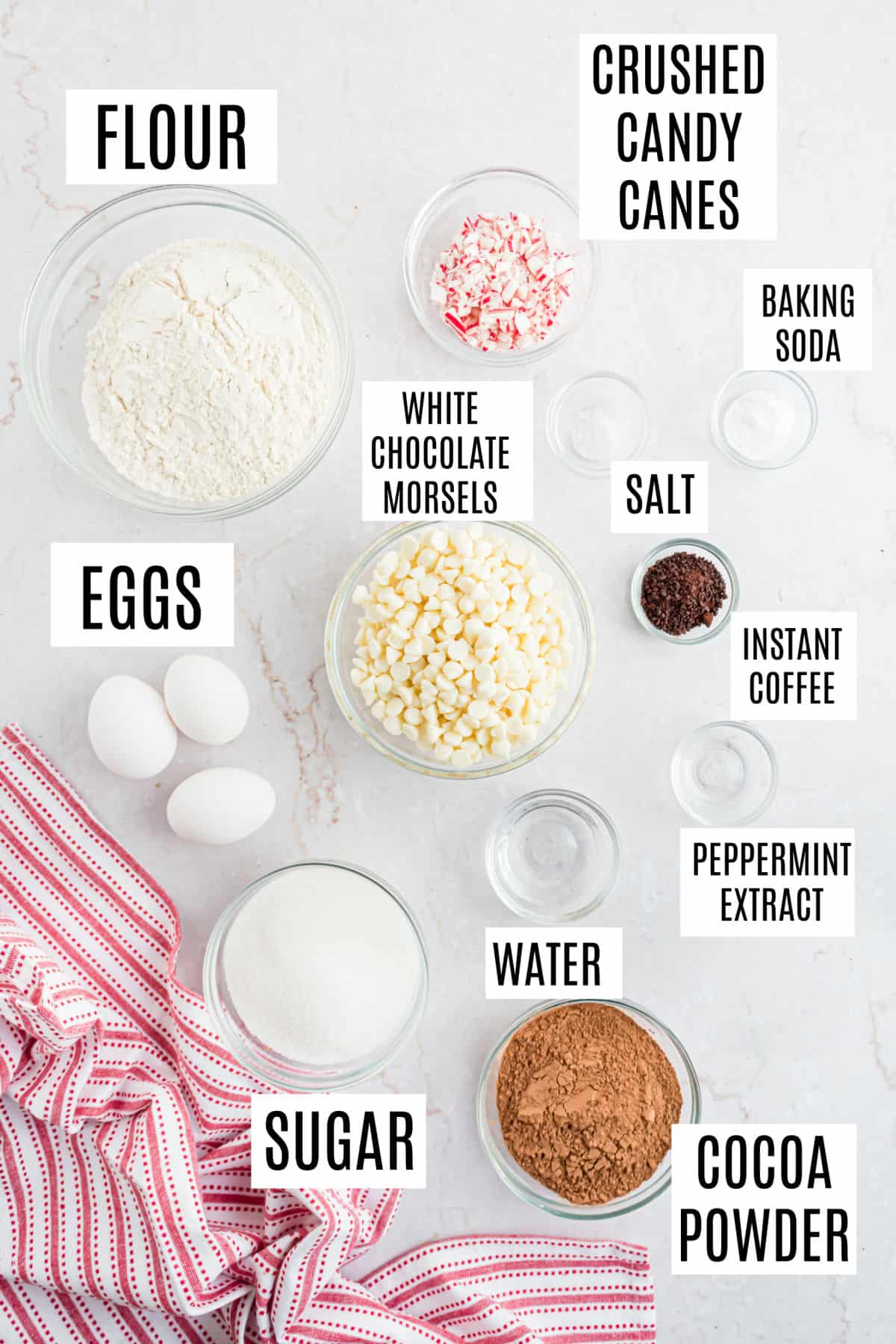 The chocolate biscotti are delicious on their own, but the white chocolate and peppermint addition adds so much satisfying crunch and flavor.
Melt the white chocolate morsels according to package directions. Then, spread the bottoms of the biscotti with the white chocolate, then dip the cookies into the crushed candy canes.
How to make chocolate biscotti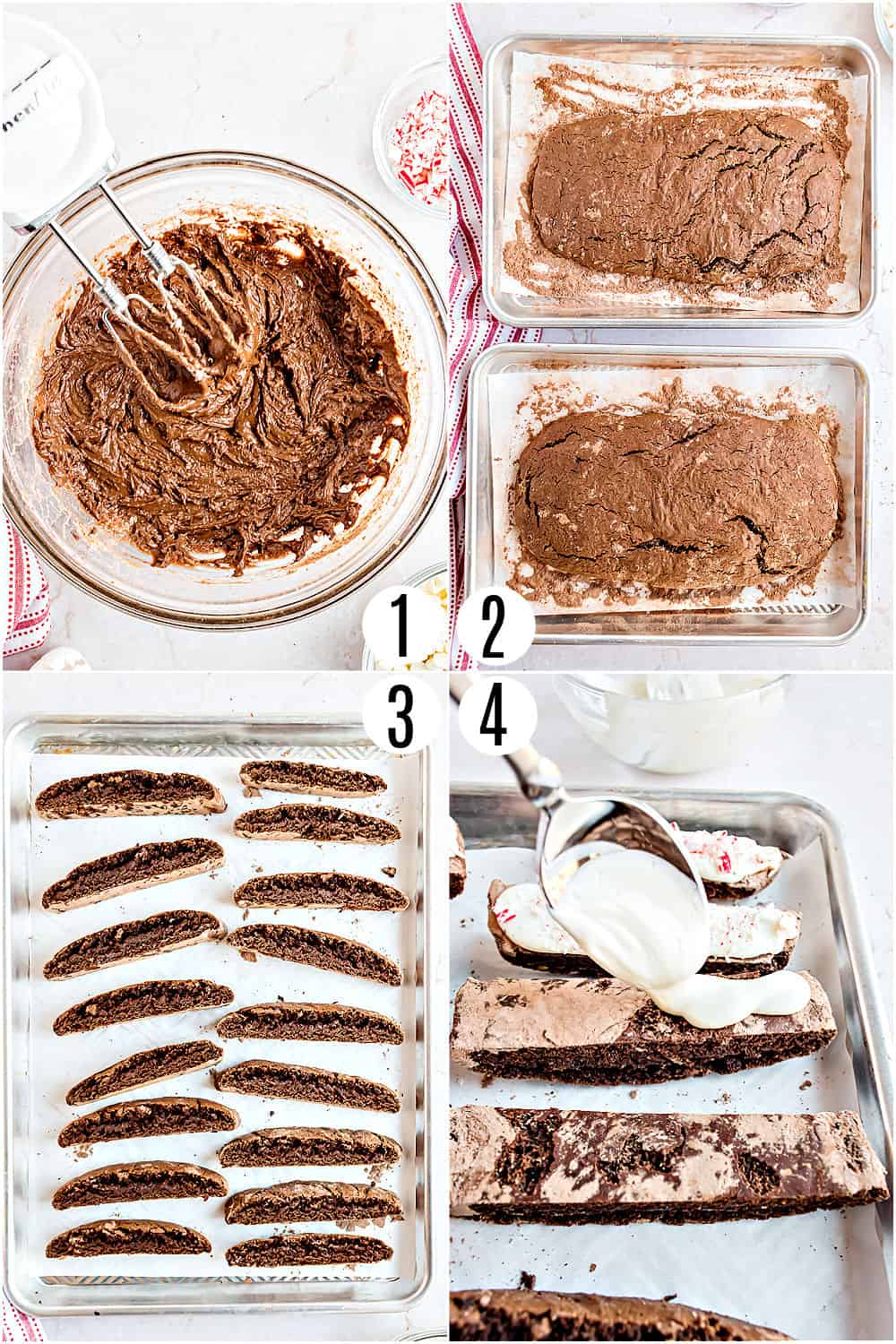 Wondering what makes biscotti different from other cookies? They're baked TWICE! Here's how I made these peppermint chocolate biscotti:
STEP 1. Make the biscotti dough
Combine all the ingredients for the dough in the bowl of your stand mixer. My secret to a rich tasting chocolate biscotti is instant coffee in the dough. For these, I also added a dash of peppermint extract!
The batter will be very sticky when it's ready for it's first bake.
STEP 2. Dip in cocoa
Line two cookie sheets with silpat or parchment paper. In small bowl mix 2 Tablespoons of cocoa powder with 2 Tablespoons of flour.
Divide the biscotti dough in half and sprinkle parchment with flour/cocoa mixture. With hands, press dough into two rectangles.
STEP 3. First bake
It's time for the biscotti first bake! Let them bake in a 350 degree oven for about 15-20 minutes. Remove and let cool 10-15 minutes.
STEP 4. Second bake
Slice rectangles into 1/2 inch to 3/4 inch wide slices. Lay each slice on it's side and put back in the oven (on the parchment lined baking sheet) for an additional 15 minutes.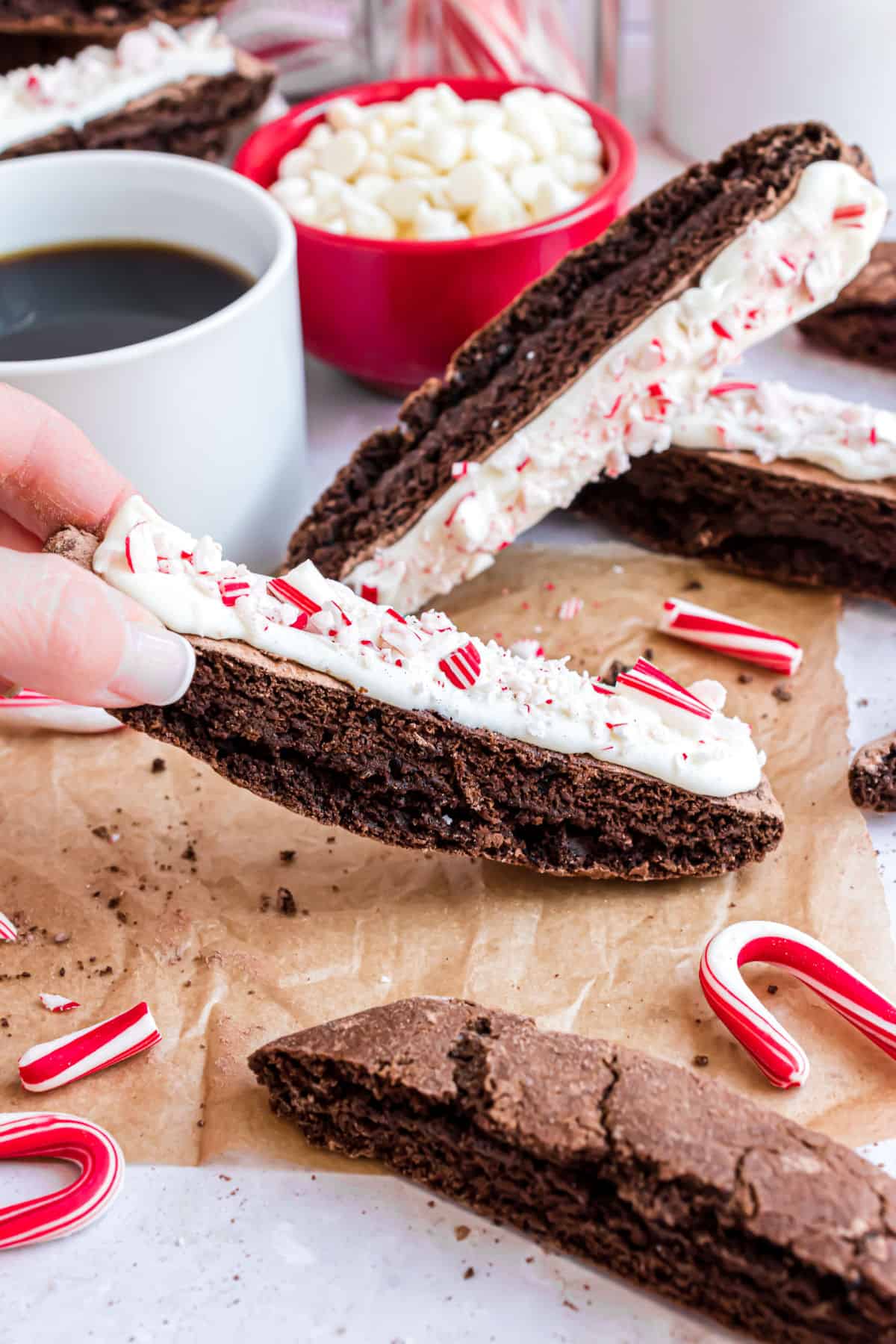 Recipe Tips and Tricks
Storage- These keep well at room temperature in an airtight container for a few weeks. Biscotti also freeze well! Store them in a freezer safe bag or container for up to 3 months.
Peppermint Chocolate Biscotti will lose some of their crunch when they thaw, but you can make them crunchy again with a quick spin in the oven to toast them up again.
Your coffee break just got a whole lot tastier this holiday season! Once you discover how easy and delicious it is to make Chocolate Biscotti at home, you can say goodbye to the store bought stuff forever.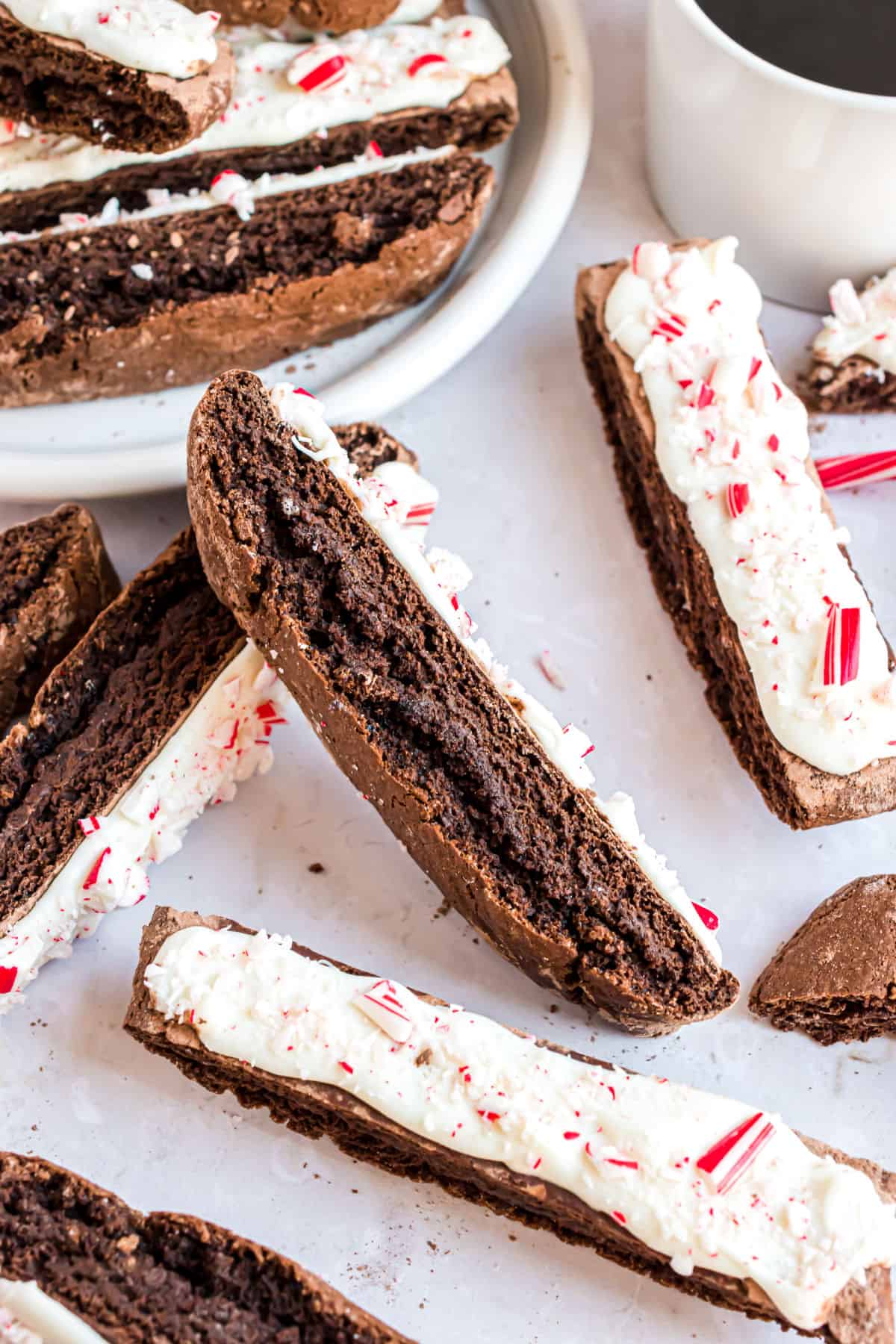 Christmas Breakfast Ideas