Chocolate Peppermint Biscotti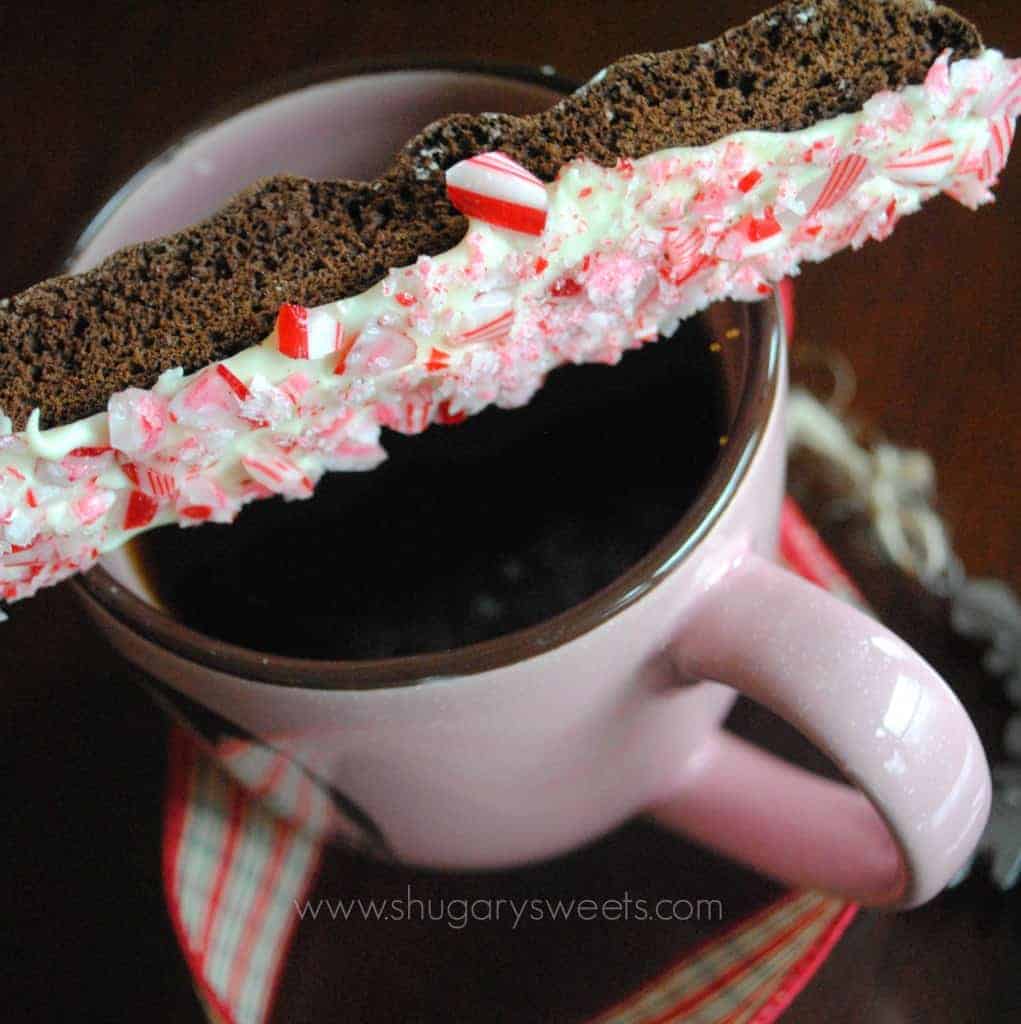 Eating biscotti always reminds me of our old neighbors (Hi Greg, Kari, Kim and Tom!!!). I don't even think we ever ate biscotti when we lived next door to them. However, there was one visit they came out to see us and I bought a big tub of Biscotti from Costco and I think we ate nearly the entire tub. Ever since, we always have biscotti for each other when we visit!
I think of them when I drink red wine too. But I don't know if I have permission to share that story…
Back to the biscotti. I have so many flavor combinations in my head, just like donuts, but I knew this would be one of the first ones I wanted to try. After making the pumpkin spiced biscotti this fall, it was time to tackle this holiday version.
And I'm so glad I did. It tasted wonderful. Yes, past tense. It's gone now. Must make more soon.
What are you baking up this holiday season?
** If you haven't done so, come join me on Twitter! Get the scoop on what's in my kitchen before everyone else! And what another great way to get to know each other too! Click here to join me!
Chocolate Peppermint Biscotti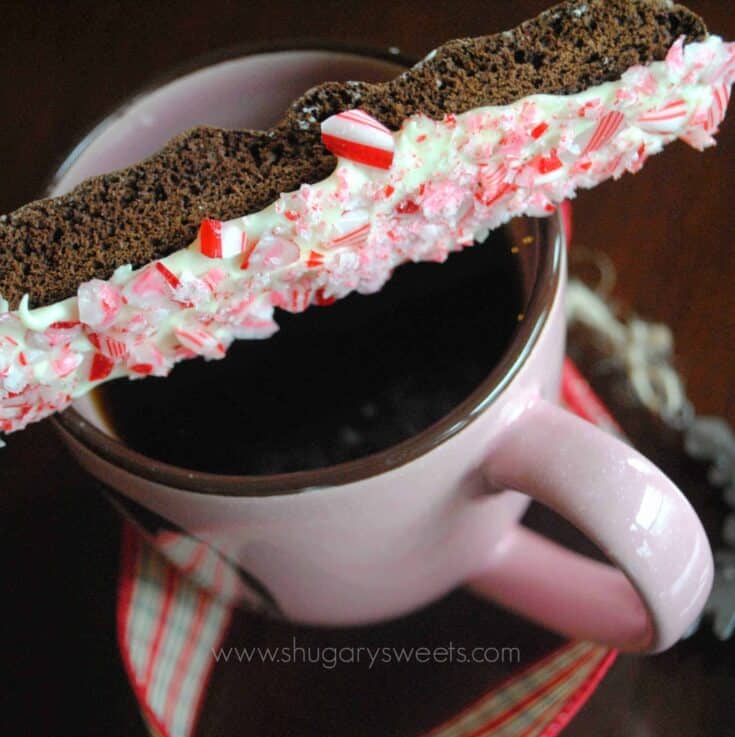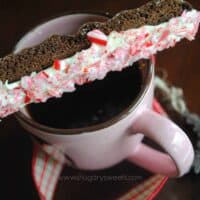 Ingredients
1 cup sugar
1 Tbsp hot water
3 eggs
1/2 tsp peppermint extract
1 Tbsp instant coffee
2 cup flour + 2Tbsp for counter
3/4 cup unsweetened cocoa powder + 2Tbsp for counter
1 tsp baking soda
1/4 tsp salt
11 oz white chocolate morsels
6 peppermint candy canes, crushed
Instructions
In mixer, beat sugar, hot water, eggs, instant coffee and peppermint extract together until smooth and creamy. Slowly add in 2 cup flour, 3/4 cup cocoa, baking soda and salt.
Batter will be very sticky. Line two cookie sheets with silpat or parchment paper. In small bowl mix 2 Tbsp of cocoa powder with 2Tbsp flour. Divide dough in half and sprinkle parchment with flour/cocoa mixture. With hands, press dough into two rectangles, about 4 in by 10 in (and 1/4 inch high).
Bake in a 350 degree oven for about 15-20 minutes. Remove and let cool 10-15 minutes. Slice rectangles into 1/2inch to 3/4 inch wide slices. Lay each slice on it's side and put back in the oven (on the parchment lined baking sheet) for an additional 15 minutes.
Remove from oven and allow to cool completely on wire rack.
Melt white chocolate morsels according to package directions, Spread bottoms of each biscotti with white chocolate then dip into the crushed candy canes. Allow to set, about one hour. Makes about 18 large biscotti. Enjoy!
*For more peppermint goodness, go visit these friends…
Newleyweds                  Peppermint Brownies
Taste of Home               Candy Cane Punch
Two Peas and Their Pod  Chocolate Peppermint Crunch Cookies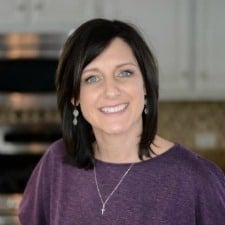 Aimee is a dessert lover (specifically rice krispie treats), workout enthusiast, self-taught foodie, and recipe creator. Her recipes have been featured in over 15 magazines, and her passion is to share her love of cooking with the everyday home cook! Learn more about Aimee.