Light cocoa flavor and a gorgeous scarlet hue make these Red Velvet Cookies irresistible. With white chocolate chips in each bite, these melt-in-your-mouth cookies add sweetness to Valentine's Day. . .or ANY day!
Valentine's Day is on the horizon and that can only mean one thing: Red Velvet Everything! Everyone loves Red Velvet Cupcakes and Red Velvet Cake Balls and this easy cookie spin on the famous flavor is just as tasty.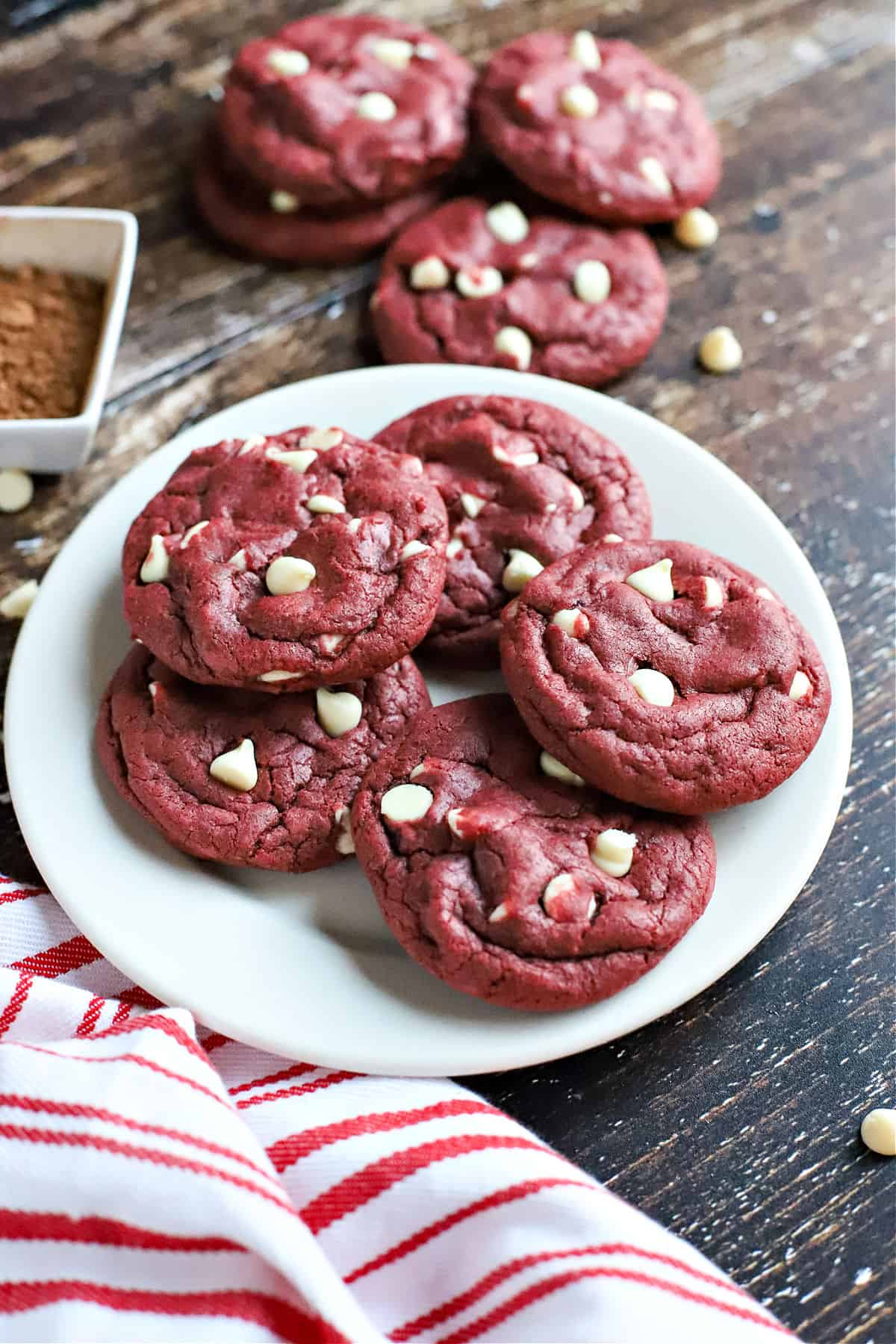 What is Red Velvet Flavor
That particular flavor you taste when you bite into a red velvet cookie or cake is hard to pin down.
Somewhere between a pure vanilla taste and a rich chocolate one, Red Velvet gets its flavor from a small amount of cocoa powder and vanilla extract.
In these cookies, we use cream cheese to add that faint tang that contrasts beautifully with the sweetness of the other ingredients. Cream Cheese also helps give the cookies their soft and silky consistency.
Of course, you can't have Red Velvet without the red! A few drops of red food coloring and you have eye popping cookies that taste as good as they look.
Be sure to add a batch of our red velvet cheesecake brownies to your baking list!
Ingredient Notes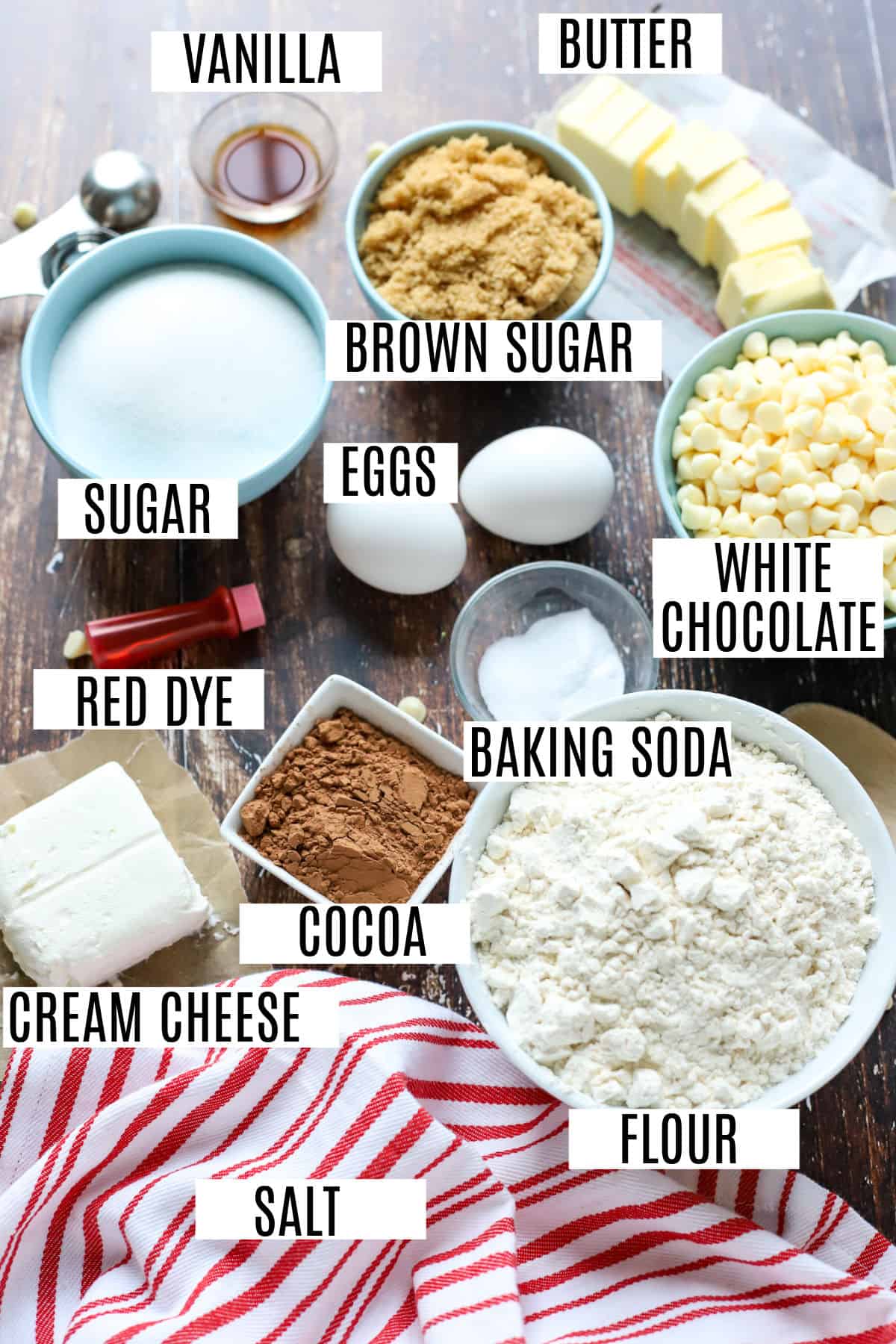 Red food coloring- For best color, I like gel food coloring in a true red or deep red. Some red food dyes have an orange-y tint that'll throw off the color of your red velvet.
Cream cheese- Use full fat cream cheese for best taste! Let it come to room temperature before adding to the cookies.
Vanilla extract- I love using Homemade Vanilla Extract to elevate my baked goods but store bought works perfectly fine here too.
White Chocolate Baking Chips- Reserve a half cup of the chips to press into the tops of the finished cookies.
Cocoa powder- Make sure it is unsweetened. I prefer regular Dutch processed cocoa rather than dark cocoa, which can overwhelm the delicate balance of flavors in red velvet cookies.
Egg- You'll need one full egg (both the eggs and whites) as well as one additional egg yolk.
Easy Instructions
Red Velvet Cookies are even easier to make than their cupcakes or red velvet cake counterparts.
PREP. Start by putting your oven rack in the center position and bring your oven to 350 degrees. Sift together the dry ingredients and set them aside.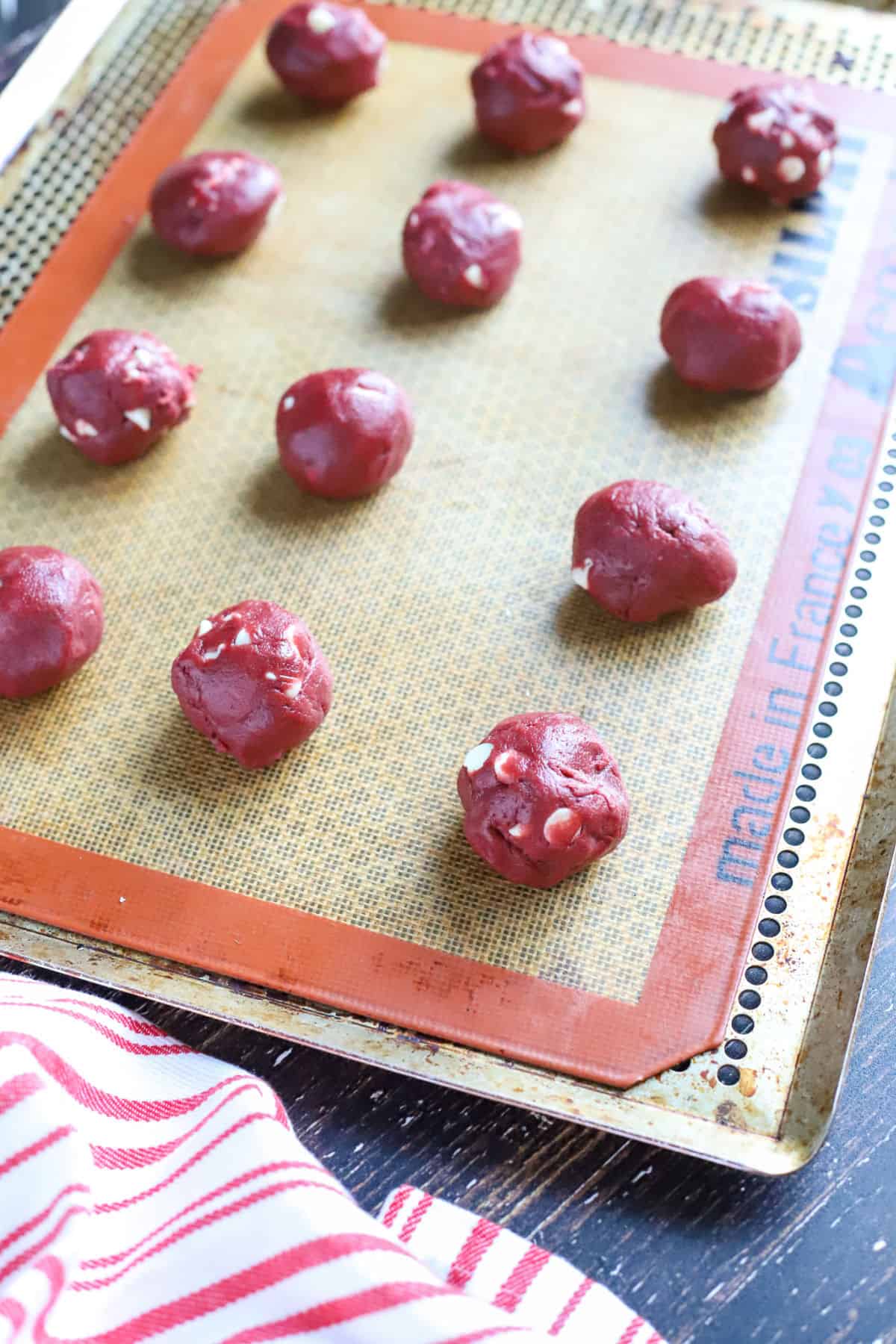 MAKE BATTER. Beat together the butter and cream cheese with the sugars and the vanilla extract. Beat in the egg followed by the egg yolk and then the food coloring.
Now, add the dry ingredients to the wet in batches. Mix on a low speed, or by hand, until the ingredients are just combined. Fold 3/4 of the white chocolate chips into the batter.
FORM COOKIE BALLS. Use damp hands to shape the cookie dough into balls. Place onto a lined baking sheet and bake.
PRO TIP: Don't want to use your hands? A cookie scoop is a great alternative!!
BAKE. The cookies are done when they're puffy and the center is slightly soft (usually after 9 – 11 minutes). Remove the cookies from the oven and press a few more white baking chips into the center of each cookie.
Let them cool for a few more minutes on the baking pan, then transfer to a wire rack to finish cooling.
Quick, simple and delicious!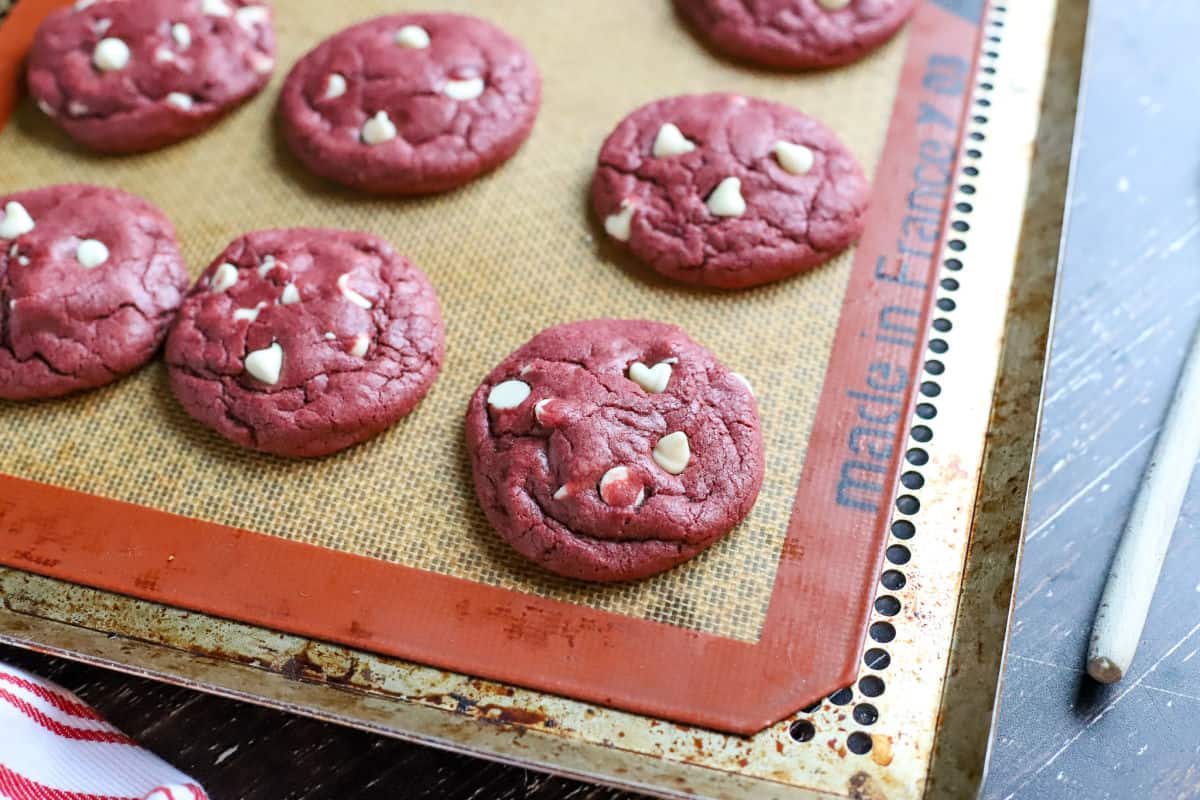 Tips and Tricks
Use wet hands to shape the cookies. This dough will be very sticky. Dampen your hands with water before molding it into balls so you avoid getting more dough on your fingers than into the oven!
White chocolate chips. Substitute white chocolate chunks, or baking squares cut into small pieces for the morsels, if desired.
Adding chocolate chips after baking. Pressing additional white chocolate chips into the tops of each cook adds a professional flair. You can skip this step if you want to, but I love the pop of white against the deep red, especially for Valentine's Day!
Don't forget to sift! Sifting the flour and cocoa powder removes any lumps that could affect the smooth, velvety texture of the cookies.
Serve a batch of these cookies with a mug of hot cocoa. Valentine's Day Hot Cocoa Bombs are so fun and easy!
Want these cookies even easier? Try our red velvet cake mix cookie recipe with only 4 ingredients!
Recipe FAQs
Do you need an electric mixer to make cookies?
You do not need an electric mixer to make these Red Velvet cookies but it definitely helps! The wet ingredients need to be beaten well for the cookies to turn out just right, and hand mixing is much more time consuming.
Can you make Red Velvet cookies without food coloring?
No, I do not recommend making Red Velvet cookies (or any red velvet dessert) without the food coloring. They would still taste good but won't look anything at all like Red Velvet! I know some bakers have has success using natural substitutes for food dye, but I haven't tested them in this recipe.
Can you freeze Red Velvet Cookies?
Yes, you can freeze red velvet cookies after they have been baked OR freezer the raw dough prior to baking.
To freeze the dough, follow all the recipe steps up until baking. Place the whole baking sheet with the balls of cookie dough in the freezer for 1 hour. Transfer the frozen cookie dough balls to a freezer bag and store for up to 3 months.
When you're ready to bake cookies, place the frozen dough balls right on the baking sheet and bake (no need to thaw). You will need to add an extra minute or two to the usual baking time.
Why should you add the extra white chocolate chips after baking?
You should add the extra white chocolate chips after baking because it'll make them more visible in the finished cookies. The cookies look much more visually striking this way!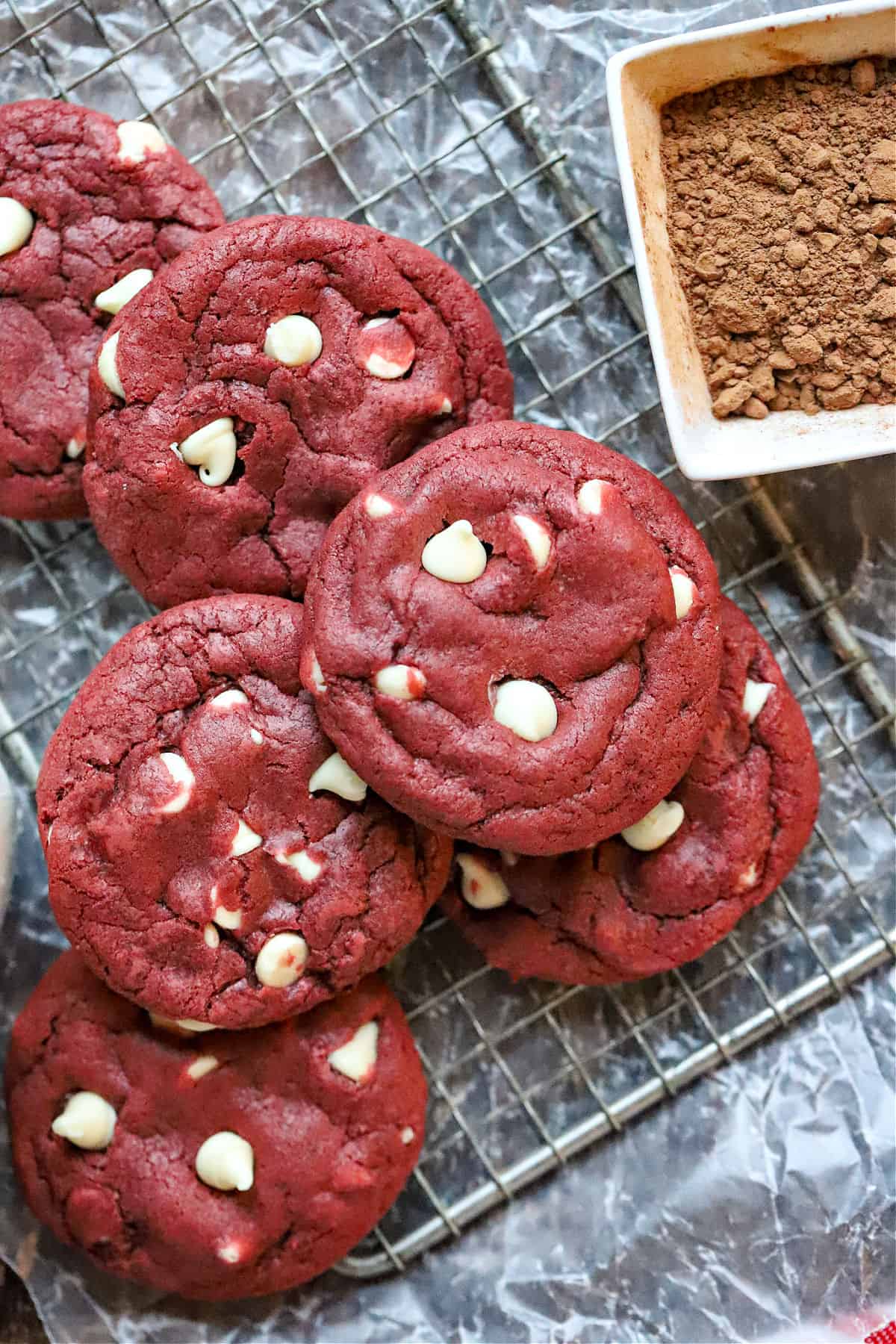 Red Velvet Cookies — Everything you love about red velvet cake made into an easy drop cookie recipe. Vibrant, velvety and sweet, these cookies are sure to impress!