Super simple, yet impressive looking Halloween Fudge Ring. Made with milk chocolate, butterscotch, Oreos, candy corn and M&Ms, this recipe is a great use for all that leftover Halloween candy!
Love candy corn? Give this Carndy Corn Oreo Truffle recipe a try. Or make a quick and easy batch of Peanut Butter Candy Corn Rice Krispie Treats!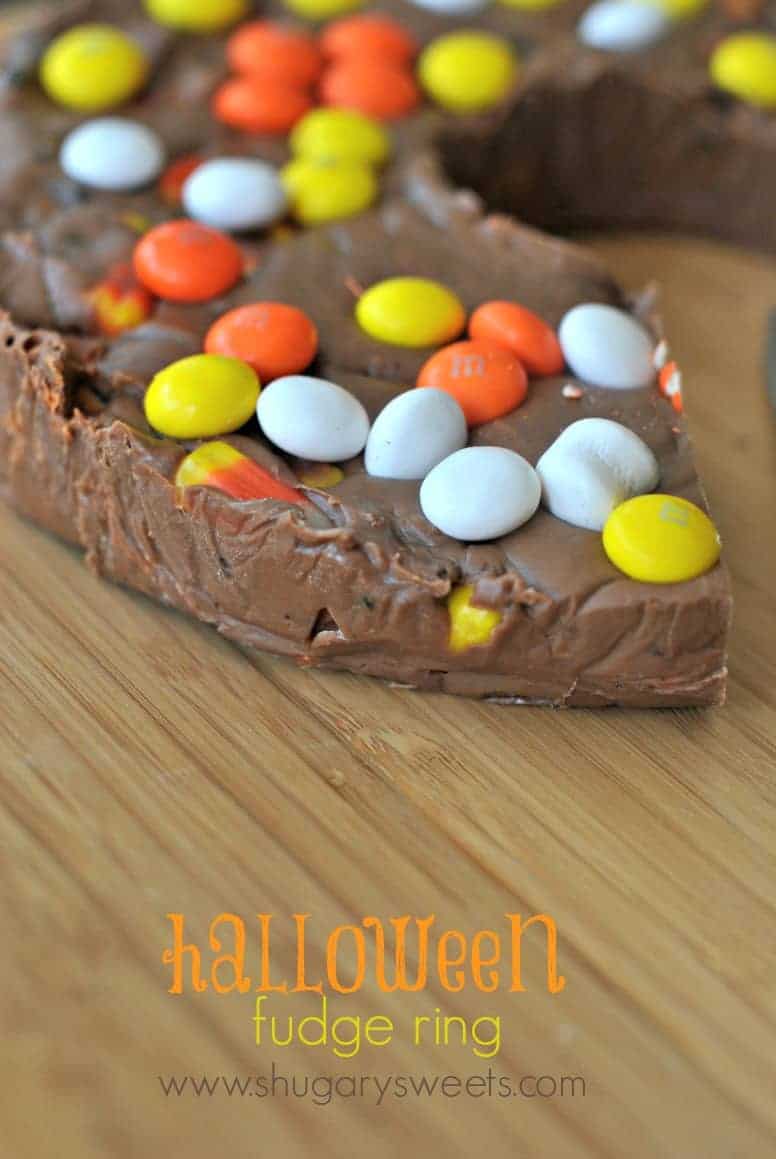 Why this recipe works
I know how to make the best fudge, if I do say so myself.
This Fudge Ring has been on my list to try since I first saw a version in my Christmas with Southern Living cookbook from 2007. I finally made it and now I regret all those years I lived without this candy fudge ring in my life.
Only, instead of Christmas themed, I made mine with Halloween cookies and candies! Colorful, fun, silky smooth, rich and creamy fudge is even better when it comes in ring form.
A few easy steps turn already delicious fudge into something visually impressive.
I love how beautiful the ring looks AND how easy it is to slice and serve!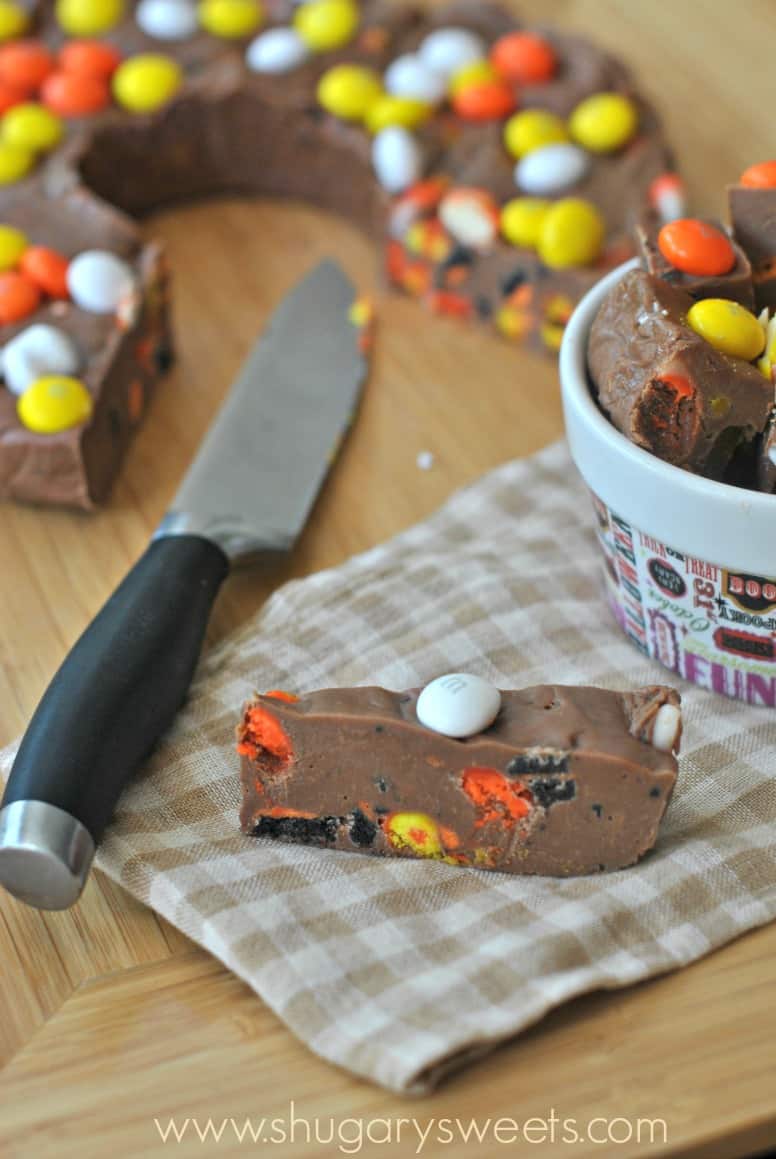 Ingredient Notes
This fudge has a base made from milk chocolate morsels and sweetened condensed milk. You can totally change up the flavor of this Fudge Ring by using different candies or cookies.
Oreos – I used the orange and black Halloween Oreos for my fudge ring. Candy corn Oreos would be another great choice for Halloween. Nutter butters would be delicious here too, if you like a peanut butter twist in your fudge!
Candy – This time, I used candy corn M&M's and pieces of candy corn. You could mix it up by using plan or peanut M&M's, Reese's pieces or chopped up Reese's cups, butterfingers or pretty much any combination of Halloween candy you like!
Butterscotch Chips – These add a nice buttery note to the fudge. Peanut butter morsels or more chocolate chips work here if you can't find butterscotch chips or want a different flavor combo.
Step by Step Instructions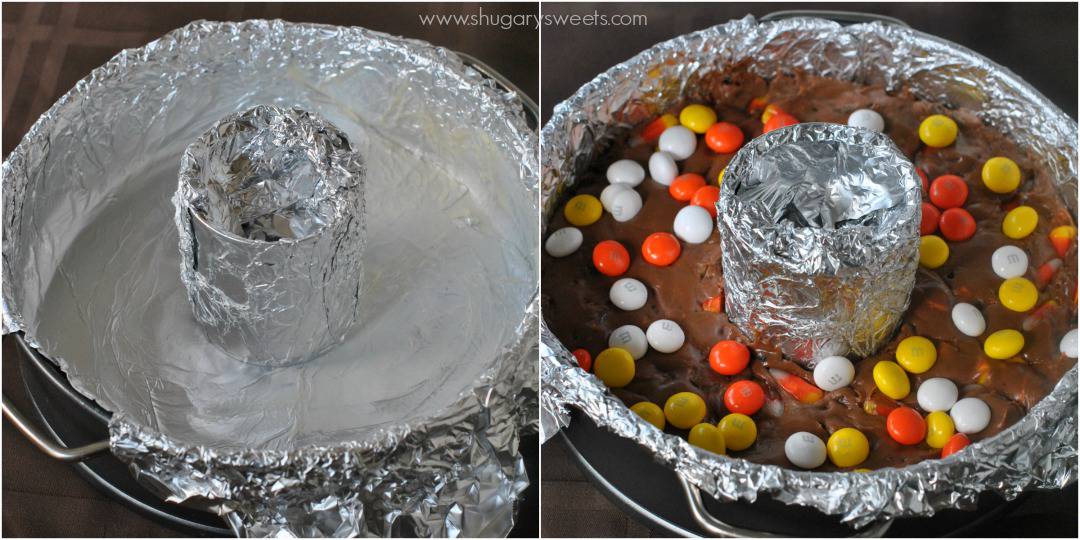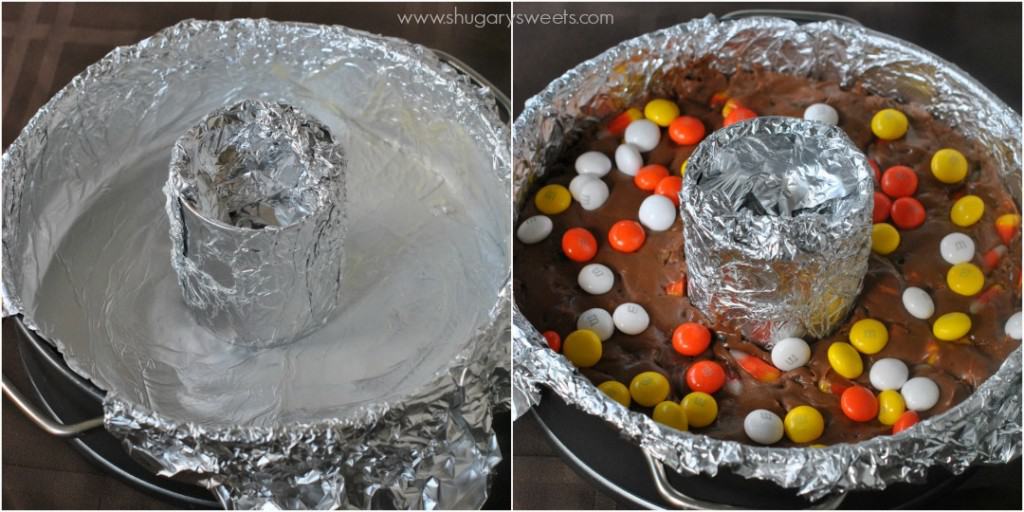 STEP 1. Prepare the pan
Line a round spring form cake pan with foil. Cover an empty tin can with foil. (you can use your empty sweetened condensed milk can here). Use a butter wrapper or buttered paper towel to grease the foil in the pan and on the can.
STEP 2. Melt the chocolate
Heat the milk chocolate and butterscotch morsels in a pan with the sweetened condensed milk over medium heat. Stir constantly until morsels are melted and smooth. Remove from heat.
STEP 3. Add candies
Fold candy corn (or other candy) with crushed Oreos into the fudge mixture. Pour it into the prepared pan and sprinkle the top of the ring with M&Ms.
STEP 4. Chill
Cover the pan with foil and let chill in the fridge until firm. This takes around 3 hours. Remove the can from the center and slice fudge ring into whatever slices or bite shapes you desire!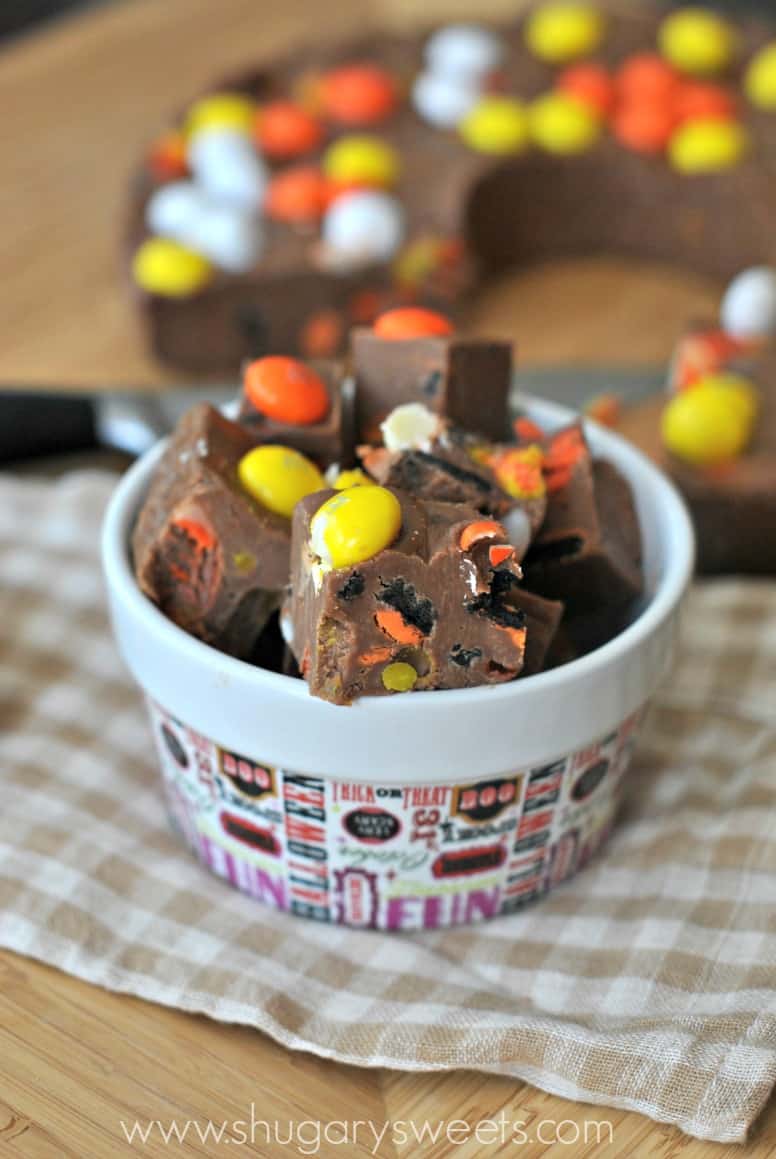 Recipe FAQs
How do you store the fudge ring?
This fudge should be kept covered in the fridge. It'll keep for about 2 weeks, but in my house we tend to eat all the fudge long before then!
How do you get the fudge ring out of the pan without breaking?
Using a springform pan makes removing the fudge a breeze. Release the springs and push the plate up. The fudge should slide easily off the plate! If it's getting stuck, lightly tap the bottom a few times with a spatula.
Can this be made without a springform pan?
Yes, you can line a 9-inch square dish with parchment paper and make pour it in there. Once set, just remove and cut into squares.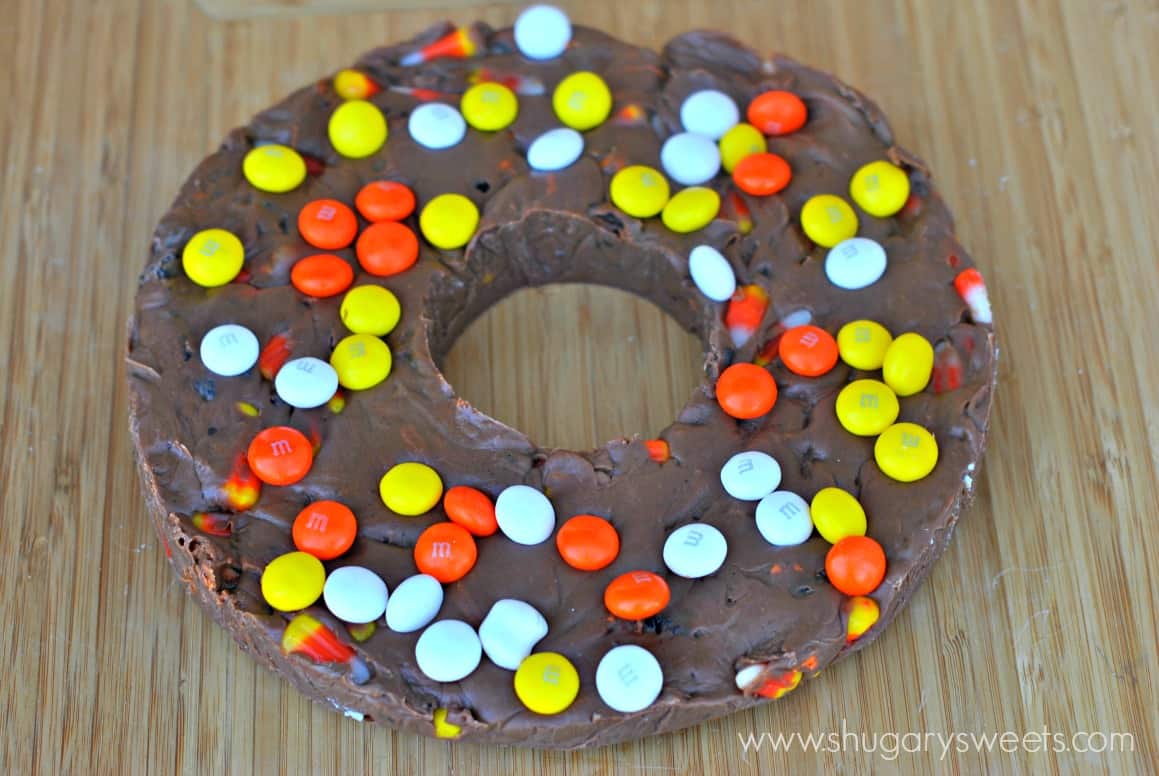 More Halloween Treats
Grab your favorite Halloween candy and make this fudge! With colorful M&Ms on top and crunchy oreo pieces in every bite, there's no better fudge to make for Halloween.