Chewy Peanut Butter Krispie treats topped with Candy Corn, Peanuts, and Reese's Pieces.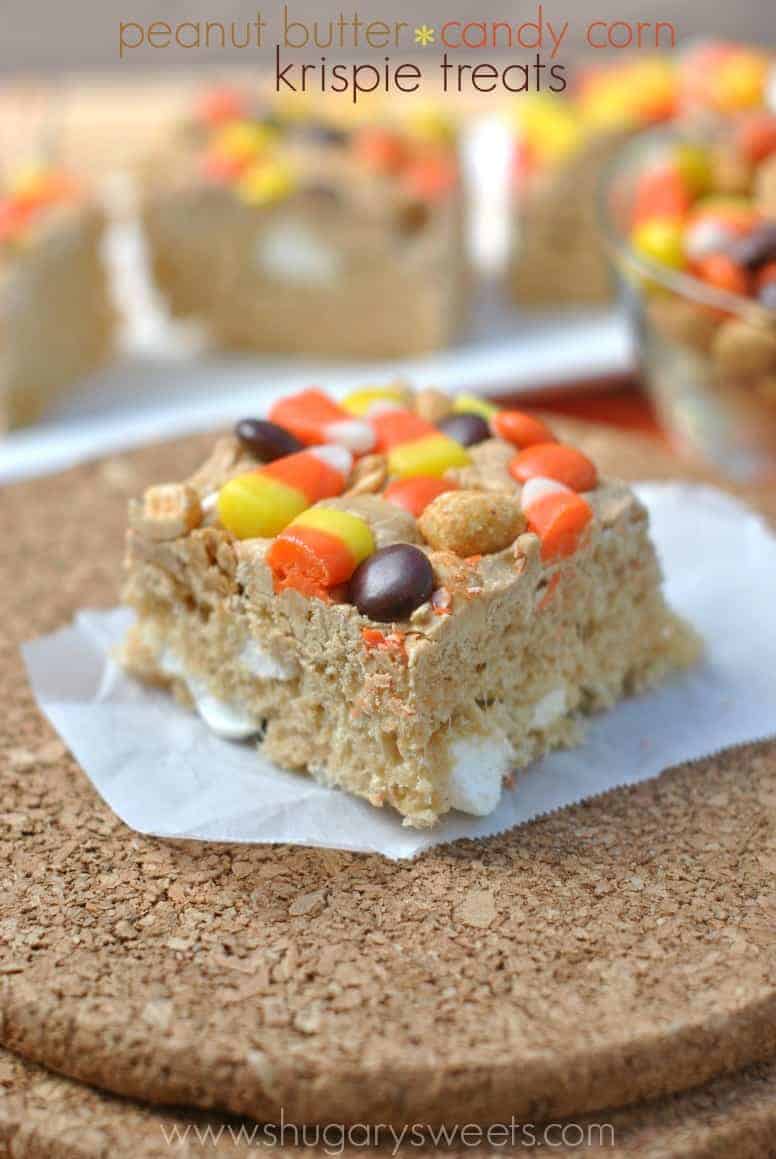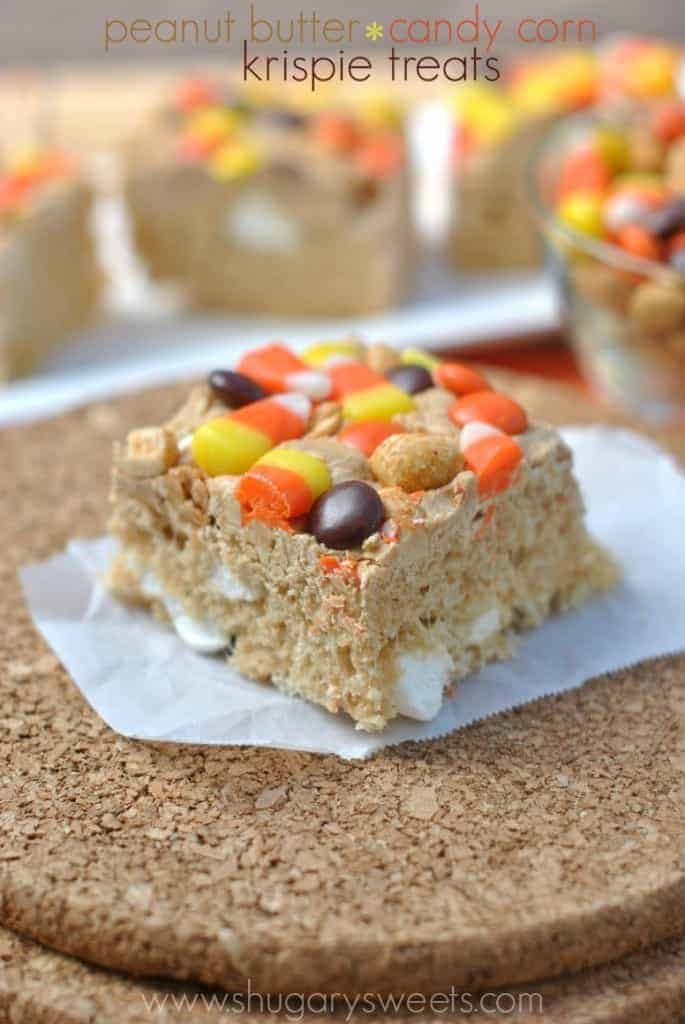 So yesterday I shared with you a quick and easy Brownie/Cookie recipe (BROOKIES). You know, the kind you can whip together in case your kids sign you up for a holiday party.
Today, why don't your reward yourself with a batch of Krispie treats. Anyone else LOVE Payday Candy bars? These Krispie treats are inspired by one of my favorite candies.
The salty peanuts with the chewy marshmallow krispie treats alone is rewarding. But then you add on some candy corn, peanuts and Reese's pieces, and this is definitely a PayDay dessert!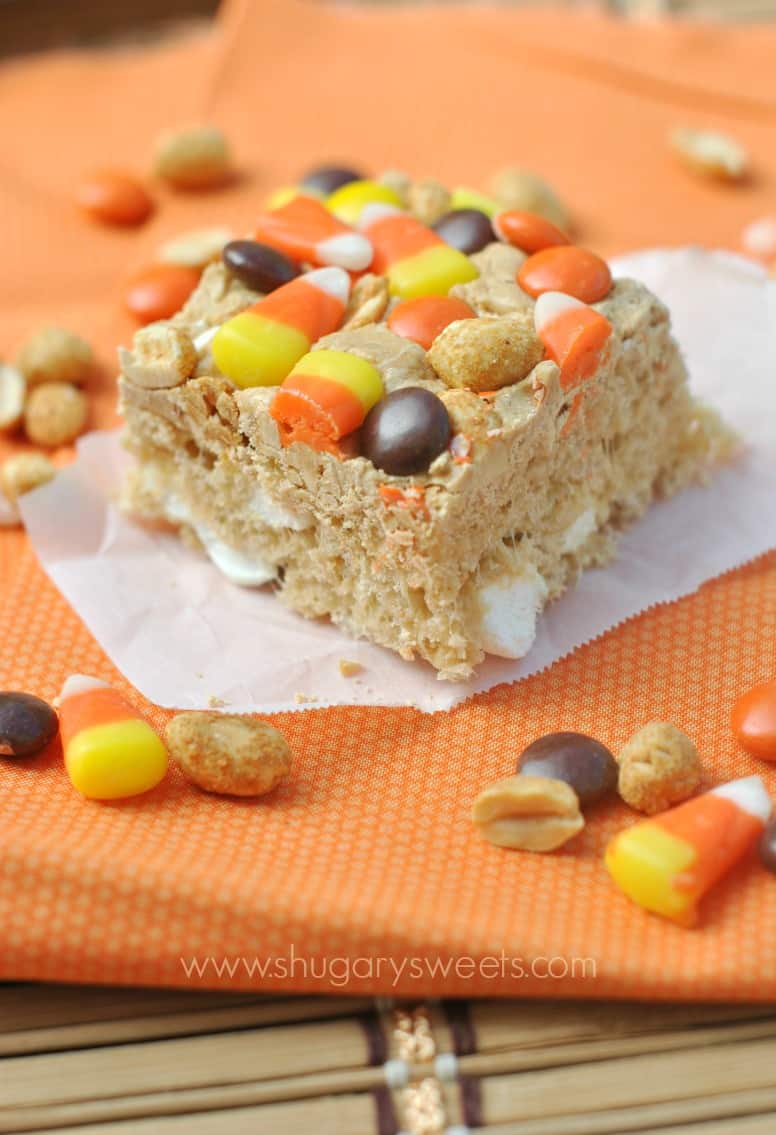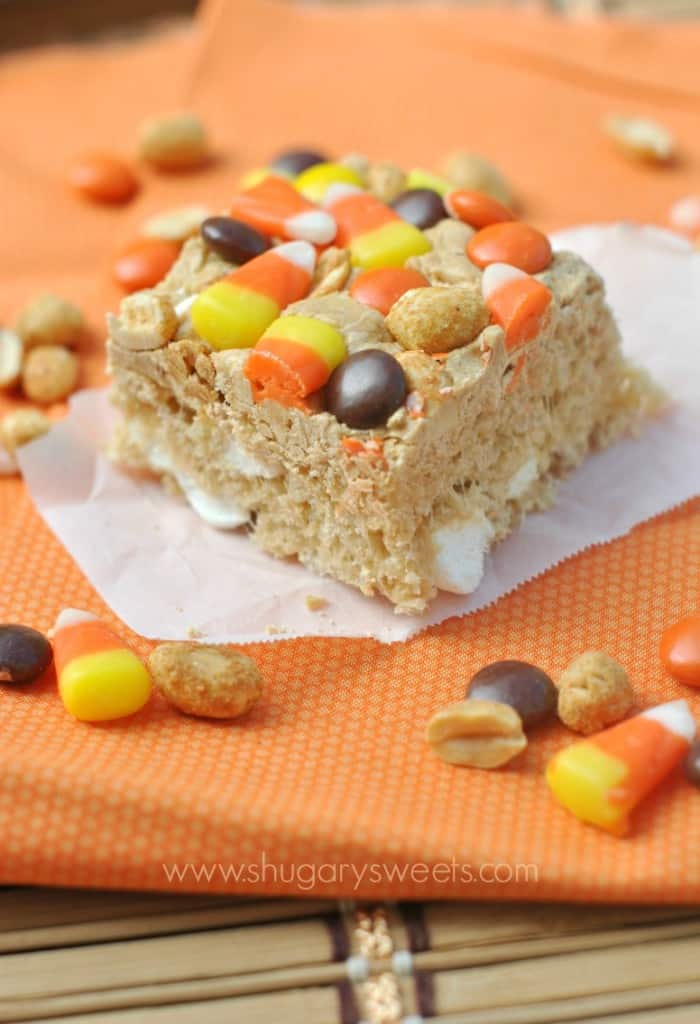 Speaking of "paydays", I calculated today that there are only 4 more paychecks until Christmas. Usually by now I have done SOME shopping for the holidays. So far, I have nothing. Yikes!
But let's not talk about Christmas yet. Even though I did buy some peppermint candy to make some delicious desserts for you all…
When is it too soon to start on the Christmas recipes?
I guess I need to work on Thanksgiving first? Yes? Little did you know I'm already playing Christmas music.
For now though, enjoy some Payday inspired Krispie treats!
Need to know how to make Rice Krispie Treats? I've got plenty of recipes for you to practice with, including my Perfect Rice Krispie Treats and Fluffernutter Rice Krispie Treats!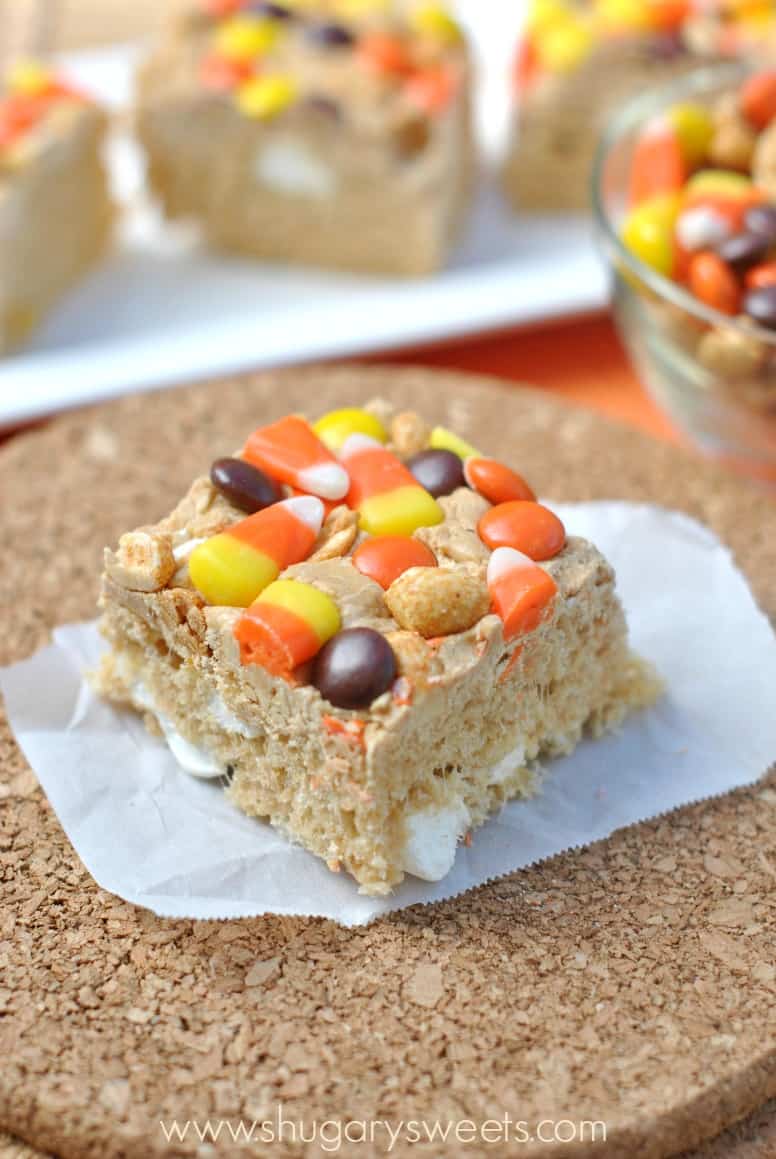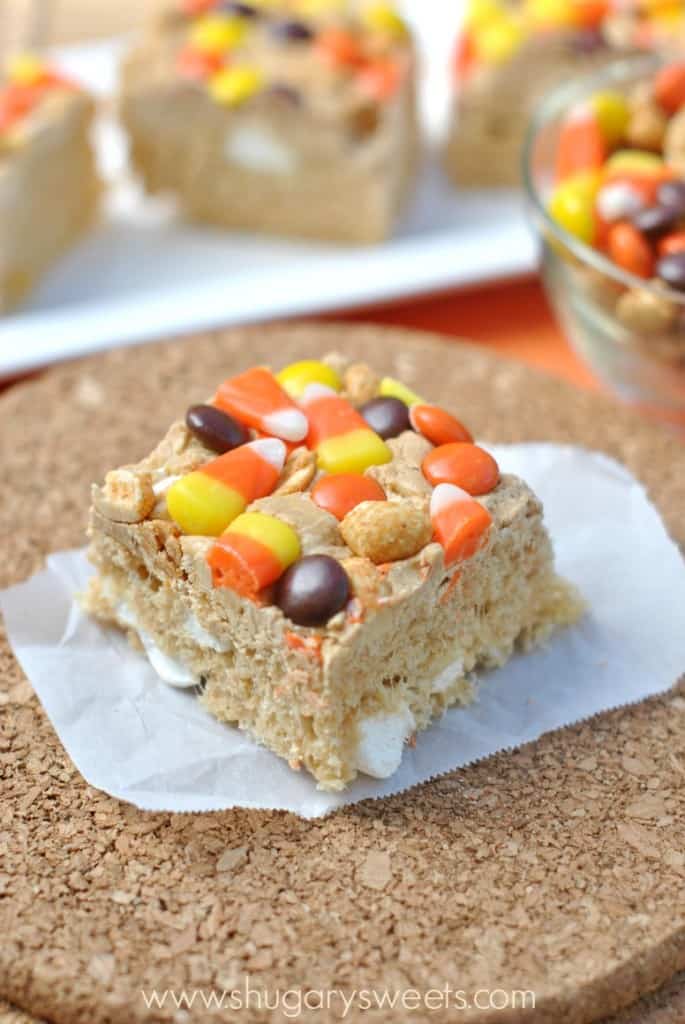 Yield: 16 large bars
Peanut Butter Candy Corn Krispie Treats
Chewy Peanut Butter Krispie treats topped with Candy Corn, Peanuts, and Reese's Pieces.
Ingredients
For the krispie treats:
1/4 cup unsalted butter
1 bag (10oz) marshmallows
1/2 cup creamy peanut butter
5 cup crispy rice cereal
1 cup mini marshmallows
For the topping:
1 bag (10oz) peanut butter morsels, melted
1/2 cup Reese's Pieces
1/2 cup dry roasted peanuts, salted
1/2 cup candy corn
Instructions
Line a 9inch square baking dish with parchment paper and set aside.
In a large pot, melt butter over medium heat. Add marshmallows and turn to low heat, stirring constantly until marshmallows are completely melted. Remove from heat and add peanut butter, stirring quickly. Add cereal and stir until combined. Fold in mini marshmallows.
Pour krispie treats into baking dish. Using the butter wrapper (or lightly buttered fingers), gently press the krispies into the pan. DO NOT OVER PRESS, this will lead to dry treats.
Top the treats with the melted peanut butter morsels. Sprinkle with candy, peanuts and candy corn. Press those into the melted peanut butter. Cover with foil. Allow to set, about 30 minutes.
Remove from pan, remove parchment paper, and cut into squares. Store in an airtight container at room temperature for 2-3 days. ENJOY.
Looking for more PAYDAY inspired treats?