Chewy Peanut Butter Krispie treats topped with Candy Corn, Peanuts, and Reese's Pieces. This adaption of everyone's favorite childhood treat is here just in time for Halloween!
Love fall baking? Don't forget to try my favorite Pumpkin Cupcakes or these soft and chewy Pumpkin Oatmeal Cookies!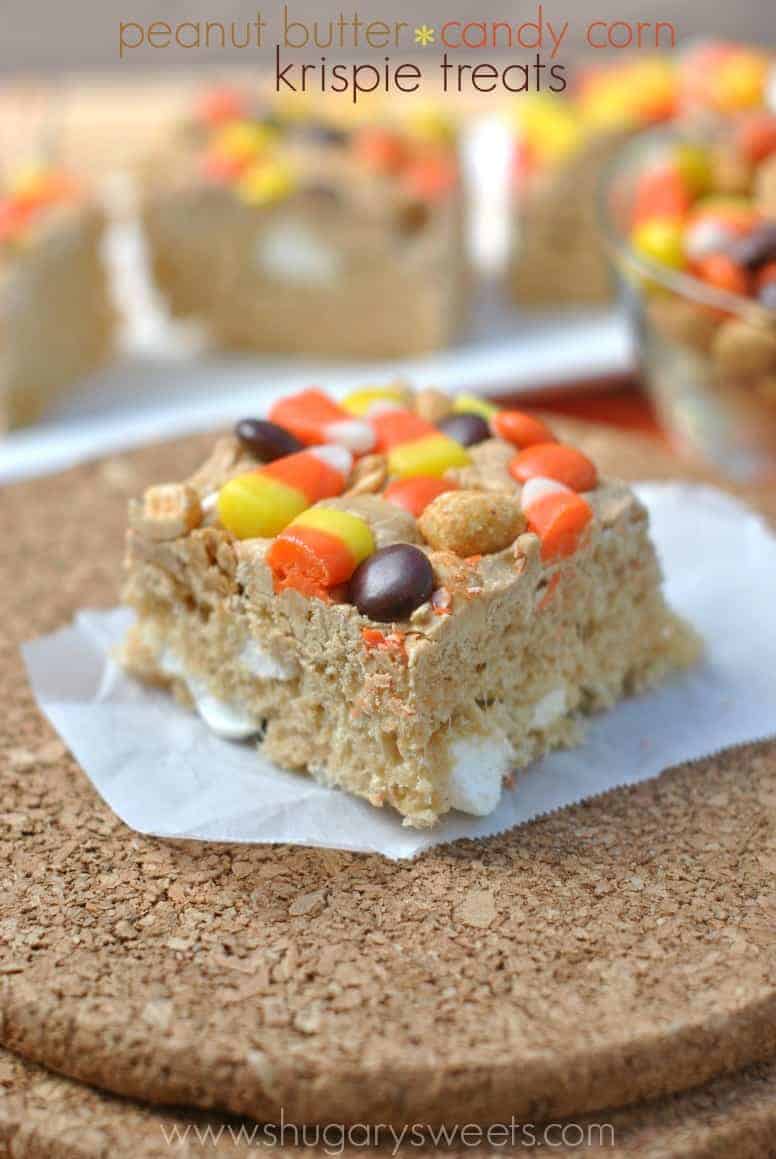 Fun Rice Krispie Treat Recipe
If I'm known for one thing, I hope it'll be my devotion to creating the perfect Perfect Rice Krispie Treats Recipes.
Everyone makes different fun flavored cupcakes and cookies for different occasions, so why not do the same thing with MY favorite dessert?
These seasonal rice krispies are inspired by the one of my favorite candy bars: Paydays! Anyone else LOVE Payday Candy bars?
The salty peanuts with the chewy marshmallow krispie treats alone is rewarding. But then you add on some candy corn, peanuts and Reese's pieces, and this is definitely a PayDay dessert!
Need to know how to make Rice Krispie Treats? I've got all the tips and tricks for success, plus dozens of ideas!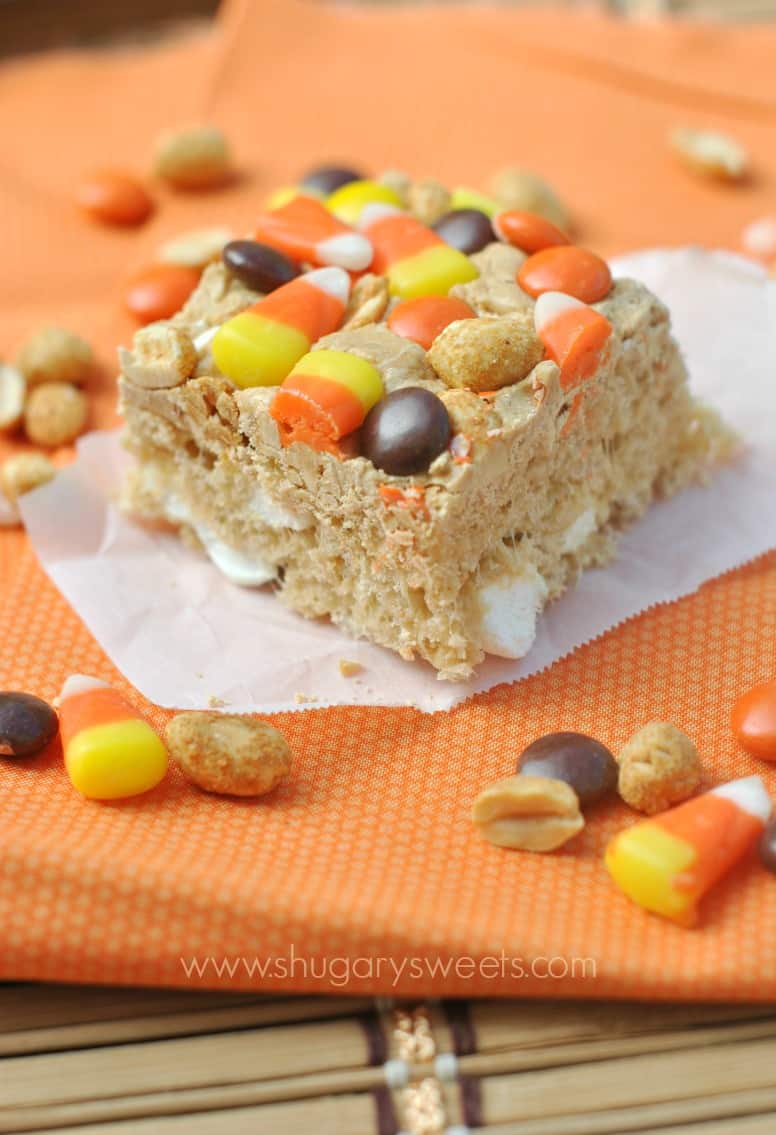 Ingredient Notes
Rice cereal – Use puffed rice cereal or substitute other cereals like rice chex or cheerios to mix things up.
Marshmallows – You'll add all but 1 cup of the mini marshmallows to the pot to melt. The remaining cup gets folded into the krispie treats for an extra gooey surprise. Tip: Use FRESH marshmallows for best results.
Peanuts and peanut butter – Dry roasted peanuts are my preference for the topping! For the peanut butter, any creamy variety will work, though sweetened kinds will of course make your rice krispie treats sweeter than if you use natural unsweetened types.
Candy topping – I used both candy corn and reese's pieces on top of these treats!
Step by Step Instructions
STEP 1. Melt marshmallows and butter
In a large pot, melt butter over medium heat. Add all but 1 cup of the marshmallows and stir constantly over low heat until the marshmallows are totally melted.
STEP 2. Add cereal and peanut butter
Remove the marshmallow mixture from heat and quickly stir in the peanut butter. Add cereal and stir until combined. Fold in remaining mini marshmallows.
STEP 3. Press into pan and top
Pour the peanut butter rice krispie mixture into a baking dish lined with parchment paper. Using the butter wrapper (or lightly buttered fingers), gently press the krispies into the pan.
Top the treats with melted peanut butter morsels. Sprinkle with candy, peanuts and candy corn, pressing lightly to make sure they stick to the peanut butter.
STEP 4. Set
Cover the pan with foil and let the krispie treats set at room temperature for about 30 minutes.
Lift the treats out of the pan in the parchment paper, remove the paper and then cut into squares. Enjoy!
Tips and Tricks
Storing: Store your Peanut Butter Candy Corn Treats at room temperature in a tightly sealed container. They'll keep about 2 – 3 days tasting fresh and chewy!
Pressing bars: For soft, chewy bars be sure to NOT press the rice krispie mixture too hard when adding it to the pan. Use light pressure and make sure your fingers are lightly buttered or damp.
More candy corn: Try our candy corn cupcakes next for a delicious treat!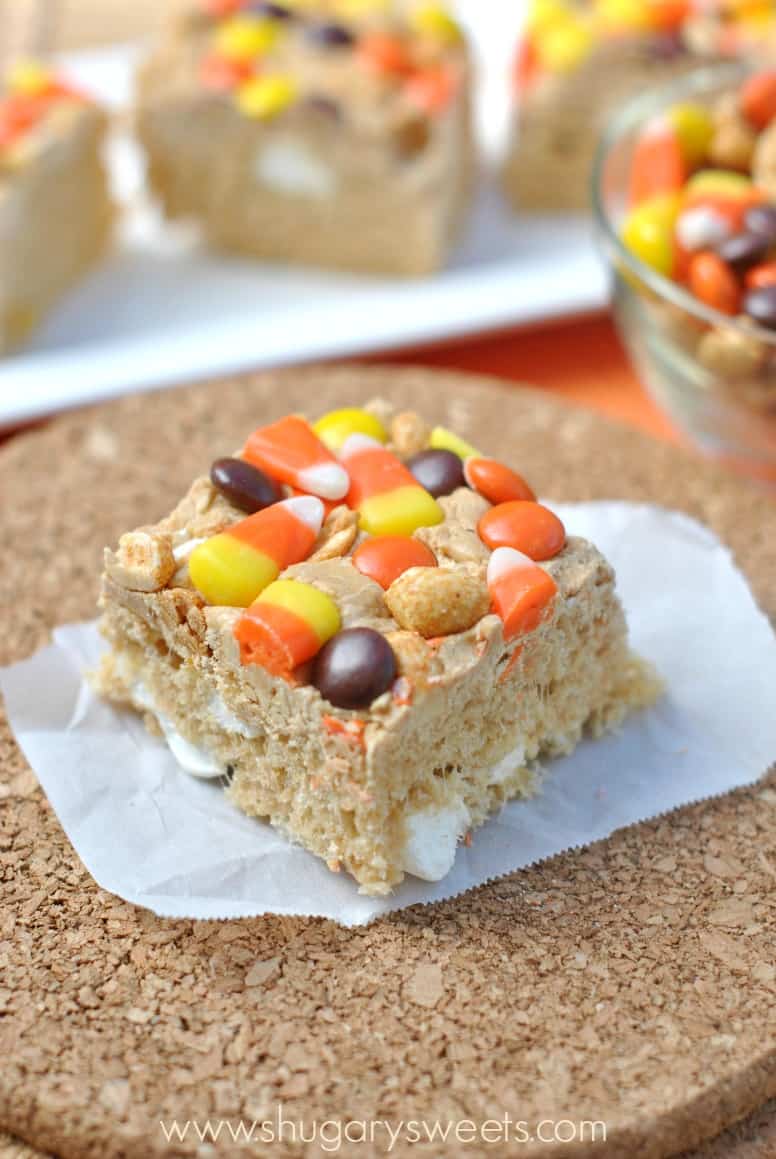 Recipe FAQs
Why do my rice krispies treats get hard?
There are a few common mistakes that can lead to hard, tough Rice Krispie Treats. Make sure to use fresh cereal and marshmallows and keep the heat on low when adding the marshmallows to the butter.
Most importantly, do NOT press too too hard when spreading the treat mixture in the pan! The harder you press, the harder the bars will be.
Do rice krispie treats need to be refrigerated?
Big NO! Chilling rice crispy treats will make them hard.
Can you freeze rice krispy treats?
Another no. Some say they have good results with freezing rice krispie treats but I find freezing makes them taste stale and less than appealing.
More Fall Recipes
Peanut Butter Candy Corn Rice Krispies take two of my favorite foods–Payday bars and Rice Krispie Treats–and combine them in one unbelievable dessert bar.