Soft, chewy Sugar Brookies are a delicious combo of Sugar Cookies and Brownies. The perfect easy cookie bar for any occasion!
Make sure to try my original Brookies Recipe and these Peanut Butter Brookies too!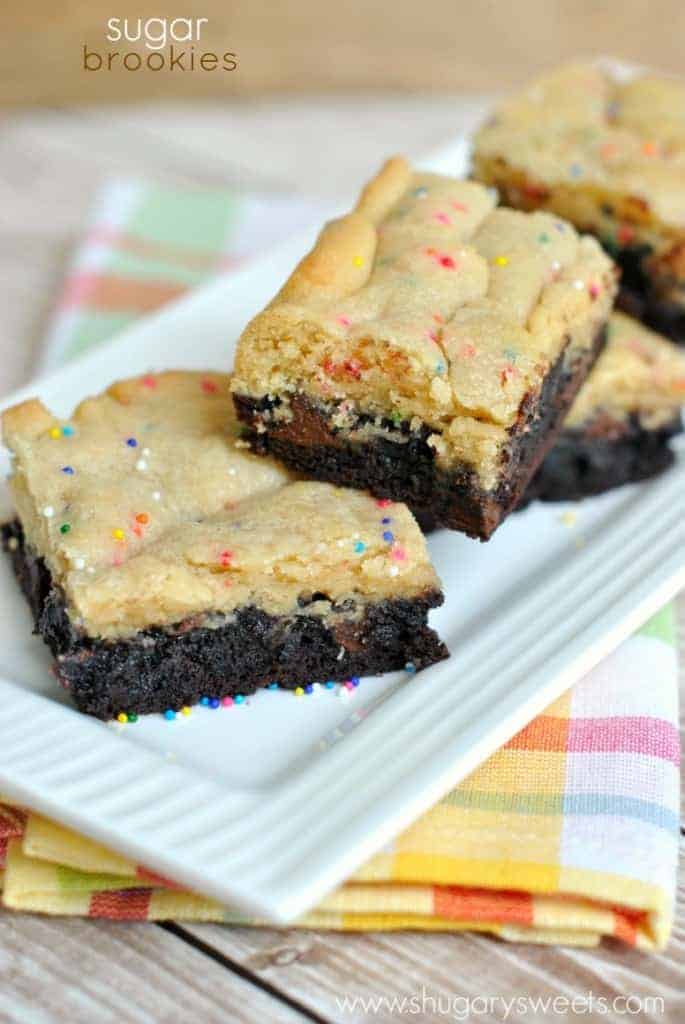 What are Sugar Brookies
Sugar Brookies are brownies with a sugar cookie layer on top.
It's the product of what happens when a brownie and a sugar cookie see each other across a crowded room and decide they belong together. Chocolate brownies taste incredible paired with buttery vanilla-infused sugar cookies.
I love the extra pizzazz the sprinkles bring to this dessert, too! Who doesn't love a dessert with sprinkles?
If you like soft, chewy cookies and fudgy brownies you are going to LOVE these sugar brookies!
They're so easy to make, too. Less work than traditional sugar cookies because you don't need to chill and cut out the dough.
Just make two delicious layers and bake them together. Sugar Cookie Brownie heaven!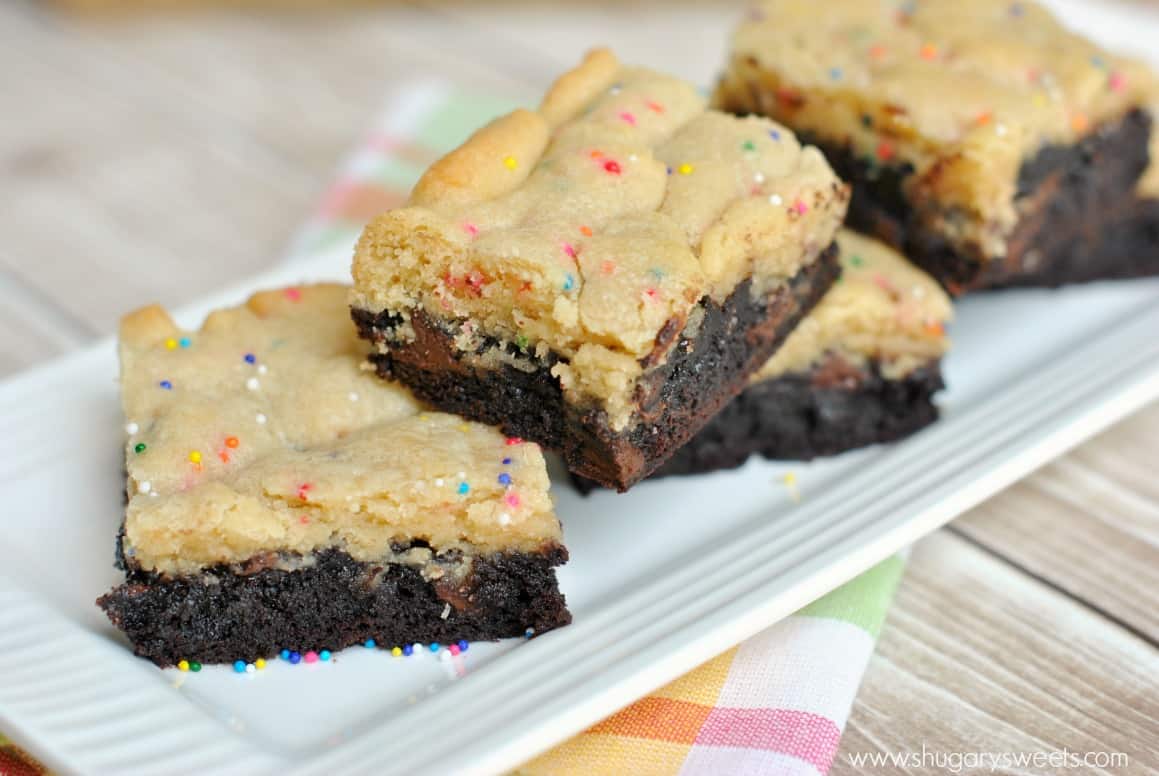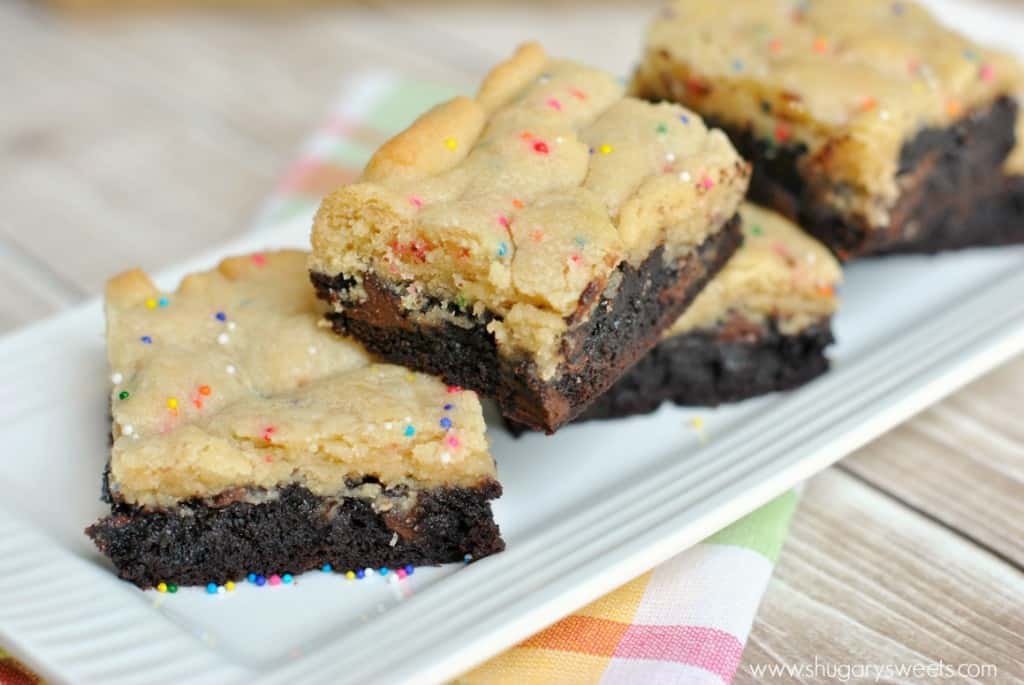 Ingredient Notes
To make Sugar Cookie Brookies, you start with a batch of sugar cookie dough and a brownie batter. Here's what you'll need to make them both from scratch.
For the brownie batter, you need:
Sugar
Flour
Unsweetened cocoa powder – A high quality DARK cocoa is best!
Melted butter
Eggs
Semi-sweet chocolate chips – You could also use chocolate chunks or chop up a bar of good quality dark chocolate.
Notice that the brownie batter doesn't contain any flavor enhancers like vanilla or salt. Those elements come in when you add the sugar cookie dough.
To make sugar cookie dough, you need:
Softened butter –
Sugar
Vanilla –Our Instant Pot Vanilla Extract makes the brookies extra delicious!
Egg
Flour
Baking powder
Sprinkles – Optional, but they add a great pop of color to the otherwise beige cookie layer.
Making the sugar cookies couldn't be simpler: Pour the brownie batter into a pan. Top with cookie dough. Bake, cool, slice and eat!
Brookie Tips and Tricks
Always line the bottom of your pan with parchment paper. Once cooled, you can use the paper to lift the uncut bars straight out of the pan before slicing.
Cut the bars as big or as small as you like. I like to cut mine into BIG squares!
To make "brookie bites", cut them into 1-2 inch squares. Ideal when you need to stretch them to feed a crowd!
Change up the sprinkle colors for different holidays. Use red and green for Christmas, orange for Halloween, green for St. Patty's day etc.
Recipe FAQs
How can I make the brownie layer firmer?
The brownie part of these brookies will stay soft and a bit underbaked–just the way I like them! If you want a firmer consistency, chill the brookies in the refrigerator before cutting.
How do I store homemade sugar brookies?
Store cooled, cut brookies in an airtight container. They stay good at room temperature for about a week. As noted above, if you prefer a firmer brownie consistency, feel free to stash them in the fridge instead!
Can I freeze them?
Yes, brookies stay good in the freezer for up to 3 months. One word of warning if you're planning to freeze sugar brookies with sprinkles: The sprinkles will leak color into the cookies as they thaw. It doesn't affect the taste at all though!
What sprinkles are best?
The jimmies stye sprinkles (long and skinny) work best in sugar brookies. You can use any color or combo of colors that you want.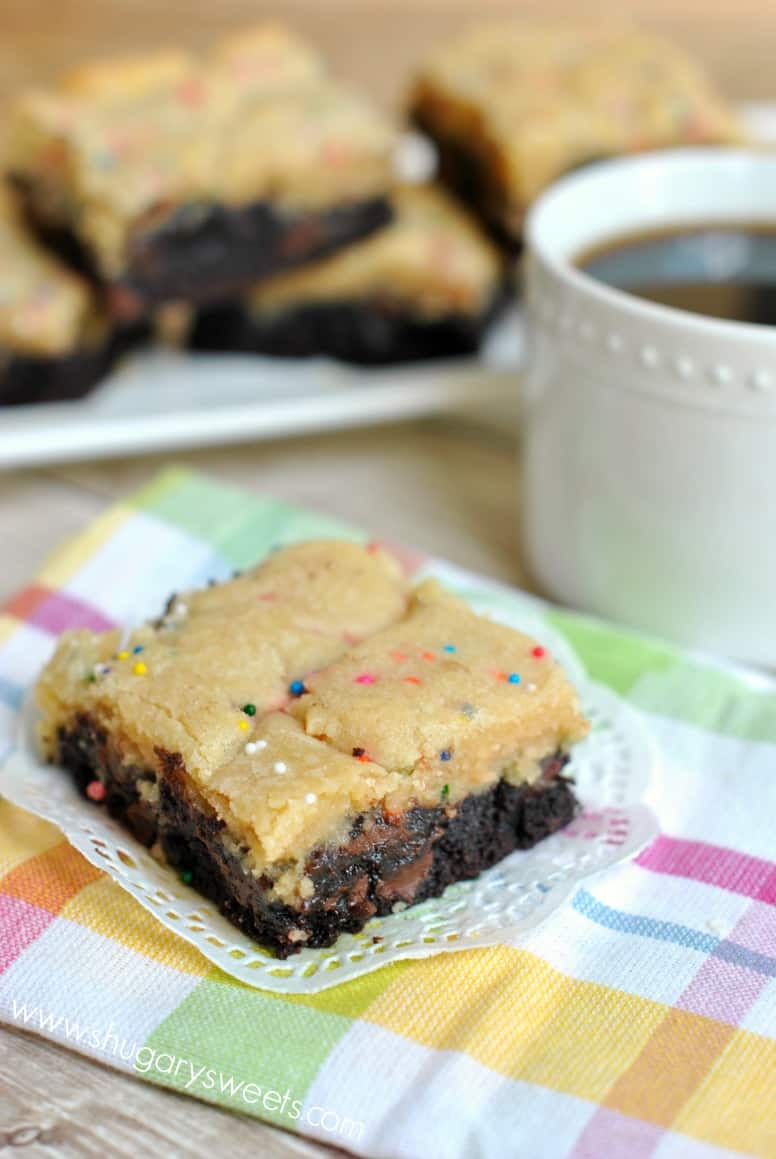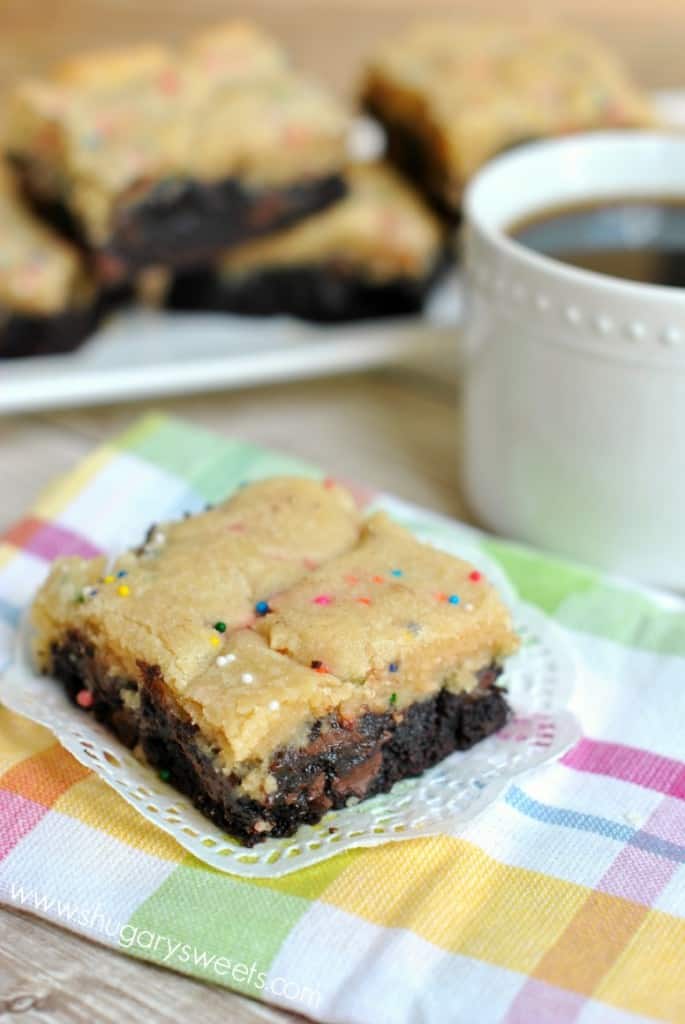 More Dessert Recipes