Nothing says comfort food like homemade Macaroni and Cheese! The gouda adds a creamy tang while the bacon adds a nice salty, smoked flavor! Try this at your next family dinner!
Serve this favorite side dish up with mom's meatloaf recipe. Or save it for holidays and enjoy with your Thanksgiving turkey.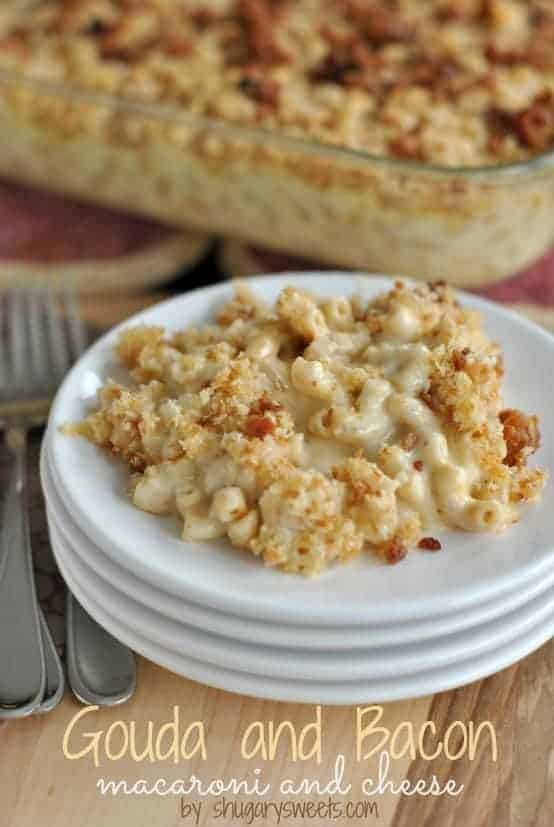 Why this Recipe Works
I love mac and cheese. My kids love mac and cheese. The whole world loves mac and cheese. Noodles tossed in cheese sauce might be the ultimate kid food but there are plenty of ways to make the dish a little more "grown up".
Adding gouda cheese for a more complex flavor plus bacon for a smoky touch makes this Mac and Cheese recipe stand out from the crowd. However, it's not so dressed up that the kids won't recognize it as good ol' classic mac!
We can all use a few more ideas for exciting and easy family meals. Gouda Bacon Mac and Cheese is one that'll have everyone asking for seconds. It's become my family's most requested version of macaroni and cheese and I can't wait for you to try it, too.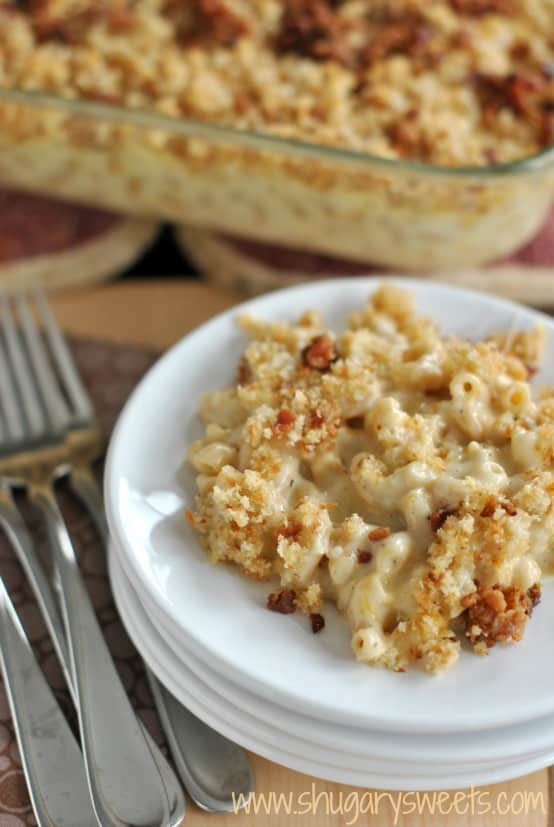 Ingredient Notes
Smoked Gouda Cheese – I prefer to buy blocks of cheese and shred it myself. Freshly shredded cheese melts so much better!
Bacon – Cook the bacon and crumble it before making your mac and cheese.
Macaroni Elbow Noodles – Feel free to sub other small pasta noodles like penne, bow tie or shells instead.
Bread – This is a great way to use leftover homemade bread or store bought bread that's about the go stale.
Easy Instructions
Before making the cheese sauce, boil your macaroni according to package directions, drain and set aside. You can do this while cooking the bacon!
To make the sauce, melt butter in a large pot on the stove, then stir in skim milk. Sprinkle in flour and whisk while the mixture becomes thick. Keep whisking while you add heavy cream and the seasonings.
Shred the cheeses in a food processor and add to the pot with the cream sauce. Stir until the cheese is melted and everything is combined. Add the cooked macaroni to the cheese mixture.
Now, it's time to bake your mac and cheese!
Pulse the bread slices in your food processor to make crumbs, then stir in melted butter. Pour the macaroni and cheese into a baking dish and sprinkle the bread crumbs on top along with the cooked bacon crumbles.
Bake uncovered for about 25 minutes until the bread crumbs are lightly browned.
Tips and Tricks
Feel free to toss vegetables in with the pasta before baking! Broccoli, peas and mushrooms would all be delicious additions.
You can substitute store bought bread crumbs if preferred. Combine with melted butter before adding to the pan as directed.
I used a 13 x 9 glass casserole dish for baking the macaroni.
This recipe can be used for an unbaked macaroni and cheese too! Just skip the bread crumbs and serve hot!
Have a vegetarian in your family? Bake the macaroni without the bacon and let everyone add crumbled bacon to their own bowl of mac if desired. Easy solution!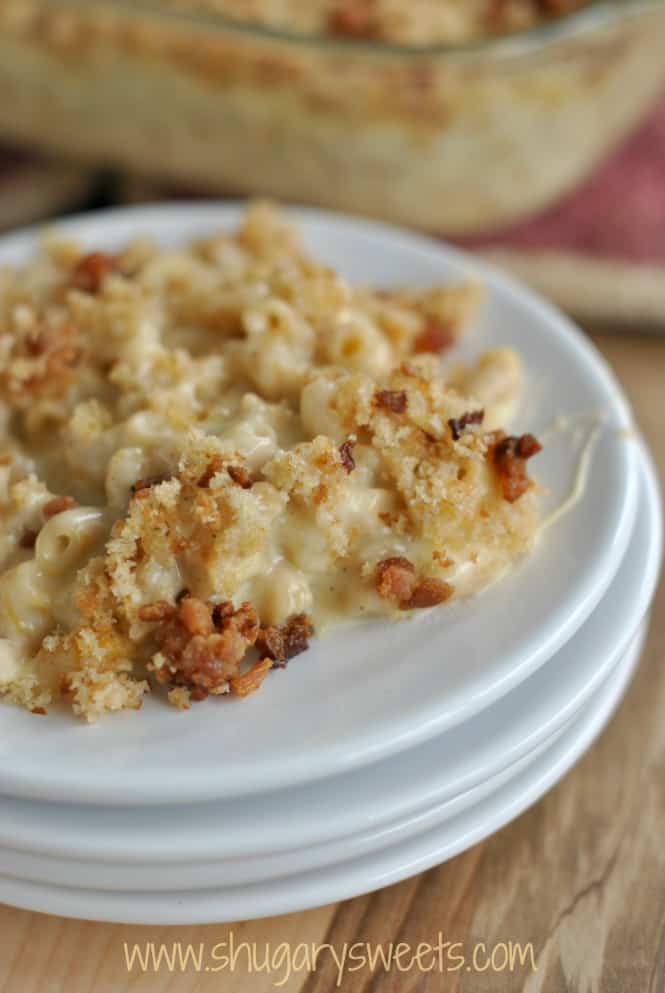 Recipe FAQ
Can I substitute another type of cheese for the smoked gouda?
Sure, but the flavors will be different. Other kinds of gouda (like chipotle) would be good if your family likes the flavor!
What's the best way to reheat macaroni and cheese?
This pasta reheats fine in the microwave. The bread crumbs will loose their crispiness but the mac and cheese still tastes delicious!
Why use skim milk AND heavy cream instead of whole milk?
I created this recipe based on what was in our fridge! Using skim milk coupled with the cream helped me control the creaminess of the finished sauce. Feel free to try it with whole milk if you prefer and let me know how it turns out!
Can this be made without the bacon?
Go for it! If you need a vegetarian option, leave the bacon off and you'll have a delicious smoked gouda macaron and cheese as a main course or a side dish.
I've never met a cheese lover who would turn down a helping or two of this Gouda Bacon Macaroni & Cheese! Warning: There's a good chance this will become YOUR new favorite Mac n Cheese recipe!