If you love PF Changs Lettuce Wraps, this simple copycat recipe made in the slow cooker is perfect! Lettuce wraps are an easy weeknight dinner the whole family will love!
Make it a complete meal and serve your lettuce wraps with some Chicken Fried Rice and a big plate of Orange Chicken.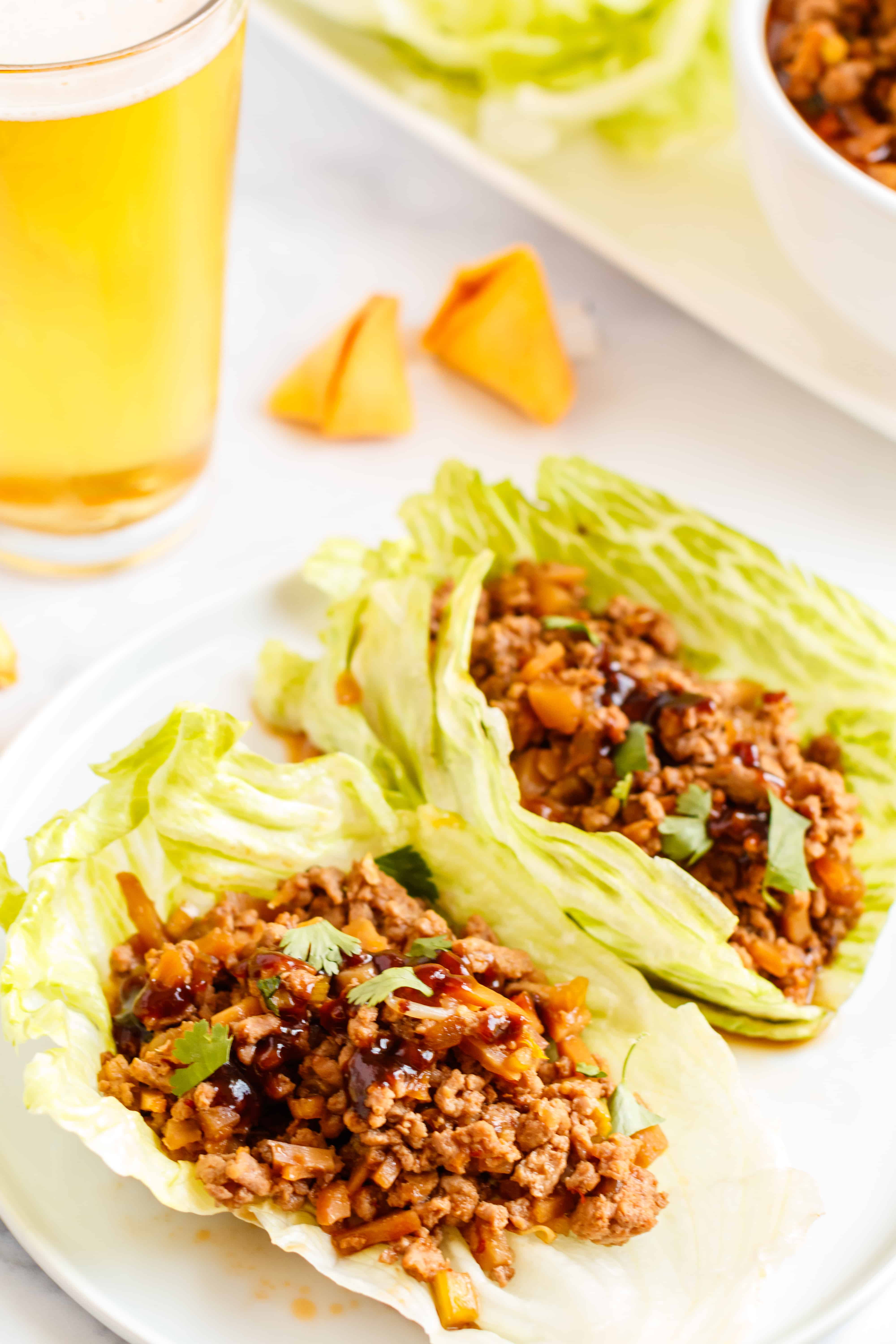 Copycat PF Changs
I love Chinese food. I especially love P.F. Changs. And I REALLY love lettuce wraps.
However, I ruined my own life. I informed my husband that the lettuce wraps were about 80% mushrooms.
I mean, come on, everyone knew that, right? I just wanted to PROVE to him that he likes mushrooms. After all, he LOVED lettuce wraps.
Until I told him they are made of mushrooms. Totally don't understand that. You eat the whole order of lettuce wraps, and suddenly you don't like it?
So, I had to create lettuce wraps with NO mushrooms. What???? I just told you the PF Chang copycat recipe is 80% mushroom!
I did it. And oh my word, this is good. It tastes great folks, trust me. And, the best part, it simmers all day in the slow cooker (totally easy), and when you are ready to serve you just scoop it on your lettuce leaf!
Are you a doubter? Let me PROVE it to you. Try this recipe. ASAP.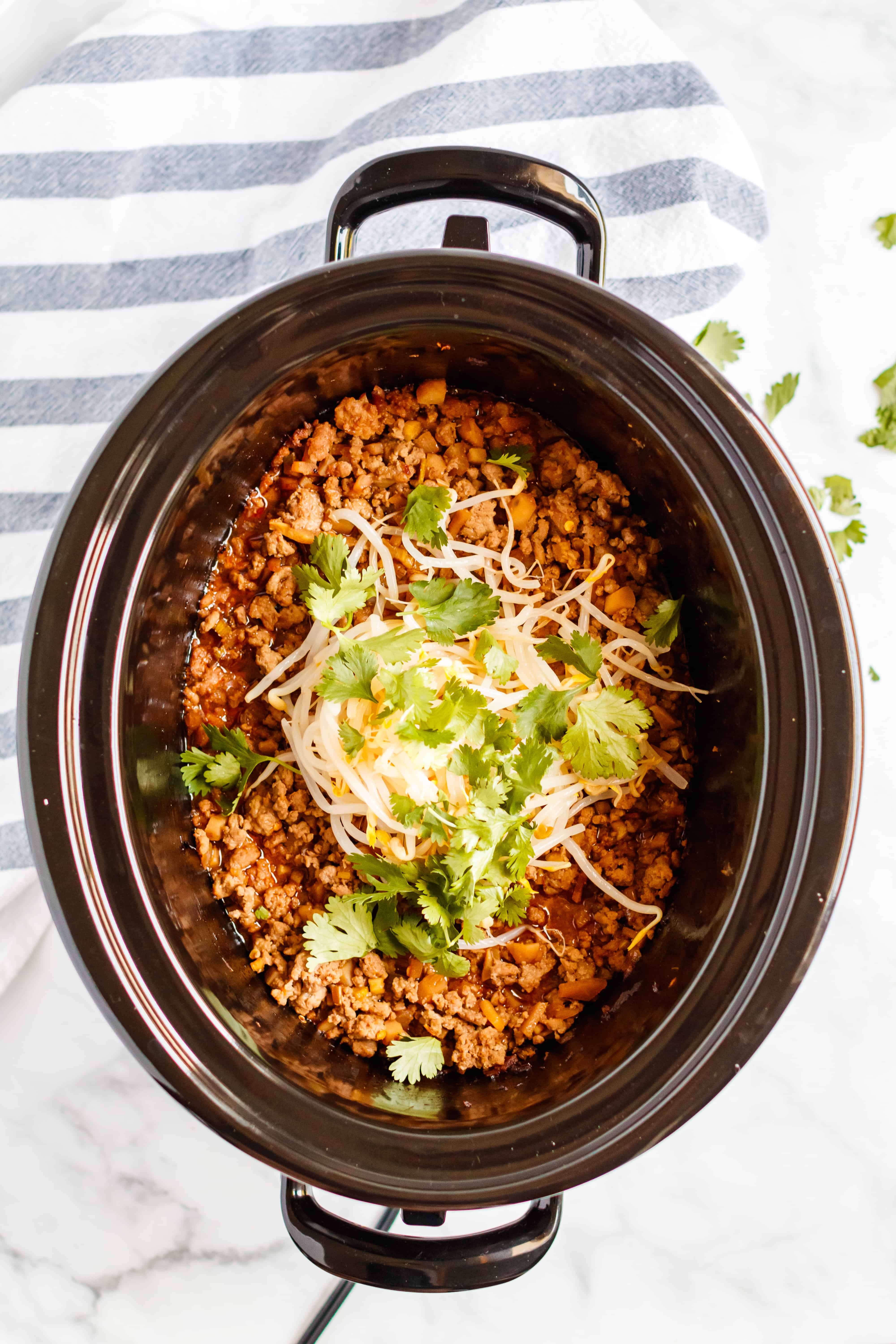 Step by Step Instructions
STEP 1: In a large skillet, brown ground turkey (or chicken and cook) over medium high heat with chopped onion until fully cooked. Drain off excess liquid.
PRO TIP: Many new models of crockpots and slow cookers have a saute function, eliminating the need to dirty another dish. Might be time for an upgrade!
STEP 2: Add cooked turkey and onion to slow cooker with celery, ½ cup hoisin sauce, soy sauce, water, garlic, ginger, brown sugar, sesame oil, chili oil, bamboo shoots and water chestnuts. Cover and cook on low for 6 hours in the slow cooker.
STEP 3: Before serving, mix in a can of bean sprouts and chopped cilantro. Serve by scooping a spoonful in the butter lettuce or any style lettuce leaves. Drizzle with the leftover (¼ cup) hoisin sauce. Enjoy!
STEP 4: Top with green onions if desired.
If desired, you can swap out the ground turkey for mushrooms (or even ground chicken).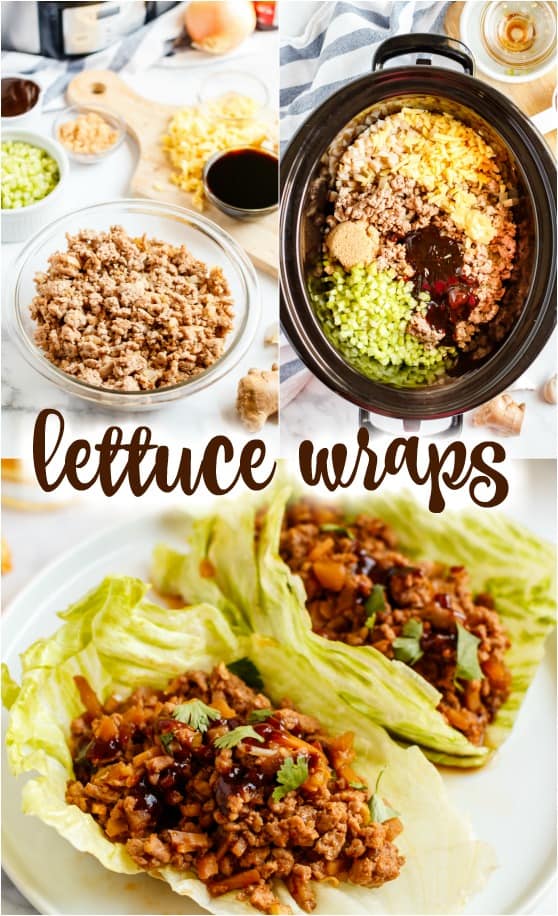 What is Hoisin Sauce?
It's a sweet and spicy red sauce made with soybeans. Imagine a thick bbq sauce for chinese cooking!
Can I make Lettuce Wraps on the Stove Top?
Absolutely. In twenty minutes you can have dinner on the table!
Start by browning your meat with the onion in a large skillet. Add the celery, ½ cup hoisin sauce, soy sauce, water, garlic, ginger, brown sugar, sesame oil, chili oil, bamboo shoots and water chestnuts and cook over medium heat, stirring frequently, for about 10 minutes. Add in the bean sprouts and cilantro and stir until warmed.
Remove from heat and serve in lettuce leaves. Drizzle extra hoisin sauce on top for garnish!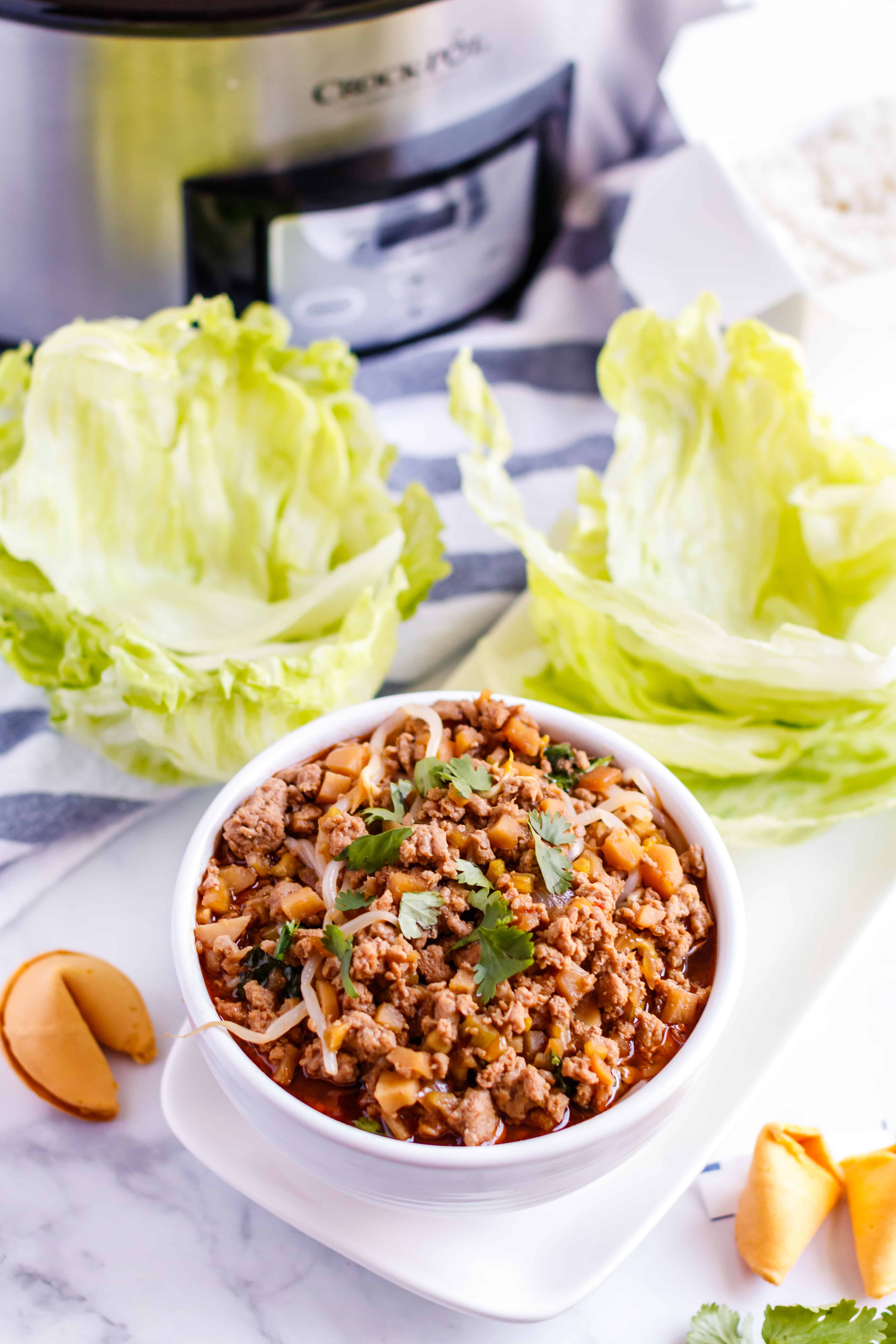 What to serve with PF Changs Lettuce Wraps
Forget the Chinese takeout, make your own Sausage Egg Roll Skillet at home! It's low carb and the perfect, easy weeknight dinner recipe!
Looking for the perfect potluck recipe? This Chinese Coleslaw with ramen noodles is crunchy and sweet and irresistible.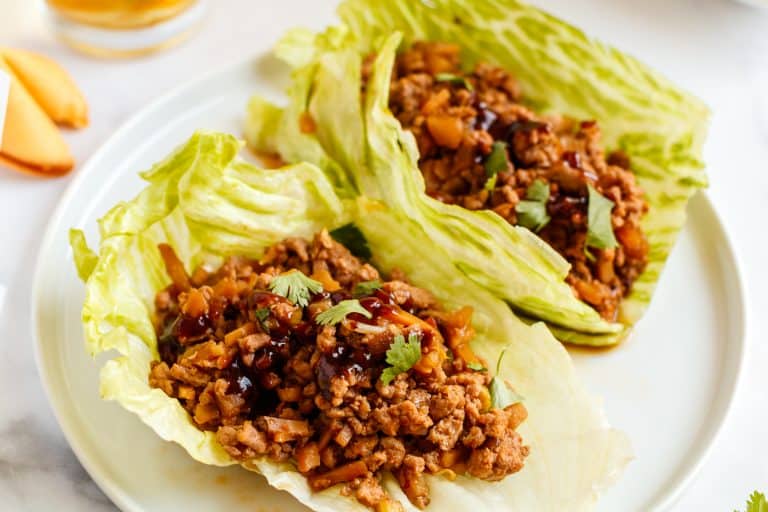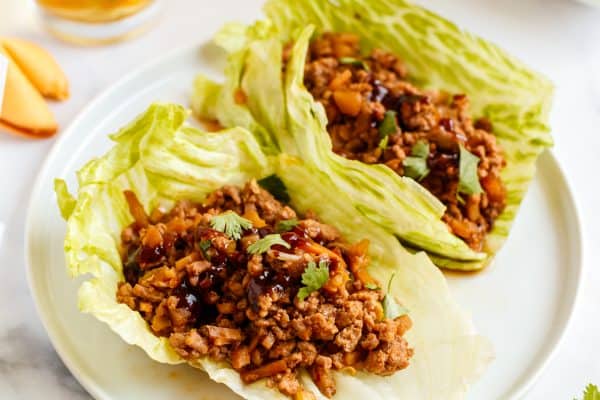 More Dinner Recipes: