The classic beef stew made in the Instant Pot! Inspired by Julia Child's iconic recipe, this Beef Bourguignon makes it easy to have a gourmet dinner on a weeknight.
Love easy comfort food? Our Instant Pot Shredded Beef has a balsamic glaze that tastes incredible. Or give our classic Instant Pot chicken alfredo a try for dinner tonight.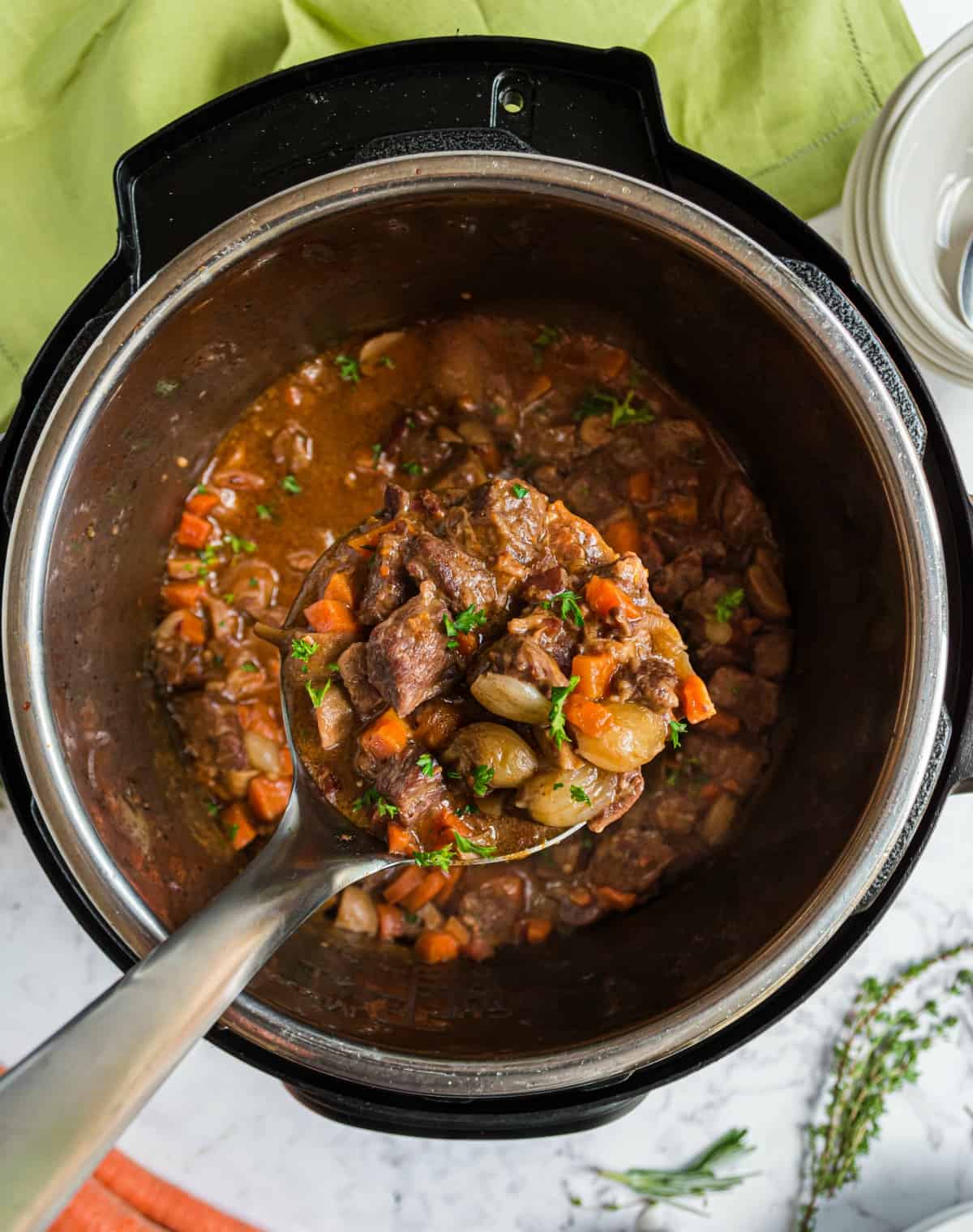 Beef Bourguignon or Beef Stew?
Julia Child made this hearty yet elegant beef stew popular in America. Now my friend Meseidy from The Noshery has adapted it for those of us with busy lives. This Instant Pot Beef Bourguignon from her new cookbook Weeknight Gourmet Dinners is so deliciously easy that I knew I had to share it with you all!
This flavorful dish is not your average beef stew.
The beef is braised with red wine imbibing the broth with deep flavor.
Savory beef is enhanced by cooking it with garlic, pearl onions and carrots.
Don't forget the butter and bacon!
Beef simmered in a thick, wine infused broth until fork tender is a universally loved dinner favorite! Serve with Instant Pot Mashed potatoes or a loaf of garlic bread to soap up the juices.
Originally cooked to perfection in a dutch oven, this Instant Pot recipe is every bit as tasty as the original.
Looking for another comfort food from childhood? Our Instant Pot Tuna Casserole recipe is incredible!
Ingredient Notes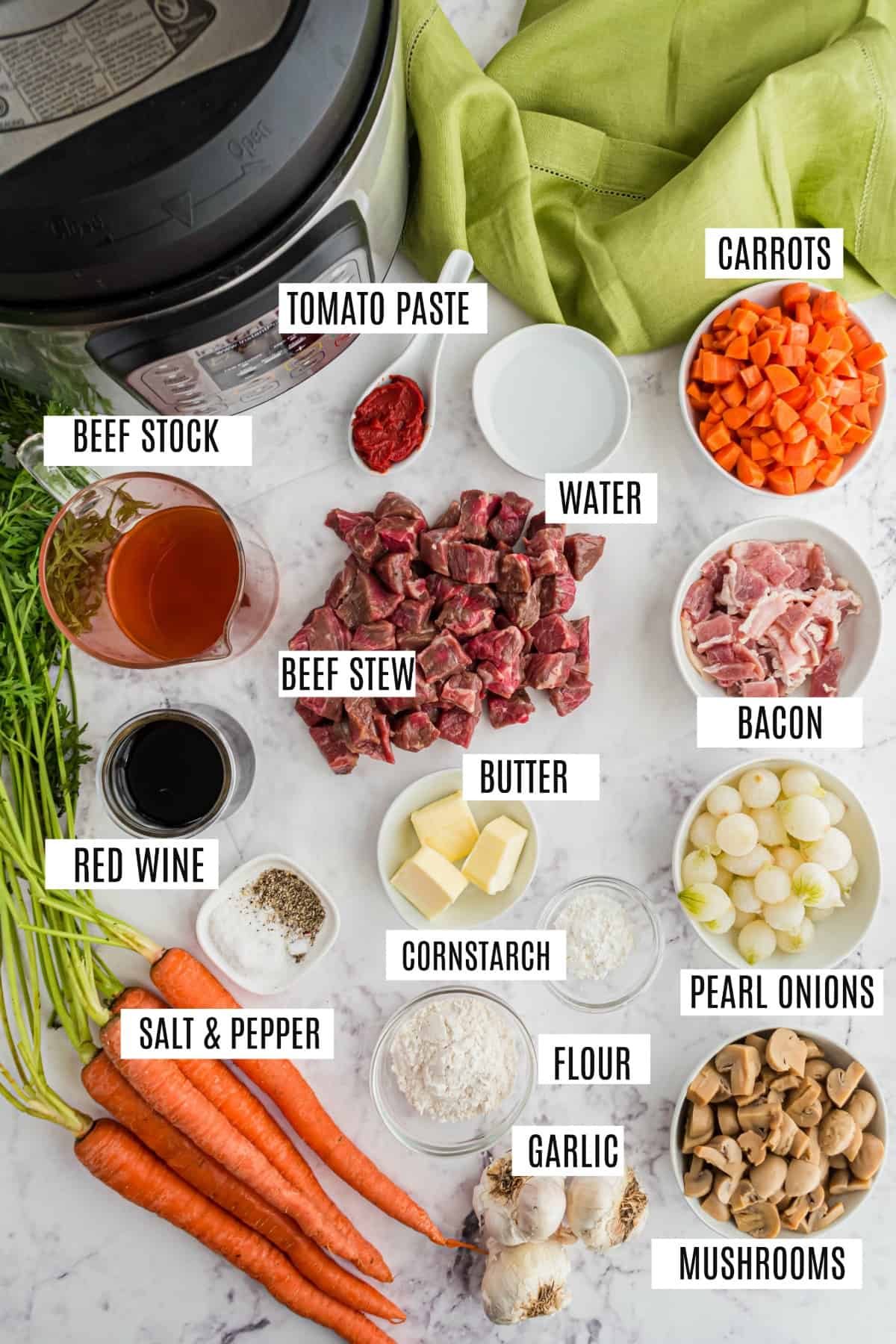 Stew beef – You can find stew beef already cut and ready to go at many grocery stores. If it's not available, use a 2 pound chuck roast, cubed into 1.5 to 2 inch pieces.
Red wine – Burgundy is the traditional choice of wine to use in this beef stew but any full bodied dry red wine will work beautifully. Merlot, Cabernet and Pinot Noir are all good choices. It doesn't have to be the best-ever wine, either!
Bacon – The bacon fat brings so much flavor to the stew! Use thick cut bacon, diced into bite sized pieces.
Beef stock- Please, please, please use actual beef stock here and don't sub for vegetable broth or chicken stock!
Butter – Would it even be a Julia Child recipe if it didn't involve real butter? Unsalted is best.
Vegetables – Mushrooms, pearl onions and and carrots fill out this stew.
Garlic – Fresh cloves of garlic finely chopped tie all the flavors together.
Step by Step Instructions
How to make the Beef Bourguignon in the Instant Pot.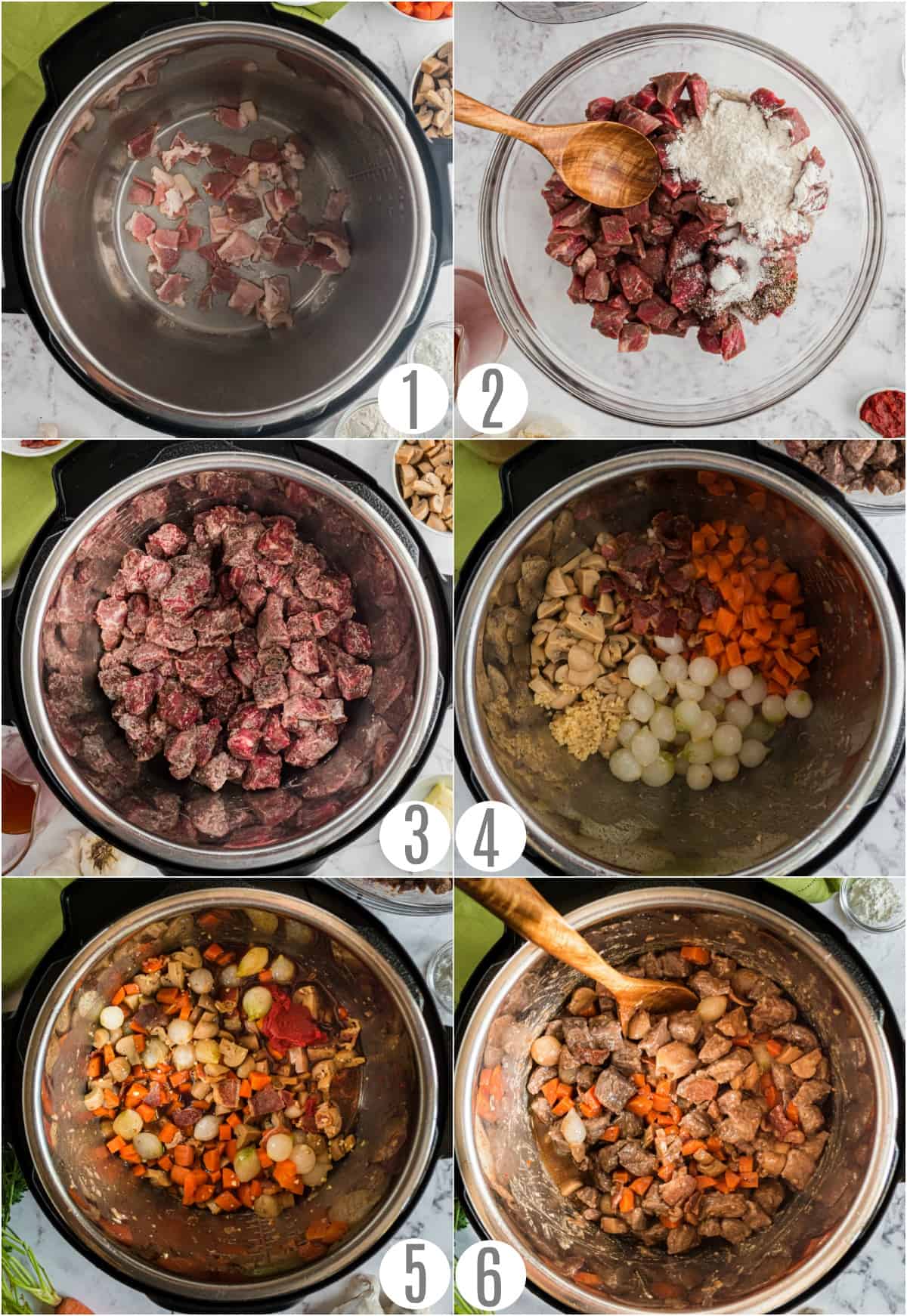 STEP 1. Cook bacon
Cook the bacon with the water in the instant pot using the "saute" setting. Stir occasionally as the bacon begins to brown.
STEP 2. Coat beef
In a large bowl, add beef, flour, salt and pepper. Stir to coat the beef with the flour and seasonings.
STEP 3. Brown beef and saute vegetables
Remove the bacon and add butter to the Instant Pot. Add the beef to the melted butter, and cook without stirring for 3 minutes. Give it a little stir and let the stew meat cook for another 3 minutes before transferring it back to the mixing bowl.
Add more butter to the pot and saute the vegetables with garlic and bacon. Pour wine, tomato paste and beef stock over the veggies and deglaze.
STEP 4. Pressure cook
Return the browned beef to the pot and add the lid. Set the valve to sealing and select a cook time of 30 minutes (on High). After releasing pressure, open the lid and remove a tablespoon of the hot broth from the pot.
Add the broth to a bowl with the cornstarch and whisk to combine. Add this mixture back to the Instant Pot and let simmer on the "saute" setting for about 5 minutes.
Serve and enjoy!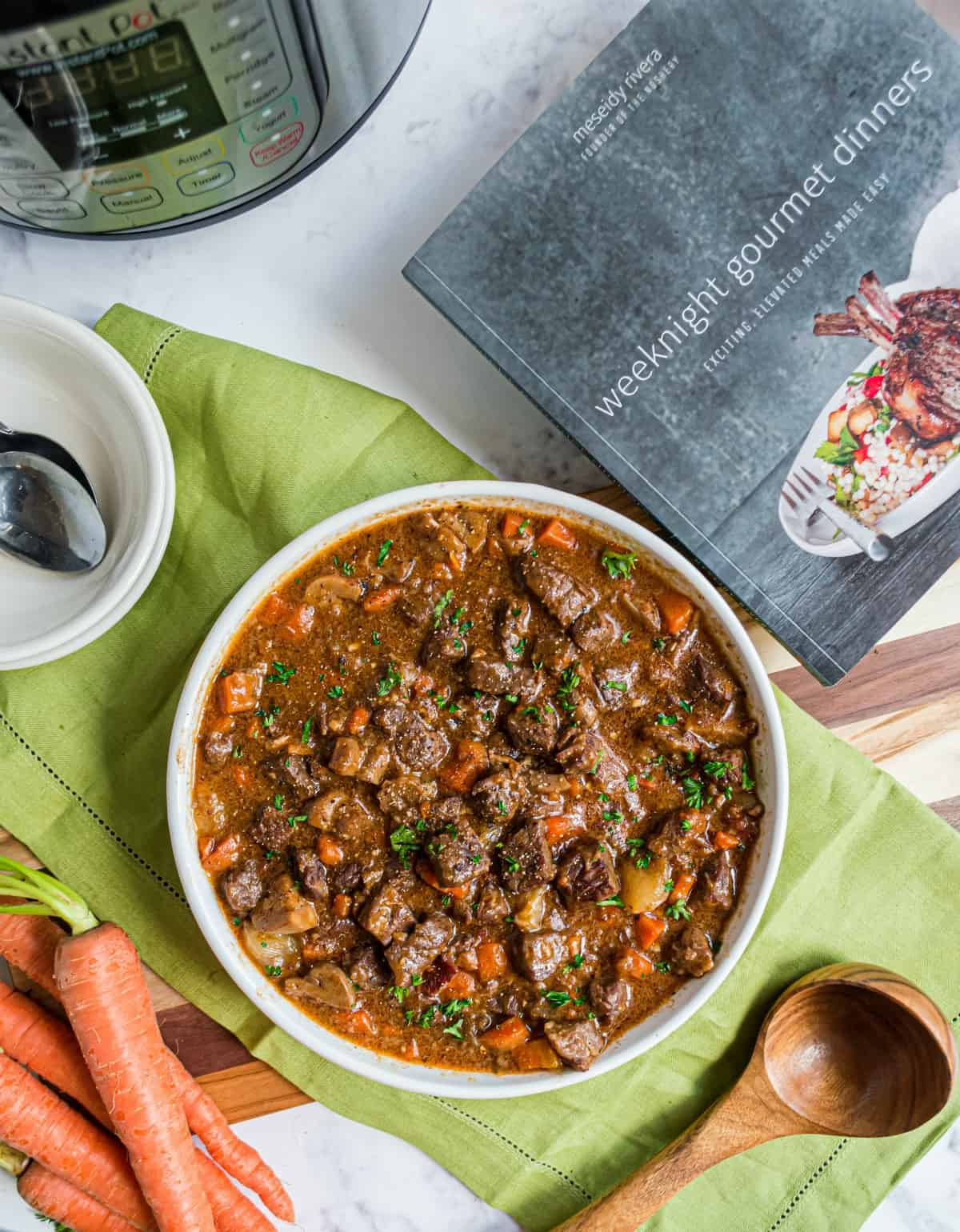 Tips and Tricks
After adding the broth and tomato paste, use a wooden spoon to scrape any pieces of onion or garlic off the bottom and sides of the instant pot to prevent burn notice.
Have all your ingredients chopped and laid out before beginning cooking to seamlessly transition from one step to another.
Store leftover bourguignon in an airtight container in the fridge for up to 3 days. Warm on the stove before enjoying!
Recipe FAQs
What is the difference between beef stew and Bourguignon?
Beef Bourguignon stands out from other beef stews thanks to the addition of red wine in the broth. It adds a deep, complex flavor that can't be matched by broth only stews.
Which cut is best for beef bourguignon?
Use boneless beef chuck roast for this stew. While tougher to start with, it cooks down in the pot wonderfully turning into fork-tender, melt-in-your mouth cubes of meat. Some grocery stores already have it cut and labled as u0022beef stew meat.u0022
What red wine is best?
While red wine from Burgundy is the classic choice for Julia Child's recipe, any dry red wine will do. Avoid cooking wines (which have additives).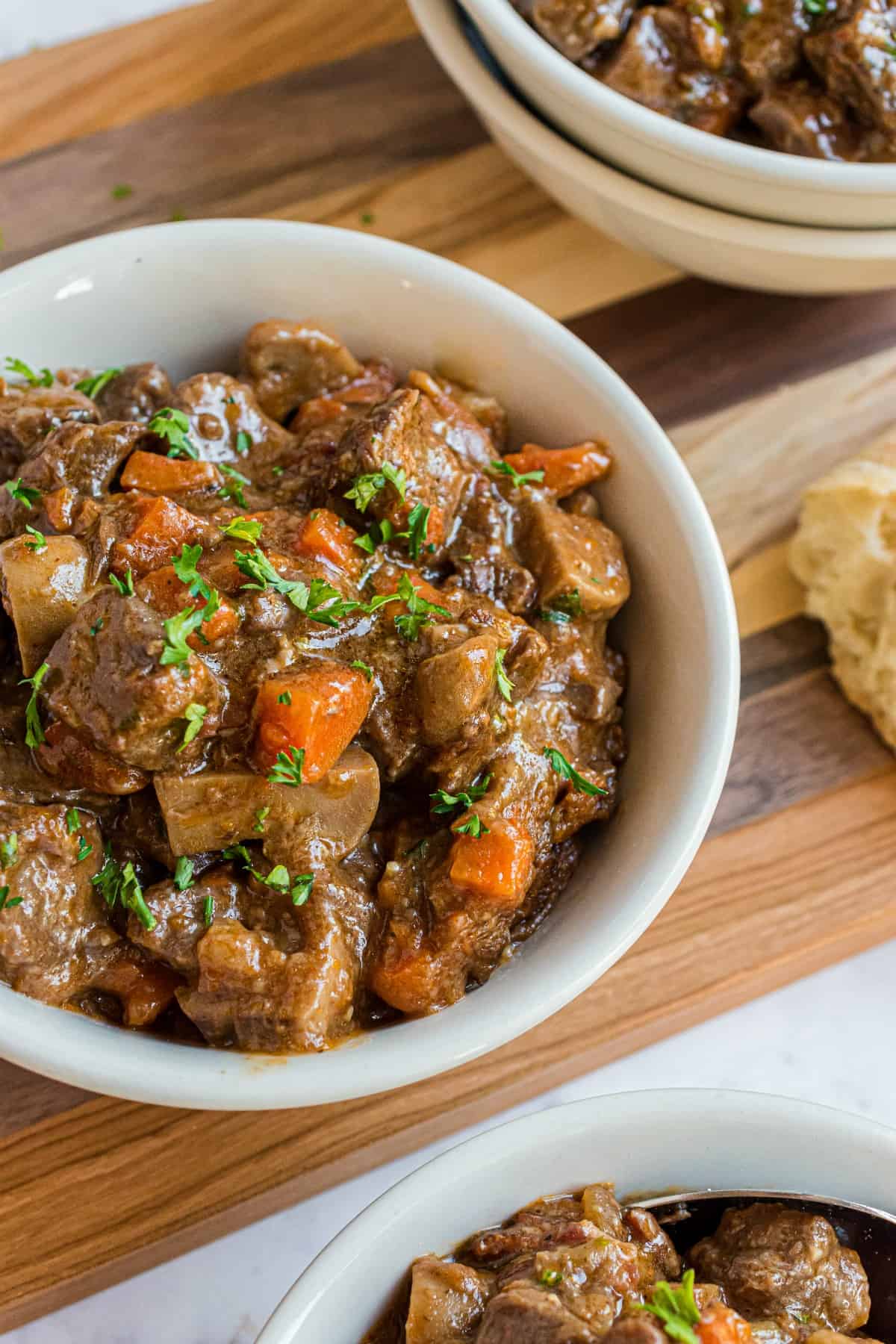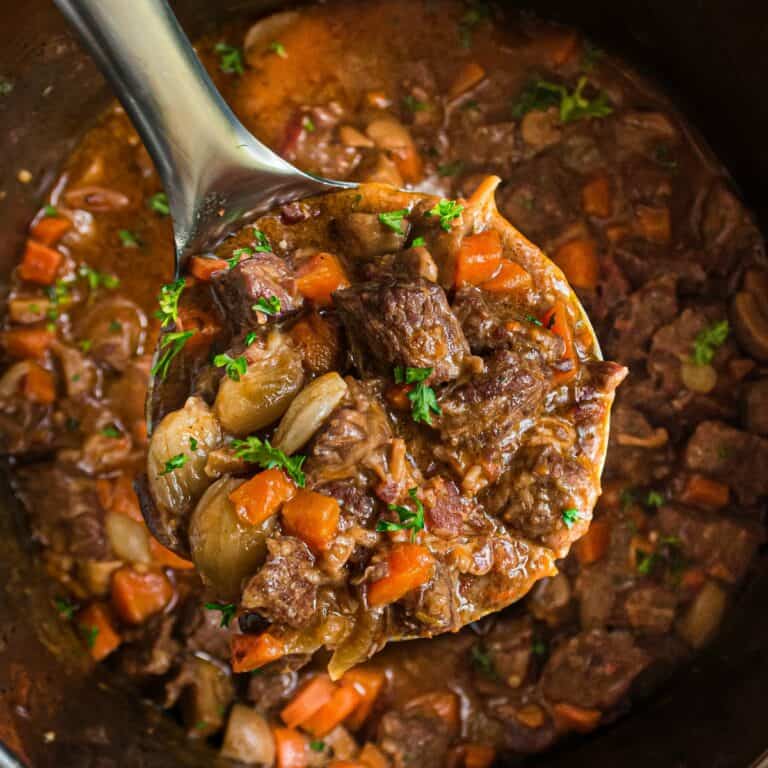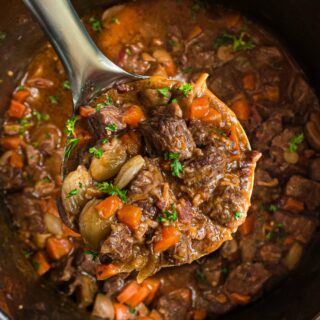 Instant Pot Beef Bourguignon
The classic beef stew made in the Instant Pot! Inspired by Julia Child's iconic recipe, this Beef Bourguignon makes it easy to have a gourmet dinner on a weeknight.
Ingredients
3

strips

thick-cut bacon

diced

2

Tablespoons

water

2

lbs

beef stew meat

diced into ½-1" pieces**

3

Tablespoons

all-purpose flour

2

teaspoons

kosher salt

¼

teaspoon

ground black pepper

3

Tablespoons

unsalted butter

divided

4

carrots

diced or sliced

1

cup

frozen pearl onions

8

button mushrooms

quartered

4

cloves

garlic

chopped

½

cup

red wine

1

Tablespoon

tomato paste

½

cup

beef stock

1

Tablespoon

cornstarch
Instructions
Select the "SAUTE" function on your Instant Pot. Add the bacon and water to the pot and cook, stirring occasionally, until it begins to brown.

While the bacon is cooking, add the beef stew meat, flour, salt and pepper to a large bowl. Stir to coat.

After the bacon has finished cooking, remove it from the Instant Pot and set aside. Add 2 Tablespoons of butter to the Instant Pot and stir until melted. Add the beef stew meat and cook, undisturbed for about 3 minutes. Stir the beef and let it cook for another 3 minutes. Transfer the beef back to the bowl.

Add the remaining Tablespoon of butter and the carrots, pearl onions, mushrooms, garlic and bacon to the Instant Pot and saute for 4 minutes. Add the wine, tomato paste, and stock and deglaze the pot, using a wooden spoon to scrape the browned bits from the bottom.

Return the browned beef to the pot and stir. Secure the lid in place. Set the pressure to high and cook for 30 minutes, making sure that the valve is set to sealing. After the cooking time is up, let the pressure naturally release for 10 minutes and then do a quick release by moving the valve to "venting."

In a small bowl, whisk the cornstarch and 3 Tablespoons of broth from the hot beef bourguignon. Add the mixture back into the pot, stir and select the sauté option. Let simmer for about 5 minutes to thicken, stirring constantly.
Notes
If you can't find "beef stew meat" use a 2lb chuck roast and cube into 1/2-1-inch pieces.
Recipe tested in a 6qt Instant Pot.
Recipe written with permission from Meseidy @ The Noshery and her new book "Weeknight Gourmet Dinners."
Nutrition
Calories:
447
kcal
,
Carbohydrates:
14
g
,
Protein:
54
g
,
Fat:
19
g
,
Saturated Fat:
9
g
,
Polyunsaturated Fat:
9
g
,
Trans Fat:
1
g
,
Cholesterol:
171
mg
,
Sodium:
970
mg
,
Fiber:
2
g
,
Sugar:
4
g
Instant Pot Beef Bourguignon is an impressive and hearty meal you can make on even a regular weeknight! If you like this recipe, be sure to check out the book Weeknight Gourmet Dinners for more gourmet meals made easy.