Looking for a dessert to impress your family and friends? This Cherry 7 Up Pound Cake is packed with flavor and is beautiful too!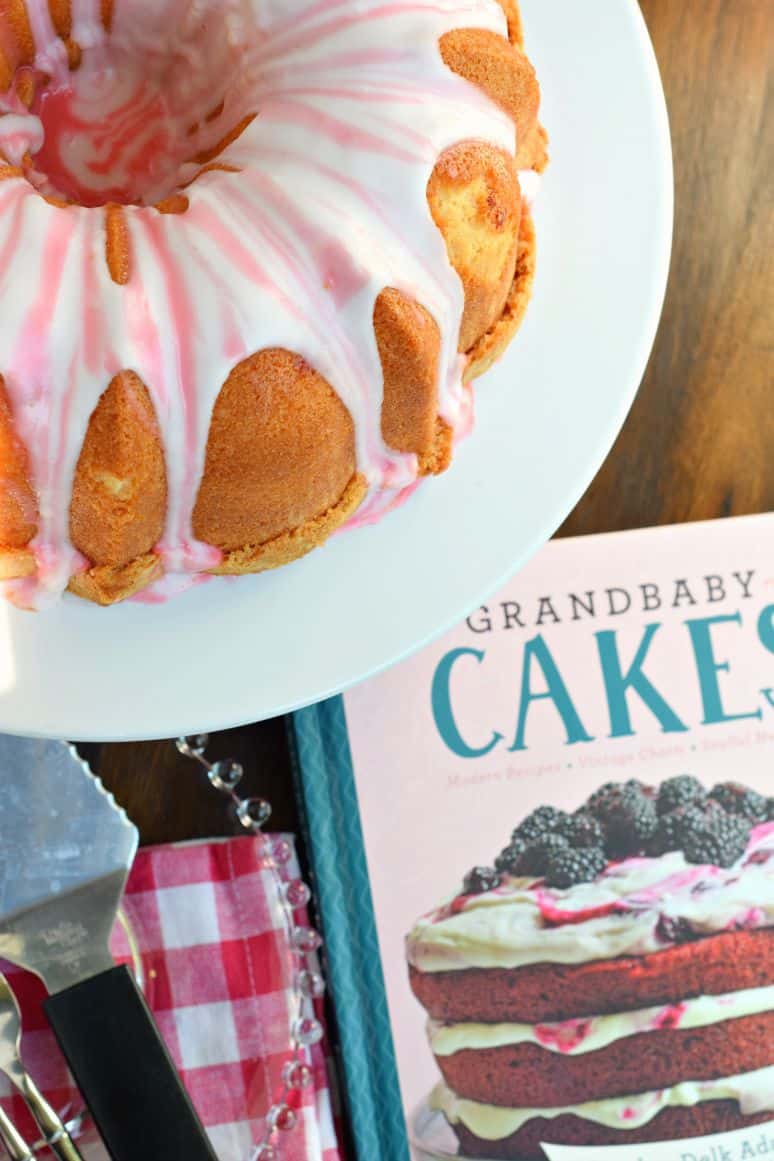 Every day I am reminded that I am surrounded by talented friends. The food blogging world is HUGE. Millions of food blogs, and the field keeps growing.
Yet, somehow, I have found myself lucky enough to be among some of the most talented, kind, and truly remarkable people.
And every once in awhile, I just need to share this with you, my readers.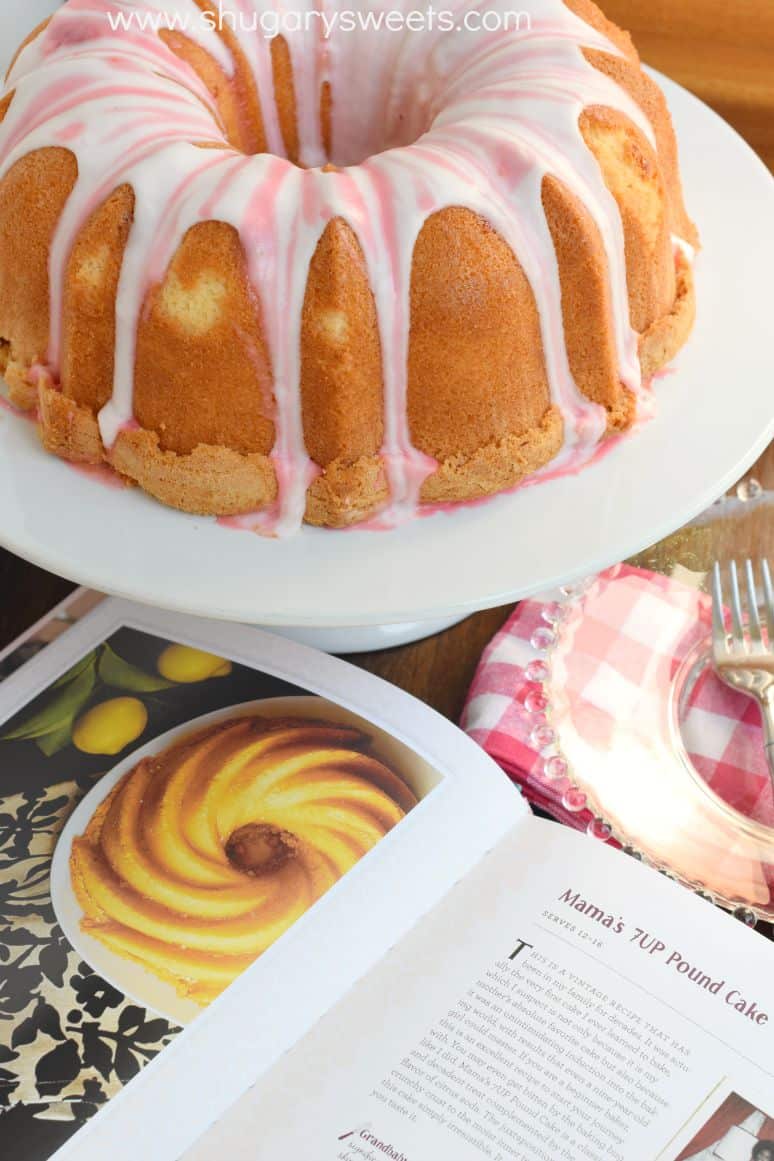 My good friend, Jocelyn, from the blog Grandbaby Cakes sent me her beautiful family photo album. Okay, I kid. It's her gorgeous cookbook, aptly titled Grandbaby Cakes.
However, flipping through the pages I feel at times like I am snooping and lurking through her family history and her secret family recipes! With every recipe she tells a story.
And with every story, she shares a recipe. They really go hand in hand in this book. And soon, like me, you'll be wanting to just read every entry. And many of the recipes include family photos!
So as she tells the story, you can picture the people because their photo is right there. It's beautiful.
But you can't sell cookbooks with just words and photos. You have to have great recipes, am I right? You would never buy a cookbook as a gift to someone if you didn't like the recipes in it. Let me tell you a little about the recipe I made….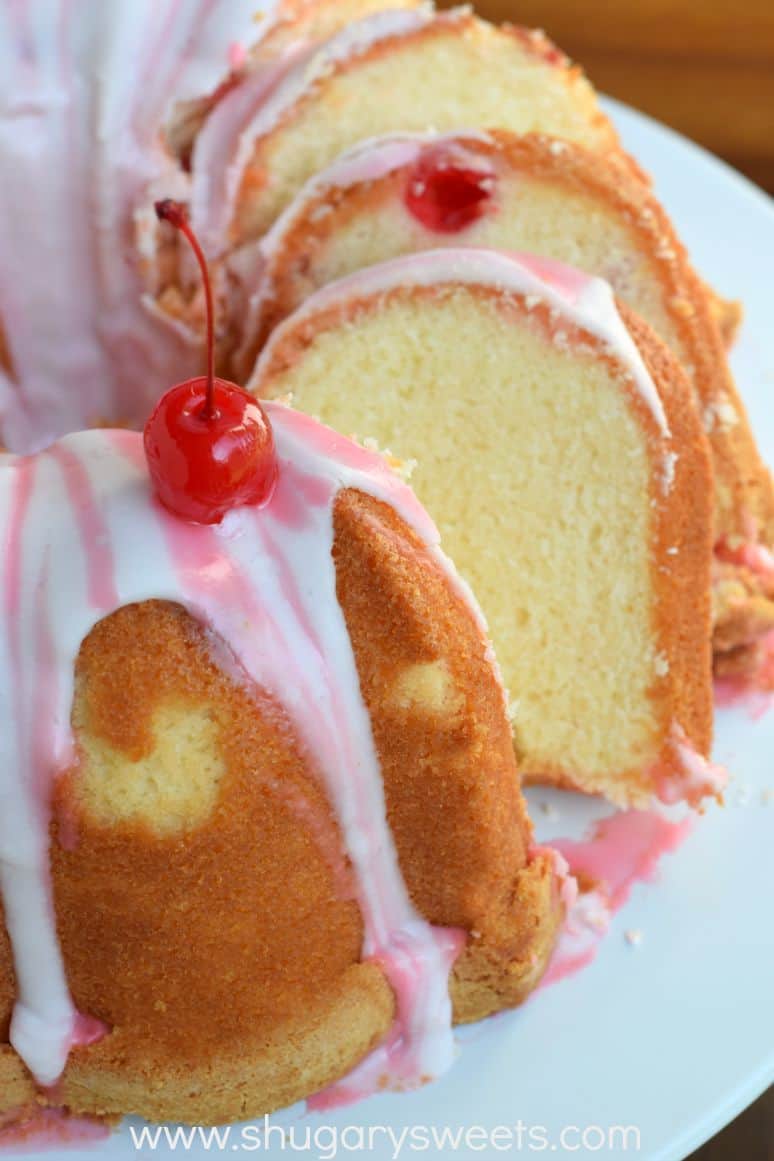 Jocelyn asked me to make one of her recipes, adding my own twist if I wanted. I was immediately drawn to her 7 Up Pound Cake.
Two years ago I gave up drinking pop. I really didn't have a huge addiction to pop (yes, it's pop in this part of the country, you may call it soda or Coke?!), but I was suffering from some severe migraines and giving up artificial sweeteners in my diet pop was necessary.
So with that, I gave up drinking all pop. However, every once in awhile I get a craving for a lemon lime drink or a root beer.
Adding them to my baking and desserts is a great way to curb those cravings, haha!!
Like these apple dumplings with Mountain Dew!
I didn't want to change much about her recipe, because I was totally curious to see how delicious it was on it's own.
My biggest change was I replaced the 7 Up with Cherry 7 Up and added in some maraschino cherries. Plus a heavier, cherry glaze!
I need to be honest here….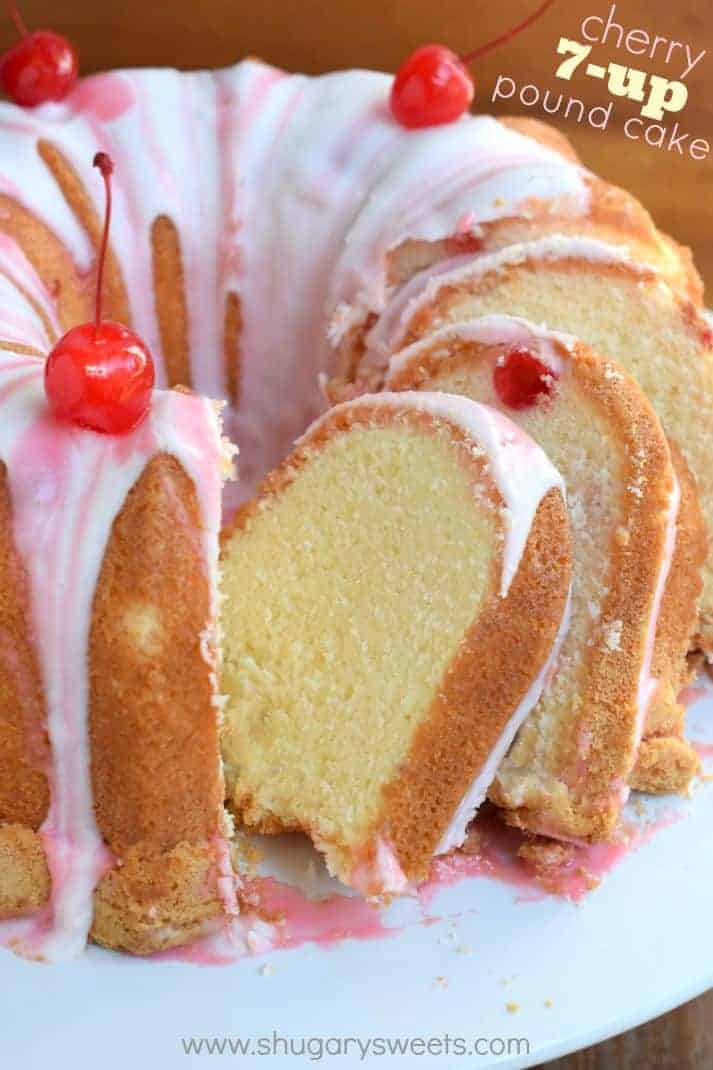 Best Pound Cake Recipe
I'm not just saying that because I know Jocelyn will stop over and read this. It really was amazing.
One of the biggest differences between this recipe and others is that Jocelyn doesn't add a leavening agent to her recipe.
Instead, the extra long creaming process adds more air to the batter allowing the cake to rise significantly without help.
The crust on the cake had the most delicious texture, I don't know how to even describe it!
I guess you'll have to get on Amazon and buy your own copy (would make a GREAT gift for the holidays too).
How to make a 7Up Pound Cake with Cherry glaze
First, make sure you use a large bundt cake, or tube pan. This is a a very large pound cake, and it rises high, so make sure you're not using a pan that is too small.
Second, use unsalted butter. I prefer to be able to determine how much salt I use in recipes, so I ALWAYS buy unsalted butter. Let it soften on your counter. When it's time to beat the butter, you want to do so for a good couple minutes, then add in the sugar and salt and beat an additional 5-7 minutes, using an electric mixer with a whisk attachment. Scrape down the sides of the bowl periodically, and beat that butter until it's soft, smooth, and very pale in color!
Cake Flour. Yes, it's important. I know you're going to ask me this question, and my answer when it comes to cakes, is always use cake flour. It creates the perfect texture and crumb when it comes to baking a cake. Just do it. You can also google how to make your own using regular flour and cornstarch.
Once you've added in your flour do NOT overbeat. I mix JUST until the flour is incorporated, then I use a spatula and mix gently without the electric mixer.
Bake at a lower temperature for longer. You've got to trust this, but it works and it's amazing. And after one bite of this cake, you'll say, "that's the best and most perfect pound cake ever!"
Save the juice in your jar of maraschino cherries! It not only gives the glaze the pretty pink color, but also the great flavor!
To freeze this cake, wrap your cake slices in parchment paper, then in a ziploc freezer bag. Remove from freezer and place at room temperature to thaw. Freezing slices allows you to only pull out exactly what you need (or crave)!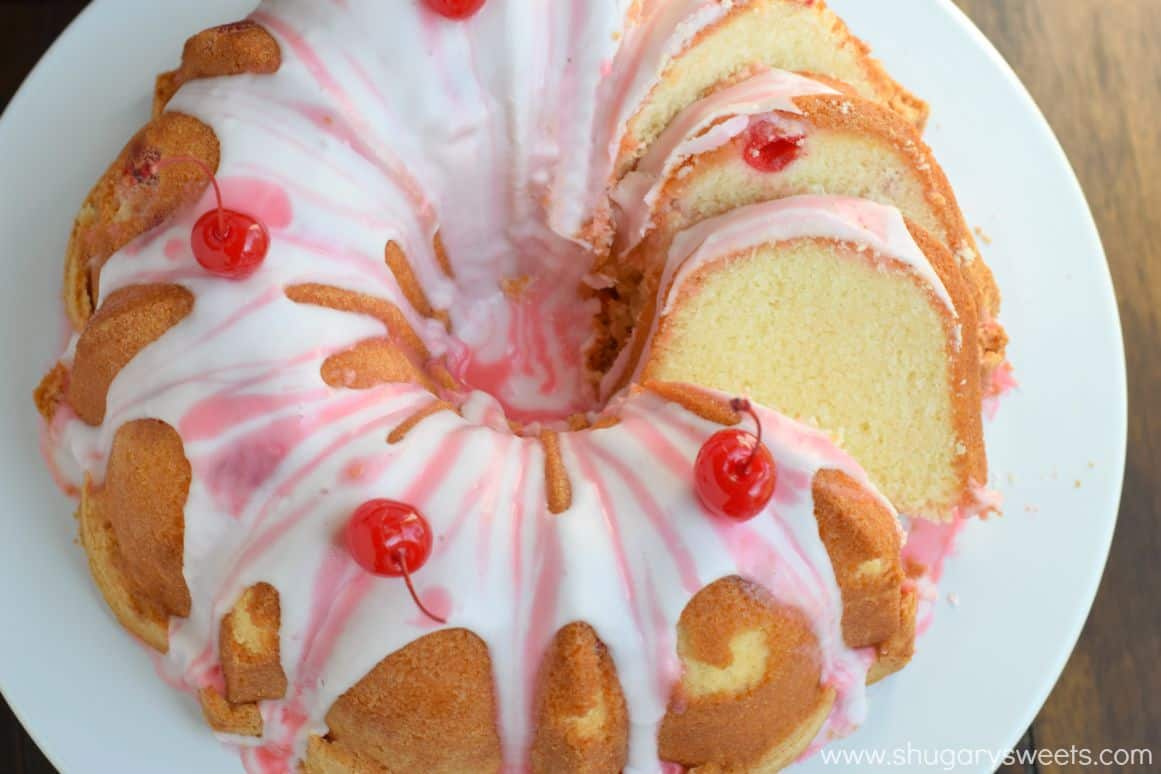 More Cake Recipes

This stunning Cherry 7Up Pound Cake recipe was originally published in September 2015 and has been updated in March 2018.