Make an entrance at your next holiday party with this easy Ugly Sweater Cake! Using a boxed cake mix, colorful frosting and holiday garnishes, you can create a dessert that's sure to turn heads.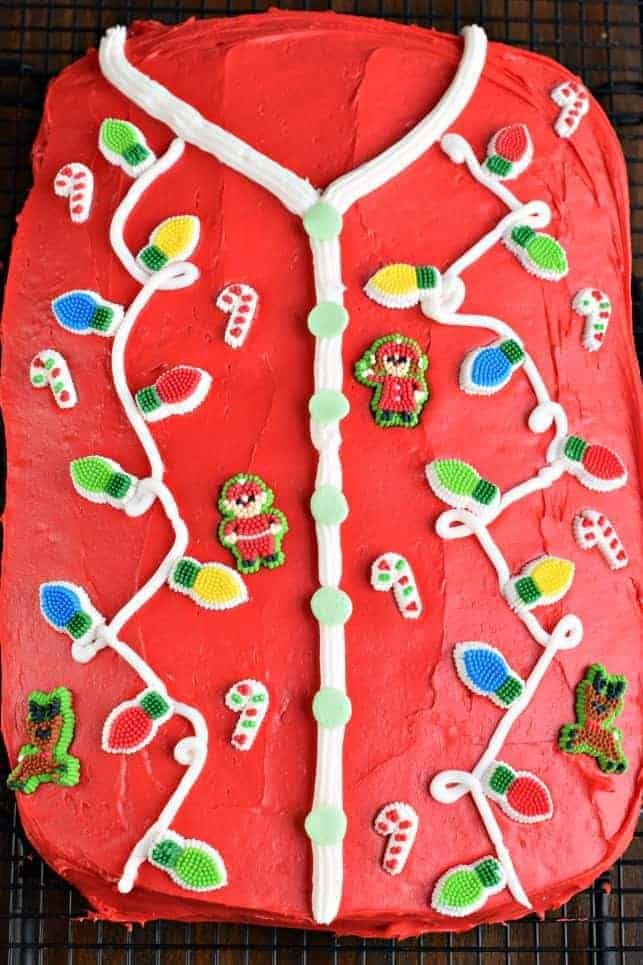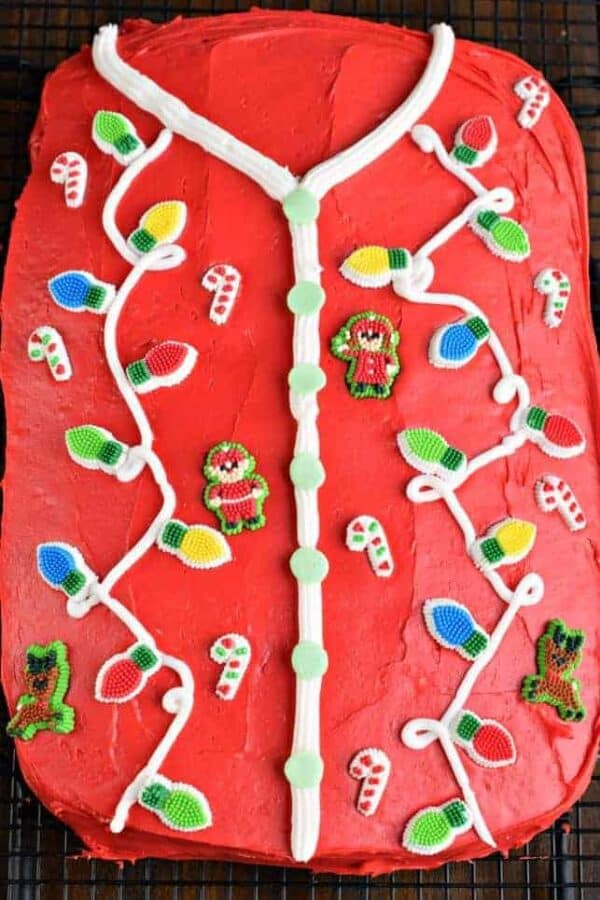 Easy Ugly Sweater Party Recipe
I wasn't even going to share this on the blog. It's not really even a recipe. However, my blog is also a journal of our food experiences and experiments over the years, so in that regard this cake I made for an Ugly Sweater Party totally fits.
If you've never been to an ugly sweater party, it's exactly what it sounds like: everyone wears the ugliest Christmas sweater they can find. This time, I decided to go the extra step and dress up a cake for the occasion too!
This Ugly Sweater Cake is one of those things that just came together so easily. It's literally a box of yellow cake mix, some canned holiday frosting, and a bunch of candy decorations! However, when it's put all together it's the perfect storm for your next holiday party.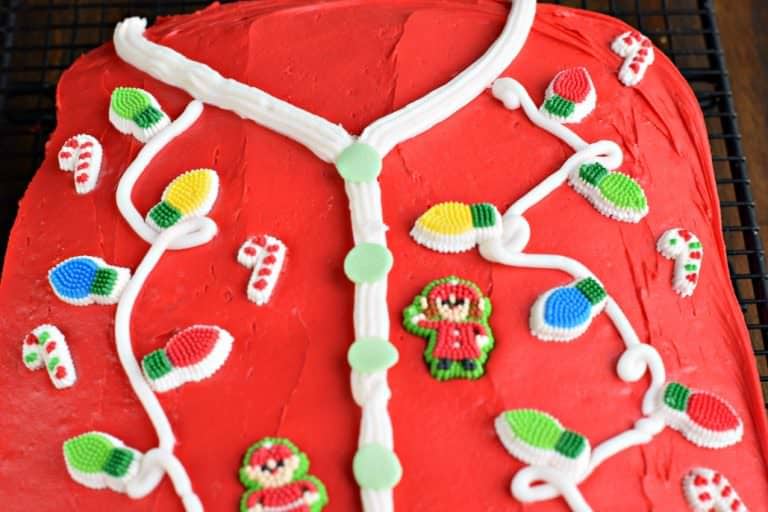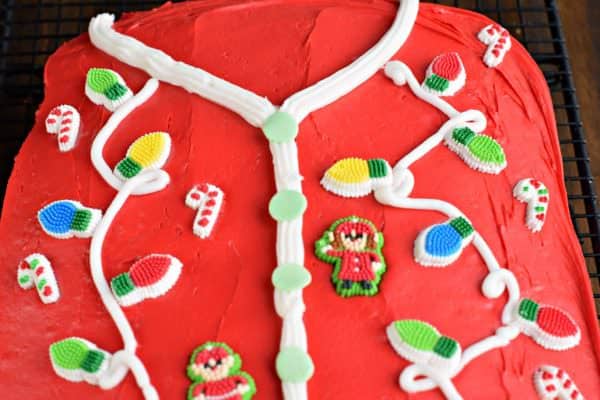 Ingredient Notes
Yellow cake mix – You're going to bake the cake in a square cake pan according to the package directions. A white or chocolate cake mix would work too, or feel free to make your own cake from scratch to decorate.
Frosting – For my ugly sweater cake I went with canned red frosting and white tube frosting. You can change up the colors to suit your creative holiday vision. Green would be perfect as a sub for either the red or the white.
Holiday decorations – Winton's makes lots of holiday icing decorations that make great ugly sweater cake toppers. Add candles to make this a birthday cake!
Step by Step Instructions
This fun holiday dessert is so easy to make and customize with creative combinations and designs.
Start by baking your cake and letting it cool completely before you add the frosting. Then, turn your cake onto a cutting board and decorate!
Spread the red frosting all over the tops and sides, then use the tube frosting to pipe on a "collar" and a stripe down the center. Add circular candies for buttons then decorate as desired with your holiday garnishes.
Extra bonus points if you can decorate it to match your OWN favorite ugly Christmas sweater!
Recipe FAQs
What kind of frosting do you need for this cake?
I went with canned red frosting for the base and a store bought tube frosting to make the sweater lines. You could substitute a homemade vanilla buttercream, adding food coloring to half the batch and piping on the other half with a frosting tip.
Where can you find holiday shaped candies to decorate this?
I bought mine on Amazon. You can also check craft stores or specialty baking stores for fun cake toppings to match the season!
Everyone gets a kick out of a cake decorated to look like an ugly sweater. Make this easy Ugly Christmas Sweater Cake for your next party or just as a fun weekend project with the kids.