Vanilla Toffee Crunch Fudge is a delicious vanilla bean fudge packed with chunks of buttery, chocolate covered toffee candy.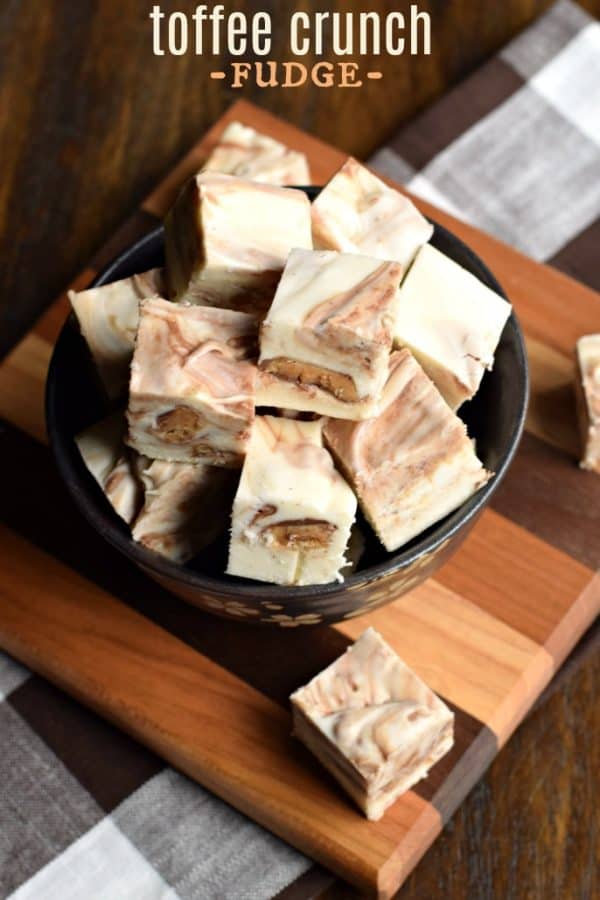 Click HERE to save recipe to Pinterest
Every year I try to create some new candy flavors, and this year I was stumped.
I feel like I've made every fudge recipe I could ever think of, and then some!
Chocolate fudge? Check. Vanilla Fudge? Check. Grinch Fudge. Egg Nog Fudge. I have dozens of flavors.
Then, while my husband and I were in the middle of making our yearly batches of homemade English Toffee…it came to me. My next flavor.
Vanilla Toffee Fudge. Delicious, creamy vanilla fudge packed with chunks of toffee candy bars. You can use store bought toffee (like Heath Bars, or Skor bars) or use my homemade English Toffee recipe. You could also use a bag of toffee bits from the baking aisle.
If you have ever tried Ben & Jerry's Toffee Crunch Ice Cream…imagine it in fudge form.

How to make Vanilla Toffee Crunch Fudge
I promise knowing how to make vanilla fudge takes just a few simple steps.
Prepare an 8-inch square baking dish by lining it with parchment paper. Set aside.
In a large bowl, combine white chocolate chips, vanilla bean paste, and marshmallow cream. I buy my vanilla bean paste on Amazon, but you can make your own, or you can use vanilla beans and vanilla extract, or just vanilla extract. I love the depth of flavor you get from vanilla bean paste.
Chop up about 6 full-size Heath candy bars, leaving some large chunks. Set that aside.
In a large saucepan, add unsalted butter, heavy whipping cream, granulated sugar, and kosher salt. Bring to a boil over medium high heat, stirring frequently.
Once boiling, continue to boil for a full 5 minutes, stirring constantly. Remove from heat and immediately pour over the white chocolate mixture. Using an electric mixer, blend for about one minute until morsels are melted and mixture is smooth.
Add chopped up toffee bars, and stir ONCE. The less you stir the better, as you don't want the chocolate to completely melt. Pour into prepared pan with parchment paper. Let set for about 2 hours, or overnight, before cutting into pieces.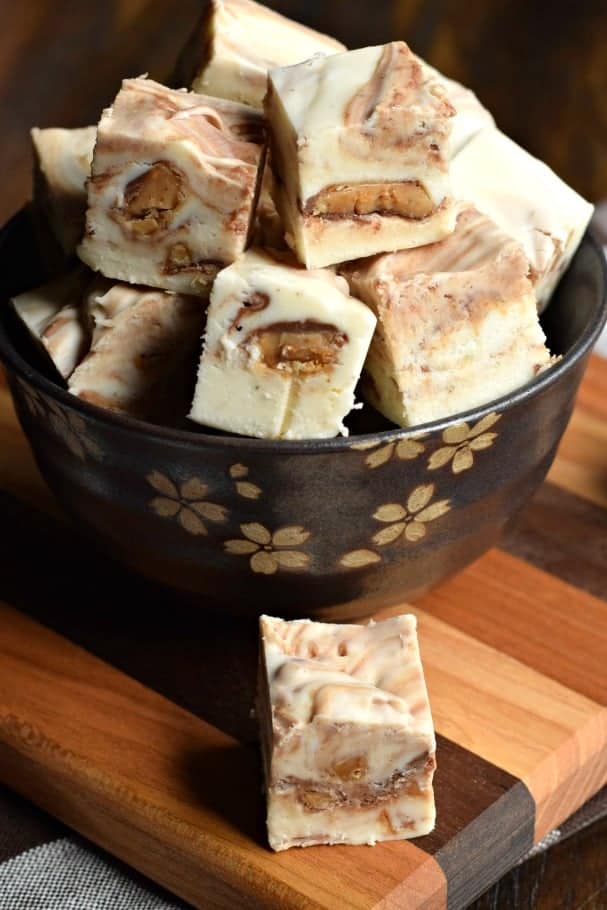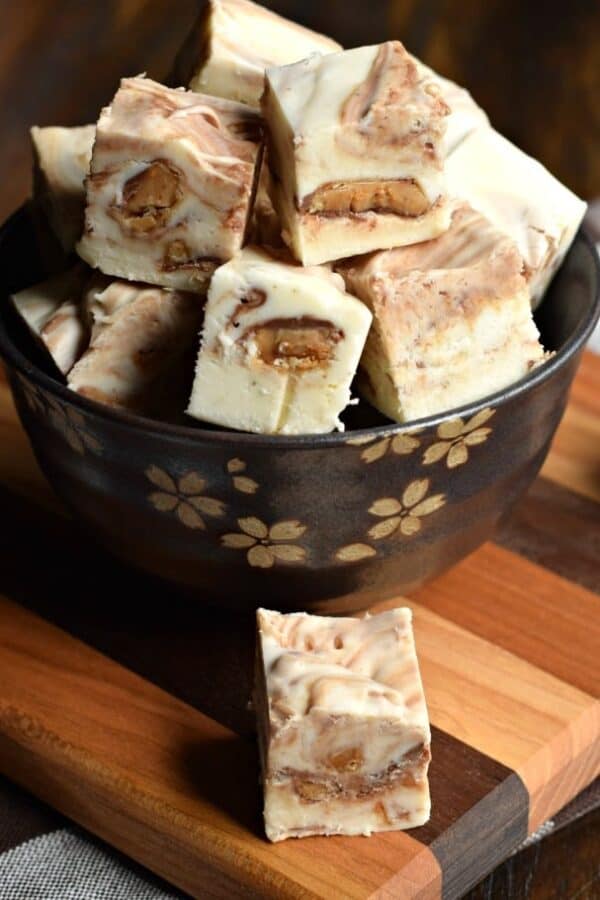 Tips for making THE BEST Vanilla Toffee Crunch Fudge
Knowing How to Make Fudge is a simple trick that will make you the hit of every party! Making fudge is easier than you think and it is so easy to personalize with your favorite ingredients and flavor combinations.
Start by using a good quality white chocolate. I choose Ghirardelli White Chocolate Chips because I think they melt smooth and have great flavor.
There is no use for imitation vanilla flavoring. Always choose a good quality vanilla. Whether you are using vanilla beans, vanilla bean paste, or vanilla extract, use pure vanilla. It makes a difference.
You'll also find recipes that use sweetened condensed milk with white chocolate chips to create the vanilla fudge base. I personally do not like the flavor or texture. I find it's too soft and sweet.
How to store fudge
For best results, store fudge in an airtight container at room temperature. I prefer to leave the fudge UNCUT until ready to serve, this helps keep it from drying out. Cut what you need, a little at a time.
How to freeze fudge
First, wrap the uncut fudge in plastic wrap then slide into a large ziploc freezer bag, pressing out all the air.
Freeze for up to two months.
To thaw, place bag on counter to come to room temperature (usually best overnight). Slice and enjoy!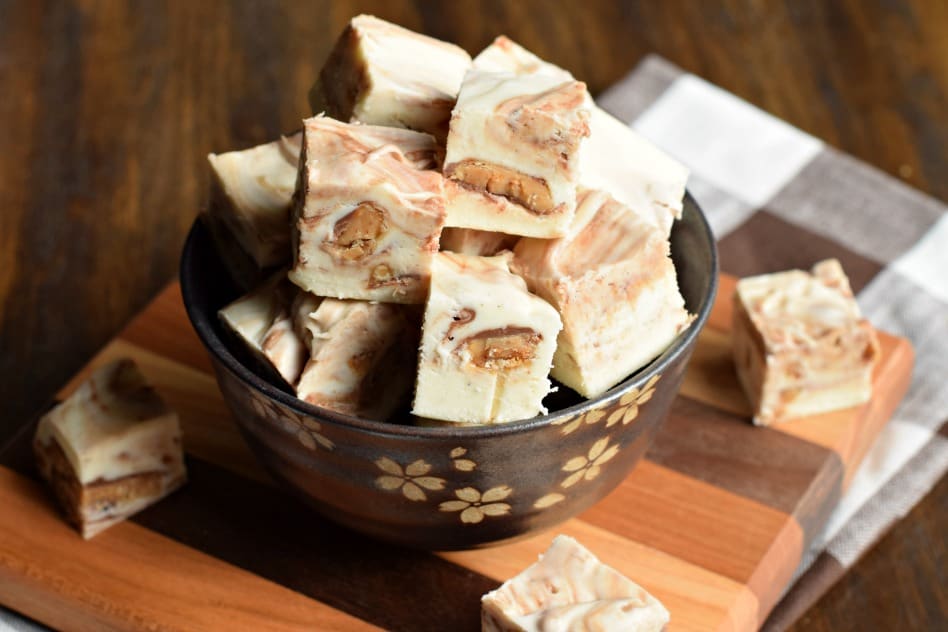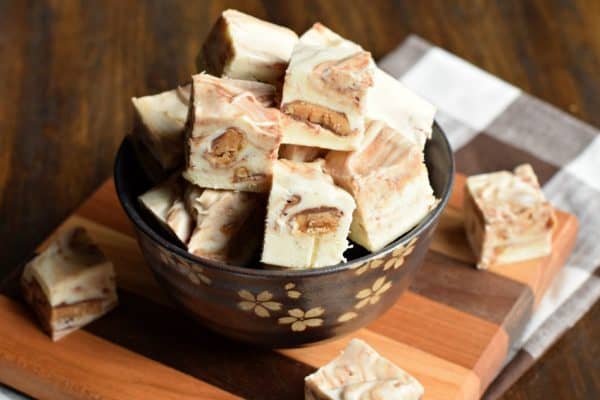 Love toffee desserts? Here are a few of my favorites:
This Espresso Toffee Fudge starts with a creamy, decadent chocolate fudge base and is packed with crushed espresso beans, toffee chips and espresso powder. The perfect treat for the coffee lover in your life!
Delicious, buttery Chocolate Chip Toffee Shortbread Cookies recipe. Perfect to bake and share, or freeze for later!
Chocolate Chip Toffee Fudge Cookie Bars with a graham cracker crust and a layer of toffee fudge! One decadent dessert recipe.
I'm in love with these Butterscotch Toffee Cookies! If you love chewy cookies, I'm pretty sure you'll love these too!

Connect with Shugary Sweets!
Be sure to follow me on my social media, so you never miss a post!
Facebook | Twitter | Pinterest | instagram
More Homemade Candy recipes