Vanilla Toffee Crunch Fudge is a vanilla bean fudge packed with chunks of chocolate covered toffee candy. Sweet, buttery, crunchy and delicious!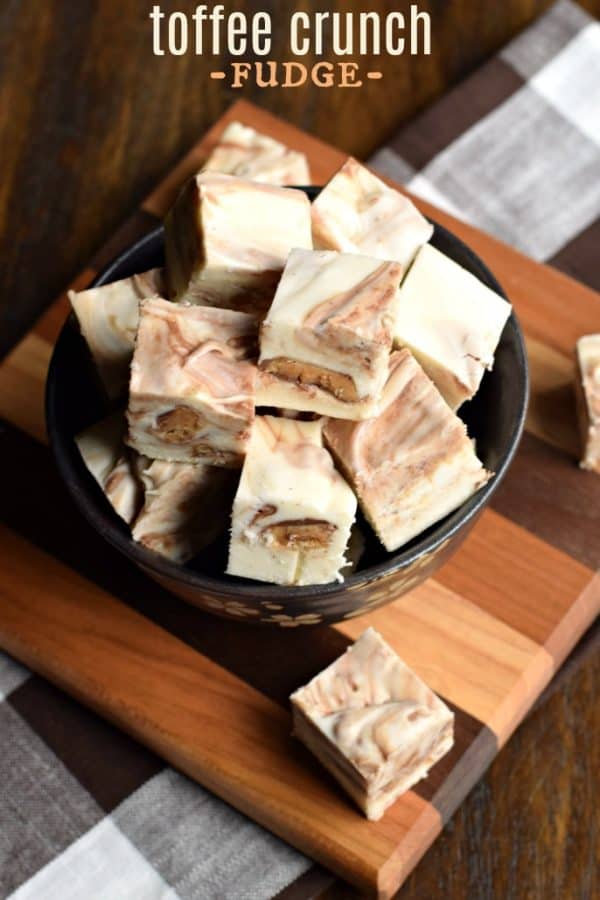 Why this Recipe is Best
Every year I try to create some new candy flavors, and this year I was stumped.
I feel like I've made every fudge recipe I could ever think of, and then some!
Chocolate fudge? Check. Vanilla Fudge? Check. Grinch Fudge. Egg Nog Fudge. I have dozens of flavors.
Then, while my husband and I were in the middle of making our yearly batches of homemade English Toffee. . . it came to me. My next flavor.
Introducing Vanilla Toffee Fudge.
Creamy vanilla fudge packed with chunks of toffee candy bars!
You can make it with store bought or homemade toffee.
Tastes like Ben & Jerry's Toffee Crunch Ice Cream . . . in fudge form!
Easy to make. No candy thermometer needed!

Ingredient Notes
Like all of my fudge recipes, this one starts with butter, sugar and heavy cream. To create the vanilla toffee flavor, you will also need:
White chocolate chips – These are melted into the fudge. A bar of white chocolate chopped into bits makes a good substitute.
Vanilla bean paste – This paste is made from the seeds of a vanilla pod and gives the fudge a more robust flavor than vanilla extract. You can find it in the baking aisle or online.
Marshmallow cream – This is a marshmallow spread that melts quickly and gives the fudge its smooth texture.
Toffee bars – You can use store bought toffee (like Heath Bars, or Skor bars) or use my homemade English Toffee recipe. You could also use a bag of toffee bits from the baking aisle.
Tips and Tricks
Use an electric mixer for quick and easy mixing! A stand mixer with the whisk attachment is perfect.
Store the fudge uncut until ready to serve. This helps it stay fresh and smooth longer!
Do not over stir after adding the toffee. One stir is enough to incorporate the toffee bars without disrupting the fudge mixture as it cools.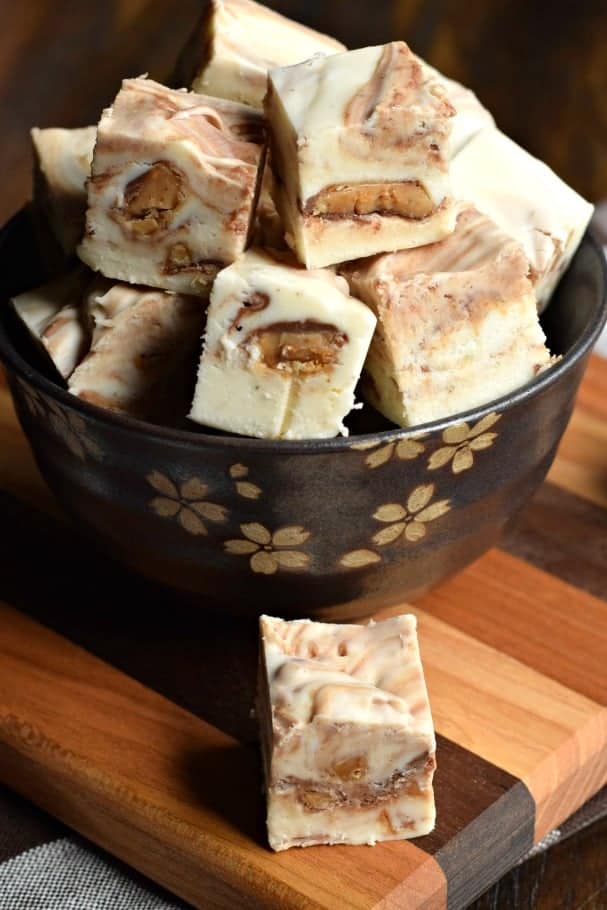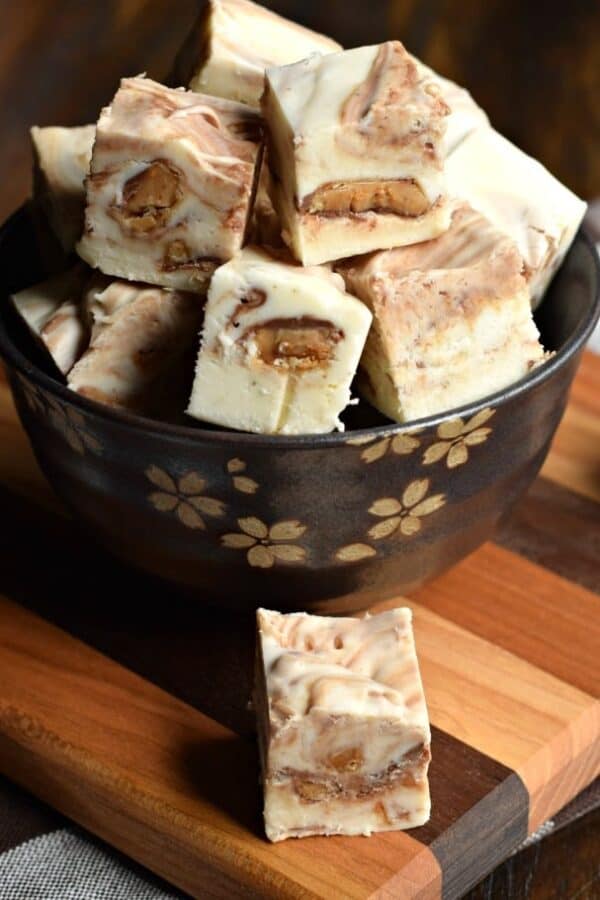 Recipe FAQs
How do you keep fudge from drying out?
Always keep fudge in an airtight container or sealed zip top bag when you're not eating it. And only cut what you need, a little at a time! Blocks of fudge stay fresh and soft much longer than sliced pieces of fudge.
Can I freeze fudge with toffee?
Yes, it freezes beautifully!
First, wrap the uncut fudge in plastic wrap then slide it into a large ziploc freezer bag, pressing out all the air.
Freeze for up to two months. 
To thaw, place bag on counter to come to room temperature (usually best overnight). Slice and enjoy!
If I use toffee bits instead of Heath bars, how many do I need?
You will need a whole 8 oz. bag of toffee baking bits to replace the chopped Heath bars.
Can I use vanilla extract instead of vanilla bean paste?
You can use vanilla extract but the flavor of the fudge won't be as rich. The vanilla bean paste is worth it, if you can find it!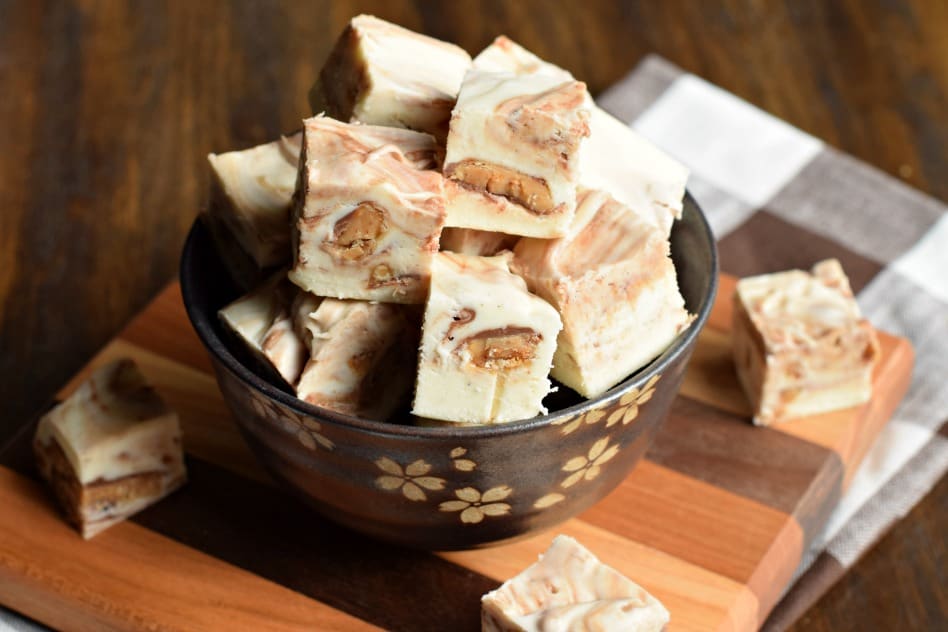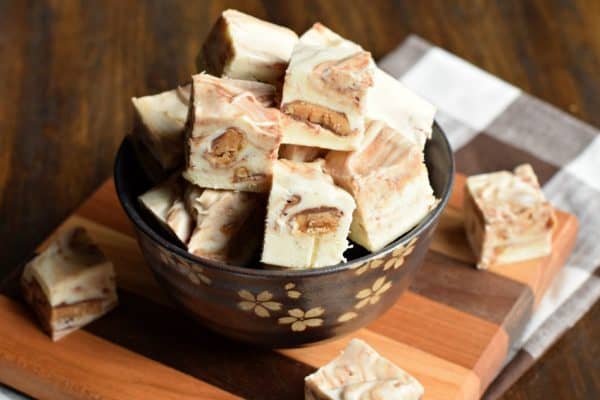 More Homemade Candy recipes