Salted Nut Roll
Salted Nut Roll is a candy store classic. You can make it at home, and give all your favorite people a homemade Christmas gift this year!
Be sure to sign up for my email…new recipes in your inbox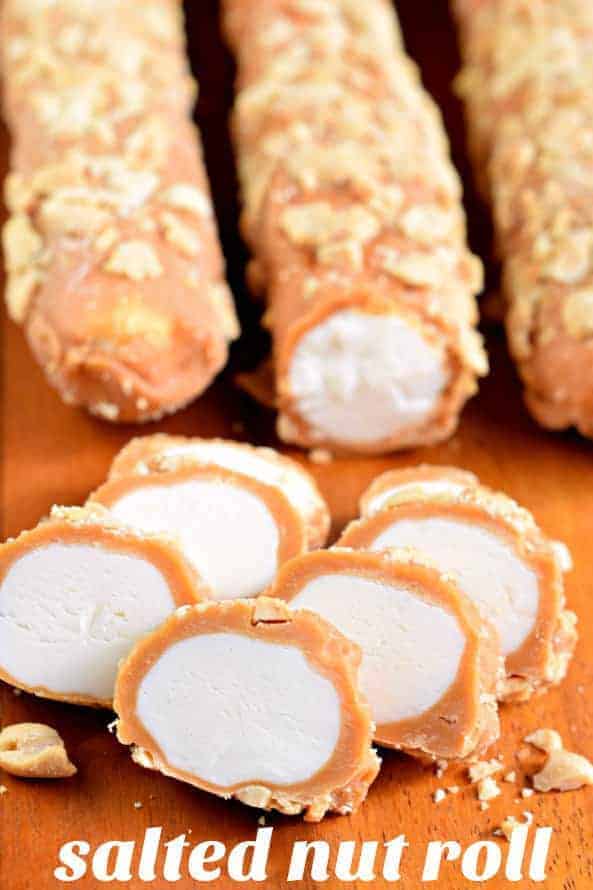 These homemade candies were a true labor of love. After several unsuccessful attempts, I finally created the result I was hoping for: a soft center wrapped in chewy caramel and salty peanuts!
There are a couple of candies that if put in front of me, I could never resist. Pay Day candy bars, Salted Nut Rolls, and Bullseyes (caramel creams). Are you familiar with any of these?
Today's Salted Nut Roll recipe is a cross between those classic Caramel Creams and a salty Pay Day bar. If caramel is your thing, this is definitely the homemade candy for you, and it would also make a really great homemade Christmas gift.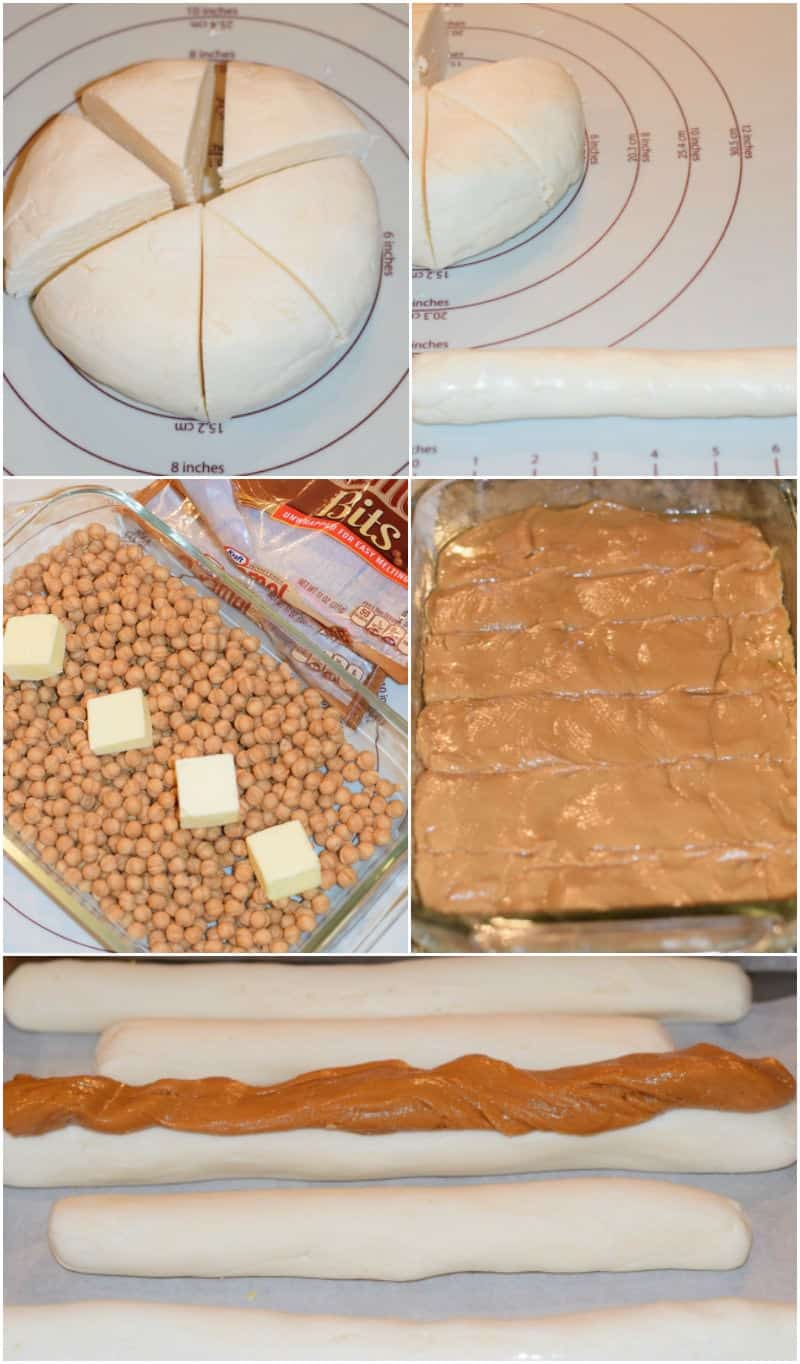 A few quick tips for success:
Invest in a silpat silicone baking mat for kneading the marshmallow mixture. It will be like kneading dough, you want it nice and smooth.
Divide the "dough" ball into 6 equal portions. Roll each portion into a 7-8 inch log (about 1-inch thick around). Wrap each log in parchment paper and freeze for 2 hours, until firm. You can even freeze overnight if you'd like.
Once you melt your caramel mixture, it will be very thick, and the butter will separate from the caramel. That's OKAY. Using your hands, once the caramel has cooled slightly, press the caramel into the dish and then use a knife to make 6 equal slices.
To cover the marshmallow centers in caramel, unwrap the frozen log and using your hands, literally spread the caramel until it covers the center completely. It will feel like you're working with playdoh. Once the entire log is covered, press the chopped peanuts into the caramel. Re-wrap in parchment paper and refrigerate. Repeat for each log.
When ready to enjoy, slice the logs into 1-inch pieces and enjoy!
Store in an airtight container for one week. If they last that long, I'd be shocked! ENJOY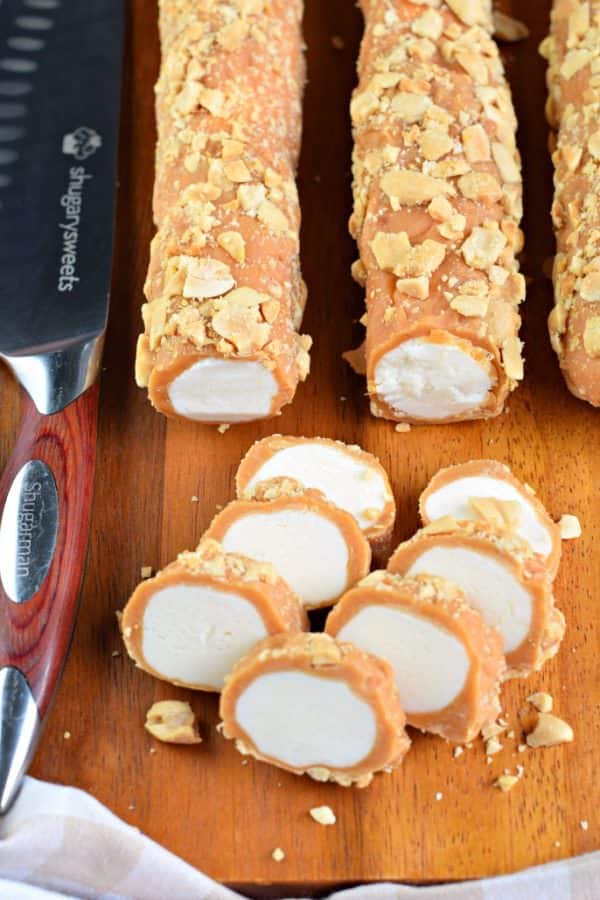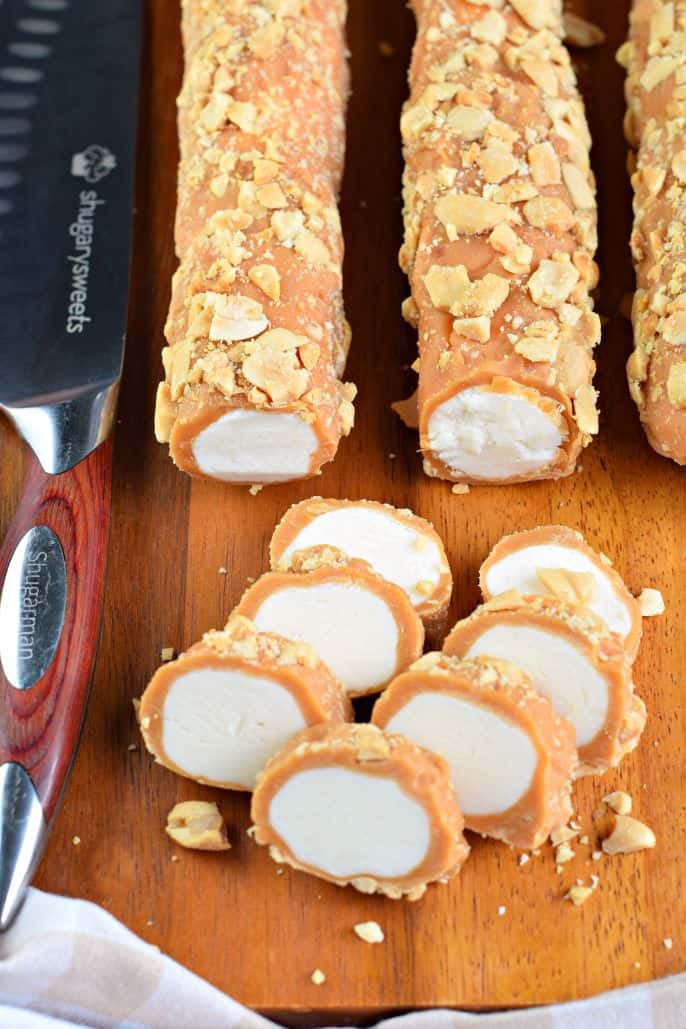 Check out some of my other favorite truffle and candy recipes! Stop over at Food Fanatic to print the Salted Nut Roll recipe!
Be sure to follow me on Instagram and tag #shugarysweets so I can see all the wonderful SHUGARY SWEETS recipes YOU make!
Connect with Shugary Sweets! Be sure to follow me on my social media, so you never miss a post!
Facebook | Twitter | Google+ | Pinterest | instagram | Bloglovin'
Sign up to receive an email in your inbox for each new recipe: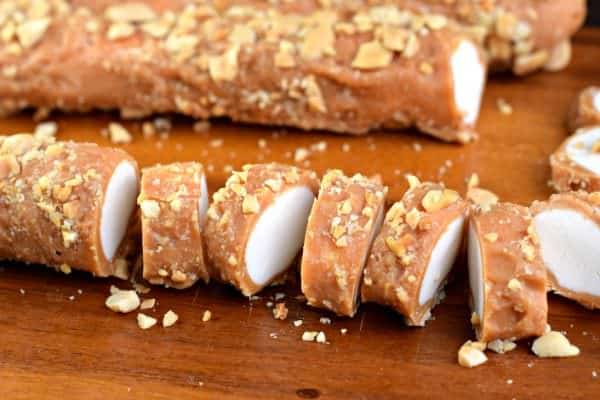 **There may be affiliate links in this post! By clicking on them, or purchasing recommended items I may receive a small compensation. However, I only recommend products I love! Thank you for supporting Shugary Sweets! See my disclosure policy for more info**