Easy Snickers Cookie Cups made with refrigerated cookie dough and candy bars. Take the extra step and make the caramel frosting to add the finishing touch! It's so worth it.
Love candy bars? Try our frozen snickers pie for a fun summer treat. Or give our homemade 3 Musketeers recipe a try!
Chocolate Chip Cookie Cups
One of my husbands' favorite treats is chocolate chip cookie cups with a Reese's in the center. That's it. He is even content with the refrigerated cookie dough for a simple two ingredient dessert.
All the fancy Cookies, Cheesecakes and homemade candy I make and at the end of the day, he'd rather have something that involves nothing more than store bought dough and a candy bar.
I can't fault him, though.
Chocolate candy wrapped in soft cookie dough is a thing of beauty; and a treat I'm happy to make and eat!
My husband and I were both in the mood for one of those cookie cups, but when I went to the fridge, I was disappointed.
While I happened to have a roll of cookie dough on hand, the only candy I had was Snickers.
Instead of giving up, I pressed on (please, save your applause).
I figured if we liked peanut butter cups in the center of a cookie cup, we were likely to enjoy the same concept with Snickers.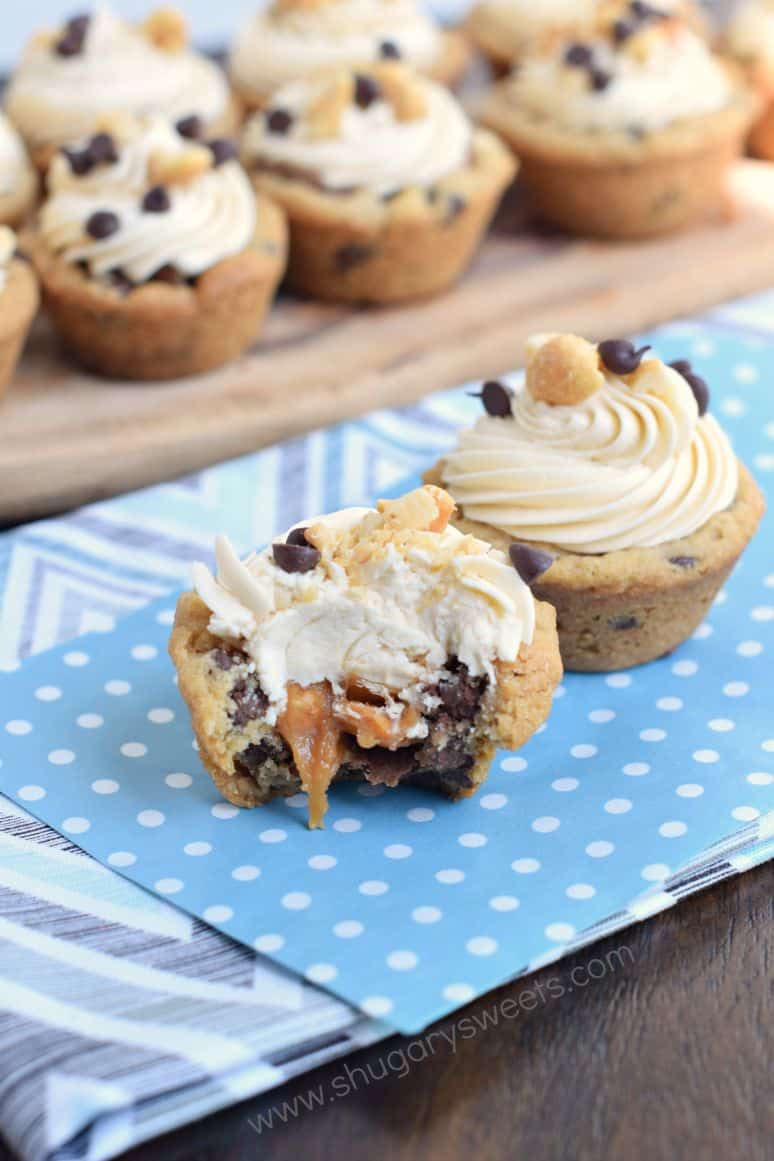 Snickers Cookie Cups
I got to work making a treat that was already fairly decadent with chocolate chip cookie dough, milk chocolate, caramel, nougat and peanuts in every cup. And I promise you, I had every intention of stopping right there.
I filled the cupcake tin with cookie dough and snickers, placed them in the oven and waited while the kitchen filled with the irresistible smell of baking chocolate chip cookies. I pulled them out of the oven, let them cool and was getting ready to try a bite . . .
But they just looked so unfinished. Maybe it's the cupcake like shape of these cookie cups, but it felt like they needed a little something on top.
We all know I love frosting on everything…so I whipped up some caramel frosting and topped it with some peanuts and mini chocolate chips to maintain the Snickers theme.
You'll thank me later for my tendency to overachieve when it comes to candy based desserts!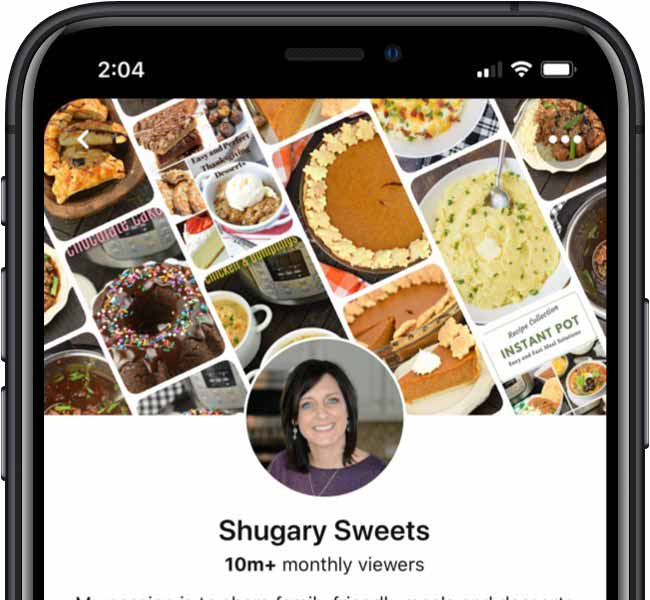 What you'll need:
These homemade cookie cups are so easy considering how impressive they look, and taste.
It's a great reason to always keep a tube of refrigerated cookie dough on hand, even if you're usually more of a bake-cookies-from-scratch kind of person.
Everything you need to make Snickers Cookie Cups:
Refrigerated Cookie Dough
Snickers Bars (miniature or full size)
Caramel frosting (recipe below)
If you're using full sized Snicker's bars, chop them into pieces first. Use a sharp knife to chop each full sized bar into 8 pieces.
To make the cookie cups:
STEP 1. Cut the cookie dough into pieces and drop each piece at the bottom of a mini muffin tin.
STEP 2. Bake in oven for about 10-12 minutes at 350 F until lightly browned. Immediately press the snickers candy pieces into center. Allow to cool in pan about 15 minutes. Remove and cool completely on wire rack.
While the cookie cups are cooling, make the caramel frosting.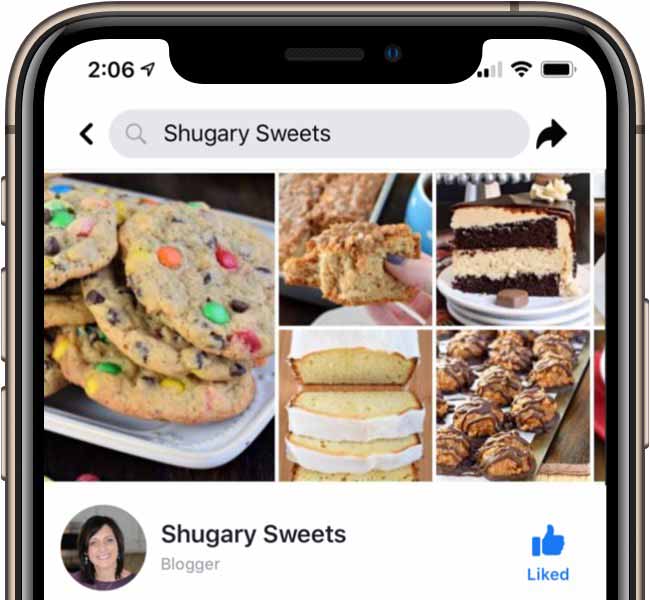 How to make Caramel Frosting
Caramel lovers rejoice! Finally, a frosting that's easy to make and actually tastes like caramel. This buttercream frosting is light, fluffy and sweet with lots of caramel flavor.
Here's what you need:
Powdered sugar
Unsalted butter
Milk
Caramel sauce
To make the frosting:
Beat powdered sugar with butter, milk and caramel sauce for 5 minutes, until light and fluffy. Pipe onto cooled cookie cups, and immediately sprinkle with peanuts and chocolate chips.
Candy Bar Cookies
We're big snickers fans around here, so naturally these cookie cups were a huge hit! I think they'll make their way into our family treat rotation as often as the original version with Reese's cups.
If you need a nut free version, Milk Way Bars would also be delicious here! The caramel frosting pairs perfectly with the chocolate, nougat and caramel from the candy bars–and I'm obsessed with the way it tastes on the chocolate chip cookies.
These cookie cups are also such a cute variation on your everyday cookie. They'll be a huge hit at birthday parties, bake sales and anywhere you'd usually bring your favorite kind of cookies. They look adorable and everyone will "ooh" and "ahh" when they realize there's a real Snickers bar baked into each cup!
ENJOY! 🙂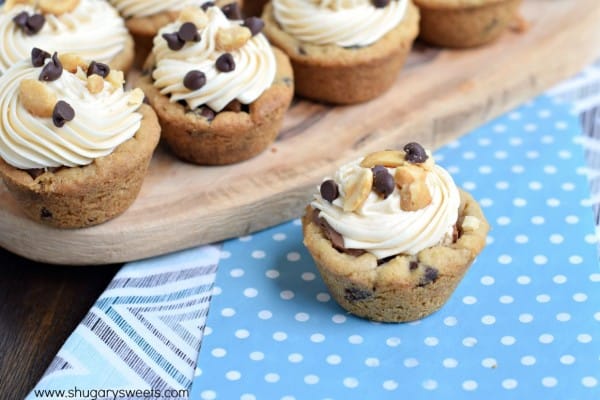 More Easy Desserts
These Snickers Cookie Cups are cookies AND candy all in one easy to make treat! Bake up a batch of these bars to share today–just be sure to set aside a few all for yourself. Trust me on this one! You deserve it.