With just 5 ingredients you can make this delicious frozen Snickers Pie for friends and family! A slice of this ice box pie is full of real pieces of Snickers bars topped with cold cool whip for a creamy summer dessert.
If you thought our no bake cheesecake was amazing, you'll have to try our S'mores pies too. So easy and fun.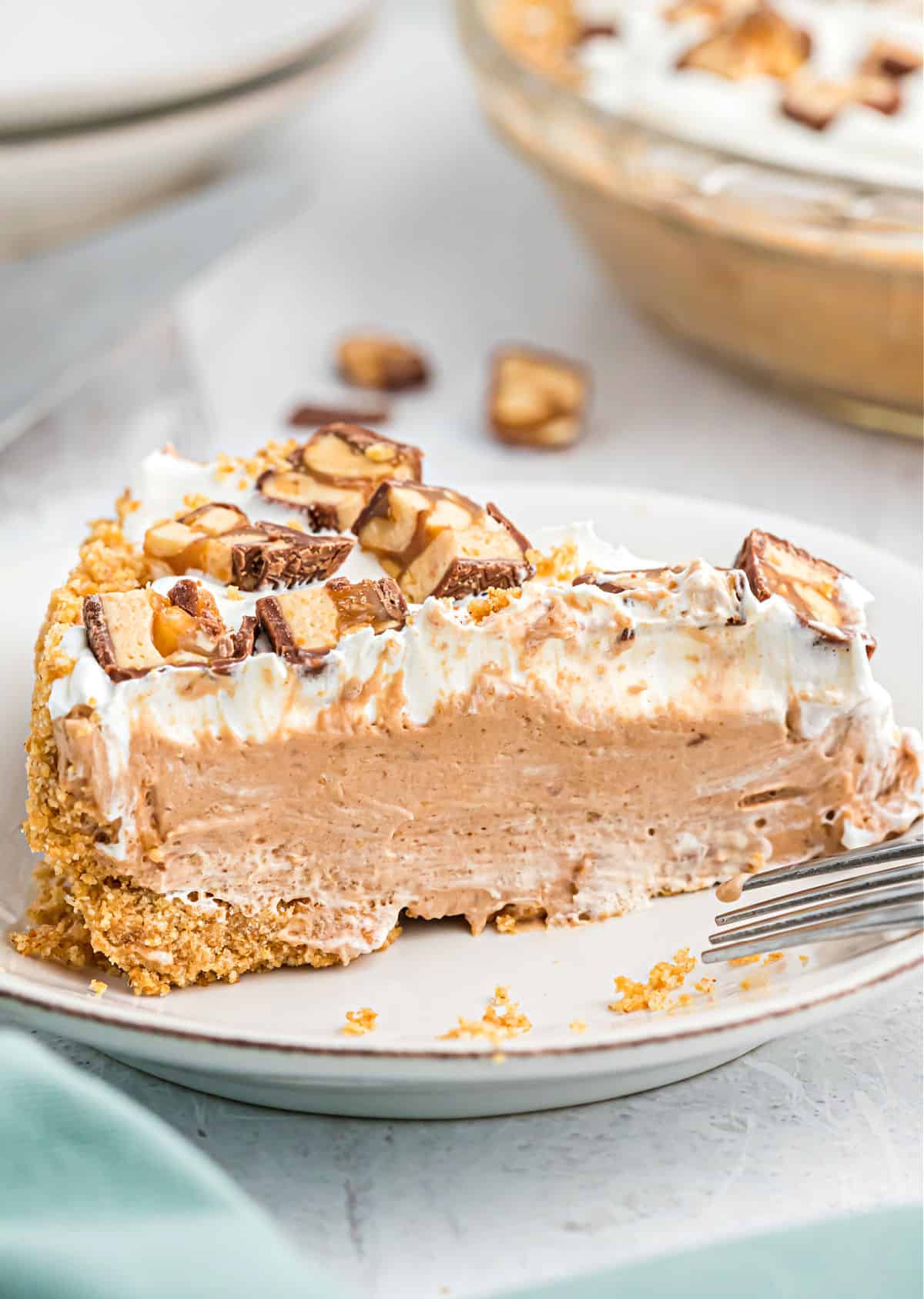 Why this Recipe Works
Move aside cherry pie, it's Snickers time! When you need a no-bake dessert without a long ingredients list, you can't do better than this easy Frozen Snickers Pie.
Snickers candy bars melted and swirled with peanut butter get mixed with cream and blended with cool whip.
Freezing the pie makes the filling firm up without losing the silky fluffy consistency.
In case the Snickers theme wasn't prominent enough, I also add more Snickers bars on top of the frozen pie. Anyone who loves the combination of peanuts, milk chocolate and caramel is going to go nuts for this dessert!
If you love chocolate and peanut butter, try our no bake avalanche cookies next.
Ingredient Notes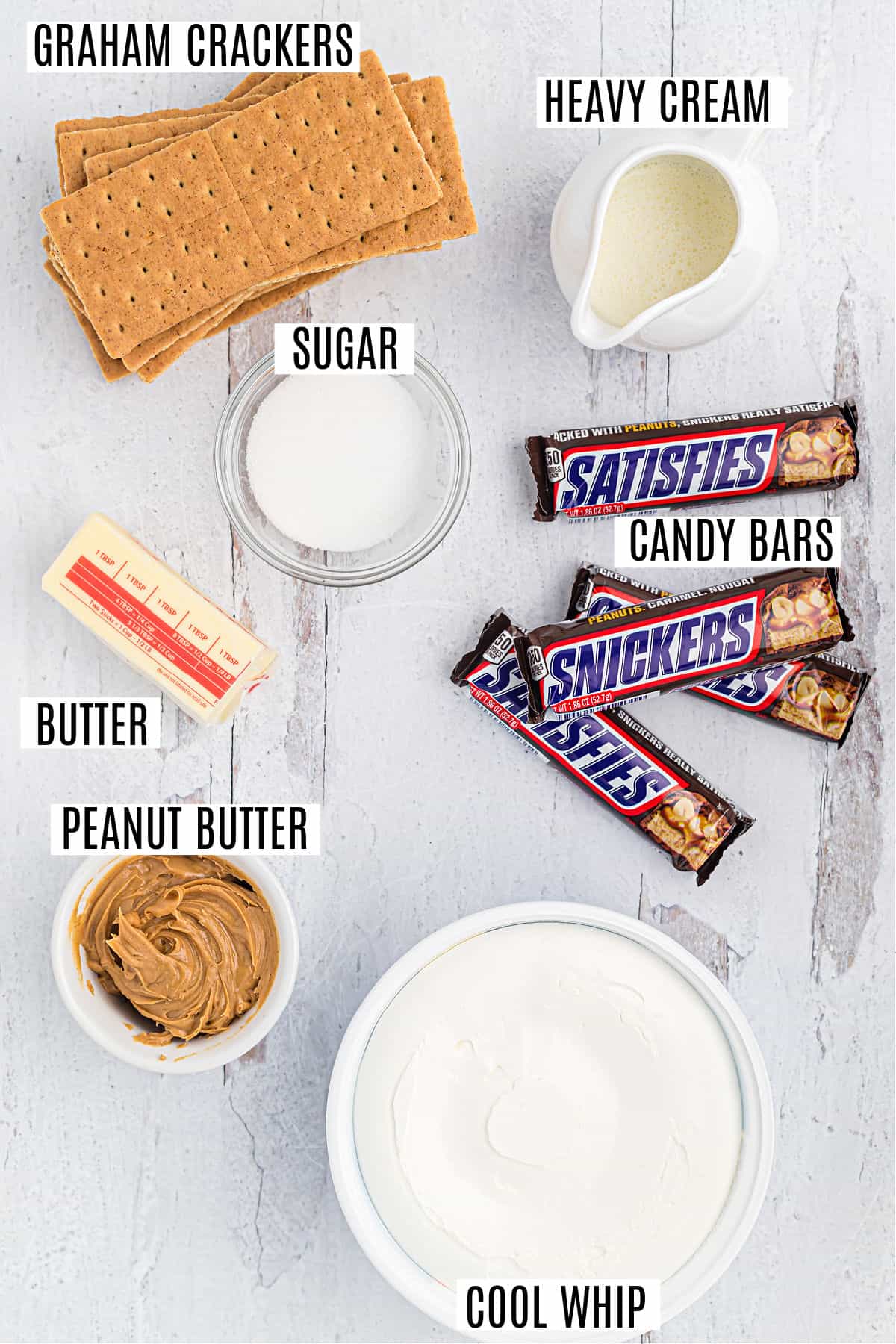 Graham cracker crust – We used our homemade graham cracker crust recipe. You can also use an Oreo crust if desired.
Snickers bars – You need 8 full size bars total, 6 for the filling and 2 more to cut into pieces for the top of the pie. I use original Snickers but feel free to mix it up with your favorite Snickers variety or different candy bars. Milk Ways are delicious in this pie too!
Peanut Butter – Creamy regular peanut butter works better than natural varieties.
Cool Whip – Use thawed Cool Whip from a tub or substitute Homemade Whipped Cream. Our homemade cool whip works fantastic too.
Buy a few extra Snickers bars so you can make our chocolate chip snickers bars next! Or give our snicker salad recipe a try!
Tips and Tricks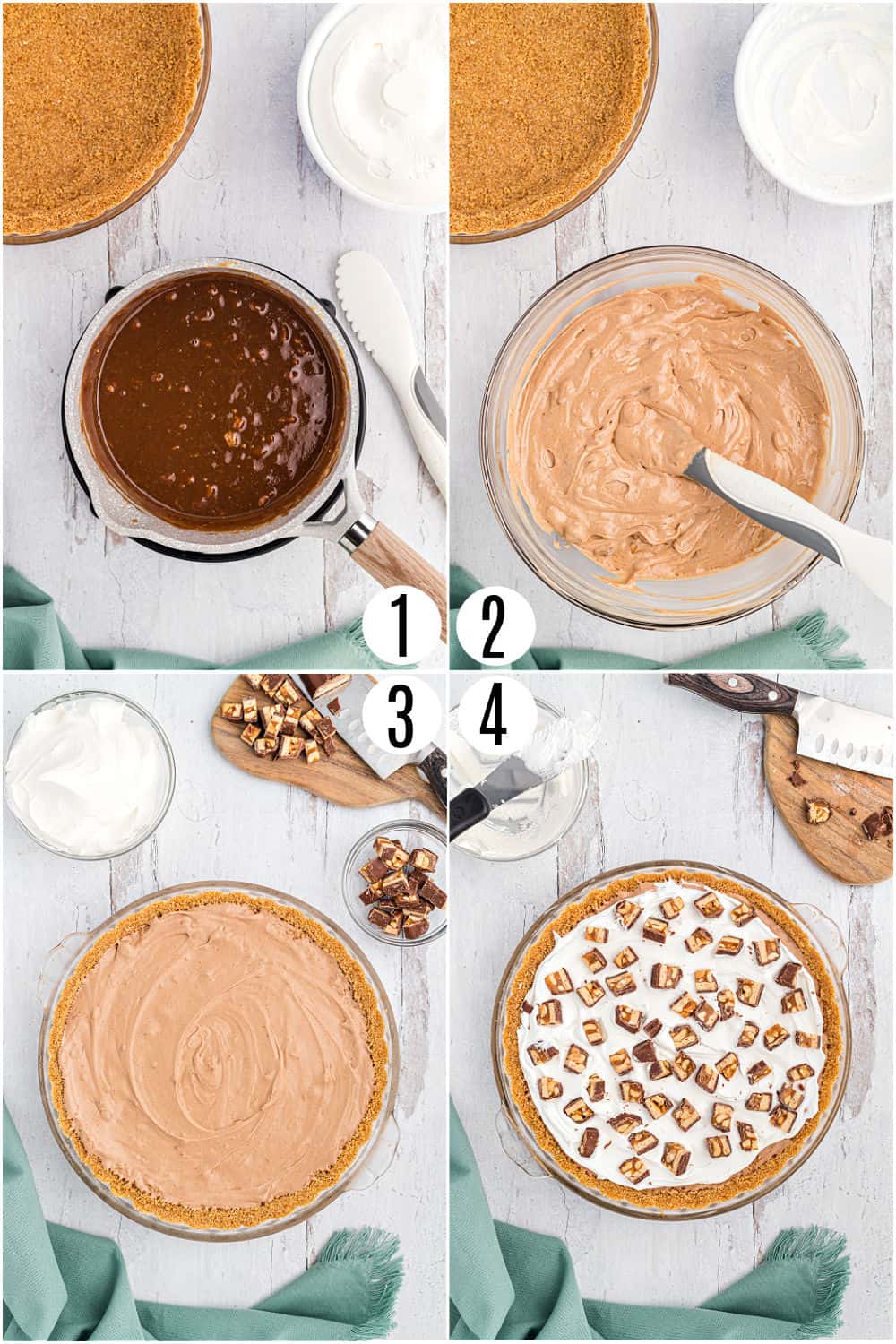 Melt the Candy Bars. To make the pie filling, you're going to start by melting the Snickers bars with peanut butter and heavy cream on the stove.
Add Cool Whip. After combining, make sure to let the filling cool down for at least 20 minutes. The Snickers mixture should be room temperature before you fold in the thawed cool whip.
Freeze. I leave the pie (covered) in the freezer for about 3 to 4 hours. You can also let it freeze overnight.
Top before serving. Add the extra cool whip and snickers bars right before serving.
When storing leftover pie, I recommend taking off the Snicker bar garnish and adding fresh ones the next time you serve it–unless you like the taste of frozen hard Snickers bars, in which case go ahead and just leave them on when you put the pie back in the freezer!
PRO TIP: Add caramel sauce (or caramel ice cream topping) when serving for a gooey bite!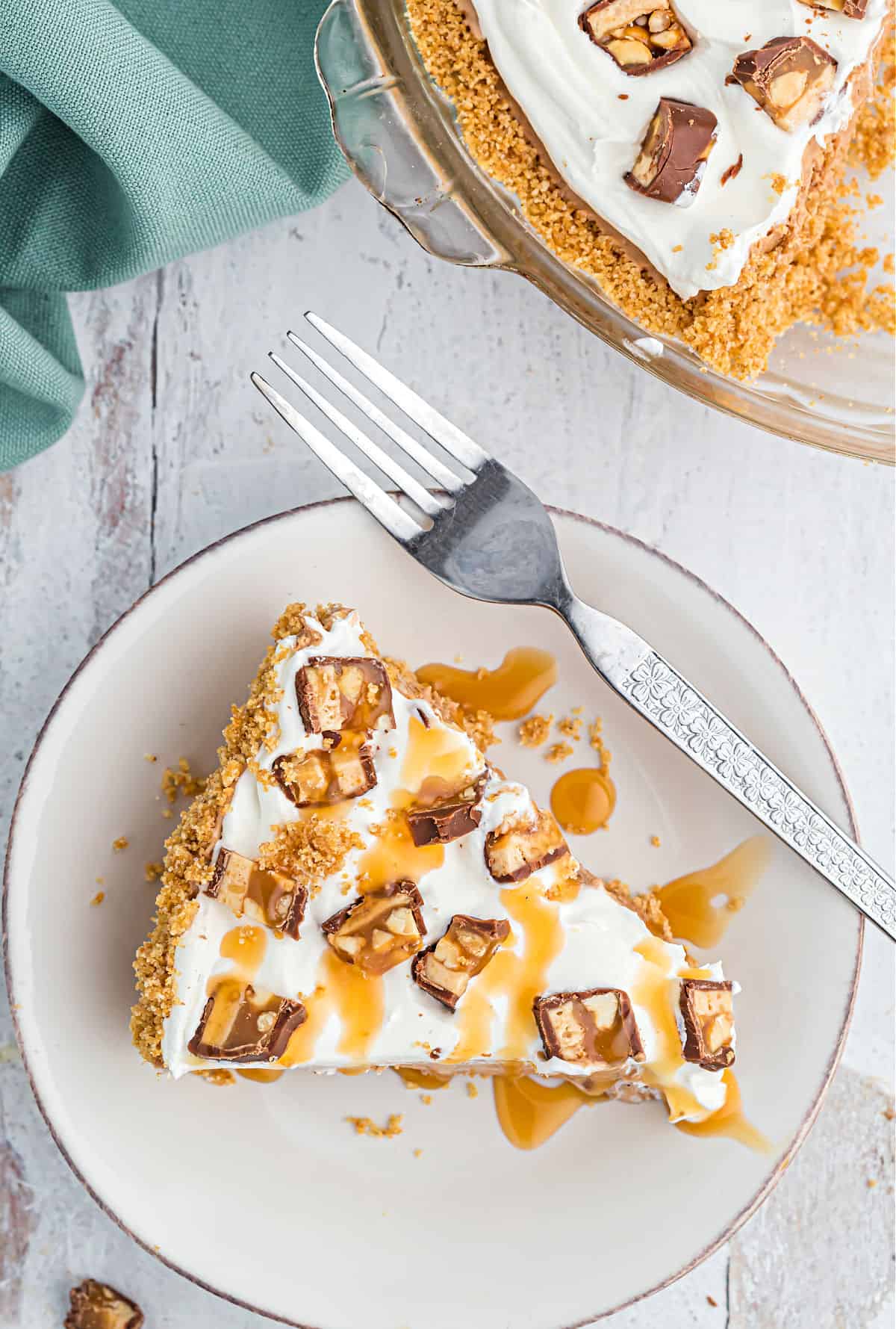 Recipe FAQs
Do you have to keep this pie in the freezer?
Yes. The pie will get runny when it starts to thaw, so I'd keep it in the freezer until just before serving. Plus it just tastes so good ice cold!
Can I substitute milk or half and half for the heavy cream?
I don't recommend this since heavy cream will "set" much better in the freezer than lower fat dairy while adding a delicious rich flavor.
Can you make this with other candy bars?
Sure thing! I love this pie with Milk Ways and Three Musketeers. You can also try Snickers varieties like the almond or peanut butter varieties to mix it up!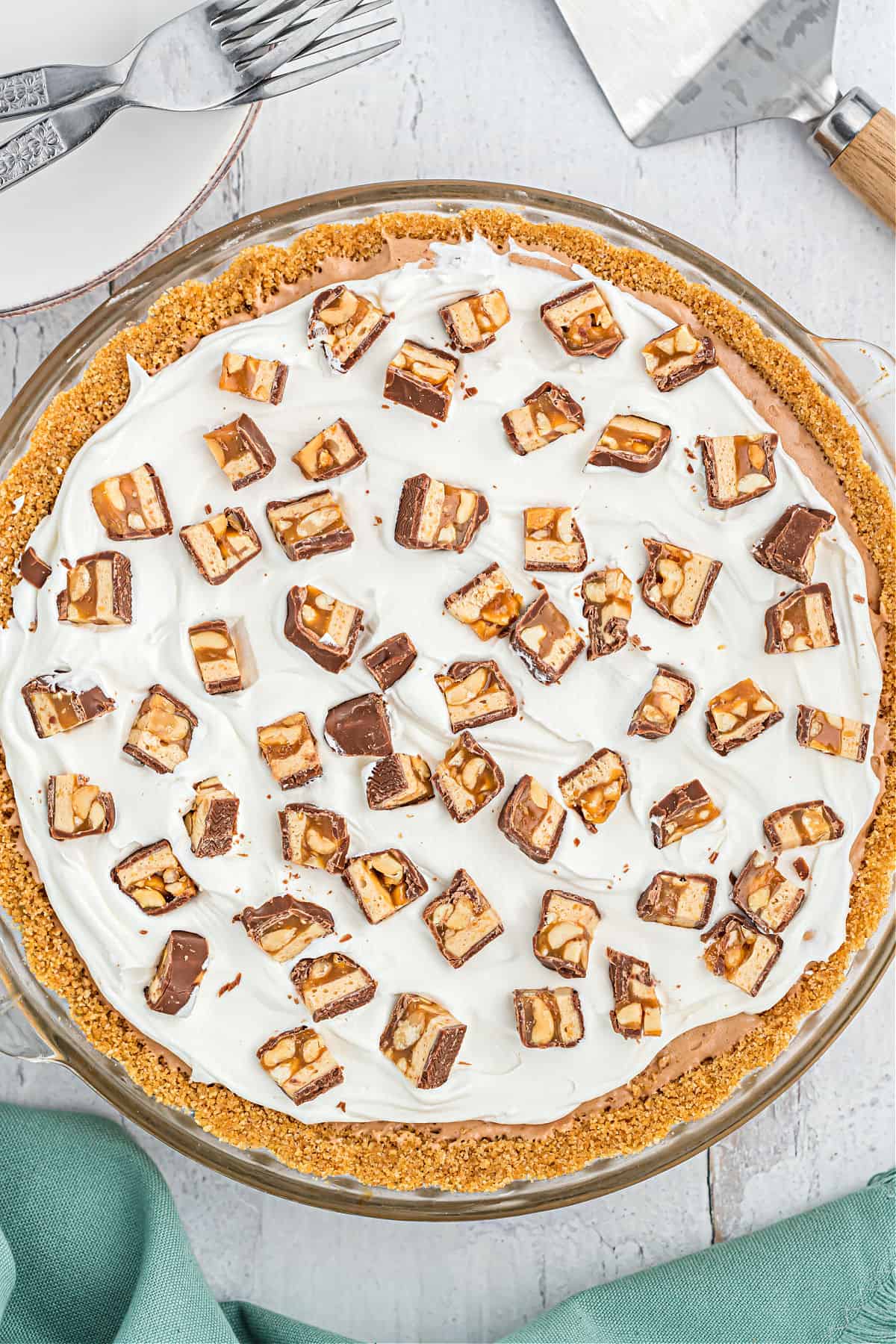 Just try to resist a slice or two of Frozen Snickers Pie when it's on the dessert menu! With crunchy peanuts, creamy nougat and caramel whipping into a creamy pie filling, no one will suspect just how easy this five-ingredient pie was to make!