There's no pie like Key Lime Pie when it comes to summer desserts! With a homemade graham cracker crust and fresh squeezed juice from real key limes, this Key Lime Pie recipe is the only one you'll ever need.
Love fresh pie? Our homemade blueberry pie recipe features a flaky lattice crust and fresh blueberry pie filling! Or give these sweet cherry pie recipe a try!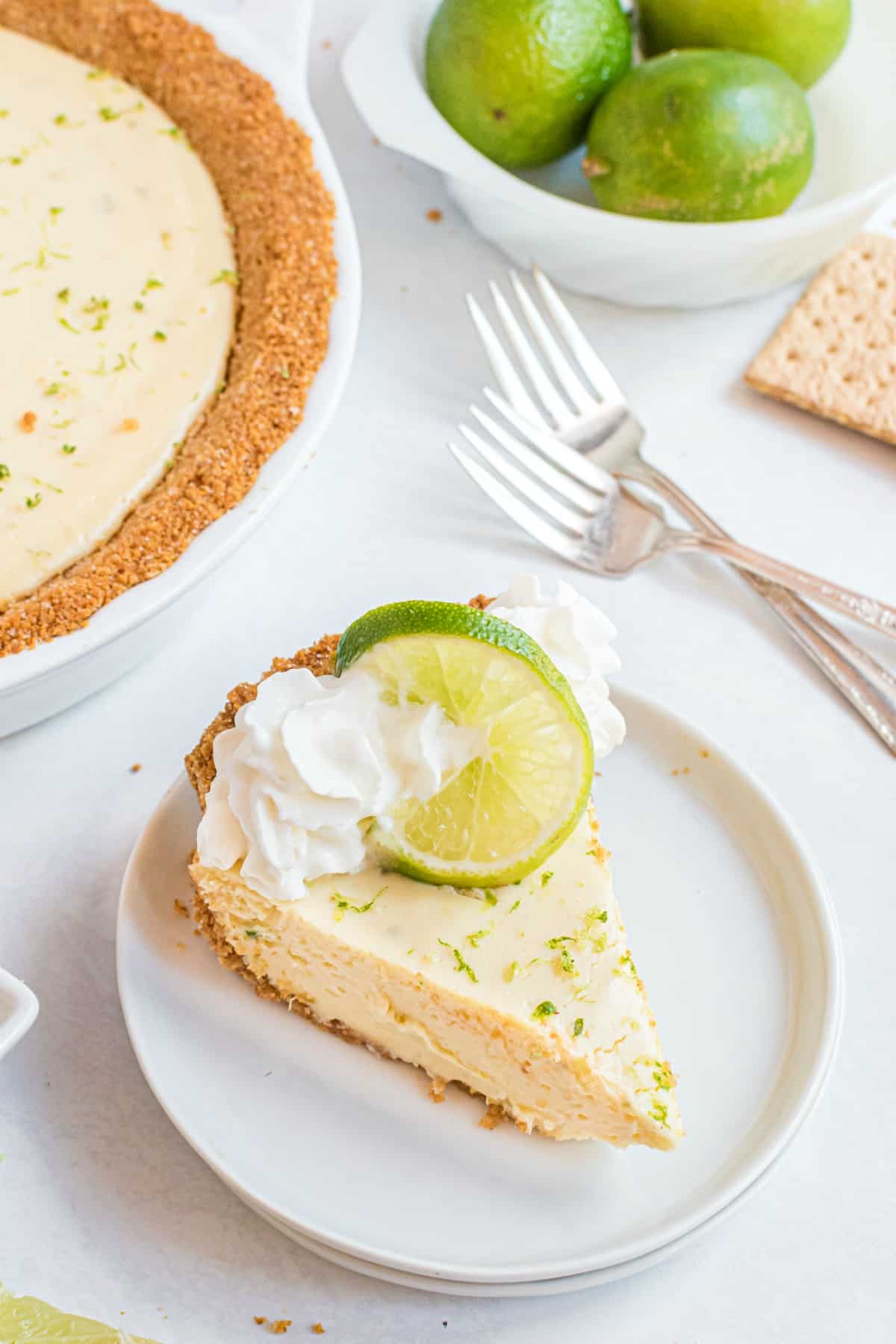 Why this Recipe is Best
I'd rather be at the beach right now. Who wouldn't?
Since I can't have the beach, I'll have the next best thing–PIE!
Specifically, one of the most beach-y pies I can think of, Key Lime Pie.
With the perfect blend of creaminess, sweetness and zesty citrus, this pie is good enough to make me forget about the fact that I'm NOT in a tropical paradise watching the waves crash.
Think of this pie as a mini-vacation for your taste buds. You can even close your eyes and pretend you're lounging in a hammock in the Florida Keys while you eat it.
Plus, it has tons of real lime juice in it which contains vitamin C. Therefore, eating this pie is basically like taking a multivitamin. So I tell myself.
Want something portable and on the go for a crowd? Try our Key Lime Pie Bars!
More LIME Desserts: Lime Icebox Cookies | Cherry Lime Bread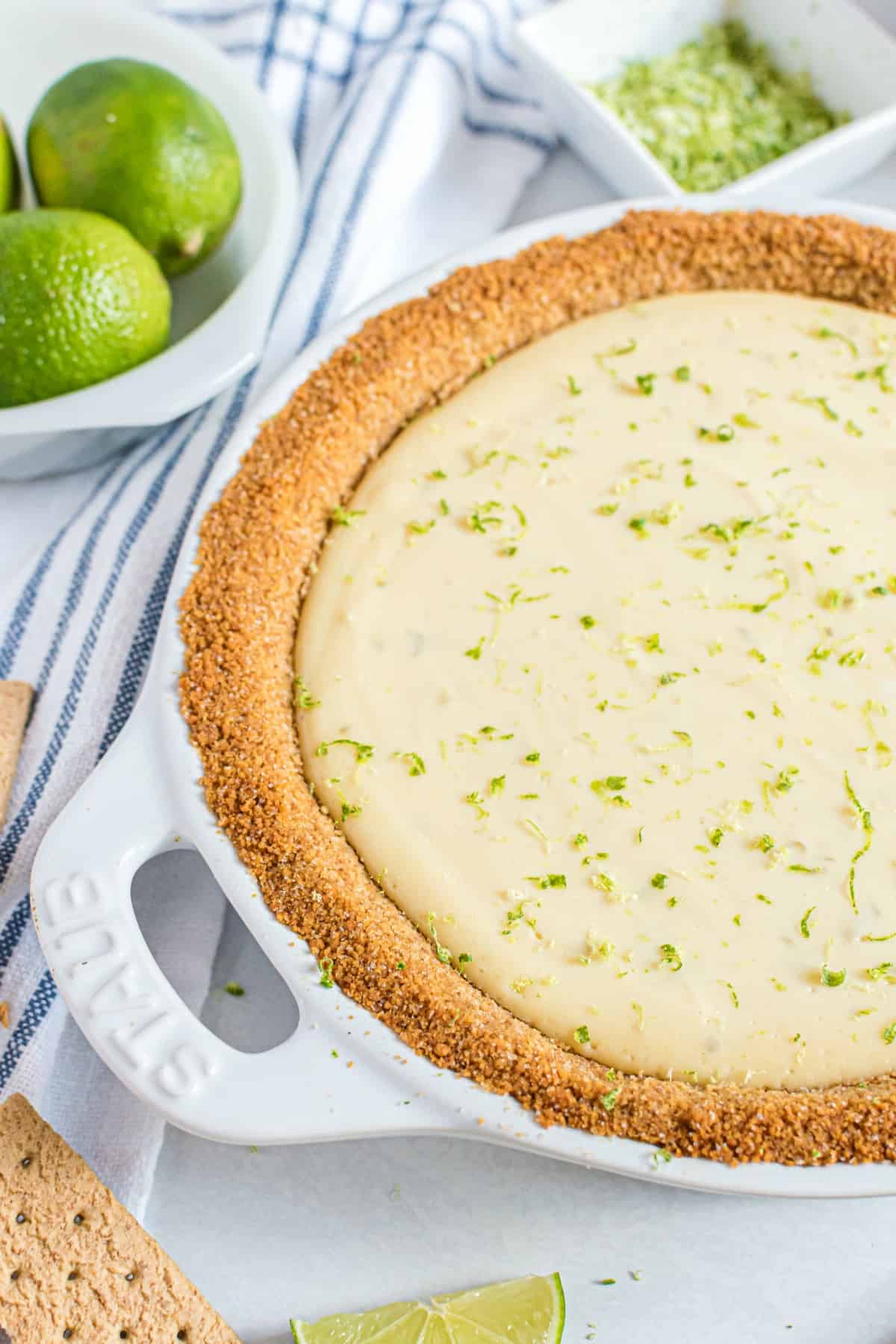 Key Limes vs. Regular Limes
Before we get to talking about how to make the actual Key Lime Pie, let's get one thing straight: Key Limes are a different variety of fruit than the limes you're probably using in most recipes.
Also known as a Florida Key Lime, these limes originate in–you guessed it–the Florida Keys. The most obvious difference between key limes and the limes you pick up from the grocery store (typically Persian limes) is the size.
A key lime is small, about 2 inches in diameter. The skin is also thinner and not as deep green as regular limes.
There's a subtle difference in the taste, too. While your everyday lime has a sour bite, the tartness of a key lime is milder and less sharp.
That makes it ideal for this pie recipe where the sour flavor gets balanced out by the sweet cream cheese filling.
If you can find key limes at your grocery store or specialty market, grab a bag full!
In the event you can't track any down, substituting regular limes will do just fine. Just make sure they're plump and juicy.
How to make Key Lime Pie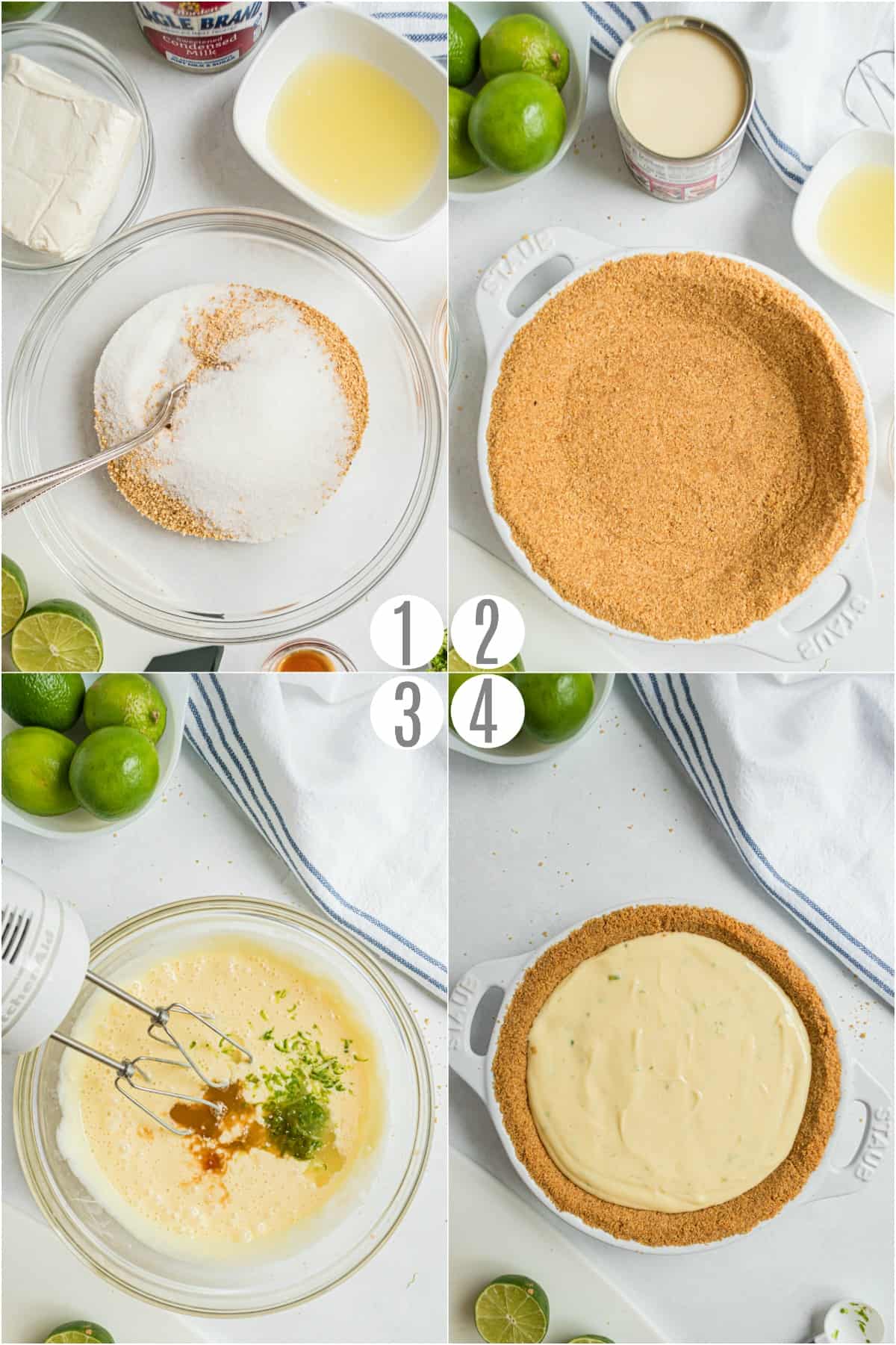 STEP 1. Make the crust
Pulse graham crackers in a food processor until they turn into sand-like crumbs. Combine the graham cracker crumbs with sugar and melted butter, then stir everything together to form a coarse dough.
Firmly press the mixture into a pie plate and bake it for 7 minutes.
PRO TIP: Use graham crackers instead of the box of ready made crumbs. Taste and texture are so much better when you make your own crumbs!
STEP 2. Make the key lime filling
Beat cream cheese and sweetened condensed milk together until smooth. Add egg yolks, one at a time, then fresh squeezed lime juice, zest and vanilla..
When the crust is done baking, pour the filling over it and return to the oven for another 15 or 20 minutes.
**NOTE the oven temperature difference for baking the pie vs just the crust!
STEP 3. Chill
Remove the pie from the oven when it's done, cover and place in the fridge for 4 hours to set and chill. Slice and serve cold with fresh whipped cream and lime slices as garnish!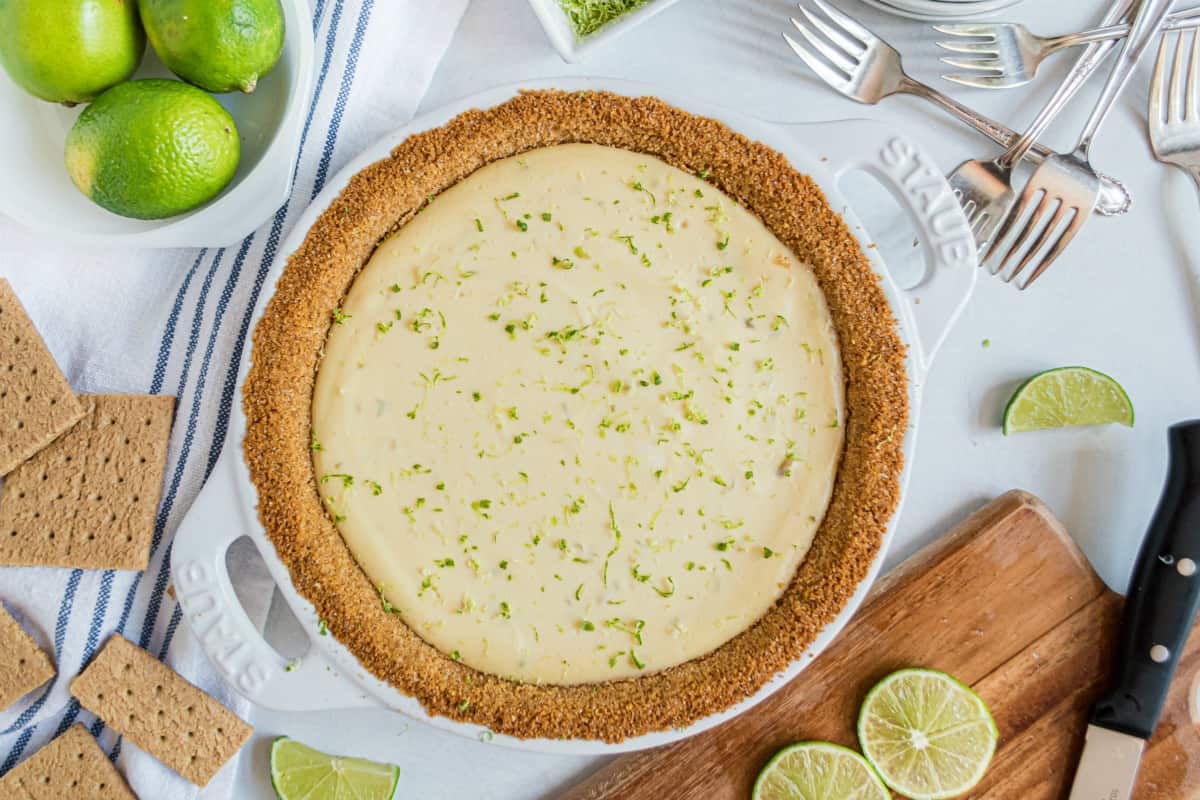 How to tell when key lime pie is done baking
One of the trickier things about baking key lime pie is figuring out when to take it out of the oven. This has a soft filling so you might be tempted to leave it in until it's solidified in the middle or browned on top. Don't do this unless you want pie that's less than delicious.
Key Lime Pie is ready to come out of the oven when the center is still slightly jiggly when you gently shake the pie. It should be firm to the touch but not brown on top.
Similar to cheesecake, the pie continues solidifying as it cools so be careful not to over bake. Depending on your oven, it should be done baking after 20 minutes.
Tips, Tricks, and More
How to store Key Lime Pie: I recommend keeping this pie covered and in the refrigerator until ready to serve. It tastes best when it's cold!
Use fresh limes! Don't try substituting bottled lime juice in this recipe. The flavor will not be the same and the pie will taste flat.
Crust variations: Nuts make a great addition to the graham cracker pie crust. Macadamia nuts are a personal favorite!
Garnish ideas: You can slice and serve the pie just as is or dress it up with some garnishes. A dollop of whipped cream or cool whip on your pie makes it even better! If you have key limes to spare, slice them thinly and use them to add a bright green finishing touch to your homemade key lime pie.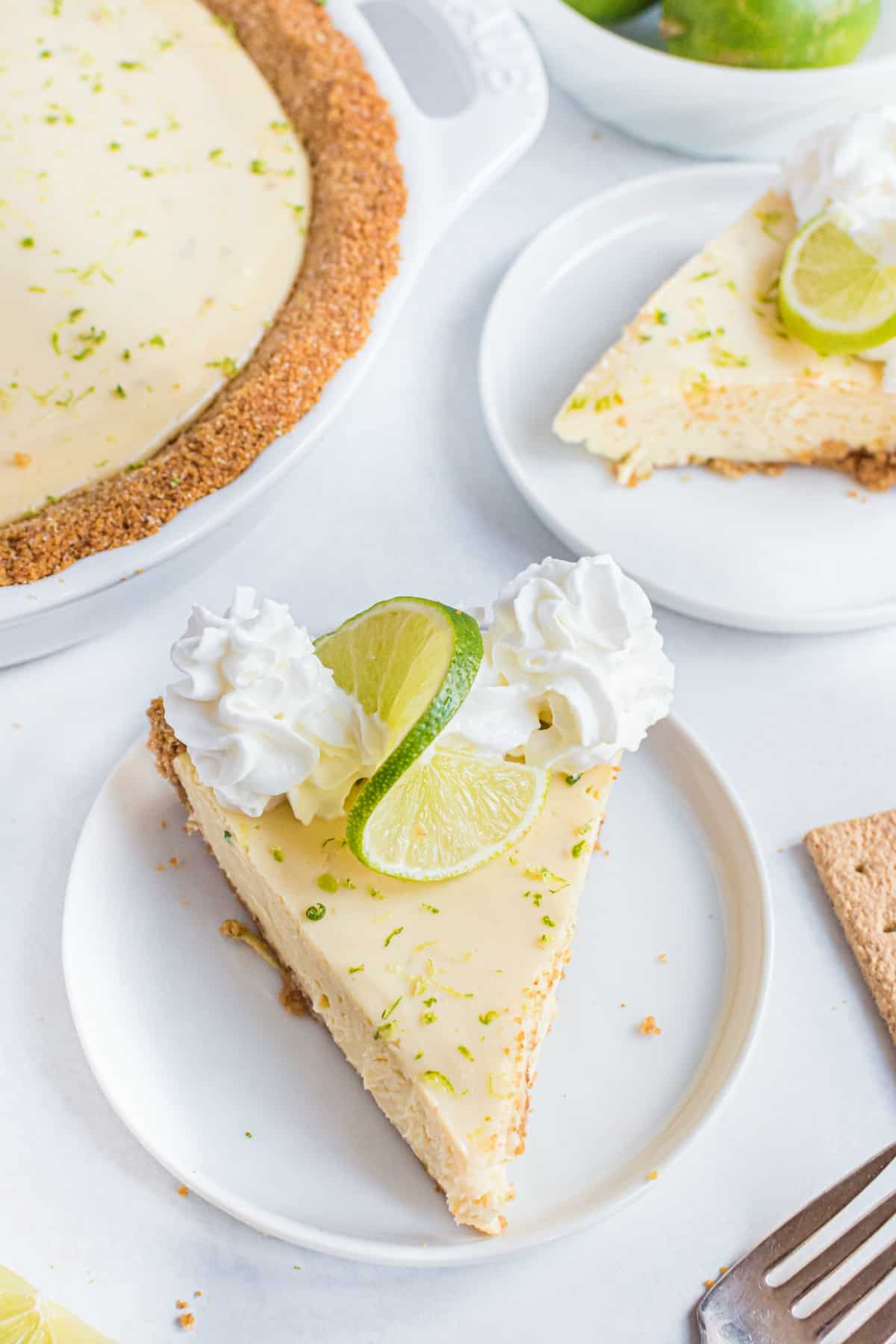 A Key Lime Pie is just what your summertime needs! Serve yourself a slice of this pie and you're instantly transported to the Florida Keys, no travel time required.