Bring the campfire treats indoors with this five ingredient S'mores Pie recipe. Mini graham cracker pie crusts have a creamy chocolate filling with toasted marshmallow and a chocolate bar topping. The perfect no-bake dessert for summertime!
Summertime means s'mores. Lots and lots of s'mores. From S'mores Cupcakes to S'mores Icebox Cake, we love these gooey treats with no fire needed!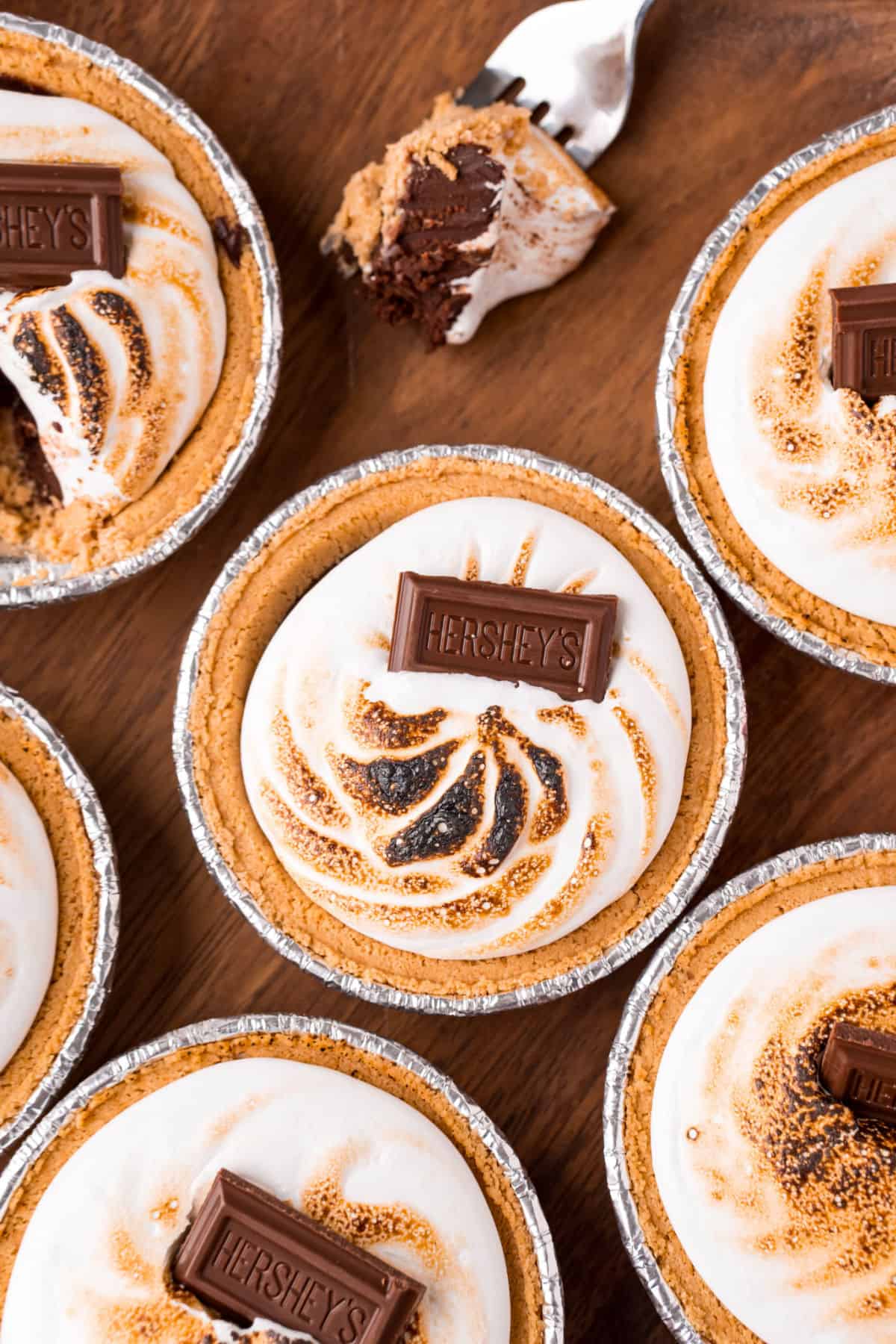 Why this Recipe Works
What I don't love? Messes. And traditional s'mores often mean sticky, chocolate covered fingers.
S'mores Pie lets you skip the mess (and the camping trip) and still enjoy the textures and flavors you love in this treat.
These are made with mini pie crusts so everyone gets their very own pie. No slicing required.
Since this is a no-bake pie it's ideal for warm weather when you don't want to heat up your kitchen.
Ingredient Notes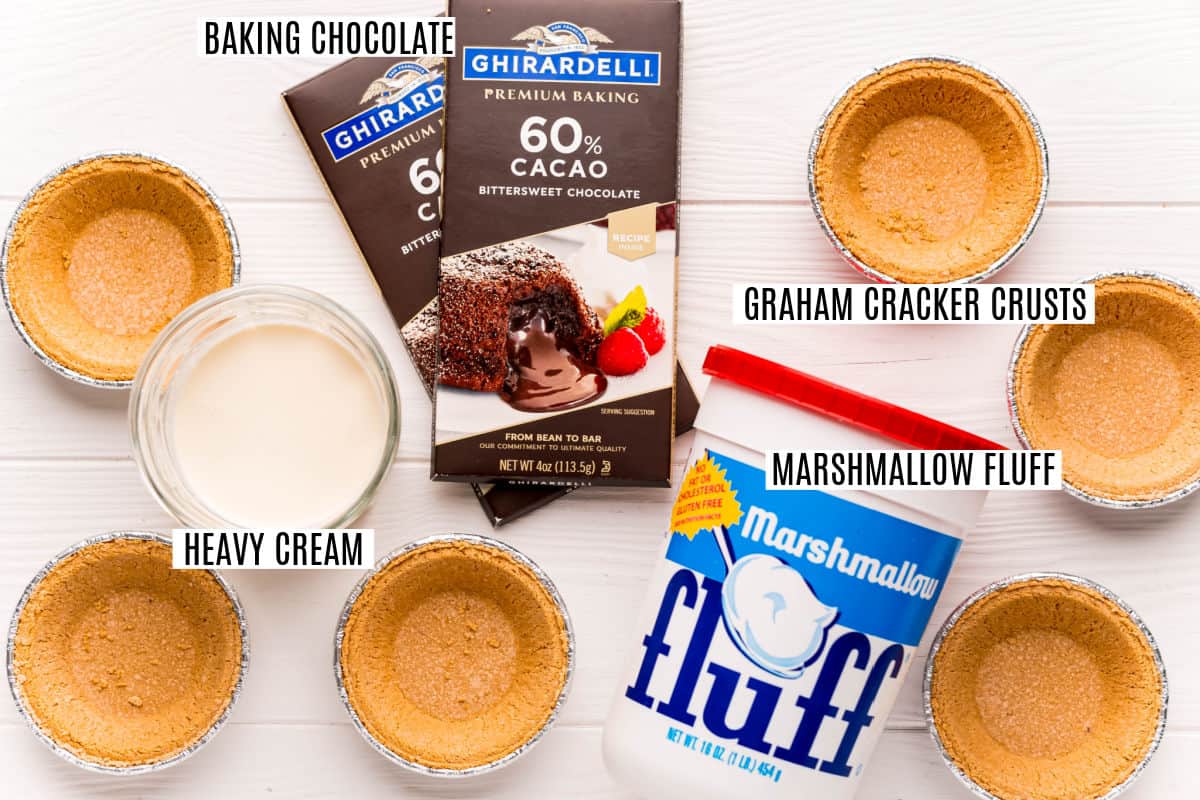 Graham cracker crust. We used 6 miniature pie crusts for individual pies. You can also make this S'mores Pie recipe with two 9-inch pie crusts for larger shareable pies!
Heavy cream. Make sure to use real cream for best results!
Marshmallow Fluff. LOVE the texture of fluff (and the pretty swirl you can make. However, swap it out for mini marshmallows if you prefer. Just pile them on to the top of the pie and add a little kitchen torch to give them that toasted appearance.
Chocolate. We used baking chocolate bars for the ganache filling. And then topped each pie with an additional piece of Hershey bar!
Easy Instructions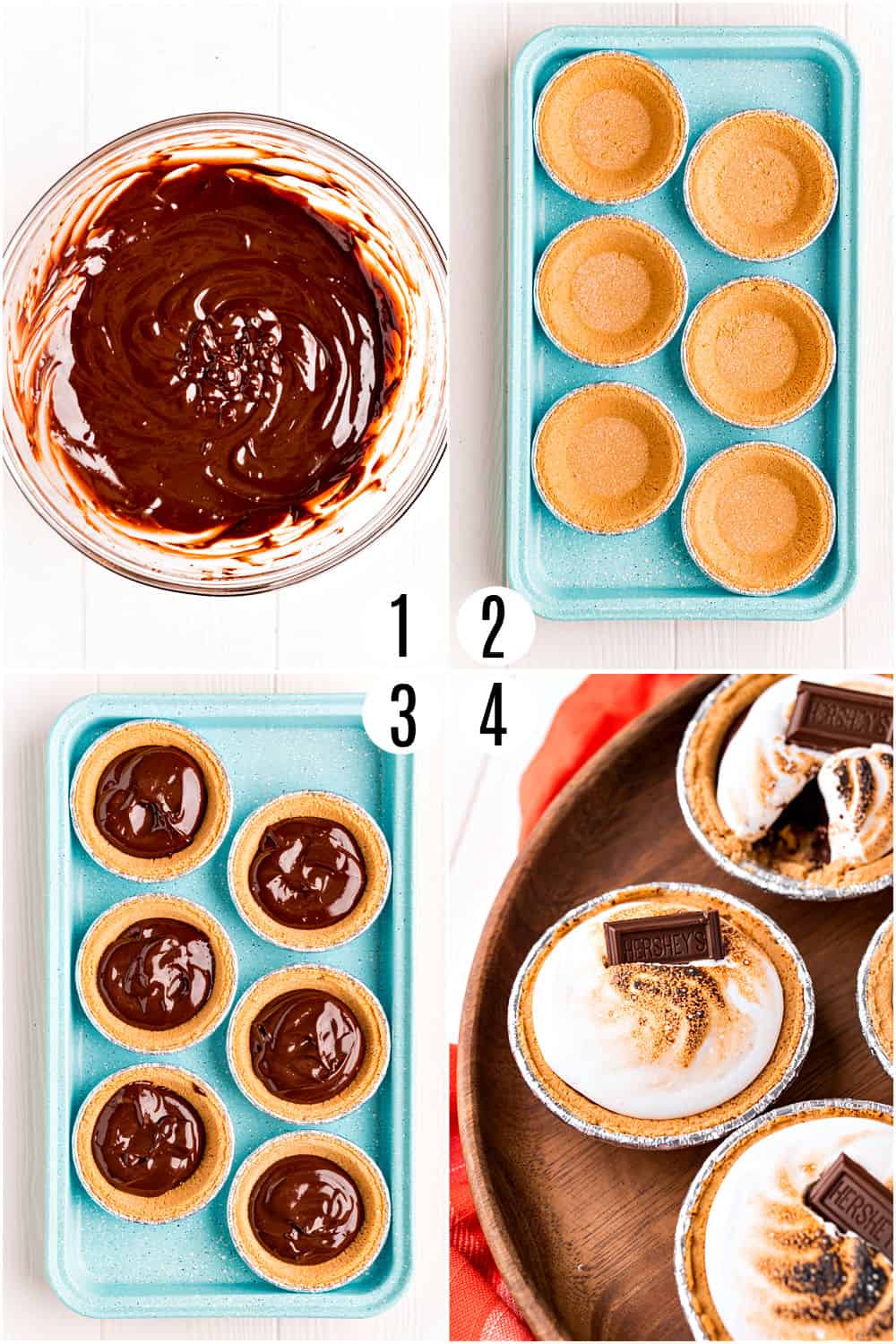 STEP 1. Make chocolate ganache
Chop the baking chocolate and place it in a bowl. Heat the heavy cream and pour it over the chocolate. Whisk to combine.
Pour the chocolate ganache over the bottoms of each pie crust. Place in the refrigerator to chill until set.
STEP 2. Add marshmallow fluff
Top each pie with about 1/4 cup of marshmallow fluff.
STEP 3. Torch
Use a kitchen torch to toast the tops of each pie for that signature "roasted marshmallow" appearance.
Top each pie with a square of milk chocolate if desired!
Tips & Tricks
If you're making these ahead of time, do not add the marshmallow fluff until just before serving. Keep the pie crusts in an airtight container for up to 3 days.
Mini marshmallows can be substituted for the marshmallow fluff if desired.
Swap out the ganache for homemade chocolate pudding instead!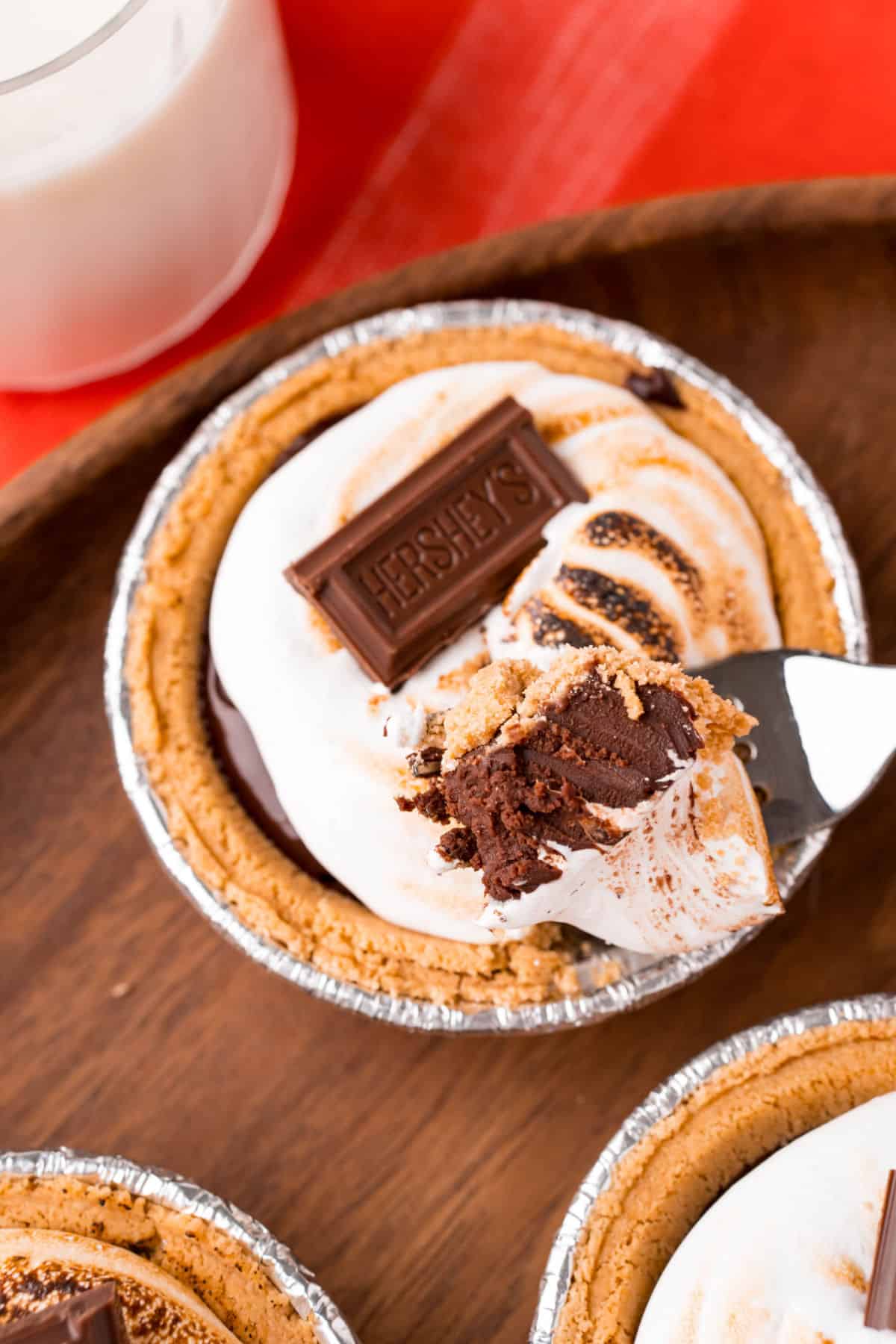 Recipe FAQs
I don't have a kitchen torch. Can I broil these toast the topping instead?
No, you should NOT put s'mores pie in your broiler. It will melt the ganache filling! You can enjoy this pie without the toasting step if you don't have a kitchen torch. It's still delicious!
Do I need sweetened or unsweetened baking chocolate?
Use sweetened, dark baking chocolate for this recipe.
Can I heat the cream in the microwave instead of the stove?
Yes, you can, just be sure not to let it boil!
How far in advance can I make s'mores pie?
You can make the crusts up to 3 days in advance. After adding the marshmallow fluff, serve within 2 hours.
More Easy Dessert Recipes
All the classic s'mores taste you love without stepping outside! S'mores Pie is a new summer favorite.