Candy Corn Cookies taste like a Pay Day candy bar in cookie form! Take a break from the pumpkin and enjoy this easy fall cookie recipe with the sweet and salty goodness of real peanuts and peanut butter M&Ms.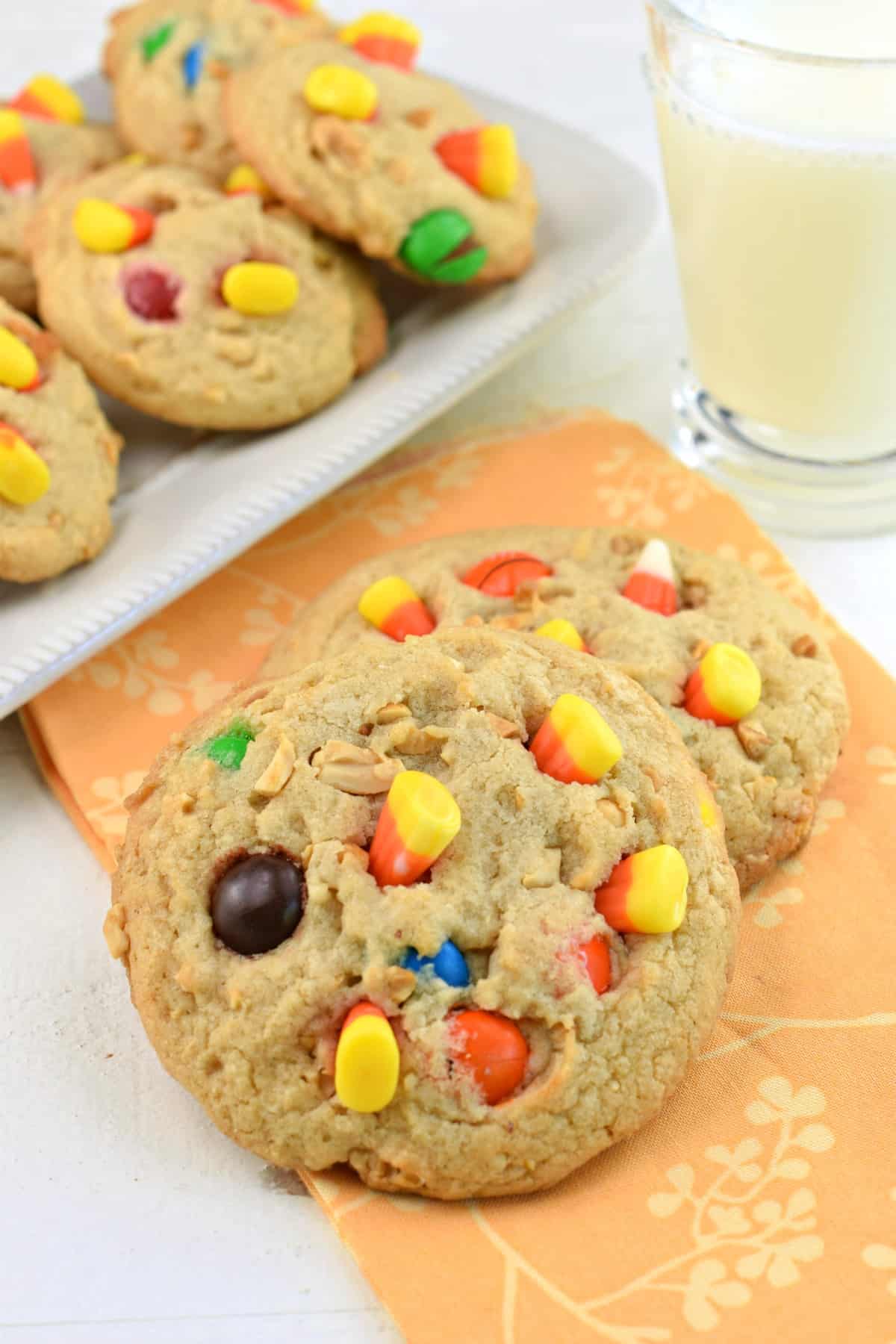 I love this time of year. I love jeans, and hoodies, and fall colors. I love anything pumpkin flavored. You can bet I enjoyed my first Starbucks Pumpkin Spice Coffee earlier this week too.
But, yes, I mostly love candy corn. I mean, it's pure sugar–what's not to like? When I taste those sugary yellow and orange morsels, I know autumn has arrived.
More Candy Corn Desserts: Candy Corn Truffles | Pay Day Popcorn
Candy Corn Cookies
These cookies are inspired by one of my favorite candy corn snacks: a bowl of peanuts and candy corn. That combo tastes just like a Pay Day candy bar to me.
I named these "Pay Day Cookies" for that reason, although the cookies themselves don't taste much like a Pay Day bar.
They're even yummier–lots of saltiness from the peanuts mixed with sugary candy corn and the candy coated M&Ms.
When you need a break from the avalanche of pumpkin flavored treats around you, make these fall cookies to celebrate my favorite season!
Once you've had a palate cleanser, you'll be ready for Pumpkin Oatmeal Cookies and Pumpkin Scones once again.
Did I mention that along with peanuts and candy corn, these cookies also have peanut butter M&Ms?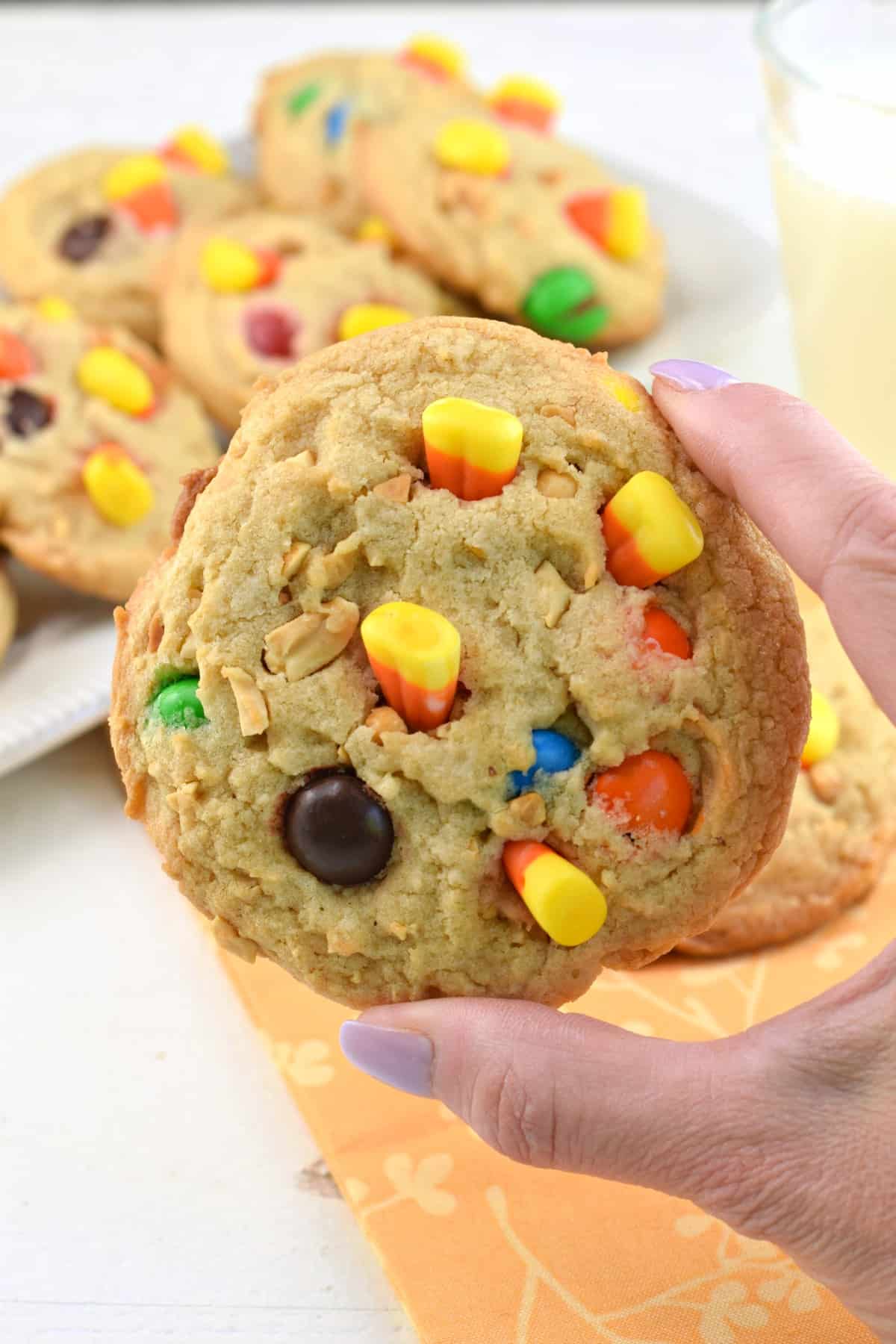 Peanut Butter M&M Cookies
No rolling or cutting required for these cookies! I made Pay Day Cookies with a basic drop cookie dough as the base.
Just like Chocolate Chip Cookies, Candy Corn Cookies begin by beating together sugar, butter, egg and vanilla. Then you add the dry ingredients, fold in chopped peanuts and M&Ms and bake!
Want peanut butter M&M cookies? Stop here! Let the cookies cool and you have a delicious and easy year-round treat for peanut lovers.
To make candy corn cookies, press whole pieces of candy corn into the cookies while they're still warm. Allow the cookies to cool, while the candy corn sets. Enjoy with a big glass of milk!
Melted Butter
While many of my cookie recipes use softened butter or shortening, these call for melted butter.
Melted butter makes the cookies spread thinner so the candy corn will be more visible. I love the chewy texture it gives these cookies, too!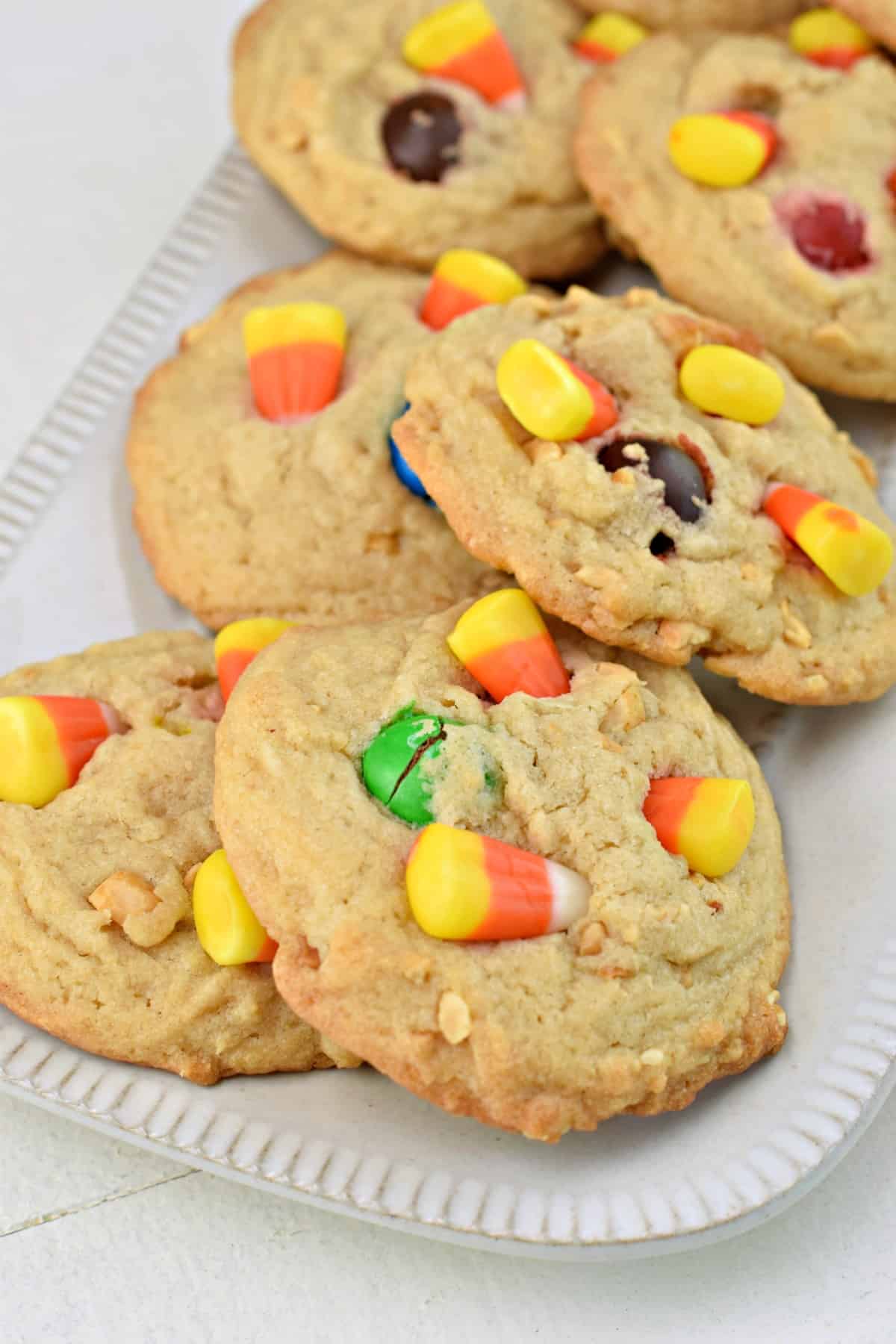 Storing Cookies
Keep fresh baked cookies in an airtight container at room temperature and they'll taste great for about a week. You can freeze these, too!
To freeze Pay Day Cookies: Let the cookies cool completely on a wire rack. Transfer to a freezer safe bag or container. A layer of wax or parchment paper between each layer of cookies will keep them from sticking together.
These taste their best when eaten within 3 months of freezing. Make sure to let them thaw at room temperature when you're ready to eat the cookies.
Attempting to warm them in the oven will result in the candy corn melting into a sticky mess.
Can this be made without peanuts?
You can absolutely make the Pay Day Cookies without peanuts, although at that point they will taste nothing like a Pay Day candy bar. (That's not totally the point, though…the candy corn is!)
For a peanut free version, replace the peanuts with another kind of chopped nut (almonds would be delicious) and leave out the M&Ms.
If you like the combination of lots of chocolate and candy corn, you could also replace the peanut butter M&Ms with regular M&Ms here.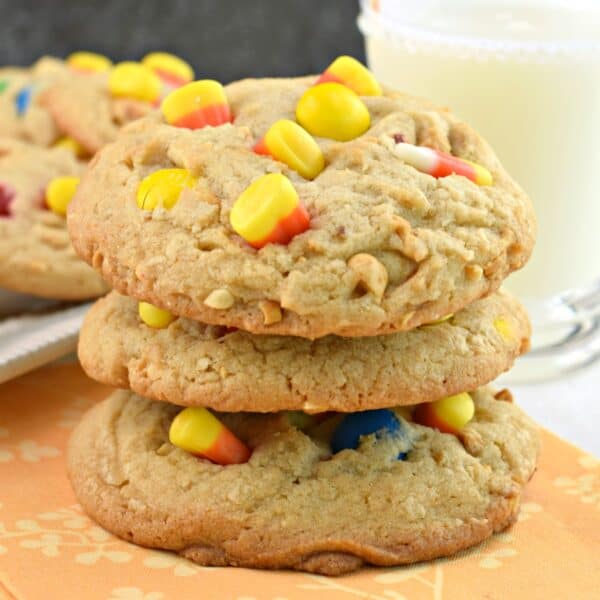 More Tips & Tricks
Swap out the cookie dough for a peanut butter cookie dough instead for a more peanut-y flavor!
Press the candy corn into the cookies point first. Not only will they go in easier this way, you'll also be able to fit more candy corns in to each cookie.
Not a fan of candy corn? Make these without the candy corn pieces for delicious peanut butter M&M cookies.
Make sure to use peanut butter M&Ms here NOT peanut M&Ms! If you can't find peanut butter M&Ms, Reese's Pieces will work decently as a substitute (you just won't get any chocolate flavor).
Tools Needed
For today's cookie recipe you'll need a large mixing bowl and mixer. Whether you choose to use a handheld mixer or an electric stand mixer is up to you!
I also love these cookie sheets! I find them on sale all the time on Amazon!
A good metal cookie scoop is handy for scooping out the perfect size dough. I use a 2 Tbsp scoop for most of my cookie recipes.
Find and shop my favorite products in my Amazon storefront here!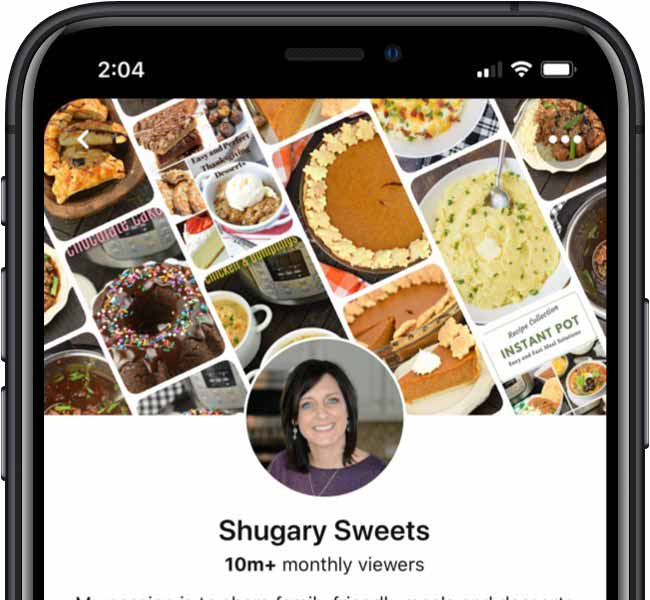 Give Christmas dinner a decadent finish with this Eggnog Cheesecake Cake. A creamy center and plenty of spice make this the ideal dessert for a cozy holiday celebration!
Calling all candy corn lovers! Candy Corn Cookies with peanuts are the sweet and salty fall treat you need to try!