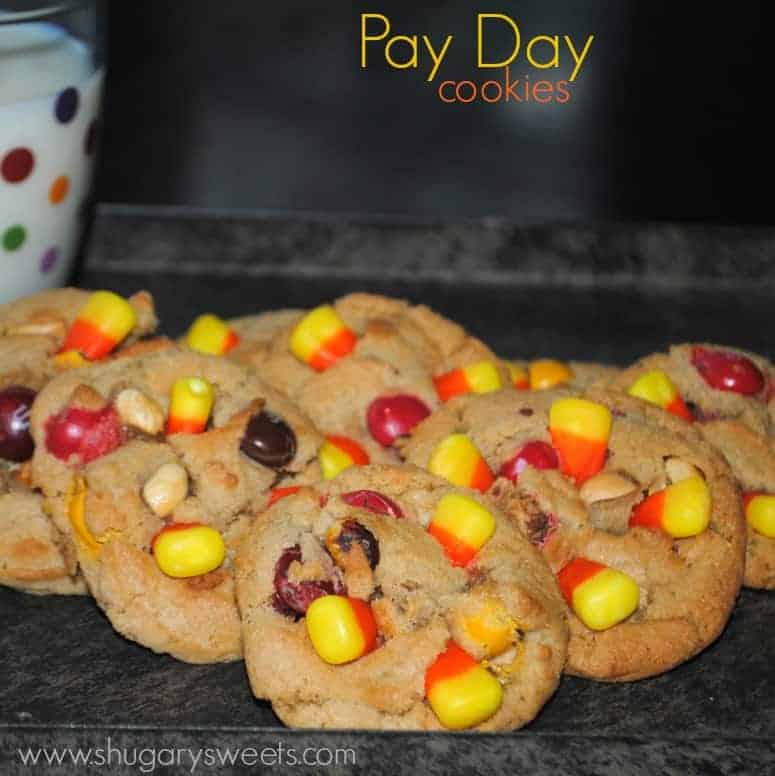 I love this time of year. I love jeans, and hoodies, and fall colors. I love anything pumpkin flavored (even enjoyed my first Starbucks Pumpkin Spice coffee this week). But, yes, I mostly love candy corn. I mean it's pure sugar, who doesn't love it? Don't answer that.
These cookies are inspired by one of my favorite candy corn snacks…a bowl of peanuts and candy corn. And yes, it truly does taste like a PAY Day candy bar. The cookies are just yummy, maybe not so PAY DAY tasting.
What sort of things do you enjoy this time of year? Or are you just wishing it was another season already?
Pay Day Cookies
Ingredients
1 1/2 bags (12 oz each) Brach candy corn
1 1/2 cup butter, melted
2 cup brown sugar
1 cup sugar
3 eggs
1 Tbsp vanilla extract
4 1/2 cup flour
1 tsp baking soda
1 tsp salt
1 cup unsalted peanuts, chopped
2 bags M&M's PEANUT BUTTER Candy (not peanut)
Instructions
In mixer, combine butter and sugars. Beat for about 2 minutes, until creamy. Add in egg and vanilla. Beat in flour, baking soda and salt. Fold in the peanuts and M&M's. Drop by large tablespoons onto a cookie sheet.
Bake in a 375 degree oven for 9-11 minutes. Remove from oven and immediately press in the candy corn (point first so it goes in easily). Allow to cool and enjoy!