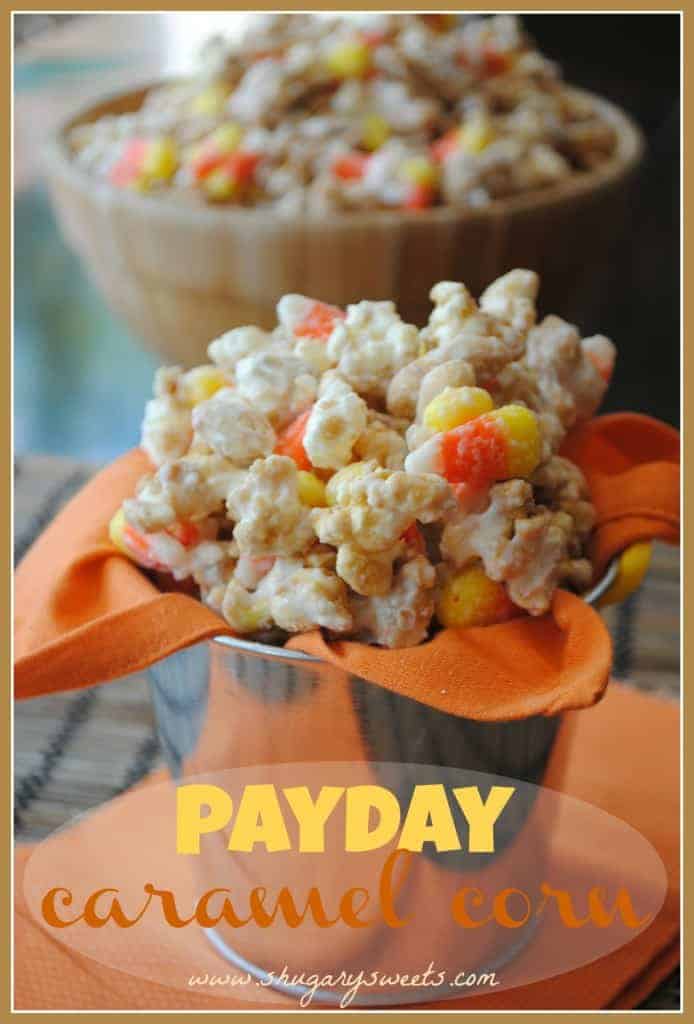 By now I'm sure many people are aware that if you mix candy corn in a bowl with peanuts it tastes like a Payday Candy bar. Yes?
I just happened to take this snack mix one step further by mixing in with homemade caramel corn.
Oh, and I topped it with some white chocolate too!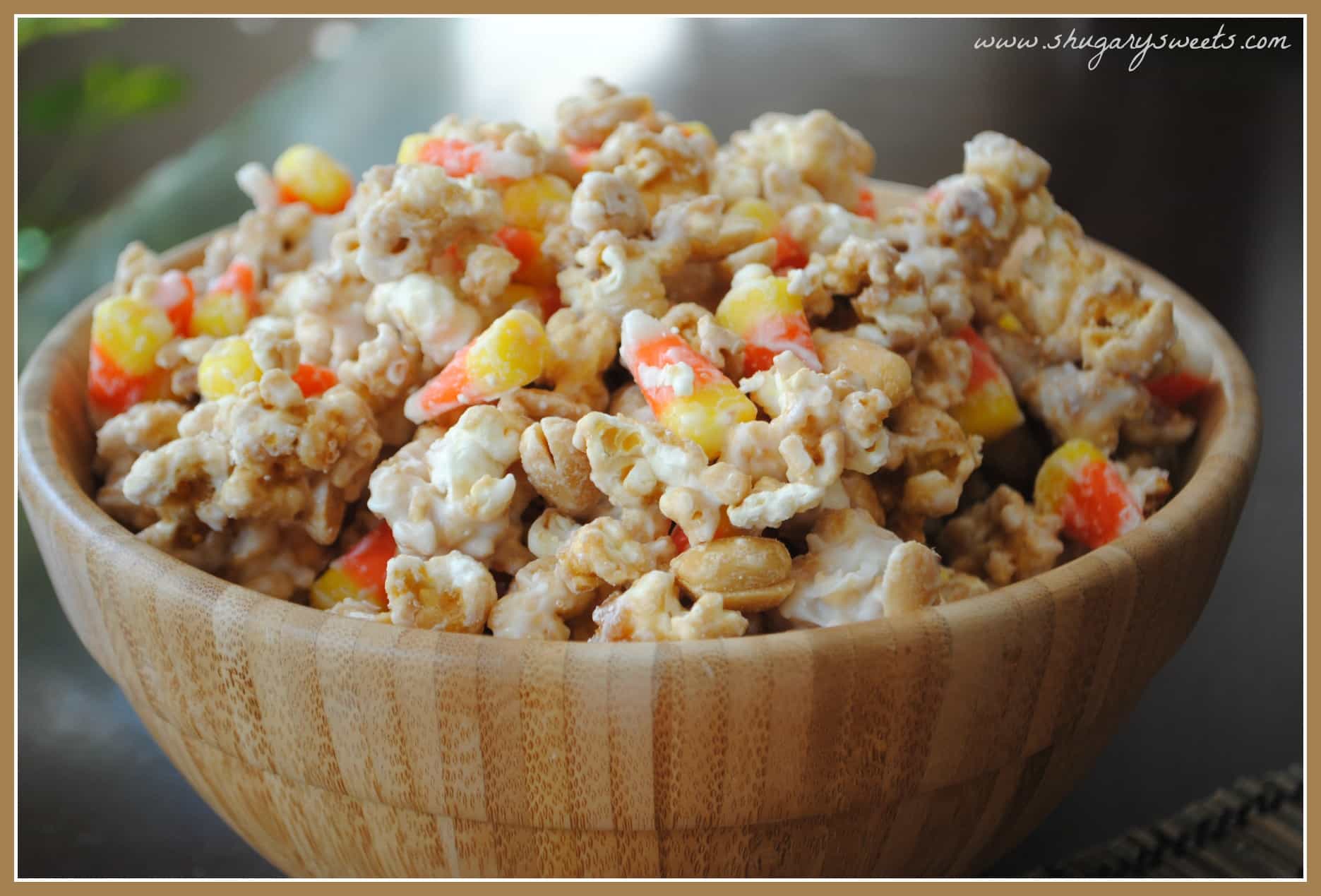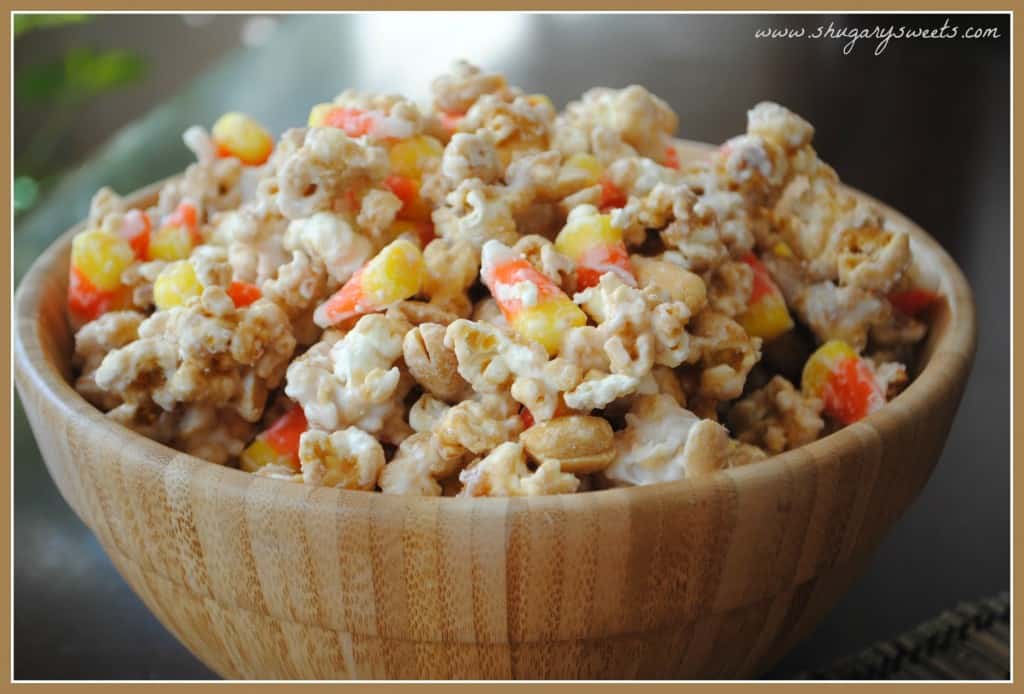 I know so many of you love Halloween.
Let me be perfectly clear. I don't love it.
Yes, I love the candy. Yes, I love the weather. Yes, I love the food associated with this time of year (apples, pumpkin, and candy corn)!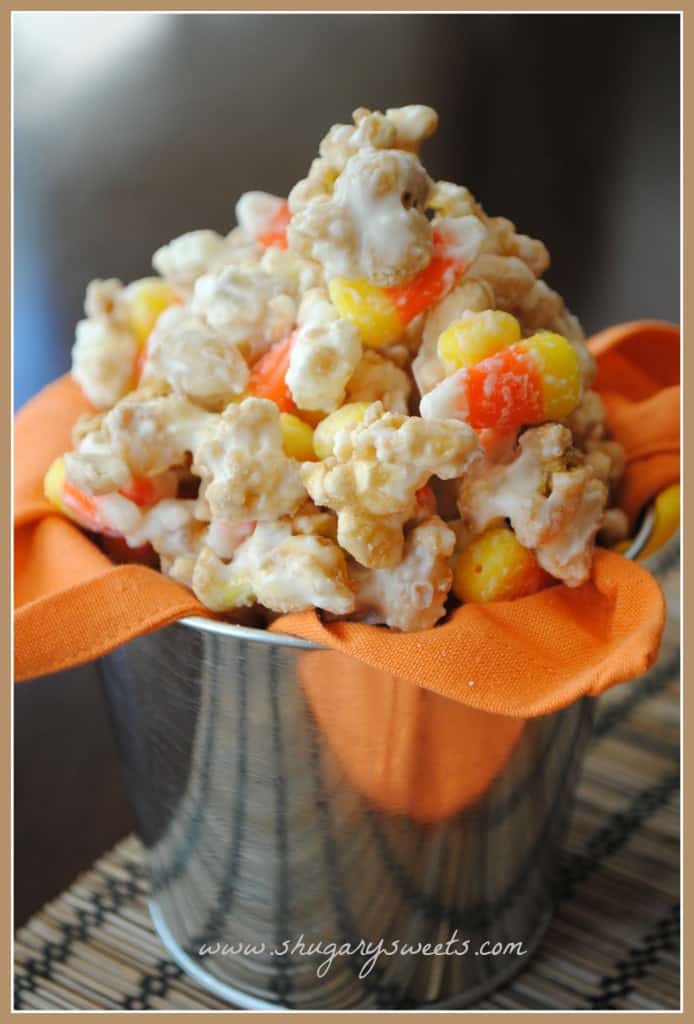 The stress of costume making. Or costume buying. Or anything associated with deciding what costume my kids want to wear. Because inevitably they change their mind during the process.
For now? I will just enjoy eating the holiday treats. Until the discussion of costumes come up!
Like this Payday Caramel Corn Recipe? Check out these similar recipes….
Payday Cookies– cookies filled with peanuts, candy corn, and peanut butter m&ms
Halloween Trash Candy– Booberry, Frankenberry and Count Chocula cereal mixed with candy corn, pretzels, m&ms and white chocolate
Payday Caramel Corn
Caramel Corn that tastes like a Payday candy bar! With peanuts and candy corn!
Ingredients
1 cup unsalted butter
2 cup brown sugar
1/2 cup light corn syrup
1 tsp kosher salt
1/2 tsp baking soda
1 tsp vanilla extract
2 1/2 bags of popped corn (remove seeds), about 5qt popped
16oz pkg vanilla bark
21oz bag candy corn
1 1/4 cup salted, roasted peanuts
Instructions
Pop popcorn according to package. Place popped corn into a large mixing bowl (make sure to not add any seeds). Set aside.
In small saucepan over medium heat, melt butter with sugar, corn syrup and salt. Bring to a boil. Remove from heat. Stir in baking soda and vanilla. Pour over popped corn. Mix well.
Divide caramel corn mixture evenly into two foil lined broiler pans (or large disposable lasagna pans would work too) Bake in a 250 degree oven for one hour. Stir every 15 minutes, and rotate in oven.
After one hour, remove from oven and pour into a large mixing bowl. Melt vanilla bark according to package directions and pour over caramel corn. Add in peanuts and candy corn. Pour onto parchment paper (I lay a big strip down on my counter top) and allow to set, about 30 minutes). Once chocolate is set, fill two large gallon sized ziploc bags and seal. ENJOY!