Fluffernutter Caramel Corn – A peanut butter popcorn that's coated with chocolate and marshmallow for a sweet, salty, decadent snack that no one can resist!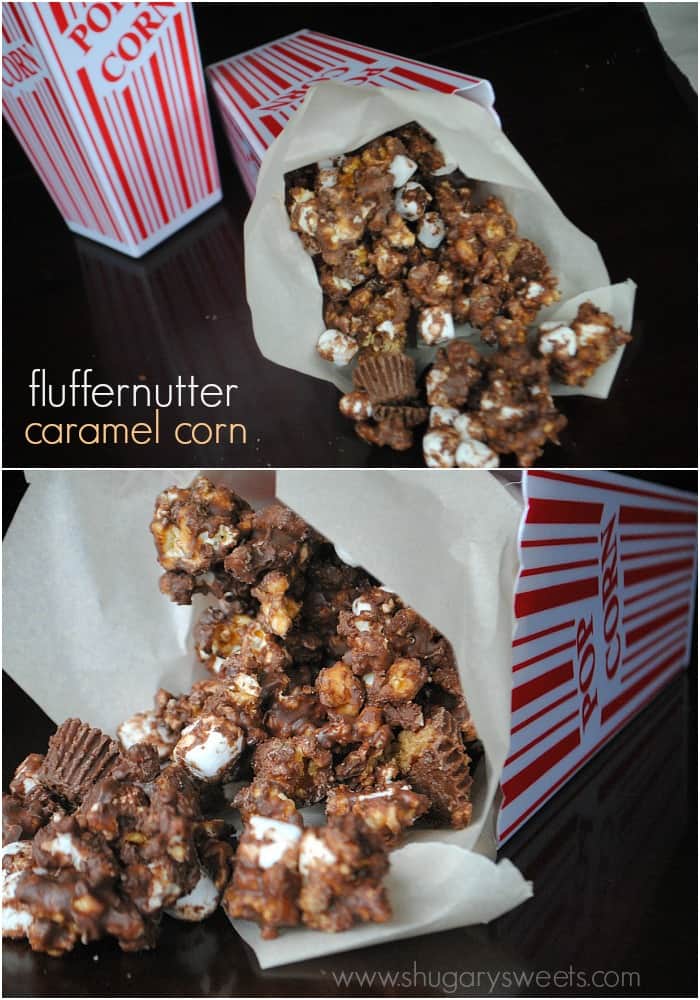 I love popcorn. Salty, buttery popcorn, sweet kettle corn, cheesy popcorn, you name it. The thing is, I really love caramel corn. It's a borderline obsessive love.
Because of this obsession, I tend to raid my pantry looking for new candies I can toss into my homemade caramel corn recipe. This time, instead of coating it in white chocolate, I mixed chocolate with peanut butter.
And if that wasn't enough, I tossed in some chopped Reese's peanut butter cups and marshmallows! The final product reminds me so much of the taste of a fluffernutter sandwich. Only Fluffernutter Caramel Corn is even better because 1) it's popcorn and 2) it's covered in chocolate!
What is a fluffernutter?
Every time I meet someone who doesn't know the joy that is a Fluffernutter sandwich, I weep for them. Then, I get jealous that they get to try one for the first time!
A Fluffernutter is a sandwich made with marshmallow fluff and peanut butter. Sometimes it has other ingredients like banana, chocolate or even bacon, too. It was a beloved childhood snack that I never quite grew out of loving.
I've made Fluffernutter Fudge, Fluffernutter Rice Krispie Treats and now Fluffernutter Caramel Corn in homage to the sweet and salty flavor combination of marshmallow and peanut.
Ingredient Notes
To make this recipe, you need popcorn. A lot of popcorn. More than two fully popped bags of popcorn, to be precise. After popping, don't forget to remove the seeds!
Along with chocolate candy coating and peanut butter, I used mini marshmallows and mini Reese's cups. If you can't find mini versions, use full sized marshmallows and/or peanut butter cups and cut them into smaller pieces first.
Step by Step Instructions
STEP 1. Make caramel
Melt butter in a pan over medium high heat. Stir in sugar, corn syrup and salt. Bring the whole mixture to a boil, stirring constantly. Remove from heat and stir in baking soda and vanilla.
STEP 2. Add to popcorn
Immediately pour the caramel over all the popcorn and mix well to coat evenly. Bake at 250 degrees for one hour, stirring every 15 minutes.
Remove from oven and cool. Break apart pieces and place in large bowl.
STEP 3. Add chocolate and candy
Melt the chocolate coating completely in the microwave or a double boiler. Mix in peanut butter until combined and pour over cooled caramel corn. Allow to cool about ten minutes.
Then, add in marshmallows and chopped Reese's candies. Pour onto wax paper to harden then transfer to ziploc bags, tupperware containers or another airtight container to store.
Tips and Tricks
I use broiler pans for making caramel corn. Disposable lasagna pans also work well and can double as a way to transport batches of the finished treat.
Let the popcorn fully harden BEFORE putting in containers to store. If the chocolate is still a little soft, the pieces of caramel corn will stick together. Still tasty, but a little more of a pain to eat!
Peanut Butter Popcorn makes a perfect teacher gift or party favor. Put into mason jars and tie with a ribbon!
Whether you make this Fluffernutter inspired caramel corn for movie night, to share with friends or just for yourself, you're going to go wild for it!
More Holiday Fun
Peanut Butter Popcorn mixed with fluffy marshmallows and chocolate is a little bit of heaven on earth.