Sweet, salty, chocolate-covered perfection: stop what you're doing right now and make a bowl of this Chocolate Covered Caramel Corn! Whether you drizzle it with white chocolate or dark chocolate (or both), it will be a game changer at movie night.
If you love sweet and salty treats, try this Salted Caramel Brownie recipe. The rich fudgy brownies with the sprinkle of sea salt is the perfect combo.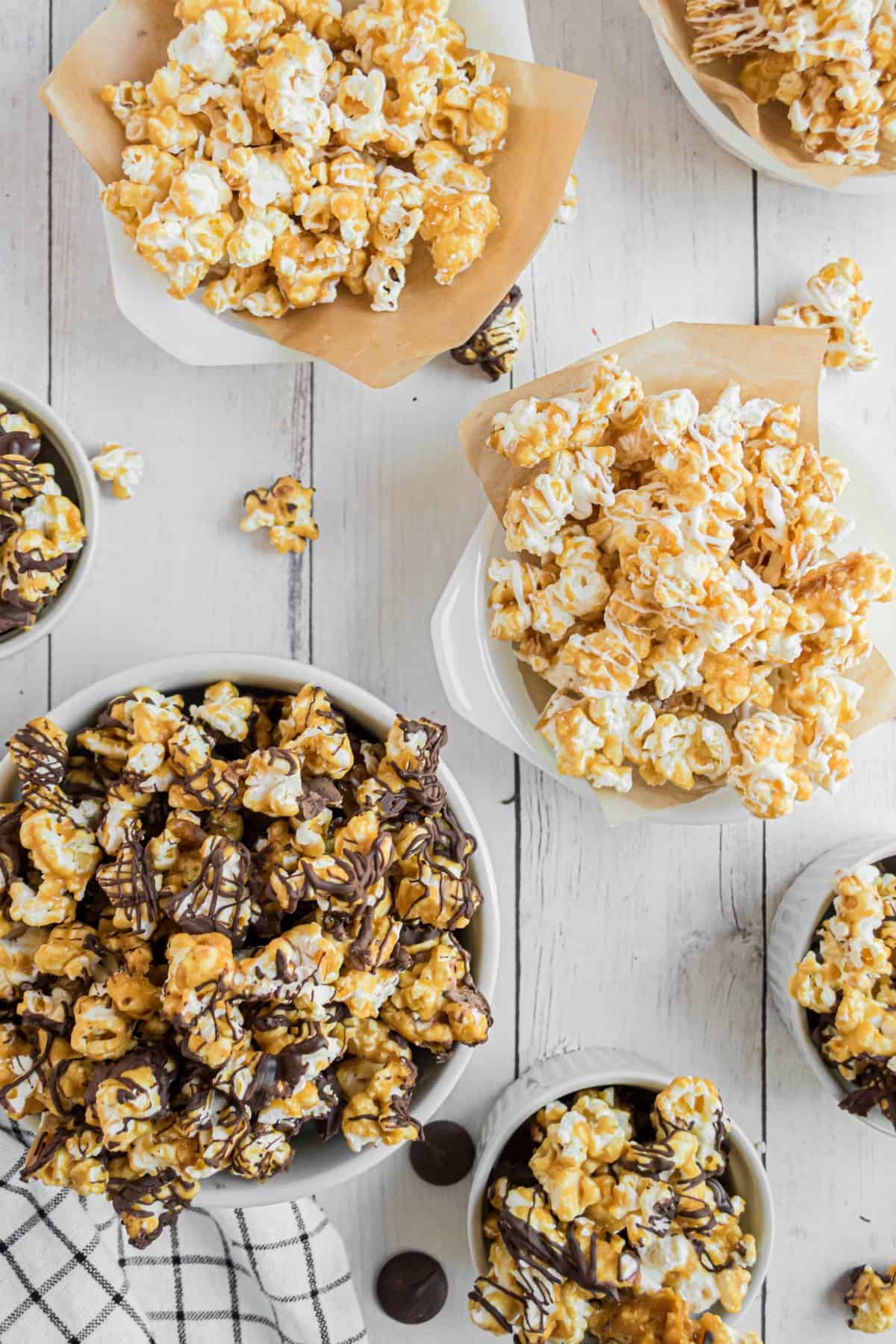 Homemade Caramel Corn
This stuff is addicting. I like regular old popcorn as much as the next person. During a movie or as an afternoon snack, I enjoy sharing a bowl of the salty stuff with family.
See, with regular microwave popcorn I have no problems stopping after a reasonable amount has been consumed. However, you give me some Chocolate Caramel Corn?
Oh mercy.
The recipe for this sweet and salty caramel corn originally came into my life via a church cookbook. (Thank you, Donna, for including that recipe!)
I'd made it several times as originally written and it was always a hit in our house. The caramel corn was delicious so, naturally, I took it one step further.
I tend to do that. I can't stop myself. It's the addictive part of my personality. And the chocolate loving part.
If everyone liked the caramel popcorn, why not make caramel corn with chocolate?
Chocolate addiction or not, I wasn't sad that it lead to creating this treat! White chocolate and caramel are a favorite pairing of mine so I decided to melt some white chocolate wafers and give it a try.
Ingredient Notes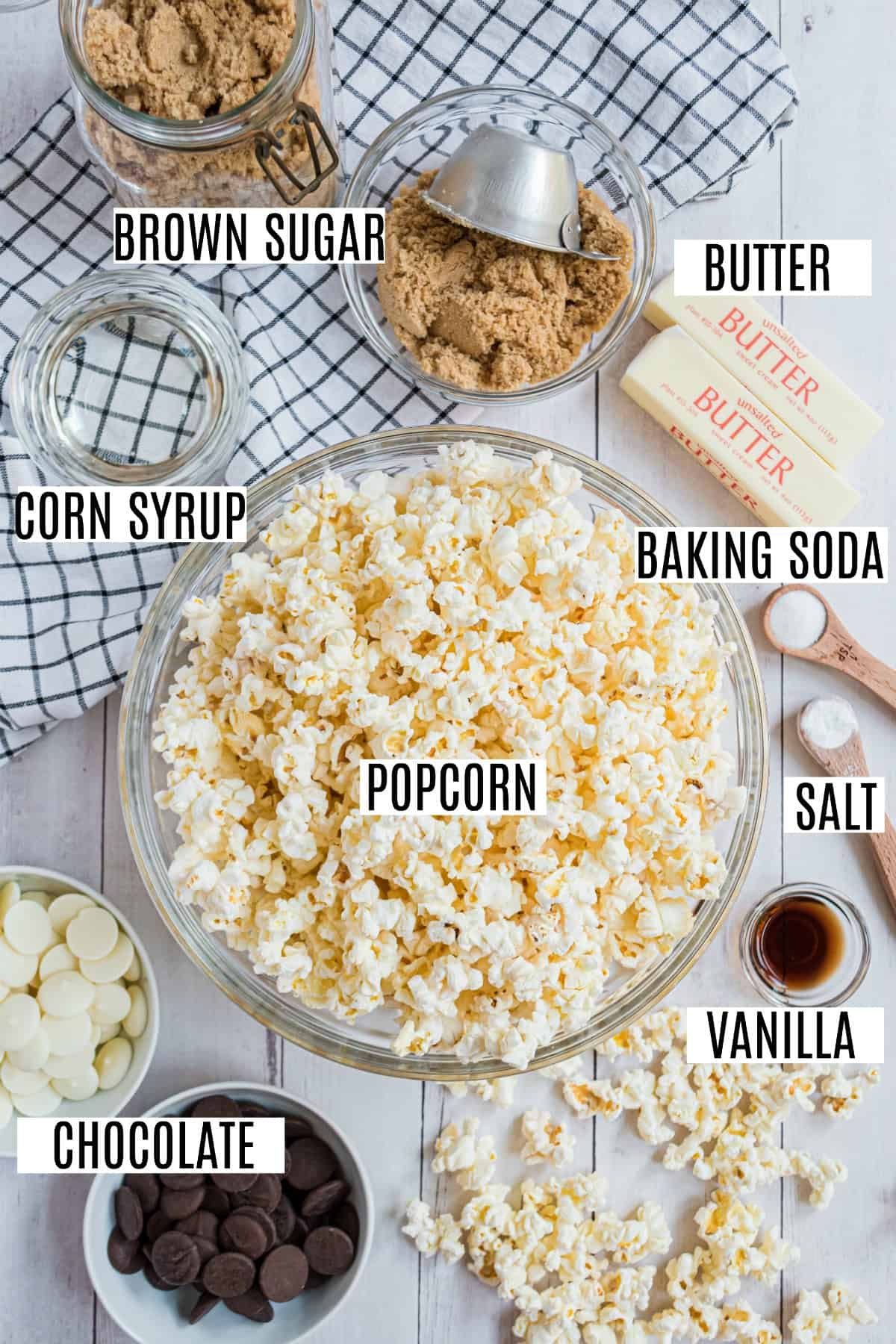 Once you learn how easy it is to make the best ever caramel corn with chocolate, you'll be making it as often as I do! It's so easy and only requires a few simple ingredients.
Here's what goes into making Chocolate Covered Caramel Corn:
Butter
Brown Sugar
Light Corn Syrup
Baking soda
Vanilla Extract– use my homemade vanilla extract recipe!
Salt
Popped popcorn – about 16 cups popped
Ghirardelli dark chocolate and white chocolate wafers.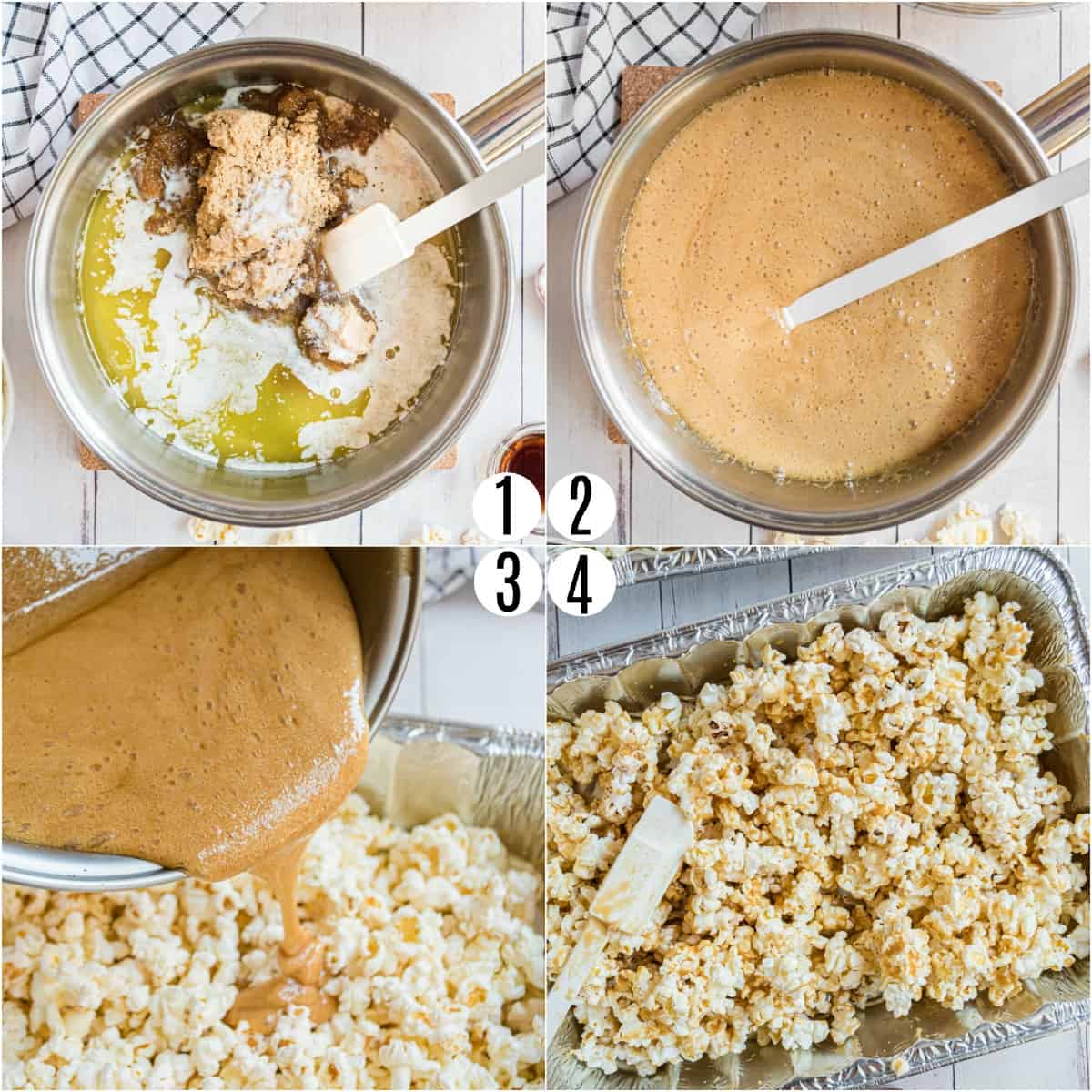 Caramel Corn Recipe
If you're not a fan of chocolate or prefer not to use it, this caramel corn is still delicious without! Follow my recipe for homemade caramel corn to start!
I'll often make a batch of this as half caramel corn with chocolate and half without. Everyone loves it!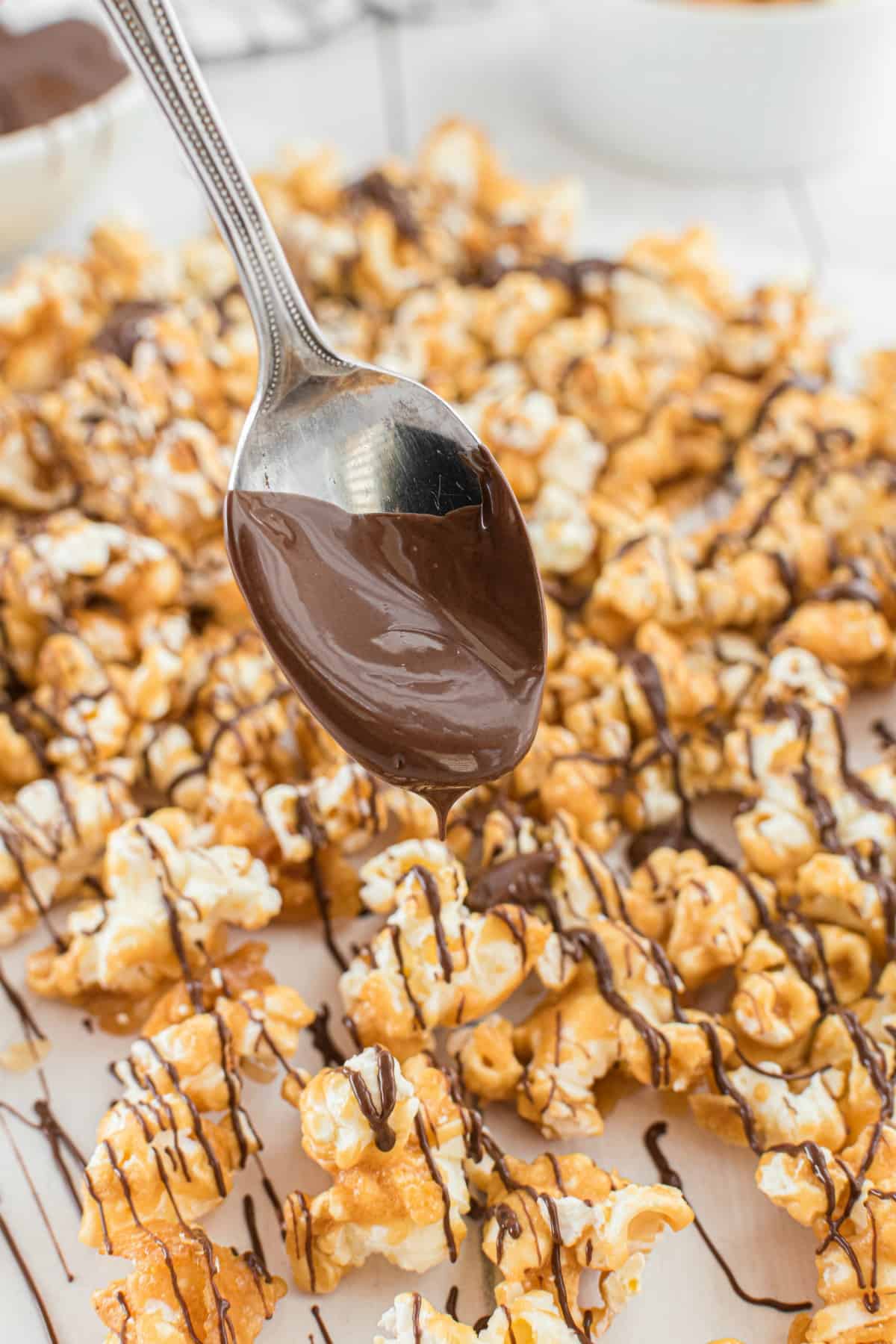 Tips and Tricks
Use a pan with enough space to spread the popcorn evenly. I make this with two large broiler pans. Friends of mine use those big disposable lasagna trays. Both work beautifully!
Be sure to remove any unpopped kernels and seeds from the popped corn before making this recipe. The last thing you want is to break a tooth on a hard kernel when you're trying to enjoy some sweet caramel corn.
When giving this popcorn treat as a gift, store it in mason jars wrapped with ribbon or in colored plastic wrap with treats like candy canes or other wrapped candy to fill it out. Decorative tins are also wonderful for storing and gifting caramel corn!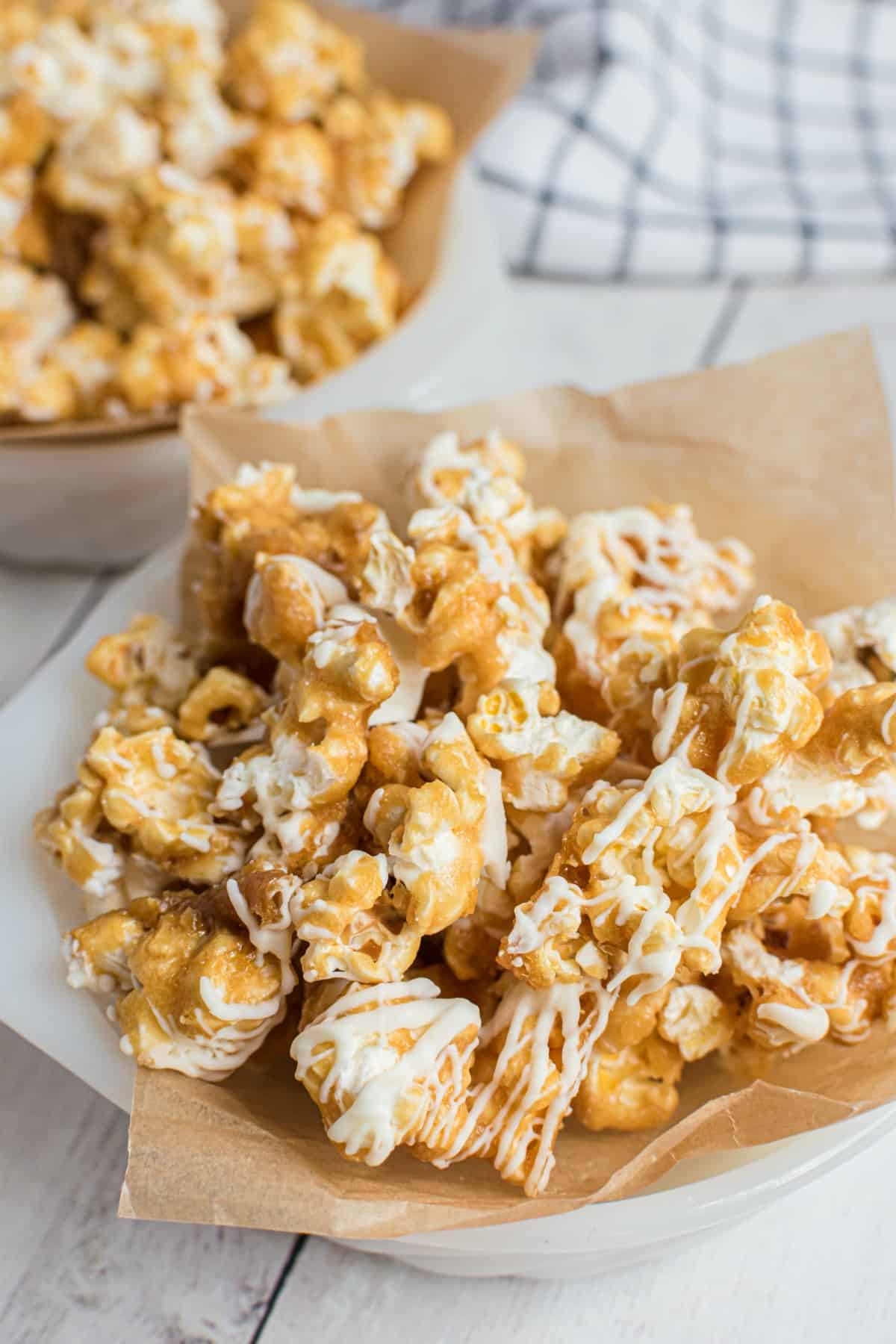 Recipe FAQs
Why is my caramel corn chewy?
If your caramel corn is chewy, you probably didn't bake it long enough, or allow it to set and cool. Check your oven temperature too.
What does baking soda do in caramel corn?
The reason we use baking soda in the caramel is to react with brown sugar and corn syrup. It will create bubbles of air, which results in the foaming you see after adding it. Those air bubbles in the caramel become the soft texture (vs the hard caramel you typically see in store bought caramel corn).
Why is my caramel corn so sticky?
If your caramel corn is sticky, it most likely hasn't been cooked to the proper temperature.
How do you store chocolate covered caramel corn?
To keep chocolate covered caramel corn fresh, store in airtight container or ziploc at room temperature for up to one week.