Caramel Macchiato Biscotti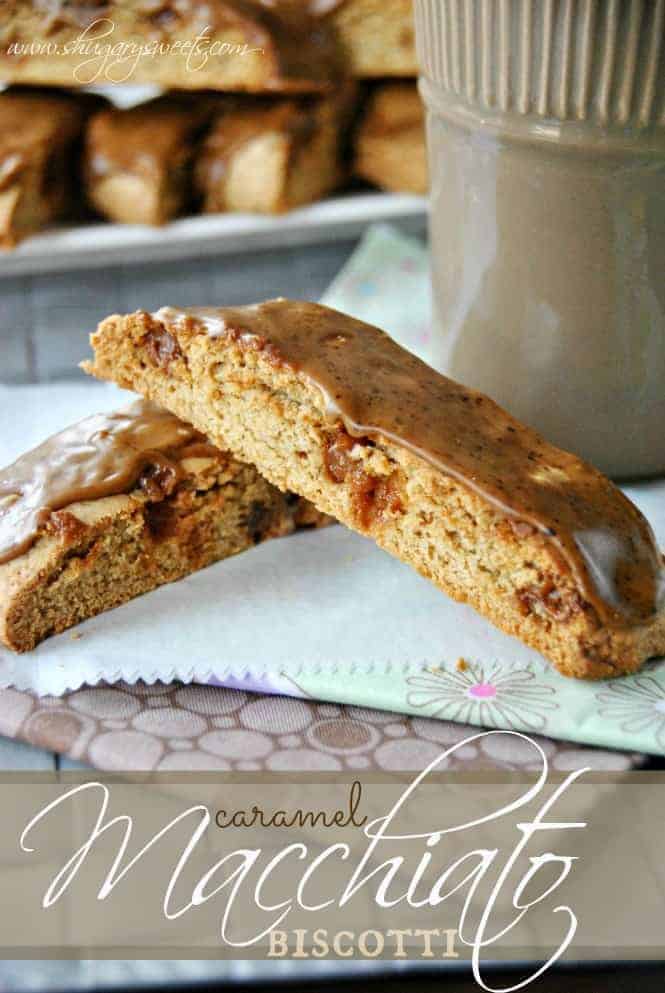 I've got a new feature here on Shugary Sweets today. It's called: Reader's Choice!
Last month I asked a question on facebook asking "if there is ONE recipe you'd like to see me create what would it be?" Well, Cynthia R. this one is for you! You asked for Caramel Macchiatto Biscotti (like Starbucks).
You had me at biscotti.
I love biscotti. I seriously should have a category up there just for biscotti. Think about it. It's a cookie. That you are allowed and encouraged to eat for breakfast. To dunk in coffee. YES. YES. YES.
I tried to find this biscotti at my local Starbucks but they had no such thing. So, I have no idea what to compare mine too, or if it even needs comparing. These are amazing.
I store my biscotti in ziploc bags on my counter to keep them fresh. This one lasted nearly two weeks. I tried to limit myself to one per day (and no, the kids were not allowed to indulge in these). Not because of the espresso, but because I was greedy and didn't want to share!
You'll understand when you make them for yourself. And please don't be afraid of biscotti. While is sounds like a snooty type of breakfast food that only Europeans know how to make…IT'S NOT. Biscotti is actually quite easy to make, and very forgiving. Mix ingredients, shape into a rectangle with finger tips, bake, slice, bake again. Delicious biscotti in one hour. You CAN do this!!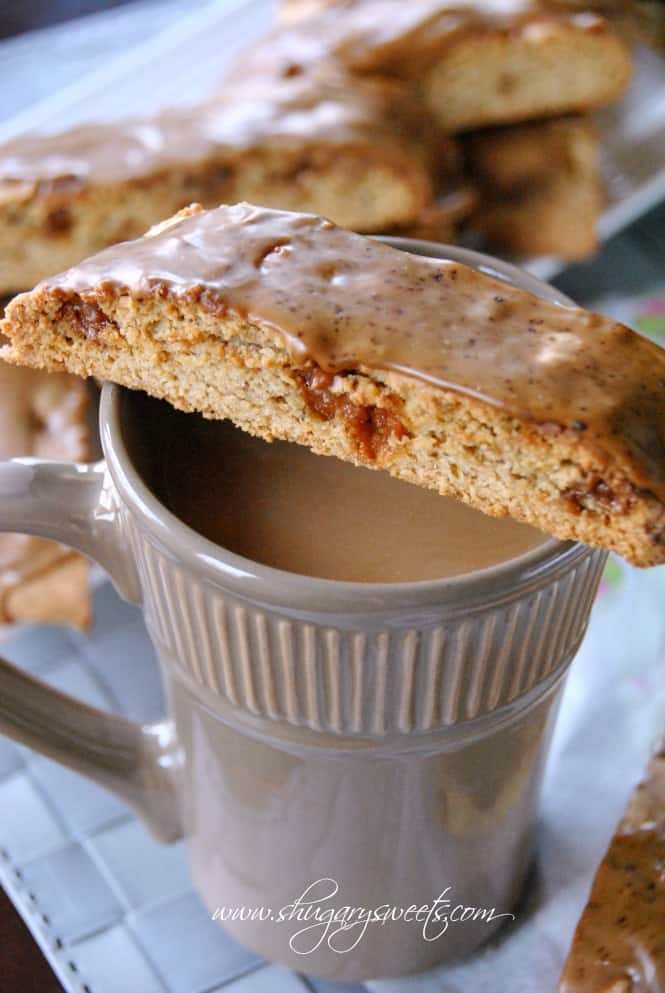 Want more biscotti ideas? Well you've come to the right place. Once you make your first version, you won't be able to stop. You'll be like a bakery with lots of options every morning!
If you're not following me yet, make sure you find a way to keep up with the latest at Shugary Sweets. I want to hear from YOU and what YOU would like to see featured next month on Shugary Sweets! I also have TWO awesome giveaways in February and already lined up another HUGE giveaway in March! You don't want to miss these. Plus, aren't you curious to know what's going on in my kitchen every day?
You can follow me on Instagram.
Or connect with me here: Facebook | Twitter | Google+ | Pinterest | Bloglovin'
Here are a few of MY favorite varieties of Biscotti:
Cranberry Orange Biscotti: orange zest with Craisins combine to make this crunchy variety. Topped with white chocolate and sugared orange zest. Great combination!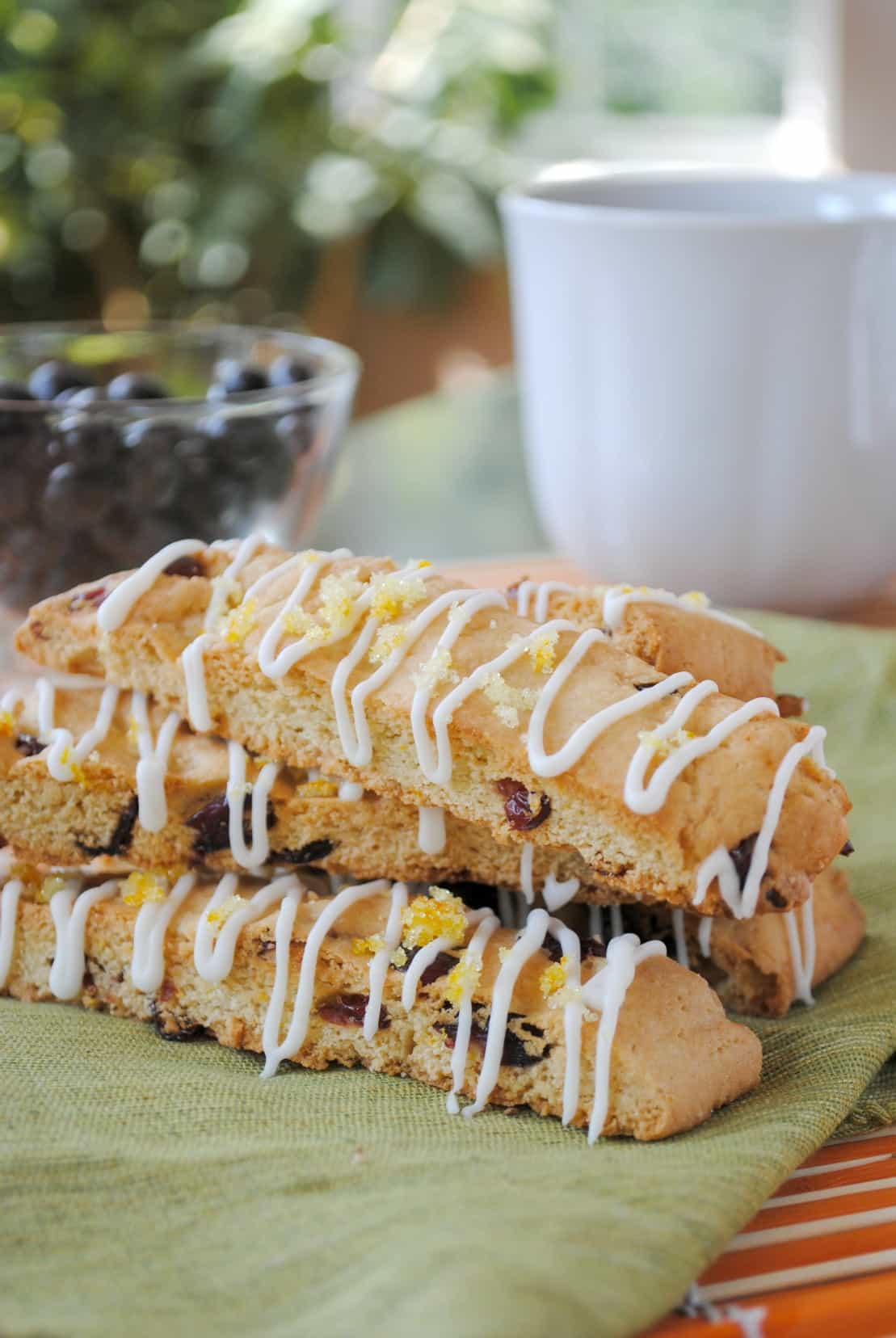 Snickerdoodle Biscotti: cinnamon and sugar are sometimes so simple but powerful flavors!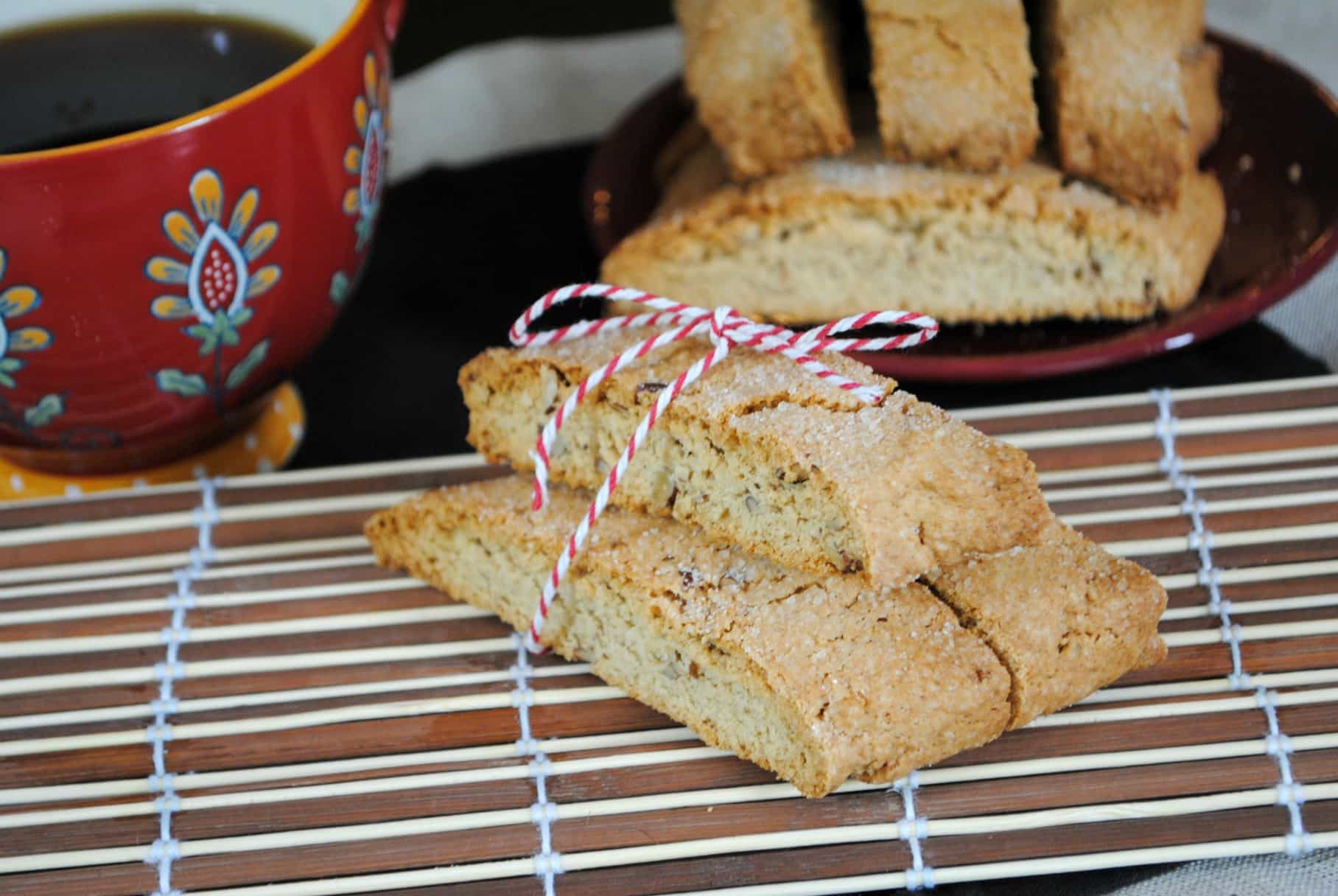 Pumpkin Spiced Biscotti: delicious any time of year. TRUST me! Pumpkin, ginger, cloves, allspice…it's like pie in a cookie.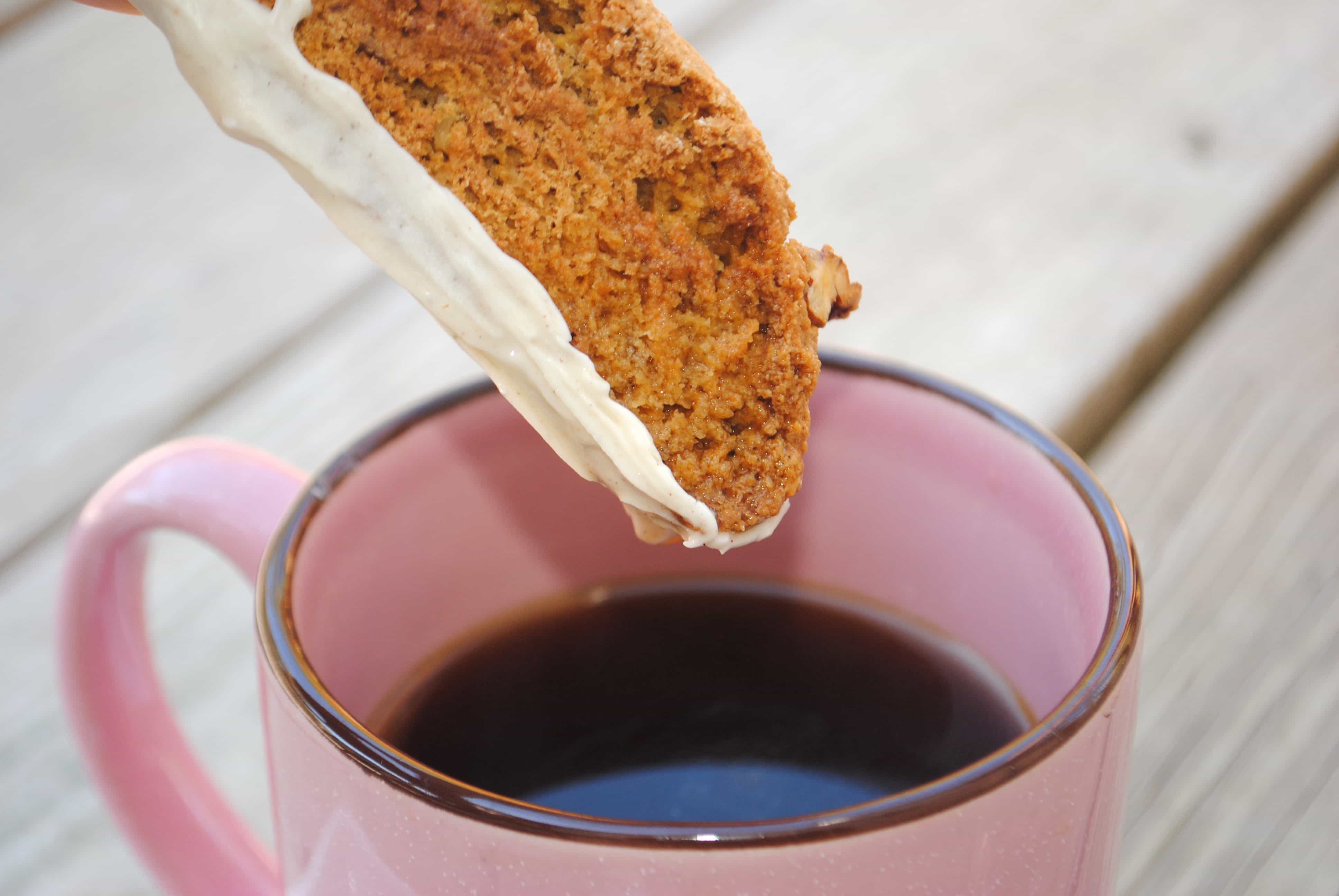 Turtle Biscotti: Yes, seriously, you can now have turtles for breakfast and it's OK. Caramel, chocolate and pecans. For Breakfast.
Stop on over to my Pinterest Board: Breakfast Table Goodies for more ideas!!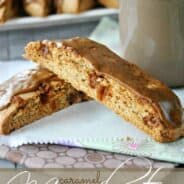 Caramel Macchiato Biscotti
Ingredients:
For the biscotti:
6 Tbsp unsalted butter, softened
3/4 cup granulated sugar
2 eggs
1 tsp espresso powder
1 Tbsp vanilla extract
2 cup all purpose flour
1 tsp baking powder
1/2 cup Kraft caramel bits
For the Glaze:
1 cup powdered sugar
1 Tbsp vanilla extract
1 1/2 tsp espresso powder
3-4 Tbsp heavy cream
Directions:
In a mixing bowl, beat butter with sugar until creamy. Bean in eggs, espresso powder and vanilla. Add flour and baking powder. Fold in caramel bits. Batter will be sticky.
Divide dough in half and form two 10x3 inch logs on a parchment paper lined baking sheet. Bake in a 350 degree oven for 25 minutes. Remove and cool about 10 minutes. Cut into 1 inch slices and arrange slices upright in pan. Bake an additional 20 minutes. Remove and cool completely before glazing.
For the glaze, whisk all the ingredients together until smooth. Spread onto cooled biscotti. Allow to set, about 15 minutes. Store in airtight container up to two weeks.
ENJOY
MAKING THIS RECIPE? Share it with me on Instagram using the hashtag #ShugarySweets so I can see what you're cooking up in the kitchen!