Attention, coffee lovers! Caramel Macchiato Biscotti are calling. A hint of espresso is baked right into crunch caramel-covered cookies. You can have your coffee, and eat it too!
While we're talking caramel, why not also add a splash of Caramel Macchiato Coffee Creamer to your cup this morning?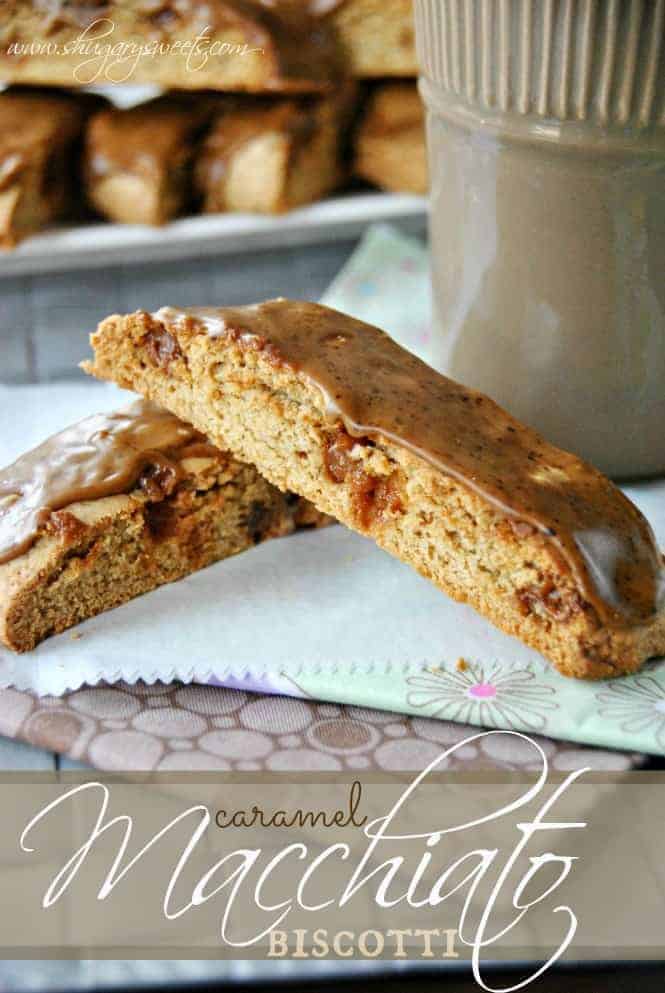 What is Macchiato
Today's homemade biscotti recipe is inspired by the Italian espresso beverage, the macchiato.
A true macchiato is made by topping a shot of espresso with a small amount of foamed milk. Unlike cappucinos or lattes, which also include steamed milk, an Italian cafe macchiato is mostly espresso.
Then, there's the Starbucks version! The coffee chain's imagination of a macchiato, adds steamed milk and caramel sauce. Instead of marking espresso with milk, steamed milk is marked by a shot of espresso on top.
Traditional? No. Authentic? Also, no.
Deliciously sweet and creamy? Yes!
This Caramel Macchiato Biscotti recipe takes the flavors I love in a Starbuck macchiato and baked them into a crispy, toasty cookie. It's perfect for dunking in your espresso–authentically made or otherwise.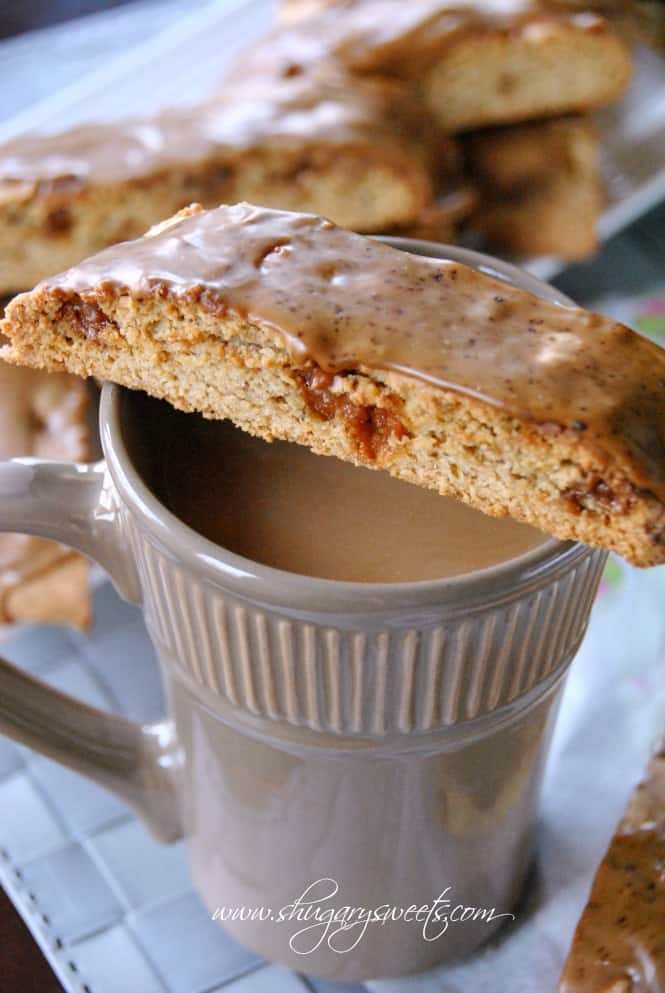 Ingredient Notes
Making today's recipe is simple enough with ingredients you may already have in your pantry. Be sure to scroll down all the way to the recipe card for a complete list with exact measurements.
Espresso powder. This is NOT the same as ground espresso beans used for making coffee. It's a powdered extract used for adding coffee flavor to recipes. I use King Arthur brand.
Caramel bits. These can be found in the baking aisle near the chocolate chips.
Vanilla extract. Learn how to make vanilla extract to take all your baked goods to the next level.
Easy Instructions
Making homemade biscotti isn't as difficult as it sounds. The only difference between regular cookies and biscotti is that they are baked twice.
First, you'll make the dough. It'll be quite sticky. Shape this into two 10 x 3 inch logs and bake them for 25 minutes.
Let them cool for 10 minutes. Now, slice the logs into long slices about 1 inch wide.
Turn the slices upright and bake the biscotti for another 10 minutes and let cool.
For the glaze, whisk powdered sugar with vanilla, heavy cream and espresso powder until smooth. Spread the glaze onto biscotti and enjoy.
Tips and Tricks
Recipe FAQs
Can you freeze biscotti?
Yes, you can freeze biscotti. They will lose some of their crunchiness when they thaw, though.
To remedy this, bake the thawed biscotti in a 350 degree oven for a few minutes to toast them up again.
What can I use instead of caramel baking bits?
If you can't find baking bits, you can replace them with regular caramel candies. Unwrap them and cut them into small pieces before adding to your biscotti dough.
Can I make this without the espresso powder?
You can but then they won't be macchiato flavored biscotti! The espresso powder adds so much flavor to these biscotti that it's worth tracking down or ordering online.
More Biscotti Recipes