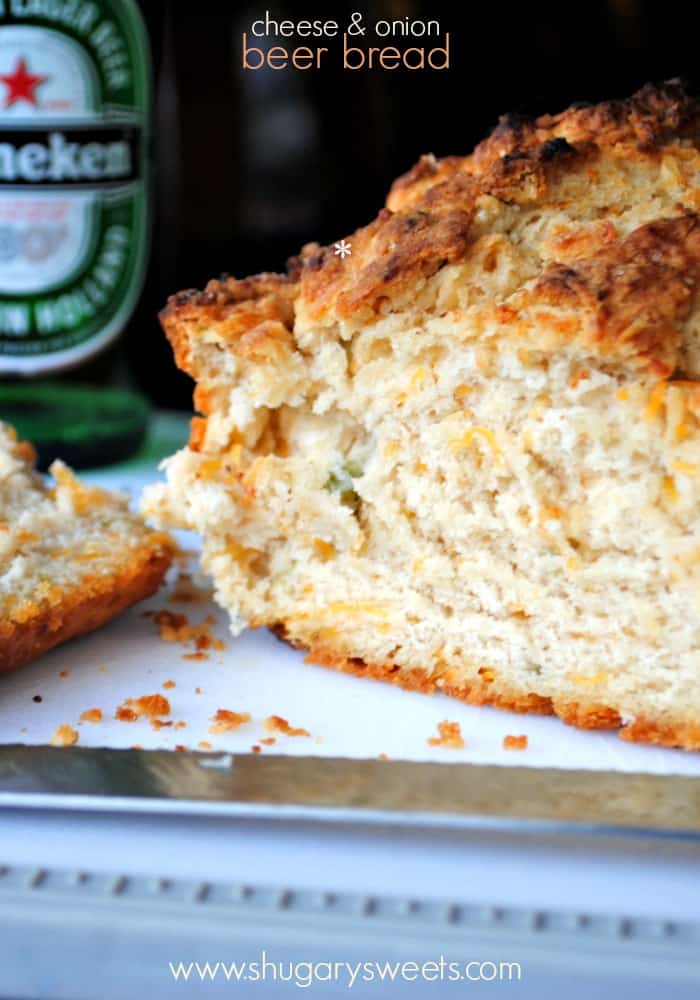 Beer bread is one of those items I used to purchase from Tastefully Simple and Pampered Chef. We ate it often too! Then I googled the recipe years ago, and realized how easy it is to make at home (FOR MUCH CHEAPER)!
This time though we kicked it up a notch with some cheddar cheese and green onion. Oh my. I'm envisioning other great flavors as well. (such as: remove onion and replace with 2 seeded and diced jalapenos, serve with chili)
Not a fan of beer? Don't keep it in the house? That's okay. I have made it with 7up as well, it just ends up a little bit denser (I think it might have something to do with lack of yeast????).
Cheesy Onion Beer Bread
Ingredients
3 cup flour
1 Tbsp baking powder
1 tsp kosher salt
1/4 cup sugar
3/4 cup cheddar cheese, shredded
2 green onions, sliced thin
12 oz beer
1/4 cup butter, melted
Instructions
In large mixing bowl mix flour, baking powder, salt, sugar, cheese and green onions. Using as few strokes as possible, mix in the beer until moistened.
Pour thick batter into a greased loaf pan. Drizzle melted butter over the top.
Bake in a 375 degree oven for 50 minutes. Remove and cool 10 minutes before removing from pan. Enjoy!