Spicy Roasted Chickpeas are seasoned with taco spices and baked to crunchy perfection. You only need three ingredients to make this delicious and easy snack recipe!
If you like homemade salty snacks, try our Taco Snack Mix recipe next. Or give our taco seasoned oyster crackers a try.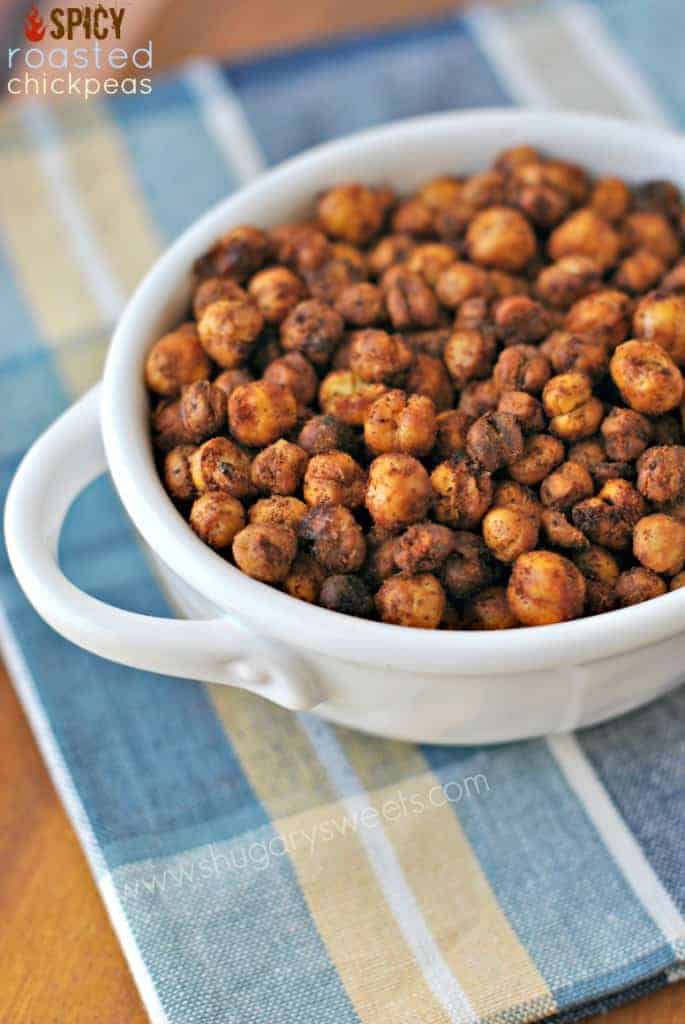 Chickpeas for Snacking
You know chickpeas are delicious in hummus, salads and stews. But did you know they make a perfect snack food too?
In this recipe, garbanzo beans are tossed with Mexican-inspired seasoning and oven roasted. They get nice and crunchy with a salty, savory, lightly spicy flavor. Completely irresistible.
Here are a few reasons you'll love this spicy roasted chickpeas recipe.
High in protein and fiber.
Taco spices add lots of satisfying flavor.
Crispy crunchy texture.
Healthier alternative to processed salty snacks.
Easy to make in the oven!
You won't be able to eat just one handful!
Just Three Ingredients
Here's all you need to make flavorful roasted chickpeas for snacking:
Chickpeas – Also called garbanzo beans. We used canned chickpeas in this recipe.
Olive oil – You'll toss the chickpeas in it before roasting them.
Taco seasoning – Our Homemade Taco Seasoning mix is perfect for these spicy chickpeas!
Tips and Tricks
Once you learn how to make roasted chickpeas, you can almost do it in your sleep!
It's a simple process of peeling the chickpeas and tossing them with olive oil and seasoning. Then you spread them out on a baking sheet and roast them in the oven until brown and crunchy.
For BEST spicy roasted chickpeas, do not skip the peeling! Pinching off the thin skin of each legume only takes an extra couple of minutes and the results are well worth it. The skins contain a lot of moisture which can prevent chickpeas from getting crunchy.
After peeling, I recommend giving them a good pat down with a paper towel, too. The drier your chickpeas are before roasting, the crunchier they will be.
One more secret to perfect roasted chickpeas: stir them every 10 minutes. Moving them around frequently as they bake helps the chickpeas cook evenly without overbrowning on one side.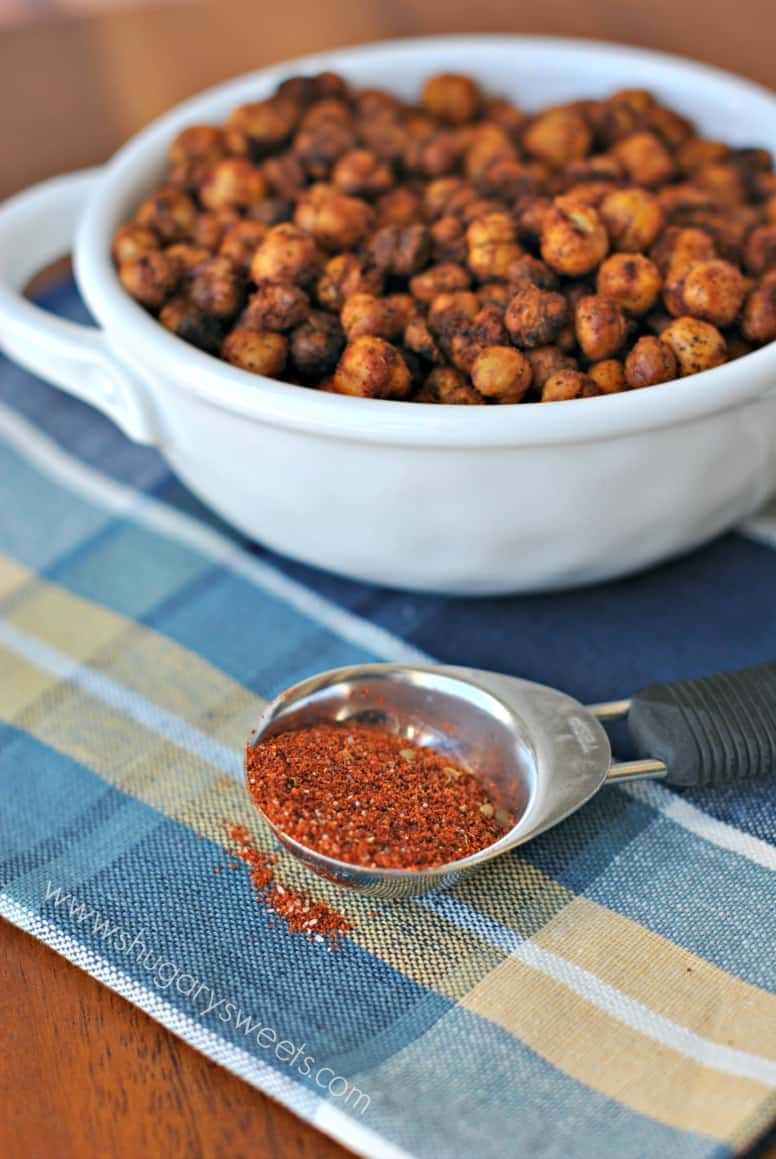 Recipe FAQs
How do you peel chickpeas?
For this recipe, you can peel the chickpeas one by one with your finger tips. After draining and rinsing, hold each one between two fingers and gently squeeze to slide the skin off.
Can roasted chickpeas be made ahead of time?
Homemade spicy roasted chickpeas taste best eaten the same day they are baked. Any chickpeas you won't eat the same day can be stored in an airtight container at room temperature.
Can I use store bought taco seasoning for chickpeas?
Yes, you can use any taco seasoning blend you like in this recipe, including the store bought packets.
How long does it taste to roast chickpeas in the oven?
The exact time depends on your individual oven and how crispy you like your spicy roasted chickpeas. I give mine a solid 40 – 50 minutes in the oven to achieve the perfect texture because I like them as crispy as possible.
This easy three ingredient chickpea recipe turns ordinary garbanzos into an irresistibly flavorful snack. You'll love munching on these crunchy legumes anytime of day or night.