Chai spices and sweet apples baked into one delicious loaf! Chai Apple Bread is a moist, sweet and filled with real apple pieces. Bake up a loaf to fill your kitchen with a tantalizing aroma of classic fall flavors.
Pour a cup of coffee or tea with a splash of Pumpkin Coffee Creamer to enjoy with this bread. If you love all things apple, you'll love this Apple Crisp Macchiato recipe too!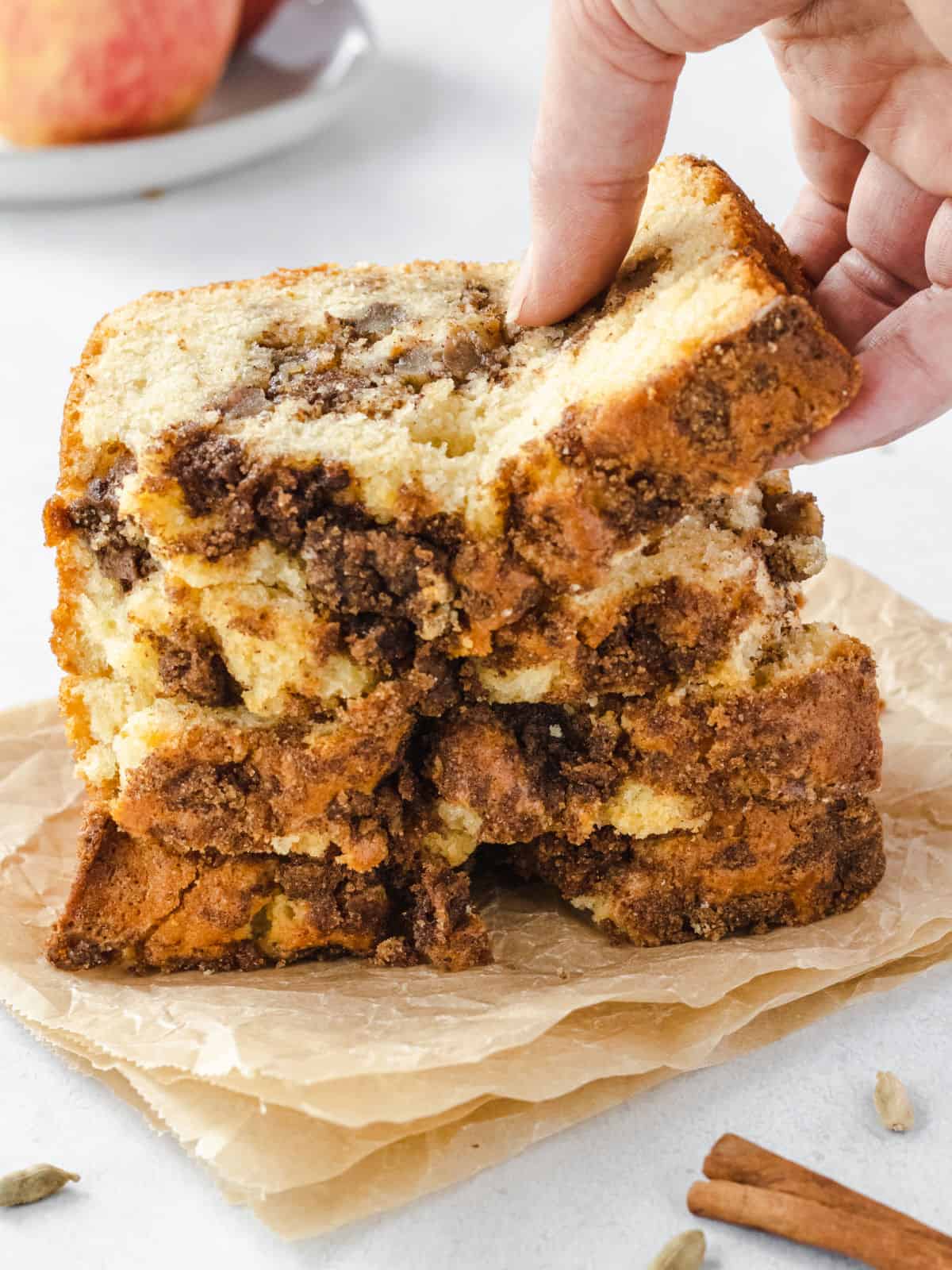 Why this Bread is Best
The chai spice mix adds an unexpected twist to classic apple bread.
Warming cardamom and cloves are complemented by the sweetness of brown sugar and apple.
This bread has real pieces of apple in each bite!
It stays moist and delicious, even the next day.
I can't believe how amazing this made my kitchen smell! It's like the best apple pie you've ever made meets the most flavorful chai you've ever tasted.
You'll love eating this Chai Apple Bread on its own for breakfast, dessert or an afternoon pick-me-up.
If you can double the recipe, set aside a loaf for our delicious Apple Bread Pudding.
Ingredient Notes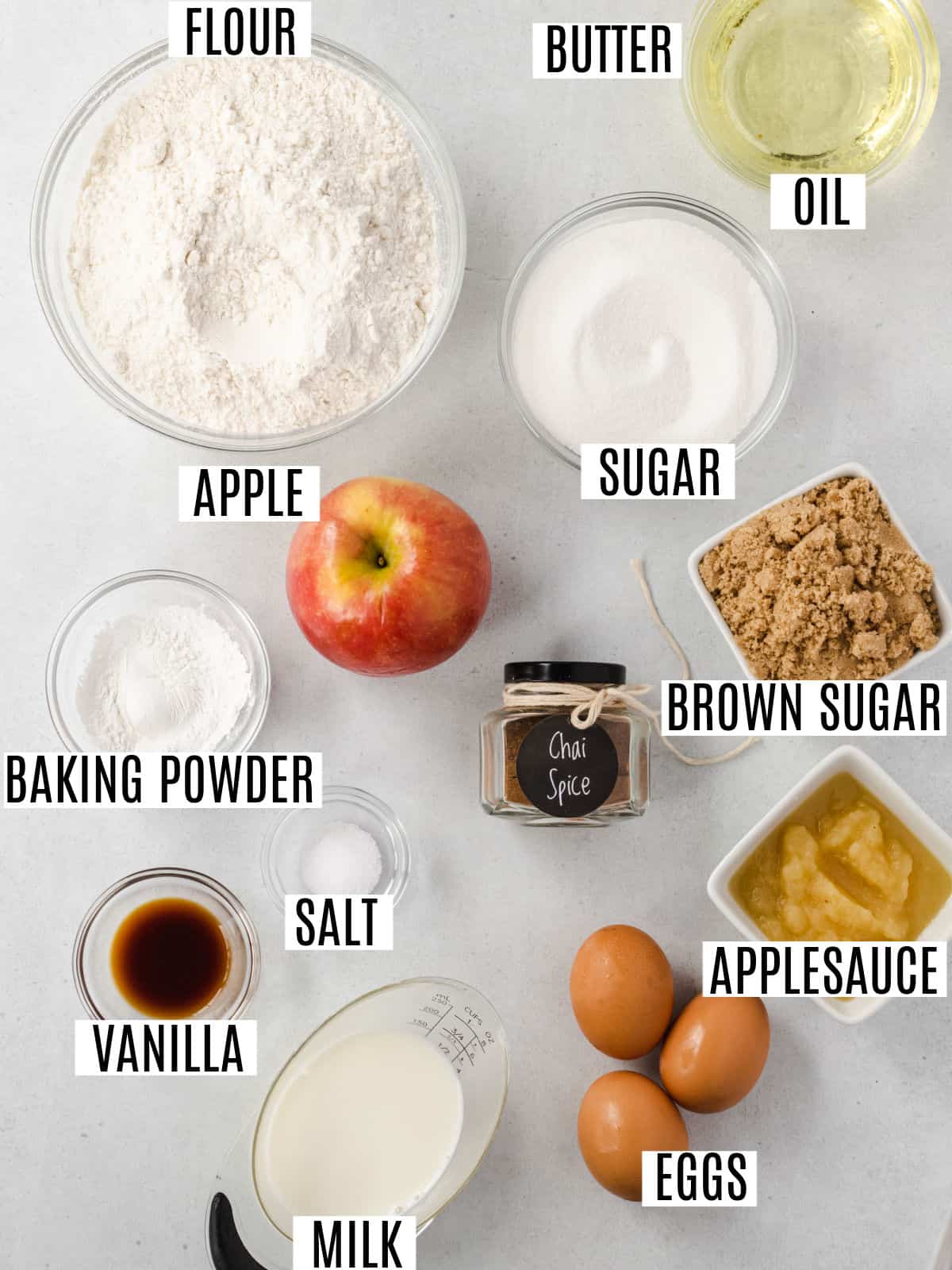 Applesauce. In addition to adding a little bit of fiber and nutrition, applesauce also adds helps keep the bread moist. An equal amount of oil can be substituted for the applesauce. If eliminating the applesauce, use a total of 1 cup of vegetable oil.
Milk. It adds even more moisture to the chai apple bread bread. You can use any milk you like. Even plain unsweetened nondairy milks work.
Eggs. Use room temperature eggs for best results. They incorporate into the other ingredients more readily while helping the bread rise more.
Chai spice mix. This is a blend of spices used in masala chai tea and chai lattes. I make my own chai spice mix. If using a store bought mix, make sure it contains just the spices and no tea.
PRO TIP- We love making our own homemade vanilla extract, but if using store bought, be sure it's pure extract, not imitation (for best flavor).
Easy Instructions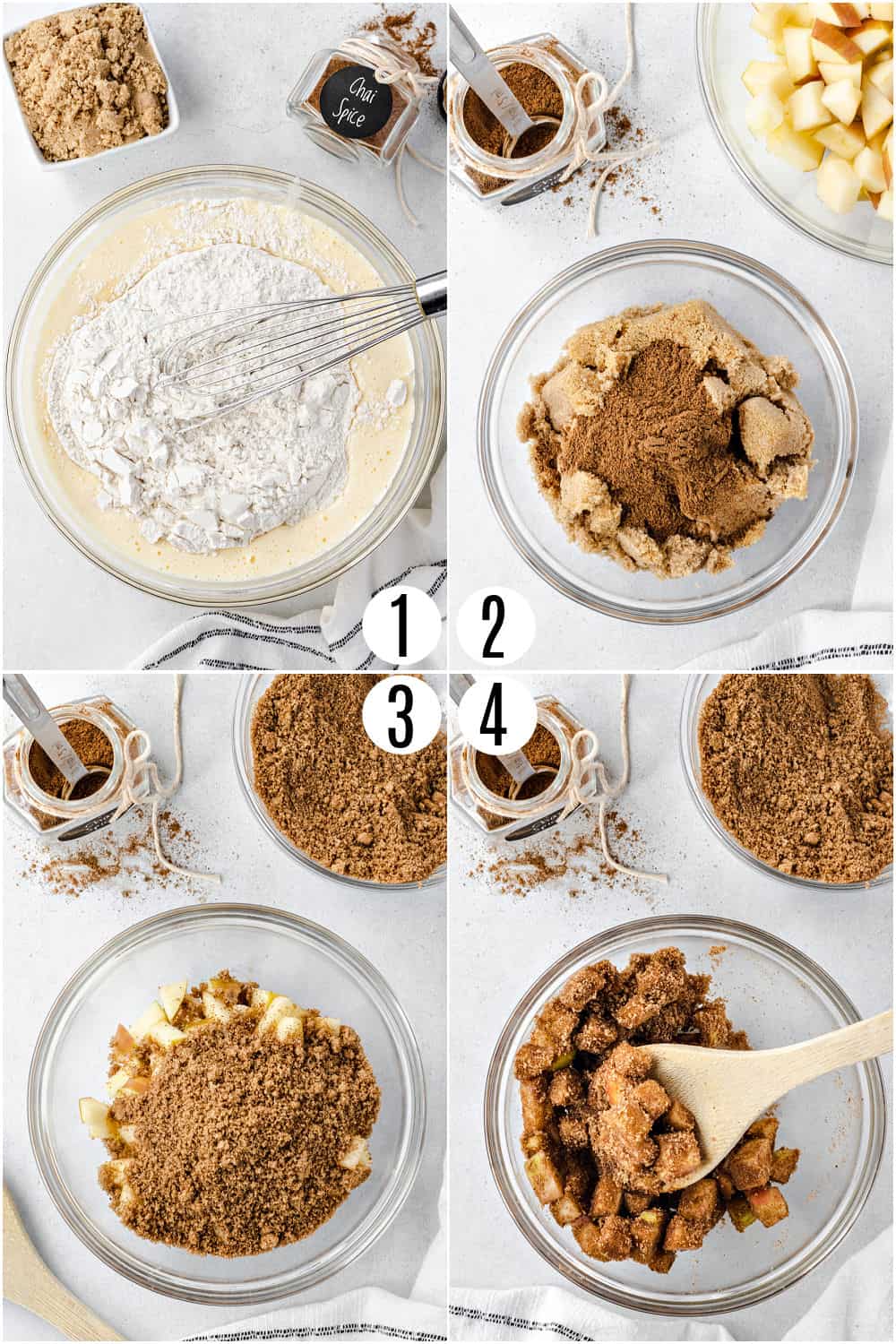 Start by mixing brown sugar with the chai spice mix.
Toss diced apples in half of this spice-sugar mixture. Mix a spoonful of melted butter into the other half of the mixture. Set aside.
Now, beat eggs and sugar in a mixing bowl until fluffy. Add vanilla extract, applesauce, oil and milk.
Mix in the dry ingredients until just combined.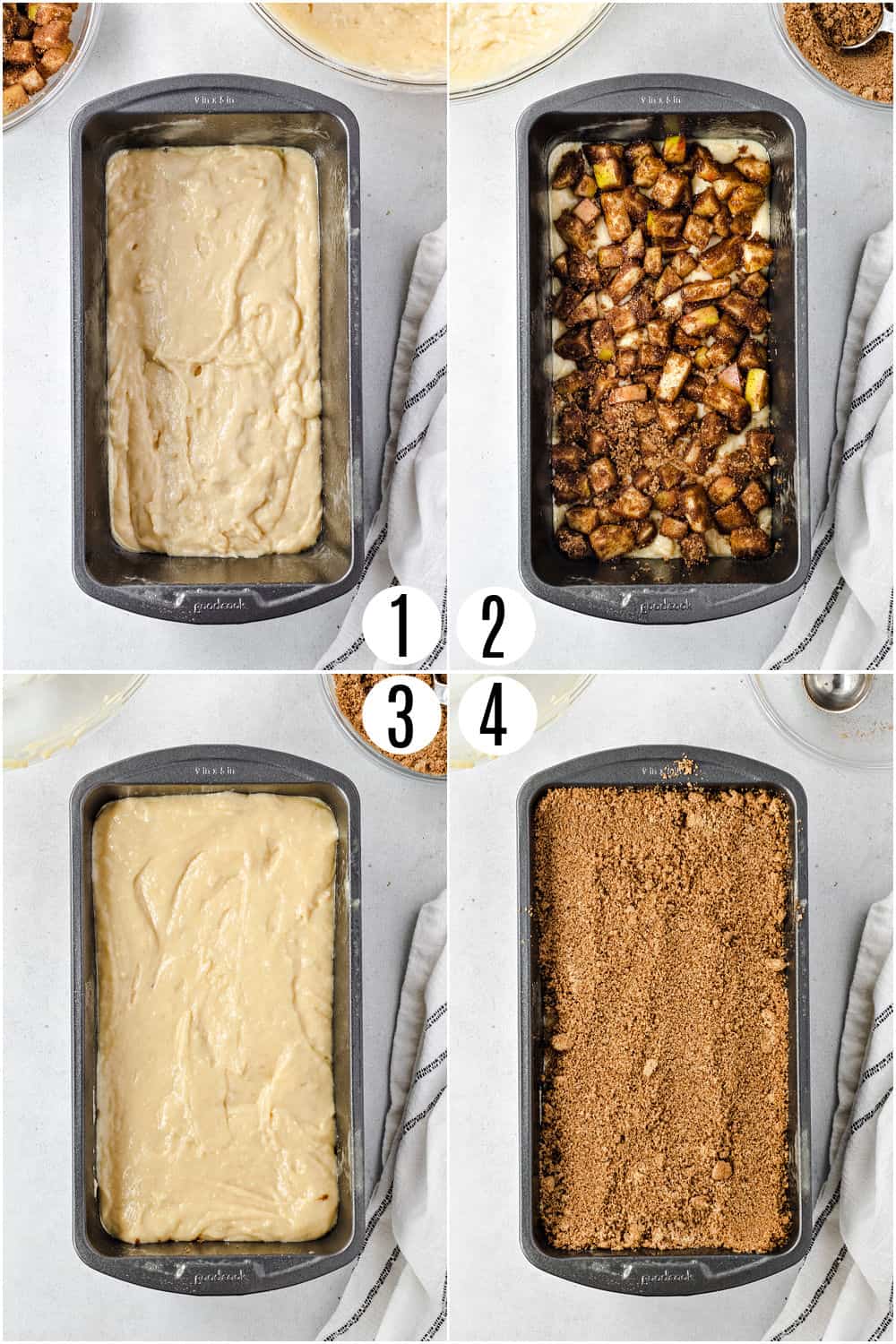 Transfer half of the thick batter to a greased loaf pan. Top the layer of batter with the spiced apples. Add the rest of the batter.
Finally, sprinkle the leftover brown sugar spice mixture on top.
Bake for an hour. Let the Chai Apple Bread cool in the pan before slicing and serving.
Tips and Tricks
Prevent overbrowning: the top of the bread may start to brown quickly in the oven. If this happens, cover the top with aluminum foil.
Toothpick test: Insert a toothpick into the center of the bread toward the end of bake time. The bread is done when the toothpick comes out clean.
Peeling apples: I prefer to use peeled apples in chai apple bread. You can buy pre-peeled apple slices in fresh packs at the grocery store to skip peeling altogether.
Do not over mix. The batter will be a bit lumpy after you add in the flour. Do not over mix or the bread will come out tough.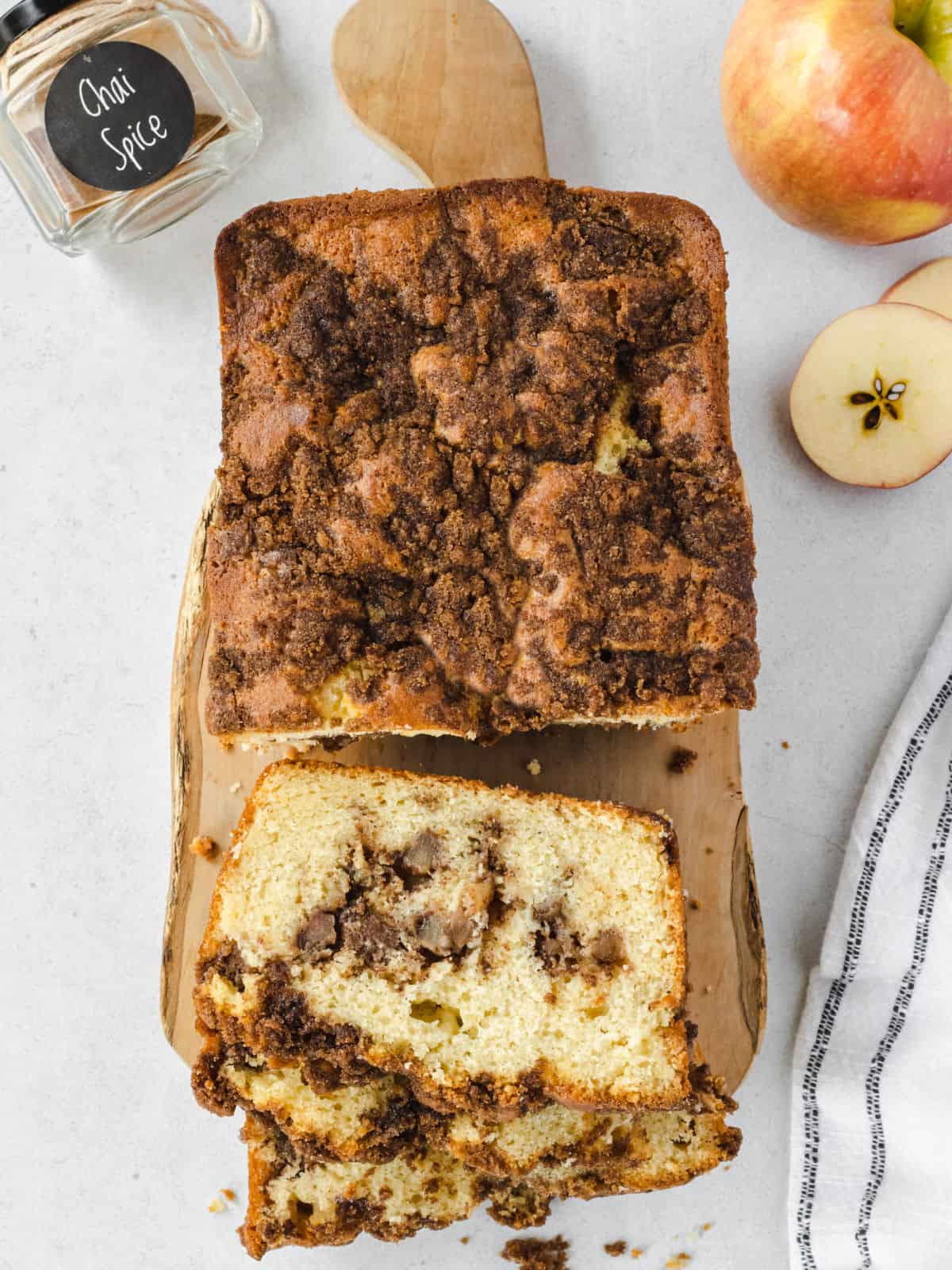 Recipe FAQs
What kind of apples are best for baking? 
I love to use honeycrisp apples in this recipe, but Granny Smith, Jazz, and Pink Lady apples also work well.
What is in chai spice mix?
My chai spice mix includes cinnamon, cardamom, ginger, nutmeg, cloves and black pepper.
How do I store the apple chai bread?
Store in an airtight container at room temperature for up to 5 days. To freeze, wrap in plastic wrap and then aluminum foil, or place in a freezer bag. It will keep in the freezer for up to 3 months
Can I make this bread as muffins?
To make muffins, spray a muffin tin with nonstick spray, or use cupcake liners. Fill each muffin cup with 2 tablespoons of batter. Add a tablespoon of apples to the center, then top with remaining batter to fill the muffin cup ⅔ full. Bake at 350°F for 18-23 minutes, or until a toothpick inserted comes out clean.
More Fall Dessert Recipes
Warming spices, a moist crumb and autumnal flavors make this Chai Apple Bread a must try recipe this fall!