This Rice Pudding recipe delivers comforting sweetness with a side of nostalgia. Filled with raisins and kissed with cinnamon sugar, this creamy pudding is delicious warm or cold.
Looking for a pressure cooker version? Try my Instant Pot Rice Pudding recipe!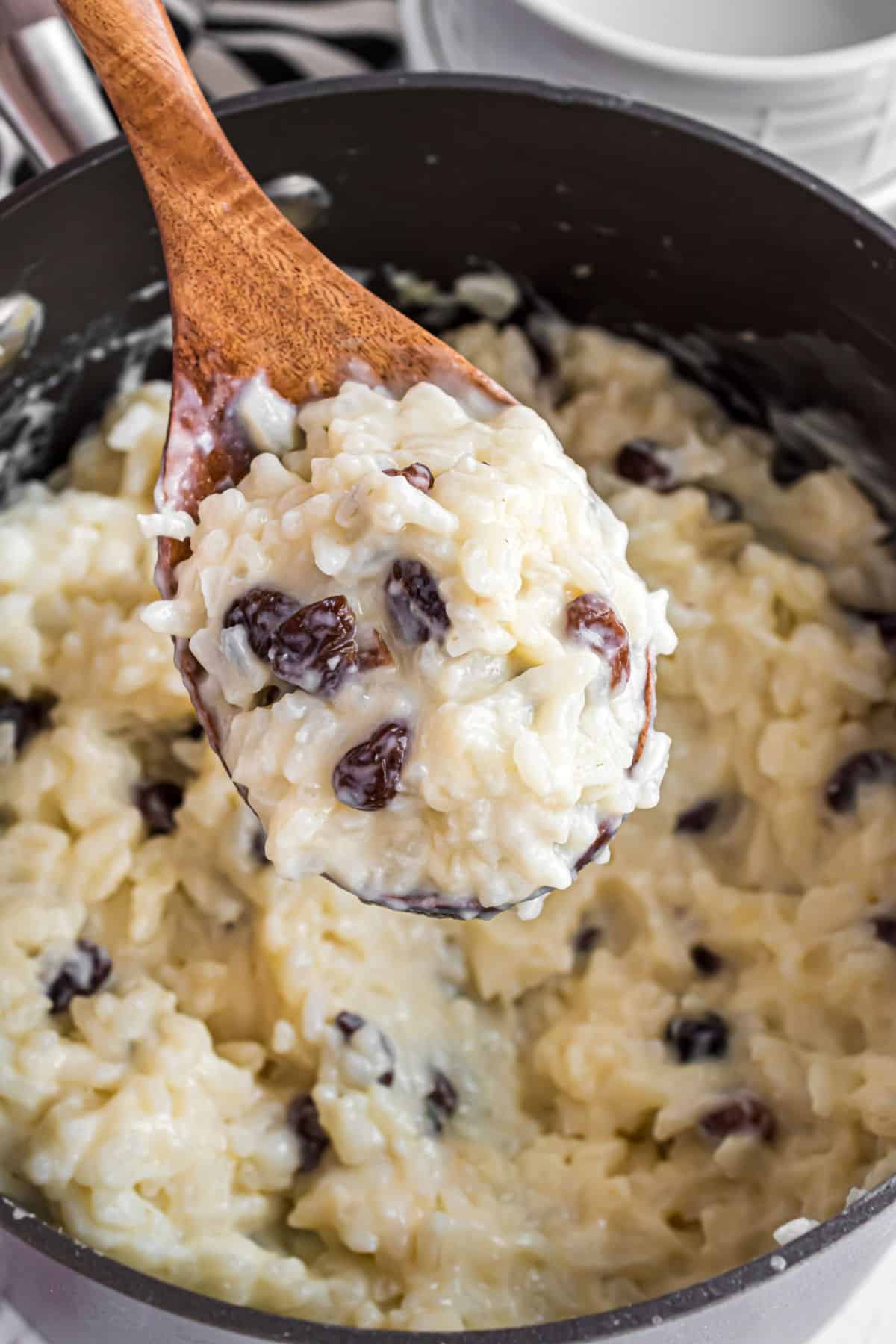 Why this Recipe Works
Did you eat rice pudding growing up? This nostalgic dessert always brings comfort on a rainy day.
Made with rice, butter and eggs, then sweetened with sugar, this old fashioned dessert comes together without any fuss.
My rice pudding is creamy and a little buttery, with just the right amount of sweetness. I add vanilla extract to give it an amazing and fragrant flavor.
I love this dessert with a handful of raisins sprinkled in–just like mom used to make. But it's delicious without raisins too!
A touch of cinnamon on top and your dessert is complete. Once you try it, I think you'll agree: this is simply the BEST rice pudding recipe!
Ingredient Notes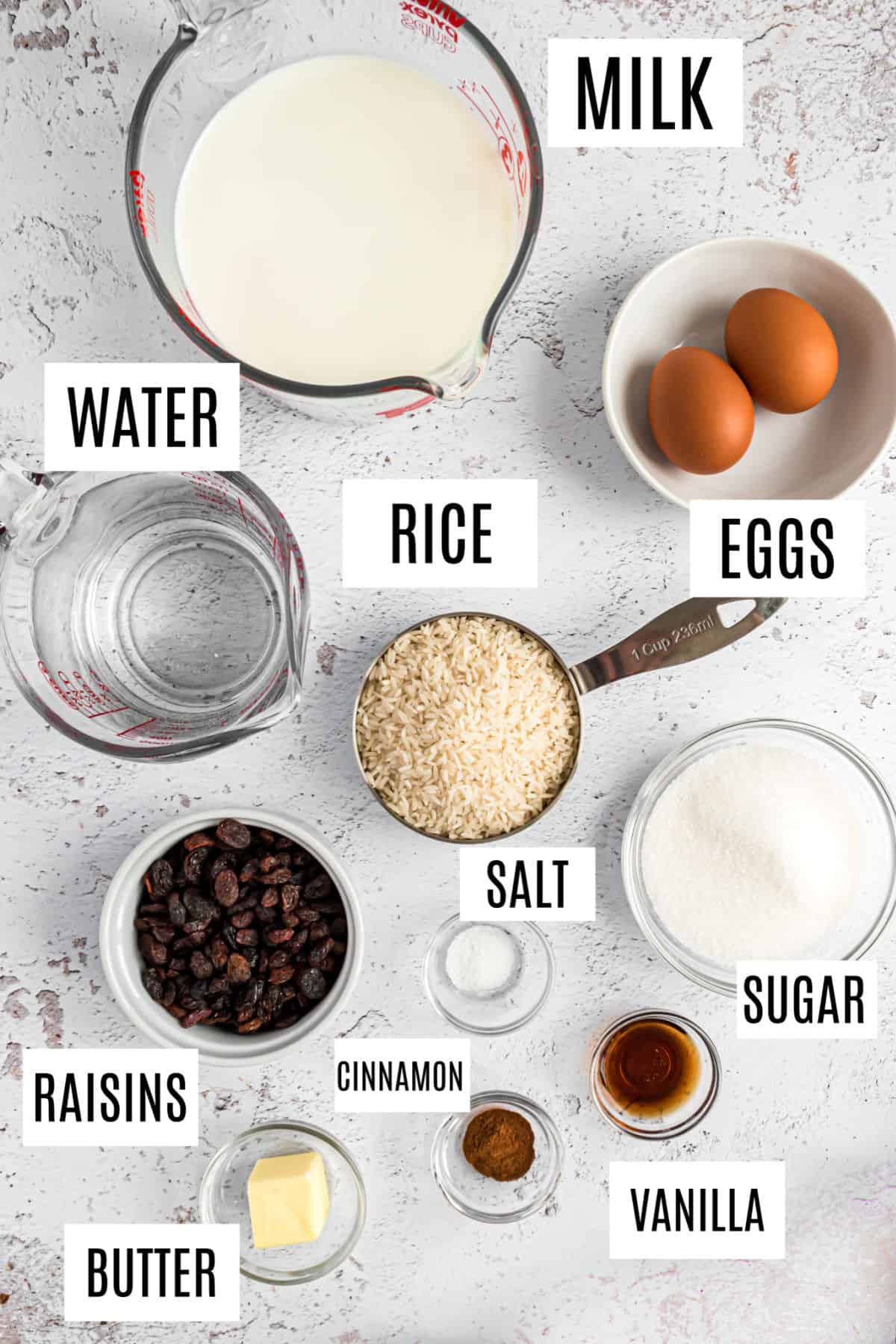 Long grain white rice. Do not substitute other rice in this recipe. Cooking time depends on the type of rice and size of the grain.
Raisins. Craisins or other dried fruit are delicious mixed in too.
Whole milk. Skim milk can be used, but thepudding will not be as thick and creamy.
Vanilla extract. Learn How to Make Vanilla Extract to make this homemade rice pudding pudding even better.
How to Make Rice Pudding
This entire rice pudding recipe can be made using just ONE sauce pan!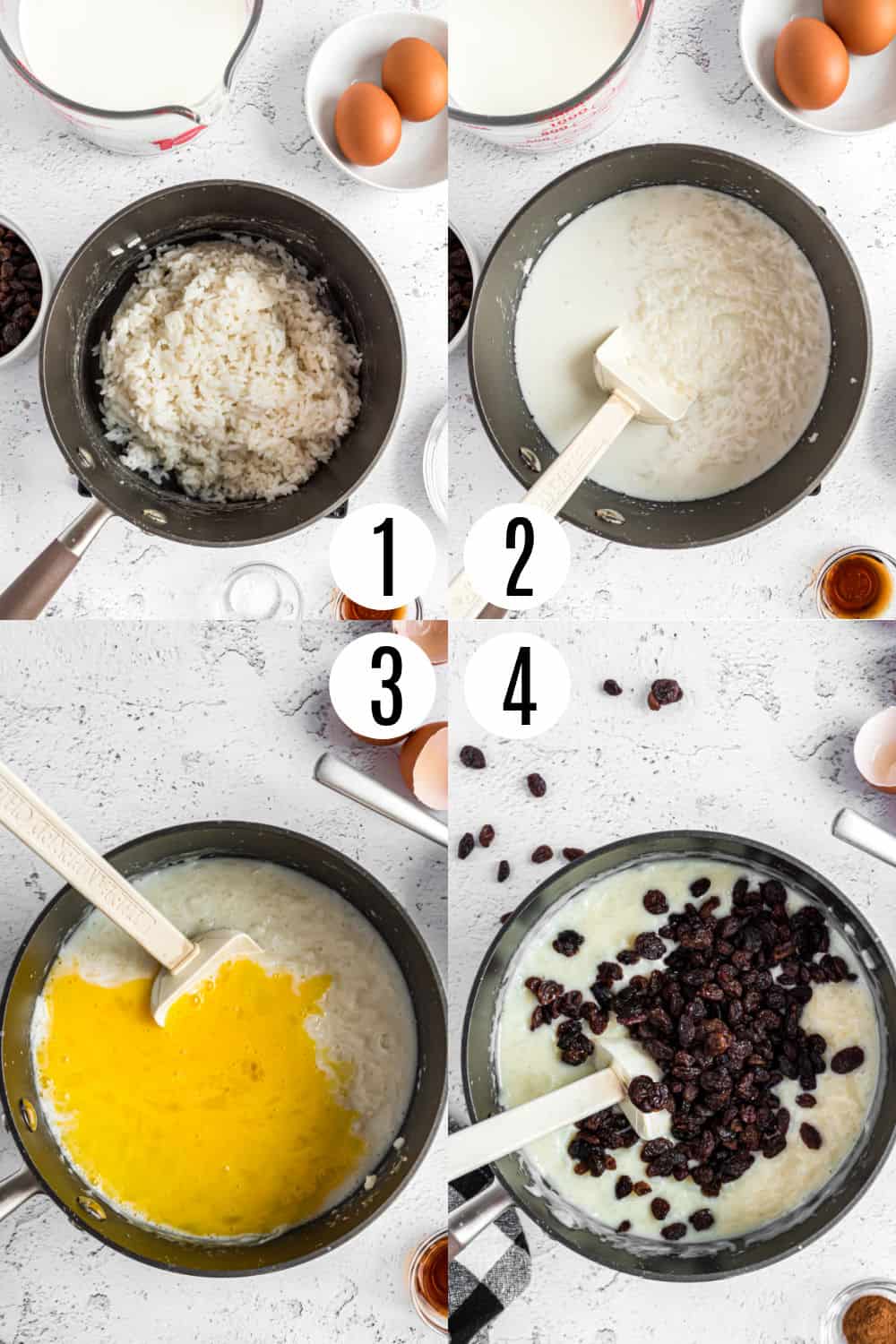 STEP 1. Cook rice
Bring water to boil in a sauce pan. Add rice. Cover and cook over low heat for about 20 minutes.
STEP 2. Add milk
Add milk and salt to the rice. Stir and cook for about 15 minutes, until the rice mixture is bubbly.
STEP 3. Add sugar and eggs
Stir sugar and eggs into the rice, with another 1/2 cup of milk. Combine well and cook for 2 -3 minutes to allow the egg to set. Stir in butter and vanilla.
Add some raisins or dried cranberries if desired.
STEP 4. Serve
Ladle rice pudding into bowls and sprinkle with cinnamon.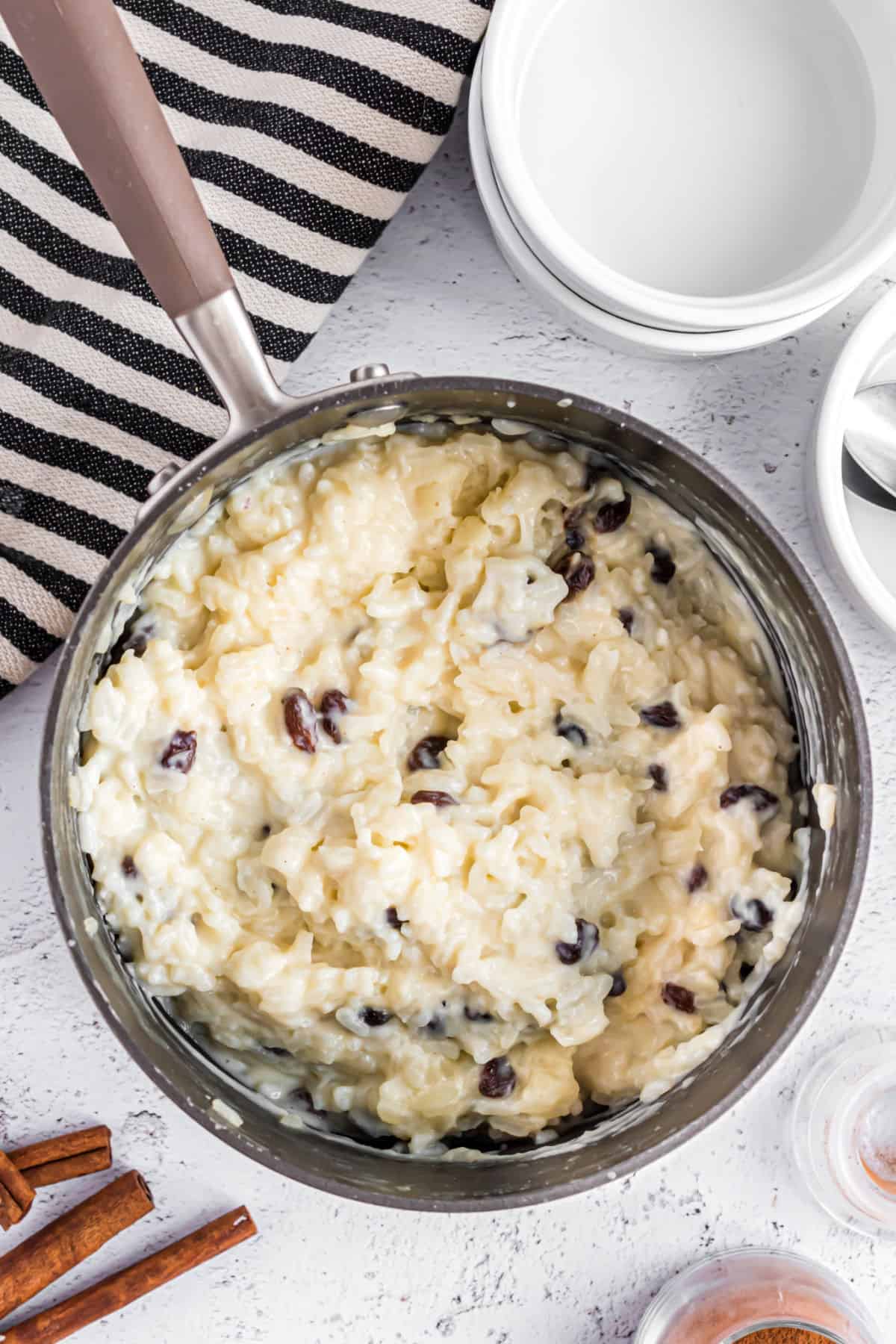 Tips and Tricks
Serving: This tastes delicious served warm, at room temperature OR cold. Perfect for leftovers!
Storing: Leftover pudding keeps well in an airtight container in the refrigerator. Enjoy within 4 days.
Beat the eggs before adding to the pudding: They will cook quickly into the bubbling rice, so beating before you add them helps ensure they get fully incorporated.
Toppings: Add some cinnamon, nutmeg and homemade whipped cream on top!
Recipe FAQs
Can rice pudding be reheated?
Yes, you can reheat this if you prefer the leftovers warm. I would add a tablespoon of milk, stir and reheat in the microwave until hot. Add more milk if needed to help the pudding reincorporate.
Can I make this recipe with brown rice?
No brown rice will not work in this recipe. It required a longer cooking time and has more dense fiber, which will disrupt the creamy soft consistency of the rice pudding.
Does the rice need to be rinsed for this recipe?
No, you should not rinse the rice for rice pudding. Rinsing removes the excess starch from the rice. In this case, you want all that lovely starch to help the pudding thicken.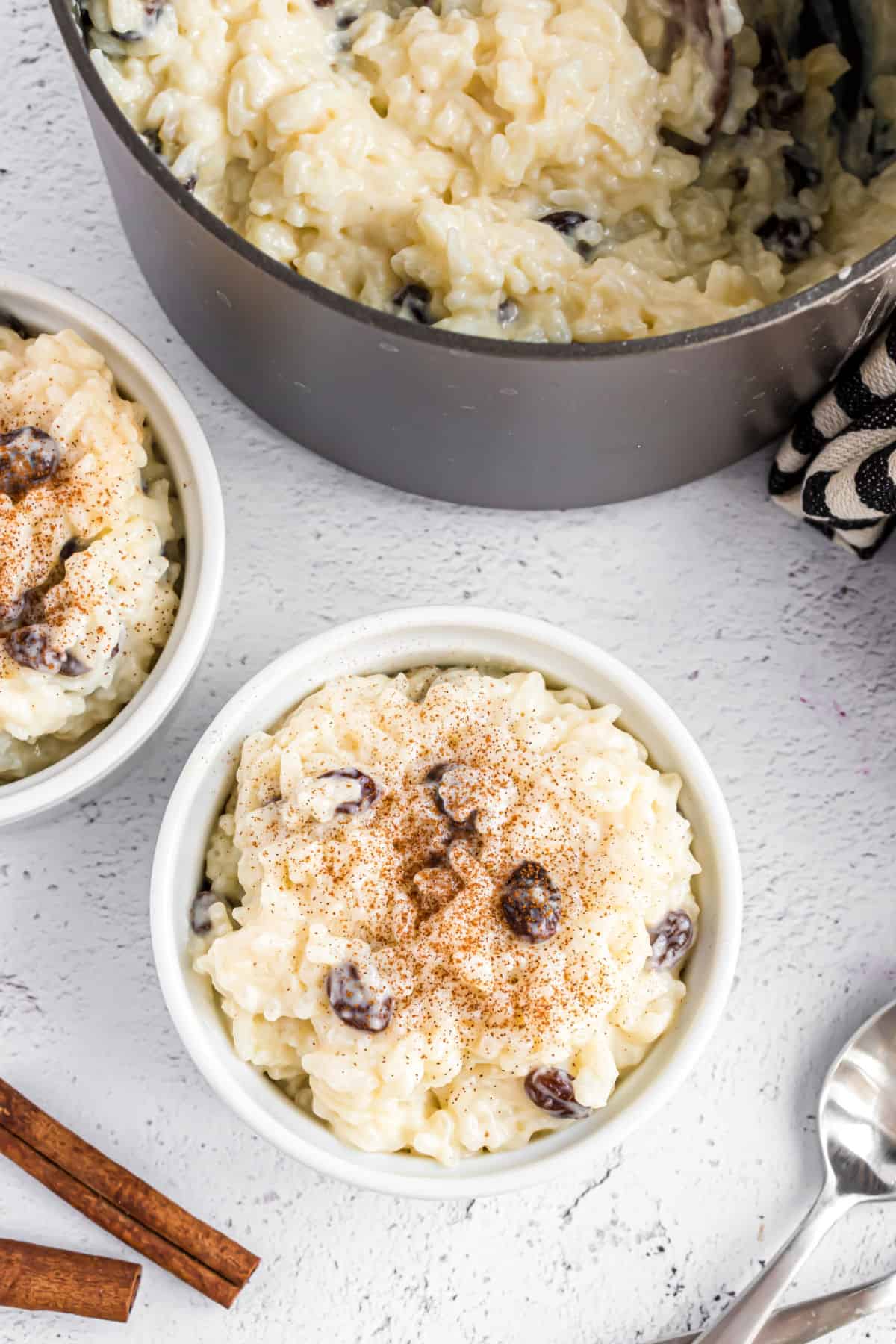 Whether you're a long time fan of rice pudding or a skeptic, this recipe will make you a believer. Rice Pudding comes together quickly with no hassle and a creamy sweetness that's hard to beat!