Hummingbird Cupcakes are moist, perfectly sweet and filled with pineapple, pecans and coconut both in the batter and in the cream cheese frosting on top. This fun twist on the classic Southern dessert will definitely be a hit!
Our cupcakes are filled with fruit and nuts, like an over the top banana bread! If you love today's recipe, try our classic carrot cake next!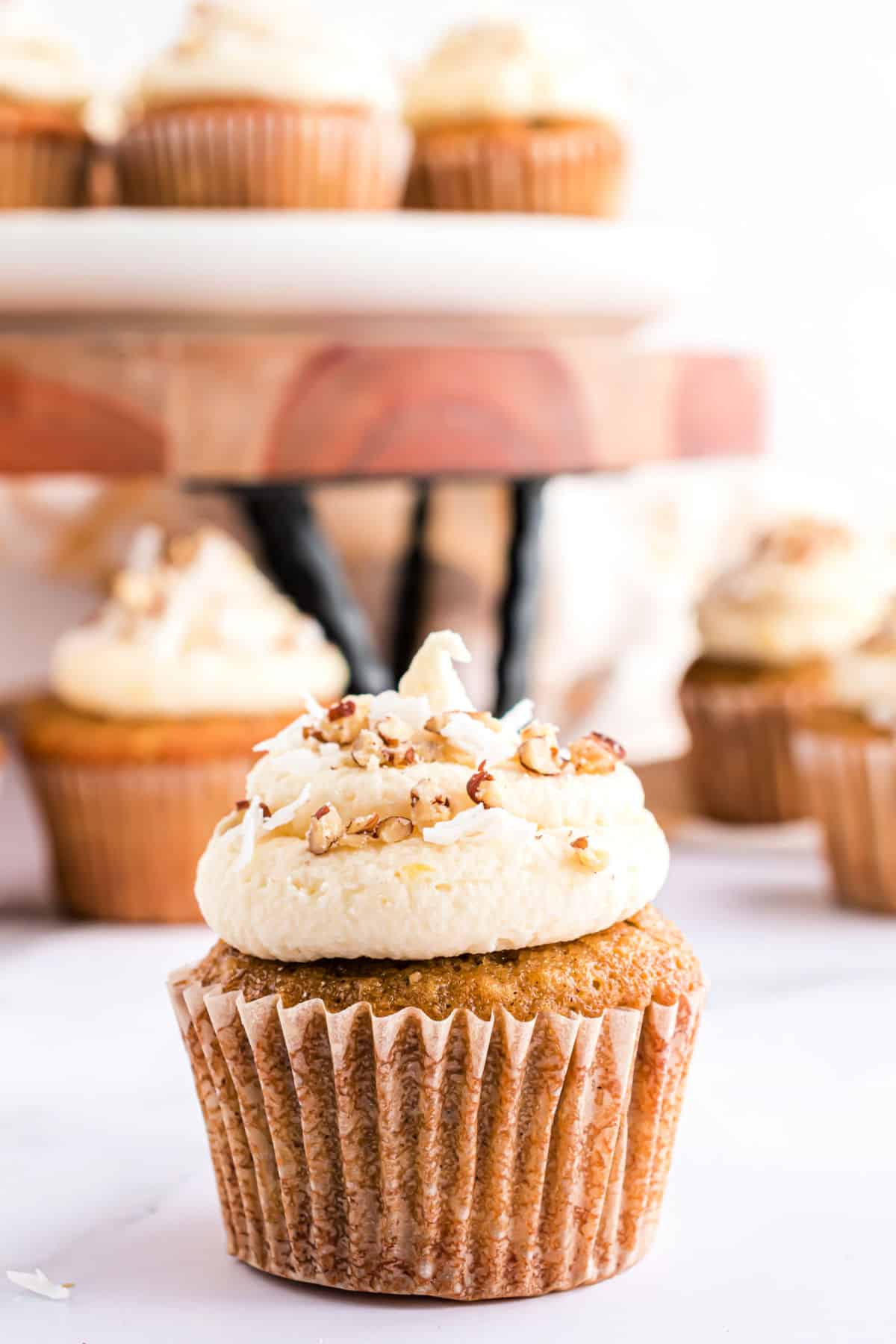 Why This Recipe is Best
If you love some fruit in your desserts, this is the ultimate cupcake recipe for you! Based off our reader favorite Hummingbird Cake recipe, it's a down home classic.
Pineapple, banana and coconut are baked into every bite, and the cupcakes are topped with a rich pineapple cream cheese frosting.
Ripe mashed bananas help keep the cupcakes super moist.
Coconut in the batter creates a fabulous crumb and texture. A bit untraditional, but worth it!
Pecans add a hint of nutty flavor and great crunch.
Pineapple for a sweet bite.
The cream cheese frosting takes these over the top!
Ingredient Notes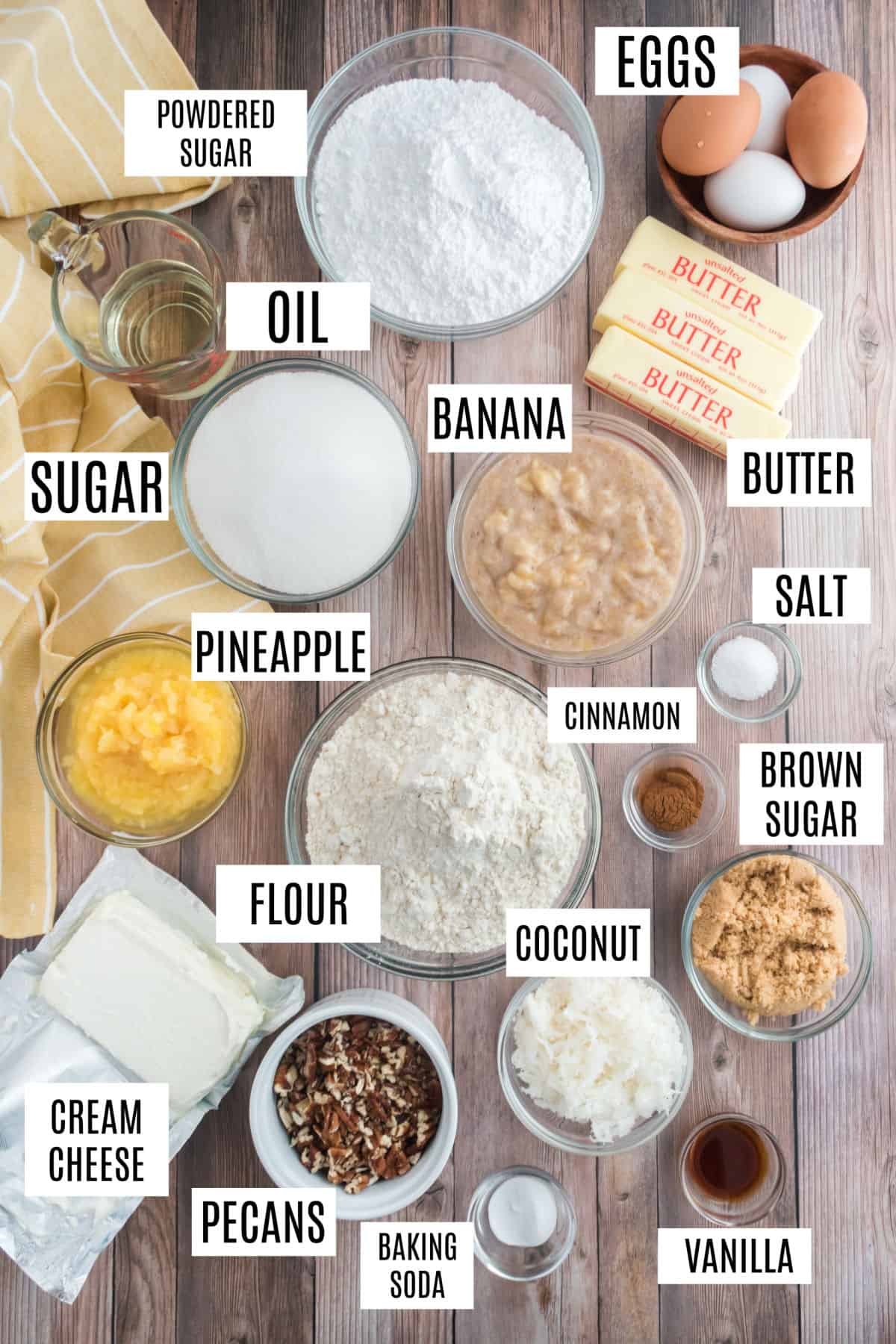 Bananas – Use very ripe or even overripe bananas in this recipe. The riper they are the more sweetness they add. We've got tips on how to ripen bananas quickly, in case yours are still yellow or green!
Crushed Pineapple – This recipe uses canned pineapple in both the batter and the cream cheese frosting. You will need one 8 ounce can in total.
Shredded Coconut – Make sure to use the sweetened kind. Or if you're not a fan of coconut, feel free to simply leave it out.
Pecans – These are the traditional nut used in hummingbird cake and add a great nutty flavor, but you could substitute walnuts if needed. You can also leave out the nuts if you need this dessert to be nut-free.
Vegetable Oil – Combined with butter, it makes the cupcakes dense and moist, but not tough. You can use any mild vegetable oil blend or canola oil.
Cream Cheese – For best results, use the full fat regular cream cheese that comes in blocks (not a tub) for the frosting.
Easy Instructions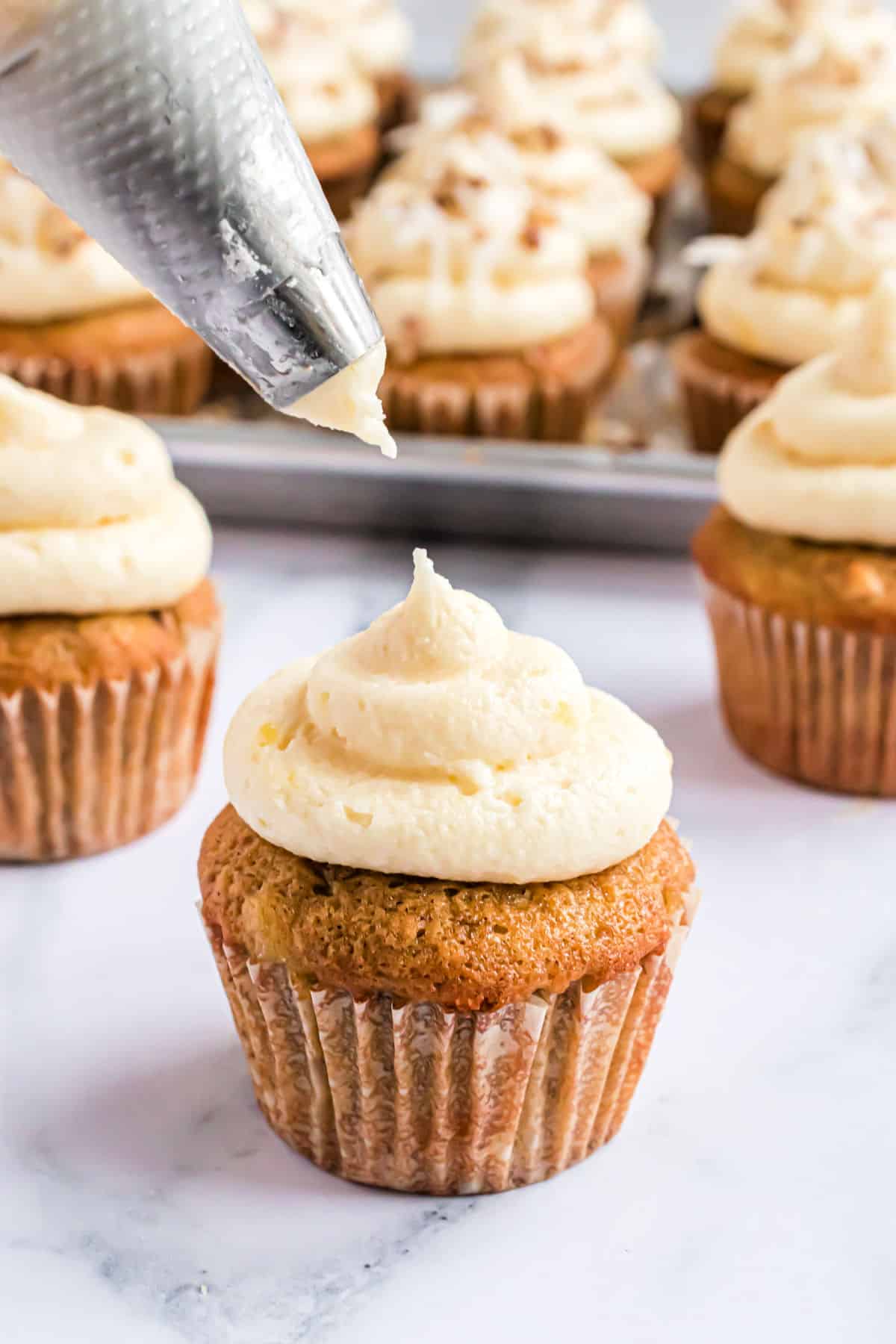 STEP 1. Make the cupcake batter. Beat together the oil, butter and sugars. Then add mashed banana, eggs and vanilla extract, followed by the dry ingredients. Fold pecans, coconut and pineapple into the batter last.
STEP 2. Fill and bake the cupcakes. Add batter to a cupcake tin lined with paper cupcake liners and fill each about 2/3 full. Bake at 375 degrees F for about 20-25 minutes. Remove from muffin pan and let cool completely on wire racks.
STEP 3. Make and chill the frosting. Beat the butter and cream cheese together until light and fluffy. Add the powdered sugar and vanilla, beat again, then stir in the pineapple. Chill for at least 30 minutes.
STEP 4. Frost and finish the cupcakes. Once the cupcakes are completely cooled and the frosting has chilled, pipe the frosting onto the cupcakes. Sprinkle with coconut and pecans and enjoy!
PRO TIP: Don't skip the pineapple in the frosting. It adds a tangy flavor that everyone will love!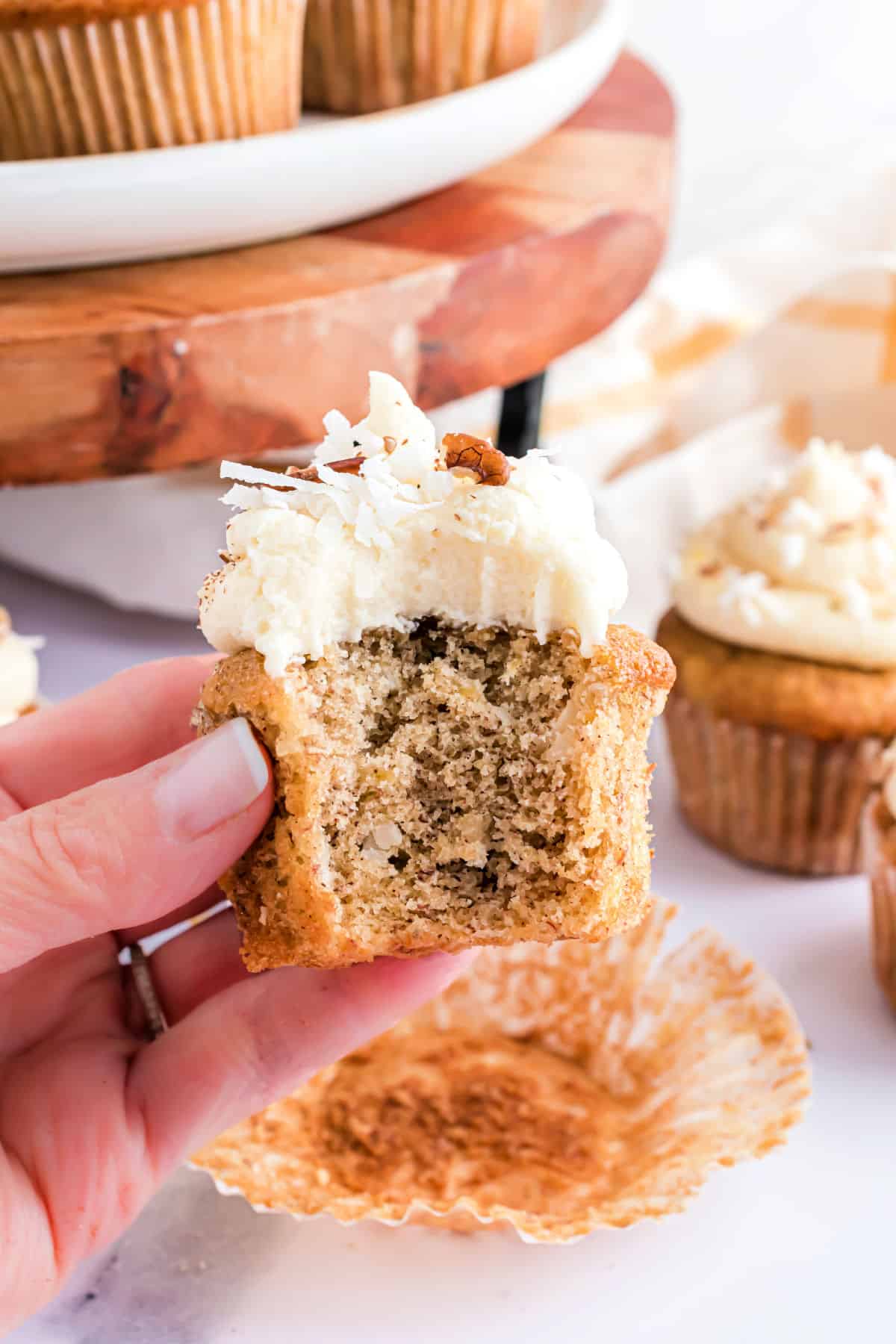 Tips and Tricks
Use room temperature ingredients. Be sure to let chilled items like the butter, cream cheese and eggs sit on the counter for a few minutes before using them in this recipe. Room temperature ingredients are much easier to mix for a smooth batter (or frosting).
Measure ingredients correctly. Often people scoop their all-purpose flour directly out of the bag, resulting in TOO much flour. Check out our tips on how to measure flour correctly (and make substitutions too).
No need to drain the canned pineapple for the batter. One 8 ounce can is what you'll need for the cupcakes and frosting together. Measure out the pineapple for the cupcake batter, then drain and use the remaining pineapple in the frosting.
Keep chilled. After frosting, store Hummingbird Cupcakes in the refrigerator until you're ready to serve. They taste amazing cold straight from the fridge and will stay fresh for up to 7 days.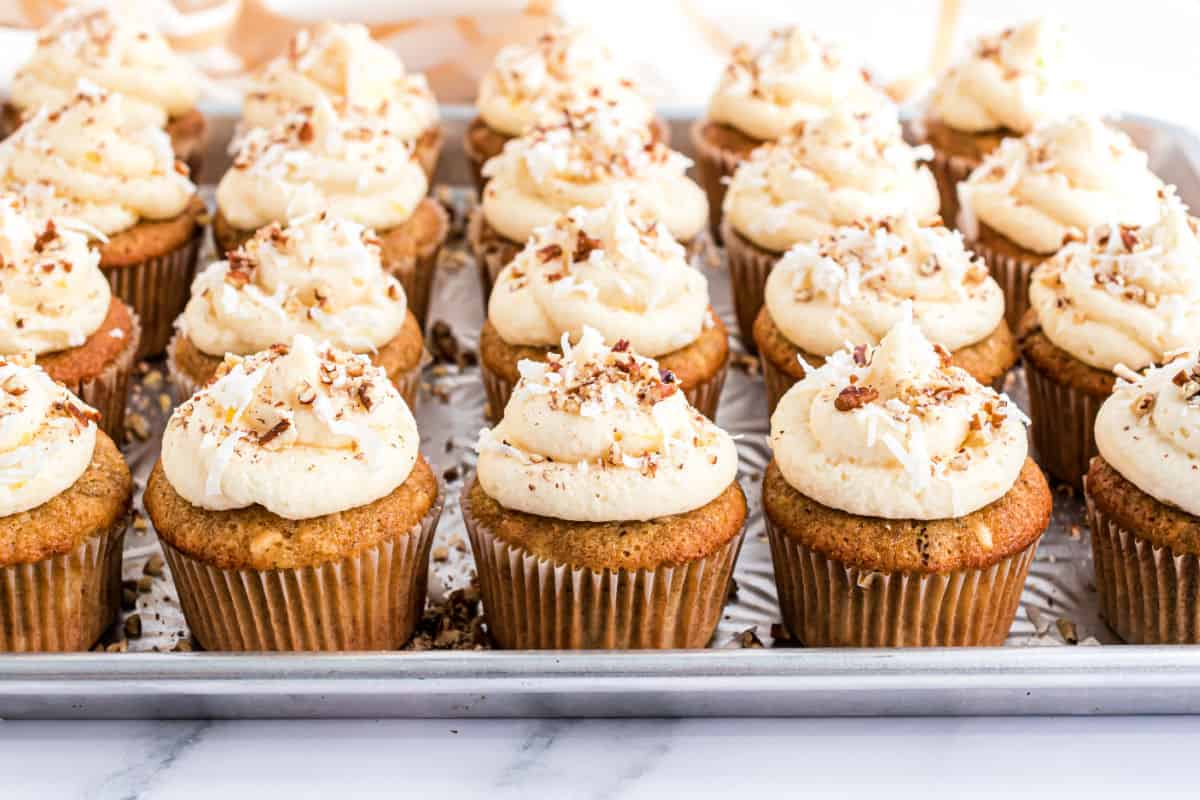 Recipe FAQs
Can I make Hummingbird Cupcakes without nuts?
Yes, you can omit the pecans in the cupcake batter and for topping the cupcakes if you need this recipe to be nut-free.
Can I leave out the coconut?
Sure. If you are not a fan of coconut, you can just leave it out. The cupcakes will still taste amazing.
Can I make this in a 9×13 pan instead of as cupcakes?
Definitely! Prepare the batter as directed. Grease and flour a 13×9 inch baking dish. Add all of the batter and bake for 48-53 minutes, until a toothpick inserted in the center comes out clean. You'll only need ½ of the frosting recipe.
Can I freeze Hummingbird Cupcakes?
Yes, the cupcakes can be frozen without the frosting. Wrap them tightly in foil, then place in freezer bags. Freeze for up to 2-3 months. When ready to eat, let the cupcakes thaw in the refrigerator then add the frosting before serving.
More Easy Desserts