Oreo Brownie Cake is a decadent treat with three layers! Starting with a brownie base and topped with two layers of white cake, this cake is covered with Oreo frosting and chocolate ganache!
Love decadent cakes? This Salted Caramel Chocolate Cheesecake Cake is to die for. As is this delicious Watergate Cake.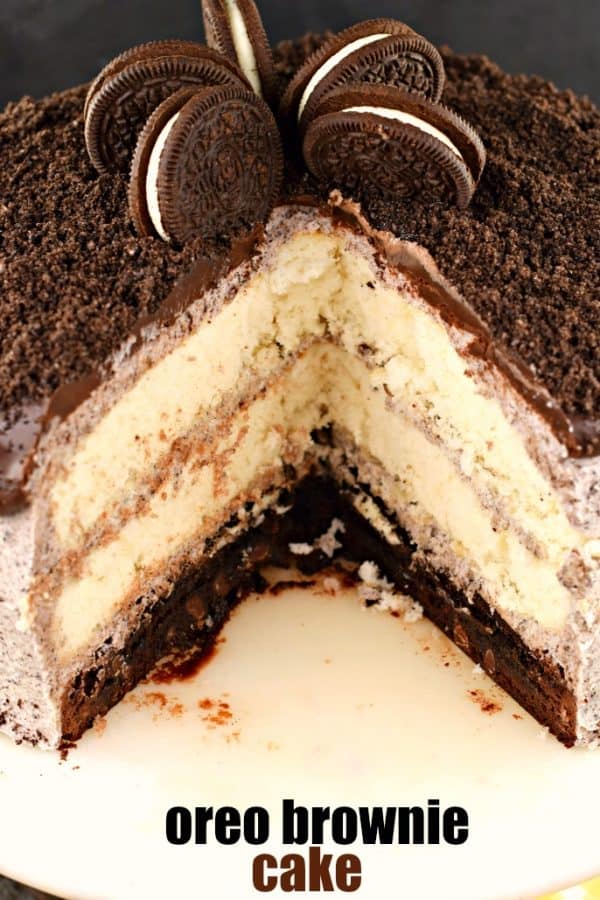 Why this Recipe Works
Today's Oreo Brownie Cake is the ultimate dessert. Whether you need a chocolate treat for Valentine's Day, a birthday, or just a regular Thursday evening, THIS cake is the answer.
Rich brownie base
Packed with Oreos
Three decadent layers
Topped with cookies 'n' cream frosting!
The appearance of this brownie cake is nothing short of magical. And it tastes even better. If you love chocolate and Oreo cookies, you need an Oreo Brownie Layer Cake in your life.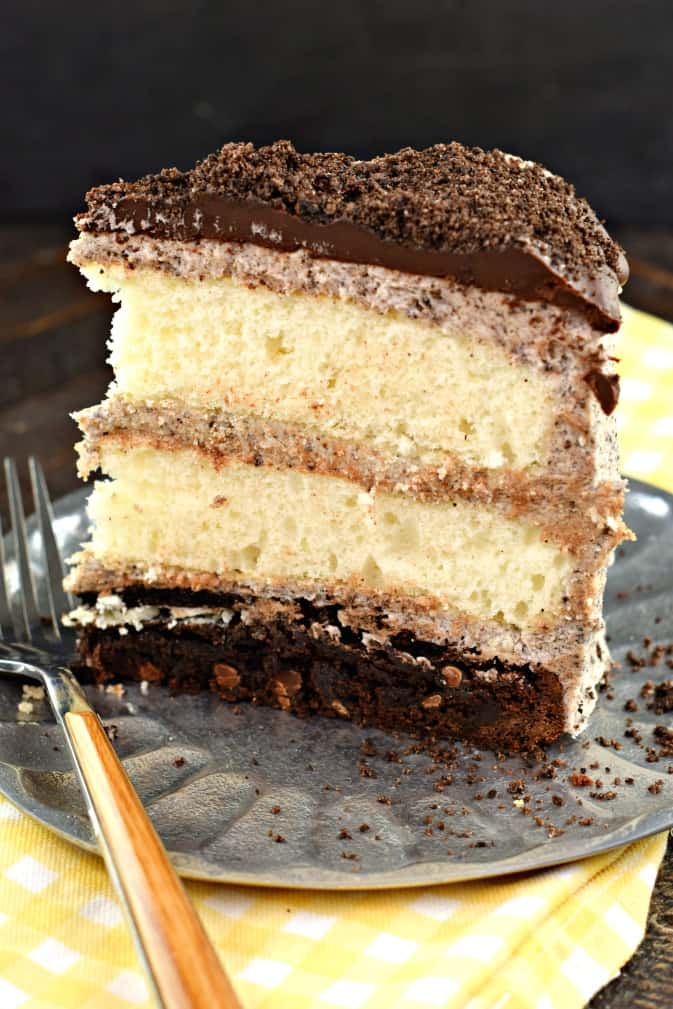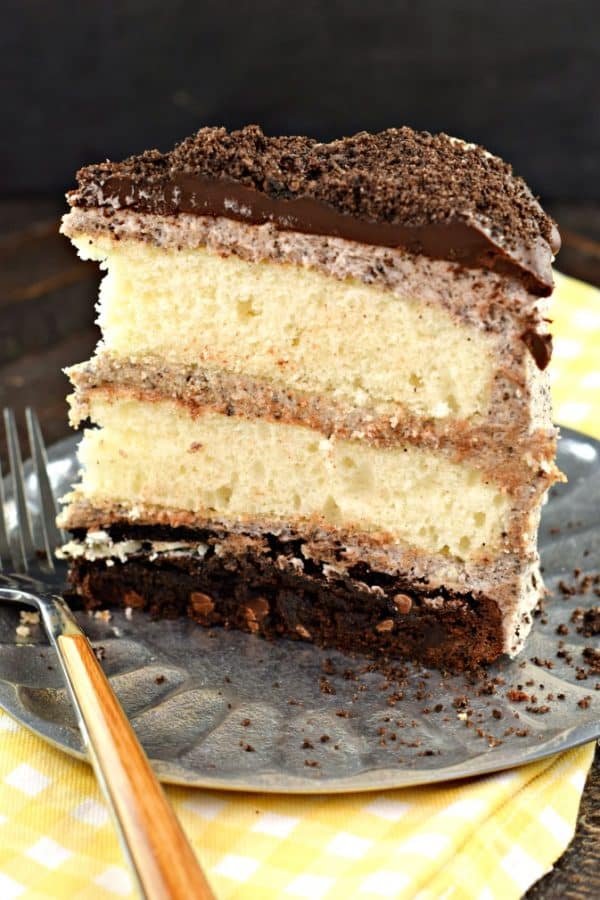 Ingredient Notes
Brownie mix – I recommend the Ghirardelli Triple Fudge Brownies for a no-hassle brownie layer that perfectly rich and chocolatey.
Double stuffed Oreos – These are pressed into the brownie layer before baking. You'll need additional Oreos for blending into the frosting too.
Cake flour – This flour has less protein than all-purpose and gives the cake layer a softer crumb.
Egg whites – Along with cake flour, separated egg whites make the white cake soft and fluffy, but sturdy enough to hold up to the frosting in this recipe.
Ghirardelli dark chocolate morsels – I love the deep cocoa flavor of higher quality chocolate here. The morsels are melted with heavy cream to create an easy chocolate ganache topping.
The Layers
The secret to the BEST Oreo Brownie Cake is in the layers.
1.Oreo brownies: You'll follow the instructions on the box, but bake the brownies in a round spring form pan instead. Don't forget to press Oreo cookies into the brownie batter before baking!
2. White cake: Two homemade white cake layers go on top of the brownies.
3. Oreo frosting: The frosting is blended with Oreo cookie crumbs, then spread over each layer of this brownie cake.
4. Chocolate ganache: A silky ganache gives this Oreo Brownie Cake the perfect finishing touch of decadence.
5. Garnish: I like to sprinkle more cookie crumbs over the ganache, then garnish the cake with one whole Oreo cookie on top.
Tips and Tricks
Don't waste your yolks! Separate out the egg whites, then use the yolks to make Lemon Curd or an Apple Slab Pie.
Let the layers cool completely before assembling. If they're warm, they will make the frosting runny.
Store this Oreo Brownie Cake covered at room temperature. It's best enjoyed within 3 days.
Recipe FAQ
Can I use my own brownie recipe instead?
You sure can! This easy brownie recipe (sans frosting) would be perfect too.
I don't have a spring form pan. Can I still make this brownie layer cake?
Yes, you can use a regular round cake pan (8 or 9 inch) instead. Line the bottom with a circle of greased parchment paper. The circle of parchment should be large enough that the sides hang over the edges of the pan.

Once the brownie layer is baked, let it cool for a few minutes in the pan. Then use the sides of the parchment to life the whole layer out of the cake pan in one piece.
What other kinds of Oreos can I use?
We love the extra cream filling in the double stuffed Oreos, but regular Oreos are good too! Peanut butter Oreos, peppermint Oreos and double chocolate Oreos are other great ways to change up the flavor of the cake.
Can I make the cake layers from a boxed mix?
Yes, your favorite white cake mix should work just fine. Follow the instructions on the box for baking two 9 inch round layers. Then assemble the Oreo Brownie Cake as directed.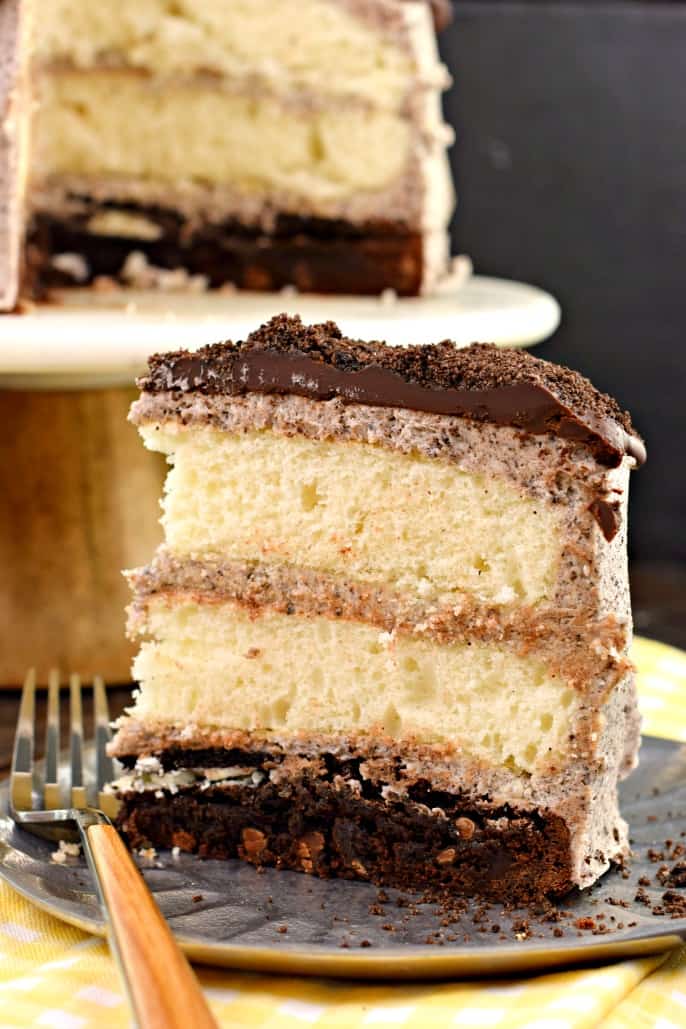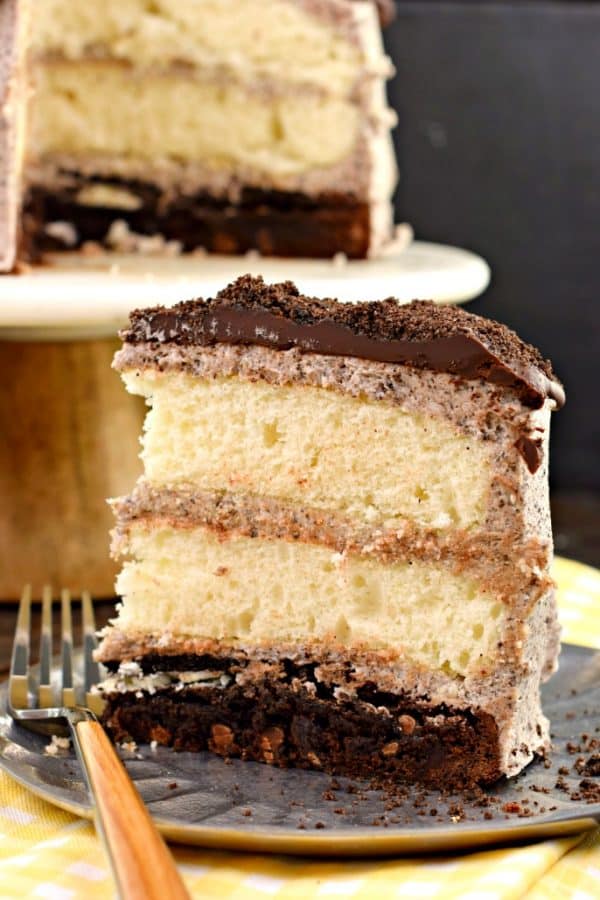 Can't decide between Oreos, brownies or chocolate cake? Have them all with this layered Oreo Brownie Cake recipe!