Oreo Brownie Cake is a decadent treat with three layers! Starting with a brownie base and topped with two layers of white cake, this cake is covered with Oreo frosting and chocolate ganache!
Love decadent cakes? This Salted Caramel Chocolate Cheesecake Cake is to die for. As is this delicious Watergate Cake.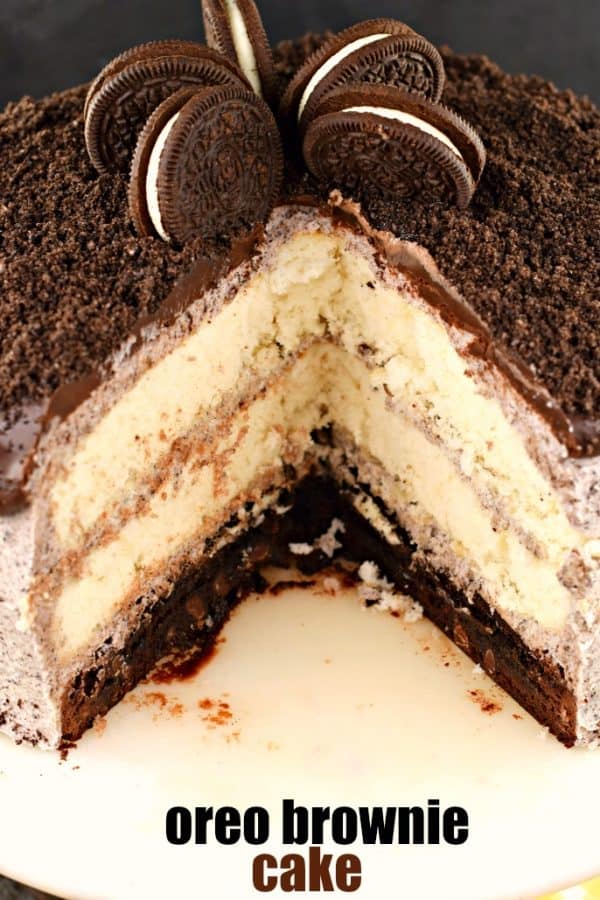 Why this Recipe Works
Today's Oreo Brownie Cake is the ultimate dessert. Whether you need a chocolate treat for Valentine's Day, a birthday, or just a regular Thursday evening, THIS cake is the answer.
It starts with a brownie layer on the bottom. Not just any brownie though, I made the Ghirardelli Triple Fudge brownies, in my 9-inch springform pan. Holy fudge. Packed with chocolate, chocolate fudge, and chocolate chips, these brownies are amazing!
I also pressed in a dozen Oreo cookies to my brownie batter before baking. I mean, it's not an Oreo Brownie Cake until it's packed with Oreos!
For the cake layers, I made my homemade white cake recipe. I love how thick and delicious they turn out, and hold up to the frosting!
Once you have your brownie layer and your cake layers made, it's time to get going on the frosting! I took about 15 double stuff Oreo cookies and put them in my food processor, until they became crumbs. I added most of it to the buttercream frosting, and spread it evenly over the layers and outside.
I topped this decadent cake with some dark chocolate ganache.