Watergate Cake brings together pistachio, coconut, and pudding in a delicious layer cake! A light whipped frosting and pecans on top make it hard to stop at just one slice.
Looking for a cupcake version of this vintage cake? Try my Watergate Cupcakes recipe.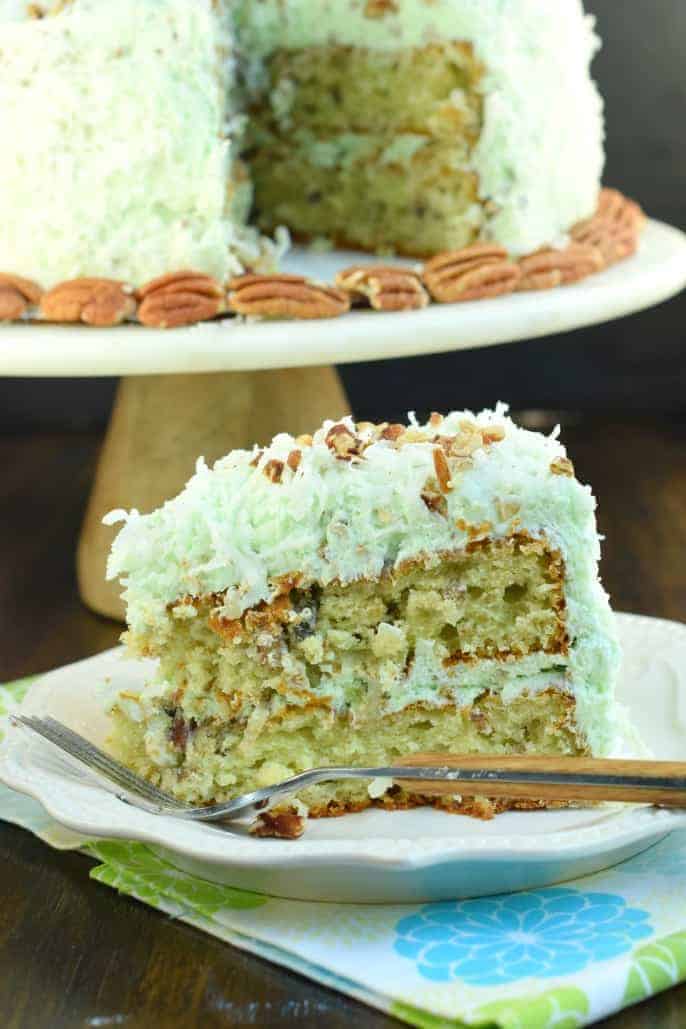 What is Watergate Cake
If you have any of those old-school church or neighborhood cookbooks, I can bet you there will find at least one recipe for Watergate Cake.
Watergate Cake is about as classic as it gets. There are probably a million variations within each family, but the general elements are white cake mix, pistachio pudding mix, 7Up, coconut and pecans.
You may be familiar with this Watergate Salad recipe…seriously amazing!
Why this Recipe is the BEST
Every family has their version of a Watergate Cake recipe, and this is ours.
Some families make their Watergate Cake recipes as a Watergate bundt cake, Watergate cupcakes, or sheet cake, but I like that this one is a layer cake. It adds some extra drama to this retro recipe.
The great thing about Watergate Cake, though, is that it starts with a white cake mix, so it's pretty quick and easy to make.
Adding pistachio pudding mix and lemon-lime soda makes it extra light and moist, and the chopped pecans and coconut add texture and flavor.
The frosting uses Dream Whip (a shelf-stable version of Cool Whip) as the base and is flavored with more pistachio pudding mix to get that classic Watergate Cake green color and flavor. It's light and fluffy and super easy to make.
If you love my Watergate Cake recipe and are looking for some other senior citizen-style recipes, check out Dad's Bread Pudding, Pineapple Coconut Cupcakes or Shortbread Cookies.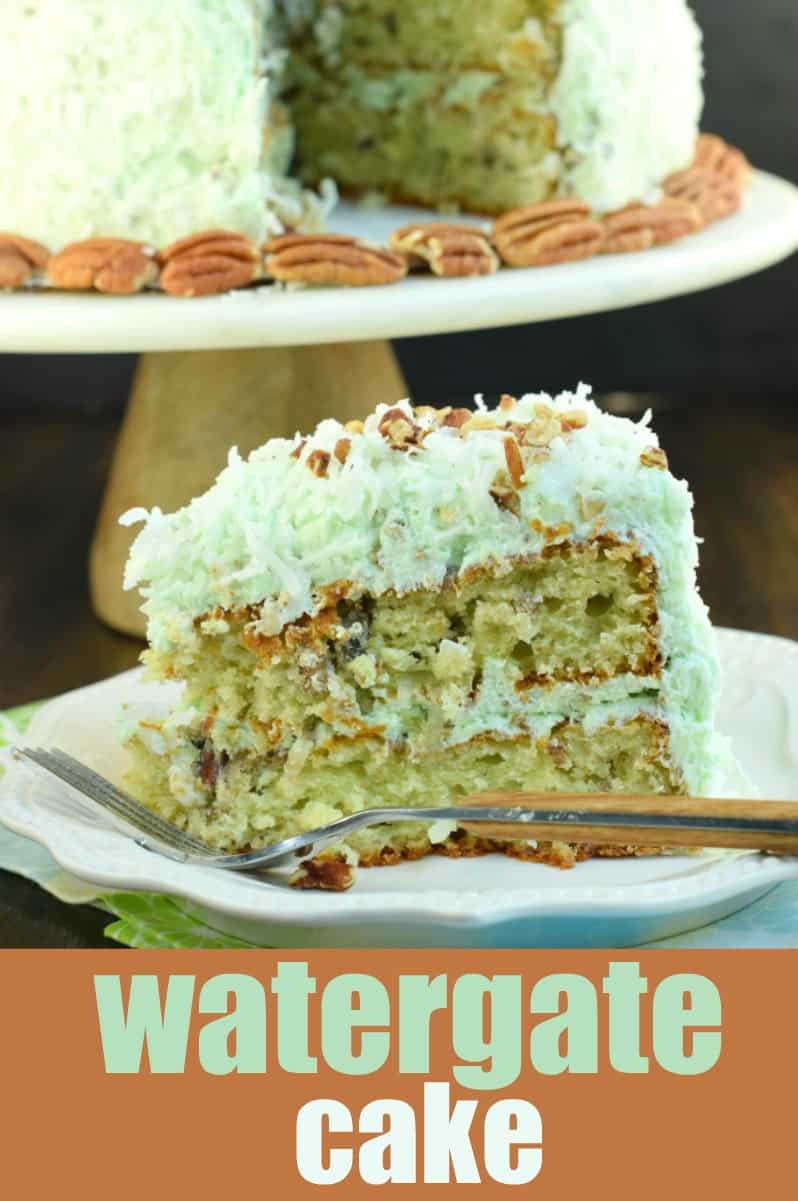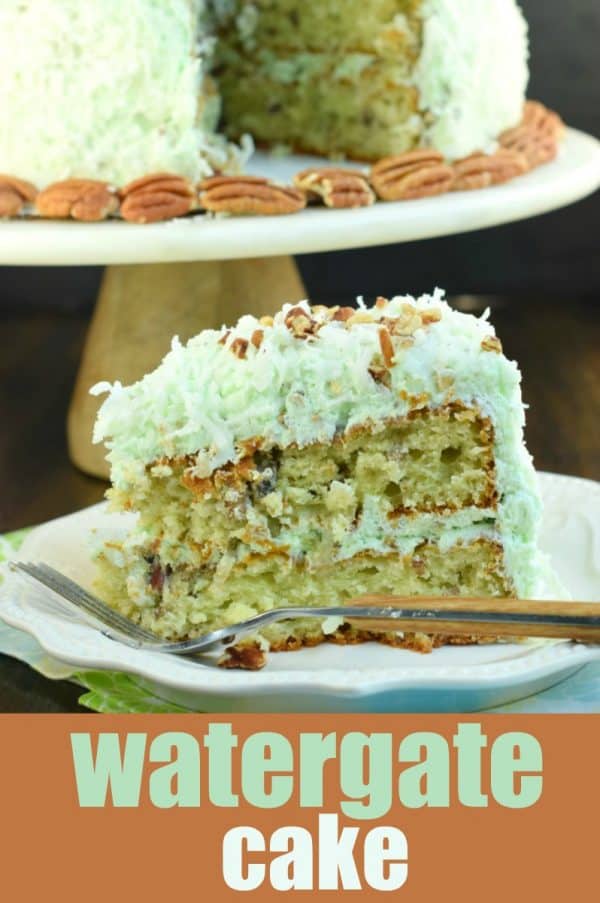 Ingredient Notes.
Dream Whip. You can also swap it out and just use Cool whip combined with pudding mix and milk.
OR, make homemade whipped cream and add the pudding mix to that.
Pistachio Pudding. You will need the Instant Pudding Mix for this recipe. It's added to both the cake and the frosting for amazing pistachio flavor.
Tips and Tricks
Refrigerate. Keep Watergate Cake chilled for best results. You can also freeze this cake by wrapping individual slices in a plastic wrap, then sliding them into a freezer bag.
Toasted coconut variation. Adding coconut to the cake adds so much moisture. But, some people don't like it ON TOP of the cake. If that's you, try toasting the coconut for a sweet candy crunch instead.
Best whipped topping. Before adding the pudding mix, beat the dream whip with milk until peaks form. This gives the frosting the best light and creamy consistency.
Recipe FAQs
Can I make this as a sheet cake in a 9 x 13 pan?
I've got you covered with this Watergate Sheet Cake Recipe! It has all the delicious taste of this one but baked in a single layer.
Can you freeze Watergate cake?
Yes, I recommend baking and freezing the cake layers unfrosted. Double wrap in foil or freezer bags and store for up to 2 months. Thaw in the refrigerator overnight before frosting.
What can I use instead of Dream Whip for the frosting?
You can substitute the dream whip and milk for regular thawed Cool Whip. Just add the pudding mix and beat.
Homemade Whipped Cream can be used in this recipe too!
It may be vintage but this Watergate Cake recipe never goes out of style!