The most beautiful, delicious layered cake! Salted Caramel Chocolate Cheesecake Cake! This is exactly what you were looking for, right?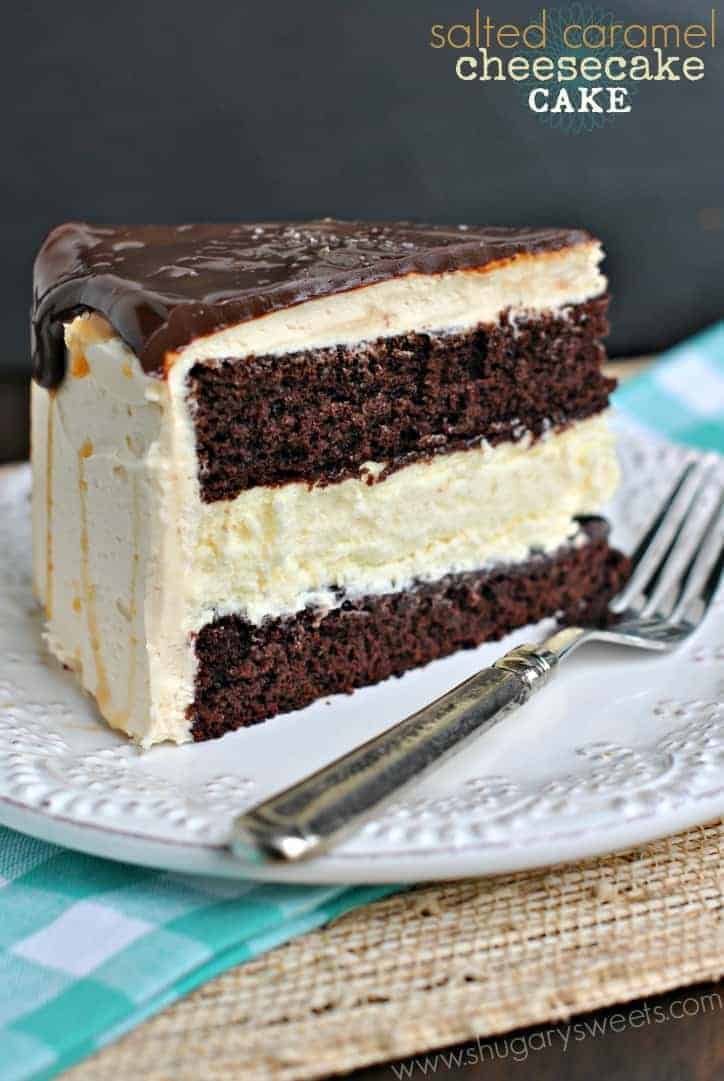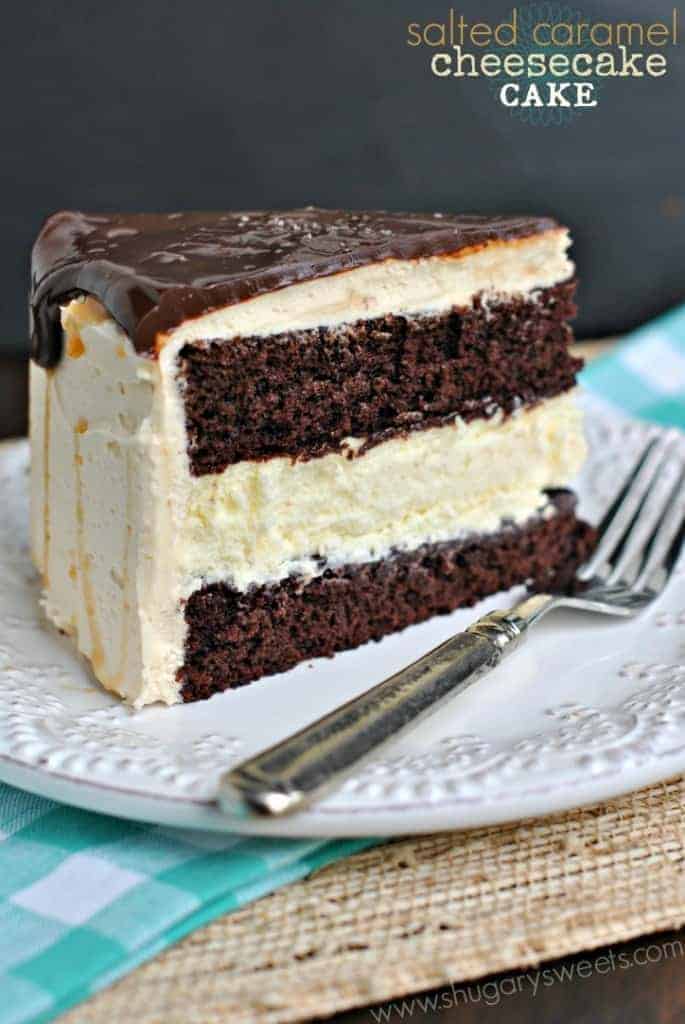 Click HERE to save recipe to Pinterest!
I'm a bit addicted to salted caramel right now. Remember these Salted Caramel Truffles? Yeah, they pretty much started this whole thing.
Not that I'm complaining, because it could be a worse addiction.
Last year I enjoyed making several cheesecake cake recipes. Remember the eggnog version? I die.
One of the most popular recipes on my blog right now is this Pumpkin Cheesecake Cake. It's going crazy on pinterest right now (do you follow me yet??)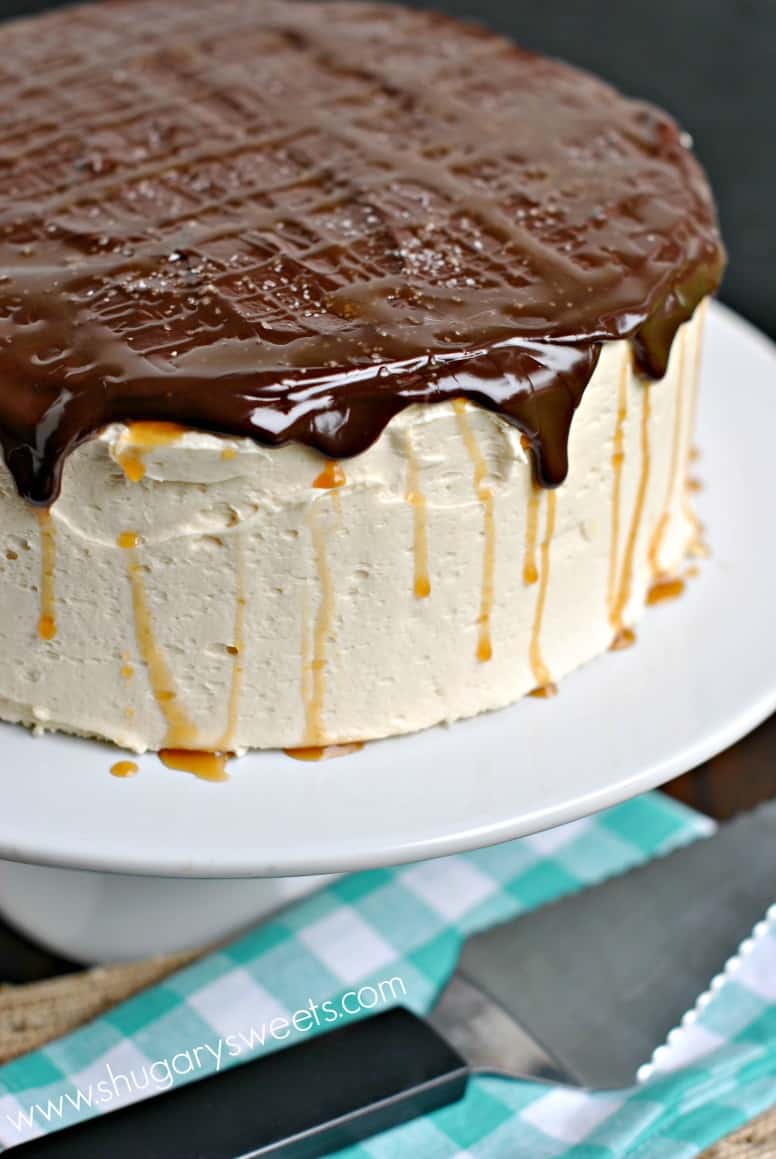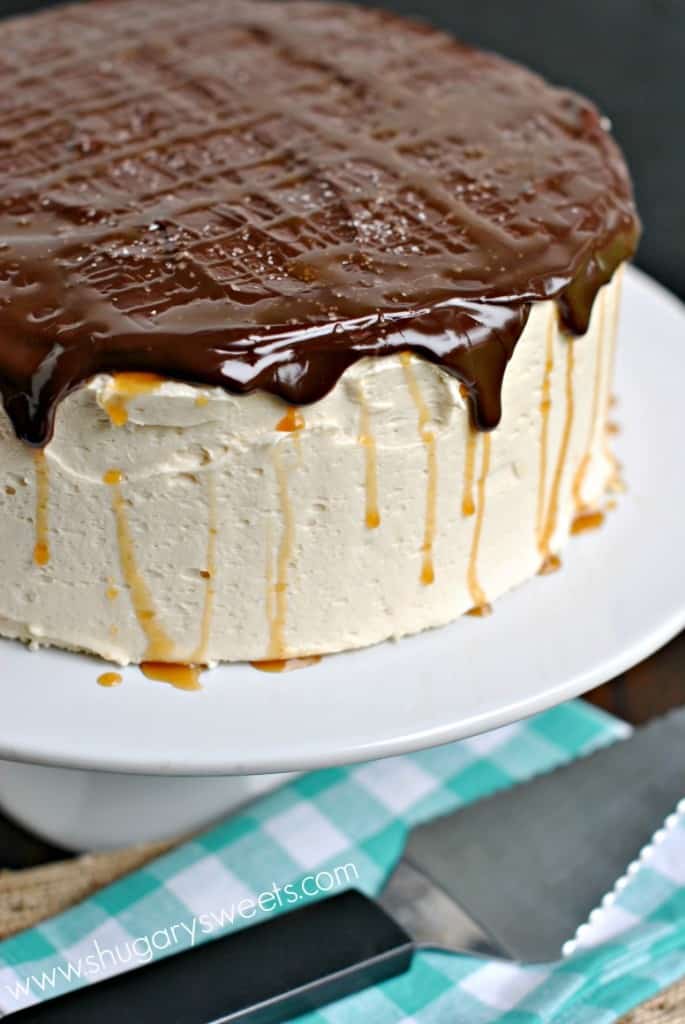 With all the varieties I've already made, my mind was stumbling on what version next? And then it occurred to me…salted caramel.
Let me tell you a few tricks to this recipe. It's not easy and it's not hard. It's one of those, "read the directions before you begin" type of recipes. But I'm going to highlight a few things.
How to make a cheesecake cake:
Plan making this cake a day in advance. I made the cheesecake one night, then the next morning I baked the cake layers. In the afternoon I whipped up the frosting and assembled the cake. I then refrigerated the cake and made the ganache the following morning. We enjoyed the cake that afternoon.
You can make the cheesecake layer further in advance by wrapping tightly and storing in the freezer until ready to use.
I used my favorite dark chocolate cake recipe from scratch. But if you want, feel free to use a chocolate cake mix. I'll never know!
Refrigerate the cake once it's frosted. The cold frosting stands up to the warm ganache. Speaking of ganache, allow it too cool slightly. Otherwise it would be a disaster.
Drizzle with a homemade caramel sauce or use store bought. You decide!
Slice yourself the first piece, because this cake will go fast, and you earned it!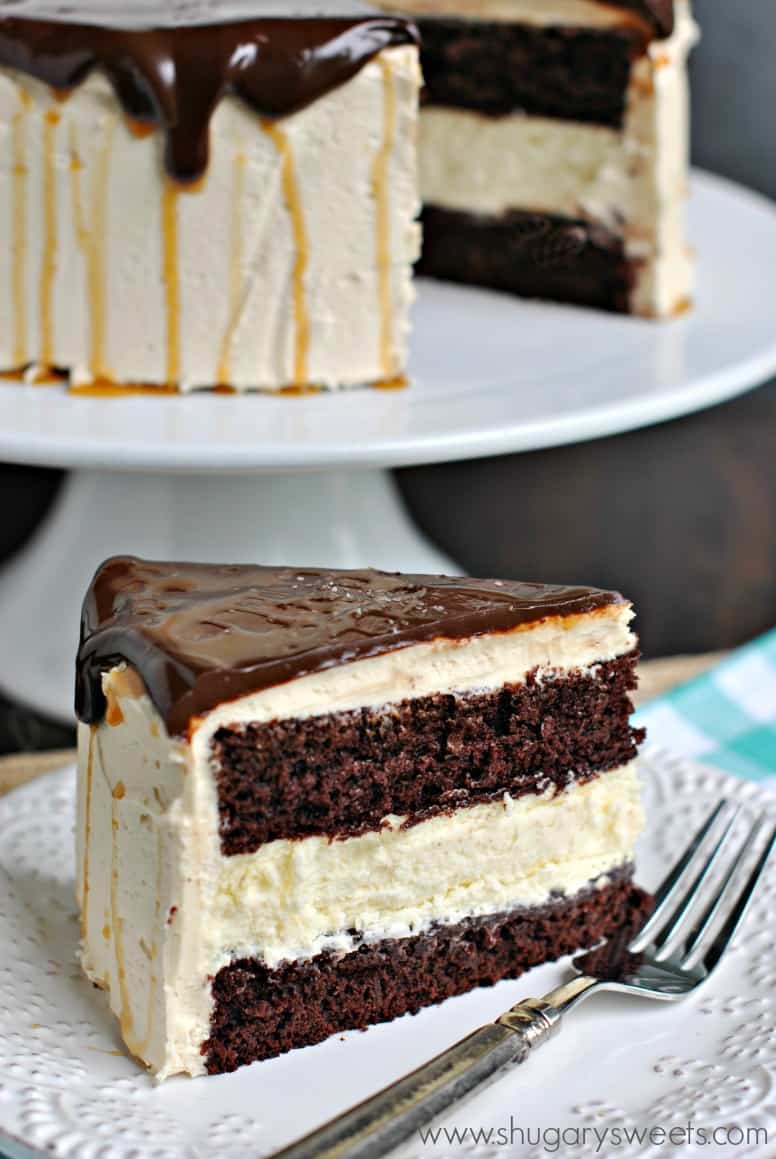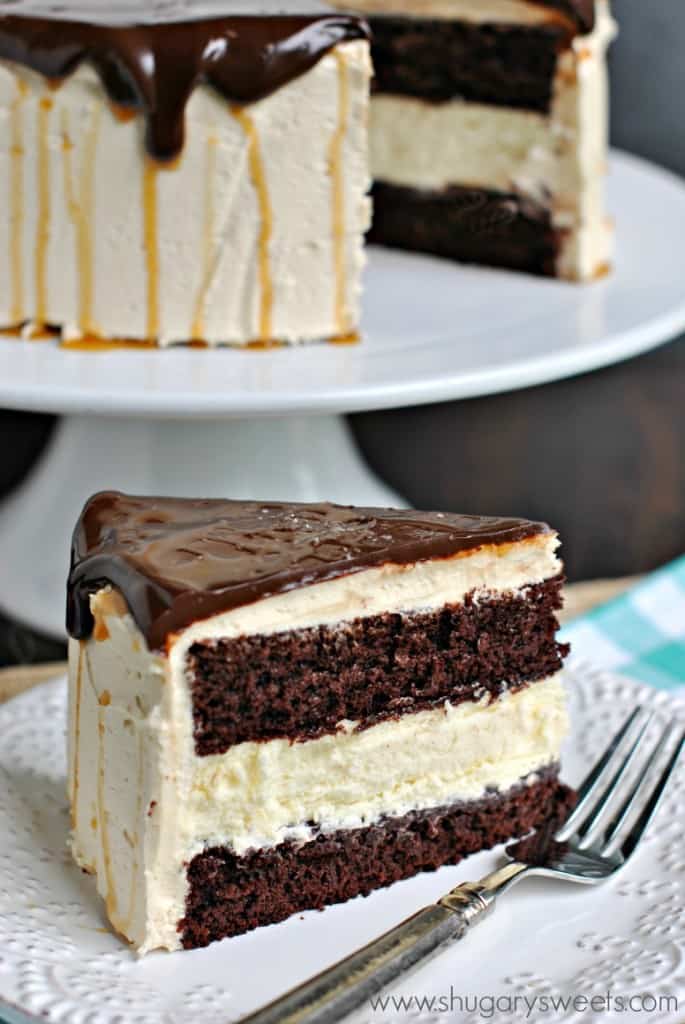 I hope the directions don't scare you! This cake is worth every single second of preparation. If you're going to enjoy something so sinfully delicious, you might as well work for it. And if you're going to work for it, it better be sinfully delicious.
Am I right?
Some of my favorite "cheesecake cakes":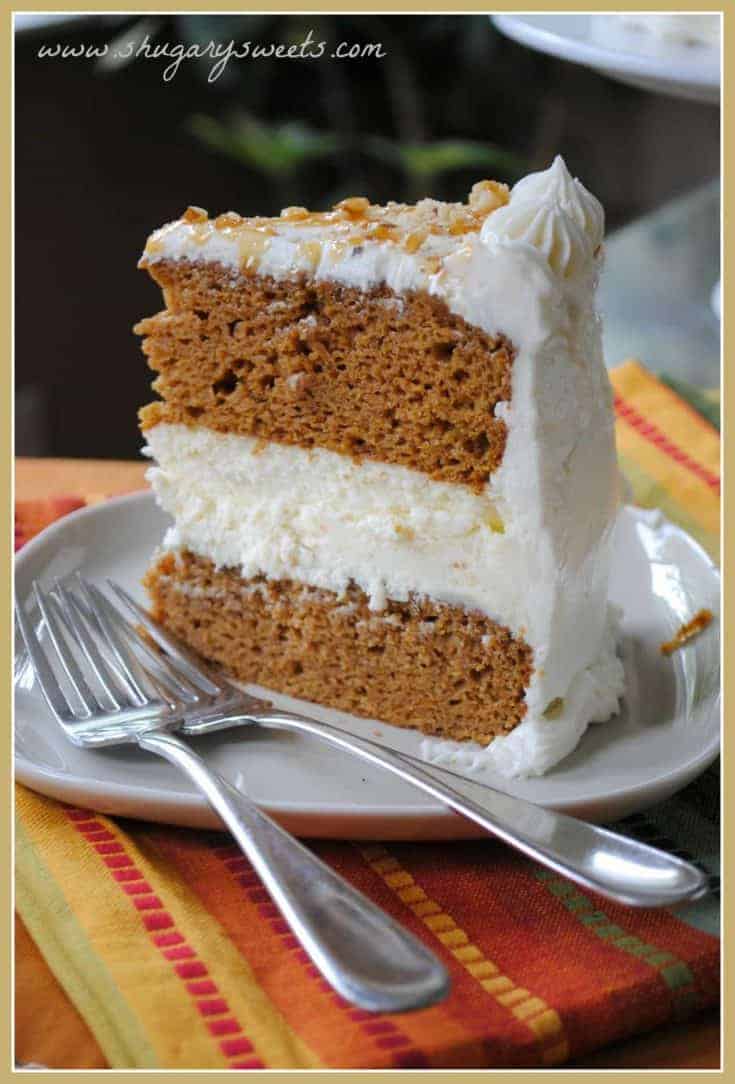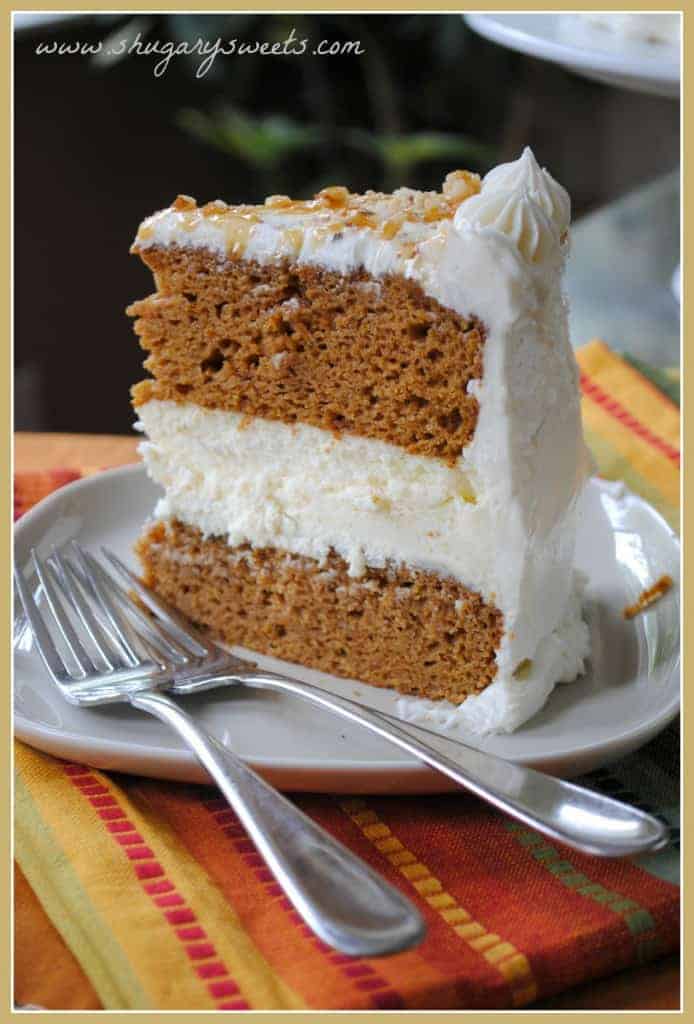 Pumpkin Cheesecake Cake: an impressive fall dessert recipe, topped with a cream cheese frosting!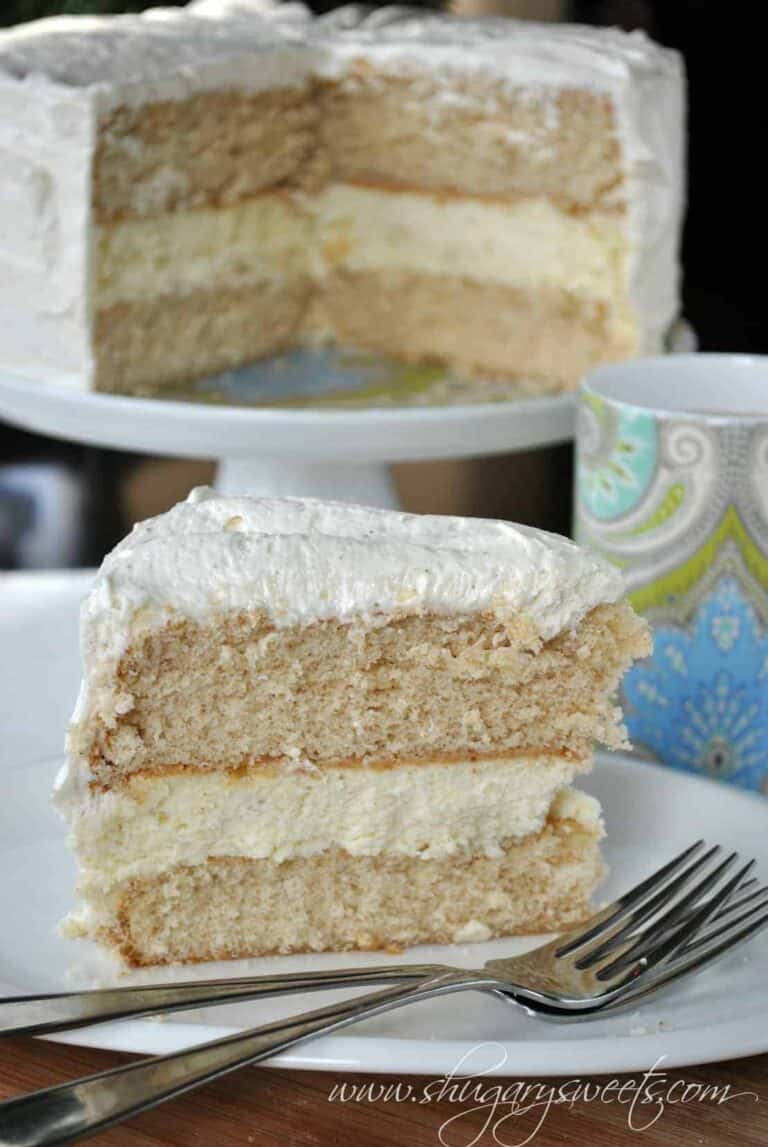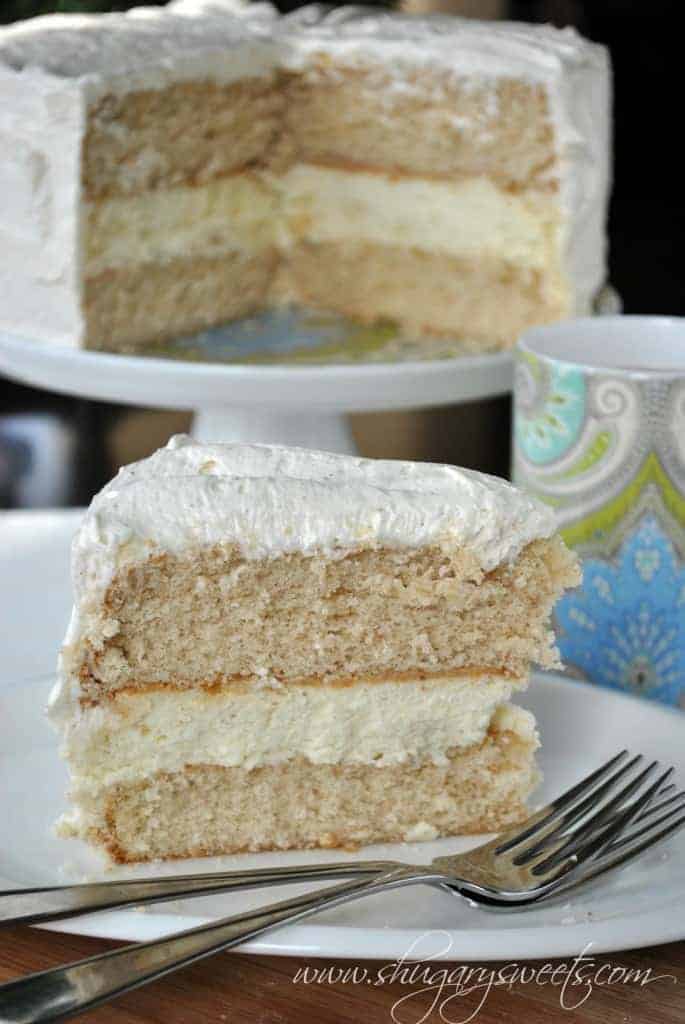 Eggnog Cheesecake cake: a homemade spice cake with an eggnog cheesecake and eggnog flavored frosting!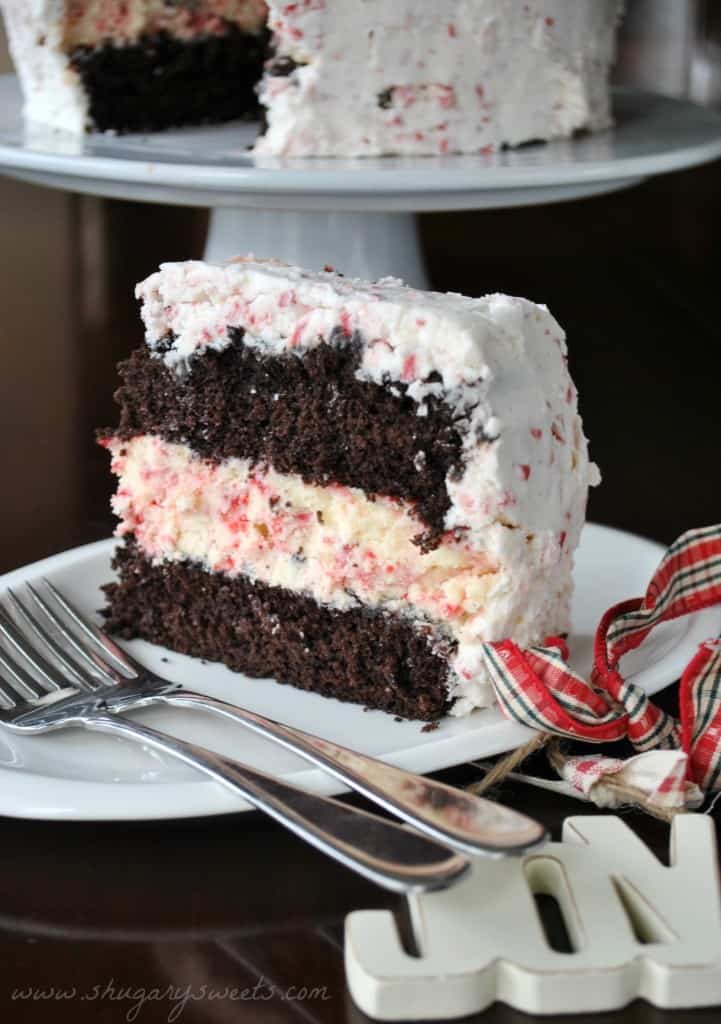 Chocolate Peppermint Cheesecake Cake: a holiday dessert that will make YOU the star!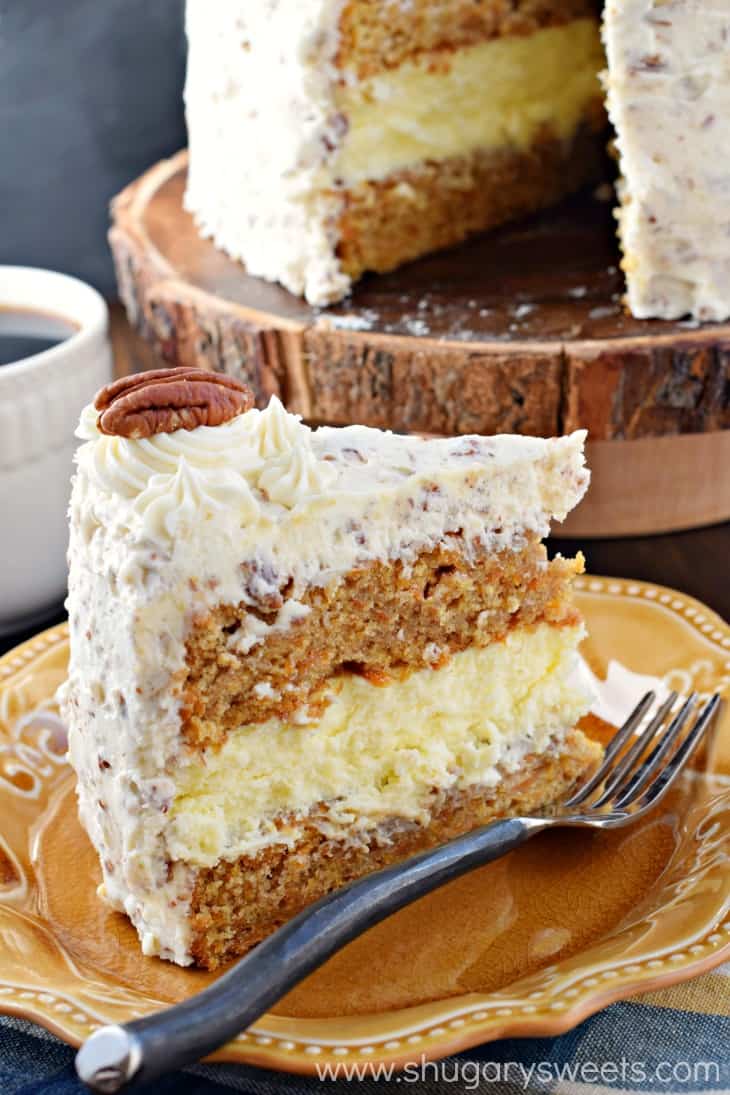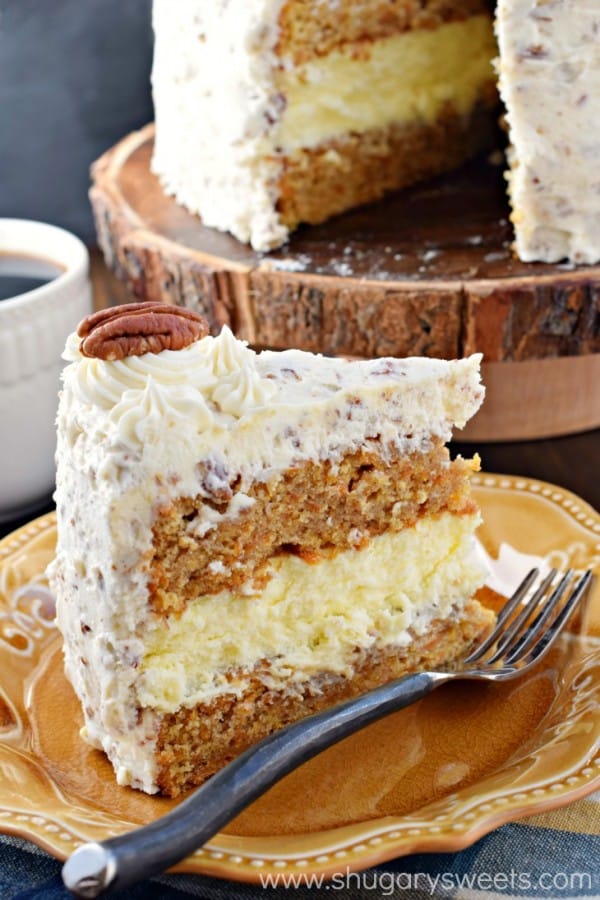 Carrot Cake Cheesecake Cake recipe: two layers of moist carrot cake, a middle layer of creamy cheesecake, all covered in cream cheese frosting with pecans!
A couple more 'cheesecake cake' recipes for you to enjoy: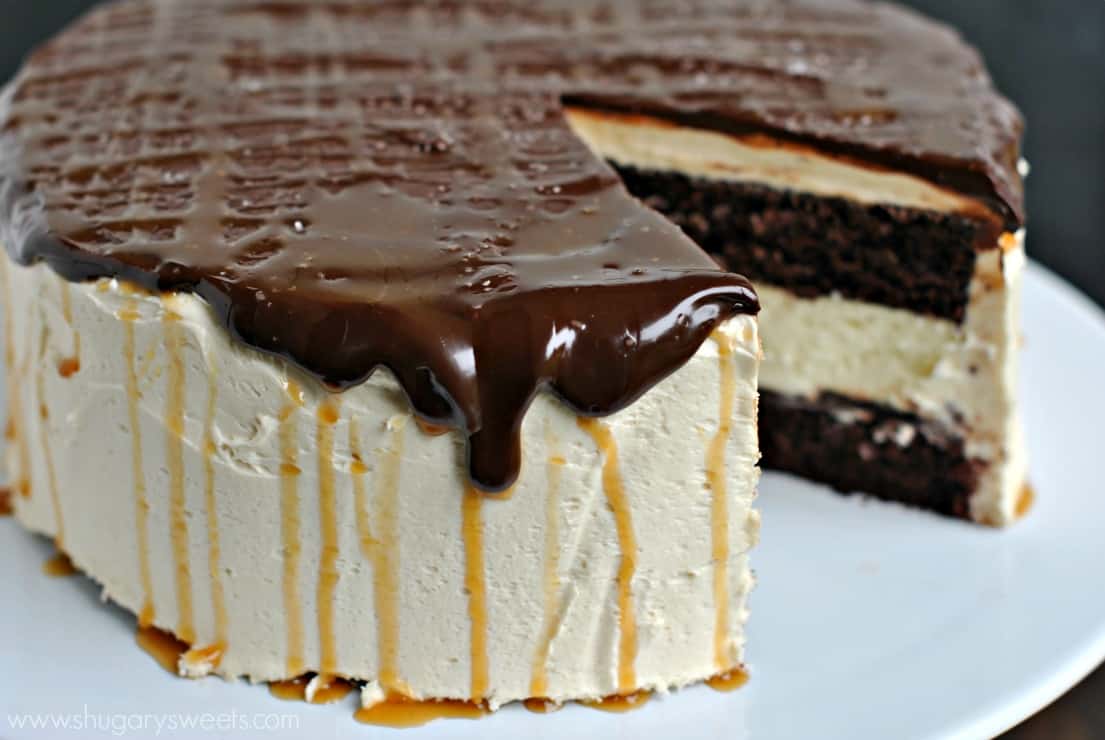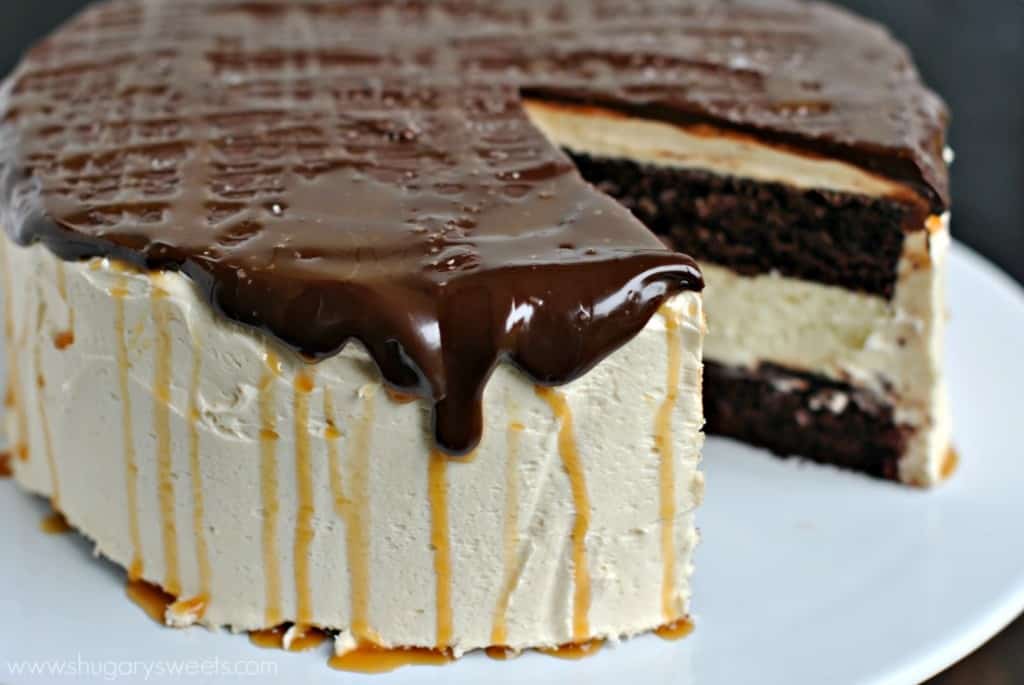 I created a fun little group on facebook and I'd love for you to join in! It's a place where you can share YOUR favorite recipes, ask questions, and see what's new with Shugary Sweets (so that you never miss a new recipe)! If you'd like to check it out, you can request to join HERE.
Connect with Shugary Sweets!
Facebook | Twitter | Pinterest | instagram
Be sure to follow me on my social media, so you never miss a post!
Salted Caramel Chocolate Cheesecake Cake recipe:
Yield: 12-15 servings
Salted Caramel Chocolate Cheesecake Cake
Salted Caramel Cheesecake Cake: delicious chocolate layered cake with a cheesecake center! Frosted with creamy salted caramel buttercream and chocolate ganache!
Ingredients
For the cheesecake:
2 pkg (8oz each) cream cheese, softened
2/3 cup granulated sugar
pinch of salt
2 large eggs
1/3 cup sour cream
1/3 cup heavy cream
1 tsp vanilla
For the cake:
For the frosting:
1 cup unsalted butter, softened
4 cup powdered sugar
2 Tbsp milk
1/2 tsp kosher salt
For the ganache:
4 oz dark chocolate
1/3 cup heavy cream
2 Tbsp caramel sauce
pinch of kosher salt
Instructions
For the cheesecake:
Preheat oven to 325 degrees. Using a large roasting pan on the lower 2/3 of the oven, preheat the pan too!
Prepare springform pan by wrapping bottom of pan (outside) with double layer of foil. Spray pan with nonstick baking spray and line bottom (inside) with a circle of parchment paper. Meanwhile, boil a kettle of water to use later.
Beat cream cheese with granulate sugar for 2-3 minutes until creamy. Add in salt and eggs, one at a time, beating well after each addition.
Beat in sour cream, heavy cream and vanilla. Pour into prepared 9inch springform pan. Place pan in center of preheated roasting pan in the oven. Pour boiling water slowly into the roasting pan, until there is about an inch of water coming up the sides of the springform pan.
Bake cheesecake for 45 minutes. Turn oven off and let cheesecake sit in oven for an additional 30 minutes. Remove and cool completely on counter.
When cooled, transfer entire springform pan into the freezer for several hours or overnight. I put it in freezer for about 2 hours. **If using within 24 hours, feel free to just refrigerate cheesecake!
For the cake layer:
Prepare chocolate cake according to package directions for 9 inch cake. Or, like me, prepare a homemade dark chocolate layer cake using THIS recipe
For the frosting:
Beat butter in a large mixing bowl for 2-3 minutes, until fluffy. Add caramel sauce, powdered sugar, milk and kosher salt.
Beat for 4-5 minutes until soft and creamy.
To assemble:
On a cake platter, lay one layer of chocolate cake, top with the cheesecake. Then add the other layer of chocolate cake. Spread frosting over entire cake, sides and top.
Refrigerate frosted cake while you prepare the chocolate ganache.
For the ganache:
In a microwave safe bowl, combine dark chocolate with heavy cream. Heat 30 seconds. Stir and heat an additional 30 seconds. Whisk for several minutes until smooth. Allow to cool slightly.
Once cooled. Spread over top of chilled cake. Drizzle with remaining 2 Tbsp of caramel sauce and sprinkle with a pinch of kosher salt. Refrigerate cake until ready to serve!
Recommended Products
As an Amazon Associate and member of other affiliate programs, I earn from qualifying purchases.


Today's recipe for Salted Caramel Cheesecake Cake was first published on Shugary Sweets on September 21, 2014 and has been republished in August 2018.