Jello Cheesecake Trifle
Happy Memorial Day! I hope everyone is having a blessed day and spending time with family and friends! We have spent the weekend camping with our besties- always a good time.
This cake was inspired by my mom who always made us Jello cake in the summer. She would make a 13×9 cake, poke holes in it, pour the jello in and top it with Cool Whip. Yum. It really is a perfect, light summer treat.
Of course, that wouldn't look so festive. Plus, I tend to not keep things light. Sorry. So, I tricked it out. Yikes. First I talk about Pimping my PB fudge, now tricking out mom's jello cake….I'm not that kind of person. Honest.
Back to the trifle. Most of the time when I make a trifle I use pudding with whipped cream. But not this time. Strawberries deserve cheesecake. Right? I think so. Enjoy the recipe, enjoy your family!
Jello Cheesecake Trifle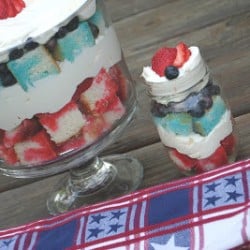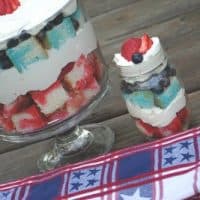 Ingredients
18.25 oz White cake mix (boxed)
3 egg whites
1 1/4 cup water
1/3 cup oil
3 oz box strawberry gelatin
3oz box Berry Blue gelatin
2 cup boiling water, divided
2- 8 oz cream cheese, softened
14 oz can sweetened condensed milk
1/2 tsp lemon juice, concentrate
8 oz Cool Whip
1 lb strawberries, sliced
1 cup blueberries
Instructions
Prepare cake mix with egg whites, oil and water. Bake in a 350 degree oven for 30 minutes (in a 13x9 pan). Cool completely.
In small bowl mix 1 cup boiling water with strawberry gelatin mix. In separate bowl mix 1 cup boiling water with berry blue gelatin mix. Using a fork poke holes all over the top of the cake. Pour the strawberry gelatin over one half of the cake and the blue gelatin over the other half. Refrigerate 4 hours or overnight.When ready to assemble, beat cream cheese with condensed milk for 3 minutes until smooth. Add lemon juice, mix completely. Fold in cool whip.
In bottom of trifle bowl, layer with cubed strawberry cake, fresh strawberries and 3/4 of the cheesecake mixture. On top of the cheesecake layer the berry blue cake, blueberries and the remaining cheesecake. Garnish with a slice strawberry and several blueberries. Refrigerate and enjoy!