Jell-O Cheesecake Trifle recipe is an easy dessert made with a festive poke cake, cheesecake filling, and fresh berries. Perfect holiday dessert!
We love incorporating pudding and gelatin in our favorite desserts. Readers love our easy Chocolate Eclair cake. Our chocolate chip pudding cookies are also one of the most popular cookies with friends and family.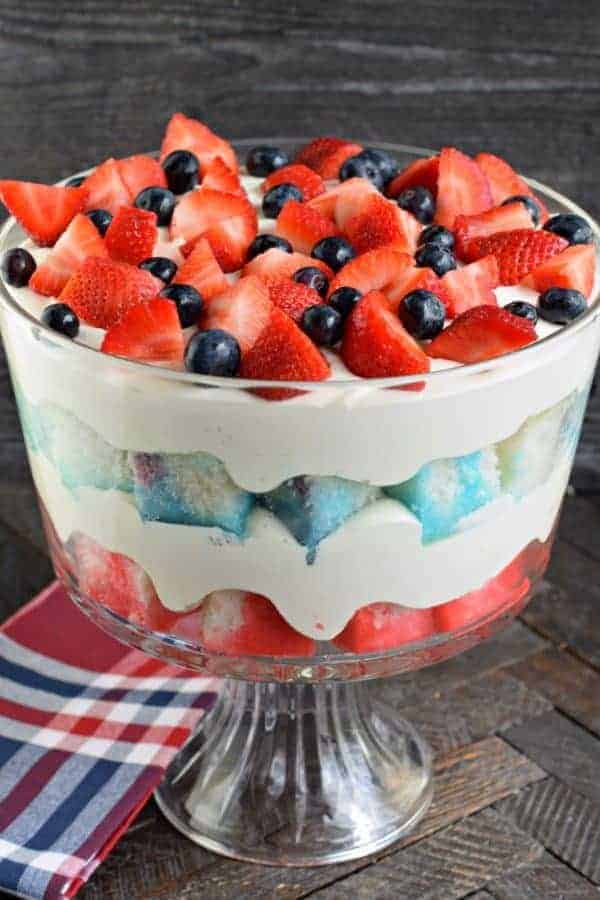 Why this recipe is amazing
Childhood desserts are always some of the best desserts out there.
This Trifle recipe was inspired by my mom who always made us Jello cake in the summer. Have you had a Jell-O Poke Cake? They're so easy, and so refreshing on a hot summer day!
I thought it would be fun to make this easy trifle recipe with a cheesecake filling. I mean, what goes better with strawberries than cheesecake?
Want to see how easy this is to make?
How to make a Jell-O Cheesecake Trifle Recipe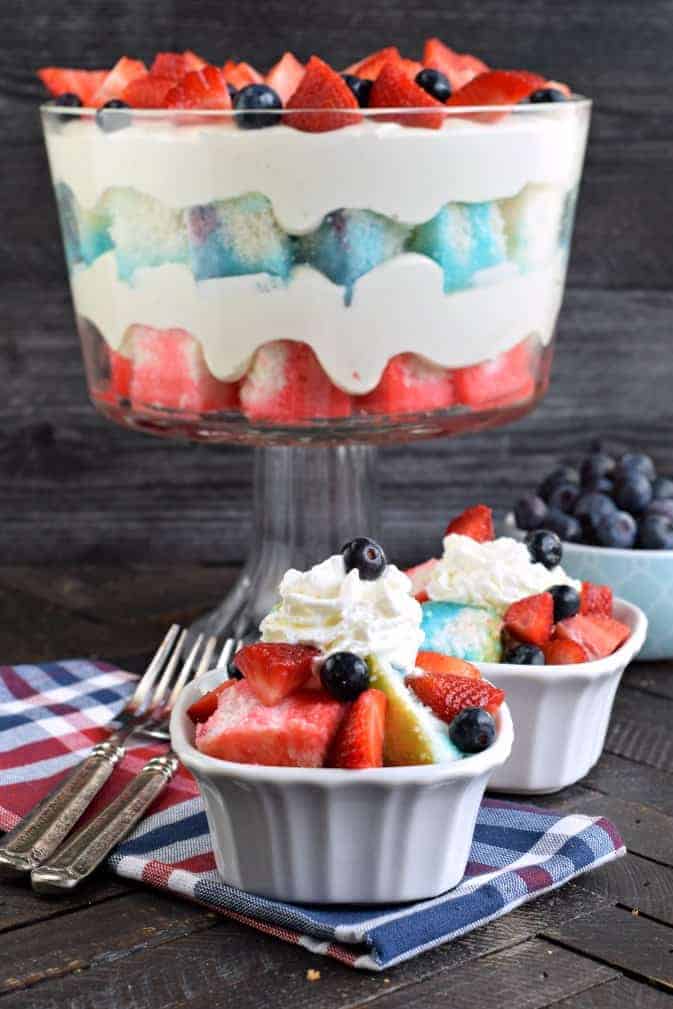 Prepare the Cake. Prepare a box of white cake according to package directions. While the cake is baking, prepare the gelatin.
Make the JELL-O gelatin. For today's recipe I opted for berry blue and strawberry gelatin (the small boxes). But feel free to use ANY flavor you decide, I just wanted a red, white, and blue dessert.
In a small bowl, combine 1 cup of boiling water with strawberry gelatin mix. Stir until dissolved. Repeat in a separate bowl with the berry blue gelatin. Set aside.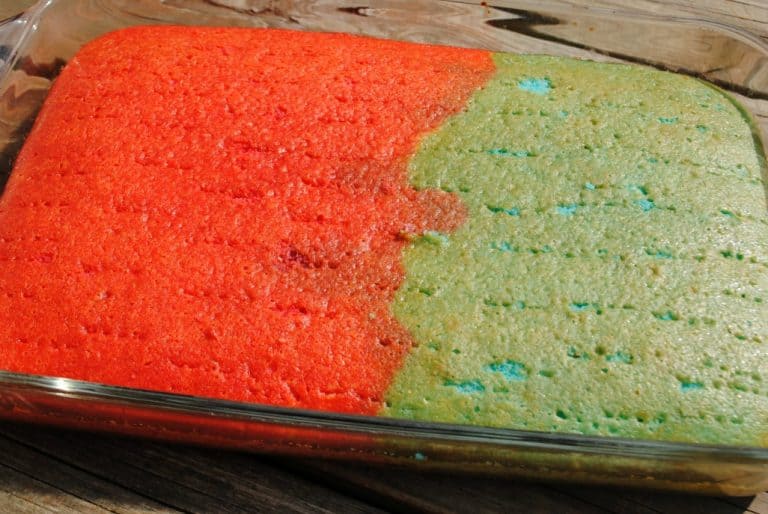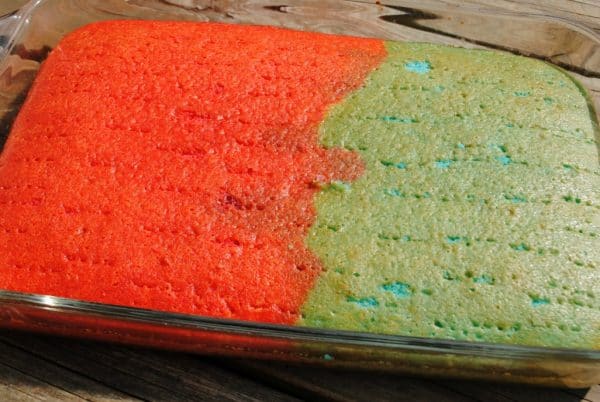 Poke Cake. Using a fork, poke holes all over the top of the baked cake (it can still be slightly warm). Pour strawberry gelatin over one half of the cake and the berry blue Jell-O over the other half.
Chill. Refrigerate cake 4 hours or overnight. This allows the gelatin to firm up inside the baked cake.
Make the Cheesecake. Beat cream cheese with sweetened condensed milk for several minutes, until smooth and fluffy. Add in lemon juice, mix completely. Fold in Cool Whip.
PRO TIP: For easy assembly of cake, make the cheesecake filling when you make the cake. Refrigerate both. When ready to assemble, everything is waiting and ready!
Assemble the trifle. Cut cake into cubes of red and blue. In the bottom of the trifle bowl, layer cubed strawberry cake and half of the cheesecake.
Then layer the berry blue cake with the remaining half of cheesecake. Top with extra Cool whip and fresh berries. Serve and enjoy.
Ingredient Notes
If you want a quick glance at what's needed for today's recipe, look no further. For the printable recipe with measurements, scroll all the way down!
White Cake – Using a boxed cake (or from scratch in a 13×9 baking dish), bake cake as directed. This will be the base of your poke cake!
Gelatin – For the red, white, and blue trifle you'll want to use Berry Blue gelatin and a Strawberry (or Raspberry) gelatin. Feel free to substitute the Jell-o for your favorite flavor!
Cream Cheese – Soften before beating for creamy results! You could also use a low fat cream cheese in today's recipe!
Sweetened Condensed Milk – Instead of using sugar with the cream cheese, the sweetened condensed milk provides all the sweetness, without any gritty texture! 
Lemon Juice – I always use a little lemon juice in my no bake cheesecake to bring out the flavor of the cream cheese (it does NOT make it lemon flavored)
Cool Whip- thawed and perfect for fluffing up your cheesecake and topping. You can also make a homemade whipped cream if you prefer! Our recipe for stabilized whipped cream is a great substitute.
Berries – Strawberry and Blueberry are the perfect complement to today's red white and blue theme!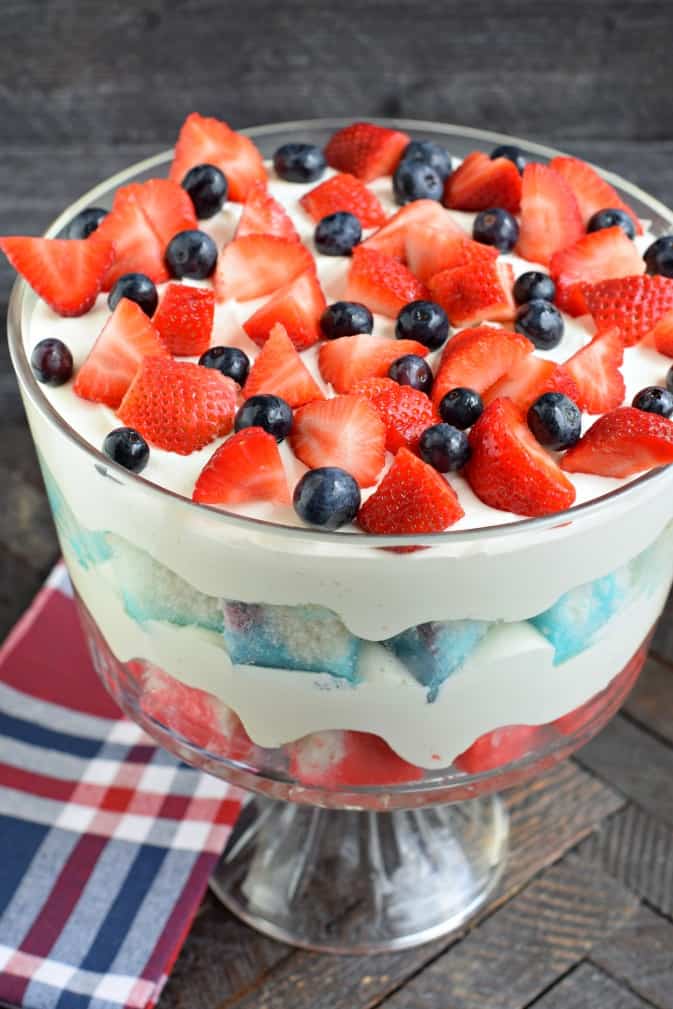 Easy Trifle tips
Cake options. Lemon Cake or pound cake instead of white cake. Make an easy lemon whipped cream and lemon curd and layer with blueberries. SO TASTY.
Swap out the white cake for chocolate cake. Skip the gelatin and make chocolate pudding instead. Layer cake, with cheesecake, chocolate pudding, and whipped cream. Add strawberries for a garnish!
Make the jello poke cake the night before for easy assembly the day of your party.
Keep it healthier with sugar free gelatin, fat free cream cheese, and fat free Cool Whip. You can also use angel food cake if you prefer!
Jell-O Cheesecake Trifle recipe is the perfect layered dessert. Poke cake, cheesecake, whipped cream, berries!