Chocolate Candy Cane Cake: it's the dessert your family wants you to bring to the holiday get together this year! Rich chocolate cake with Cool Whip filling and crushed peppermints!
If you LOVE homemade chocolate cake, be sure to check out my favorite chocolate buttercream recipe too!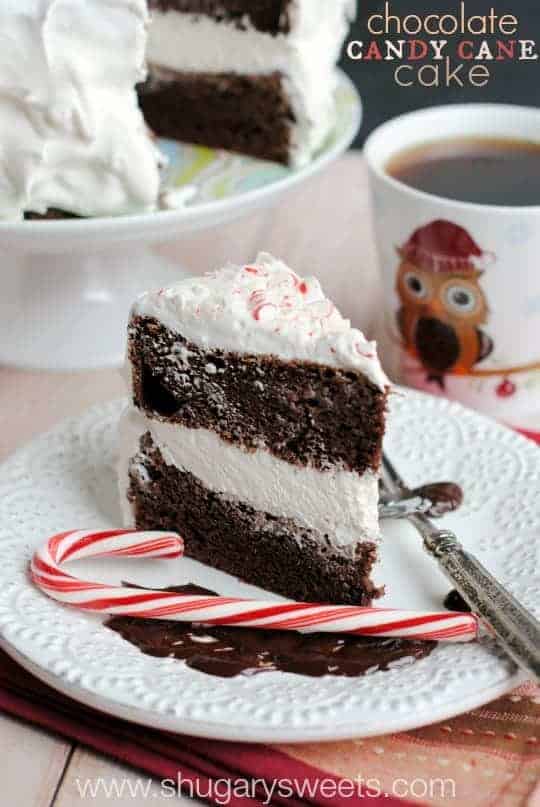 Why this Cake is Best
Most people think about Christmas candy recipes and holiday cookies, but what about cake?
Today's chocolate candy can cake is a cross between our favorite Ding Dong cake and this rich and fudgy chocolate pudding cake.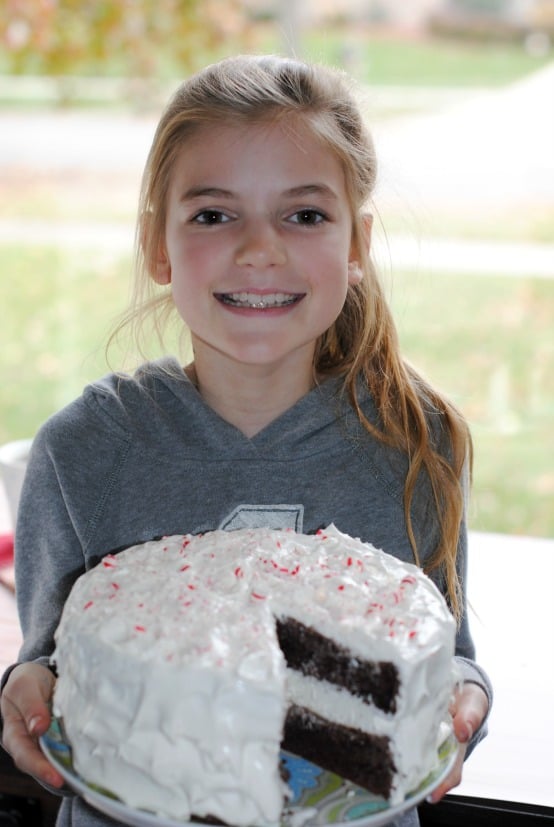 Ingredient Notes
Chocolate Cake Mix – any variety and brand that make two 9-inch round cake layers.
Chocolate Instant Pudding Mix- adds moisture AND MORE FLAVOR to the cake mix.
Basics- eggs, oil, water, milk (for structure).
Sour Cream- adds moisture.
Chocolate Chunks- could swap out for chocolate chips.
Cool Whip (thawed)- you'll fill the layer and cover the entire cake. You can also use whipped cream or our homemade cool whip if you prefer.
Peppermint candy- while this cake is perfect any time of year, adding the peppermint gives this cake color and flavor for the holidays.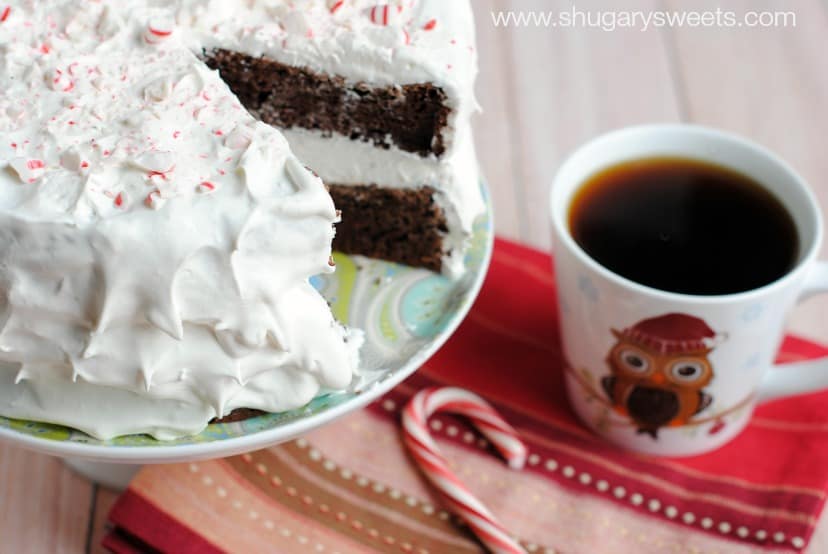 Step by Step Instructions
Bake the cake. Cool COMPLETELY before frosting. We chilled our cake layers in the refrigerator for about an hour.
Once we chilled our layers of cake, my daughter made a quick chocolate ganache by using another bar of Semi-Sweet Chocolate and 1/2 cup of heavy cream. This was spread over the bottom layer of cake.
Frost. Add chopped candy canes or sprinkles (if you choose not to make it peppermint flavored).
The best part of this Chocolate Peppermint Cake recipe? You can make it ahead of time!
We made ours the day before serving and stored it in the refrigerator. Such a cool, refreshing treat after dinner. This one is sure to please this holiday season.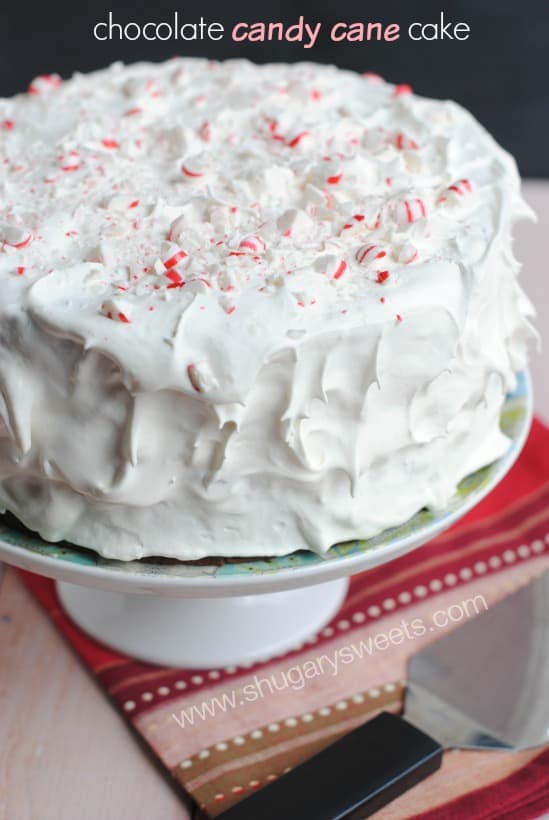 More Holiday Cakes
Take your love of chocolate peppermint cakes to a new level. This Christmas favorite is a Chocolate Peppermint Cheesecake Cake and is layered with rich chocolate cake, peppermint cheesecake, and peppermint frosting!
I'm obsessed with making these cheesecake cakes. And it was only necessary to make an eggnog version. With a homemade spice cake. And eggnog buttercream frosting. This Eggnog Cheesecake Cake is a true Christmas treat!
Have a little fun this Christmas and make an entrance at your next holiday party with this easy Ugly Sweater Cake!
The most delicious, from scratch, white cake recipe is used to create this perfect Coconut Cake!
Old fashioned, best ever, 7 Up Pound Cake recipe! You'll love this classic cake with it's perfect texture!
Don't forget the fudge! This Candy Cane Fudge recipe is packed with peppermint and creamy vanilla fudge flavor.