Chocolate Candy Cane Cake: it's the dessert your family wants you to bring to the holiday get together this year! Trust me!!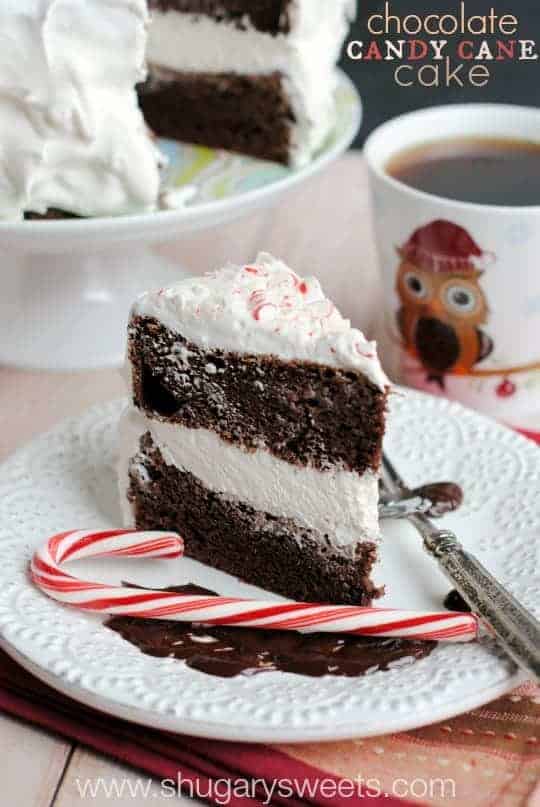 Click HERE to save recipe to Pinterest
Okay. Confession time. When my kids were little I hated having them help in the kitchen. I mean seriously, I love my kids, but baking a batch of cookies would take about ten times as long.
And don't hate me for this okay.
Cause I don't know too many people who LIKE bringing their kids to work.
And cooking and baking in the kitchen, it's my job. It's a fun job, don't get me wrong, but the kitchen is my office.
Fast forward a couple years and suddenly I'm all about having assistants. I can be writing a blog post and editing pictures on my laptop while putting my kids to work, baking and cooking.
Teaching them young paid off in the end. They know how to read recipes, crack eggs, and use the stove top. Most of the time.
It's especially helpful when mom has a migraine and deadlines. I knew I wanted to bake….but I also knew my migraine was keeping me 10 feet from all food due to nausea.
Fortunately my youngest LOVES to help out!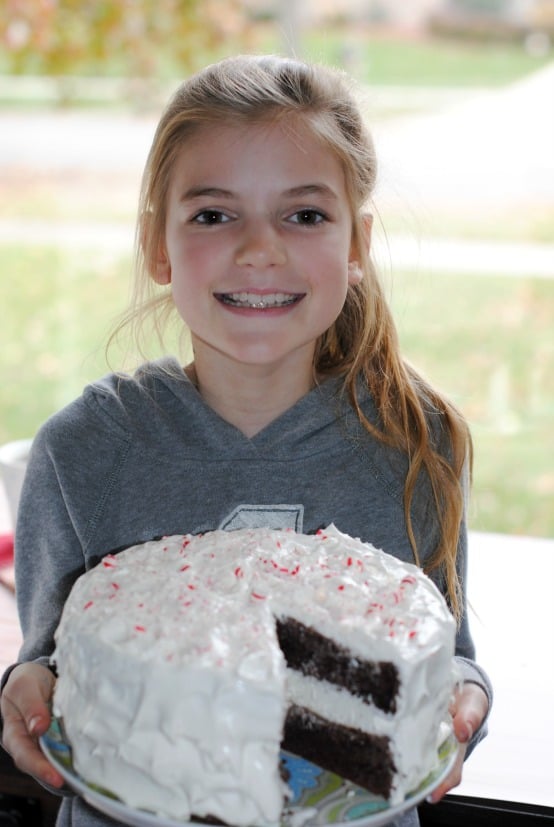 And guess what? This cake is so easy, even a ten year old can make it (you may have seen this photo on instagram…do you follow me yet??).
How to make a Chocolate Candy Cane Cake
I started with a box mix, and then grabbed some of my favorite ingredients from my pantry and refrigerator. And by "I grabbed" I totally mean my daughter did. Because I sat in a chair on the island, supervising.
To the chocolate cake mix, you'll want to add a box of JELL-O Chocolate Instant Pudding mix (wow does this add some moisture to the cake!!), as well as your eggs, oil, water, milk and some sour cream. No one is going to believe this cake started from a mix.
I also put my daughter to work pounding out 18 small candy canes. This is where our first "happy error" came about. The original recipe called for about 1 cup crushed candy canes, divided. Whoops…that ALL went into our batter! And our cake never tasted so good. Seriously. It was minty and delicious, and I'm writing the recipe just as she made it.
That's why we call it a Happy Error!
She also chopped up some semi-sweet chocolate and added that to the cake batter. What a wonderful surprise to the cake. It's like chocolate chips, but bigger chunks. The sweet peppermint, the moist and rich chocolate cake, and the surprise crunches of chocolate…this is seriously one splendid dessert.
Bake the cake 35-40 minutes and allow to cool in pans 5 minutes. Loosen cakes from sides of pans and invert onto wire racks. Cool COMPLETELY before frosting. We chilled our cake layers in the refrigerator for about an hour.
Once we chilled our layers of cake, my daughter made a quick chocolate ganache by using another bar of Semi-Sweet Chocolate and 1/2 cup of heavy cream. This was spread over the bottom layer of cake. We also doubled the amount of COOL WHIP in this recipe. First, who doesn't love extra COOL WHIP? Second, we wanted a nice thick layer in the center of the cake, without being skimpy on the sides.
She also then crushed up a few extra candy canes for garnish.
The best part of this Chocolate Peppermint Cake recipe? You can make it ahead of time! We made ours the day before serving and stored it in the refrigerator. Such a cool, refreshing treat after dinner. This one is sure to please this holiday season.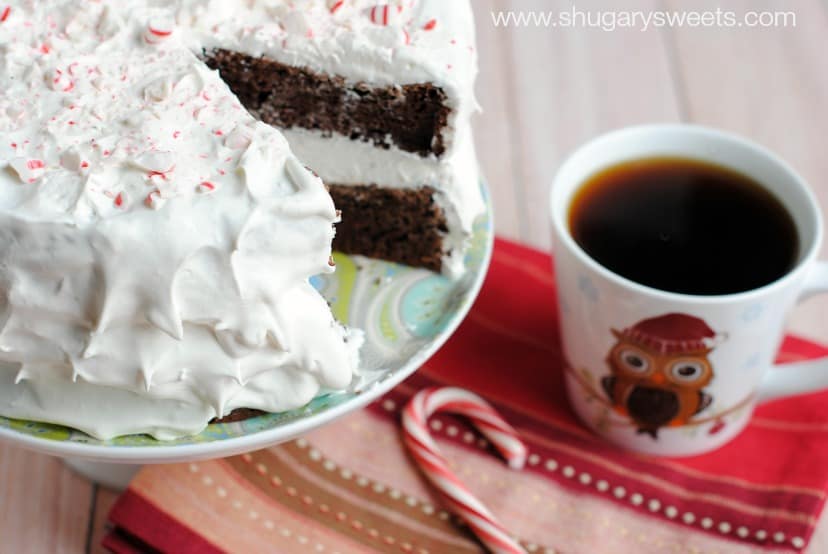 What you will need to make a Chocolate Candy Cane Cake
1 box chocolate cake mix
JELL-O Chocolate Instant Pudding mix
4 Large Eggs
Sour Cream
Oil (vegetable or canola)
Water
Milk
2- 4 oz Semi-Sweet Chocolate Bars
18 small candy canes coarsely crushed (plus extra for garnish)- or substitute peppermint candies
Heavy Whipping Cream
Cool Whip
2- 9″ cake pans
Baking Spray (or cooking spray)
Parchment Paper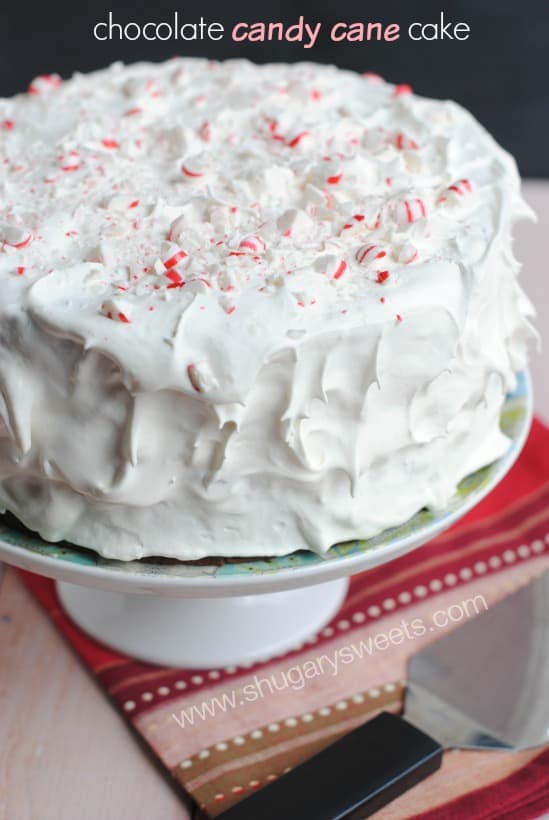 If you love holiday cakes, these are a few of my favorites
Take your love of chocolate peppermint cakes to a new level. This Christmas favorite is a Chocolate Peppermint Cheesecake Cake and is layered with rich chocolate cake, peppermint cheesecake, and peppermint frosting!
I'm obsessed with making these cheesecake cakes. And it was only necessary to make an eggnog version. With a homemade spice cake. And eggnog buttercream frosting. This Eggnog Cheesecake Cake is a true Christmas treat!
Have a little fun this Christmas and make an entrance at your next holiday party with this easy Ugly Sweater Cake!
The most delicious, from scratch, white cake recipe is used to create this perfect Coconut Cake!
Old fashioned, best ever, 7 Up Pound Cake recipe! You'll love this classic cake with it's perfect texture!
Don't forget the fudge! This Candy Cane Fudge recipe is packed with peppermint and creamy vanilla fudge flavor.


Connect with Shugary Sweets!
Be sure to follow me on my social media, so you never miss a post!
Facebook | Twitter | Pinterest | instagram
If you LOVE this recipe, share it on Instagram and tag me #shugarysweets so I can see it!
I created a fun little group on facebook and I'd love for you to join in! It's a place where you can share YOUR favorite recipes, ask questions, and see what's new with Shugary Sweets (so that you never miss a new recipe)! If you'd like to check it out, you can request to join HERE.
Yield: 12-16 servings
Chocolate Candy Cane Cake
Total Time
2 hours
5 minutes
Chocolate Candy Cane Cake: it's the dessert your family wants you to bring to the holiday get together this year! Trust me!!
Ingredients
For the Cake:
1 package (2 layer cake size) chocolate cake mix
1 package (3.9oz) JELL-O Chocolate Instant Pudding mix
4 large eggs
1 container (8oz) sour cream
1/2 cup canola oil
1/2 cup water
1/4 cup milk
1 package (4oz) semi-sweet chocolate bar, chopped
18 small candy canes, coarsely chopped (about 1 cup)
For the topping:
1 package (4oz) semi-sweet chocolate bar
1/2 cup heavy cream
2 tub (8oz each) COOL WHIP, thawed
4 small candy canes, coarsely chopped, for garnish
Instructions
Preheat oven to 350 degree F.
In a large mixing bowl, beat cake mix with JELL-O Chocolate Instant Pudding Mix, eggs, sour cream, oil, water and milk. Blend completely for about 2-3 minutes. Fold in crushed candy canes and chopped chocolate.
Spray two 9inch cake pans with baking spray. Line the bottom of the pan with parchment paper. Divide batter evenly into the pans.
Bake for 35-40 minutes and allow to cool about 5 minutes in the pan. Loosen cake from the sides and invert onto wire racks. Cool cakes COMPLETELY before frosting. We chilled our cake layers in the refrigerator for about an hour.
For the ganache, combine the chocolate with the heavy cream in a small glass bowl. Microwave for 30 seconds, stir and heat an additional 30 seconds. Whisk until smooth.
Place bottom layer of cake on cake plate. Top with melted ganache. Allow to cool slightly before adding COOL WHIP. Spread 3/4 of one container on top of ganache. Top with second layer of cake. Using the remaining COOL WHIP (from the first container and the second), spread evenly over top and sides of cake. Sprinkle with crushed candy canes for garnish.
Refrigerate cake until ready to serve. ENJOY
Notes
Lining the bottom of the cake pans with parchment paper is optional. But with the full cup of candy canes crushed into the batter, some parts may be sticky. This helps it remove from the pan easily!
recipe adapted from [Kraft recipes]
Recommended Products
As an Amazon Associate and member of other affiliate programs, I earn from qualifying purchases.
Today's recipe was originally posted on November 23, 2014 and has been republished in November 2018