Grab your crackers, apples or spoons! This creamy Caramel Apple Dip starts with a layer of sweet cream cheese, is topped with thick caramel sauce and finished with chopped toffee bits!
Can't get enough dessert dips? Check out our Pumpkin Chocolate Chip Cookie Dough Dip next! Or give this easy cheesecake dip recipe a try soon.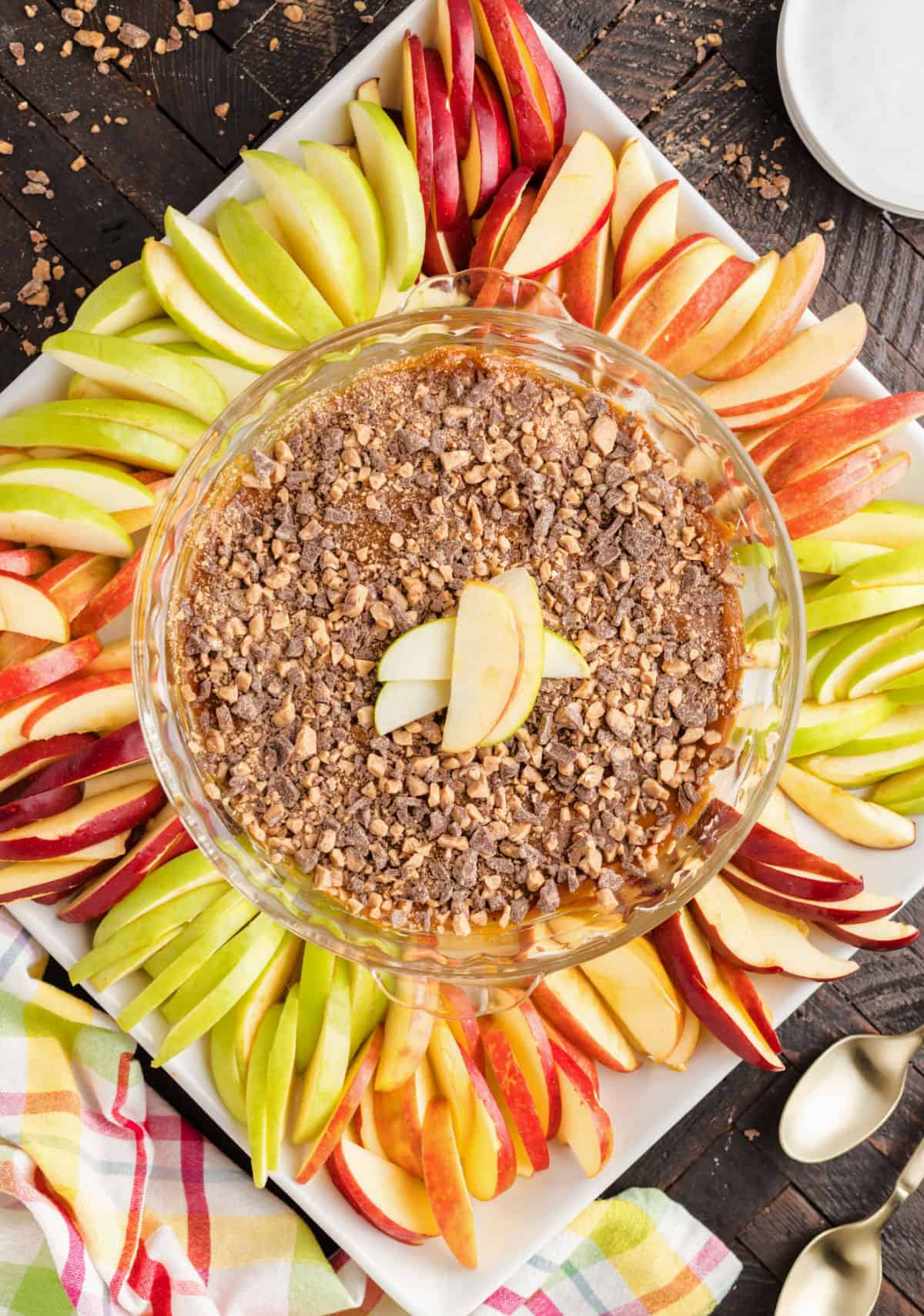 Why this Recipe is Best
What's better than apples and caramel? Apples and caramel AND cream cheese!
Caramel sauce is delicious on its own, but it tastes even better blended with cream cheese and vanilla!
This Caramel Apple Dip isn't just for apples! Try it with sweet dippers like graham crackers, cinnamon tortilla chips, and cookies, or dunk in some pretzels for a salty twist.
You only need 5 minutes and a handful of ingredients. Can you say, "last minute dessert idea"?
Similar to our apple nachos, this easy apple dip is a great recipe for guests and kids! Everyone loves it!
Ingredient Notes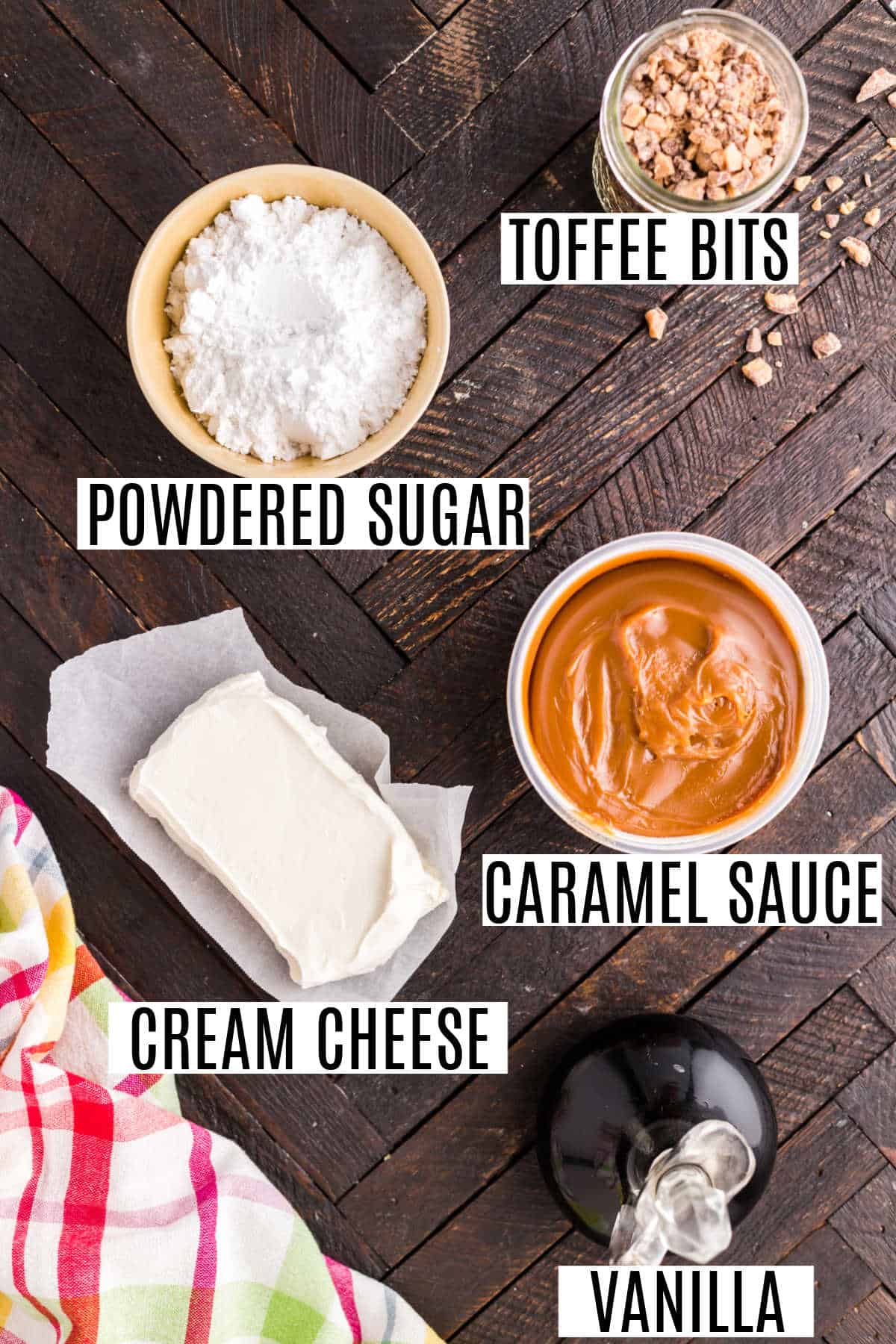 Only five ingredients for today's apple dip recipe!
Caramel. I use a jarred caramel dip as the base for this recipe. You can also use a thick caramel sauce topping, like the kind you use for ice cream. Most grocery stores also sell tubs of caramel dip in the produce section near the apples too.
Toffee bits. Heath baking bits work beautifully here. Or chop up your own candy bars (milky way is also fantastic)! You could even go the extra step and use homemade english toffee!
Apples. I like to slice my apples thinner than usual for today's dip. Add a splash of lemon juice and refrigerate until ready to serve. Perfect for guests!
Vanilla extract. Of course using my homemade vanilla extract is always preferred. But if you don't make your own, just be sure to use the real stuff not imitation.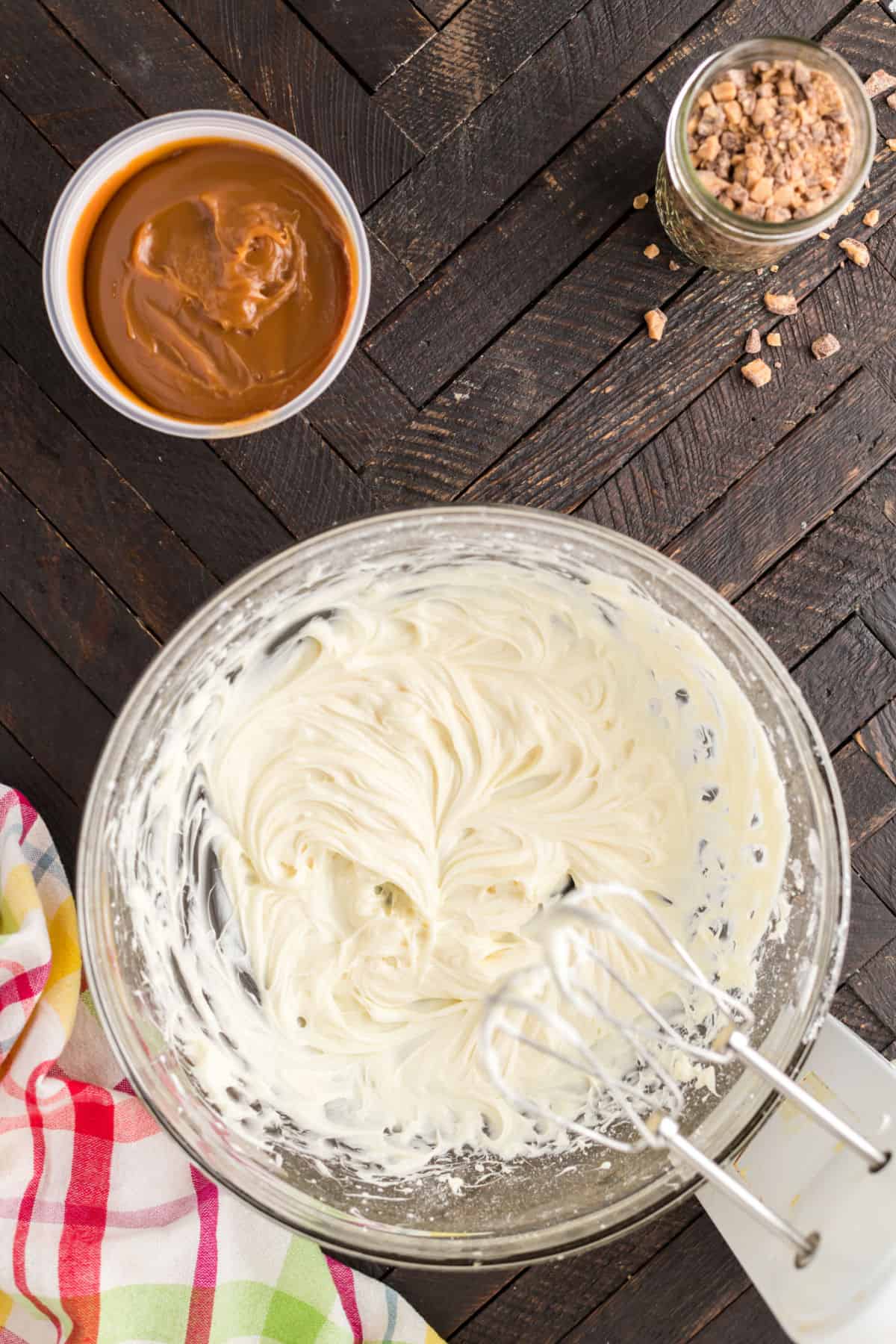 Tips and Tricks
Whipping up homemade caramel apple dip is easy as can be!
Make the dip by layering a sweet cream cheese mixture with caramel sauce in a pie plate.
Serve straight from the pie plate with sliced apples on the side.
To keep your apple slices from browning quickly, squeeze a little lemon juice over them. The citric acid helps keep your fresh apples looking their best while they wait to be dunked in perfect caramel dip!
Got leftover apples? Chop them up and put them in this DELICIOUS apple cinnamon bread! Even if they've browned up, nobody will know after baking.
Recipe FAQs
How long can I leave caramel apple dip at room temperature?
You can leave this dip out for about 2 hours at room temperature. After that, transfer any leftovers to an airtight container and store in the refrigerator.
Can I make this ahead of time?
You can beat together the cream cheese layer in advance and store it in the fridge. When you're ready to serve, just add it to the pie plate and top with caramel sauce.
What else can I serve this with besides apples?
We love this with so many dippers! Graham crackers, animal crackers, ginger snaps, pretzels and Ritz crackers are other favorite choices. It's also tasty with pears and bananas.
I've even been known to eat this right from the bowl with a spoon. (But I wouldn't suggest doing that at a party!)
What caramel sauce is best?
A thick sauce such as canned dulce de leche is my preferred choice. The plastic containers of caramel apple dip from the grocery store work perfectly too.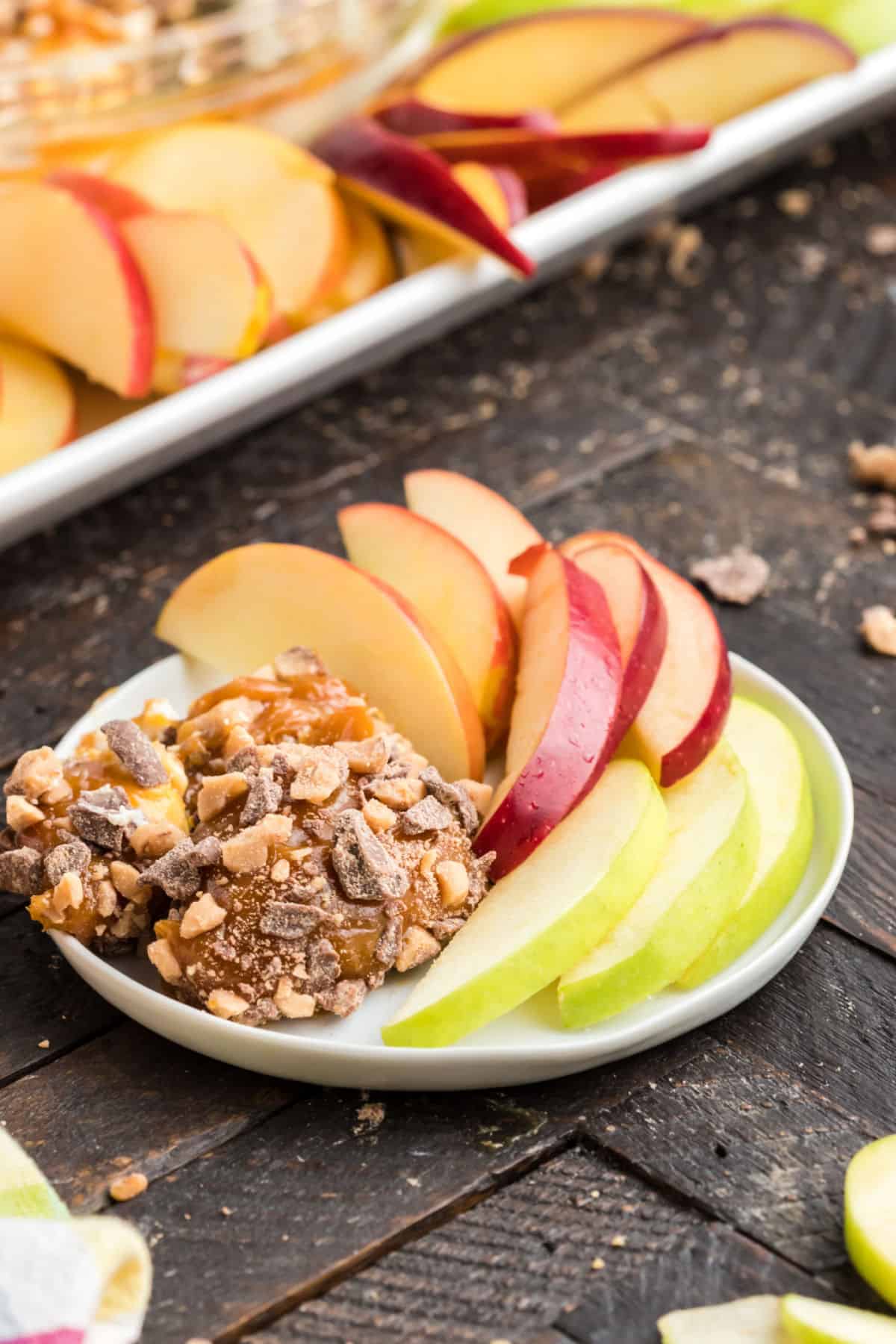 If you love creamy dips and caramel, this Caramel Apple Dip is a dream come true. It doesn't get any better than a 5 minute, 5 ingredient recipe!