Turn heads with this vibrant Easter Egg Cheesecake at your holiday meal. A no-bake cheesecake is covered in whipped cream frosting and robin's egg malt balls. The spring time colors make the creamy homemade cheesecake even better!
Looking for more creative Easter dessert ideas? You'll love these Easter Rice Krispie Treat Nests and this Easter Dirt Cake too. Our bunny butt cheese ball is the perfect centerpiece of your holiday table.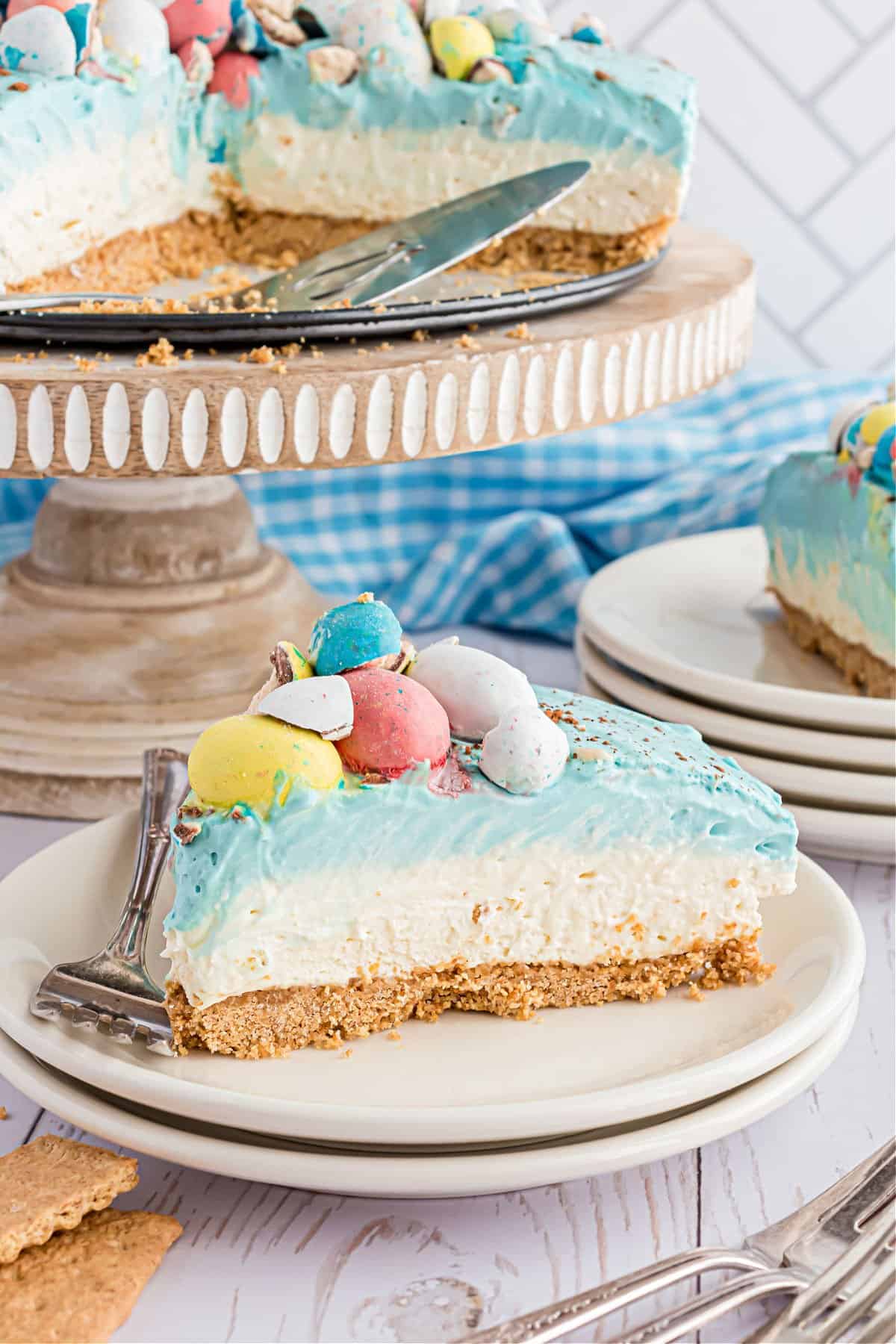 Why this Recipe Works
Will I ever get tired of making cheesecake? It's not likely, considering how many variations there are on the classic dessert.
I love baked cheesecake in all its forms, but no bake cheesecakes are tons of fun to put together! This Easter Egg Cheesecake recipe is based on my original Easy No Bake Cheesecake.
Here's why you're going to love this recipe.
No oven time. When oven space is in demand during holiday cooking, no-bake dessert recipes are a life saver. You can prep this Easter cheesecake and let it chill in the fridge while you cook the rest of the meal.
Easy ingredients. You probably have everything you need to make this cheesecake already! Just pick up a bag of chocolate malt eggs and you're ready.
Crunchy chocolate eggs. I love the crunchy robin's eggs candies paired with the ultra smooth cheesecake filling.
Beautiful to serve. The light blue frosting and brightly colored eggs make this Easter cheesecake as pretty as it is delicious.
Ingredient Notes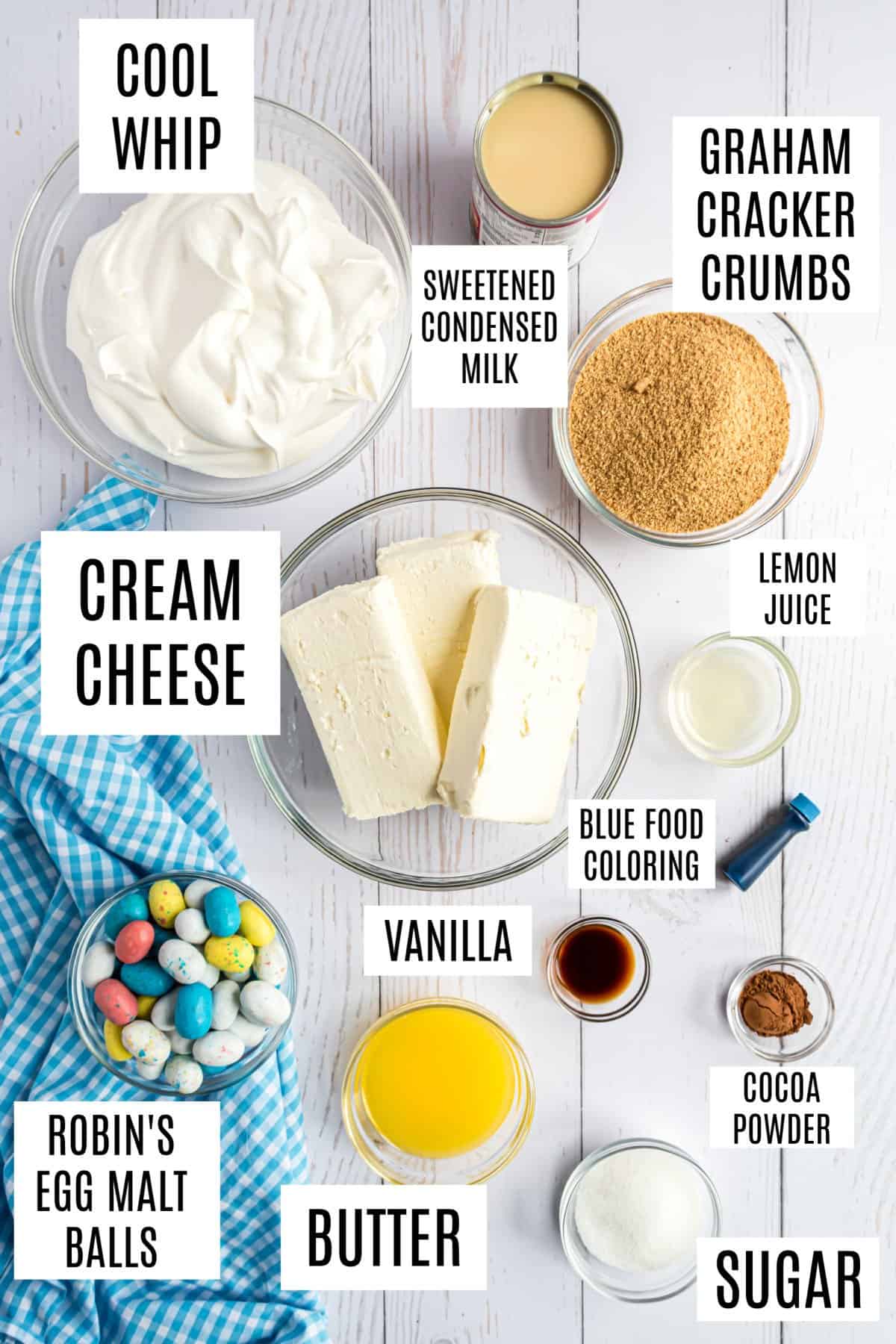 I love making this easy dessert! And you can make it in advance too.
Graham cracker crumbs. Make your own by pulsing whole graham crackers in a food processor.
Robin's Egg Malt Balls. These are easy to find during the Easter season! I used Whopper's brand. You can also use Hershey eggs or M&M's if desired.
Lemon juice. A squeeze of fresh citrus brings out the freshness in this cheesecake, but does not make it taste like lemon.
Cool Whip. Provides the lightness and stability for today's cheesecake. Use our recipe for stabilized whipped cream if you prefer homemade!
Sweetened Condensed Milk. Grab a can of the good stuff and add the perfect amount of sweetness to this no bake cheesecake. Don't substitute with evaporated milk, they are not the same.
Springform pan. You'll need a 9-inch springform pan for today's recipe.
How to Assemble
Easter Egg Cheesecake looks impressive but is surprisingly easy to make!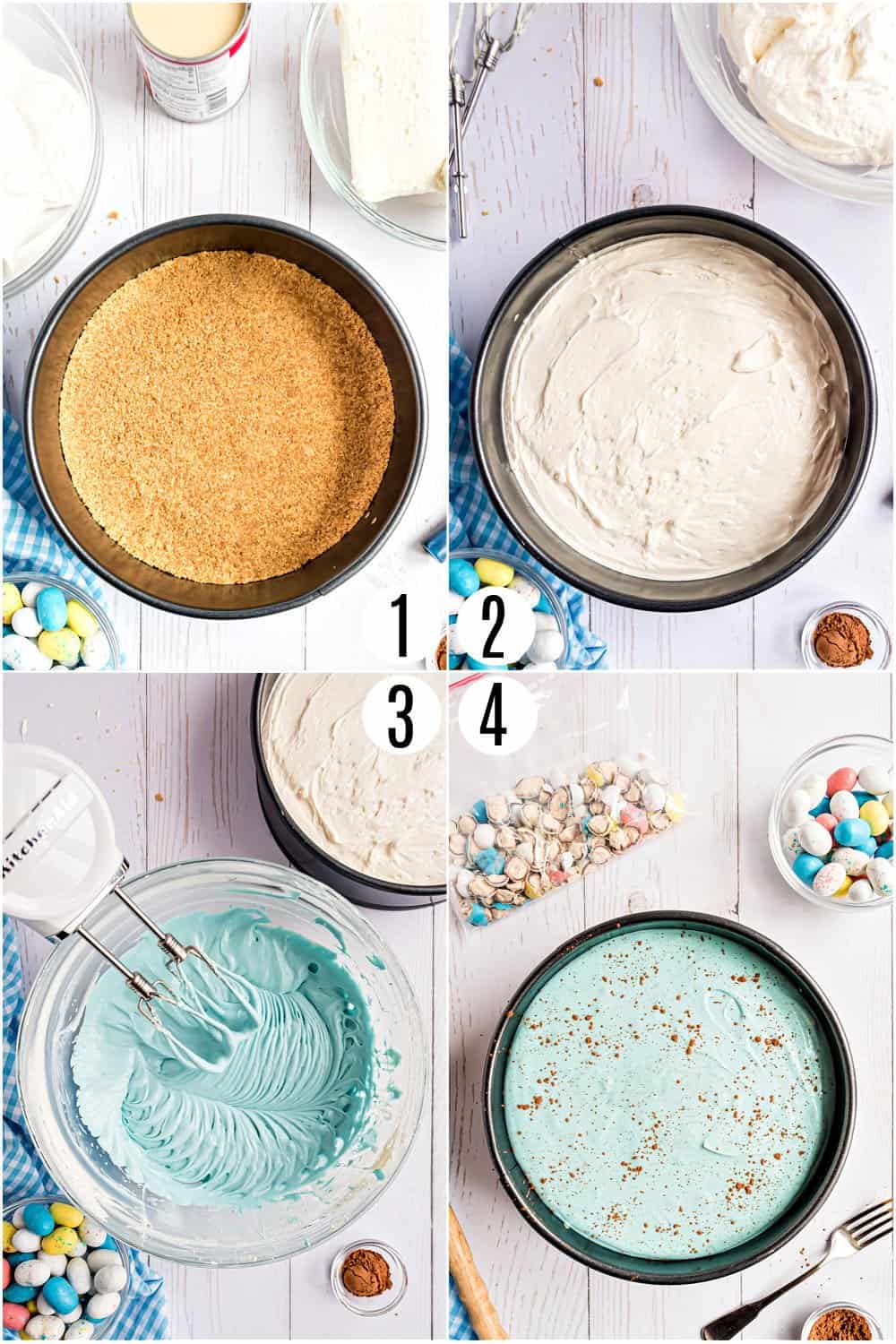 Make the crust. Press graham cracker crumbs into a spring form pan with melted butter and sugar. Let chill. Use our easy directions on how to make a graham cracker crust.
Make the filling. Beat together cream cheese, condensed milk and lemon juice. Fold in cool whip. Spread half the filling to the prepared crust.
Make blue whipped cream. Add food coloring to the rest of the cheesecake filling. Spread across the white cheesecake layer. Sprinkle unsweetened cocoa powder over the top.
Top with malted robin's eggs. Add whole robin's eggs to the top of the cake. Fill in gaps with crushed pieces of malted milk eggs.
Chill. Let the Easter egg cheesecake set in the fridge for at least 4 hours or up to overnight.
Tips and Tricks
How to crush robin's egg malt balls. Place half the eggs in a plastic bag. Use a mallet to crush into large pieces. They don't need to be pulverized, just broken up a bit.
Use full fat cream cheese. The rich flavor and creamier consistency makes Easter Egg cheesecake so delicious! Be sure to use cream cheese in blocks, not in a tub!
The longer it chills the better. I like to prep the cheesecake the night before serving. Cover with plastic wrap loosely and let it sit in the fridge overnight.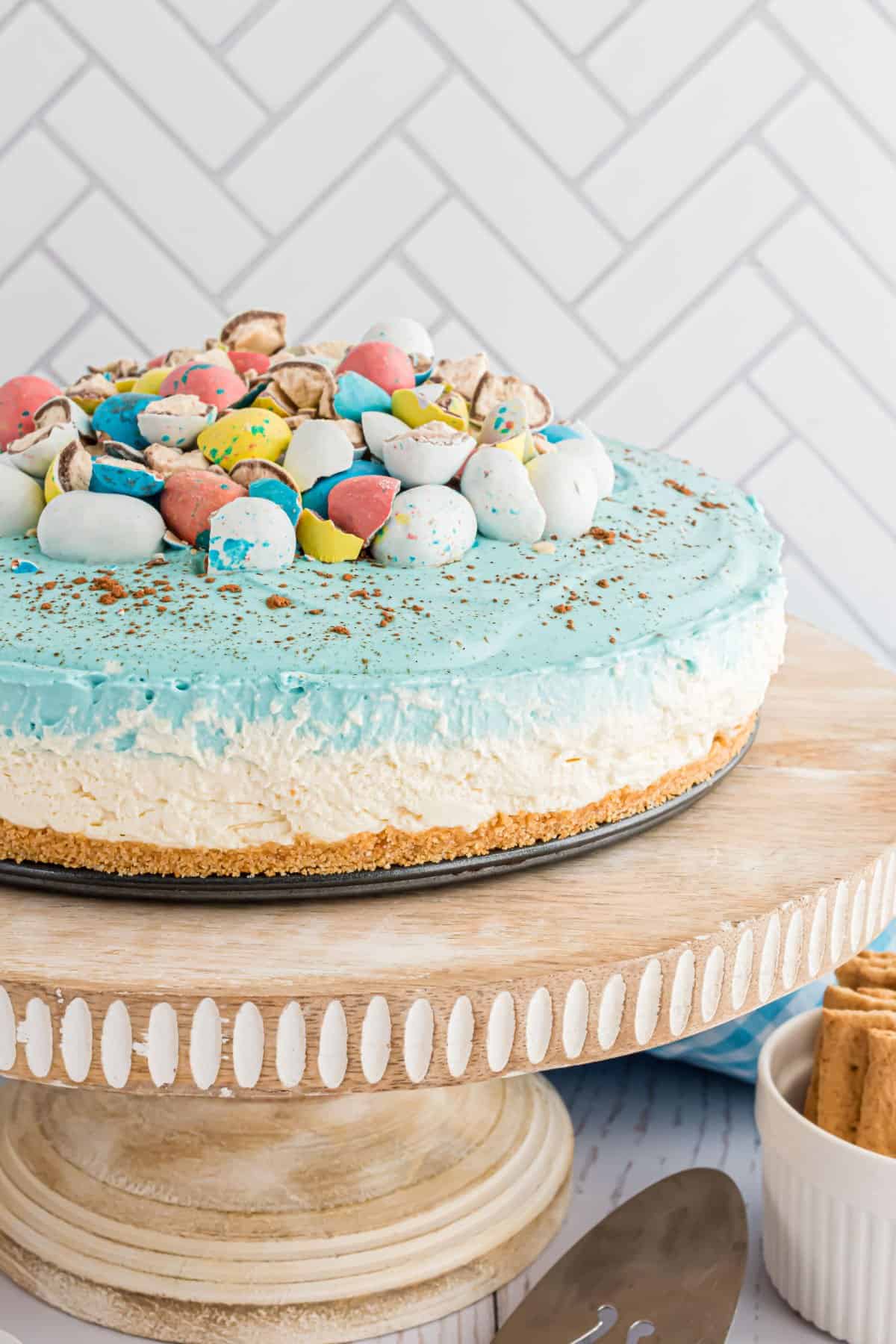 Recipe FAQs
Can I make this recipe with other kinds of chocolate eggs?
Yes, you could substitute other candy coated eggs like Cadbury mini eggs. However, they will not be as crunchy or have a malty flavor. M&M's will also work!
Can you use store bought crust instead?
Unfortunately because this dessert is made in a springform pan, store bought crusts won't work. You could buy the store bought crumbs however.
Can you freeze no bake cheesecake?
Yes, you can freeze no bake cheesecake. Wrap tightly in plastic wrap, then place in foil or a freezer bag. Let thaw in the fridge before serving. Freezing this Easter Egg Cheesecake may result in the robin's eggs bleeding color as they thaw. To prevent this, freeze without the eggs and add them to the top before serving.
Can I use regular whipped cream instead of cool whip?
If you can't find cool whip, whisk regular whipped cream with powdered sugar to thicken it up. Use 1:1 in place of the cool whip in the recipe. Or try making your own homemade cool whip!
Celebrate the season with a slice of this Easter Egg Cheesecake! Your favorite Easter candies make a perfect topping for the easy no-bake dessert.