Easter Rice Krispie Treats shaped like bird's nests! A few chocolate egg candies and a swirl of chocolate frosting make these perfect for spring time. Put them in your Easter baskets or bring them to a party to share.
How adorable are these Rice Krispie Treats? I turned my favorite dessert into nests to celebrate Easter! For Christmas we made these fun and festive Christmas tree rice krispie treats!
Why this Recipe Works
Did you know Rice Krispie Treats are so easy to press into different shapes?
You could make regular krispy treats and add a PEEP on top like I did with these Easter Rice Krispie Treats.
This time, I wanted an equally cute treat–but with CHOCOLATE.
Making them look like nests is so easy. Just set them up in a mini tart pan for a beautiful round shape.
I created a circle of chocolate frosting on top, then nestled three chocolate eggs in the center. Add pastel sprinkles on top for extra flair.
You'll love these bright and cheery Easter Rice Krispie Treats Nests!
Ingredient Notes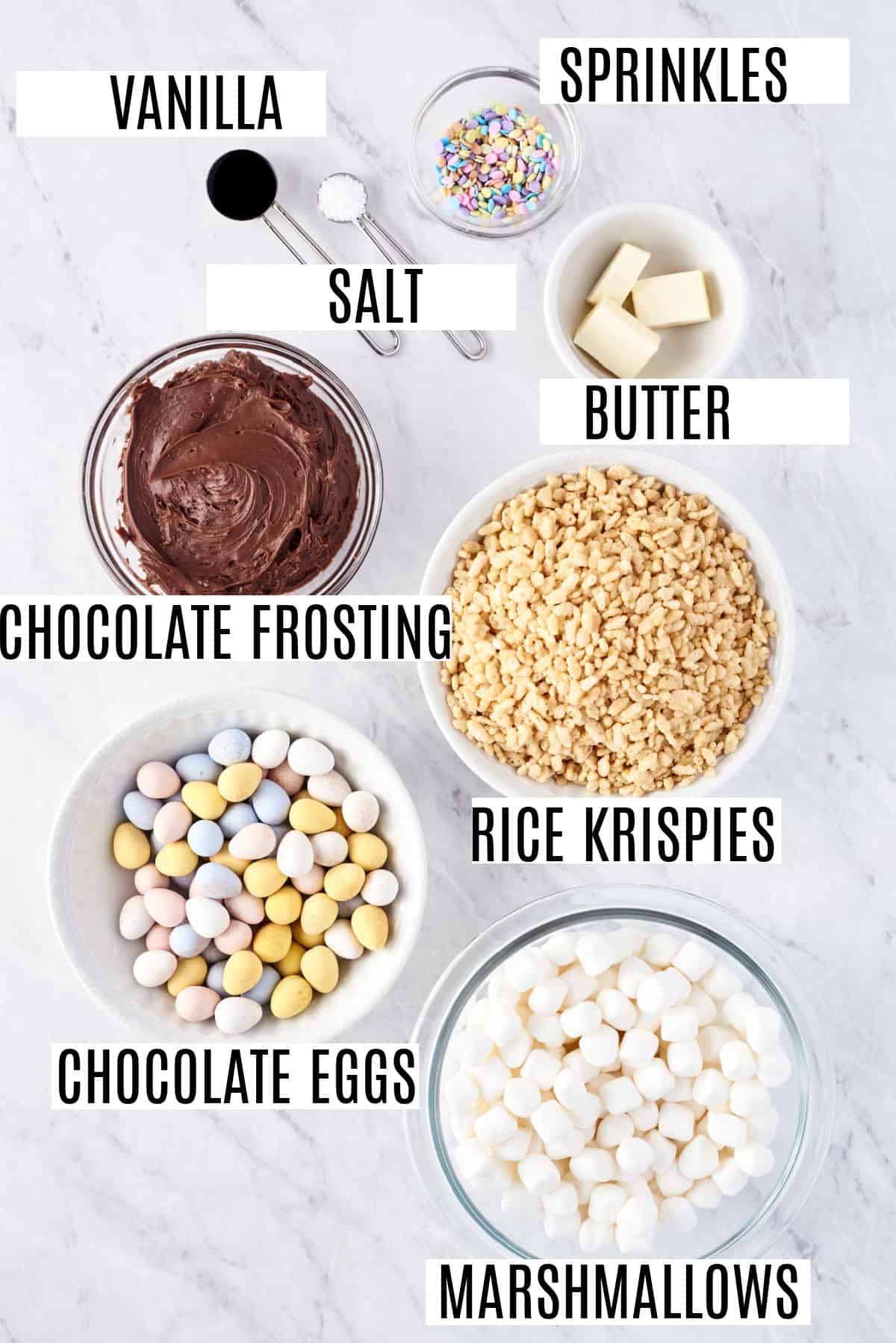 Mini marshmallows. The fresher the better!
Chocolate frosting. My Chocolate Buttercream Frosting Recipe tastes delicious on these treats. Canned frosting is fine too.
Vanilla. Use my Homemade Vanilla Extract for amazing vanilla flavor.
Chocolate egg candies. Cadbury mini eggs and Hershey's chocolate eggs are perfect. The pastel colors look best! You could even use M&M's if needed.
How to Assemble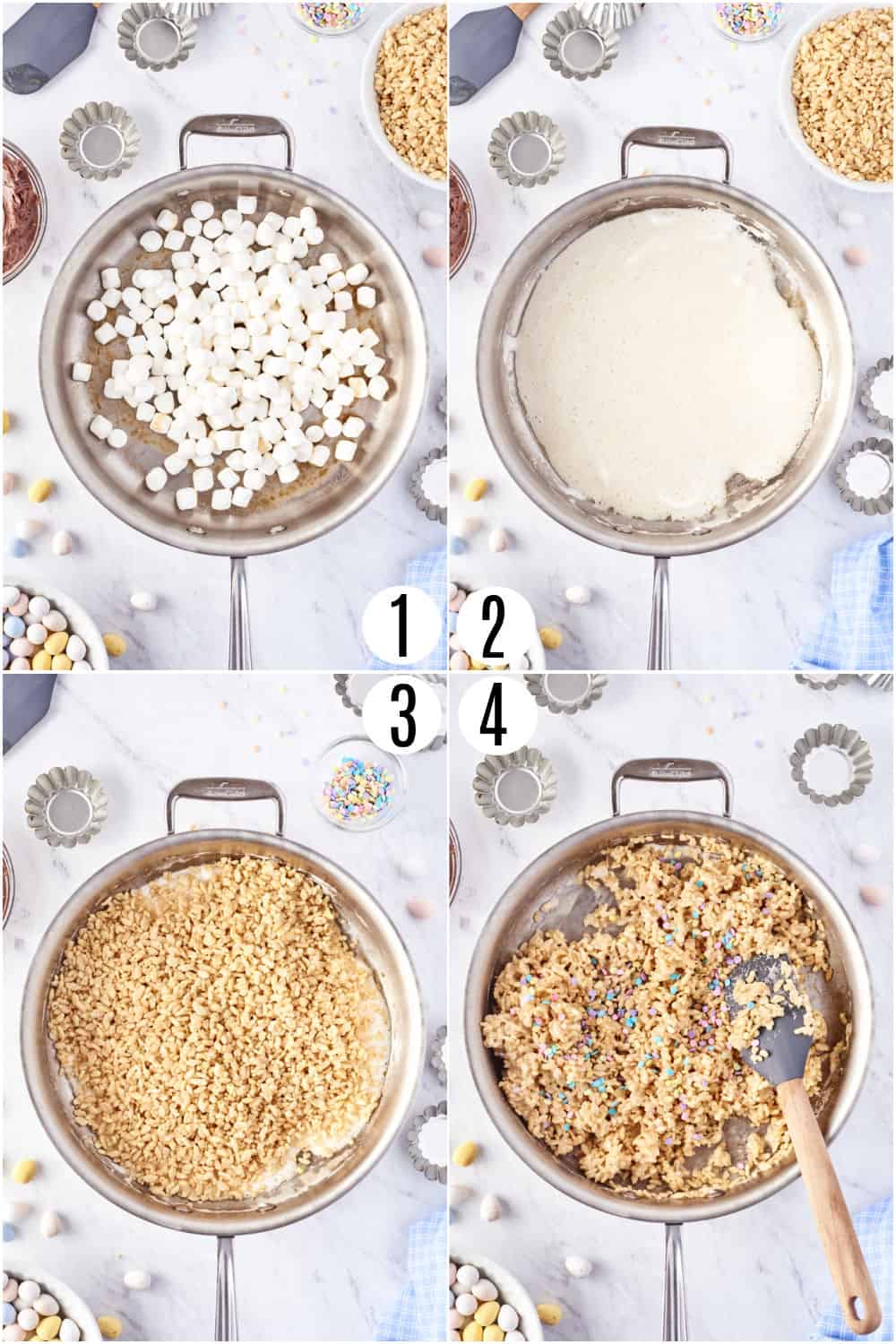 Start by making homemade rice krispie treats. Melt butter. Add marshmallows and melt. Add vanilla & salt. Add cereal and sprinkles.
Shape. After making the rice krispie treats mixture, you'll shape them into "nests" before they set.
Press the mixture equally into greased mini-tart pans. Use a spoon to make an indentation in the center of each treat. Pinch up the sides with your fingers to make a nest shape.
No mini-tart pans? No problem. Use a mini muffin pan instead!
Frost. Once the nests are cooled, pipe a swirl of chocolate frosting into the center divet. Top each one with 3 egg candies.
Serve and enjoy!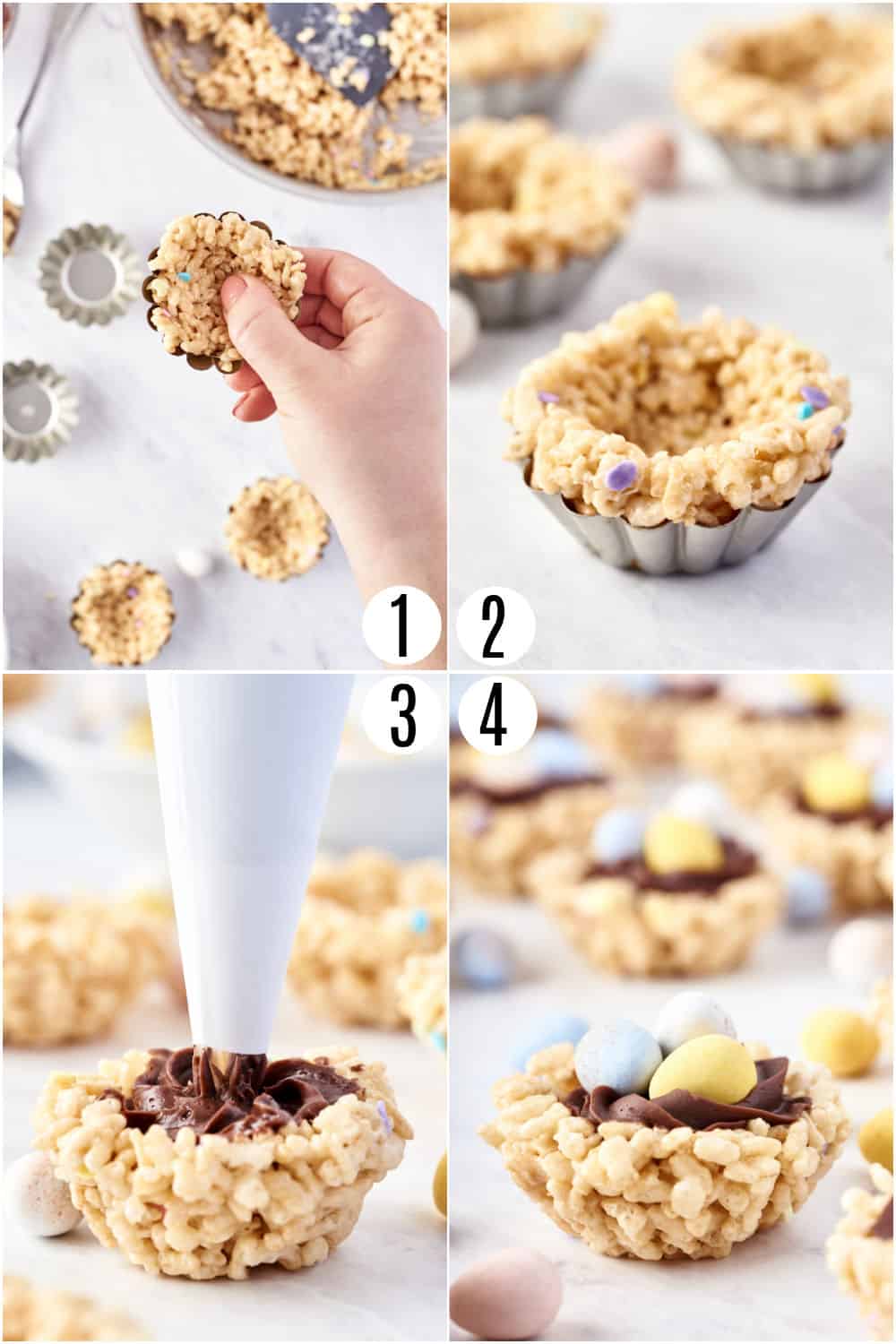 Tips and Tricks
What frosting tip to use. We used an open star 1M frosting tip to pipe the buttercream.
Green frosting variation. For more bright color, add a drop of green food coloring to vanilla frosting, instead of using chocolate.
PRO TIP. Run your spoon and fingers under water before pressing the treats. This prevents the treats from sticking to your fingers and spoon!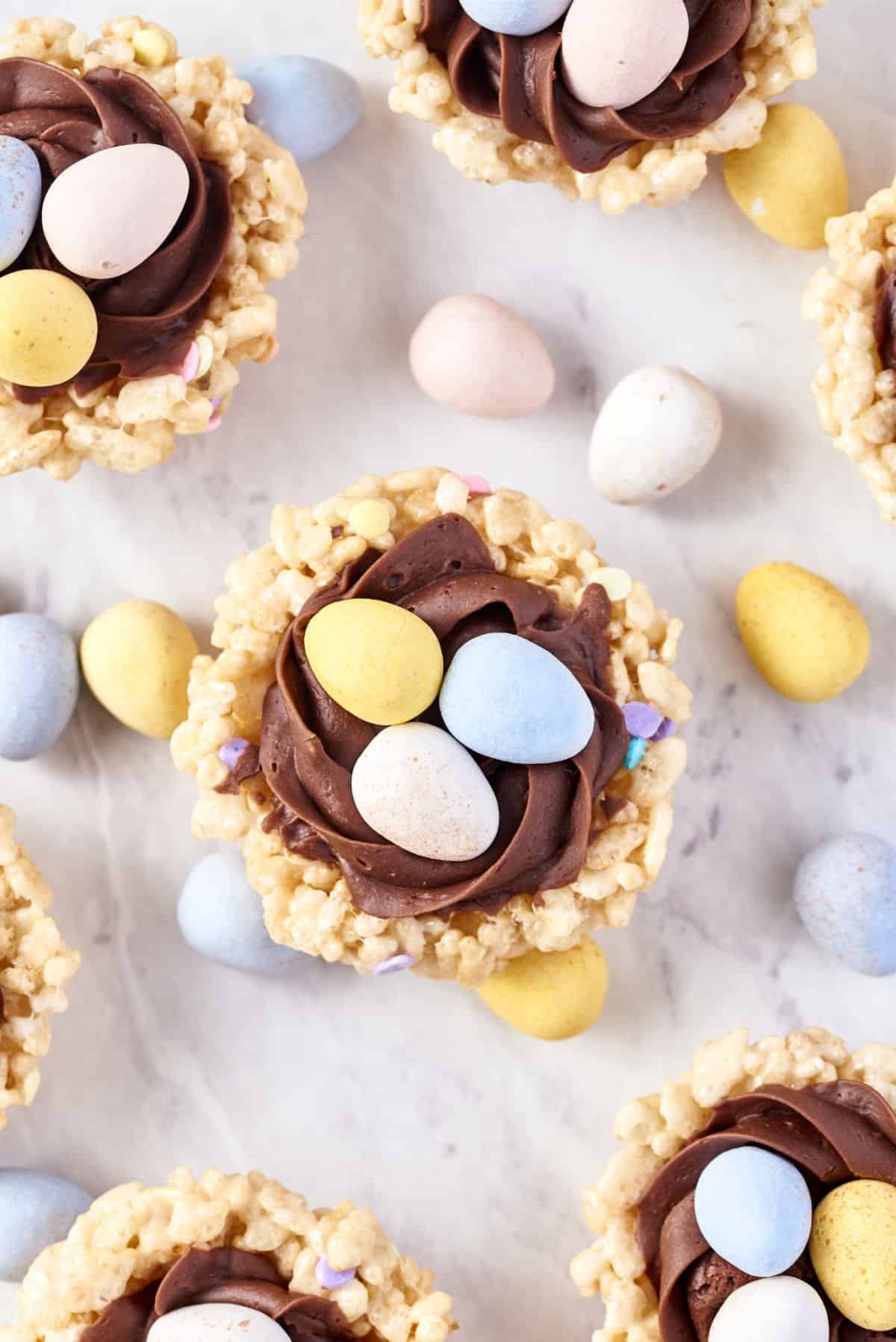 Recipe FAQs
Can I make this without a tart pan?
Yes, you can make these treats in a mini muffin pan or cupcake pan instead. Using a mini muffin pan makes about 24 Rice Krispie Treats Nests. If you use a full sized cupcake pan, you'll get about 6 – 8 nests.
How do you store rice krispie treats?
Easter Rice Krispie Treats can be stored at room temperature in an airtight container. Enjoy within 24 hours for freshest taste.
What kind of sprinkles do you need?
Any sprinkles work well here! Pastel colored jimmies, nonpareils or even round confetti style sprinkles are beautiful in these.
Why are my Rice Krispie Treats tough and hard?
If your treats are hard, you may have pressed them into the pan too much. Don't push too hard when adding the batter to the pan. The harder you press, the harder and tougher your finished treats will be. These should be soft and chewy with ribbons of marshmallow in every bite.
Why do my Rice Krispie Treats taste stale?
If your ingredients are stale, your finished treats will taste stale too. Make sure to use FRESH cereal and marshmallows in this recipe. It makes a big difference!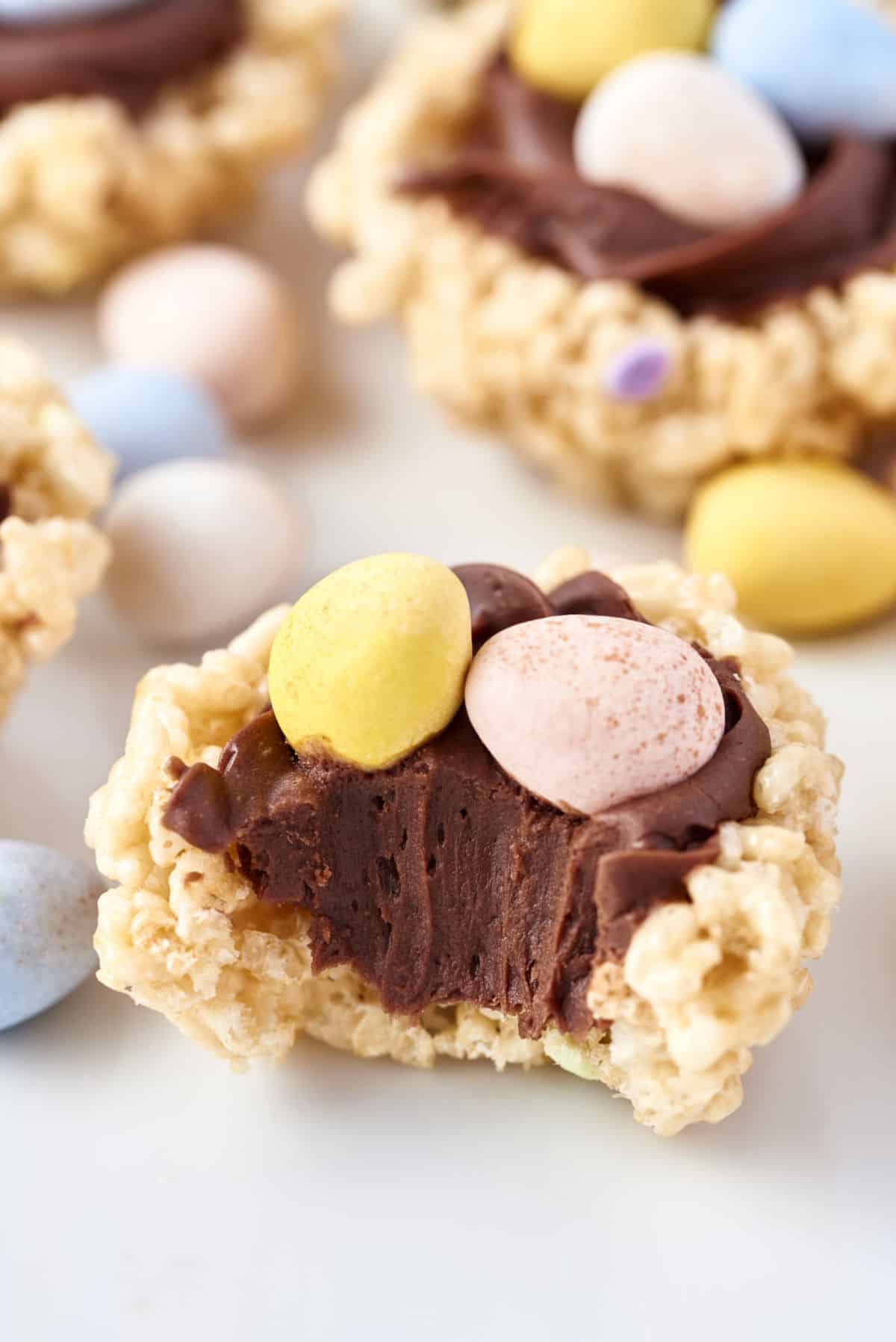 Beautiful color, delicious chocolate and lots of gooey marshmallows. These nests are the BEST Rice Krispie Treats for Easter!