Ritz Cookies are little packages of nostalgia. And chocolate! You can assemble them in minutes, for a perfectly munchable combo of salty, sweet, and satisfying.
While we love ritz crackers on our classic mac and cheese recipe, they are equally delicious on their own as a cookie!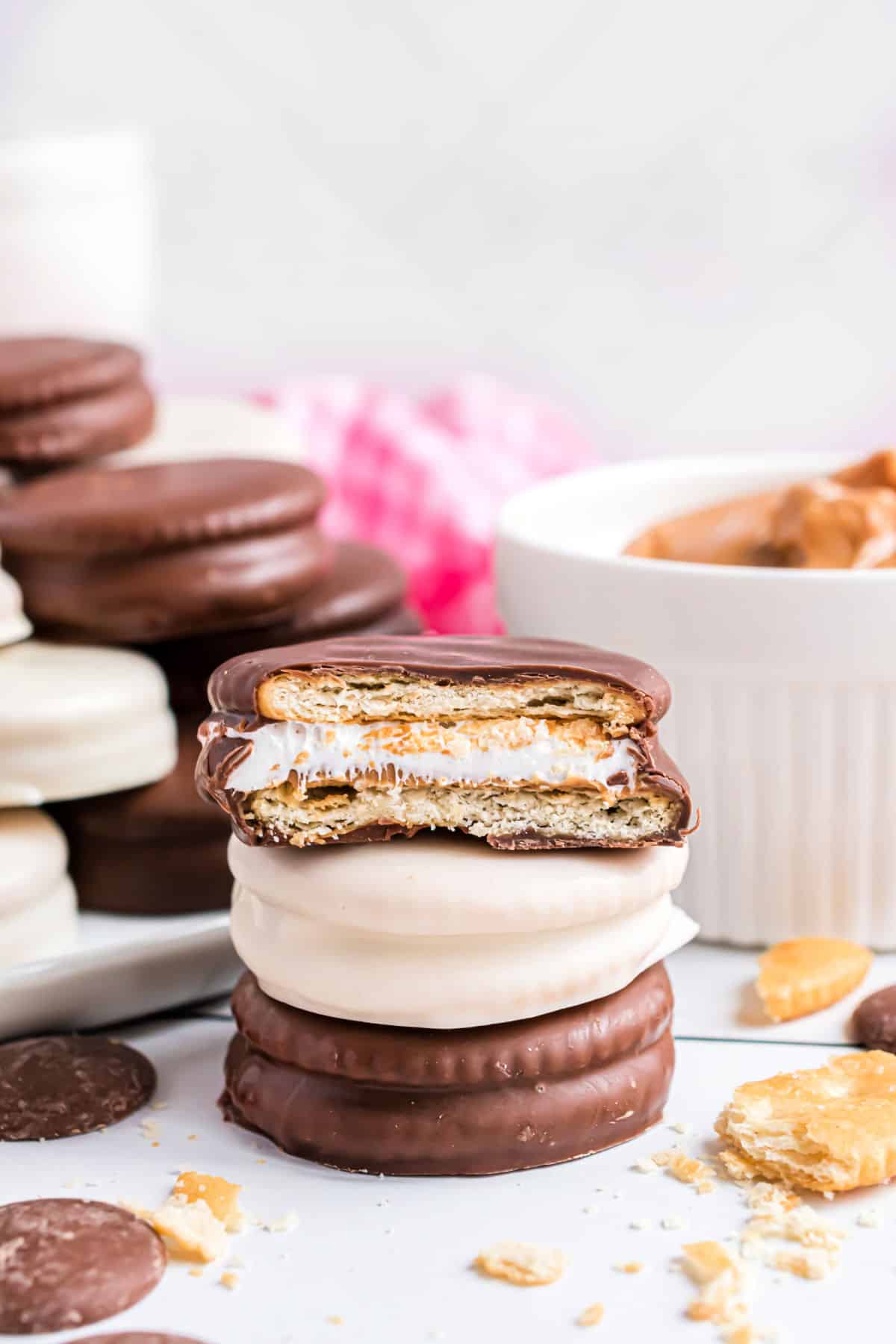 Why Ritz Cookies Are The Best
I wanted to create a holiday cookie that felt like being a kid again.
For me, that means less time in the kitchen and more time munching something festive and sweet while I go about my day. Fluffernutters seemed the perfect treat…with a twist.
Ritz crackers filled with smooth peanut butter and marshmallow fluff. Then dunked them in chocolate. Yum!
Here are a few reasons why you'll love them too,
Low-hassle assembly. There are only 20 minutes of hands-on time with this recipe, and it's simple enough that you can make it an activity for the kids too.
Only 4 ingredients. It takes only 4 ingredients to nail this decadent cookie recipe. Though the flavor variations are endless.
Perfectly balanced flavor. The saltiness of the ritz crackers combined with the nutty flavor of the butter, and the rich chocolaty coating make a well-balanced combination of sweet and salty.
Ingredient Notes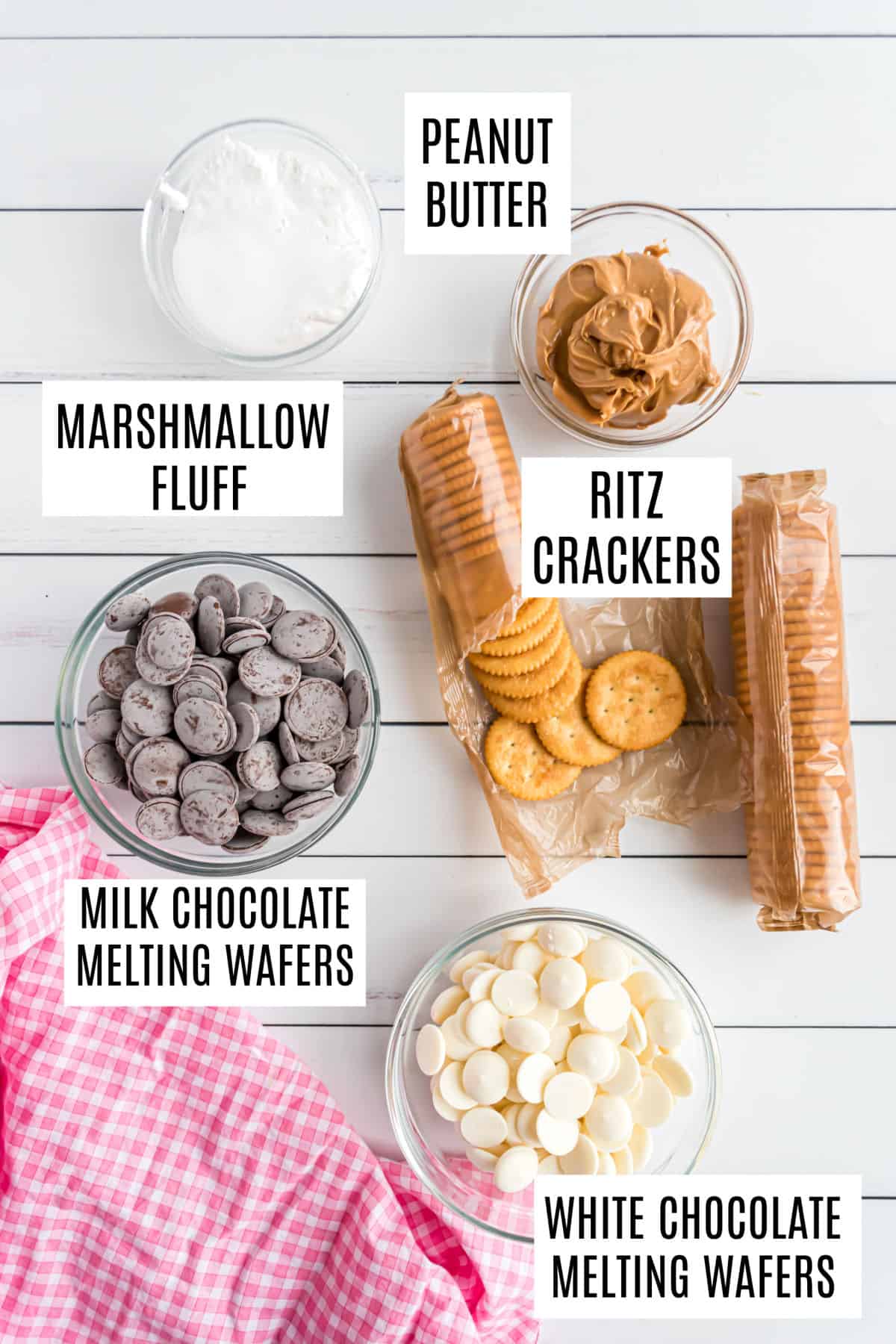 Ritz Crackers – They add a light saltiness and crispy texture. If you can't find Ritz, use any similar round crackers.
Peanut Butter – Use smooth peanut butter if you want to make the classic recipe. To add texture, you can use crunchy peanut butter.
Marshmallow Fluff – Used to make the classic fluffernutter flavor combination. We love using our homemade marshmallow cream for this recipe!
Ghirardelli Milk and White Chocolate – Use the wafers are they are easy to temper and melt. You can also use dark chocolate or even mix the milk, dark, or white chocolate as you like.
Sprinkles – Colored sprinkles can be used as per the theme or occasion. You can also sprinkle sea salt flakes or coconut flakes to keep it simple.
Easy Instructions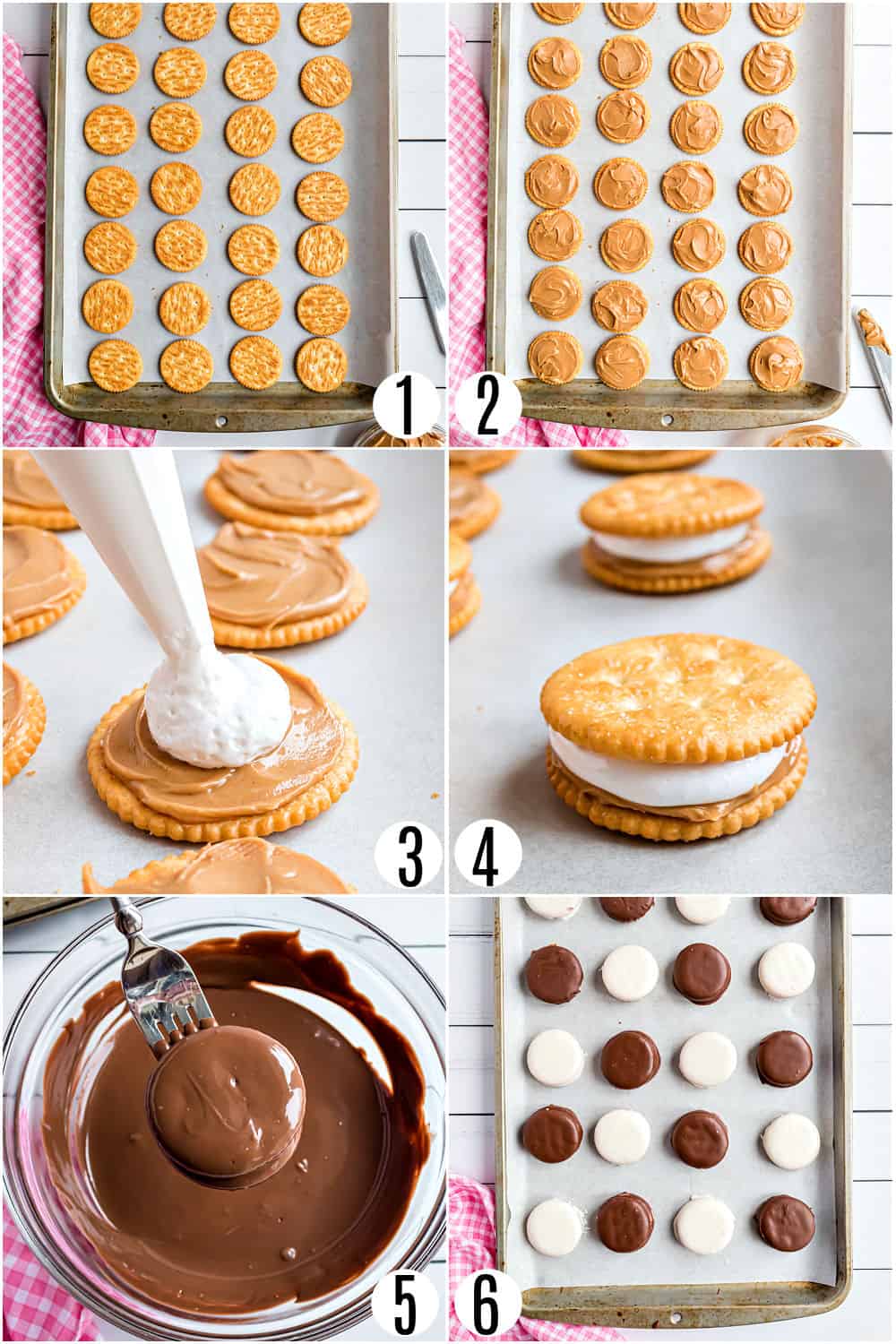 Assemble the crackers:.Place Ritz crackers on a parchment-lined baking sheet. Spread peanut butter on each one. If you're making fluffernutter, add a small dollop of marshmallow cream. Top with a second cracker.
Dip in chocolate. Melt your chocolate wafers in a microwave-safe bowl. Then dip each cracker sandwich in the melted mixture with a fork. Repeat this process with the white chocolate.
Decorate and dry. Add sprinkles, and then rest each sandwich on a baking sheet until the chocolate hardens.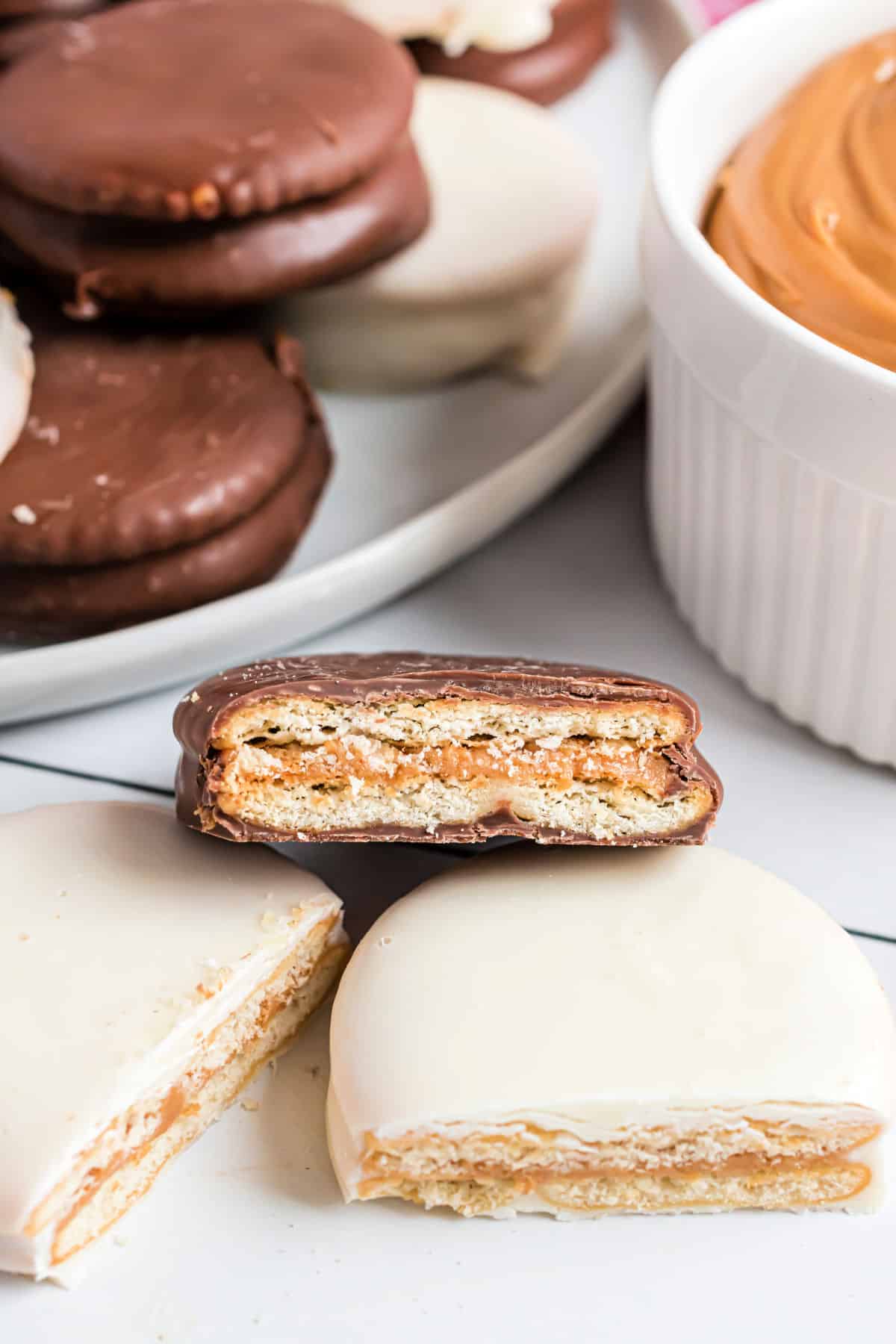 Tips and Tricks
Use parchment. Line your baking sheet with parchment paper for easier cleanup. You'll thank me later because cleaning chocolate from the sheet itself can take some elbow grease.
Refrigerate before dipping. Once you've assembled the crackers, refrigerate them before dipping them in chocolate. Cooling for 8-10 minutes will harden the peanut butter, making it easier to dip.
Melt the chocolate properly. Use a clean and dry bowl to melt the chocolate. If the bowl is even slightly wet, the chocolate-coated crackers won't set properly. Melt the chocolate by microwaving it in increments of 20-30 seconds. This prevents the chocolate from scorching.
Use 2 forks. Use one fork to dip the crackers in melted chocolate. Use another fork (or toothpick) to gently slide it off the first fork onto the lined baking sheet.
Reheat the chocolate. If the chocolate starts to set while dipping the crackers, re-warm the chocolate for a few seconds in the microwave.
Skip the marshmallow. Use just peanut butter for an easy chocolate peanut butter treat.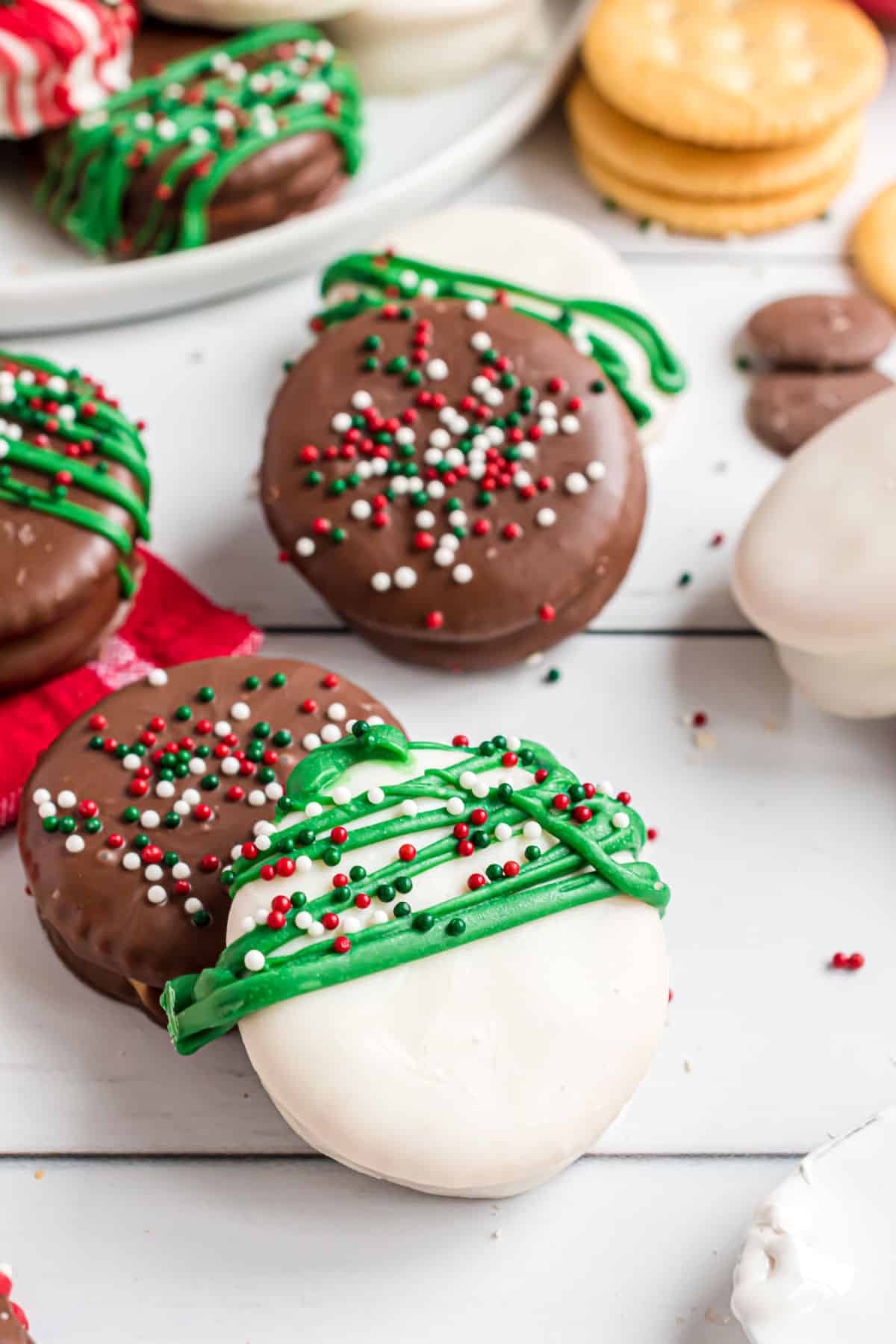 Holiday Treats
Making these ritz cookies into an easy holiday treat is as easy as adding festive sprinkles and colored melted chocolate.
If you love our chocolate covered oreos, our ritz cookies are the perfect pairing on your holiday dessert plates.
Recipe FAQs
How do I store these Ritz Peanut Butter Crackers?
Store Ritz Peanut Butter Crackers in an airtight container at room temperature for up to one week. To keep them longer, store them in freezer-safe containers or bags and freeze them for up to 3 months.
Can I substitute the peanut butter?
Absolutely. You can use any nut butter, like almond butter or cashew butter. In case of nut allergies, use sun butter, or Biscoff for a nut-free alternative.
Can I substitute the Ritz Crackers to avoid gluten?
Yes. To avoid gluten you can use any gluten-free crackers that are available in the market. These crackers are usually made using rice, mixed seeds, potato starch, etc.
The chocolate coating didn't set. What went wrong?
Melting chocolate using a bowl with moisture is a common misstep. Always ensure that your bowl is squeaky clean and dry before you begin. Even a drop of water can prevent the chocolate from setting.
More Easy Dessert Recipes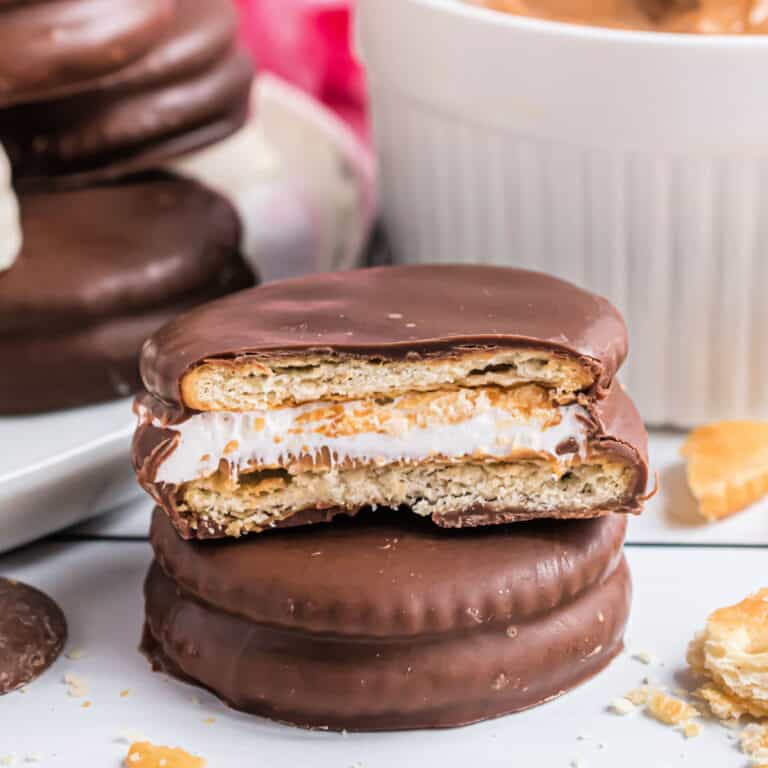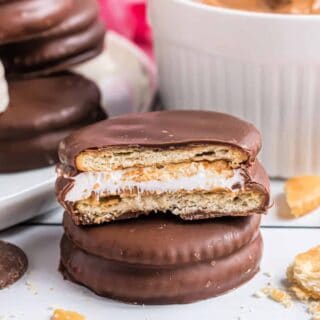 Ritz Cookies
Ritz Cookies are little packages of nostalgia. And chocolate! You can assemble them in minutes, for a perfectly munchable combo of salty, sweet, and satisfying.
Ingredients
48

ritz crackers

½

cup

creamy peanut butter

½

cup

marshmallow fluff

optional

5

ounces

Ghirardelli milk chocolate melting wafers

about ½ a package

5

ounces

Ghirardelli white chocolate melting wafers

about ½ a package

Sprinkles

optional
Instructions
Place Ritz crackers, face down, on a parchment-lined baking sheet. Add about a teaspoon of peanut butter to each cracker and spread in an even layer.

If making them into a fluffernutter, fill a piping bag with marshmallow fluff, and add a small dollop of marshmallow cream, about a teaspoon, in the center of each cracker on top of the peanut butter.

Add a second cracker, face side up, to top and sandwich the peanut butter and fluff layers.

In a small microwave-safe bowl, melt the chocolate wafers according to the package directions.

Dip the cookie sandwich into the chocolate and, using a fork, lift the cookie out of the chocolate and gently tap the fork on the edge of the bowl to remove any excess chocolate. Repeat with white chocolate.

Transfer to the parchment-lined baking sheet and decorate with sprinkles, if desired. Allow the chocolate to harden.
Notes
Storage: Store cookies at room temperature in an airtight container for up to one week.
Freeze in an airtight container or freezer bag for up to 3 months.
The amount of Ritz crackers needed is about 2 large sleeves.
Using a piping bag (or ziploc bag with corner snipped off) is the easiest, and least messy way to add the marshmallow cream.
If using just one kind of melting wafer, a 10-ounce bag would be enough to dip all the cookies.
Use a toothpick to help slide the cookie off the fork after dipping in chocolate (or white chocolate).
I found that lining a cookie sheet with parchment made a convenient surface to prepare the cookies because then I could move them all while the chocolate was setting up.
Allergies? Use sun butter, or biscoff for a nut-free alternative.
Nutrition
Serving:
1
cookie
,
Calories:
146
kcal
,
Carbohydrates:
16
g
,
Protein:
3
g
,
Fat:
8
g
,
Saturated Fat:
3
g
,
Polyunsaturated Fat:
4
g
,
Cholesterol:
3
mg
,
Sodium:
105
mg
,
Fiber:
1
g
,
Sugar:
9
g