Pecan Tassies are tart-like cookies featuring the flavors and textures of pecan pie. Delicious, tender, buttery crust, crunchy pecans, and brown-sugar filling, all in one bite.
Love these cookies? Be sure to try our classic pecan pie recipe for a rich, nutty treat. Or whip up some pecan pie truffles for a unique holiday dessert.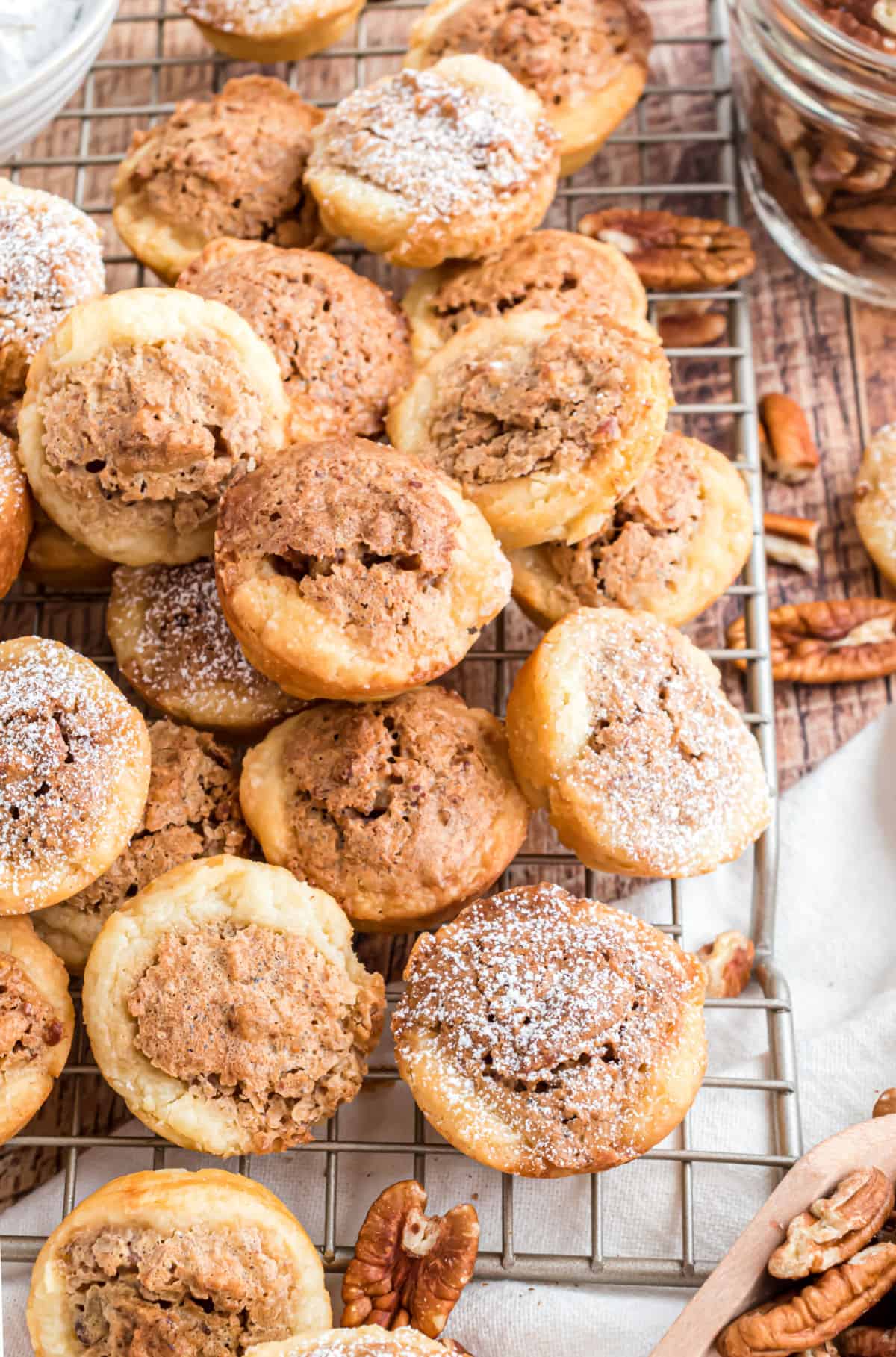 Why these Cookies are Best
Growing up there were many cookies that my family had during the holidays that we never ate the rest of the year. They were STRICTLY holiday treats.
Today's Pecan Tassies were one of those cookies. Only we called them "nut cups."
Delicious cream cheese cookie cups filled with a pecan pie filling and topped with powdered sugar. Much like mini pecan pies!
Easy to follow recipe below!
Make ahead of time since they freeze well.
Delicious addition to cookie plates!
If you love the texture of a shortbread cookie, these are for you!
After you clear your holiday plate of turkey, green bean casserole, sweet potato casserole, and dinner rolls…today's cookie will be waiting on the dessert table!
Ingredient Notes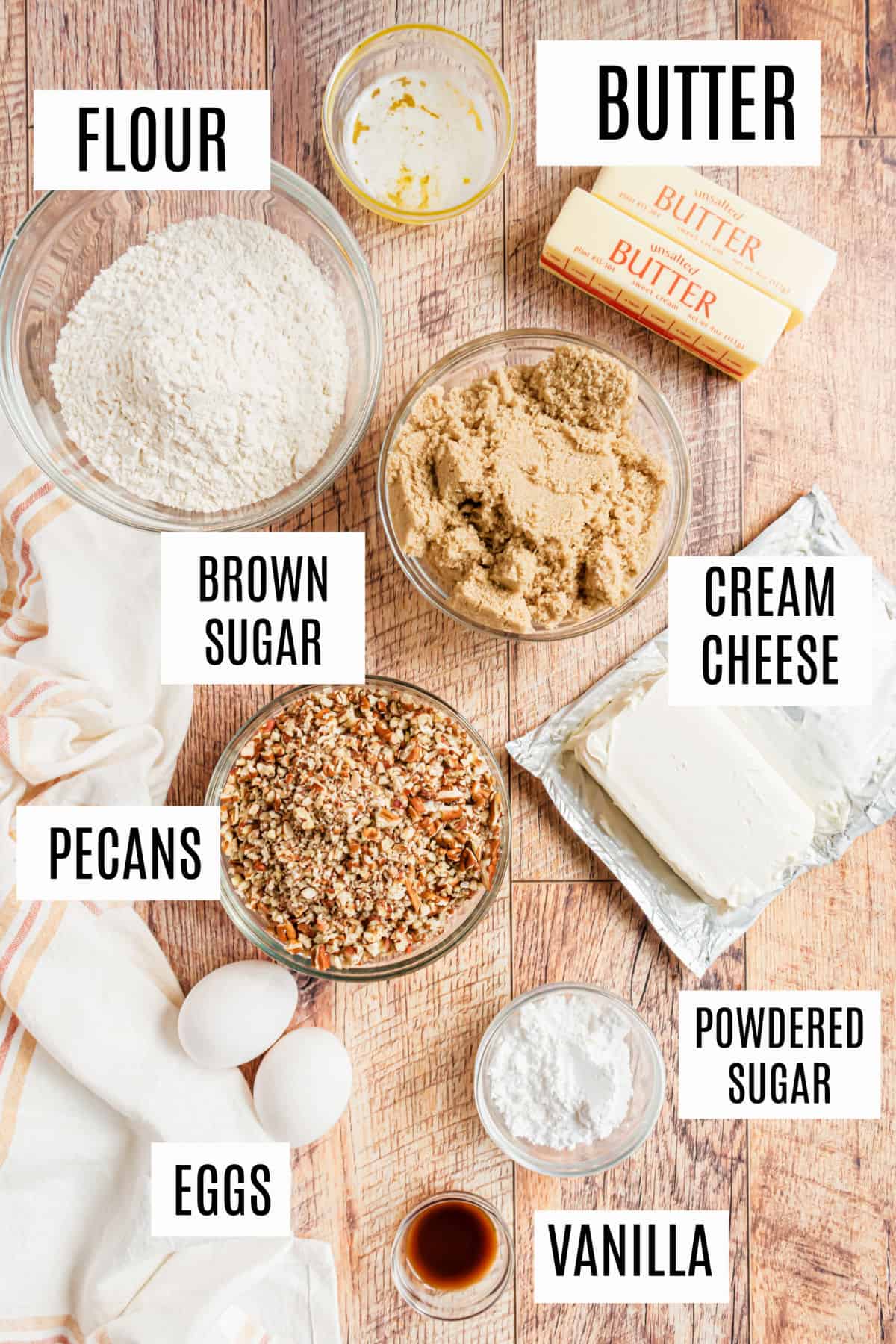 Today's cookie is simple and easy, and can be made with ingredients you probably already have on hand for the holidays.
Butter & Cream Cheese- softened to room temperature to create a flaky dough. Learn how to soften butter quickly with one of our 5 tricks!
Powdered Sugar- used in the dough and to top the cookies after baking and cooling.
Eggs, Pecans, Brown Sugar- the trifecta ingredients used to make the pecan pie filling. Toast the pecans first for best flavor and texture.
PRO TIP- We love making our own homemade vanilla extract, but if using store bought, be sure it's pure extract, not imitation (for best flavor).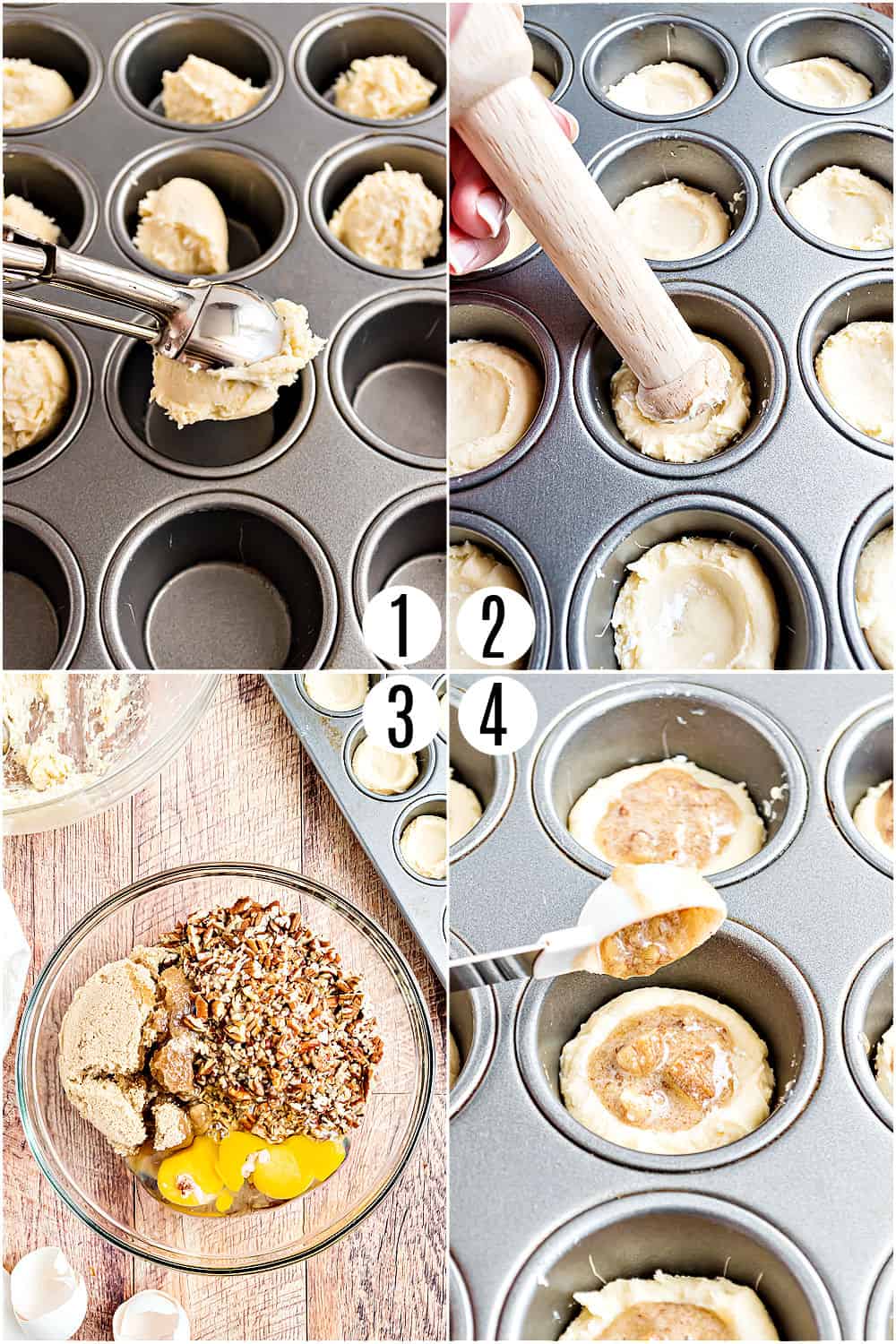 Tips and Tricks
For a nuttier flavor and texture, toast pecans prior to making the filling!
Do not overmix the cookie dough!
I use a small cookie scoop to add the filling into the cookie cup.
Store: Keep pecan tassies in a airtight container for up to one week at room temperature, or up to two week in refrigerator.
Use a mini muffin pan for best results, or a small tart pan.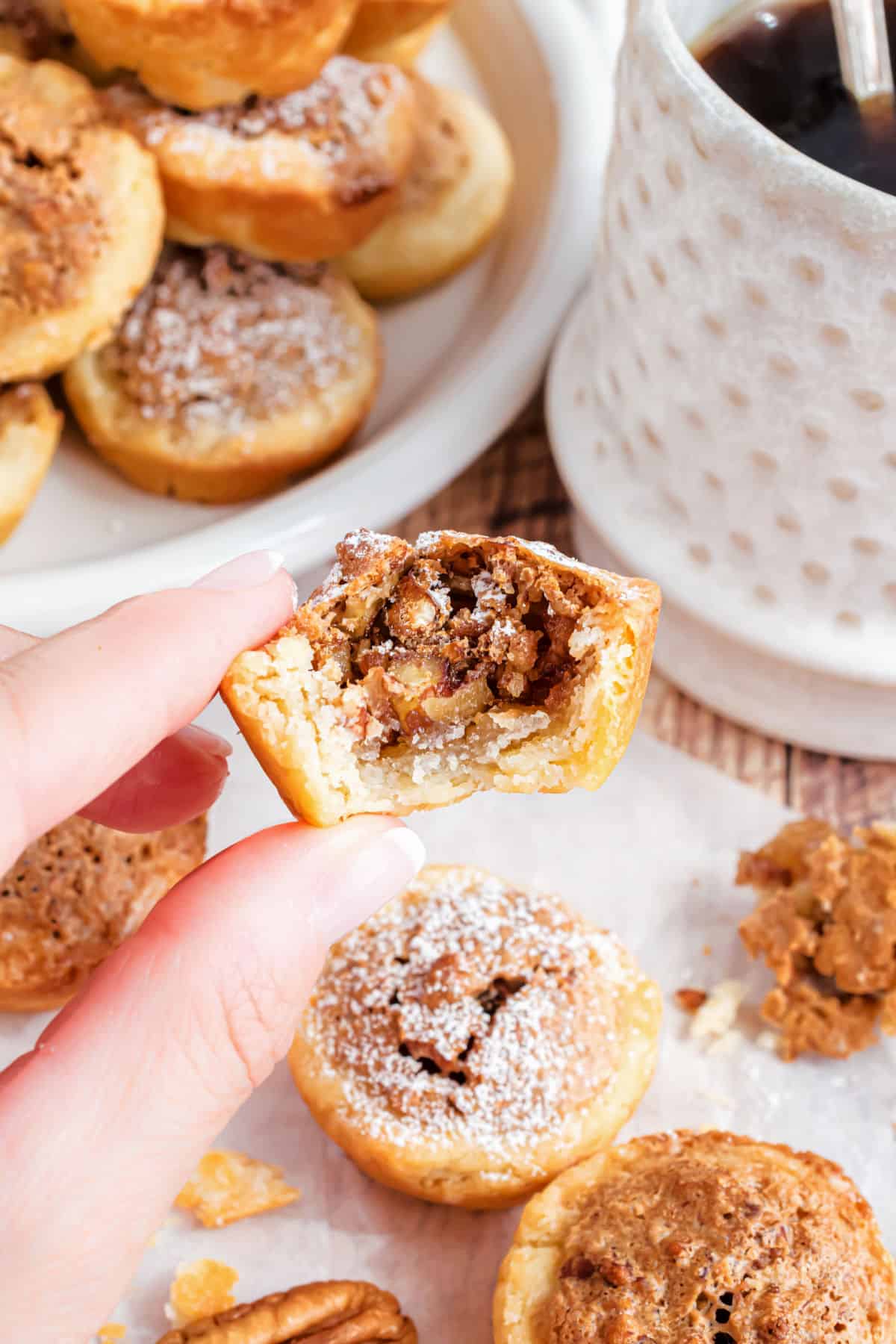 Recipe FAQs
Can pecan tassies be frozen?
Yes! Once you have cooled your cookies completely, place in an airtight container or ziploc freezer bag. Freeze for up to two months for best results. To thaw, remove from freezer and allow to thaw at room temperature (in container).
Why did my pecan tassie filling run out and over the top of the cookie?
This usually happens when there is TOO MUCH filling in the pecan tassie cookie. Don't worry though, it still tastes good. Add a little extra sugar to the top and nobody will care what it looks like underneath!
Can I use pie crust or tart shells for pecan tassies?
While pecan tassies are mini pecan pies, the base is a little richer than a pie crust, with a little more chew like a cookie. You can certainly take my advice with a grain of salt, but I definitely prefer to make the cookie base recipe.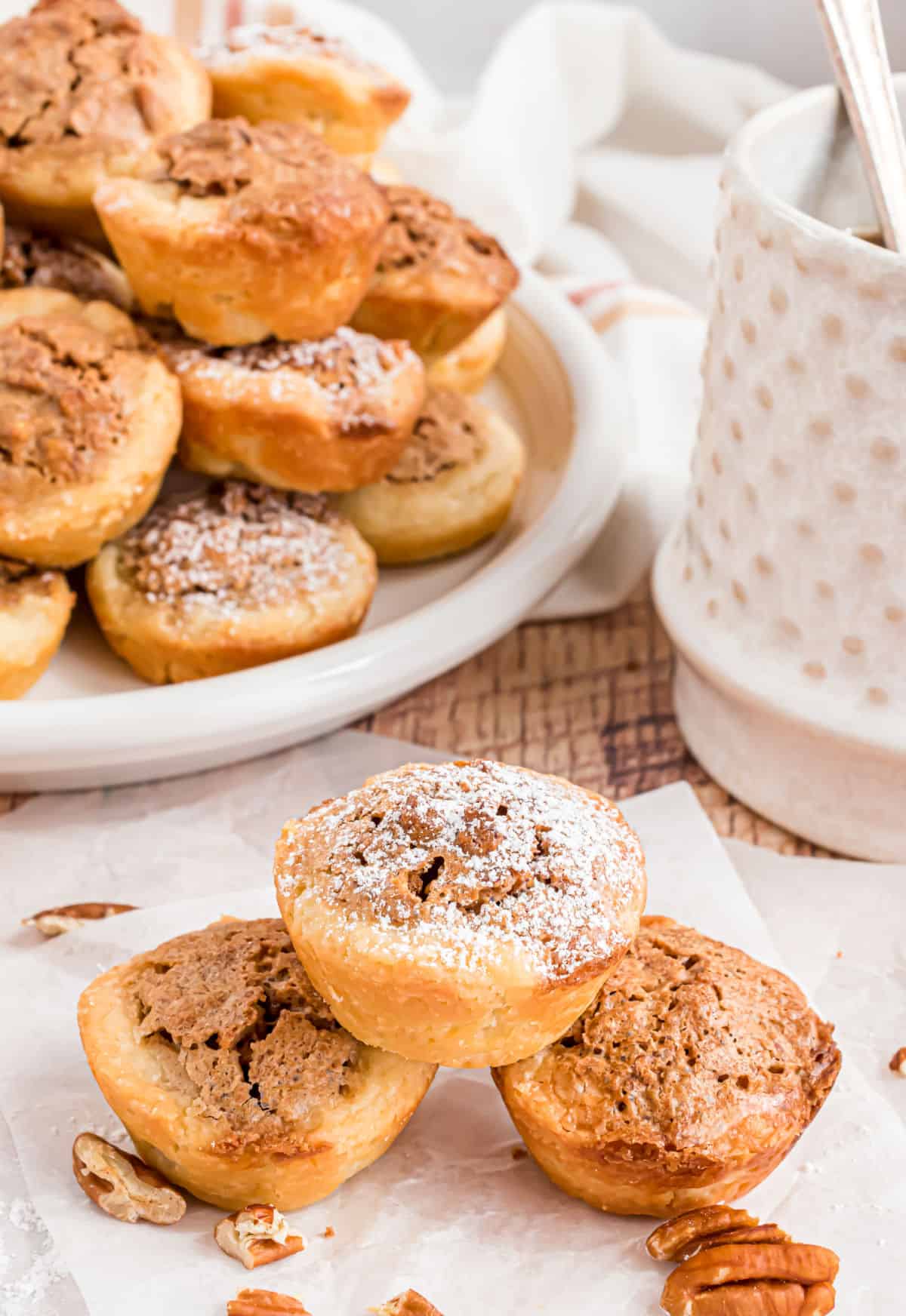 More Nutty Recipes