Pecan Tassies are tart-like cookies featuring the flavors and textures of pecan pie. Delicious, tender, buttery crust, crunchy pecans, and brown-sugar filling, all in one bite.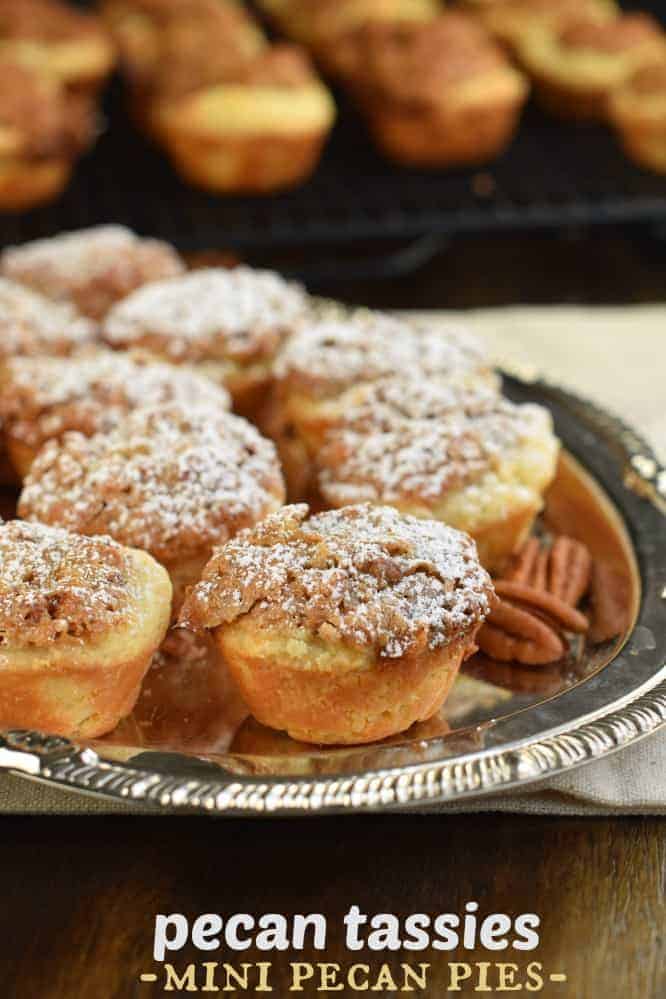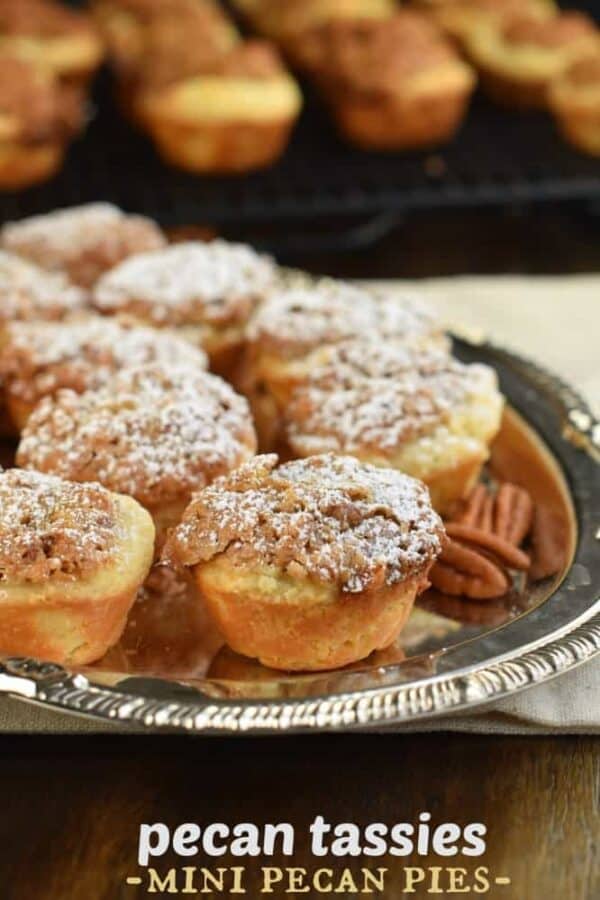 Click HERE to save recipe to Pinterest
***This post is sponsored by Fisher Nuts. I am excited to be a partner in creating delicious recipes, all opinions are 100% my own***
Growing up there were many cookies that my family had during the holidays that we never ate the rest of the year. They were STRICTLY holiday treats.
Today's Pecan Tassies were one of those cookies. Only we called them "nut cups."
Which basically describes them, haha. Delicious cream cheese cookie cups filled with a pecan pie filling and topped with powdered sugar. Much like mini pecan pies!
They are so easy to make, and perfect for making ahead of time too since they freeze well.
Some people like to "toast" their pecans before adding to the homemade pecan pie filling. I choose instead to use Fisher Nuts Pecans which already have a rich, nutty flavor that doesn't need any enhancing!
Fisher Nuts are fresh out of their shells with no preservatives or GMO's. The stand up bags are perfect for on-the-go snacking, with the zipper closure to keep them fresh.
If you love pecan pie, these mini pecan pies cookies are adorable and delicious! Bite sized and perfect addition to your cookie plates this holiday season!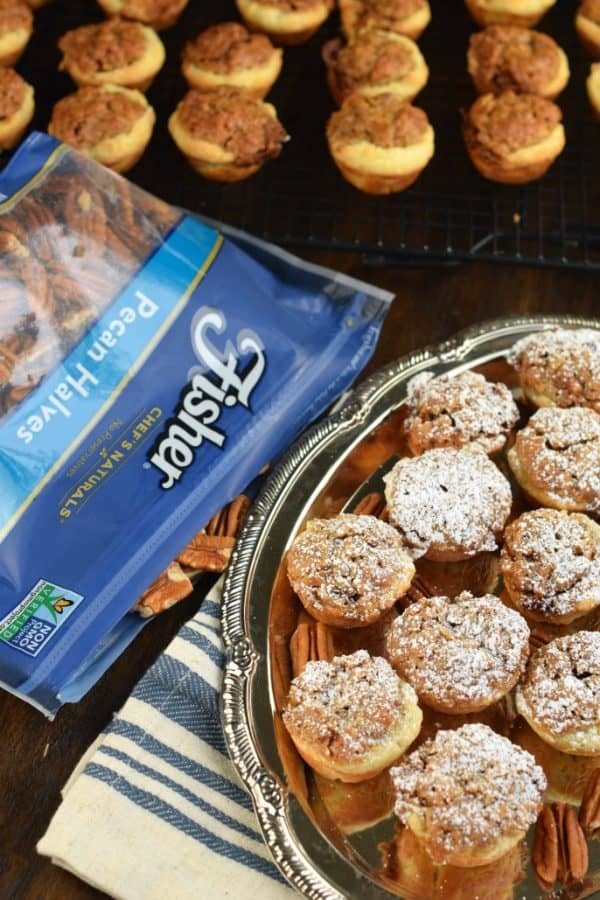 How to make Pecan Tassies
First, you'll need a mini muffin pan (or mini cupcake tin). I love this one. I've been using it for YEARS, and nothing sticks!
Preheat oven to 375 degrees F.
In a bowl attached to an electric mixer, combine room temperature butter and cream cheese. Add flour and powdered sugar and blend until a soft dough forms.
Using a 1 Tbsp cookie scoop, drop dough into muffin cups. Use a tart shaper to press the dough into the pan. You can also use your fingers to do this if you don't own a tart shaper.
Next, make the pecan pie filling. In a medium bowl, mix together the brown sugar, chopped pecans, melted butter, eggs, and vanilla extract. Some people like to use corn syrup in their pecan pie recipe, but these little tarts don't need it!
Spoon about a teaspoon of filling into each nut cup. Bake for about 20 minutes, until lightly browned, remove from oven. Cool 5 minutes in pan, then remove to wire rack. Cool completely and dust with powdered sugar.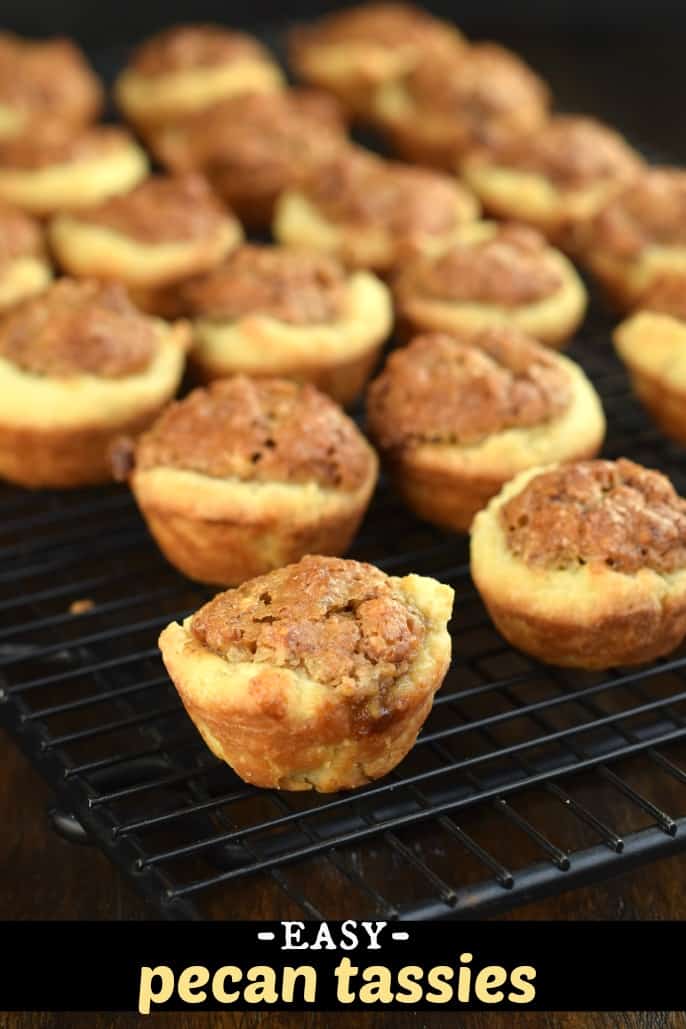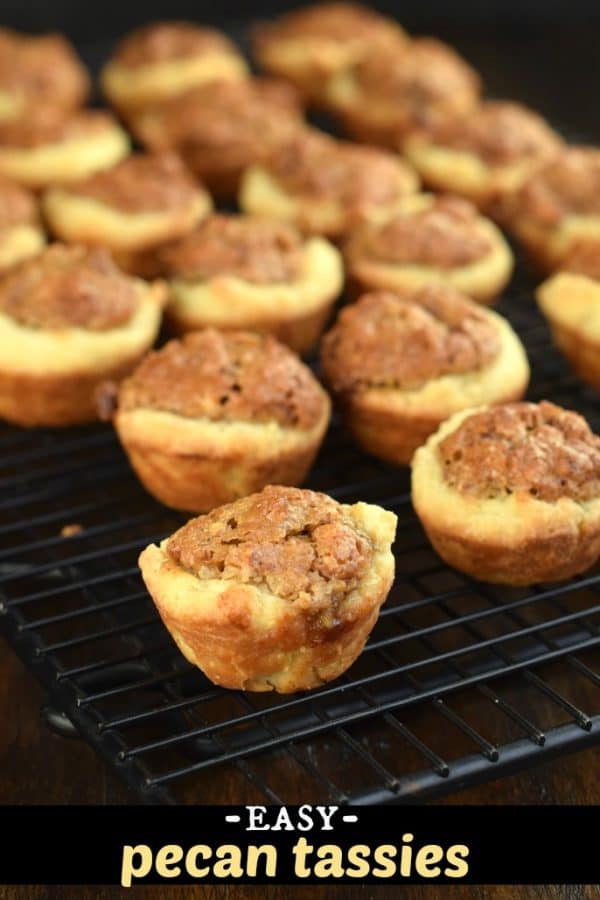 FAQ about mini pecan tarts
Q: Can pecan tassies (pecan tarts) be frozen?
A: Yes! Once you have cooled your cookies completely, place in an airtight container or ziploc freezer bag. Freeze for up to two months for best results. To thaw, remove from freezer and allow to thaw at room temperature (in container).
Q: Help! My filling ran out and over the top of the cookie! What did I do wrong?
A: This usually happens when there is TOO MUCH filling in the cookie. Don't worry though, it still tastes good. Add a little extra sugar to the top and nobody will care what it looks like underneath!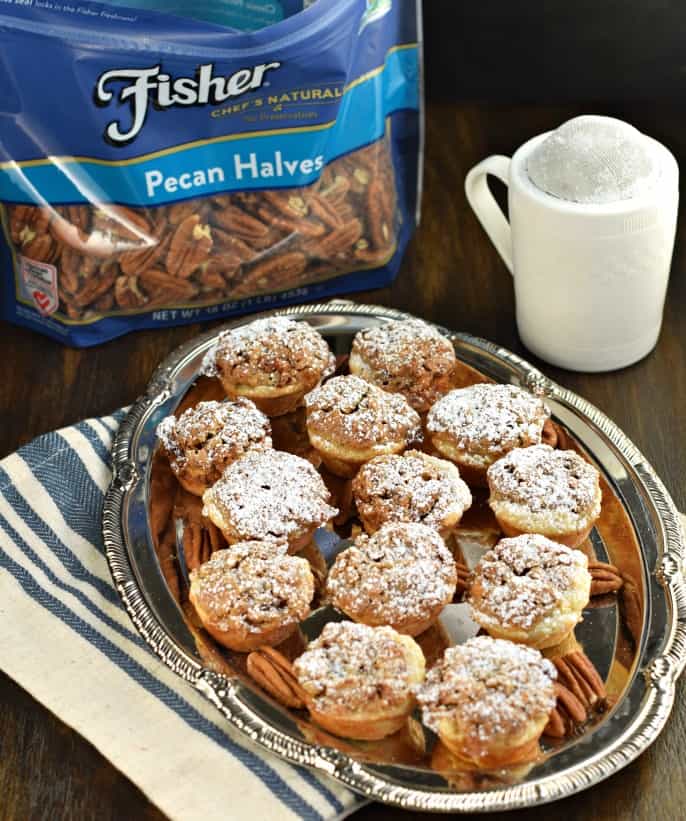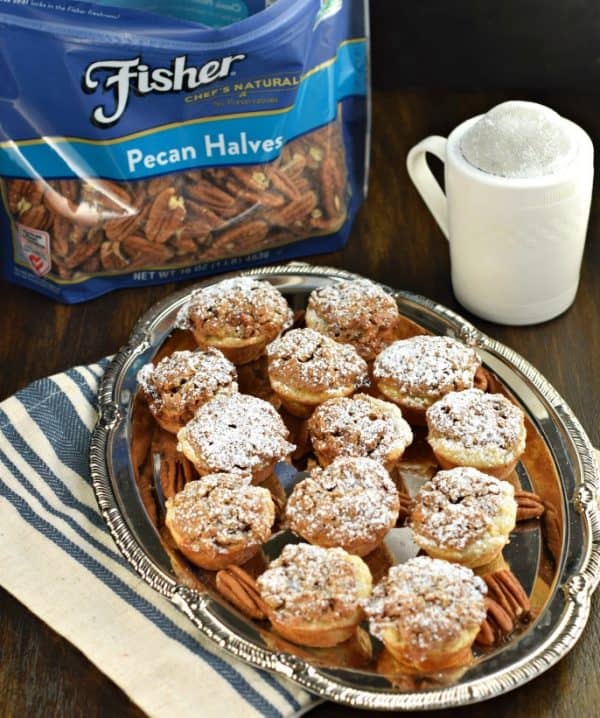 Q: Can I use pie crust or tart shells for these cookies?
A: While these cookies are mini pecan pies, the base is a little richer than a pie crust, with a little more chew like a cookie. You can certainly take my advice with a grain of salt, but I definitely prefer to make the cookie base recipe.
Q: Can I replace the pecans with other nuts?
A: Yes? I mean, they wouldn't be pecan tassies then….but sure go ahead.
Q: Do Pecan Tassies need to stay refrigerated?
A: No. But I do love the flavor when these are chilled. But, it's not necessary.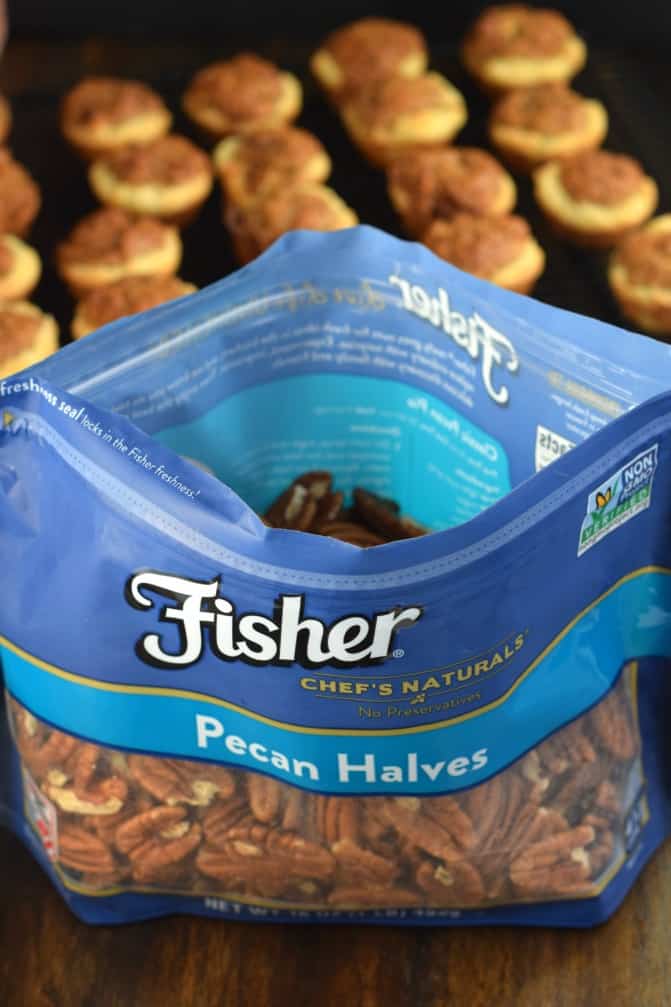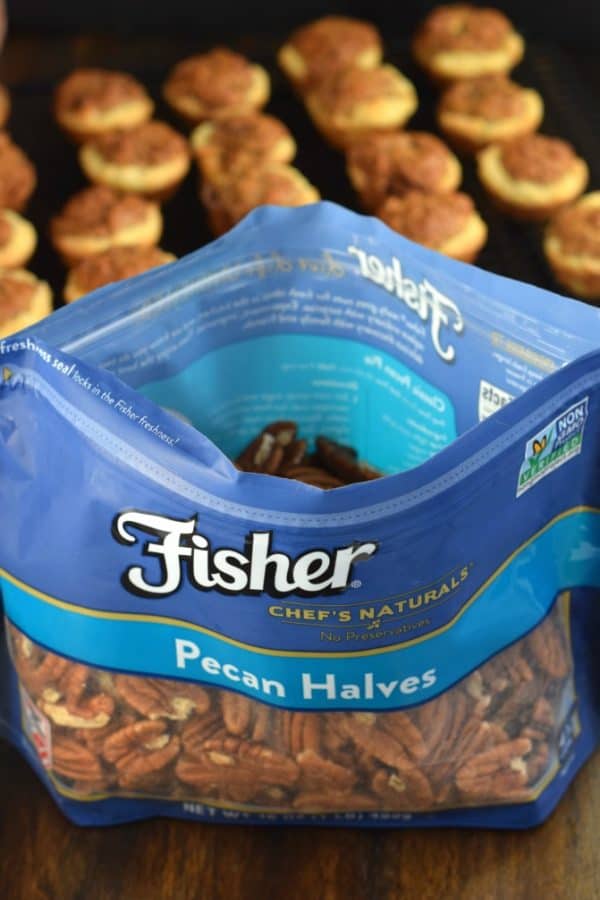 More holiday recipes with Fisher Nuts:
Some of you may remember a time when nuts and fruit were a big part of the holidays. We still like to keep that tradition alive by always having nutty desserts as part of our holiday celebrations. You can check my archives for all my Fisher Nuts recipes over the past 6 years, or look at these favorites below!
One of our favorite snacks is this Maple Brown Sugar Pecans recipe. They're sweet and salty and addictive. Perfect to add to salads or keep a big bowl for snacking.
Whether you call these by Swedish Heirloom Cookies or by many of their other names (Snowballs, Mexican Wedding Cookies, Russian Tea Cakes), you just need to try them. The buttery almond flavor melts in your mouth!
Nutty Caramel Snack Mix is a delicious combination of cereal, almonds and pecans all covered in a homemade caramel sauce. Baked to perfection, this crunchy, sweet and salty mix is perfect for family and friends, lunches and snacks!
Sweet and Salty, you'll love this Pumpkin Crunch Cake recipe any time of year. With layers of pumpkin pie, yellow cake mix, and pecans, this pumpkin dump cake is a tried and true crowd pleaser!
Connect with Fisher Nuts:
website | facebook | pinterest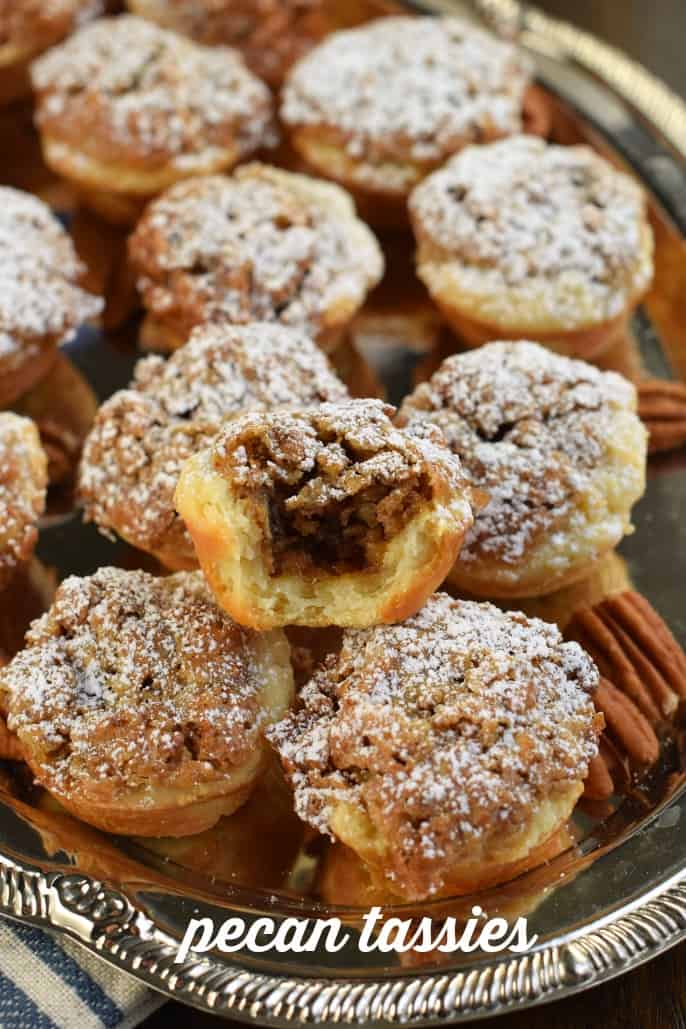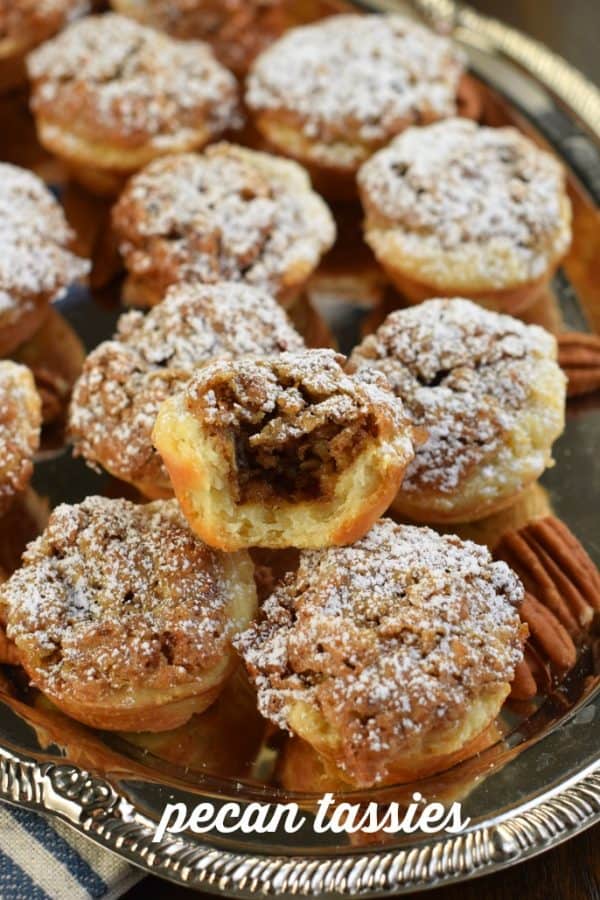 Connect with Shugary Sweets!
Be sure to follow me on my social media, so you never miss a post!
Facebook | Twitter | Pinterest | instagram
Sign up to receive an email in your inbox for each new recipe:
FREE EMAIL SUBSCRIPTION
If you LOVE this recipe, share it on Instagram and tag me #shugarysweets so I can see it!
I created a fun little group on facebook and I'd love for you to join in! It's a place where you can share YOUR favorite recipes, ask questions, and see what's new with Shugary Sweets (so that you never miss a new recipe)! If you'd like to check it out, you can request to join HERE.
Pecan Tassies recipe and video tutorial: