Mini Pecan Pies, or Pecan Hand Pies, are the perfect Thanksgiving dessert recipe. Freezer friendly and easy to make, your family will LOVE these treats.
If you love homemade pecan pie, today's treat is just for you! Serve it up for the holidays with some pumpkin hand pies too!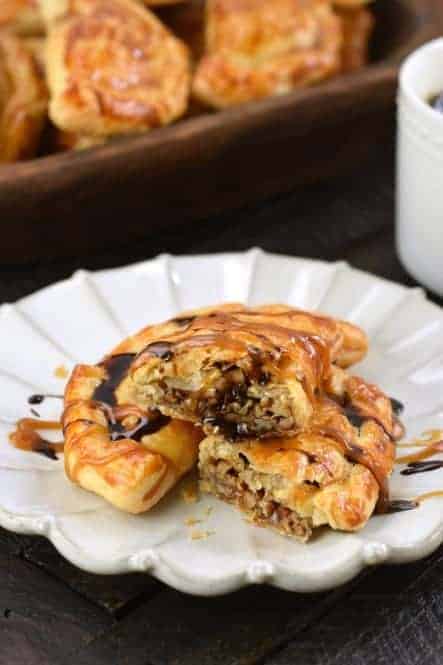 Why this Recipe is Best
Nothing says "HOLIDAY" more than pie. Or is that just me?
Growing up, pies were a part of all holiday celebrations. I remember vividly the boxes from Baker's Square in the trash can, haha!
Seriously though, except for homemade pumpkin pie, my family ALWAYS relied on the bakery for pies. And nobody seemed to mind.
Now though, our palates have matured (or maybe I've spoiled the family too much) that homemade desserts are sought after the most.
While having an assortment of pie sounds great in theory…who has that many pie plates, or wants all the leftovers?
One thing I love to do is create mini pies…or hand pies! You may remember these mini key lime pies?
You create a variety of flavors, and they freeze beautifully too.
Today's Mini Pecan Pies are my newest flavor, and they are amazing!!! Served with a drizzle of caramel and chocolate, you may find yourself with NO leftovers on this one!
Ingredients Needed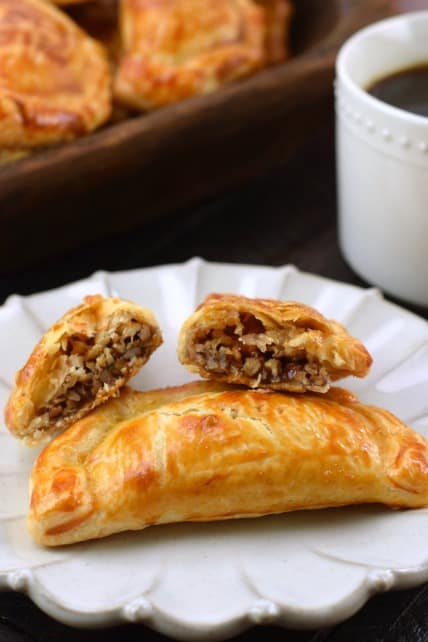 Pecans. You'll need chopped pecans for today's recipe. Whether you buy them already chopped or you buy them whole, you'll want them in small pieces.
You can put them in a ziploc bag and smash them with a rolling pin to get desired size.
Refrigerated Pie Crust. While homemade pie crust is fine, I love the taste and convenience of the already prepared pie crust in the refrigerated section of the grocery store. You'll need 2 boxes, or enough for 4 full size pie crusts. This will result in about 24 hand pies.
Ingredients. Brown sugar, corn syrup, unsalted butter, vanilla, salt, and egg are the remaining ingredients you'll need for today's mini pecan pies. Most likely you already have them on hand!
4-inch biscuit cutter. I use a round 4-inch circle cookie/biscuit cutter for today's hand pies. I fold each hand pie in half and pinch the edges closed.
How to Make Mini Pecan Pies
STEP 1. Make the pecan pie filling.
In a small saucepan, over medium heat, combine brown sugar, corn syrup, and butter. Stir continuously until butter melts and mixture begins to boil. Boil until bubbly for about 2 full minutes. Remove from heat.
Stir in Fisher Nuts chopped pecans, vanilla extract, and kosher salt. Set aside to cool while preparing the pie crust.
STEP 2. Pie Crust.
Either making a homemade pie crust or using refrigerated dough, unroll crust and use a 4-inch circle cutter to create hand pies. Re-roll scraps of pie crust to get approximately 24 circles.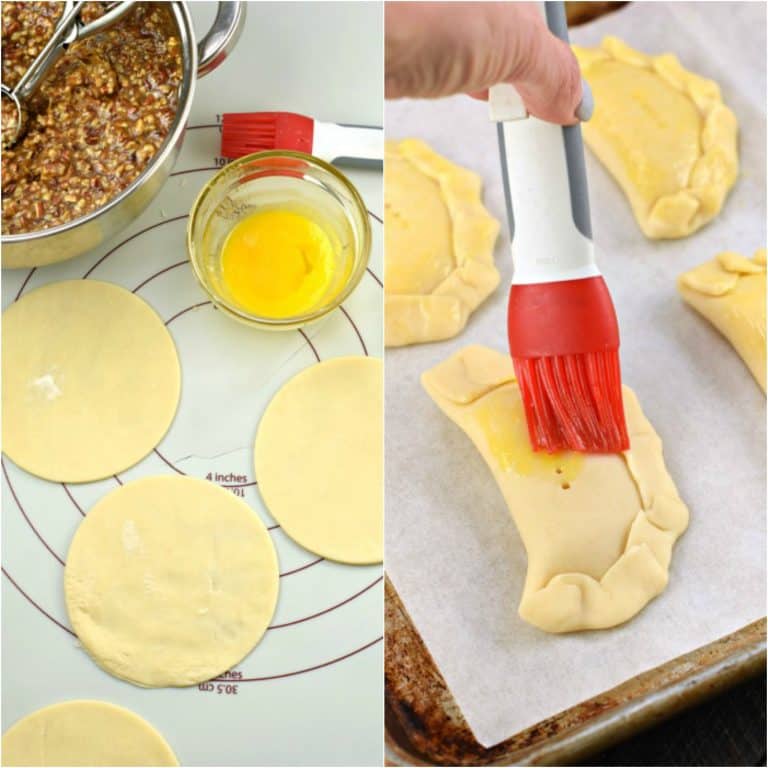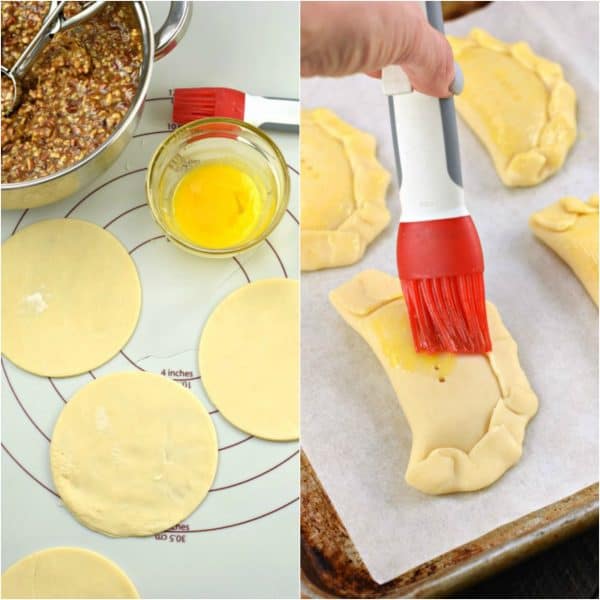 STEP 3. Prepare hand pies.
In 2 small bowls, separate one egg…with the whites going into one bowl and the yolk in the other bowl. Whisk each one separately. Set aside.
Using a 1 Tbsp scoop, spoon warm pecan pie filling onto each pie crust circle. Use a pastry brush, and brush the edges of the pie crust with the egg WHITES.
Fold each pie crust in half and pinch edges. Use a fork to poke the top of each hand pie.
Brush the tops of each hand pie with egg YOLK. Place each hand pie on a parchment paper lined cookie sheet.
STEP 4. Bake.
In a preheated 425 degree F oven, bake hand pies for about 15 minutes, until lightly browned.
Remove and cool on a wire rack. Drizzle with caramel and chocolate if desired.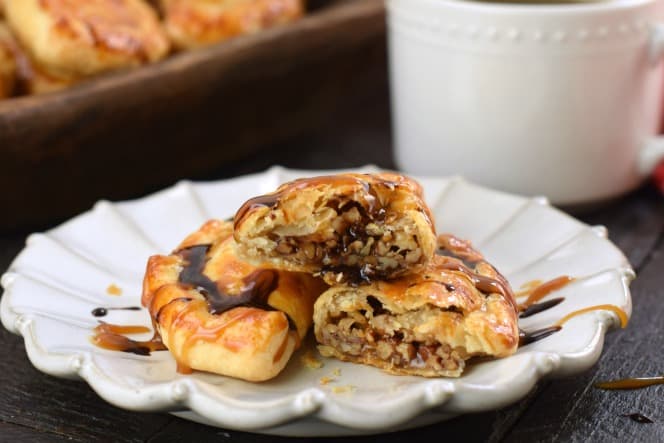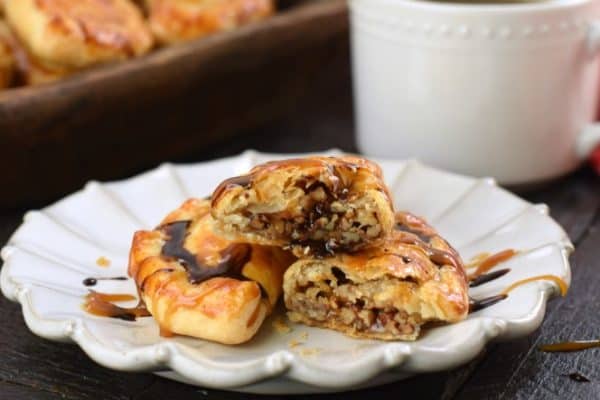 How to Freeze Mini Pecan Hand Pies
After pies have cooled completely, slide into ziploc freezer bag or airtight freezer safe container. Freeze for up to 3 months.
Thaw in refrigerator overnight and enjoy.
Tips for Mini Pecan Pie Hand Pies
Toast the nuts for an even nuttier treat.
To make mini pecan pie cups, try this Pecan Tassies recipe! It's a family favorite.
If using refrigerated pie crust, remove from refrigerator before making the pecan pie filling. This gives it time to come to room temperature and unroll without cracking.
Only re-roll the scraps ONCE for best texture and flavor.
Serve with a small pitcher of homemade caramel sauce and whipped cream.