Sweet and salty, this Maple Brown Sugar Pecans recipe is a great treat to have on hand during the holidays! Make a batch today, for snacking or sprinkling on salads!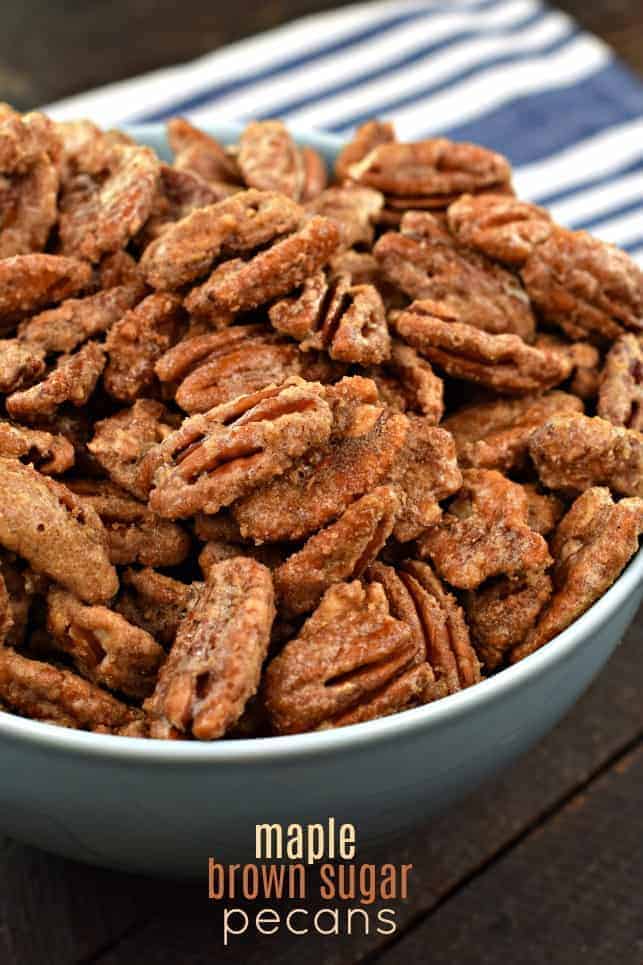 Can you believe Christmas is only a week away? Are you ready? Have you finished your shopping? Your wrapping? Your meal planning??
Last year we spent the holiday in Key West. My son was deployed, and in an effort to change things up, we went away over the holidays. It was so stress free! We took the kids' gifts with us, and decorated our hotel room for Christmas. Then enjoyed the sunshine on a day when we are normally freezing, haha!
This year, I've got all my kids coming home. It's funny when you enter a new phase in life, and learn to appreciate small things. Like, requests from the kids for specific meals and snacks while they are home for the holidays.
One thing my kids love is roasted, sugared pecans. I only make them over the holidays, and I make a HUGE batch of them to last us for a few weeks.
We eat them straight up or sprinkle them on salads (like this Copycat Panera Strawberry Salad recipe).
Of course, I only use the best products. This is my fourth year working with Fisher Nuts, and I absolutely love the flavor and texture of their nuts.
I love the resealable bags, perfect for snacking on the go. Fisher Nuts are fresh out of the shells and preservative free, as well as non-GMO certified. Our holiday's aren't complete without a pantry filled with blue bags of Fisher Nuts!
In the past, I've made Cinnamon Candied Pecans. Classic, right? I wanted to change things up this year, of course I can't stray too far from my kid's favorites for fear of them revolting, haha!
Maple Brown Sugar Pecans.
I added MAPLE flavoring (not syrup) to the mixture to give it a toffee, caramely flavor. I also swapped out some of the granulated sugar for brown sugar to give it more depth in flavor. This is the perfect sweet and salty snack!
More Easy Snack Ideas