Bite sized Apple Pecan cups filled with apples, pecans and gooey caramelized glaze. Sprinkle with powdered sugar and enjoy this delicious fall treat! A cream cheese cookie crust surrounds the gooey apple filling that's sweetened with brown sugar and almost overflowing with crunchy pecans.
Apple season is one of our favorites around here. We love making these soft and chewy Apple Blondies every year. Bake up a couple loaves of Apple Pound Cake for a delicious dessert, it's freezer friendly too!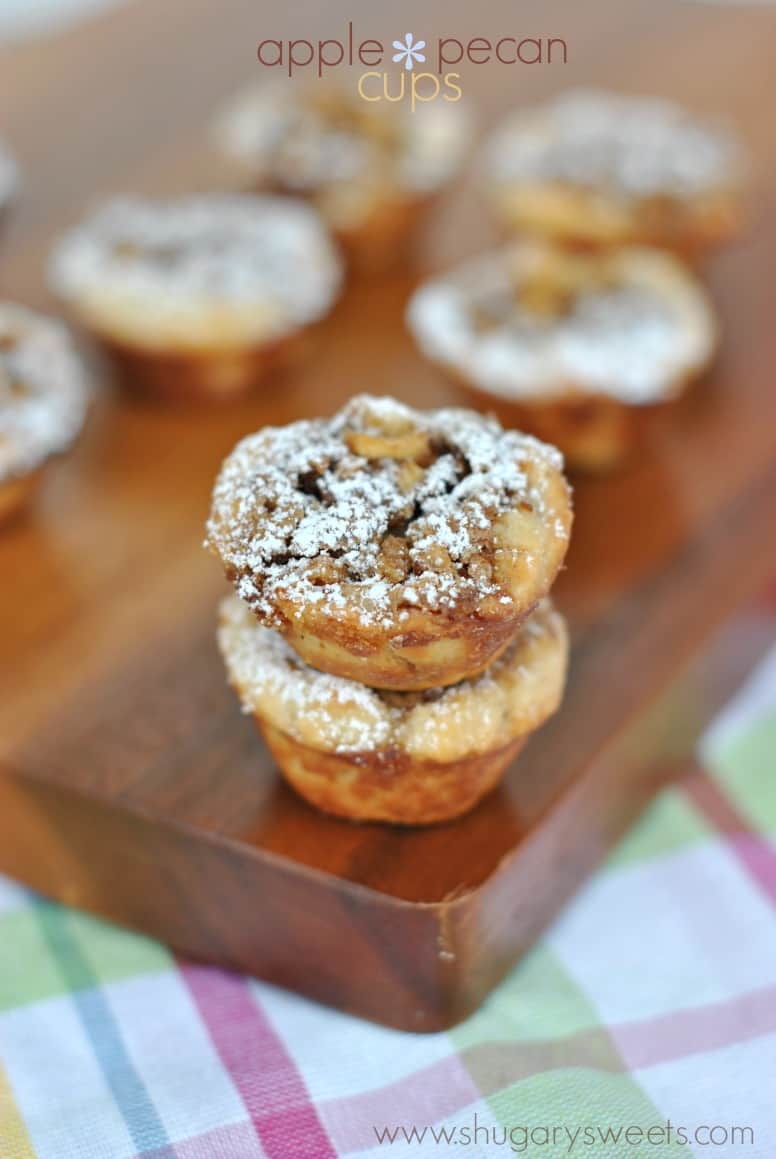 Easy Apple Pie Cookies
Any fellow apple pie lovers out there? You're going to flip over this recipe!
While I called them Apple Pecan Cups, these essentially taste like mini apple pies baked into handheld cookie form.
Based off of our favorite Pecan Tassies recipe, these cookies are a hit all year long!
A cream cheese cookie crust surrounds the gooey apple filling that's sweetened with brown sugar and almost overflowing with crunchy pecans. They're easy to transport and serve while delivering apple pie flavor with a nutty twist!
The powdered sugar on top makes them super pretty, too. If you're looking for a new apple dessert to make for Thanksgiving this year, promise me you'll give by Apple Pecan Cups a try.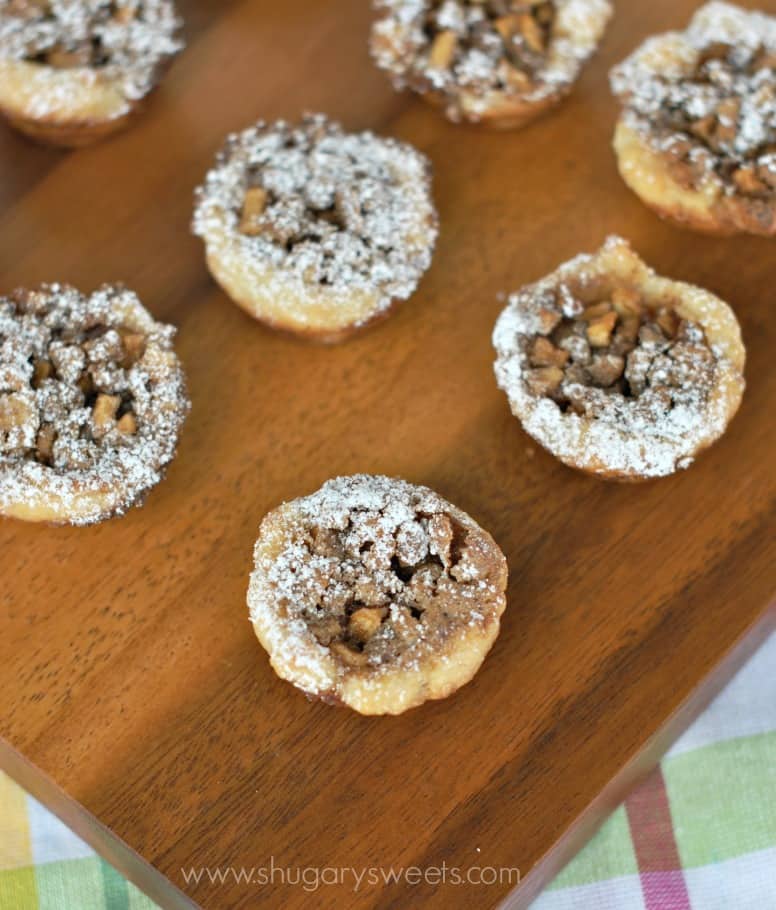 Apple Notes
For my apple desserts, I usually prefer a tart variety of apple like Granny Smiths. The apples need to be peeled, cored and diced into small pieces for this recipe, so to save time, I love using Crunch Pak apples!
These are the fresh sealed packs of pre-sliced apples you can find in the produce section. All you'll have to do is remove the peels and cut into small pieces and you're ready to make the best ever Apple Pie Cookies.
Step by Step Instructions
STEP 1. Make the cookie crust
Beat butter and cream cheese together until fully combined, then mix in the flour and powdered sugar. Drop the formed dough into the center of a large sheet of plastic wrap. Wrap up the dough tightly and place in the freezer for an hour.
STEP 2. Make the filling
Combine the apples with chopped pecans, brown sugar, vanilla extract and an egg in a large bowl.
STEP 3. Form into cups
Scoop the chilled dough into tablespoon sized balls into the cavities of a muffin tin. Use your fingers (or a tart shaper if you have one) to press the dough into the pan.
Scoop about a teaspoon full of filling into the center of each cup.
STEP 4. Bake
Bake the cups for 15 – 20 minutes. Let cool in the pan for another 15 minutes, then pop out the cups, garnish with powdered sugar and enjoy!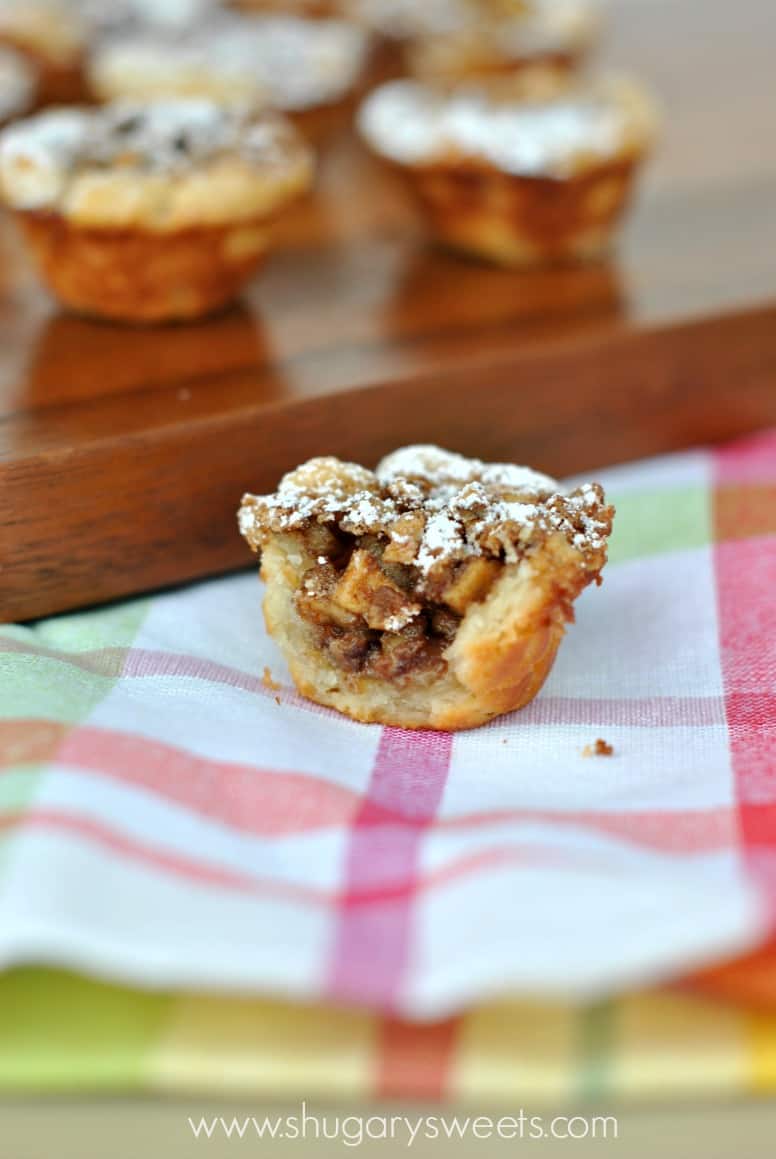 Recipe FAQS
What should I do if the filling bubbles out?
This is common when making apple pecan cups, especially if you accidentally use too much filling. To prevent spills, place a baking sheet or a sheet of foiil under your muffin pan when baking these.
Do these need to be refrigerated?
Yes, if you won't be eating them all right away, store them in an airtight container in the refrigerator. They'll keep for about 3 days.
What is a tart shaper?
A tart shaper is a hand held tool that helps press dough into tart of muffin pans to form an even, round shape with a cavity to hold fruit filling.
Don't have a tart shaper? No worries. Use your hands to press the cookie dough into the muffin cavity, doing your best to get it evenly distributed and being careful not to let the dough poke over the tops of the muffin cavity.
What kind of apples are best for this?
I like Granny Smiths in my apple pies and other apple treats. Other tart varieties like Pink Lady or Honeycrisp would be good choices too.
Handheld apples pies filled with pecans and dusted with powdered sugar? Yes, please!
More Easy Apple Desserts
Apple Pecan Cups make a perfect addition to your holiday menus, bake sales or fall potlucks.