Apple Pecan Cups
Bite sized Apple Pecan cups filled with apples, pecans and gooey caramelized glaze. Sprinkle with powdered sugar and enjoy this delicious fall treat!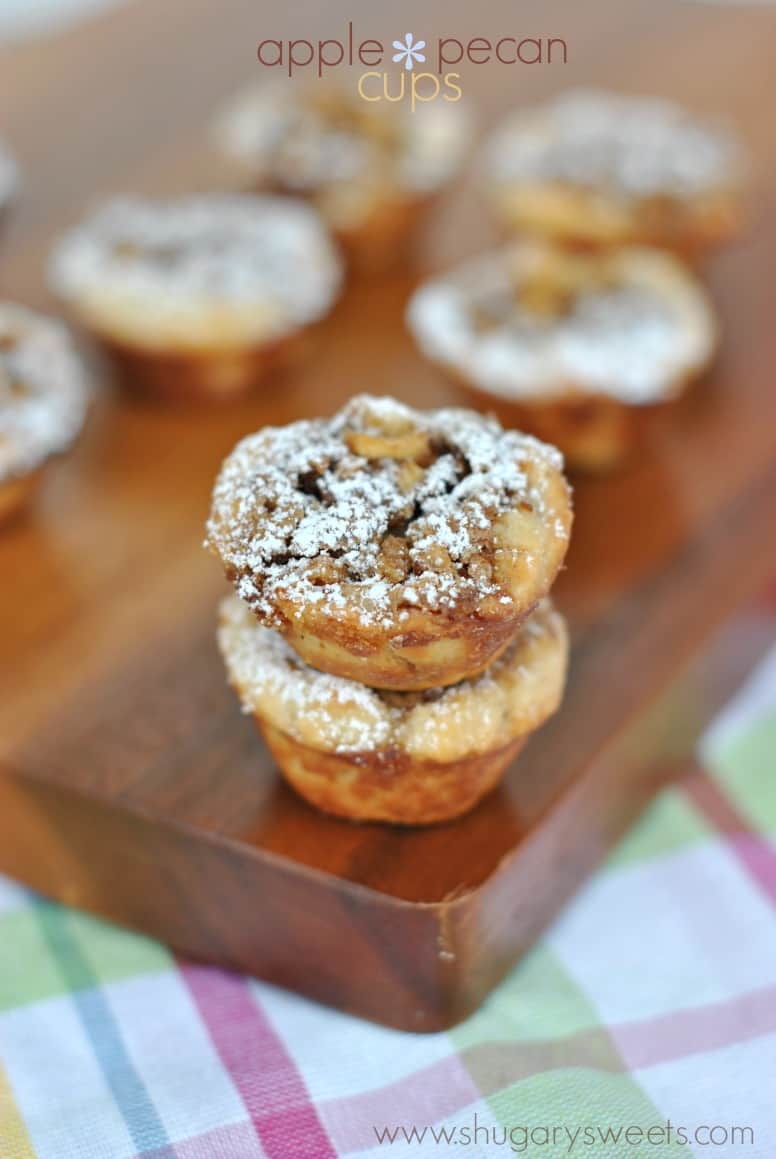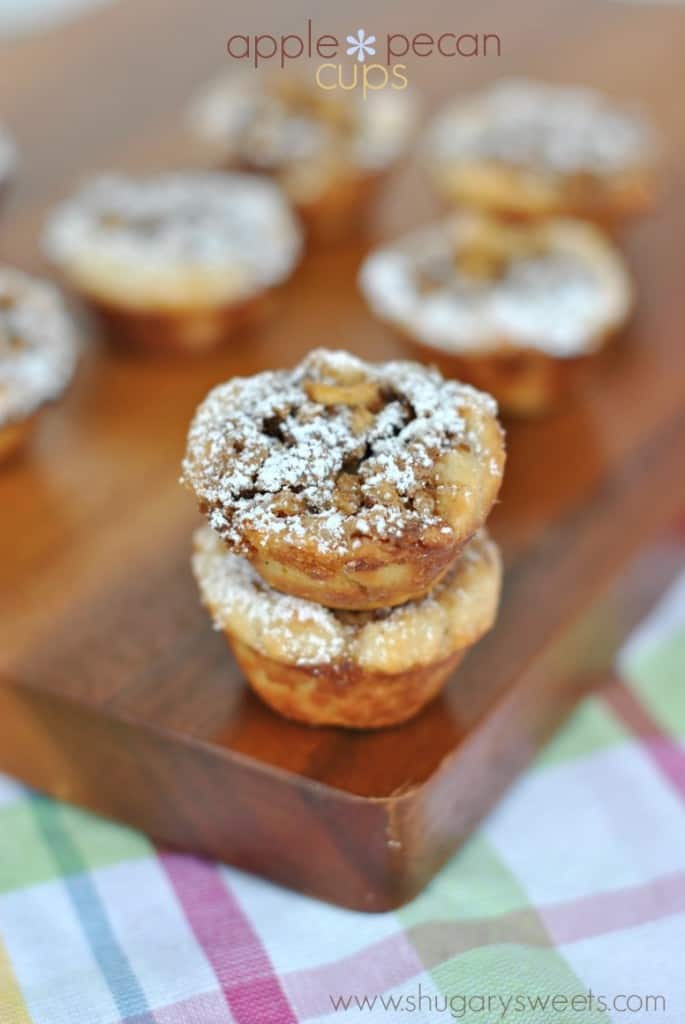 Every Christmas my mom makes nut cups. Think pecan pie in a bite sized cup, sprinkled with powdered sugar.
I've been thinking about those little nut cups for weeks. Then, my good friend Jocelyn, asked if I wanted to do "apple week" with her. Basically, sharing apple recipes all week long. Ummm, yes?!
Today is the first recipe for you, and it's based off my mom's nut cups. With an apple twist of course.
If you've ever had nut cups (or pecan pie for that matter) you know the gooey glaze is almost caramelized. Which made me think apples would be a delicious addition to this recipe. I thought about adding some extra caramel drizzle to the tops of these cups, but honestly, it's not needed.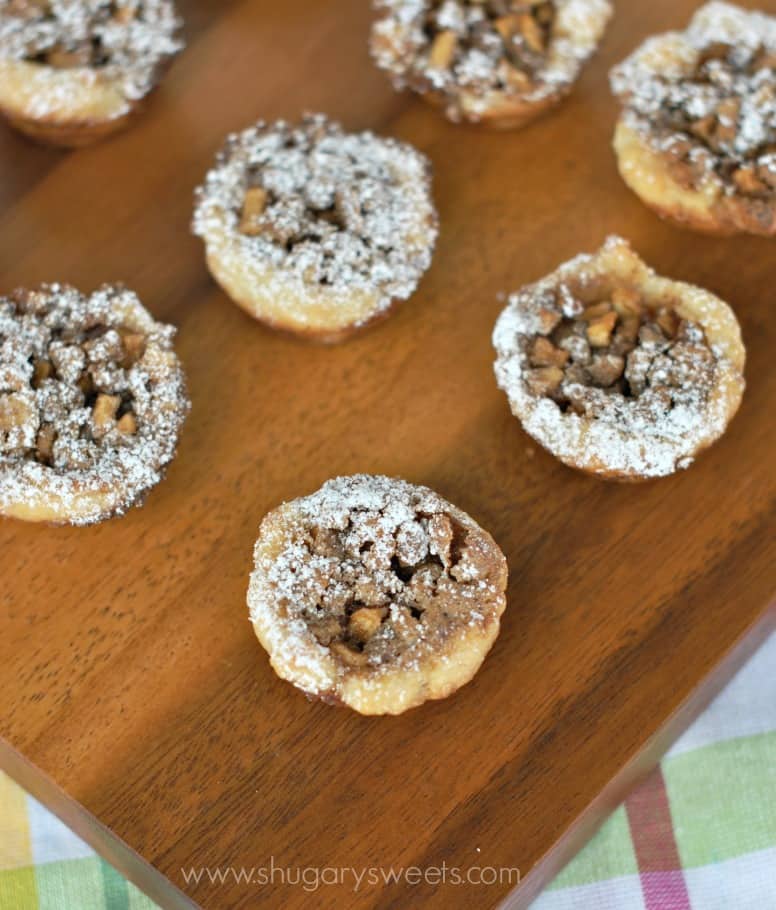 For simplicity sake (and appearance), I sprinkled the tops with a little powdered sugar. I also used Crunchpak Apple slices to speed up the prep time.
I hope you and your family love this recipe for nut cups as much as we do!
Be sure to follow me all week to see the other great apple recipes up my sleeve!
And head over to Jocelyn's blog, Inside BruCrew Life, to take a peek at her Peanut Butter Apple Pizza recipe. I'm drooling.
Connect with Shugary Sweets!  
Facebook | Twitter | Google+ | Pinterest | instagram | Bloglovin'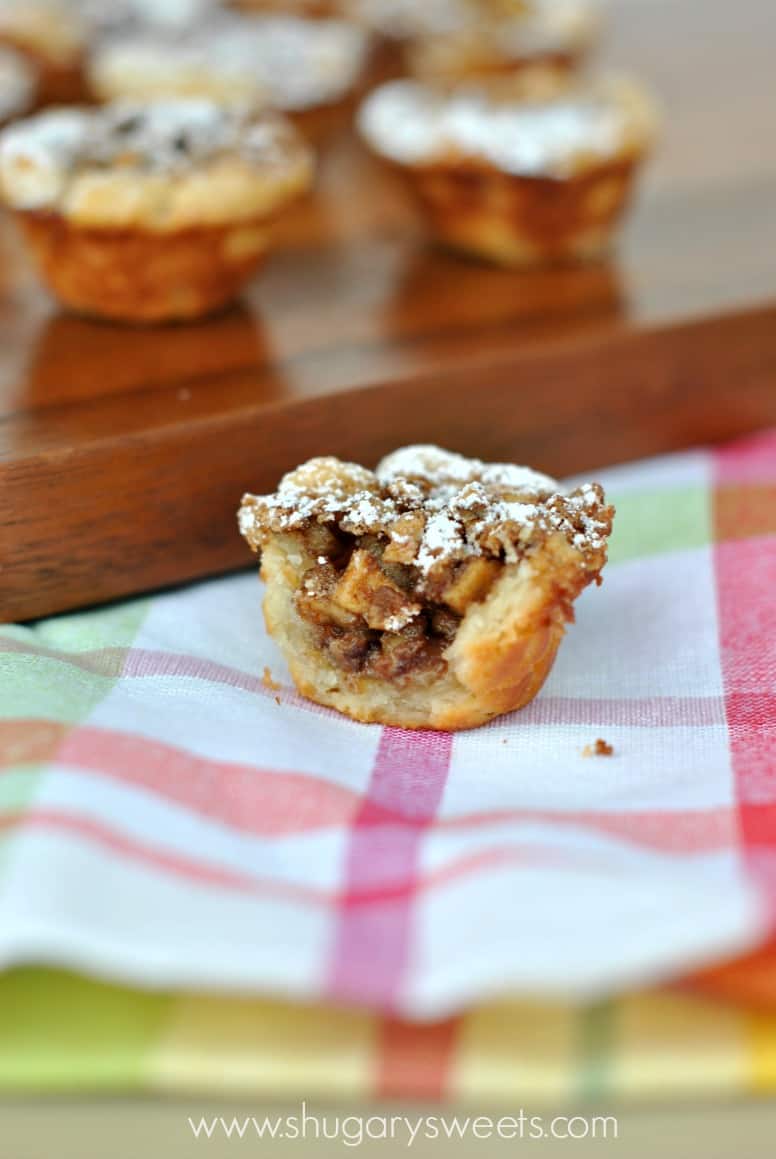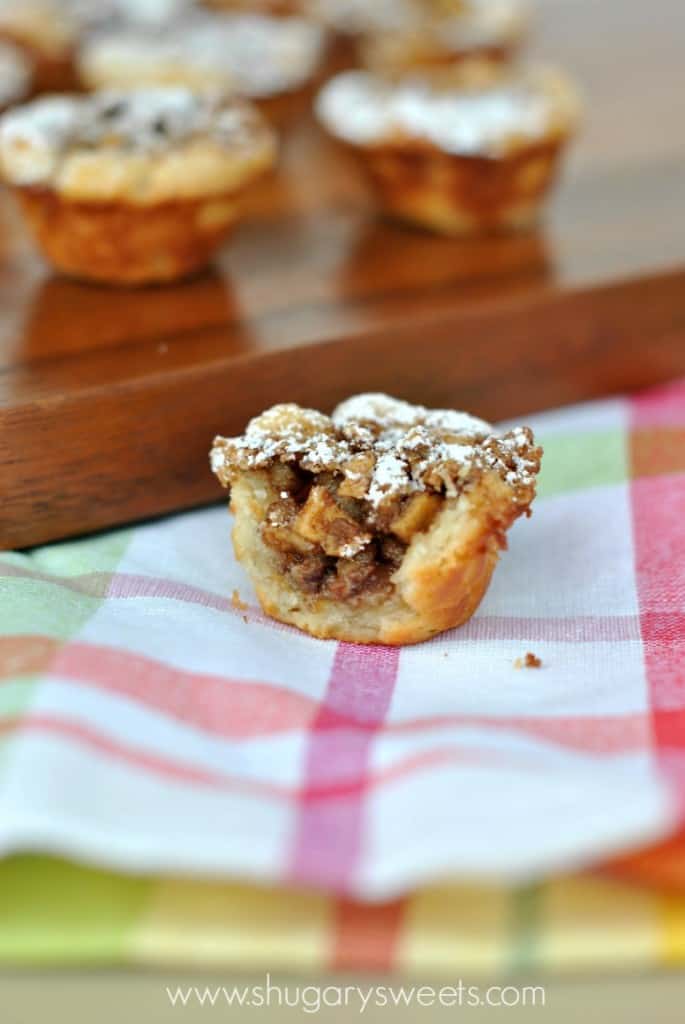 Yield: 24
Apple Pecan Cups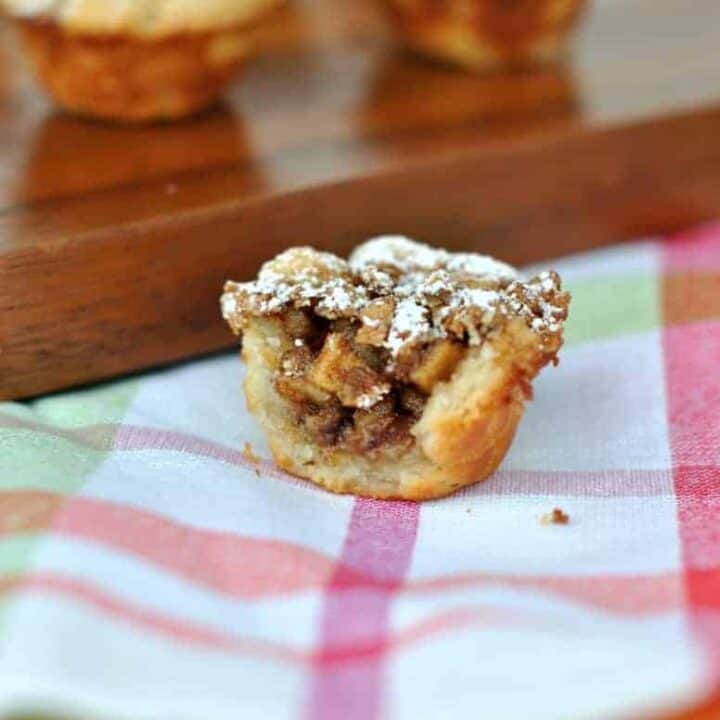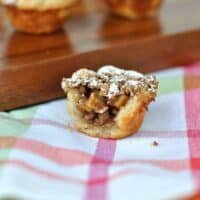 Prep Time 1 hour 30 minutes

Cook Time 20 minutes

Bite sized Apple Pecan cups filled with apples, pecans and gooey caramelized glaze. Sprinkle with powdered sugar and enjoy this delicious fall treat!
Ingredients
For the crust:
8 oz cream cheese, softened
1/2 cup unsalted butter, softened
1 cup all-purpose flour
1/4 cup powdered sugar
For the filling:
1 large egg
3/4 cup brown sugar
1/2 cup pecans, chopped
1/2 cup apples, peeled and diced small
1/2 tsp vanilla extract
1 tsp ground cinnamon
powdered sugar, for garnish
Instructions
In a mixing bowl, beat cream cheese with butter until fully combined. Beat in flour and powdered sugar and continue mixing until fully incorporated. Lay out a large piece of plastic wrap and drop dough into center. Wrap up dough and chill in freezer one hour.
For the filling, combine all ingredients into a large bowl and mix together gently using a fork.
After dough has chilled, use a 1 Tbsp measuring spoon and scoop out a large ball. Roll into a ball and press into a mini muffin pan. I don't usually spray my pans, but if you want you baking spray. Use a tart shaper (or finger tips) to press dough into pan, trying not to go over the edge of the cup. Repeat for remaining dough.
Scoop about 1 tsp of filling into each cup of dough. Bake in a 375 degree F oven for about 20 minutes. Remove from oven and cool in pan about 15-20 minutes.
After cooled, pop our of pan, sprinkle with powdered sugar and enjoy.
Store in an airtight container in refrigerator for up to 3 days.
Notes
**filling may bubble out, you may want to place muffin pan on a cookie sheet or piece of foil.
Looking for more apple recipes? Of course you came to the right place!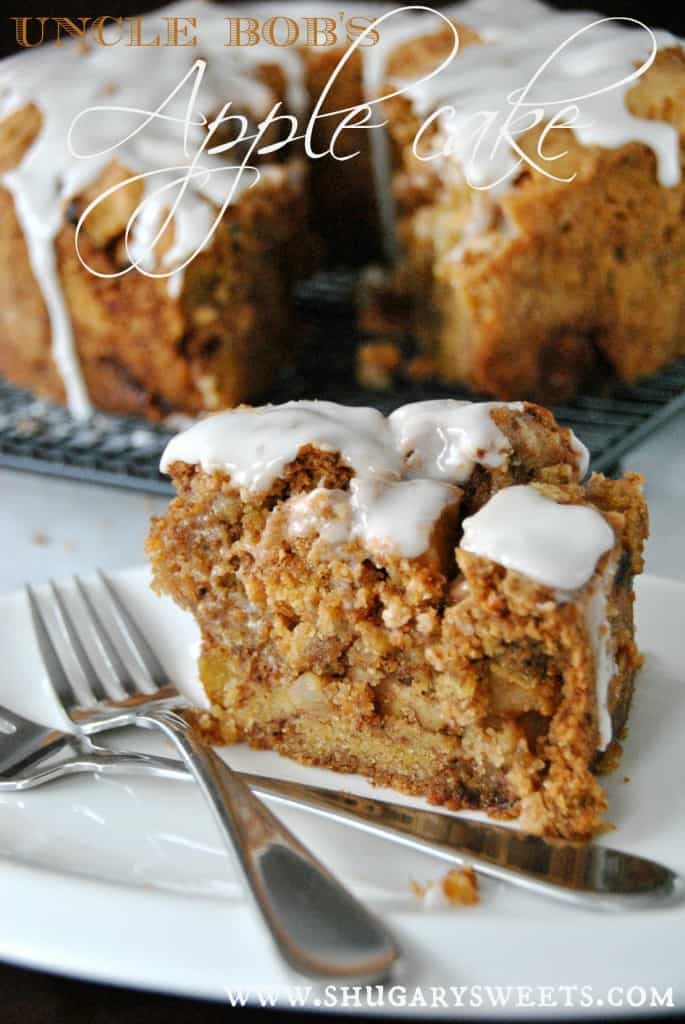 Apple Cake: delicious and moist with a honey glaze
Apple Spice Muffins with Caramel glaze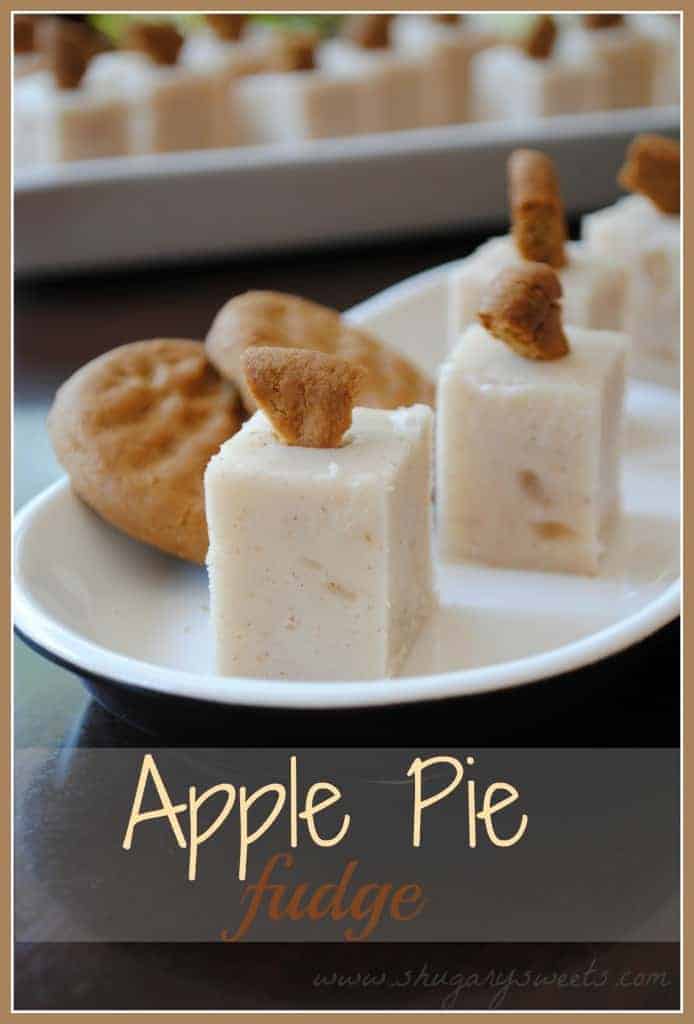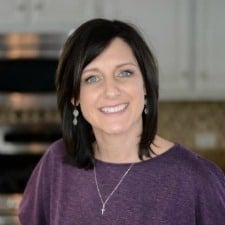 Aimee is a dessert lover (specifically rice krispie treats), workout enthusiast, self-taught foodie, and recipe creator. Her recipes have been featured in over 15 magazines, and her passion is to share her love of cooking with the everyday home cook! Learn more about Aimee.