Cute as a button Malt Ball Cheesecakes are the perfect single-serving Easter dessert! The pastel eggs and rich chocolate ganache make these mini cheesecakes irresistible. We'll walk you how to make delicious mini cheesecakes step by step.
Love cheesecake? Try our Chocolate Cheesecake recipe is decadent, delicious, and loved by everyone. Or lighten things up and try our easy Lemon Cheesecake recipe!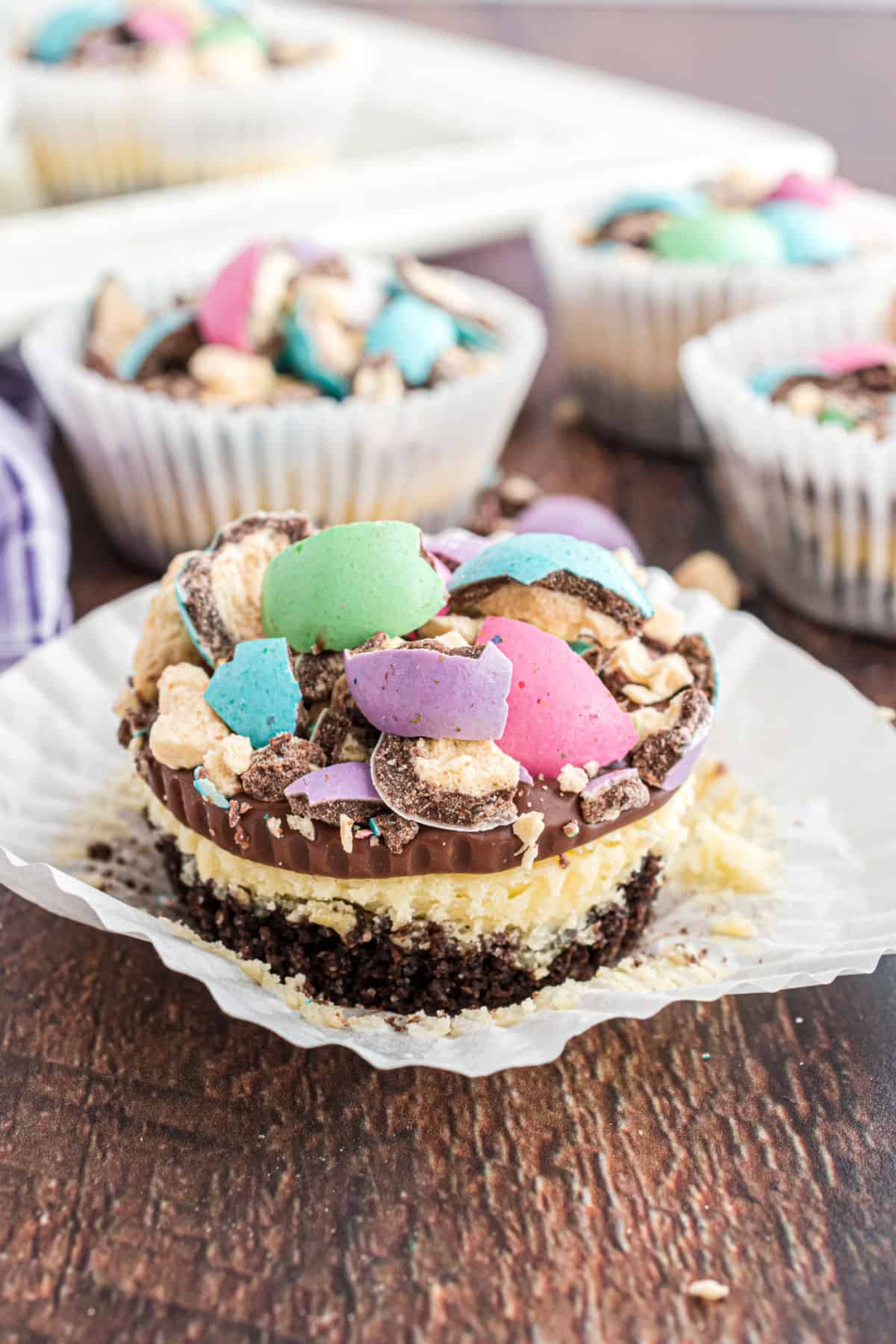 Why this Recipe Works
These little cheesecakes are downright adorable–and they taste even better.
Here are a few more reasons why you'll love this malt ball cheesecakes recipe.
Homemade crust. This chocolate graham cracker pie crust is easy to make and beats store bought crust by a mile. You can also swap it out for an oreo pie crust.
Malted milk flavor. With real malt powder in the crust AND the filling, these mini cheesecakes have a hint of toasty, nuttiness just like a chocolate malt ball.
Easy ganache recipe. You only need TWO ingredients to make a delicious chocolate ganache topping for your malt ball mini cheesecakes.
Not Easter time? No worries, use whopper's instead for a decadent chocolate treat.
Ingredient Notes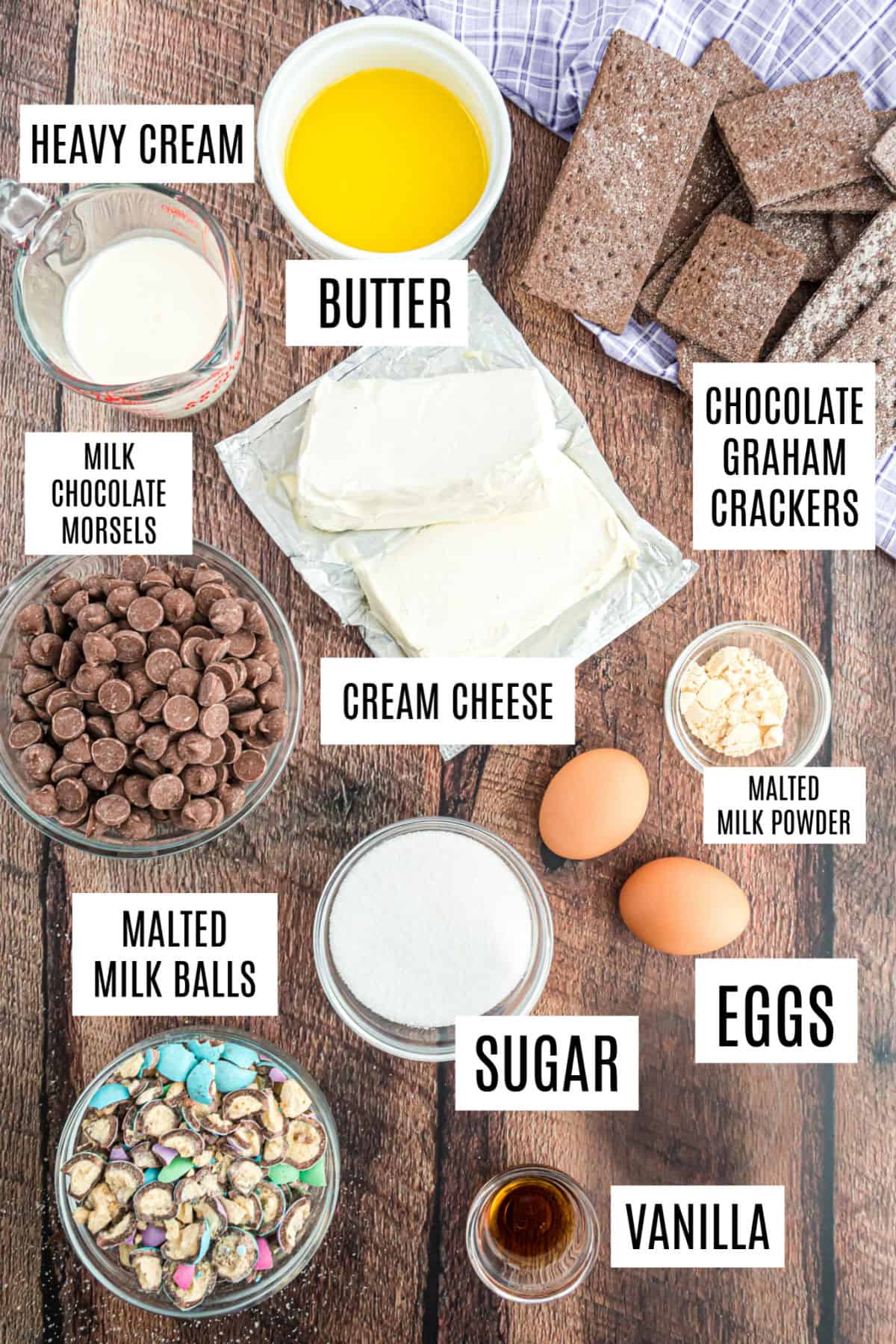 Malted milk powder. Use original flavor malted milk powder for best results. Find it in the baking aisle of your supermarket or online.
Malted milk balls. We used Robin's eggs chocolate malt balls to make these Easter ready. Sub other colors or shapes of Whopper's malt balls for any occasion!
Cream Cheese. Be sure to choose full fat (not light) and make sure it's been softened to room temperature (for extra creaminess)!
Vanilla Extract. Learn how to make vanilla extract at home for a cheaper alternative!
Chocolate Graham Crackers. If you can't find them, you can use Oreo cookies or even regular graham crackers!
Milk Chocolate Morsels & Heavy Cream. The dynamic duo to creating the creamiest ganache!
Cheesecake Tips and Tricks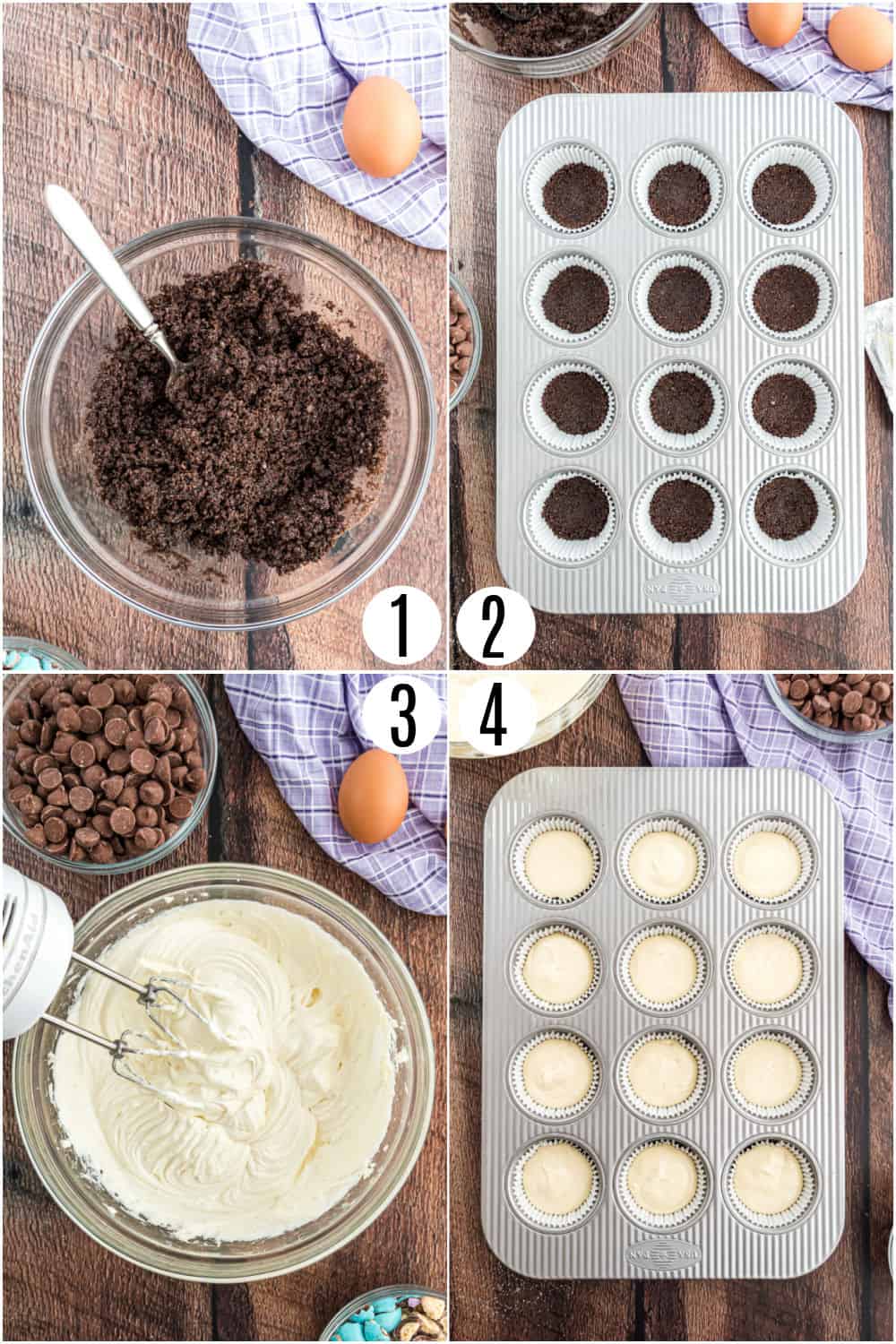 Prep it Right: Set out ingredients about 10 minutes before baking to work with them at room temperature. Allow your oven to preheat while preparing your filling.
Be Gentle: Do not over-beat. Over-stirring can add too much air into the batter, which can cause cheesecake to crack. Beat in eggs, one at time, on low speed until just blended.
Practice Patience: Don't peek! Opening the oven door while cheesecake is baking causes drafts that may lead to cracking.
Malt Balls: When smashing them, be sure to not pulverize into crumbs. Big chunks are delicious!
How to Make Ganache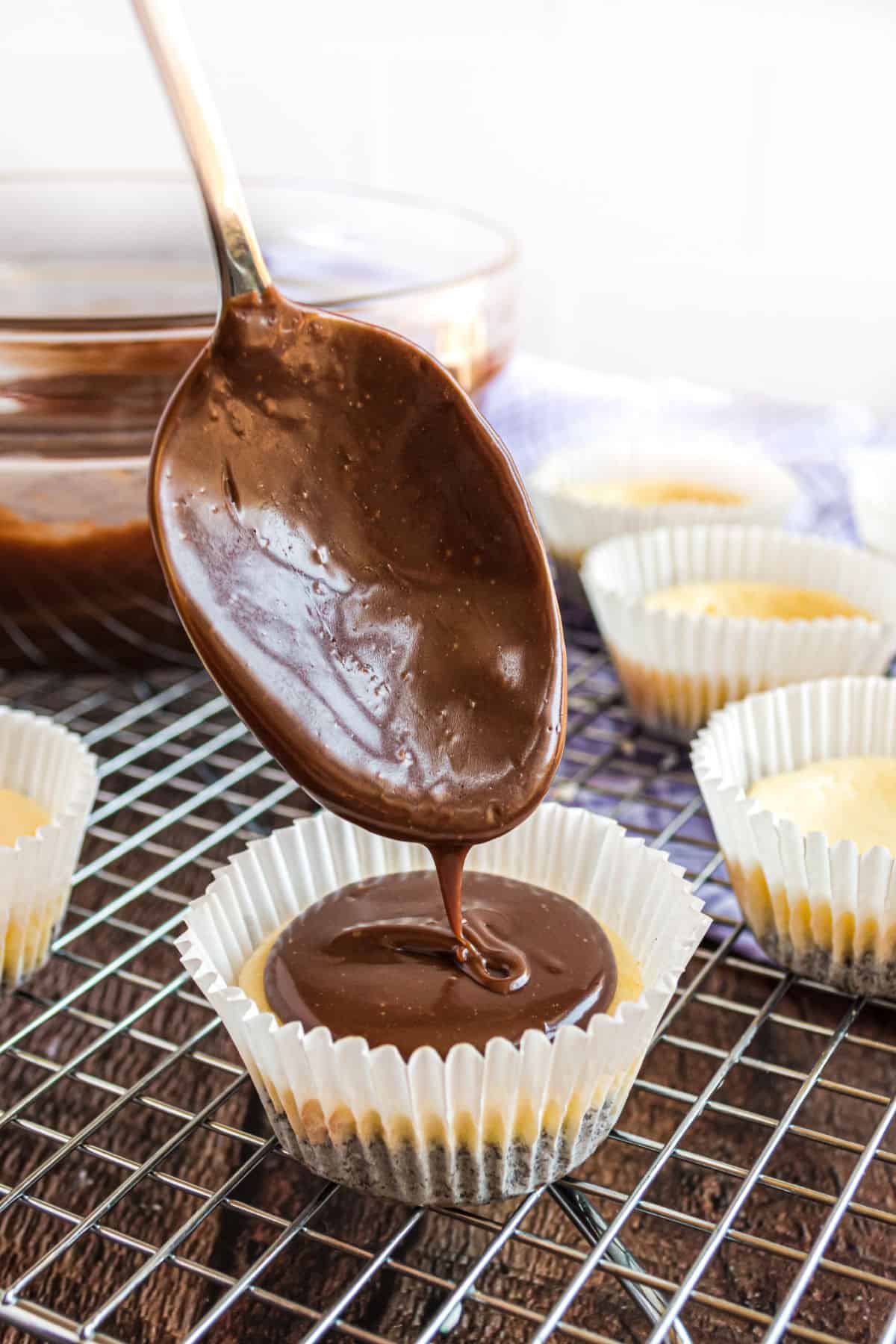 This is the hands down the easiest Chocolate Ganache recipe you'll ever make!
STEP 1. Heat heavy cream in the microwave.
STEP 2. Stir in milk chocolate morsels until melted.
Spoon the warm ganache onto cooled mini cheesecakes. Top with malt balls and chill.
Don't want to use malt balls? No worries! Add peanut butter cups, M&M's, or chocolate chips!
Have leftover ganache after topping the cheesecakes? Go ahead and eat it with a spoon. We won't tell. It's too delicious to let it go to waste!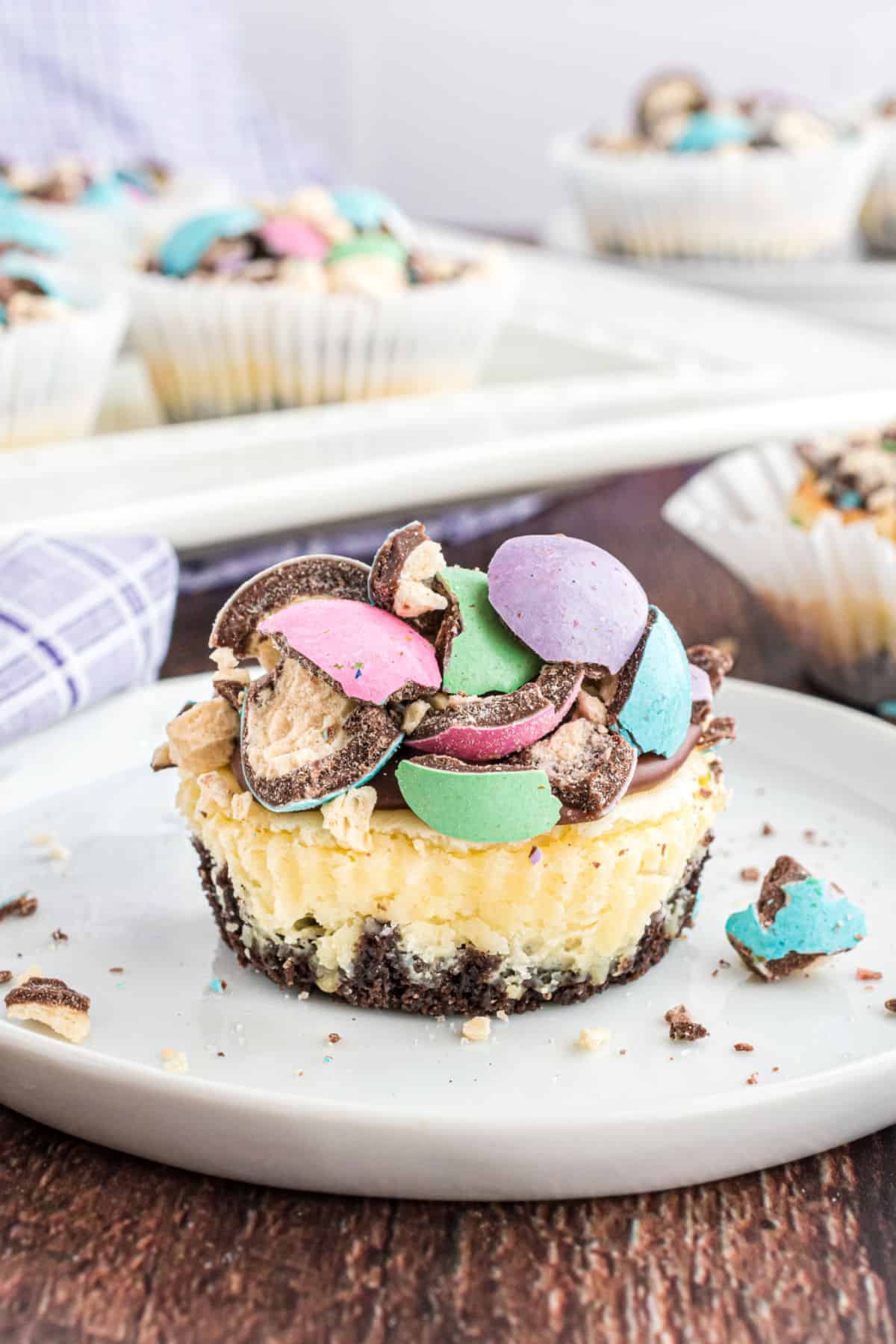 Recipe FAQs
Can I make these cheesecakes without the malt powder?
Yes, you can omit the malt powder in the recipe. If you do, they definitely won't be as "malty" since the only malt flavor comes from the topping. The cheesecakes will still be tasty though!
How long do mini cheesecakes have to chill?
Before serving, these mini cheesecakes need at least 2 hours in the refrigerator to chill. You can store them covered in the fridge for 3 -5 days without the topping.
Can I make these with regular chocolate malt balls instead of eggs?
Go for it, just know that many malt balls do not contain a candy coating (like original whoppers). The candy coating adds lots of bright color which makes the cheesecakes so pretty.
Can you freeze mini cheesecakes?
Yes, you can freeze these cheesecakes. I recommend freezing them before adding the ganache or malt ball topping. Store double wrapped in foil and freezer bags. Thaw and enjoy within 6 weeks.
More Holiday Desserts
For an Easter gathering, a baby shower or any springtime occasion, Mini Malt Ball Cheesecakes are a hit! Baked in individual cupcake wrappers, they're easy to serve and even easier to love.