One of summertime's best fruits is showcased in this sumptuous Peach Pie. A beautiful lattice crust encases a gently-spiced fresh peach filling. It's ideal for picnics, potlucks, and any occasion that calls for pie.
My grandma always told stories about my grandpa's love of pie. Her blueberry pie recipe is incredible…and of course who could resist a classic cherry pie? I hope these pie recipes give YOUR family something to talk about too!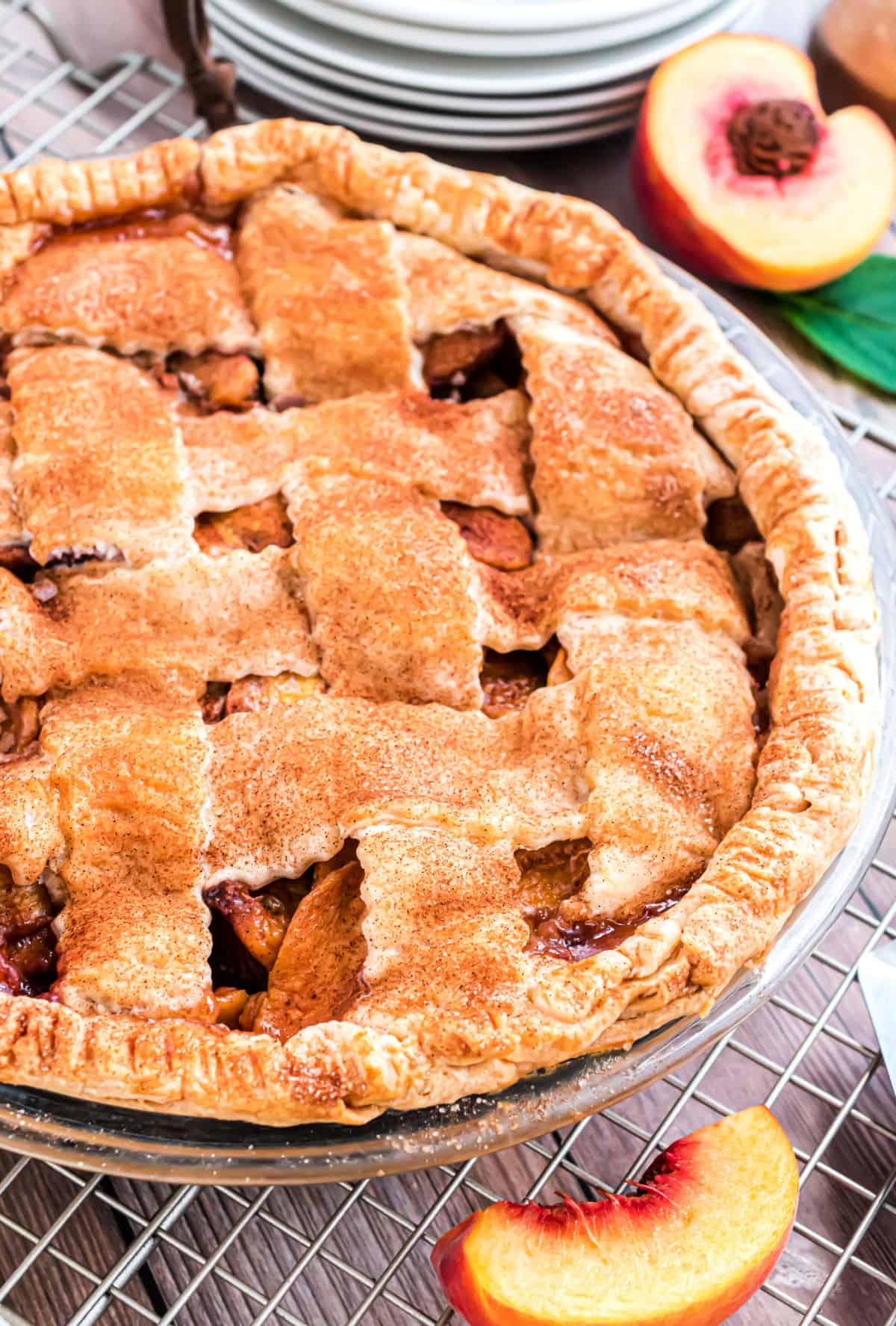 Why You'll Love This Recipe
Classic Peach Pie is a dessert I look forward to every year. It can be hard to come across perfectly ripe, soft peaches for eating. So when you can't find great snacking peaches, use that as an excuse to make this perfect peach pie.
Balanced in flavor. Cinnamon and nutmeg balance and enhance the peach flavor. Lemon juice adds brightness, and a bit of butter makes a deliciously rich filling.
The finished pie is gorgeous. With a lattice crust, you'll want to show this pie off to everyone you know.
It's easy to prepare. With a ready-made pie crust, this pie can be in the oven within about 20 minutes.
Take this classic taste and make our peach hand pies next! Easy and on-th-go! Or give our deliciously easy fresh strawberry pie a try soon.
Ingredient Notes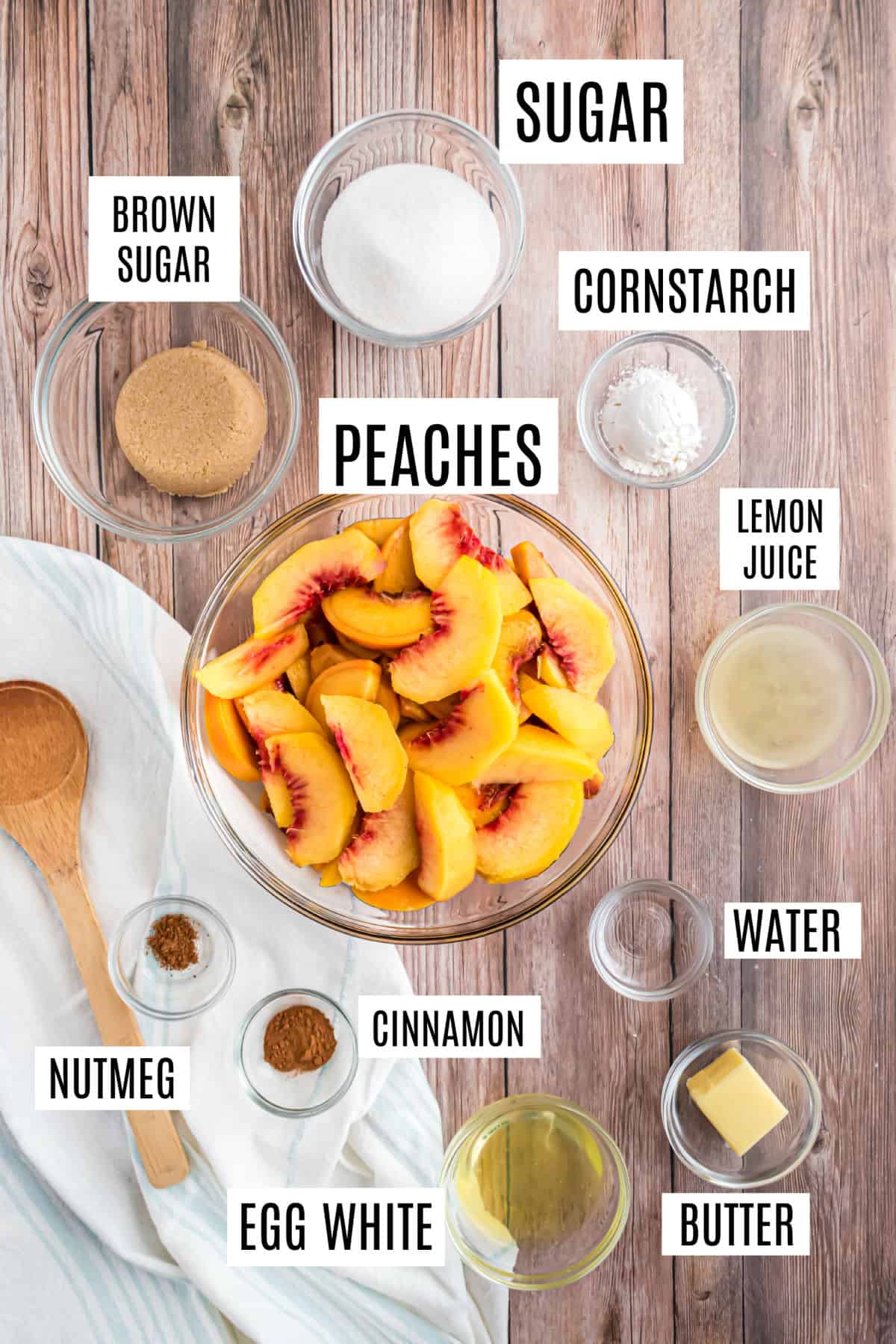 Peaches – Sweet and tart peaches bring tons of flavor. Feel free to dice instead of slicing them for a firmer texture.
Ready-made pie crusts – Save some time and choose frozen pie crusts. Make sure they're thawed and refrigerated for this recipe. Of course, homemade pie crust is a great option as well.
Fresh lemon juice – Lemon juice adds tartness and keeps the peaches from browning.
Cornstarch – Cornstarch helps the filling to thicken and set.
Cinnamon and nutmeg – A bit of spice gives this pie a mouthwatering flavor.
Granulated sugar – Sugar sweetens up this pie and helps draw the excess juice out of the fruit.
Light brown sugar – The hint of molasses in brown sugar pairs like a dream with peaches.
Unsalted butter – Butter adds a touch of richness to the pie filling.
Egg white – Egg white and water make an egg wash for the crust, giving it shine and color.
Easy Instructions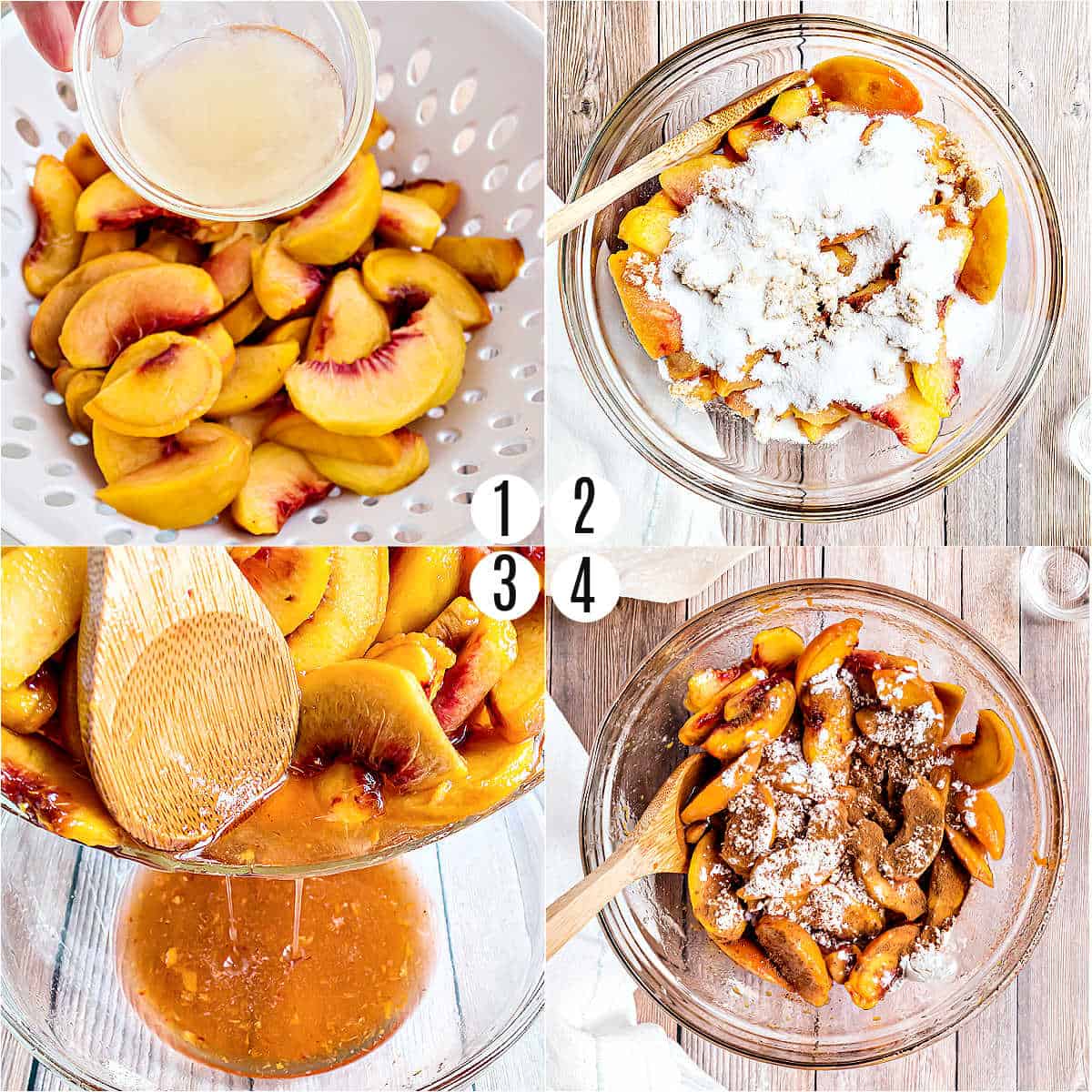 In a colander, toss together the lemon juice and peaches.
Transfer peaches to a large mixing bowl. Add both sugars and toss to combine. Let sit for 15 minutes.
Lightly flour a countertop and roll out one pie crust. Place it into a 9-inch pie plate with about an inch of overhang.
Drain drain any excess peach juices that have accumulated. Then, toss peaches with the spices and cornstarch.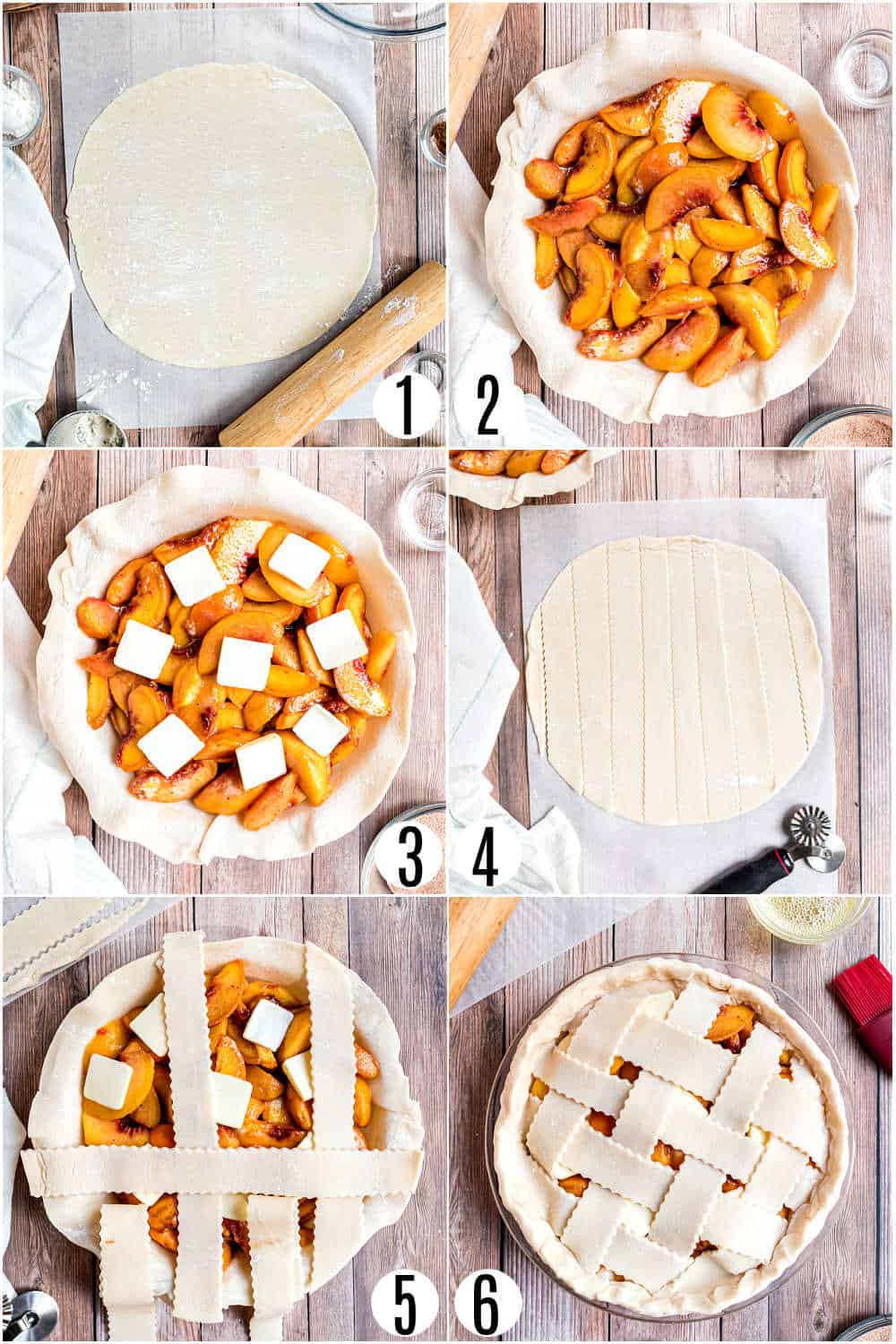 Pour the mixture into the prepared crust. Lay thin slices of butter evenly over the peach filling.
Roll out the second pie crust and cut into eight 1-inch strips.
Lay four strips vertically across the pie plate. Let the strips hang over the edge.
Lay four strips horizontally. Weave in a traditional lattice style (see link for a photo tutorial) or simply leave them atop the vertical strips.
Roll the outside edges of the crust toward the center, tucking in the lattice strip ends. Crimp or flute the crust as desired.
Make an egg wash by combining the water and egg white. Brush the outside crust with egg wash. Then sprinkle it with cinnamon sugar.
Bake for 15 minutes at 400°F. Then reduce the oven temperature to 375°F and bake for an additional 35-40 minutes or until the filling is bubbly and the crust is golden brown. Cover the crust with foil if needed to prevent it from getting too dark.
Cool the pie for 3-4 hours. The filling will set up as it cools.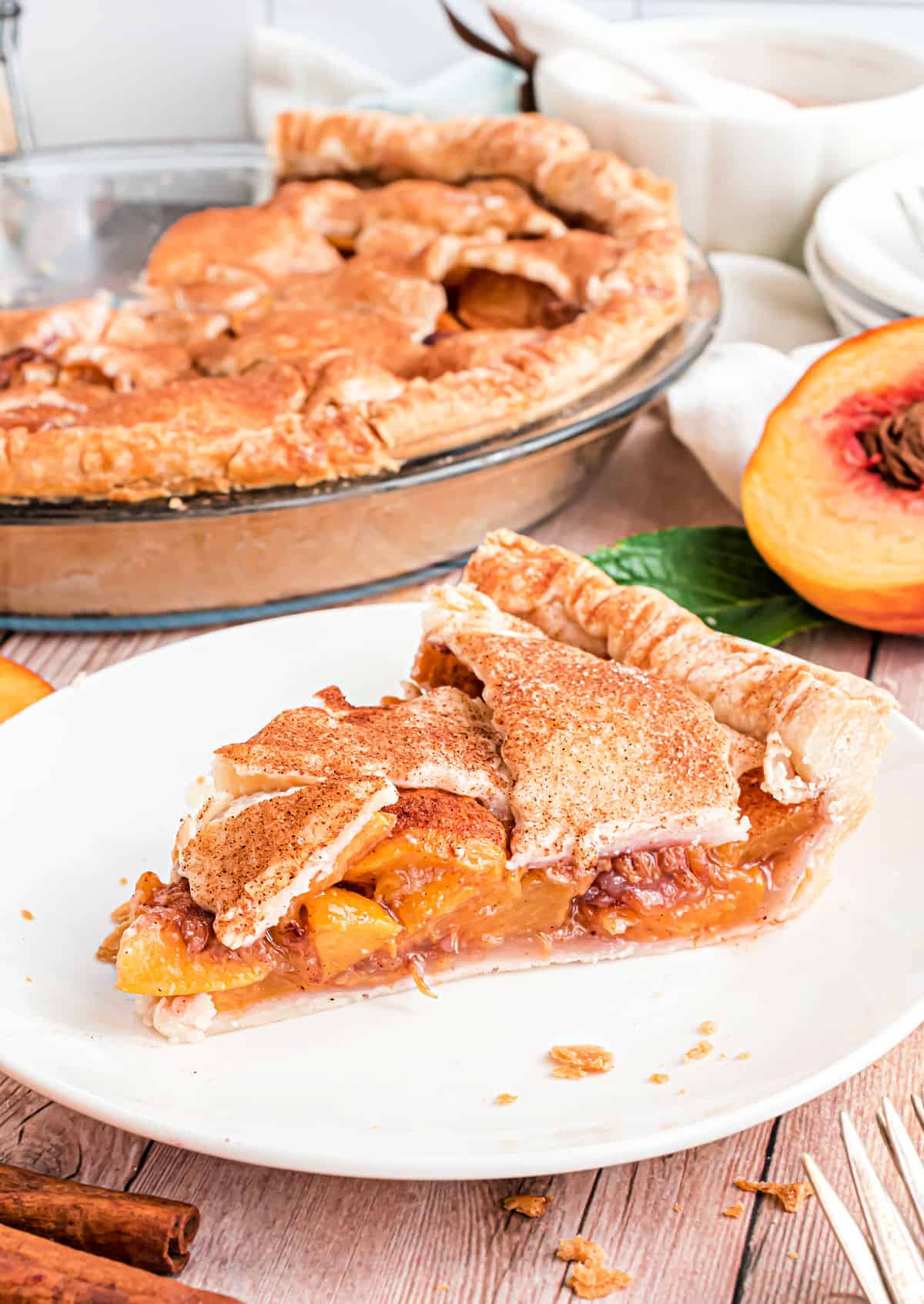 Tips & Tricks
Pick peaches that are ripe and still slightly firm. Don't use bruised, over-ripe peaches or canned peaches for this recipe.
Once you've tossed the peaches with the sugars, letting them sit pulls the excess water out of the fruit. So don't skip this step or the draining.
Make sure you place the pie on a rack in the lower third of the oven for the best results.
To cut the strips of pie crust for the lattice, use a pastry cutter, pizza cutter, or knife.
If you have one, use a glass pie plate for this recipe. It allows you to keep an eye on how dark your pie crust is getting underneath. It will also help your pie bake faster.
Place a baking sheet on the rack below the pie to prevent any pie filling from dripping and making a mess in your oven. Don't put it on the same rack as your pie.
Serving Suggestions
A slice of warm peach pie is just heavenly on its own. But it's also delicious with Homemade Vanilla Ice Cream. If you don't have an ice cream maker, you can still make No-Churn Vanilla Ice Cream easily at home.
Finally, peach pie is always amazing with a dollop of Homemade Whipped Cream on top.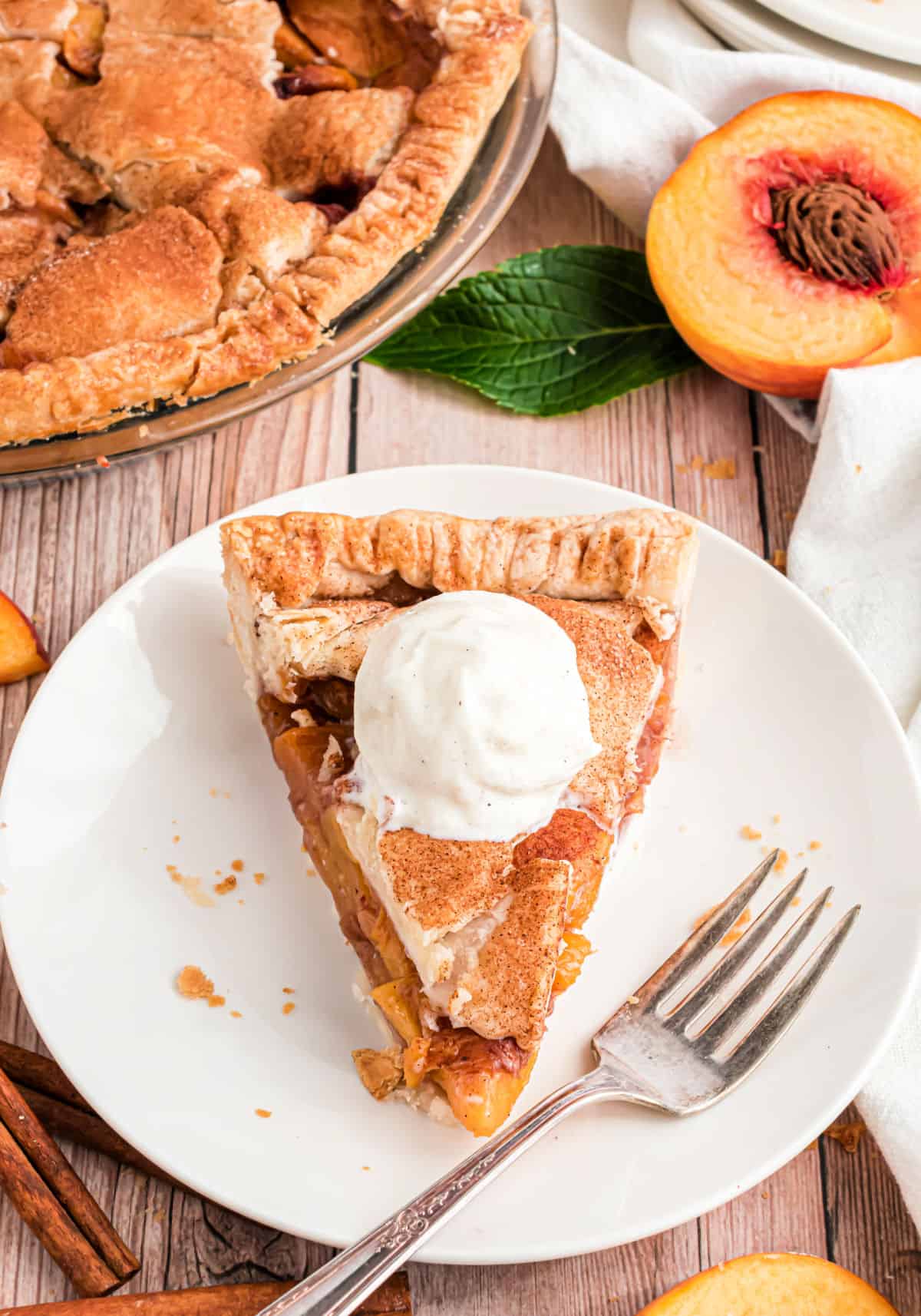 Recipe FAQs
Can I use frozen peaches instead of fresh ones in this pie?
Yes, you can use frozen peaches. Make sure they're fully thawed and drained before using. 
How should I store this pie once it's cooled?
This pie is best stored covered in the refrigerator. It will last up to 5 days. My grandma always told me fruit pies do NOT have to be refrigerated, but I personally find they hold up better and stay fresh longer in the refrigerator.
How do I freeze this pie?
Let the baked pie cool completely. Then, wrap it in plastic wrap, then wrap it again in foil. Place it in a large freezer bag and store it for up to 3 months. Thaw it in the refrigerator.
Can I make the pie filling ahead of time?
Given how perishable peaches are, I don't recommend making this filling ahead of time. But you can make the whole pie ahead of time, which gives it plenty of time to set. 
More Easy Dessert Recipes