Delicious layers of homemade Spice Cake with a Pecan Pie filling. This Pecan Pie cake is topped with a creamy Brown Sugar frosting! Drooling yet?
Love Pecan Pie? Don't miss my favorite Pecan Pie Bundt Cake recipe! Or these creamy, delicious Pecan Pie Cheesecake Bars for the perfect holiday treat.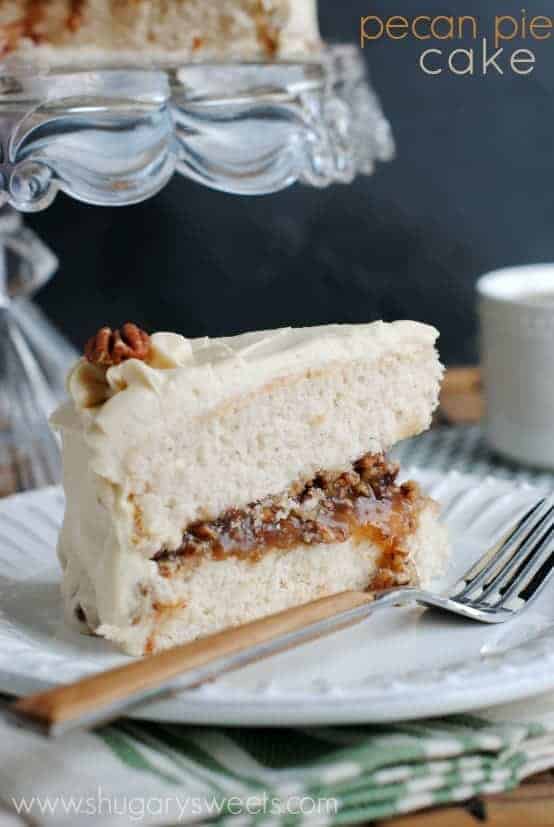 Why This Recipe is Best
Today, though, it's all about the Pecan Pie Cake.
This isn't just an everyday cake with a few pecans thrown on top, folks. When I say it is a Pecan PIE cake, I mean it.
Starting with a spice cake base, you sandwich real pecan pie filling between the layers. You get moist cake with sticky pecan crunch in every bite of this dessert!
And I haven't even mentioned the frosting yet. A simple cream cheese frosting gets a richer flavor from the addition of brown sugar that pairs beautifully with the pecan flavor.
This cake is MUST try if you love all things pecan!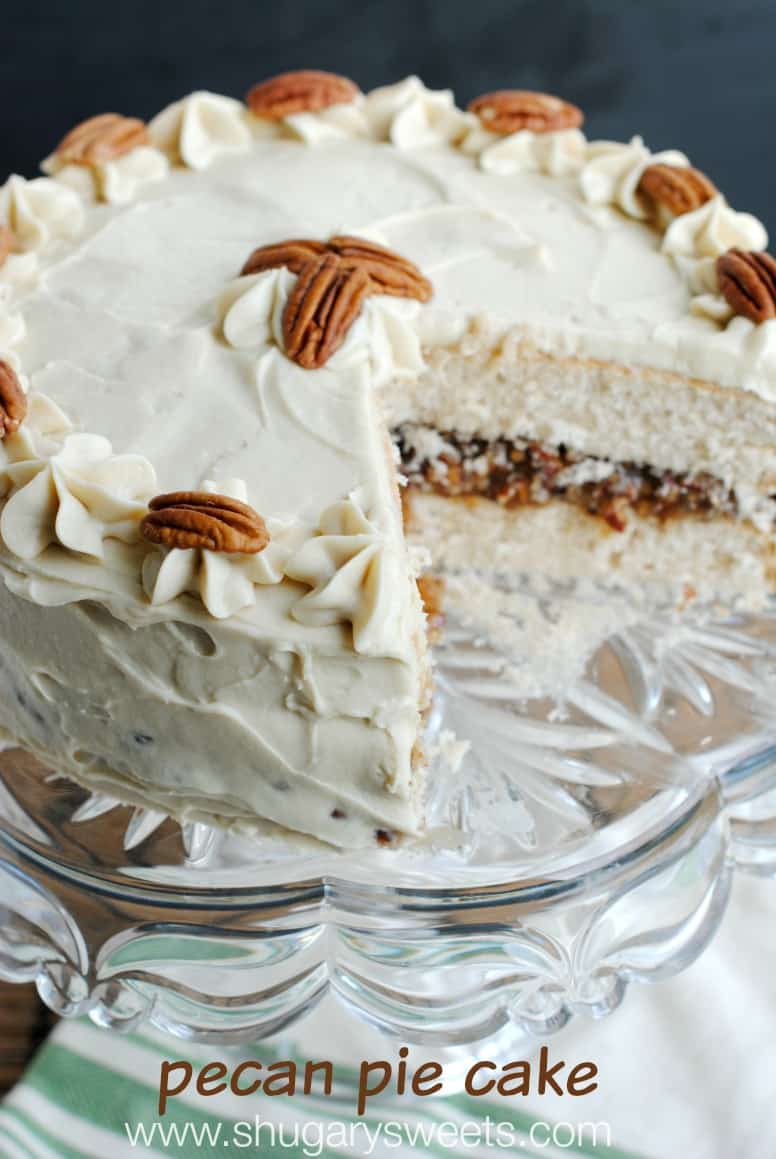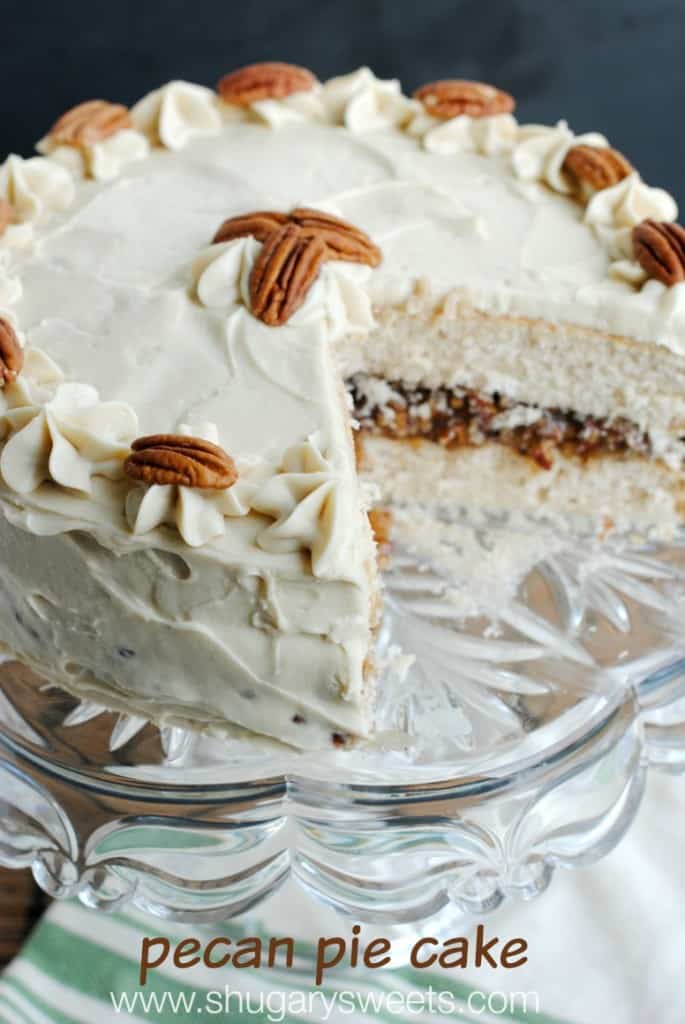 Ingredient Notes
Karo corn syrup – Dark corn syrup is a must for getting a deep caramelized flavor in the pecan pie filling.
Pecans – You need both pecan halves and the pieces for this recipe (or you can chop the halves into smaller bites yourself!). I prefer to toast the pecans for more flavor.
Cake flour – For cakes with a light crumb, cake flour is a must! You can substitute all purpose flour if needed by the finished cake will be more dense.
I started with my from scratch, spice cake recipe to make this Pecan Pie Cake. If you want to save yourself a step and use a boxed mix, go for it!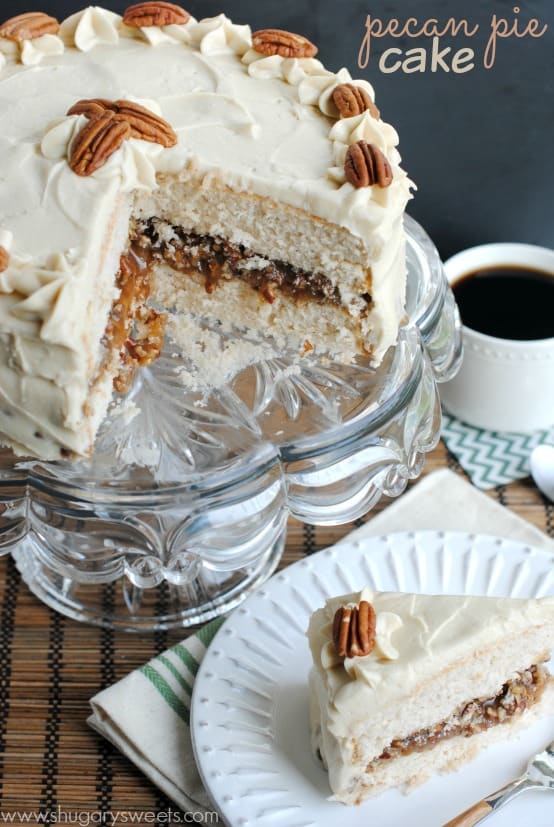 Step by Step Instructions
STEP 1. Pecan filling
Heat the brown sugar, KARO dark corn syrup, heavy cream, butter and kosher salt until it begins to boil. Let it boil for a full minute, stirring constantly. Remove the pot from the stove and stir in the chopped nuts and vanilla extract. Let the mixture cool to thicken up before adding it to the cake layers.
STEP 2. Bake your cakes
Combine the egg whites with milk in a small bowl. In a large bowl, beat the butter and sugar, then add all the dry ingredients followed by the egg whites and milk.
Pour the batter into prepared layer cake pans and bake for 25 minutes.
STEP 3. Brown sugar frosting
While the cakes are baking, beat together the cream cheese, butter, brown sugar and powdered sugar until the frosting is fluffy and smooth.
STEP 4. Assemble the cake
Place one of the cakes on a cake plate. Make sure the dome of the cake has been sliced off, so that the cake is level.
Top with the pecan pie filling, followed by the second cake later. Then top with the second cake layer. Spread a thin layer of the frosting over the cake top and sides, then chill for 15 minutes.
Spread the remaining frosting over the cake and garnish with pecan halves (or pieces, if preferred). Keep the cake in the refrigerator until 15 minutes before serving.
Slice and enjoy!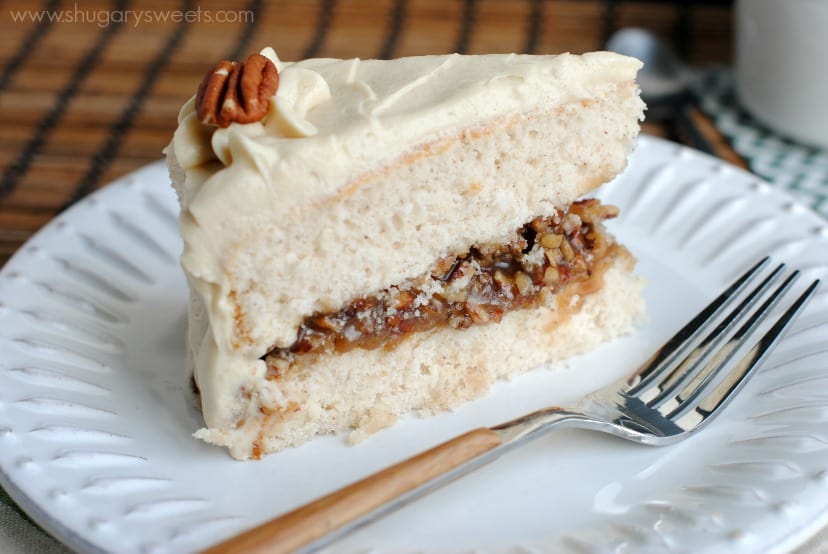 Tips & Tricks
Make sure the cake layers are level before stacking. Use a serrated knife to cut the dome off the top of your cake. This is especially important for the bottom layer. You don't want the pecan pie filling oozing out the sides too much.
Make the pecan pie filling the night before. I like to do this so it has plenty of time to thicken.
Keep cold. Store the cake in the fridge to kee[ the pecan layer from getting too soft and oozing out. Remove it from the fridge 15 minutes before serving to let it soften a bit.
Recipe FAQs
Can I use all purpose flour instead of cake flour?
You CAN but the cake will be denser with a firmer crumb. You can also substitute a boxed spice cake mix for all the cake ingredients and bake it according to package directions as an alternative.
What sized cake pan do I need?
I baked this in 2 9-inch round baking pans.
Does this cake have to be refrigerated?
Yes, I find it holds up best if stored covered in the fridge.
More Nutty Desserts
So, there you have it friends, the perfect holiday cake! Pin it, bookmark it or print this one out for your recipe box. Pecan Pie Cake is going to be a new family favorite!