These Caramel Frosted Sugar Cookies are irresistible. Chewy sugar cookies with a no-chill dough topped with a sweet and salty caramel frosting!
If you love baking, our cut out sugar cookies need to on your list! Top them with homemade sugar cookie frosting for a sweet holiday treat.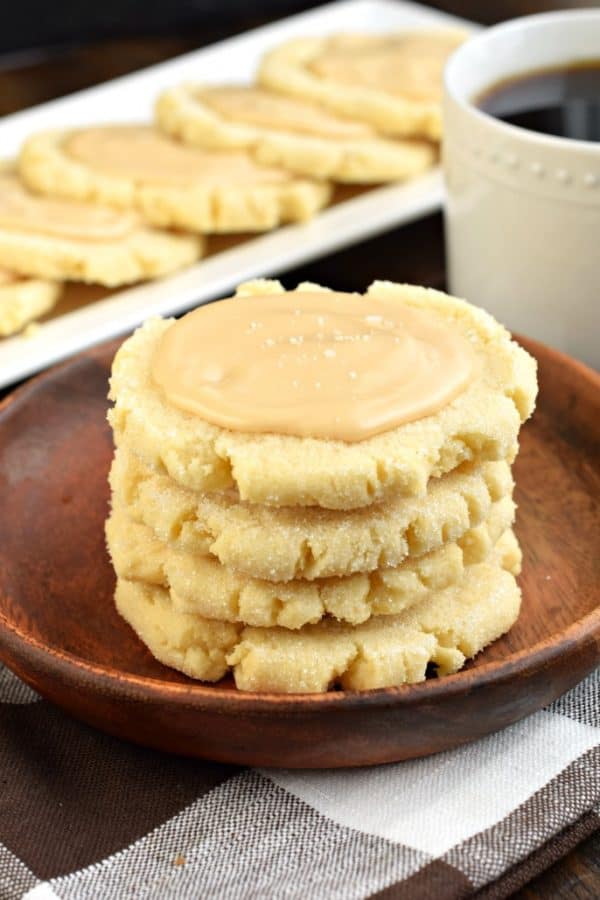 Why this Cookie is Best
When it comes to sugar cookies, there are so many things to consider.
Do you want the kind that your roll out and make shapes?
Are you more interested in a chewy cookie?
How much time do you want to spend baking cookies?
You may remember last month I shared this delicious Frosted Sugar Cookies recipe. Chewy cookie perfection. Topped with a sweet vanilla (pink) frosting!
Well, today I'm back with that same cookie but a decadent Caramel Frosting instead! Are you ready?
Love pink frosting? These sugar cookie bites are so fun and easy too!
How to make Caramel Frosted Sugar Cookies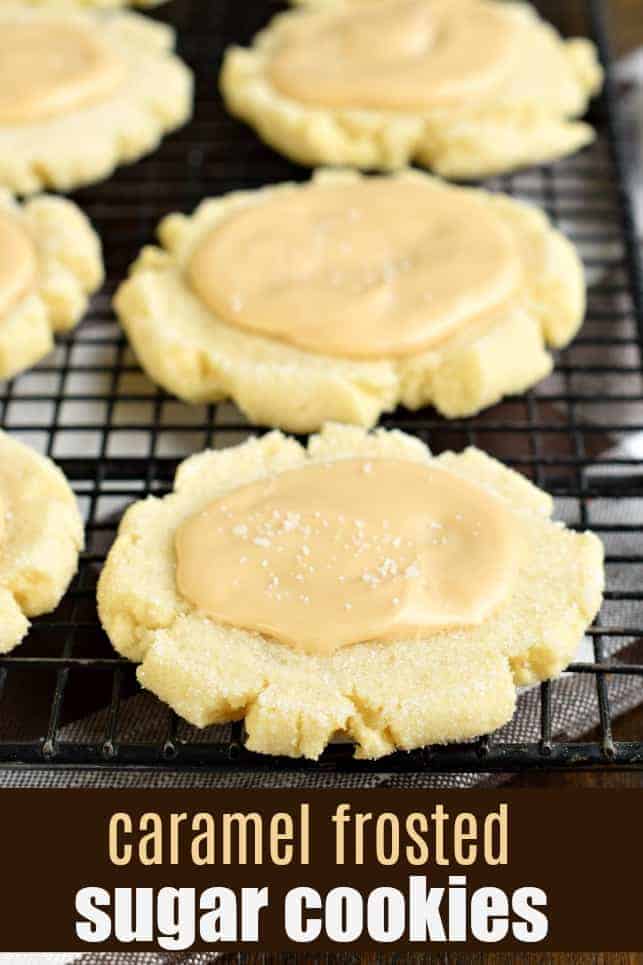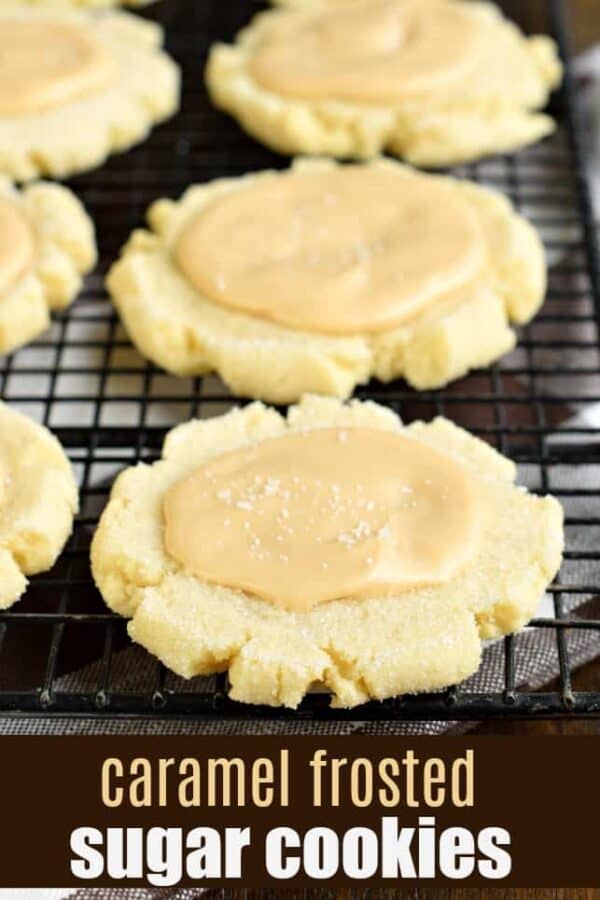 First, preheat oven to 350 degrees F. Line a large baking sheet with parchment paper and set it aside.
In a large mixing bowl, cream together the softened butter, vegetable oil, granulated sugar, powdered sugar, water, and eggs. Slowly add the dry ingredients: flour, baking soda, cream of tartar, and kosher salt.
Blend everything together. Your dough may be slightly crumbly and NOT sticky at this point.
Use a medium cookie scoop (2 Tbsp cookie scoop) to portion out the sugar cookie dough. Roll it into a ball (like golf ball sized balls).
In a small bowl, combine 1/4 cup sugar with a pinch of salt in a small bowl. Roll cookie dough balls in the sugar/salt bowl and place the ball on your cookie sheet.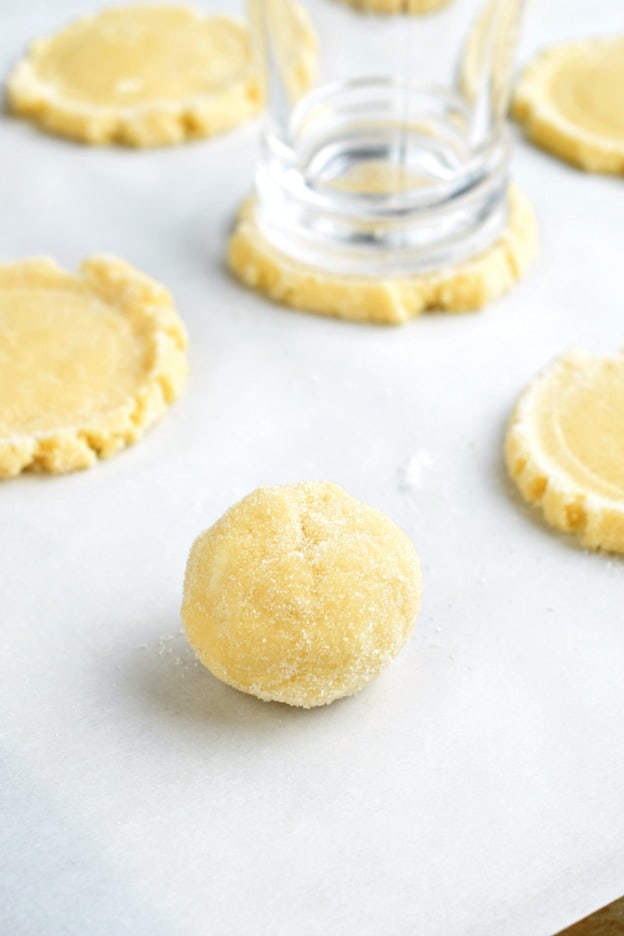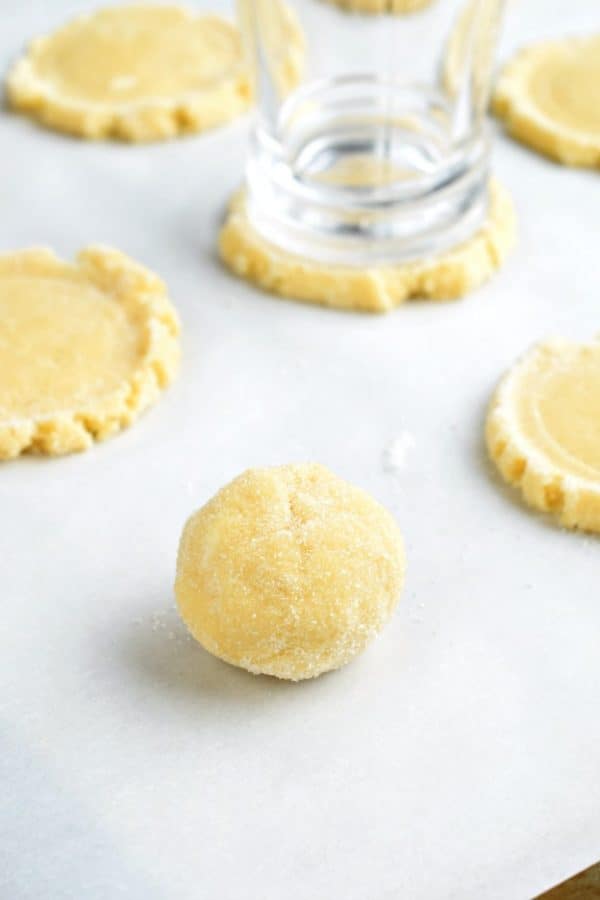 Find a small glass that has a flat bottom (or the bottom of a small bowl). Dip the bottom of a glass in the bowl of sugar/salt and press gently onto the cookie dough ball. If it sticks, peel it off carefully and make sure you dip the glass in the sugar between pressing each cookie.
You want to press enough that the dough spills out over the sides of the glass, creating a small lip (this is where the caramel frosting is going to go).
Bake cookies for 8-10 minutes. Remove from oven and cool on pan 2 minutes, then move to wire rack to cool completely. Recipe makes about 4 dozen large cookies.
Cookies can be eaten plain or iced. You can also freeze cookies before adding the icing. Place in an airtight, freezer safe bag or container.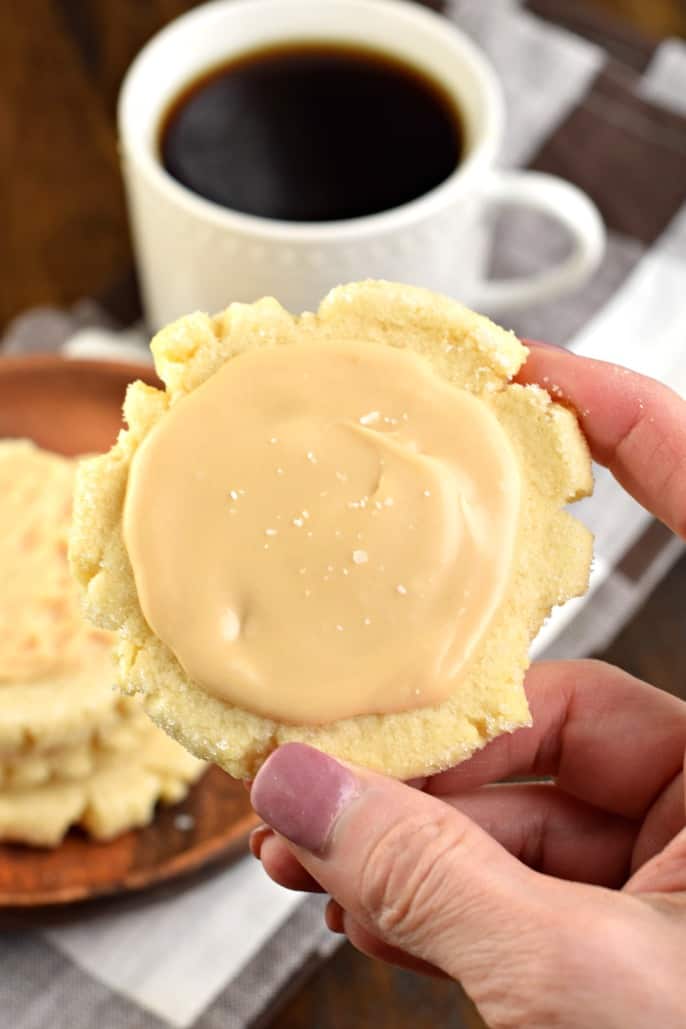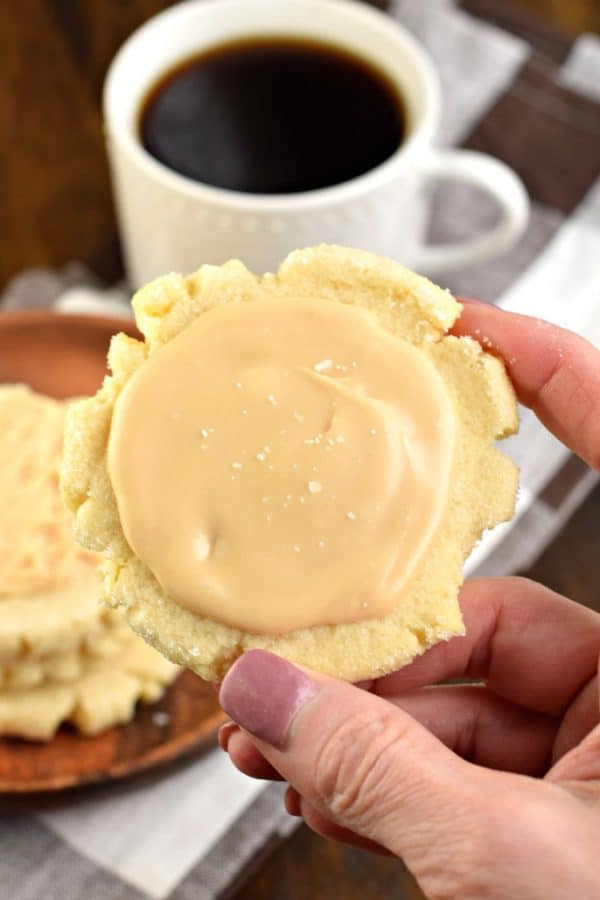 How to make Caramel Frosting
In a large mixing bowl, combine the softened butter with the caramel sauce. I used store bought ice cream topping, but you can use homemade caramel sauce if you prefer. Also add the powdered sugar and beat until fluffy, about 3-4 minutes.
Depending on the brand of caramel sauce, you may need to add in a tablespoon or two of milk to make it creamy. Some caramel sauces are thicker than others.
Spread frosting on each cookie and sprinkle a pinch of coarse seas salt, if desired. We love the sweet and salty caramel flavor!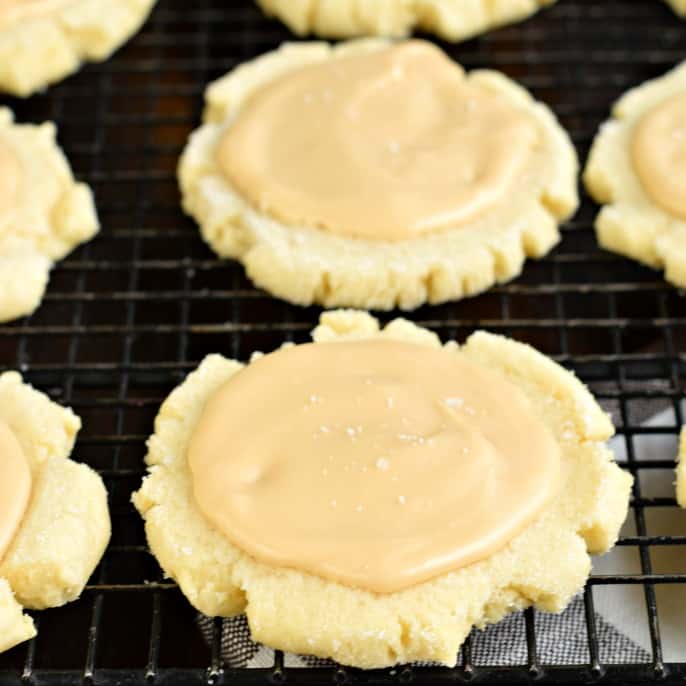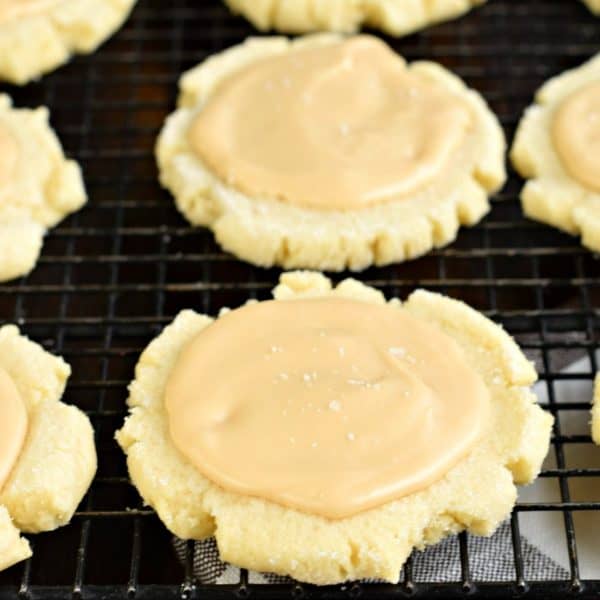 FAQ about making Sugar Cookies
Q: Should I need to chill the dough?
A: Chilling the dough is NOT necessary for my soft and chewy sugar cookie recipe.
Q: Can I add flavoring to the dough?
A: Absolutely! I would add 1-2 tsp of your favorite flavoring to give new life to these cookies. My favorites would be lemon or almond extracts.
Q: How do I store sugar cookies?
A: These sugar cookies should be kept at room temperature in an airtight container for best flavor and texture. Once the icing has firmed, you can stack them with a sheet of wax paper (or parchment paper between layers.
Q: Can I freeze sugar cookies?
A: Absolutely. I prefer to freeze the cookies AFTER baking, but before frosting them. That way the texture of the frosting doesn't change in the freezer. Once you thaw the cookies (overnight at room temperature) you can apply a fresh icing to them!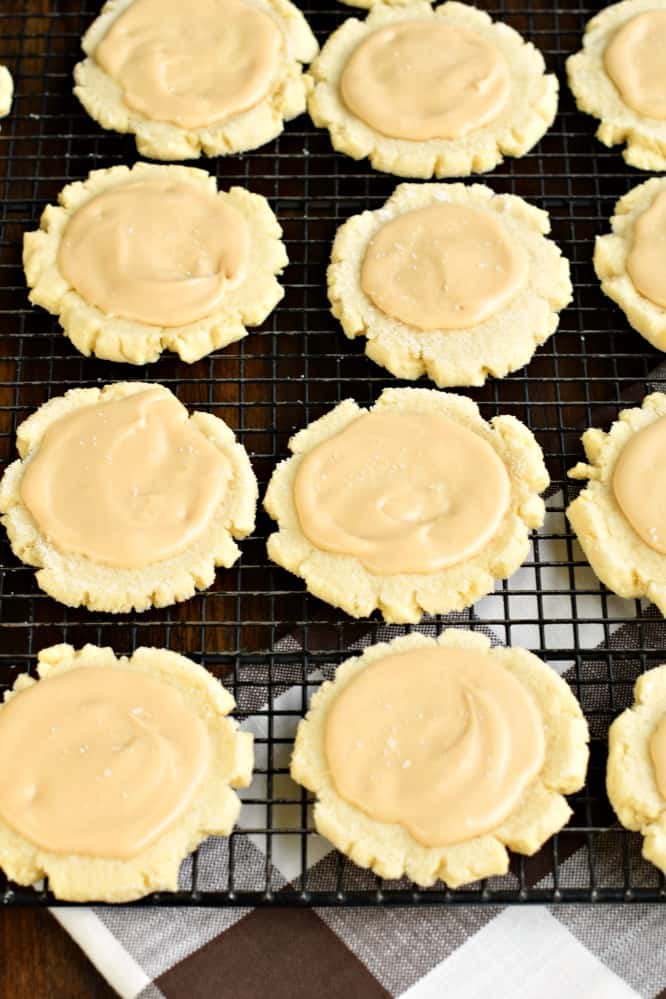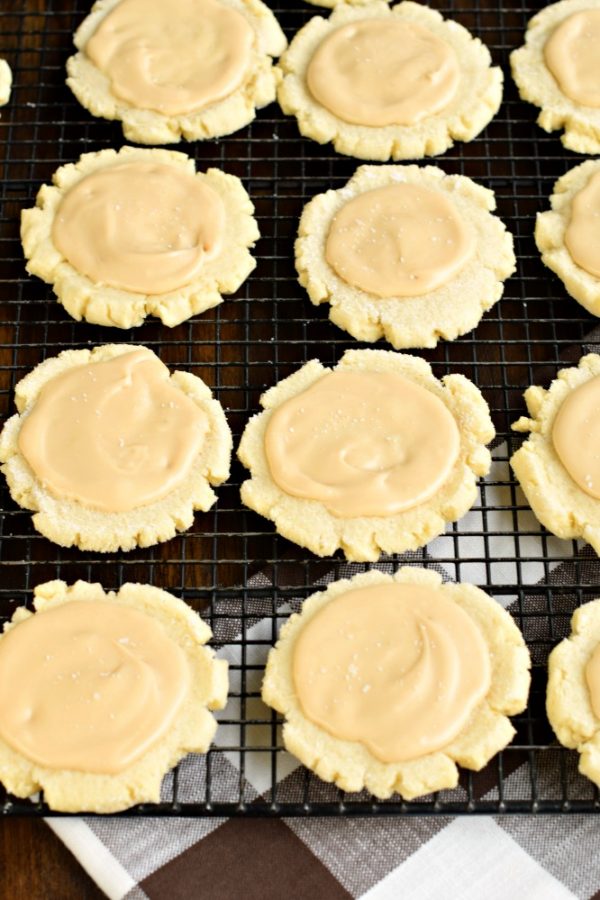 Favorite Cookie Recipes:
Looking for the BEST sugar cookie cut out recipe? These Cream Cheese Sugar Cookies are so flavorful and they always hold their shape. Don't forget to add the delicious Vanilla Bean Frosting too!
A classic sugar cookie made easy by making them into bars. Frost with a generous layer of buttercream, tinted in your favorite color! Frosted Sugar Cookie Bars are a family favorite!
This Almond Bars recipe is a sweet treat that has a shortbread-like texture and a delicious almond glaze on top! You'll want to make extra and freeze them for later!
Melt in your mouth, Raspberry Shortbread Bars with a delicious crumble on top!
Thick, moist, and flavorful describe these delicious Gooey Butter Cookies. Made from scratch, but I've got a cake mix option if you're in a pinch!
Twix cookies have a buttery shortbread cookie base with creamy caramel and chocolate on top! I'm not even kidding when I say they are addictive!