Frosted Funfetti Blondies!! Chewy blondies loaded with colorful sprinkles and topped with a creamy vanilla frosting (with more sprinkles of course)! A fun treat that can be made festive with any color sprinkle.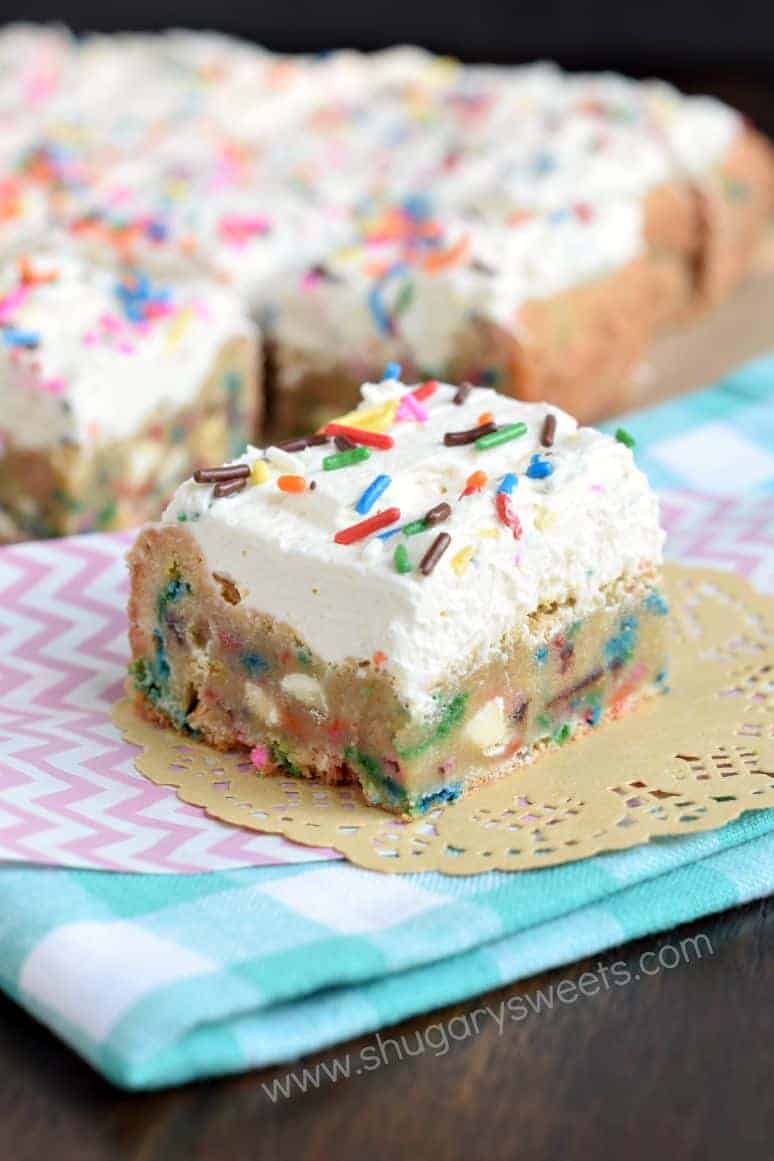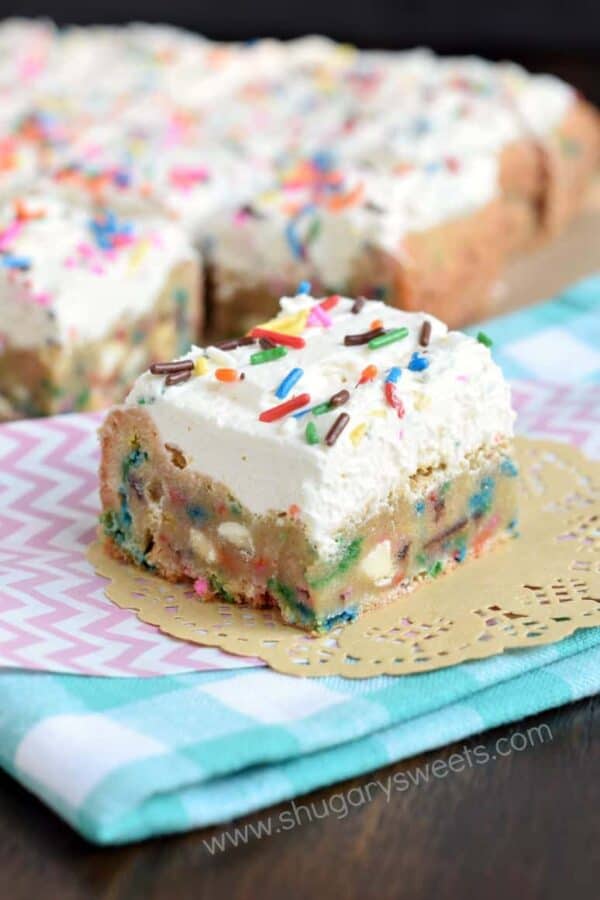 Sprinkles. They remind me a lot of glitter. And when you spill them in your kitchen? Well, the both do the same thing.
They get into every crack and crevice and you will find yourself with sprinkles appearing months later. Even if you're a super clean person, this happens. Trust me.
Earlier this summer we had our kitchen cabinets repainted. I have one designated cabinet for sprinkles (it's a problem, I'm well aware). It's one of those corner cabinets, where the top and bottom shelves are connected on a pole and its spins around.
This cabinet is FILLED. To the brim. With sprinkles. From Valentine's Day to Christmas, we've got everything.
That is, until the kitchen remodel. They removed all the doors of our cabinets to spray them (we had ugly oak and went to a beautiful white cabinet). They then returned everything to normal. We had this done while we were on vacation, so I never saw what happened in between the removal and the return of the cabinet doors.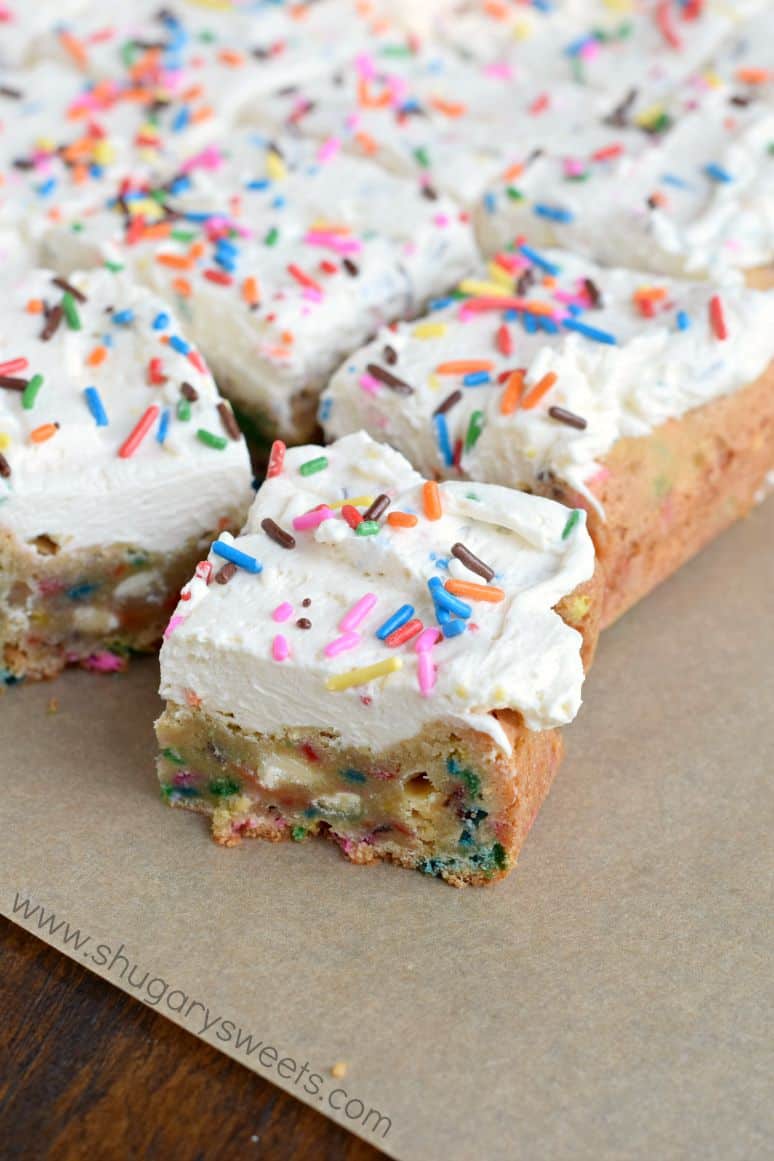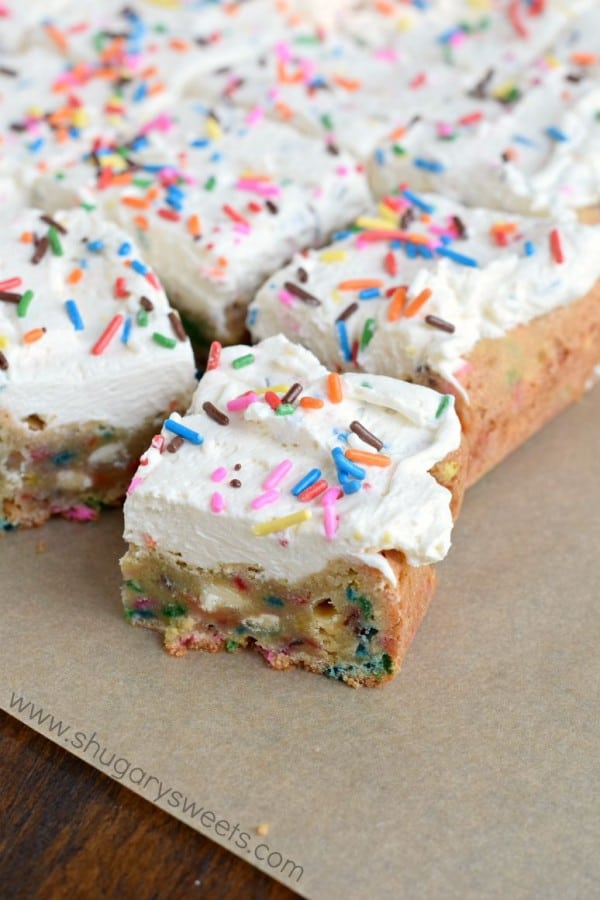 It wasn't until I opened that cabinet last week to make these Frosted Funfetti Blondies that I realized something went wrong.
FIRST, I will be honest, I went nearly an entire summer without using sprinkles. #badfoodblogger
SECOND, I noticed my sprinkles were not orderly for holidays. The organized girl in me likes to keep them in groups according to holiday. I mean, if you can designate an entire cabinet to just sprinkles, you might as well make it work for you, right?
THIRD, I noticed some of the lids were off the sprinkles, they were laying on their sides, and many were spilled all over.
FOURTH, it took me well over an hour to remove each jar and bowl, clean up the sprinkles, and return them in order. And then I knocked over the paper plate that had all the spilled sprinkles…and it happened. Sprinkles are now appearing everywhere. From the dogs hair to the upstair bedroom closet. Random sprinkles are coming out of the woodwork.
Good thing I stock up so that I had enough to make these blondies! I used my favorite blondie base and added in a load of jimmies (this is what those little log looking sprinkles are called). I love using these when I bake because they are soft and don't have the crunch like the little balls do (okay, yes, I realize how awkward that sentence sounds…move along).
Of course, these blondies needed some frosting! I mean, go big or go home. So more sprinkles happened! I hope you love these chewy blondie bars with sweet vanilla buttercream frosting!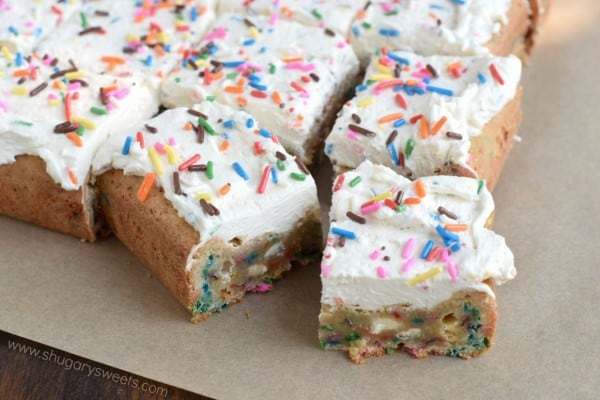 Connect with Shugary Sweets!
Facebook | Twitter | Pinterest | instagram
Love sprinkles? Here are some of my favorites….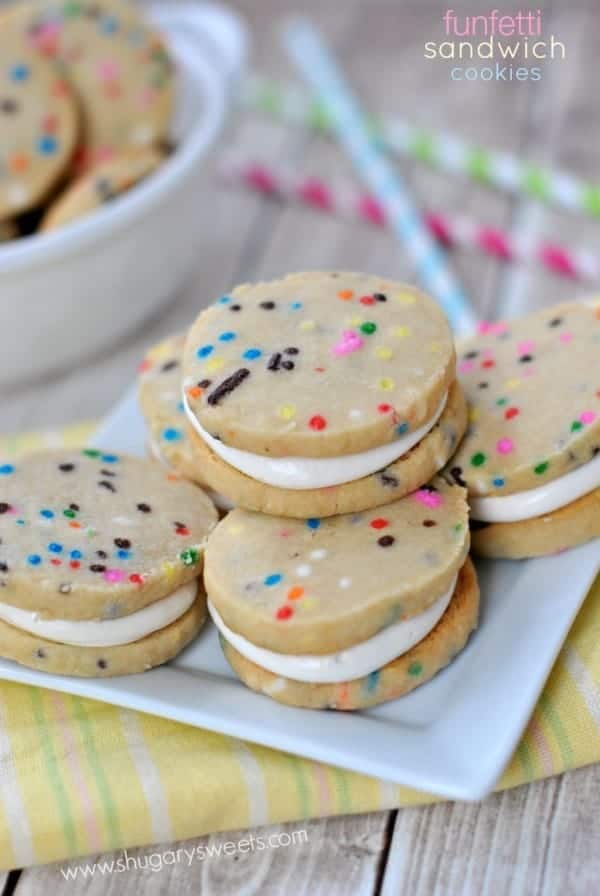 Funfetti Sandwich Cookies: sweet shortbread cookies with a creamy filling!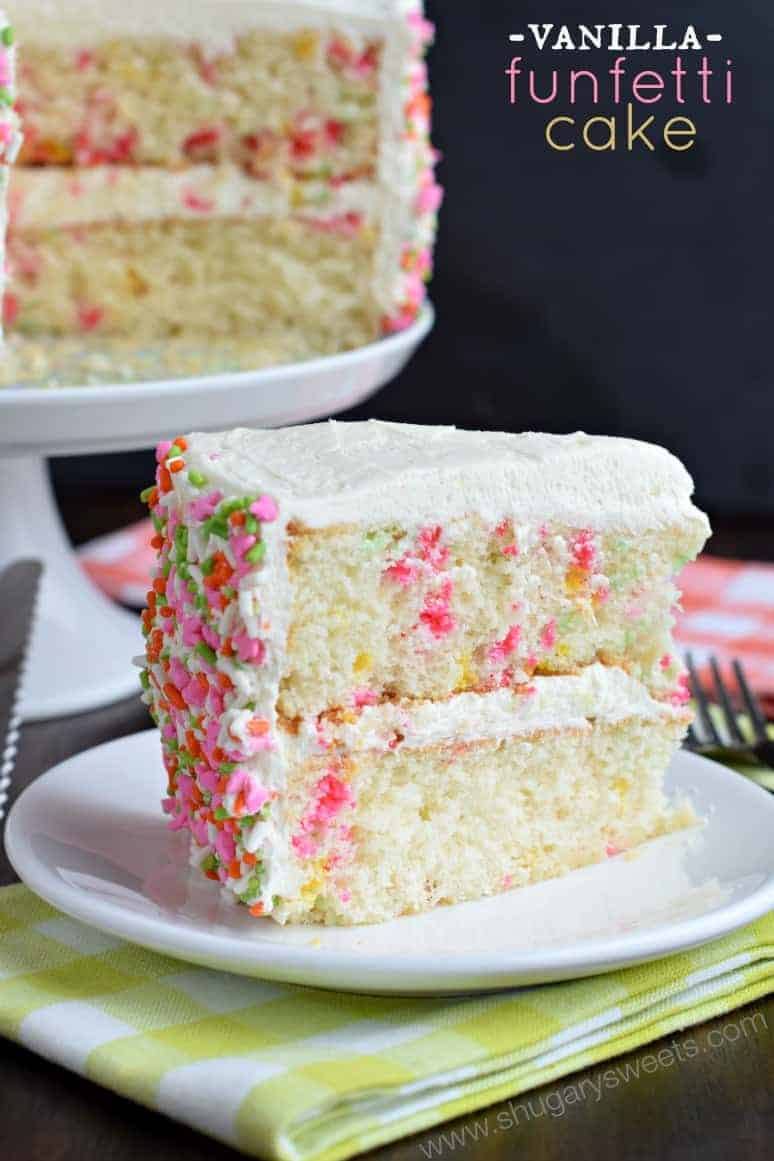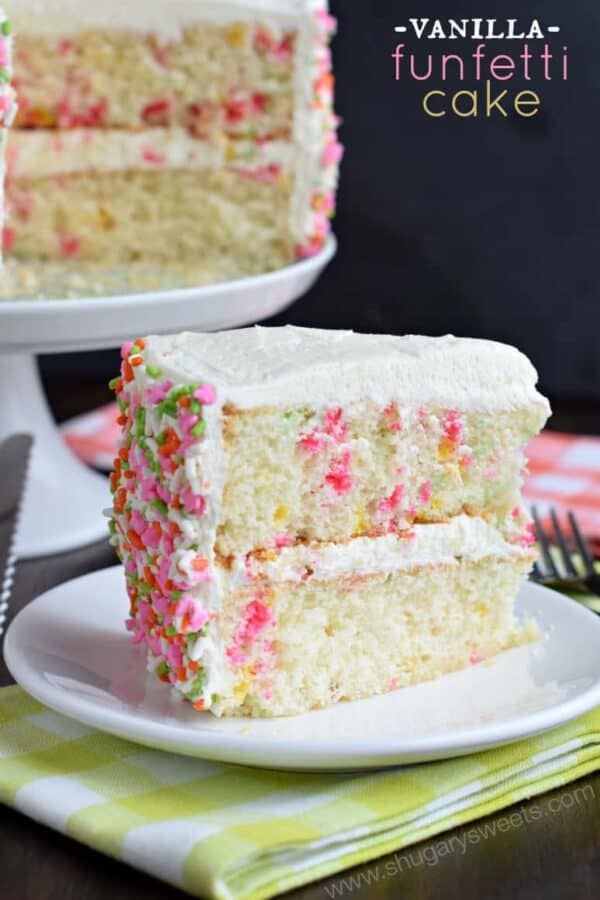 Funfetti Layer Cake: a delicious vanilla cake with LOTS of sprinkles!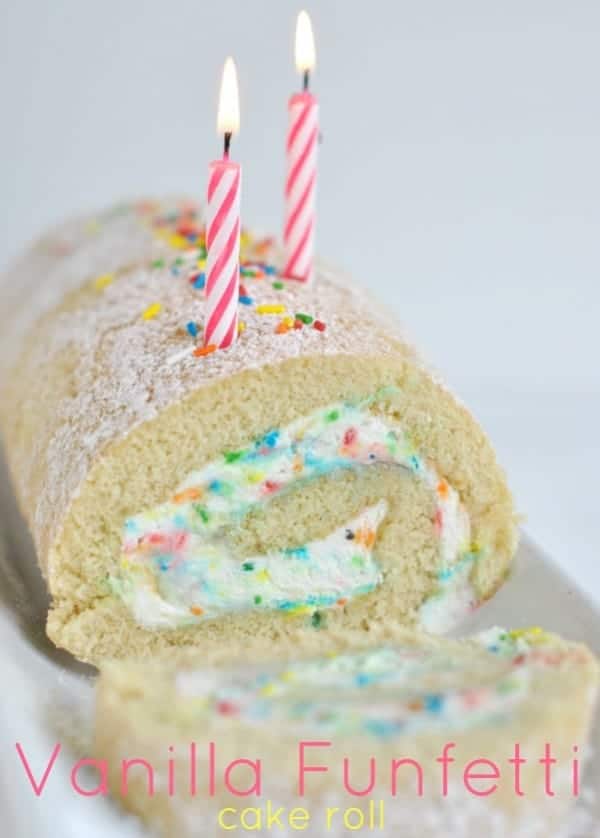 Vanilla Funfetti cake roll: lots of tips and tricks to make the perfect cake roll!
Love today's Funfetti Blondies? Here are some great recipes I think you will like: