Frosted Funfetti Blondies are chewy blondie bars loaded with sprinkles! Topped with a thick vanilla frosting and even more sprinkles, these are the perfect festive treat for any celebration.
You don't have to be a kid to LOVE sprinkles. Even the most business-like adult can't resist a colorful plate of Funfetti Cookies or a Funfetti Cupcakes.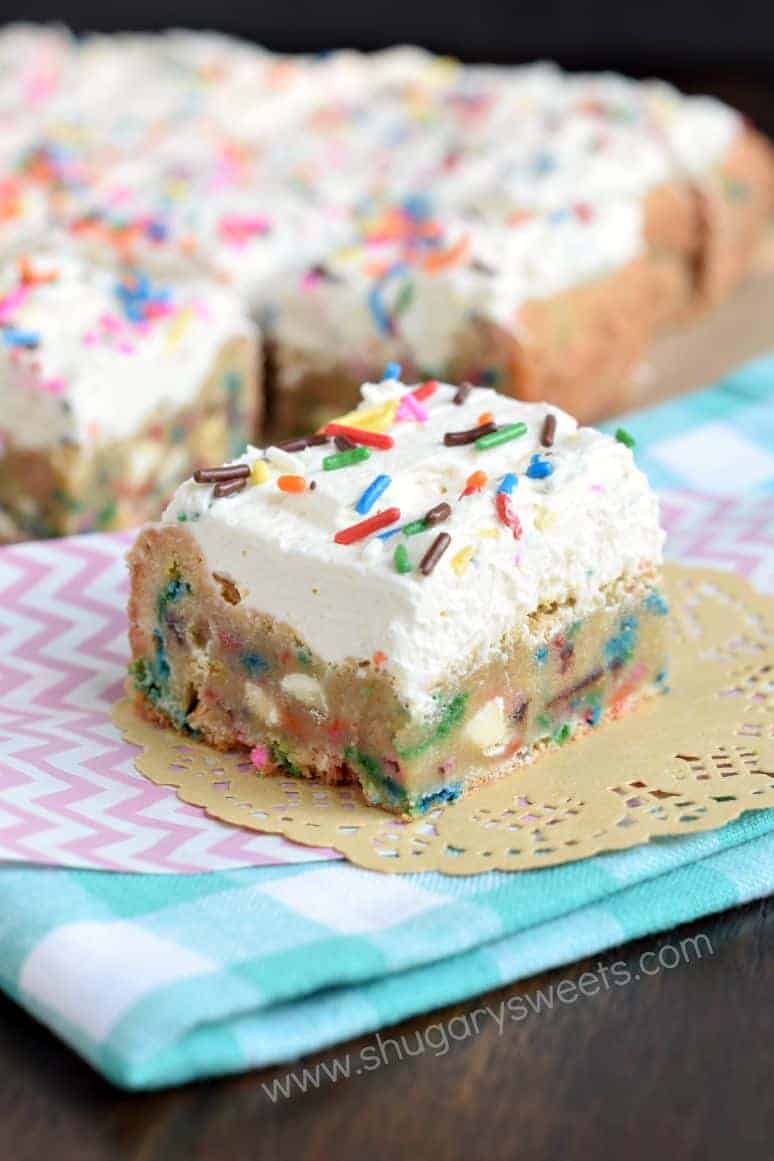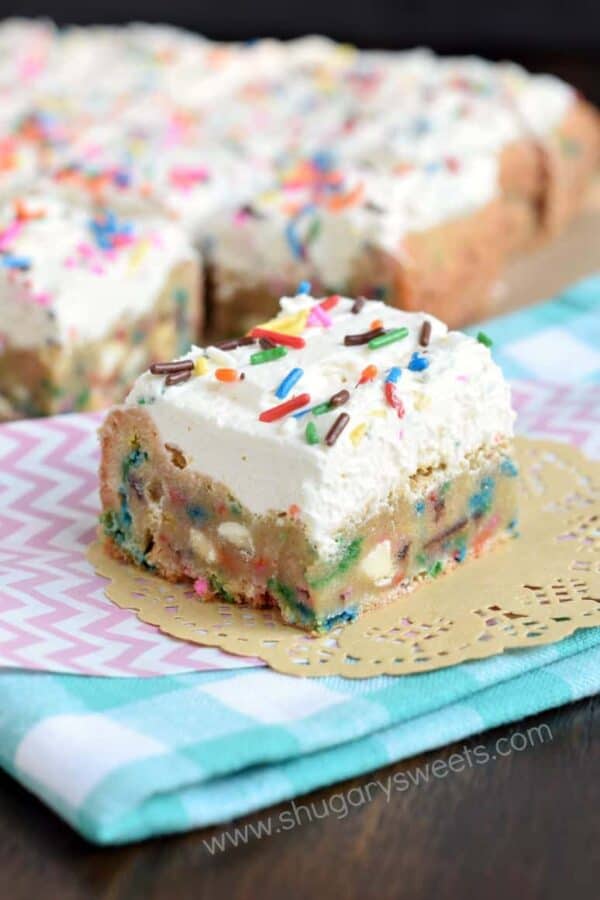 Why These Blondies are Best
Using our favorite cake batter blondies as a base, today's are even better!
Soft, chewy blondies with creamy vanilla flavor.
Sprinkles and white chocolate chips are baked right into the batter.
A thick layer of vanilla frosting on top for more decadent sweetness.
You can make them with any color sprinkles for different holidays and festivities!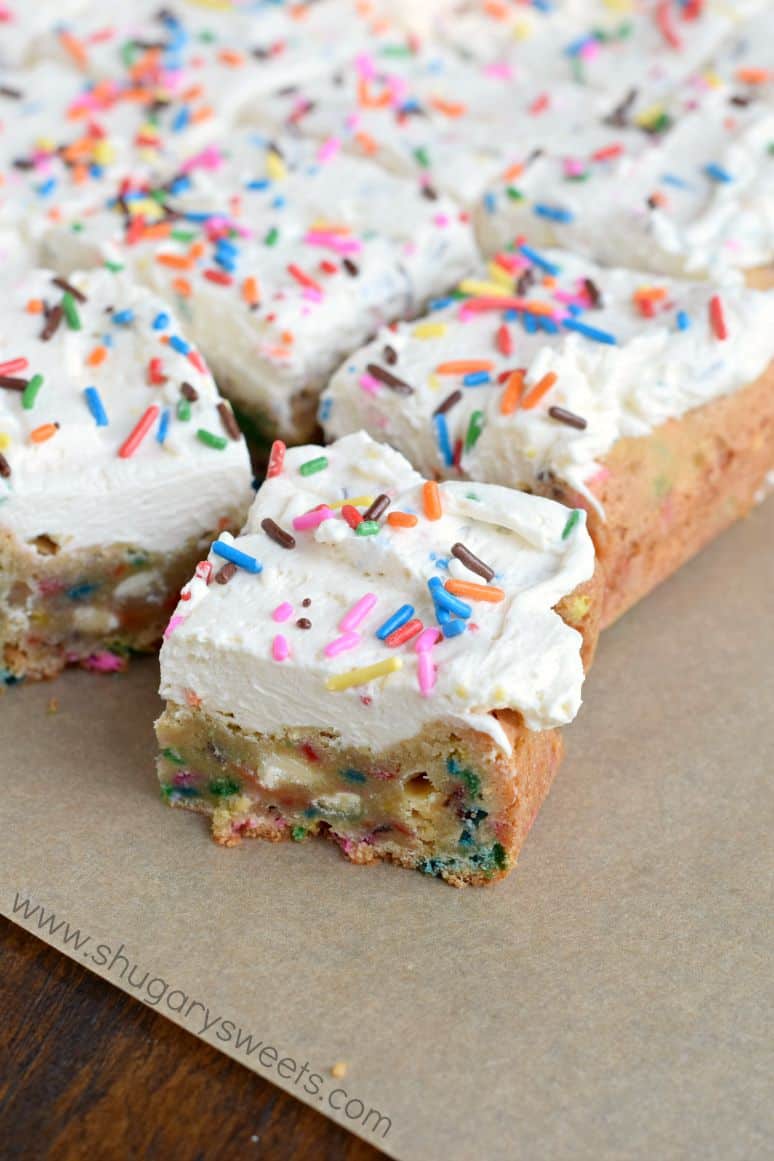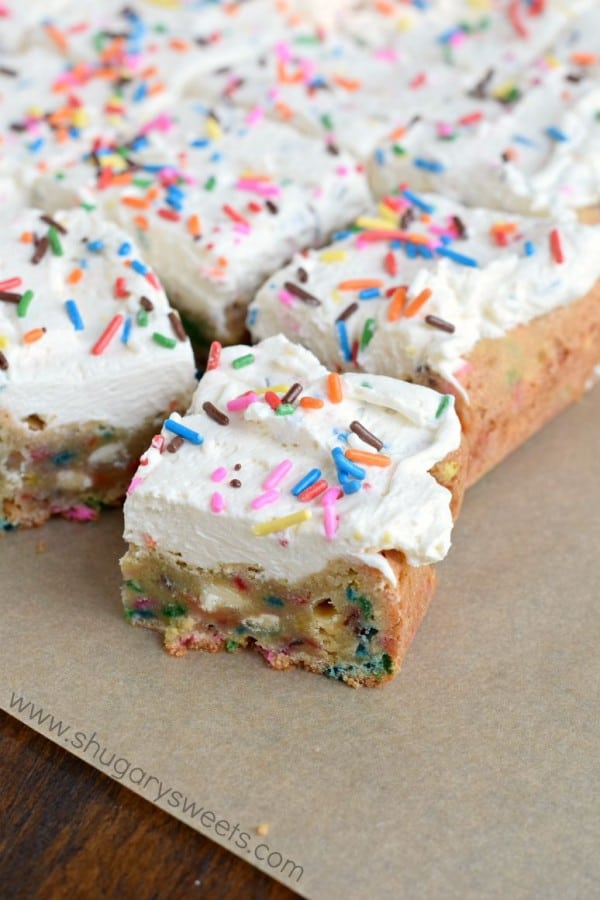 Ingredient Notes
Along with eggs and flour, you will need these key ingredients for frosted Funfetti blondies.
Melted butter makes blondies super chewy and tender.
Light brown sugar mixed with the butter creates a slightly caramelized sweetness you'll love.
Vanilla extract is the primary flavor in both the blondie bars themselves and the frosting. We love baking with this homemade Instant Pot Vanilla.
Sprinkles. Use long skinny sprinkles (jimmies) for this funfetti dessert.
White chocolate chips are the perfect mix-in to complement the colorful sprinkles!
Vanilla frosting is made with butter, powdered sugar, milk and additional vanilla extract.
Tips and Tricks
I've made more than my share of blondie recipes over the years and learned a few things along the way.
Line your baking pan with parchment paper. This prevents sticking and makes it easy to lift the baked blondies out of the pan when they're done.
The blondies will still be soft in the middle when they are done baking. The center will set to chewy perfection as the blondies cool.
Change up the sprinkle colors. This is an easy way to adapt these blondies for different seasons or holidays.
Try the recipe with red and green sprinkles at Christmas, pink for Valentine's Day, or red and blue for the 4th of July. I love trying all kinds of color combinations!
Today, I chose a variety of rainbow sprinkles for blondies with a classic birthday cake flair.
Recipe FAQs
Can I make these with other types of sprinkles?
Only jimmies style sprinkles or confetti sprinkles (the flat discs) should be used in the batter for this recipe. Nonpareil sprinkles (the round ball kind) tend to bleed color into the batter as they bake. This changes the appearance and color of the blondies. For the frosting, any kind of sprinkles can be used.
Why are my blondies greasy?
These blondies should be soft, fudgy and chewy when cooled. If your blondies are greasy you may not have mixed the ingredients together thoroughly. The butter and brown sugar should be well combined before adding the other ingredients. Adding too much flour can also cause crumbly, greasy brownies. Make sure you're measuring flour correctly for best results.
Can blondies be frozen?
These blondies can be frozen, but for prettiest presentation, I don't recommend it. While frozen Frosted Funfetti Blondies will taste delicious after thawing, the sprinkles will leak their color into the bars.
How should I store frosted blondies?
Store these Frosted Funfetti Blondies at room temperature. Keep them in a sealed airtight container to maintain freshness.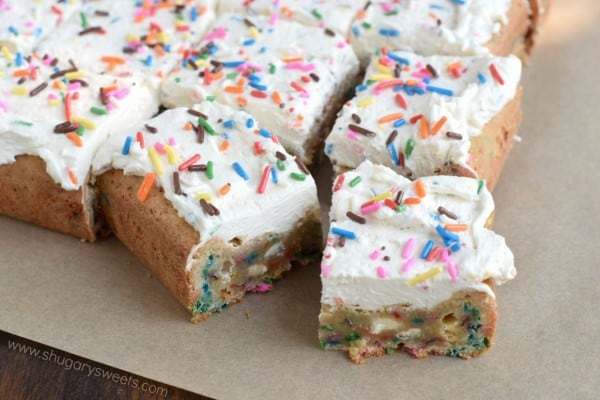 More Funfetti Desserts