Learn how to make the perfect Vanilla Sponge Cake Roll with homemade Funfetti Whipped Cream filling. Enjoy this rolled cake for a birthday treat or to celebrate any occasion!
Today's recipe is oozing with childhood nostalgia. If you loved Funfetti cake as a kid, here's an Funfetti Dip recipe you'll love just as much as a grown-up!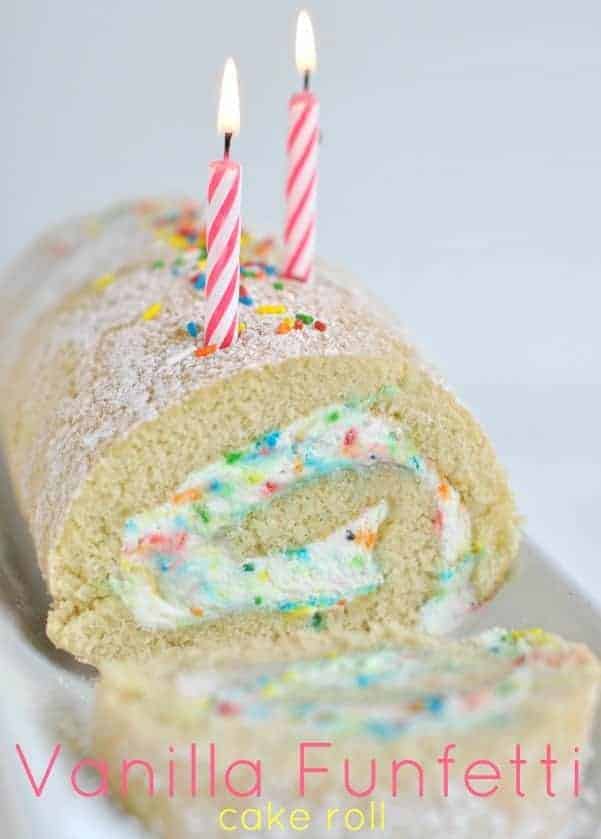 What is a Cake Roll
A Cake Roll is a sponge cake that's baked in a sheet pan, topped with a creamy filling, then rolled into a cylinder. Each slice of cake roll reveals the spiraled layers of filling and cake inside!
Most people think of pumpkin rolls when they think of a cake roll.
Cake rolls like this one are also known as "Swiss rolls" or "roll cakes" depending where you live. When jelly is used instead of a whipped cream filling, this tasty dessert is usually called a jelly roll.
Today's Vanilla Funfetti Cake Roll starts with a light vanilla sponge cake and a rich whipped cream filling. A generous amount of rainbow sprinkles rolled inside give the Vanilla Cake roll a fun, festive touch!
Ingredient Notes
To make this Funfetti Cake Roll, you'll need your standard cake baking staples including eggs, sugar, and flour. You will also need these key ingredients for a perfect roll.
Vanilla Extract. As the primary flavor of the sponge cake and filling, a good quality pure vanilla extract is essential. Try my Instant Pot Vanilla Extract recipe for this cake if you have time to plan ahead!
Heavy whipping cream. Use this to make a fluffy homemade whipped cream to spread across your baked sponge cake.
Sprinkles. We used assorted colors of jimmies sprinkles to give this cake roll a classic Funfetti look.
Powdered sugar. This is dusted on a dish towel that's then used to roll up the baked cake. The powdered sugar keeps the warm cake from sticking to the towel. I also use it to garnish the finished cake roll before slicing.
Things You Need To Know
Have you made a cake roll before? Here's some tips:
TIP#1: don't use a regular cake mix or cake recipe when making a cake roll. They will fall apart.
TIP#2: have your towel with powdered sugar ready when the cake comes out of the oven!
TIP#3: Have your broom ready when you spill powdered sugar all over your kitchen trying to flip the towel and cake together.
Recipe FAQs
Can I use a box mix instead?
No, a boxed mix will NOT work for this cake rolling method! The sponge cake recipe here is specifically formulated to be rolled in to the desired shape.
What size pan is best for making swiss cake roll?
A 15 x 10 inch baking sheet (also called a jelly roll pan) works best for this recipe.
Do not use a smaller pan or the cake will bake too thick and bread when you attempt to roll it.
How do I store it?
Before slicing and serving, store the roll cake tightly wrapped with plastic wrap in the refrigerator. It is best enjoyed within 1 -2 days of making.
What sprinkles are best in Funfetti cake?
I use a rainbow colored assortment of jimmies sprinkles. The "official" Funfetti sprinkles from Nestle would be great in this cake too!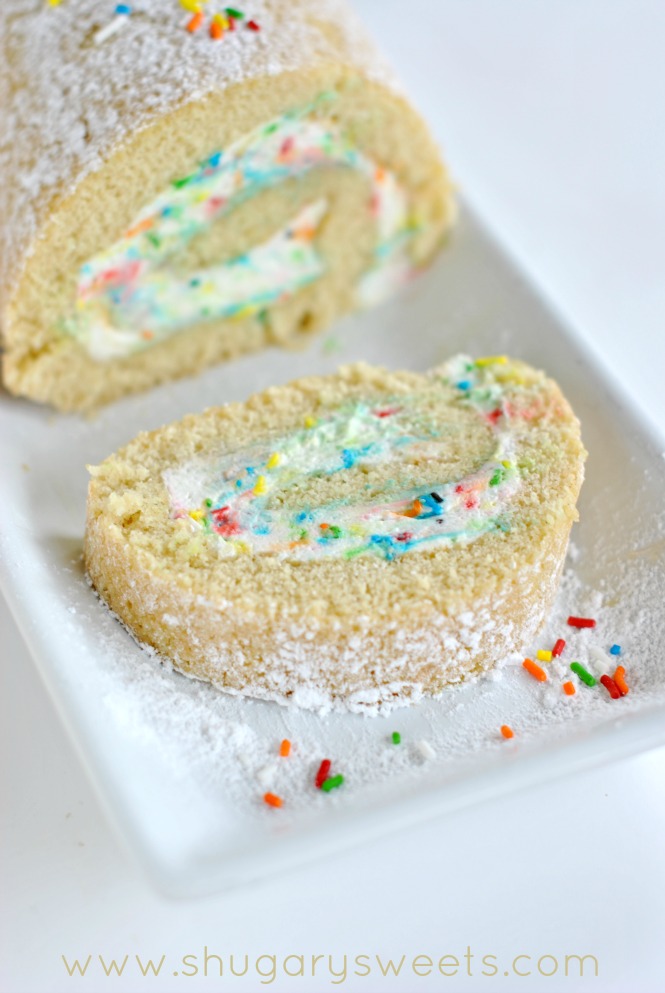 Readers Favorite Recipes