Fourth of July just got even more fun! This Red, White and Blue Rice Krispie Treats recipe adds patriotic flair to soft, chewy treats. With colorful M&Ms and sprinkles, they're the perfect addition to a fireworks show or holiday picnic.
Every holiday is an opportunity to make more variations on my favorite dessert of all time: Rice Krispie Treats! If you love krispy treats as much as I do, be sure to try these delicious Avalanche Krispie Treats. Packed with flavor, they're even better than the local candy shop.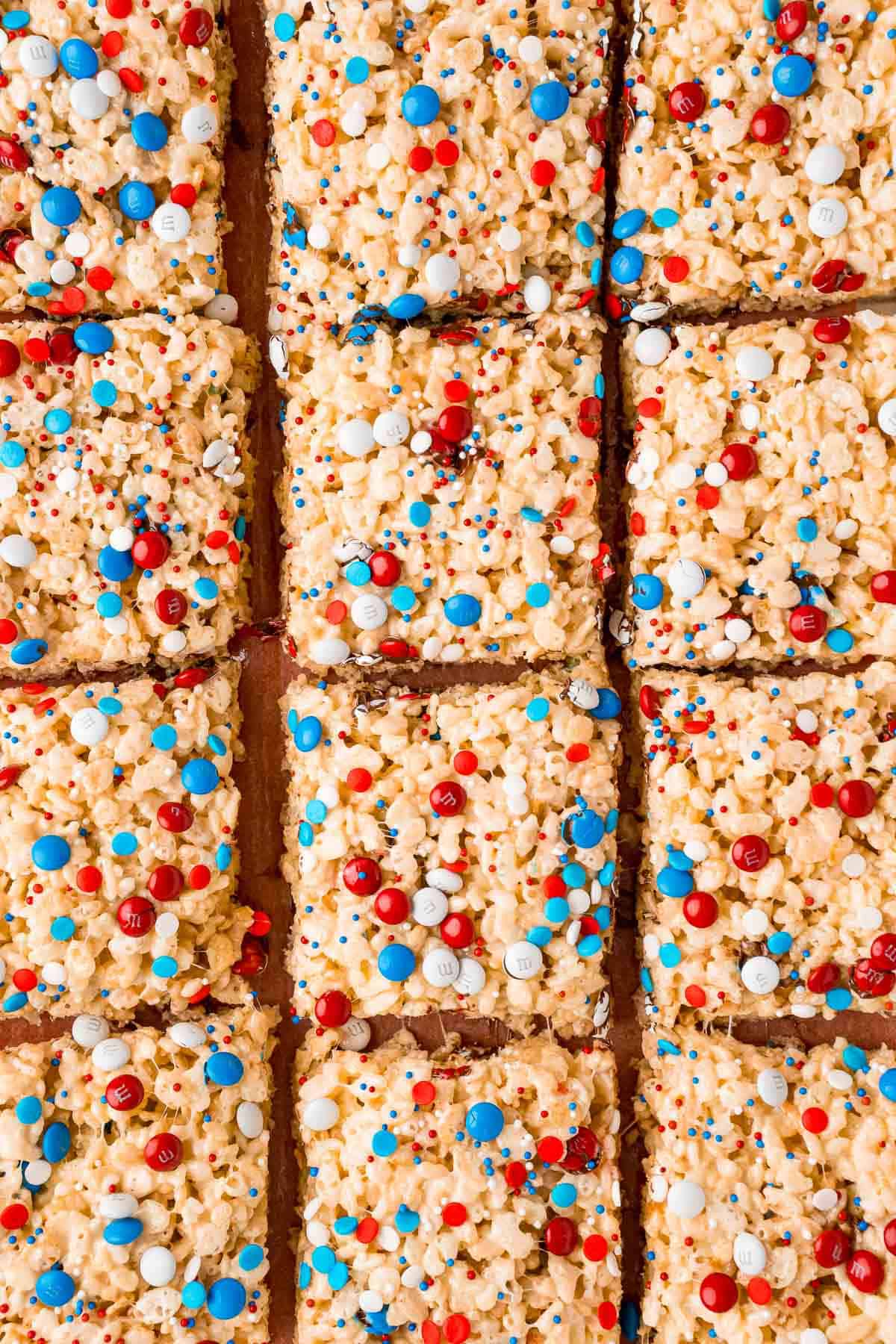 Why this Recipe Works
Red, White and Blue Krispie Treats are based on my tried and true Perfect Rice Krispie Treats Recipe.
It's one of the most popular recipes on the site for a good reason! My rice krispie treats come out super chewy with the perfect ratio of gooey marshmallow and crispy cereal.
For today's 4th of July dessert, we folded in some red, white and blue M&Ms. The M&M candies give the treats a star-spangled flair!
A drizzle of melted candy wafers and a dusting of sprinkles make them look even more festive. This is such an easy way to make simple krispy treats stand out.
You'll love the fun presentation, and you'll love the amazing taste even more.
Ingredient Notes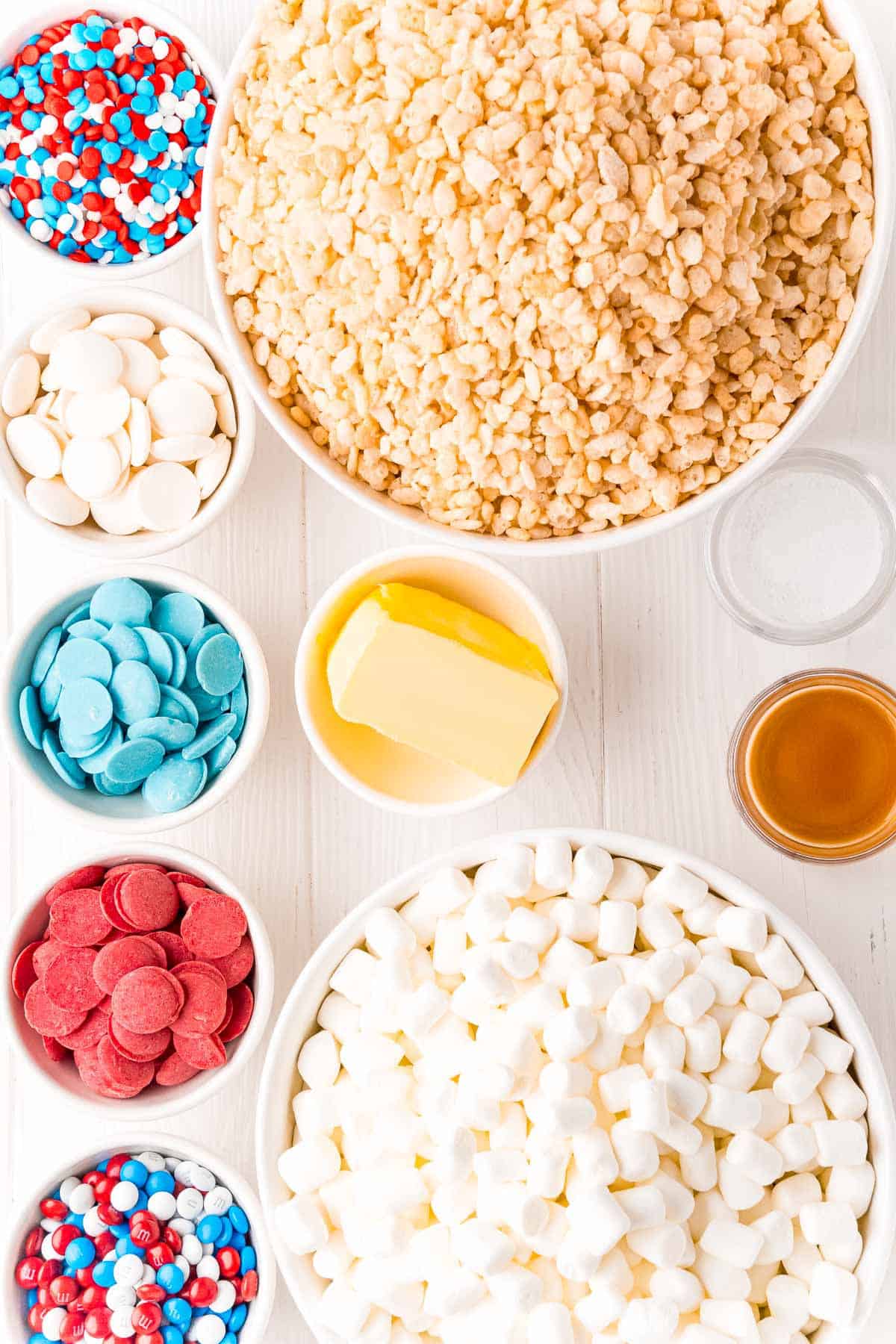 Holiday M&Ms. You can find packs of mixed red, white and blue M&Ms at most grocery stores and superstores as summer approaches.
Candy Melts. These are optional for drizzling over the Rice Krispie Treats to create flag-like stripes. I used a combination of Wilton red, blue and white melting wafers.
Vanilla Extract. My Homemade Vanilla Extract or another PURE vanilla extract is key for best flavor in your Rice Krispie Treats!
Tips and Tricks
I'll say it again: use real vanilla extract in this recipe. The pure flavor mimics the taste of homemade marshmallows, without the fuss of actually making marshmallows from scratch!
Speaking of marshmallows, make sure they're fresh! Stale marshmallows = stale tasting krispie treats.
Do not press the treats into the pan too hard. You should use a very gentle touch when transferring the batter to the pan to set. Don't push them down or flatten them or the Rice Krispie Treats will turn out hard.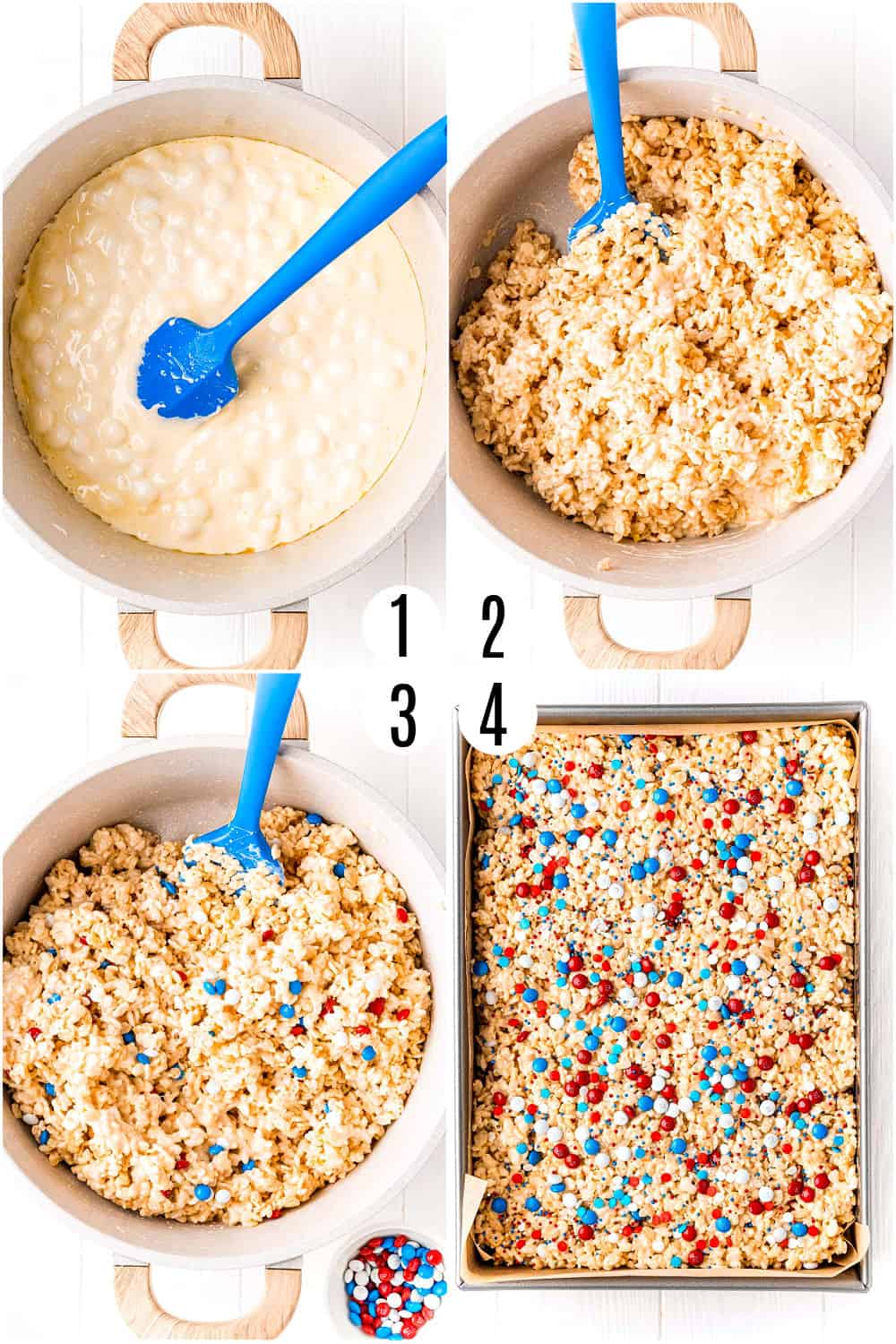 Recipe FAQs
How do you store homemade Rice Krispie Treats?
Rice Krispie treats should be stored in an air tight container at room temperature. They'll keep well for about 2 days, but chances are good they'll disappear LONG before then!
How many marshmallows do I need for this recipe?
You will need one 16 ounce bag of miniature marshmallows, which is about 8 – 9 cups. All but one cup is melted with the butter at the beginning of the recipe. The remaining cup gets folded in with the cereal.
Can I use salted butter instead of unsalted? Do I use the same amount?
Yes, you can use 6 tablespoons of salted butter instead of 6 tablespoons of unsalted. Just leave the added kosher salt out of the recipe.
How do I keep rice krispie treats from sticking to my fingers?
Dampen your fingertips with water before pressing the treat batter into your hand. The water will prevent the sticky batter from getting all over your hands. Easy!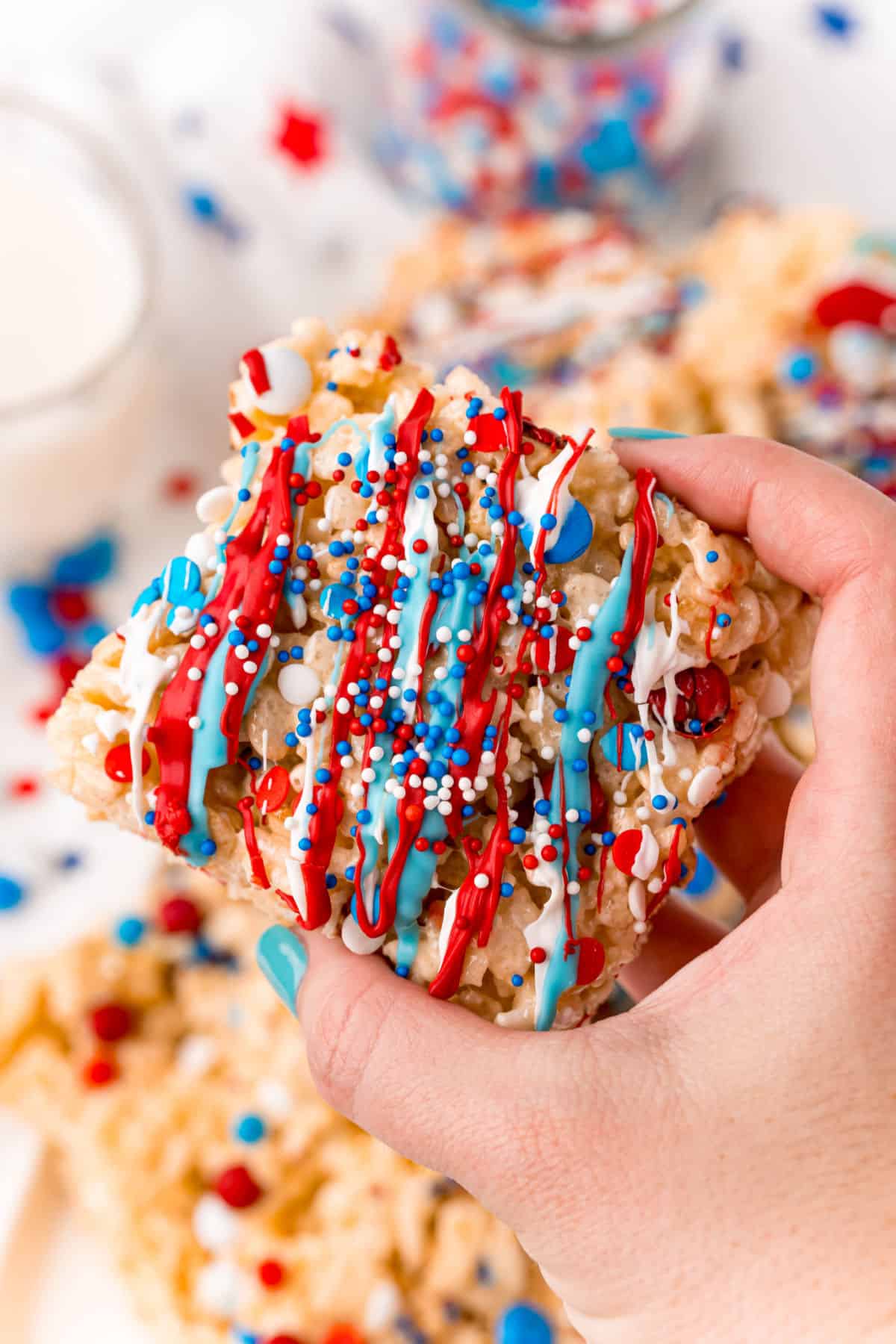 More Holiday Recipes
Whose ready for Fourth of July? These Red White and Blue Rice Krispie Treats are so easy to make and impossible to resist!