Shape this Butterscotch Cheese Ball into a basketball and you've got the perfect March Madness dessert!
Love this recipe? Sign up for my free Shugary Sweets email subscription and never miss out again!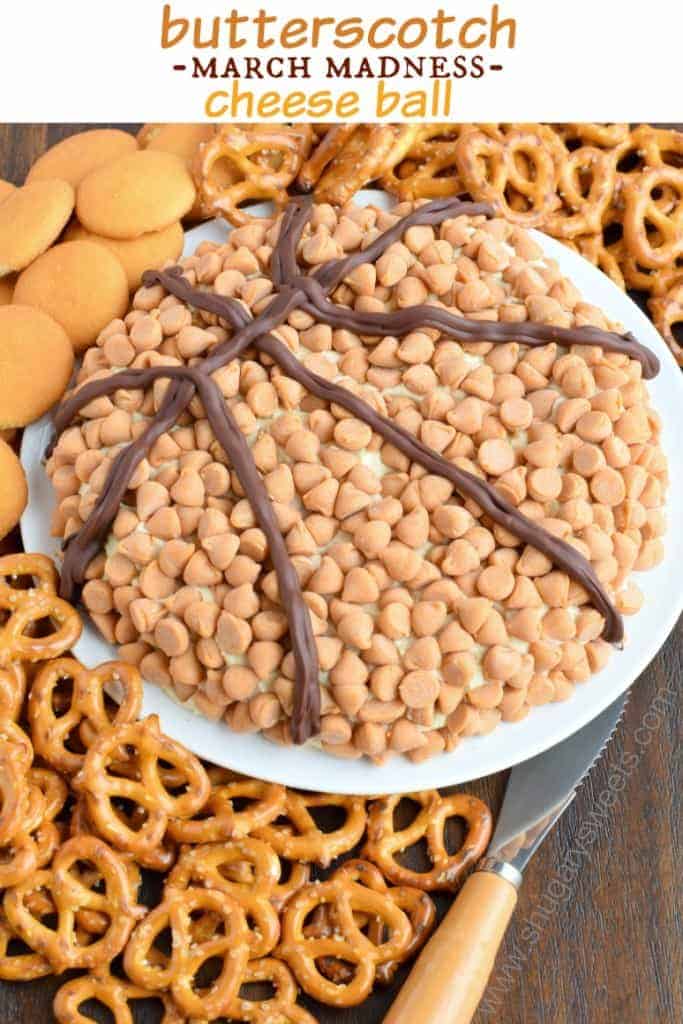 I hate sports. No really I think I do. Except for the sports that my kids are involved in, I have no desire to sit in front of the tv and watch grown men run up and down a basketball court.
Of all the sports to watch, it's seriously one of my least favorite.
But I know so many people who love it. AND they love March Madness. I'm not going to even pretend that I know how to make a bracket, or that I care anything about it…
However, I love you all. My readers. And when I shared this football themed cheese ball, one of you suggested I attempt making a basketball version.
Game on. Haha!! I love all your great ideas, tips and trick, and recipe suggestions! So today, I've got a Basketball themed treat. The first one ever on Shugary Sweets!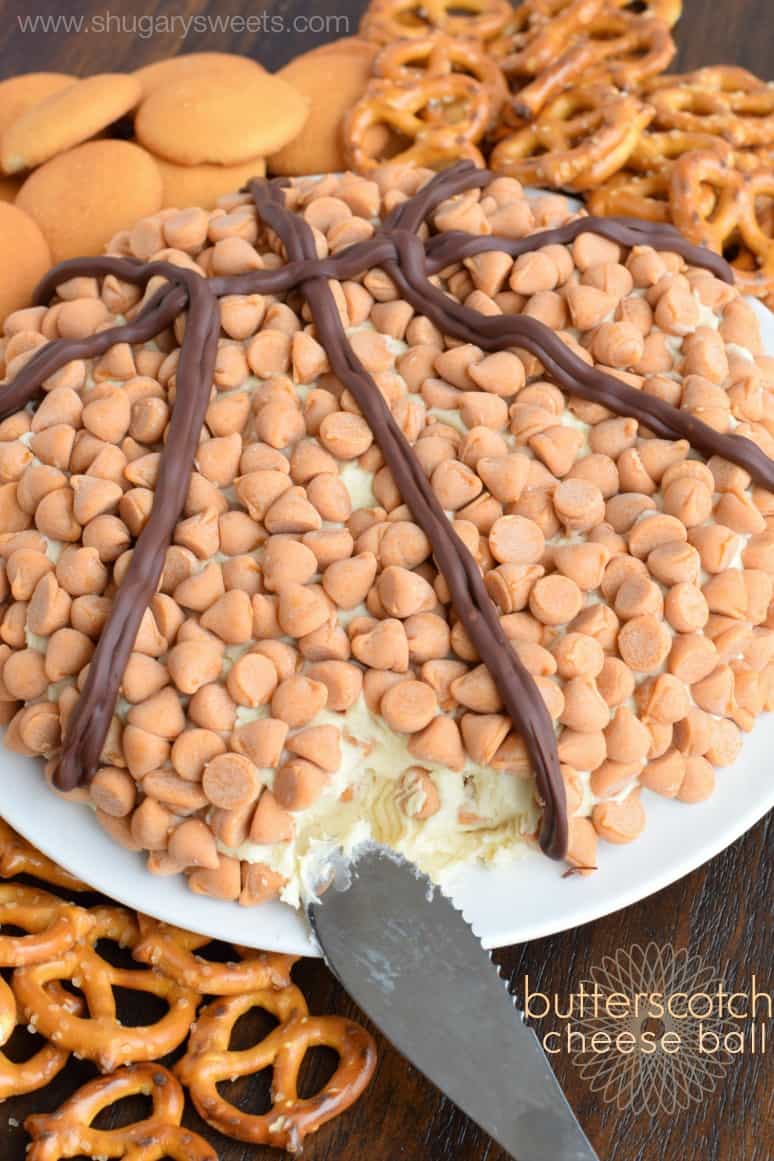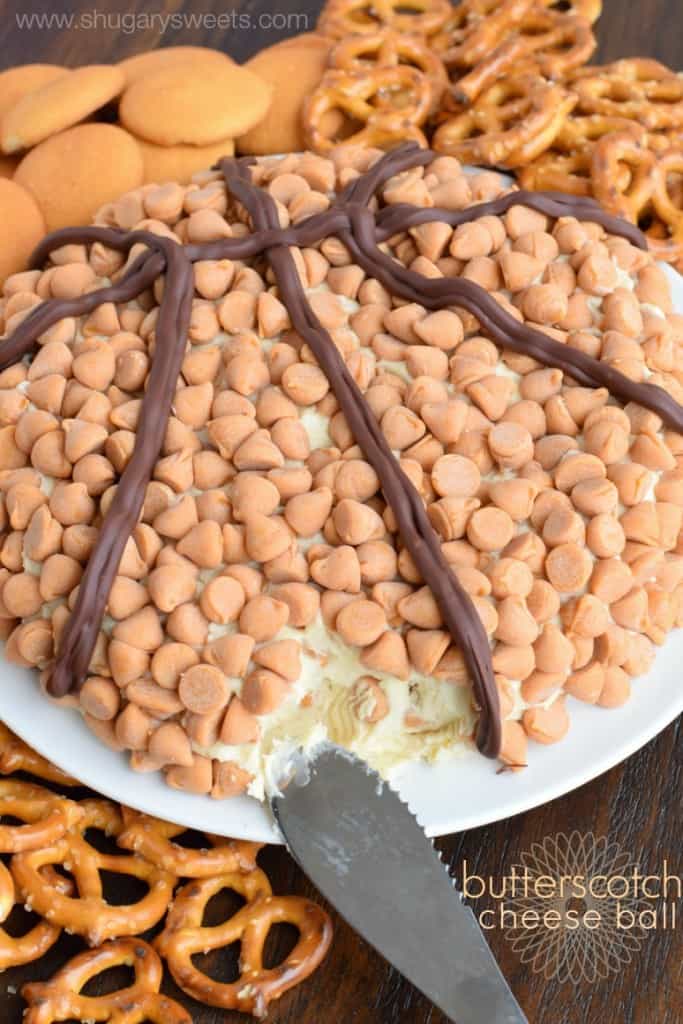 The real decision was, what flavor to make? I knew I wanted butterscotch on the outside, but would that be too much inside? The answer is no. I mixed up the cream cheese, butter, powdered sugar and added in a little brown sugar and some butterscotch ice cream topping. You can totally use caramel in it's place, but for the sake of keeping things real buttery and smooth, I chose the butterscotch. I also added in some butterscotch chips to the mixture.
The key to getting your cheese ball to firm up, is to refrigerate it. Since you are starting with softened ingredients, you want to firm them up again. My trick is to line a small 4 cup bowl with plastic wrap. Drop the ingredients in the bowl, and cover with more plastic wrap. Refrigerate for at least 4 hours, but overnight works great too.
When it's ready, unwrap the cheese ball and place it on a small plate. Using the plastic wrap, squish it down into a flat circle. Then take your butterscotch chips and press them into the top and sides of the cheese ball. Melt your chocolate chips and place them into a ziploc bag. Snip off the corner and pipe on your lines. Voila! Serve with pretzels and Nilla wafers. Or grahams. Or apples. ENJOY!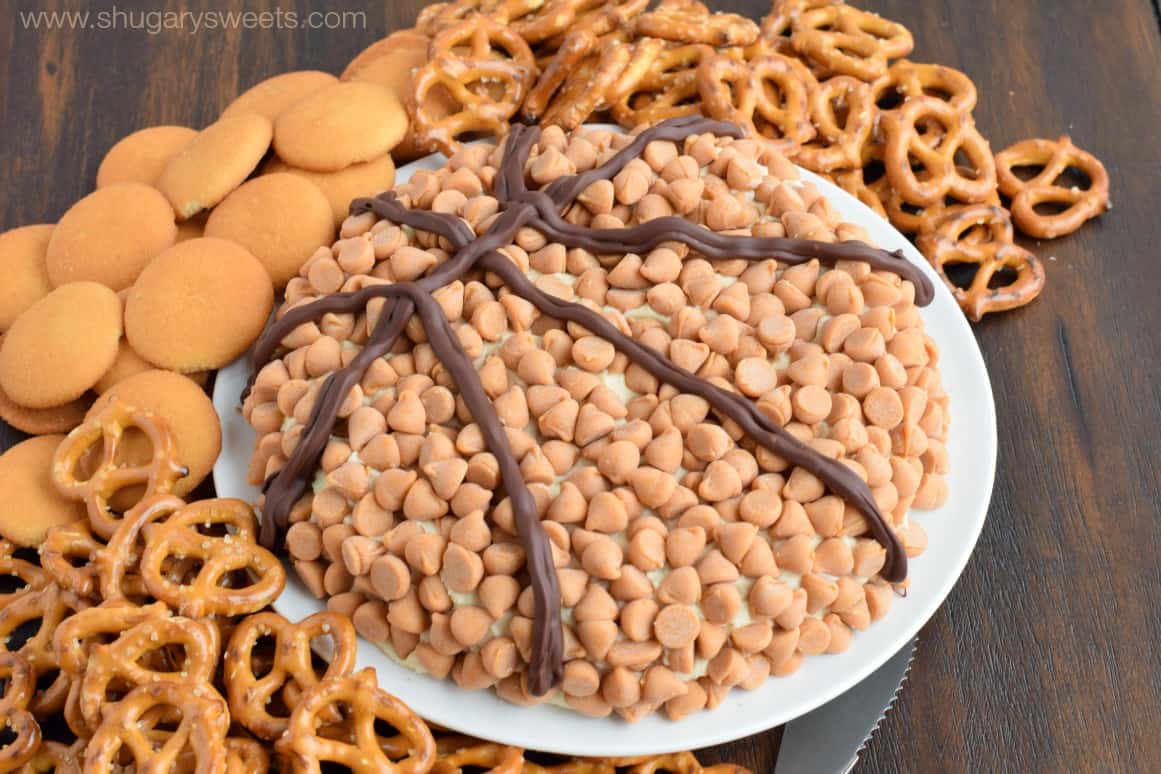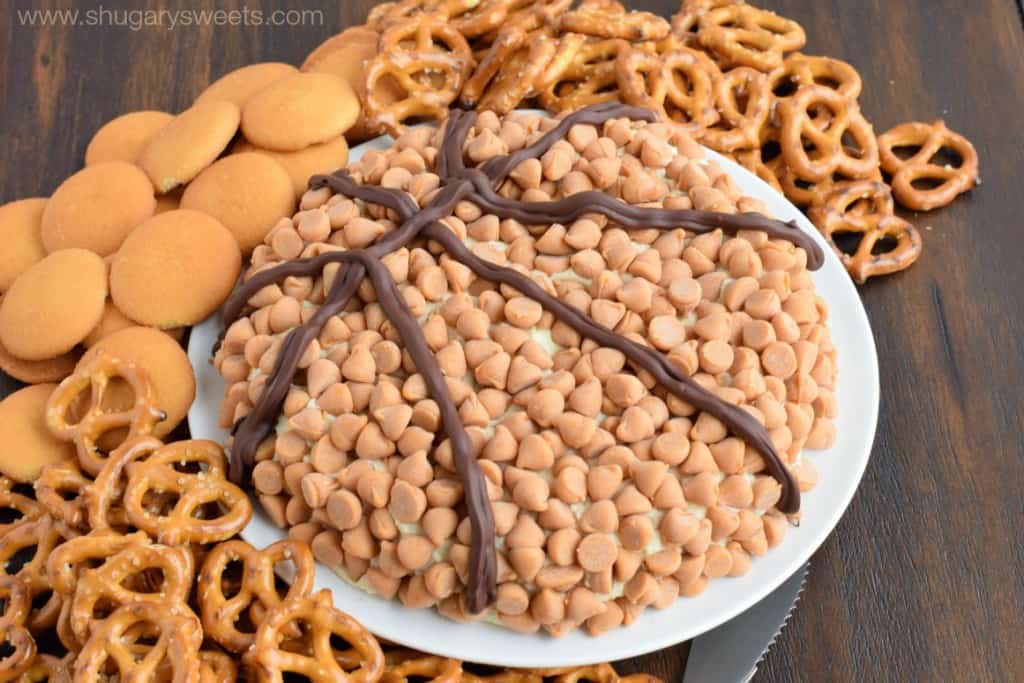 Connect with Shugary Sweets! Be sure to follow me on my social media, so you never miss a post!
Facebook | Twitter | Google+ | Pinterest | instagram | Bloglovin'
Sign Up to receive an email in your inbox for each new recipe:
EMAIL SUBSCRIPTION
If you love cheese ball recipes, keep scrolling down!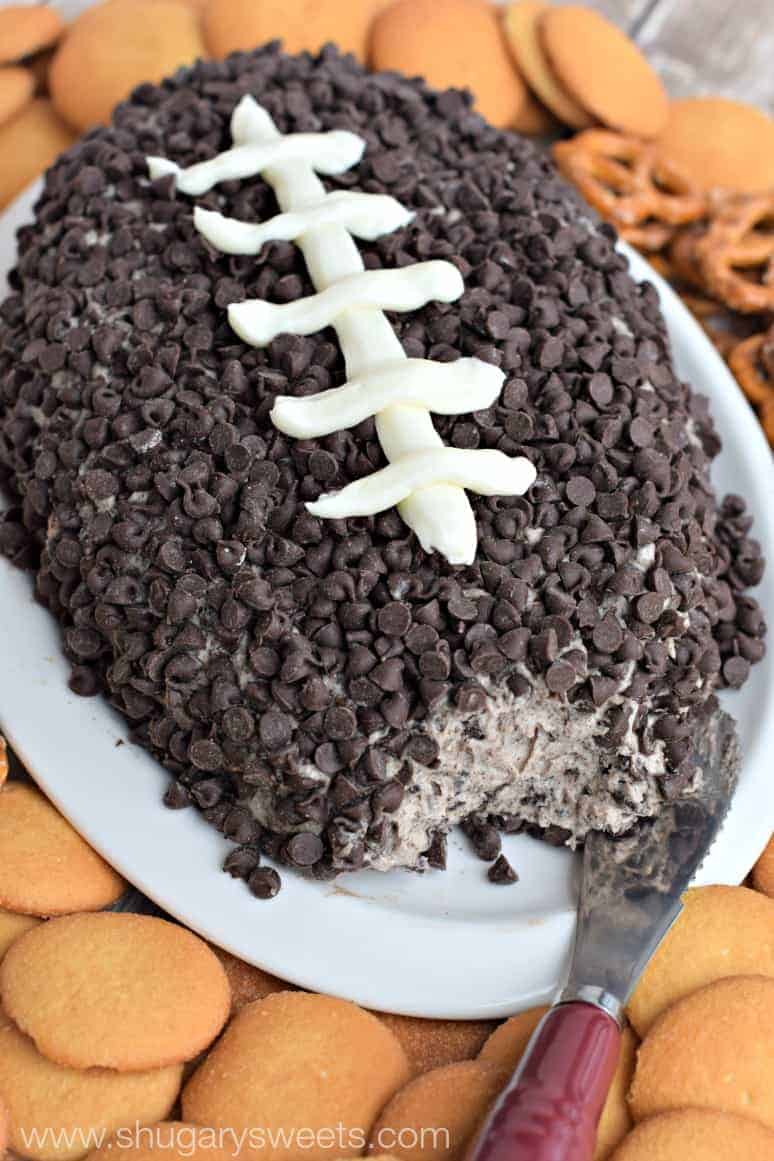 This Cookies and Cream Cheese ball is perfect for football season. Or make it into a traditional cheese ball shape and enjoy anytime!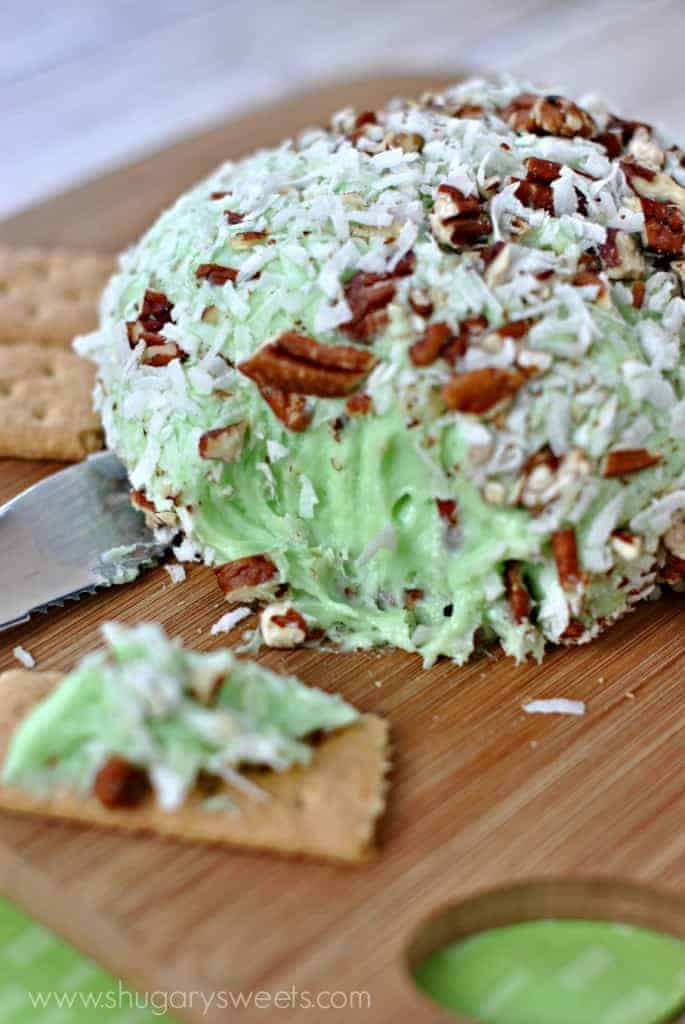 Pistachio Cheese ball. Love pistachio or watergate cake? This cheese ball is for you!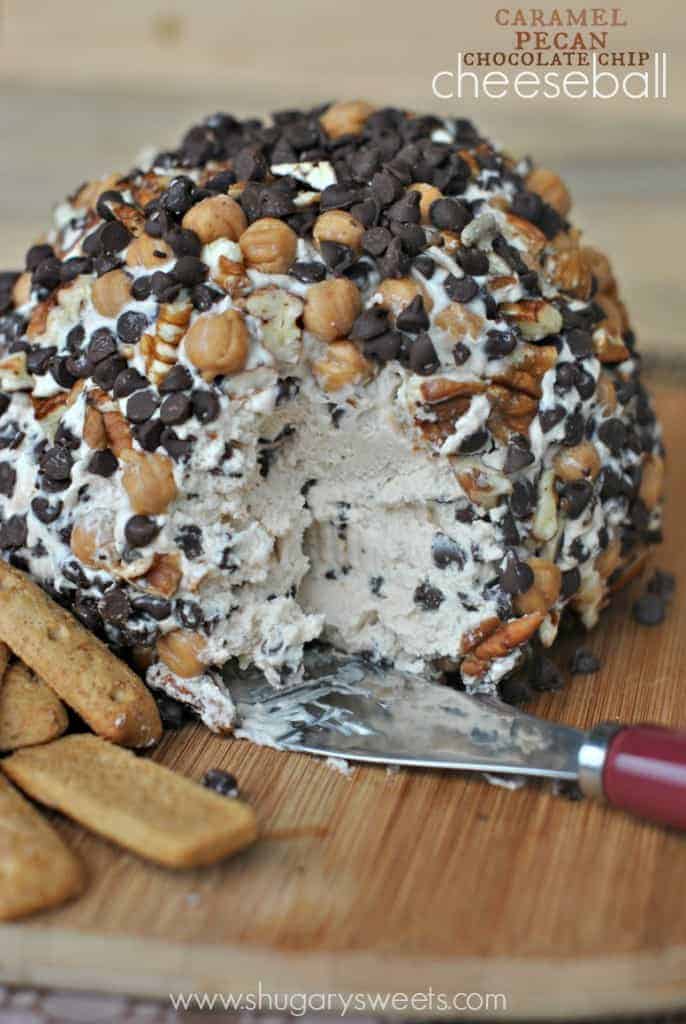 Turtle Cheese Ball. Loaded with caramel, pecans and chocolate chips, this one is decadent!
Here are a few of my favorite Cheese Ball recipes from my friends: