Shape this Butterscotch Cheese Ball into a basketball and you've got the perfect March Madness dessert! Creamy and sweet and loaded with butterscotch flavor.
Don't forget to add a few savory snacks to your table too. This Spinach Artichoke Dip and this Pepperoni Pizza Dip are both perfect for game day!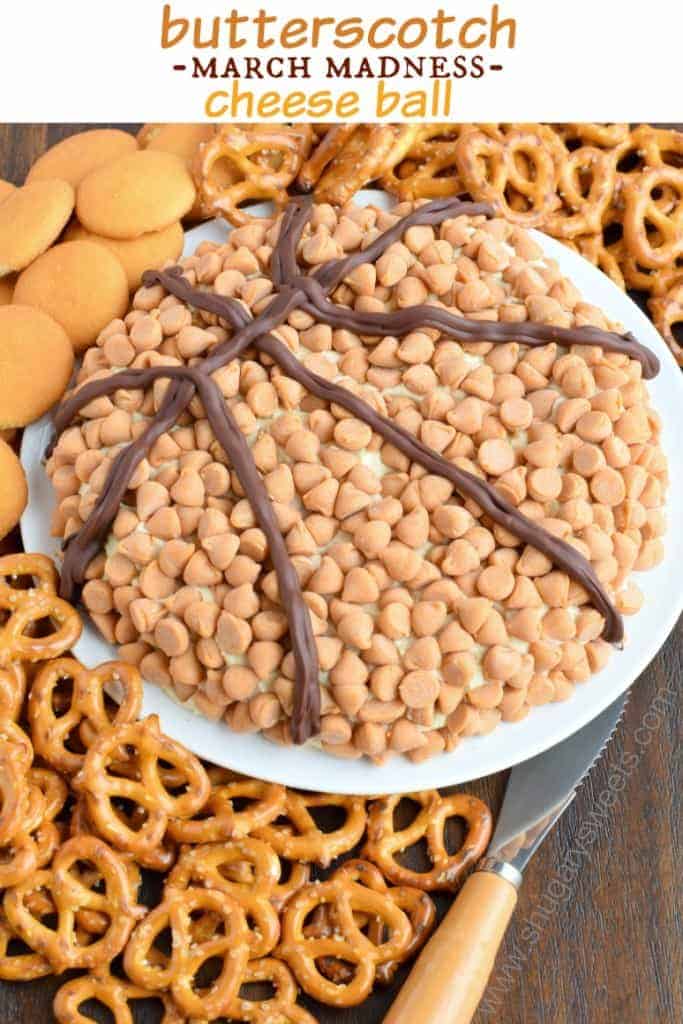 March Madness Dessert
Do you watch March Madness? I love any occasion that gives me an excuse to eat lots of tasty snacks, including dessert.
Our Butterscotch Cheese Ball is a sweet dessert dip with buttery brown sugar flavor. We shaped it like a basketball to turn it into a March Madness themed dessert!
Butterscotch chips give it the perfect orange basketball color and delicious flavor.
Melted chocolate is drizzles on top to mimic the lines on a ball.
Fun to eat with all kinds of sweet and salty dippers.
This easy recipe would also be perfect for any basketball viewing party, sports themed birthday party or post-game celebration for hungry athletes!
Ingredient Notes
The ingredients for this cheese ball recipe combine to create a rich, creamy dip with unmistakable butterscotch flavor.
Cream Cheese – Always use full fat cream cheese and let it soften to room temperature first.
Butter – Unsalted is best in this recipe, but salted will work too if that's all you have.
Butterscotch sauce – The ice cream toppings that come in jars or squeeze bottles are easy to find and taste great here.
Sugars – We use brown sugar to bring out more butterscotch flavor, along with powdered sugar to thicken and sweeten the dip.
Butterscotch morsels – You'll use a half cup in the cheeseball dip itself. Another full cup is used to create the outside layer of the basketball cheeseball.
Chocolate chips – These are optional for melting and creating the basketball design.
With our without the melted chocolate, this is one tasty butterscotch cheese ball!
How to Make a Basketball
After assembling the dip ingredients, it's time to shape it into a cheeseball. Not just any cheeseball–a cheeseball BASKETBALL.
STEP 1. Wrap and chill.
Drop the dip into a bowl lined with plastic wrap. Wrap the plastic around the dip to form a ball.
Let the cheeseball chill in the refrigerator overnight.
STEP 2. Add butterscotch morsels
Place the chilled cheeseball on a plate. Use your hands to press it into a circle. Now take the reserved butterscotch morsels and press them all over the top and sides of the ball.
STEP 3. Chocolate lines
Melt the chocolate morsels in the microwave, then transfer the melted chocolate to a zip top bag. Snip off one corner of the bag.
Pipe the chocolate through the bag to create thick lines. We did one horizontally across the center crossed with three evenly spaced perpendicular lines to make it look like a basketball.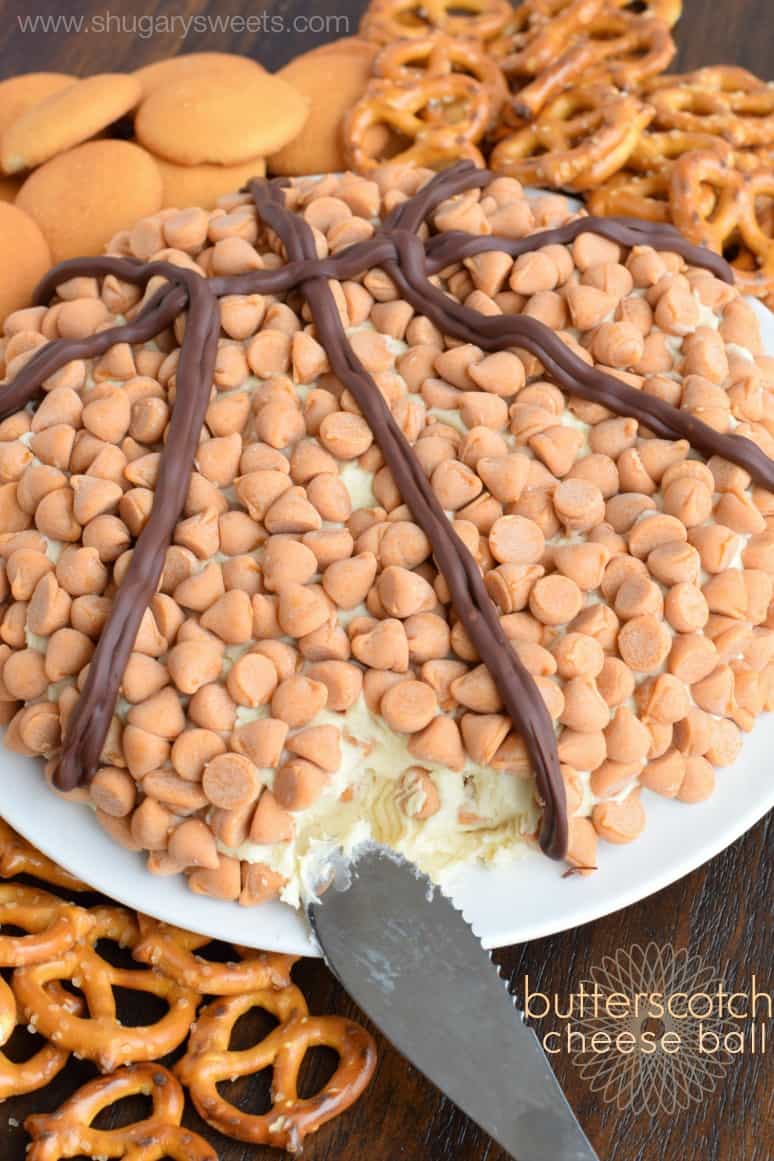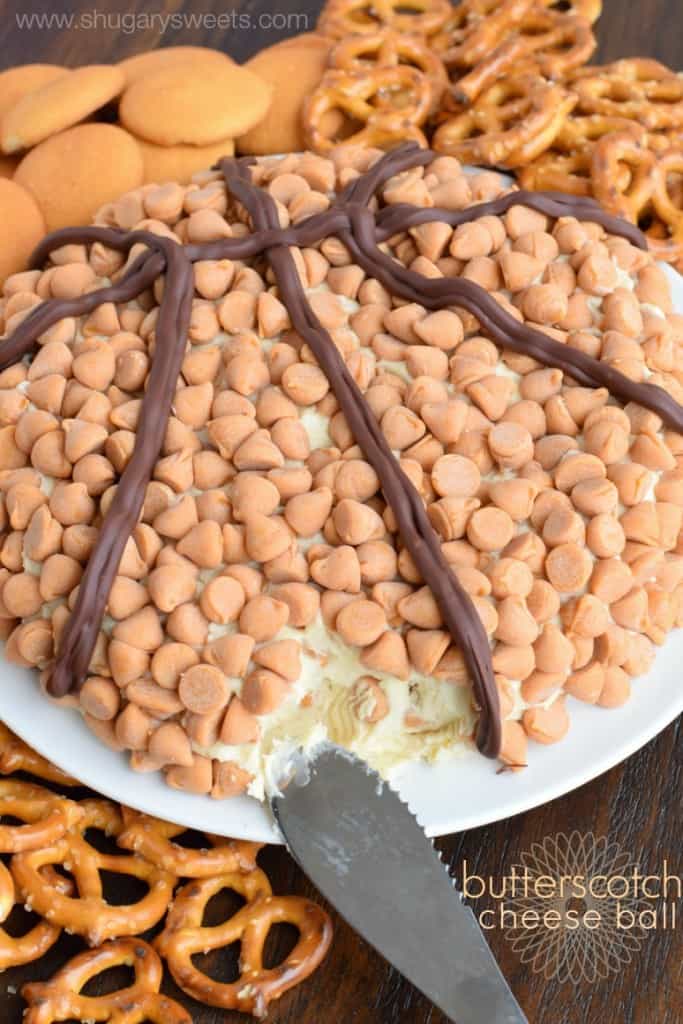 Tips and Tricks
Short on time? Skip the shaping and chilling and just serve this cheeseball as a sweet butterscotch dip! It'll still be delicious.
Serving suggestions. Butterscotch Cheeseball tastes great with dippers like animal crackers, Nilla wafers, pretzels and graham crackers. Fresh apple slices would be good too!
Storage: Return any leftovers to the refrigerator. Keep covered and enjoy within 3-4 days.
Substitutions: Instead of semi-sweet morsels, try using melted milk chocolate or dark chocolate to change up the flavor. Chocolate bars or melting wafers can also be used in place of chocolate chips.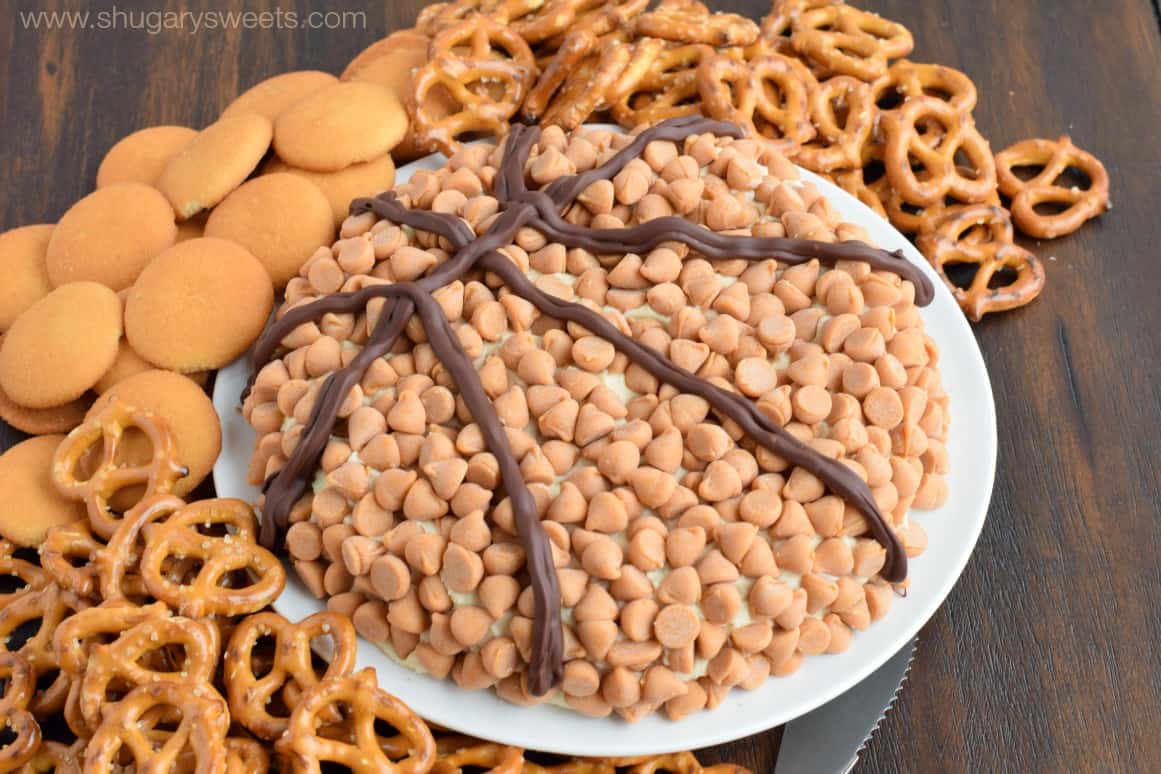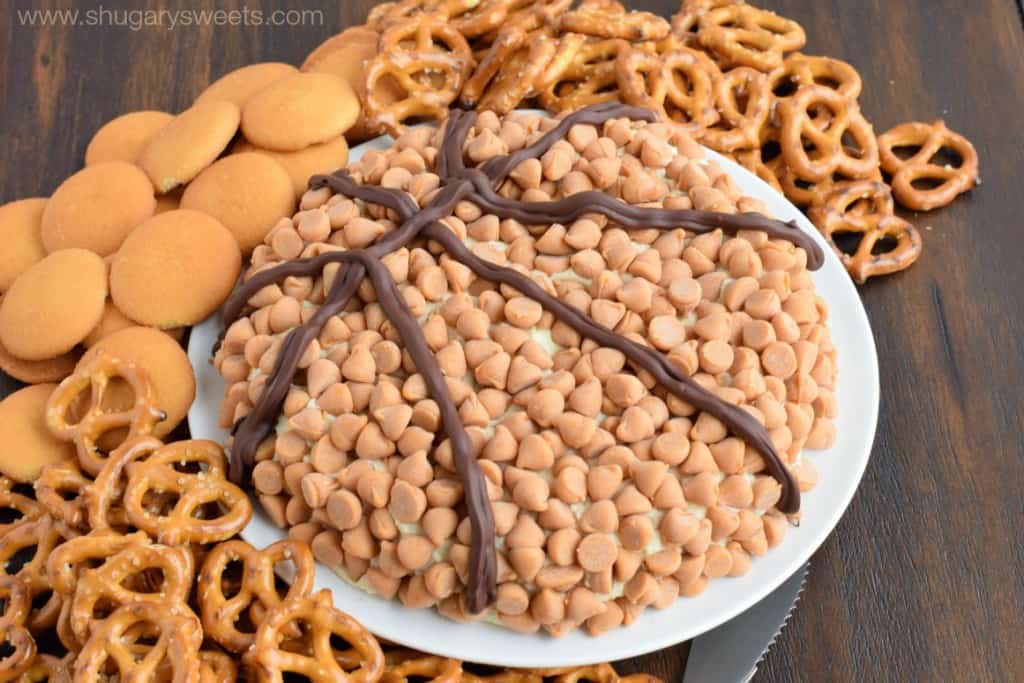 More Easy Game Day Desserts
A basketball shaped dessert that'll keep everyone gathered around the table! This Butterscotch Cheese Ball is easy to make with an eye-catching appearance and irresistible taste.